Computers
11 secret Google Maps tips and tricks to try
Quick Links
Top Google Maps tips and tricks
Google Maps: a mapping app so ubiquitous and useful that even iPhone and iPad owners still, to this day, prefer it against Apple Maps. You may be a pro at pinching and dragging your fingertips across the app, but we think you might be missing out on a few features. So, here we are to show you them.
Top Google Maps tips and tricks
Tons of people open Google Maps every day for its extensive features and user-friendly interface. Some of its useful and perhaps lesser-known functions include offline maps for traveling, Live View AR for walking navigation, checking if businesses accept cash or cards, measuring straight-line distances, remembering where you parked, getting ahead of traffic, checking air quality, finding the last transit trip home, sharing your location with others, and more.
Offline maps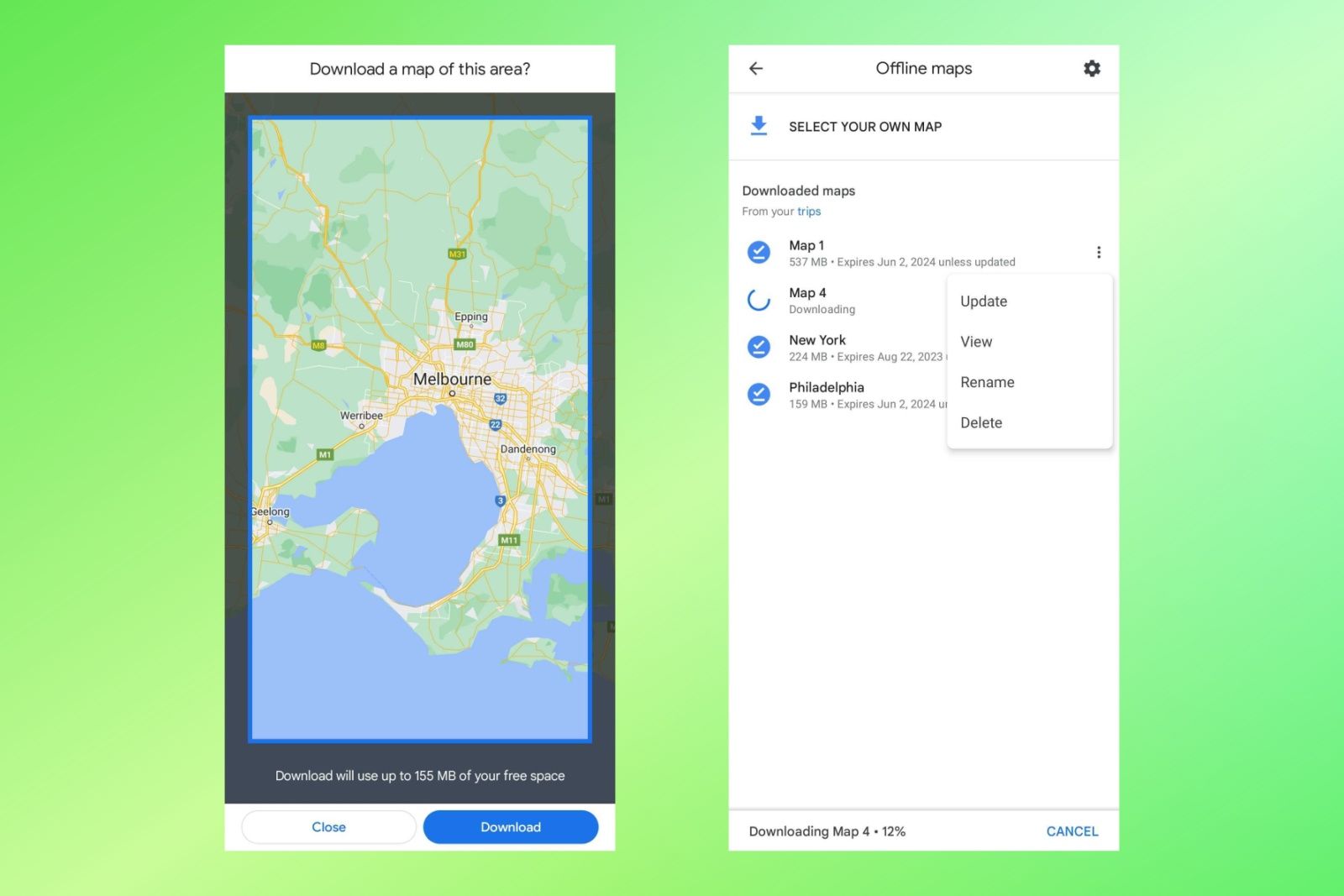 This feature seems like an obvious one to point out – we have a guide on this – but I've been caught flat-footed in my travels across internet dead zones without offline maps and it definitely makes life a little tougher.
By storing a map locally, you'll have access to basic map information including roads, geographical features, and businesses in the area you've selected. You won't see opening times, reviews, and other detailed facets that come with a Google Maps business listing, but this is only meant to get you by in a pinch. Transit, bicycling, and walking directions won't be available, either.
You can set up an offline map thusly:
From Maps, tap your Google account avatar at the top-right corner. Then, select Offline maps.
Choose Select your own map.
You'll be taken to a framed map view. Pan and zoom to where you'd like your offline map to capture.
Tap Download. You'll then be able to access information about this region when your device is offline.
If you're planning a trip, Google Maps may pop up a notification suggesting that you download offline maps for use during your journeys. These suggestions will also appear in the Offline maps section. The app is able to tell based on Gmail messages and any bookings you may have done through Google Flights or Google Travel.
Google Maps captions viewframes with an estimate of how much data it will take up in storage. The widest frame you're able to store in one offline map is approximately 140 x 280 miles or 225 x 450 kilometres. Using that acreage, here are some regional examples of what to expect in terms of data use:
Gibraltar region including Seville and Málaga in Spain and Rabat and Fes in Morocco – less than 300MB
Southern California including Los Angeles, San Diego, and Tijuana, Mexico – about 600MB
New York City tri-state area including the entirety of New Jersey, the Hudson Valley, western Connecticut and Massachusetts, most of Long Island, and eastern Pennsylvania including Greater Philadelphia – about 800MB
England from Bournemouth to Durham on east including Greater London and all of Anglia – about 1.1GB
Mid-Honshu Island, Japan with Tokyo in the south and Yamagata Prefecture in the north – more than 2.5GB
You can save as many maps of as many areas as your storage situation will allow.
Dictate addresses in a foreign language
Sometimes, Google Maps won't be able to get you all the way there – especially when you're traveling and don't know the lingua franca. Fortunately, you might be able to strike some help with this neat feature: tap on a place of interest you'd like to visit, then tap on the speaker icon that appears next to its name at the top of the listing. The app will bring up a box containing both the name of the place as well as its address along with speaker buttons that, when pressed, will dictate them in the local language. It's not a perfect solution – especially when it comes to hyphens in numbers where Google thinks 25-100 Apple Road actually means :"25 to 100 Apple Road" – but it might just be your lifesaver if you're hopping into a taxi.
Live View AR for walking navigation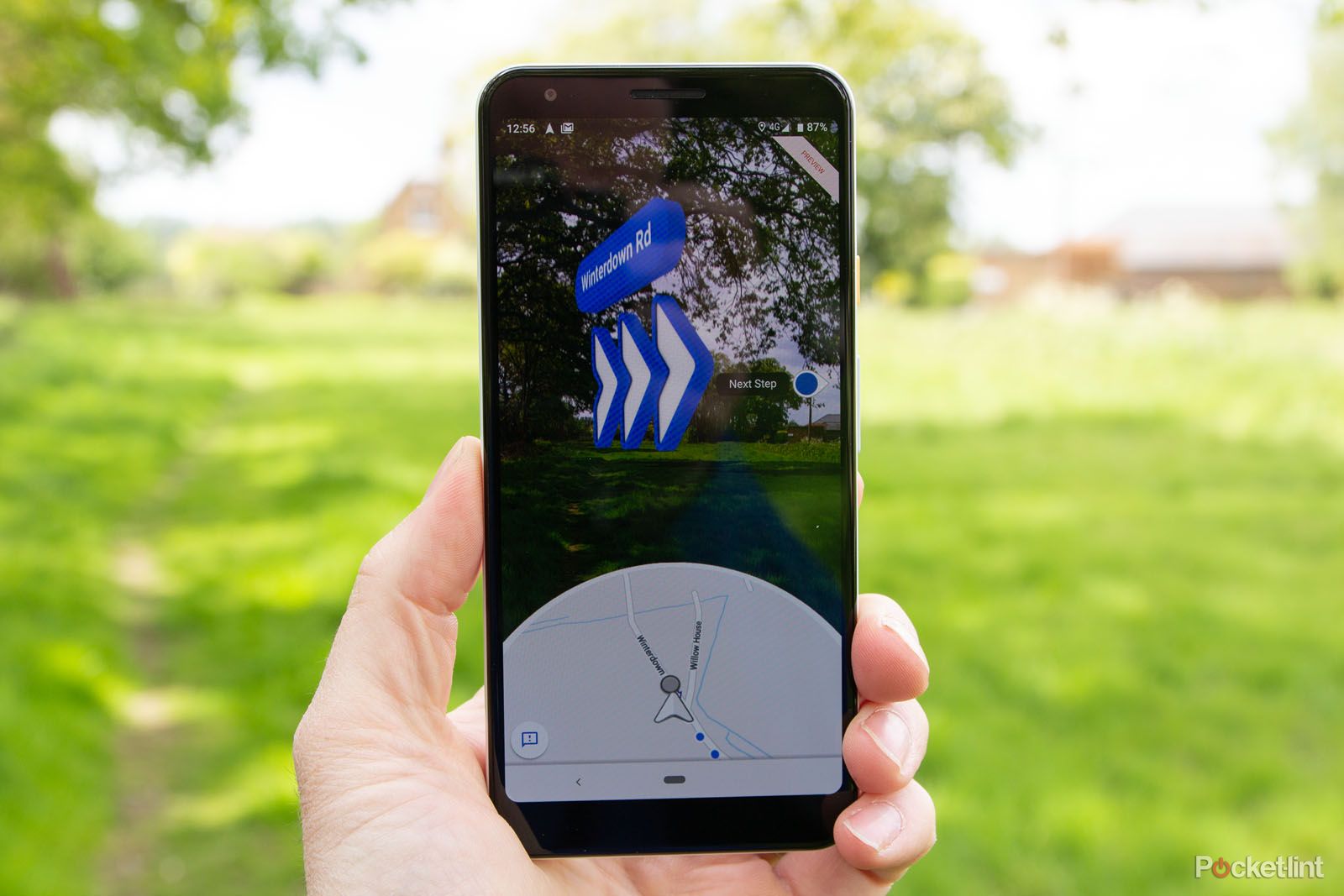 Walking directions in Google Maps have never been better defined with the introduction of Live View. The feature works on iPhone and most Android phones and works on roads and paths covered by Street View. We also have an entire separate guide on how to use it, but basically, all you have to do is to request directions, hit the walking tab, and then select Live View. You'll be prompted to scan your rear-facing camera around to allow the app to orient itself. From there, just follow the giant floating arrows and signs that appear on your device. Watch where you're stepping, of course.
Check if a business is cash-only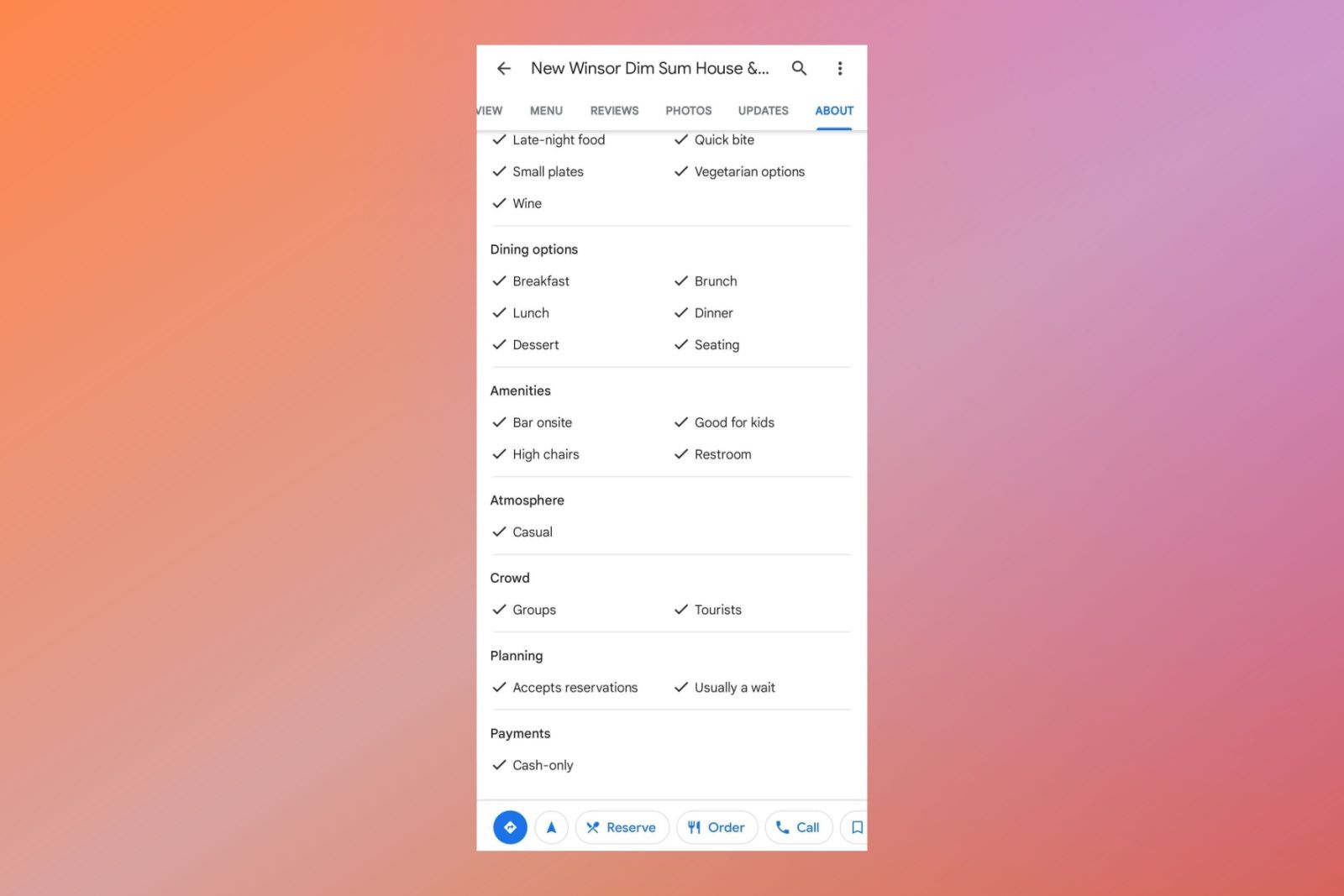 Carrying cash as a pastime has become less popular if not outright unpopular over time. But for many restaurants and shops, cash is king, especially for the workers who can't afford for one reason or another to keep their money in a bank account. So, before you make a visit for some noodles, you might want to know if you need to make a visit to the ATM.
You can check if a business accepts card or cash through Google Maps:
Tap on a business to bring up their listing.
Below the option to Suggest an edit, tap See all.

Alternately, in the carousel of tabs below the photos, scroll all the way right and select About.

You'll find what forms of payment are accepted at the bottom of the Features section.
The Features section of a business listing also contains other important factors such as whether they offer vegan-friendly menu items or accessible seating.
Measuring straight-line distance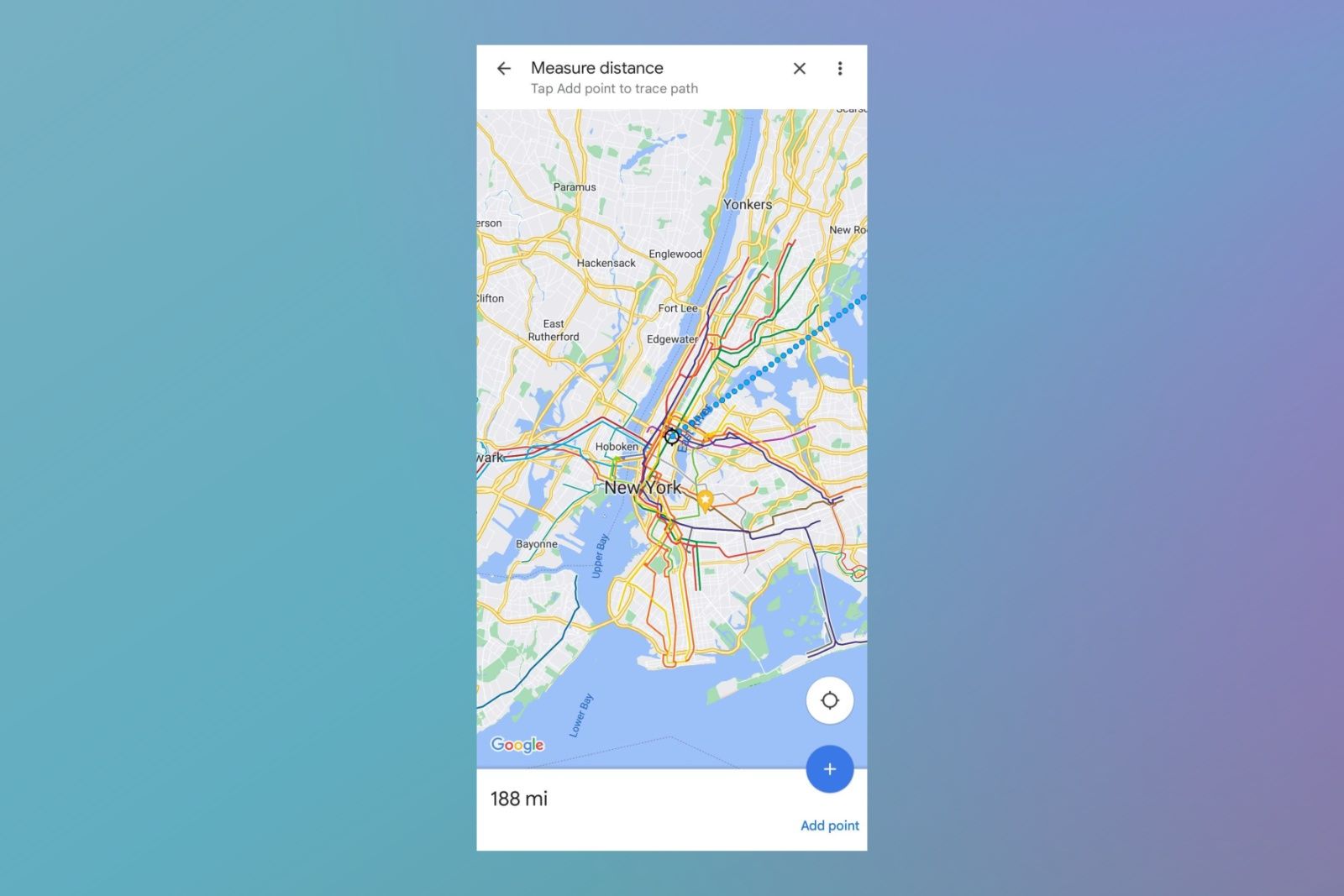 A drive from Boston to New York City is about 215 miles by road and 231 miles by rail. But for the times you just want to know the distance as the crow files, Google Maps has you covered with this rather obscure feature.
To measure straight-line distance:
Select a point on the Map that is not a place of interest.
Scroll down and see if you can spot the option to Measure distance – it's labeled next to a ruler symbol.
You'll then be taken to a viewfinder with your "B" point anchored to the center. Pan and zoom to your destination. You'll see the total distance from your original "A" point in the bottom-left corner adjust as you move.
If you are measuring the distance of a multi-point path, you can press Add point at the bottom-right corner to do just that.

To take away a point, press the undo arrow at the top-right corner of the screen.
To undo all points, tap the three-dot icon and select Clear.
By the way, it's 188 miles straight between New York City and Boston. I know, you were wondering.
Remember where you parked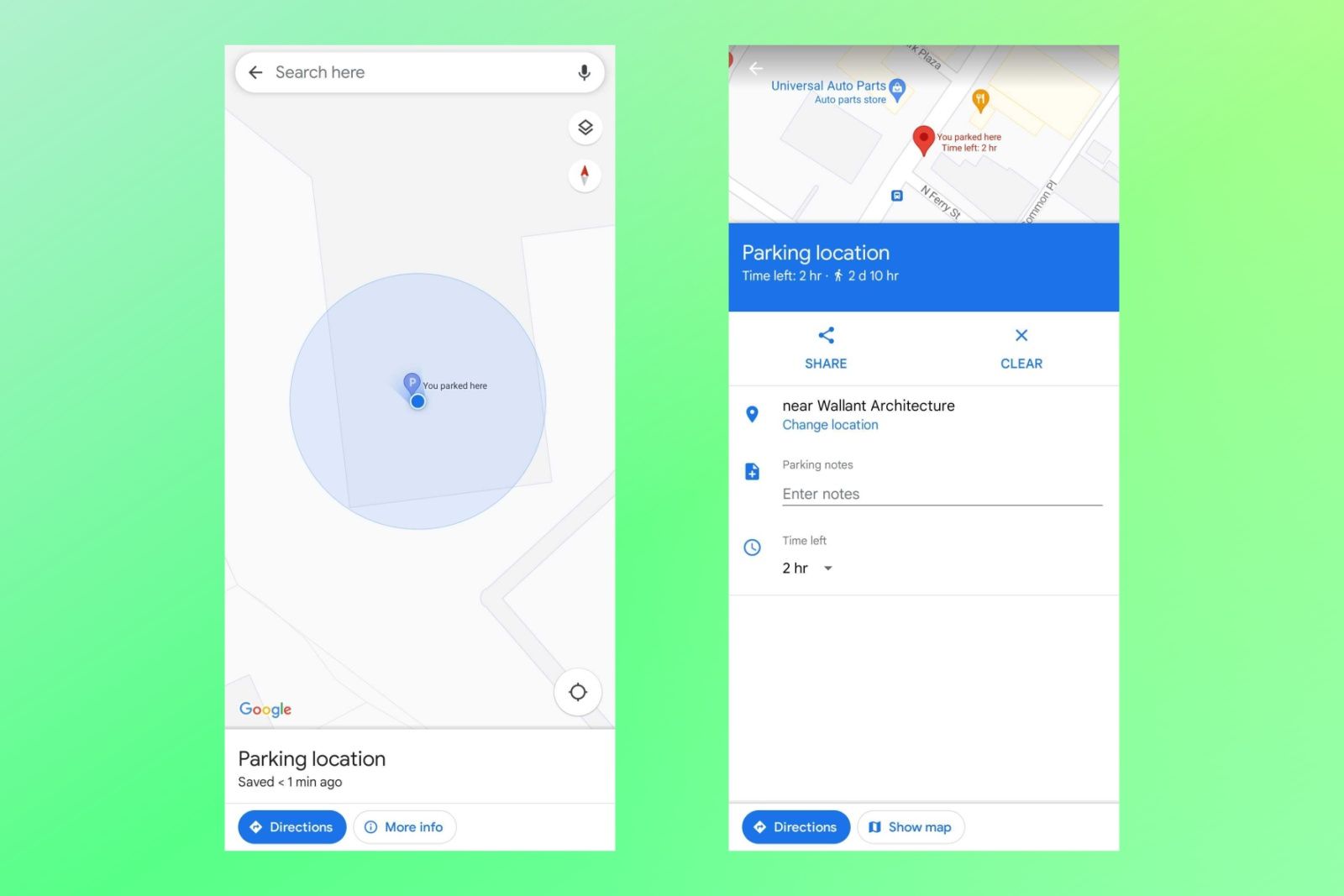 Parking your car is a multi-part hassle. Sure, you've done the hard job of getting into that space and paying for your time. Now, you need to remember where you've parked.
When you first head out of your vehicle, remember to open up Google Maps and tap the blue dot marking your current location. Then, select Save parking. A pin with the letter P on it will mark where you've parked. You can press More info to change the location, enter any notes, and even add in how much time you've paid for. You'll be notified when your time is about to run out based on how far of a walk you are to the spot.
Get ahead of traffic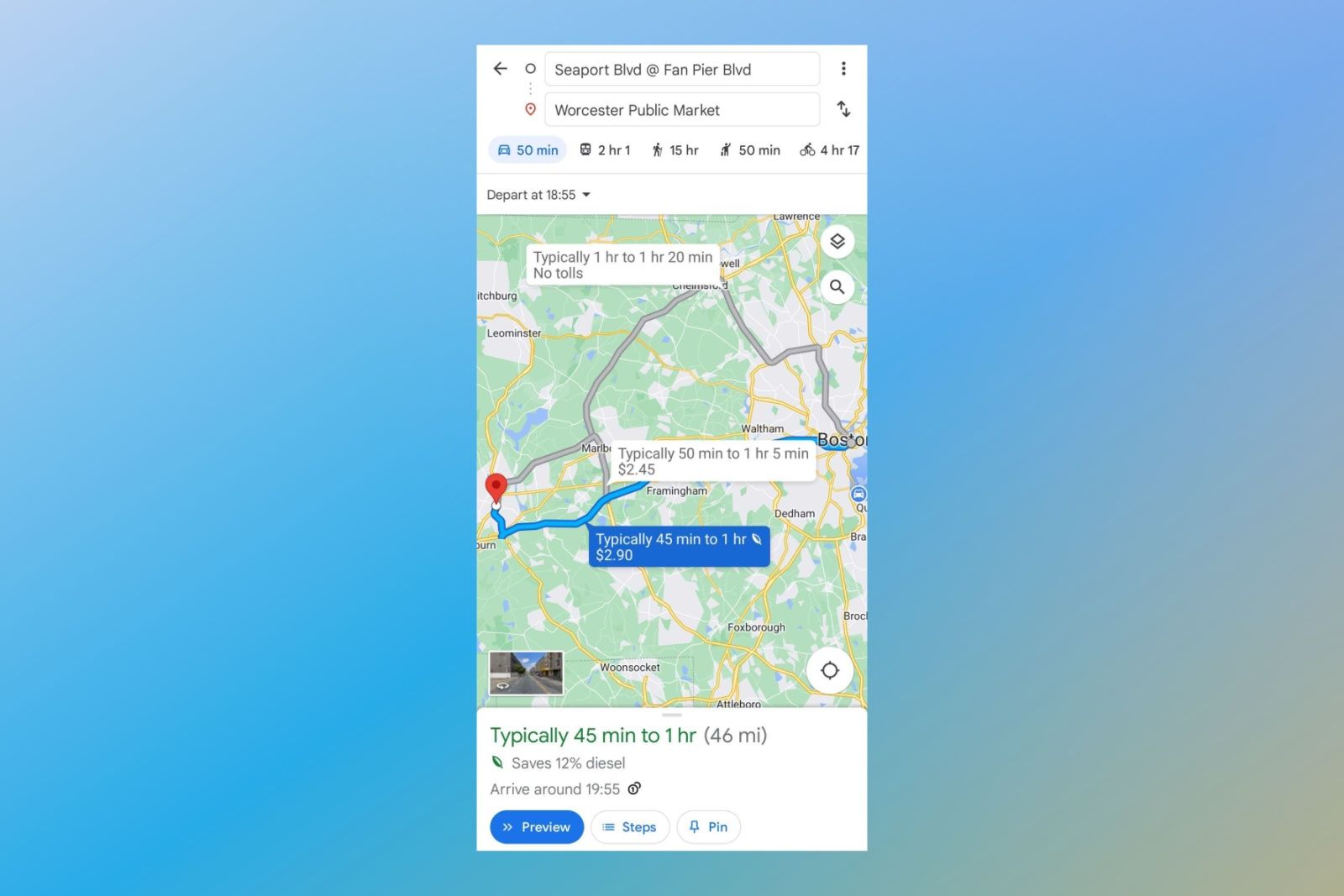 Say you're planning a drive for later in the day and you're looking for an idea of how long it might take. The problem right now is that Google Maps defaults to estimating drive times based on current traffic conditions. And, as we all know, later is not now.
For the road warriors who want to adjust their departure time on Google Maps, all they need to do after they call for directions is to tap on the three-dot icon at the top-right corner and choose Set depart or arrive time. You'll be able to set your departure or arrival time for any point in the future.
Google will label route options with a range of drive times for each one based on typical traffic conditions for that part of the day. Of course, actual results may vary.
Air quality measurements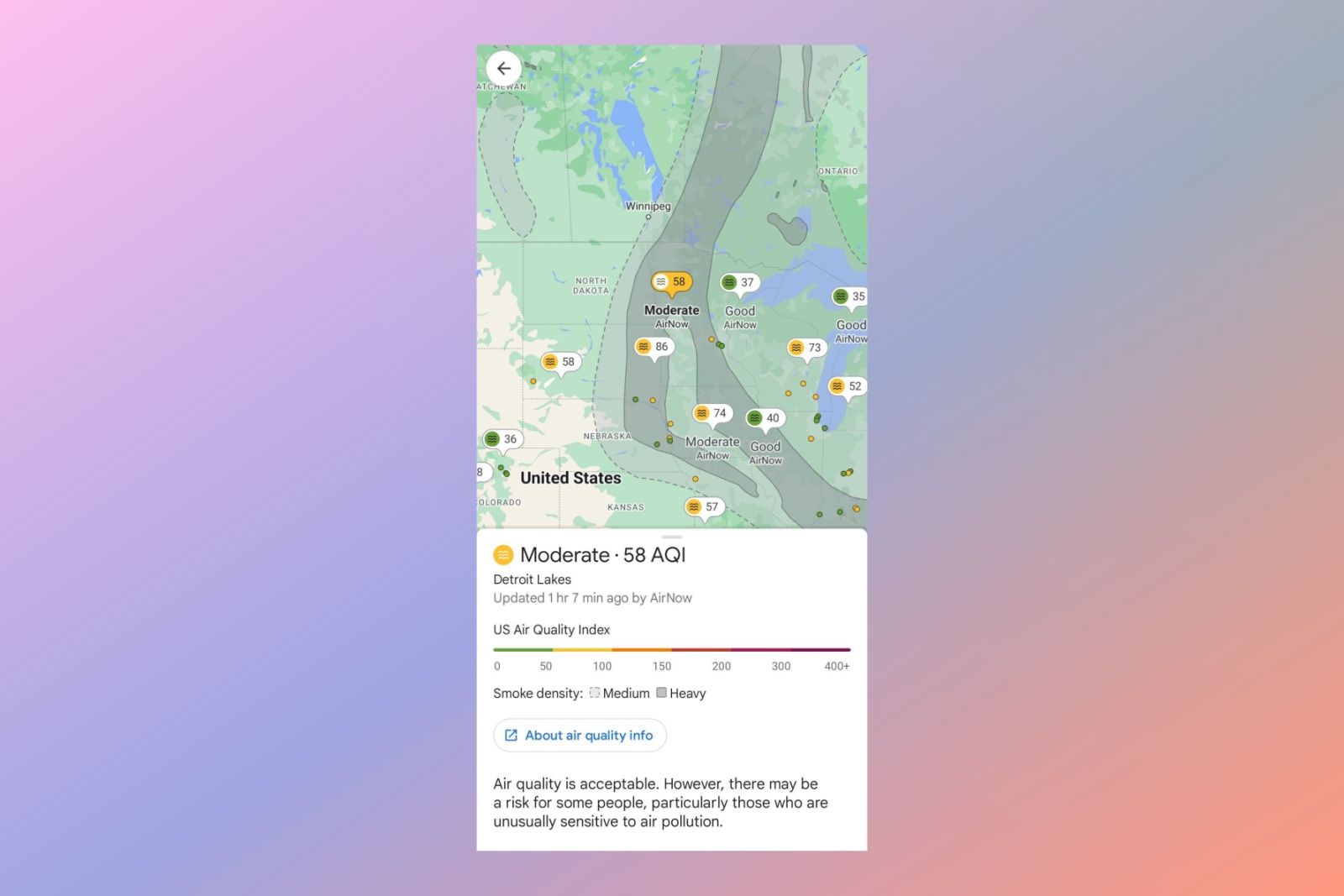 Poor air quality is detrimental to your health. Nevertheless, it can be a fact of life when dealing with massive wildfires, volcanic eruptions, or just plain heat and humidity that allow pollutants to hang in the air so easily.
Google Maps is able to display air quality measurements in nine countries. These data are collected at measuring stations set up by governments and private networks of air quality monitors. Jurisdictions include:
Australia via state and territory governments
Brazil
Chile
India
Israel
Mexico
Singapore
South Korea
United States
To check on air quality conditions, select the layer view button in the top-right corner (the one that looks like a stack of two squares) and then, under the Map details section, tap on Air Quality. You'll be able to view the latest readings in all supported regions, not just your home area. You may also be able to see overlays of where large smoke plumes currently are.
Last transit trip home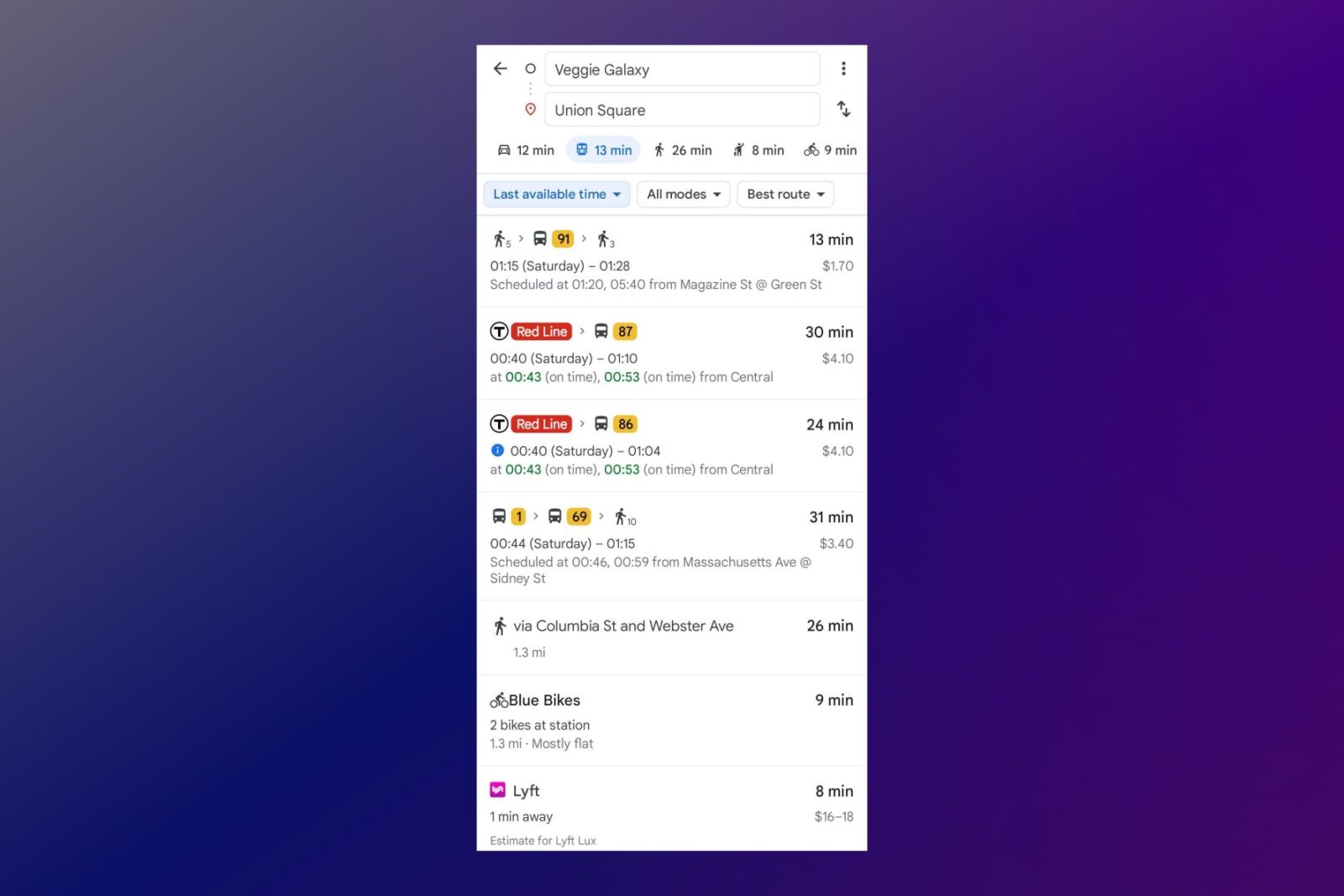 When it comes to a night out on the city, public transit beats driving hands-down – especially after a few drinks. But since most transit lines stop operating after a certain point in the night, you'll definitely want to know when to make your great escape for the last bus or train. That or face the consequences with ride-hail surge pricing.
To check on your last possible transit journey with Google Maps, make sure you've entered your starting point and destination correctly (tap the up and down arrows icon to switch them around if need be) and then tap the Depart at time filter. You'll see a section that says Last. Select that and then hit Set to see your options.
Share your location with friends and family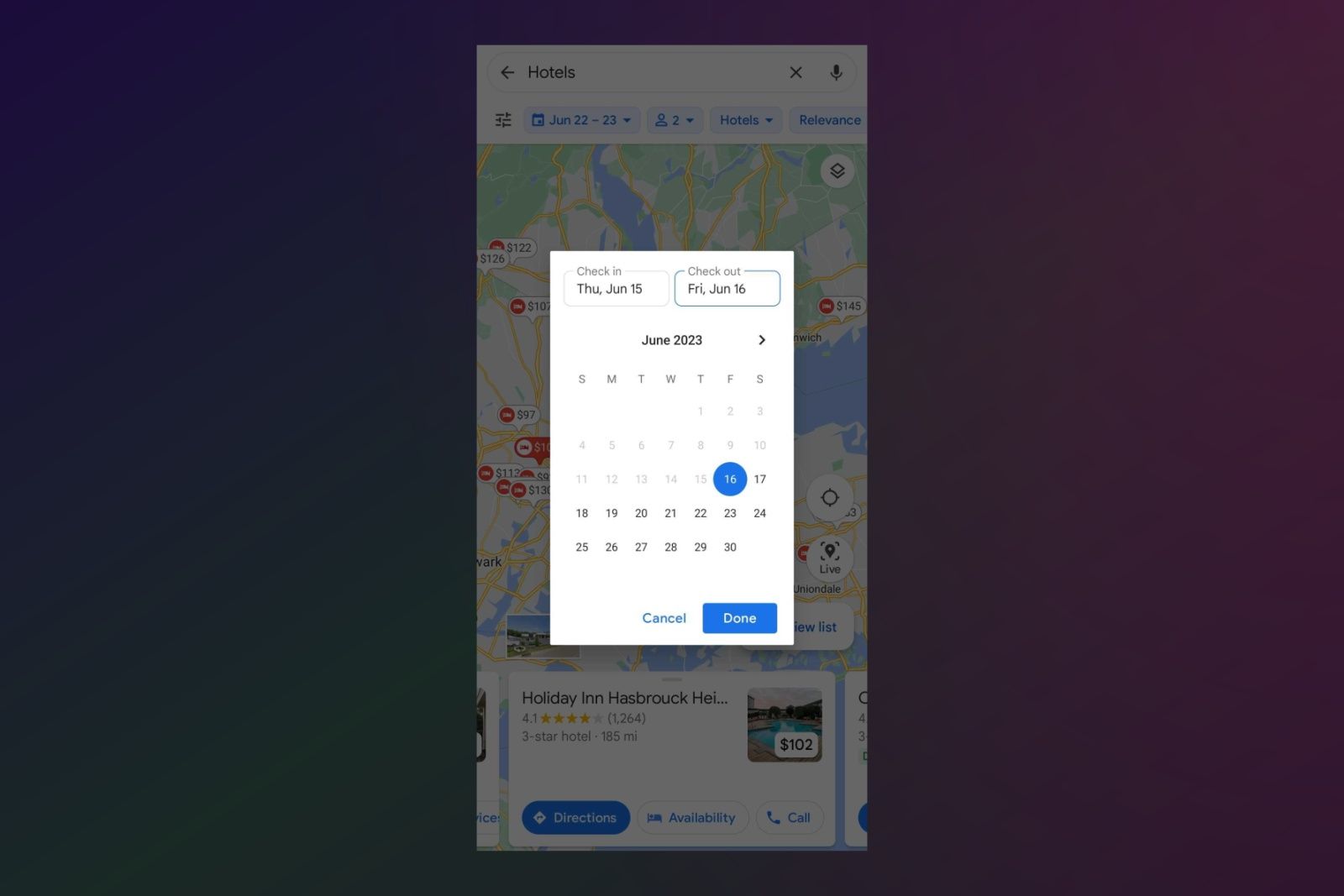 Google's Pixel phones and Apple's iPhone offer safety features built into their firmware that let you keep tabs on your friends and close family. So do many messaging apps like Facebook Messenger and WhatsApp. But we think using real-time location sharing on Google Maps is a great idea because if you're trying to coordinate where you'll be in an hour, why not have a proper, fully-loaded mapping app to do it with? Our full guide to location sharing on Google Maps is available here.
A different way of looking at transit lines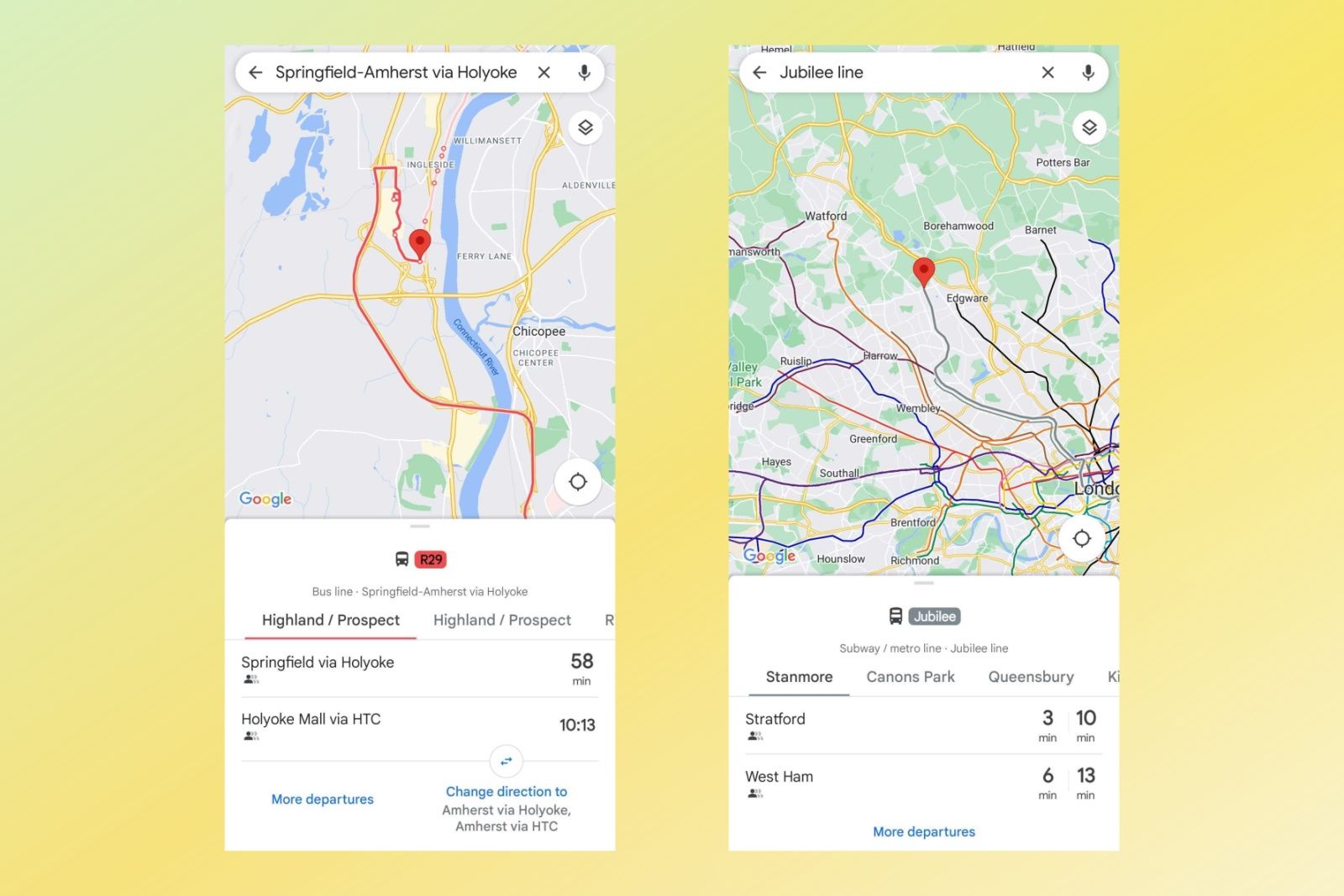 Here's a tip that's not exactly a tip.
I'm used to having the public transit layer in Maps turned on so that I can spot stops near where I'm going to or headed away from. What I didn't realize was that Google Maps also supports searching for route names… well, to a certain extent.
It works best with routes labeled on Google Maps with leading letters or even leading zeroes, such as the case with Bee-Line in Westchester County, New York. Transit agencies will differ on how they input their system information into their General Transit Feed Specification, so check around some stops on Maps beforehand to see what your commuting routes are posted as.
Searching for and choosing a transit route name will take you to the nearest stop relative to your current map view. The app will tell you about stations along the line as well as the next two departure in each direction. You can scroll through the station list or tap More departures to see all active routes going through the stop.
I'm not exactly sure what motivations would lead a user to search for a transit line in maps instead of just immediately looking up point-to-point directions, but if you do enjoy a bit more context, this might be a way to get it.