AI chatbots can be an incredible tool to help you work not only faster but more efficiently as well. With that in mind, there's no better way to access them than through your browser. There are a ton of different Chrome extensions out there that let you access AI chatbots as you browse the web.
1. All-in-one ChatGPT Copilot for web: HIX.AI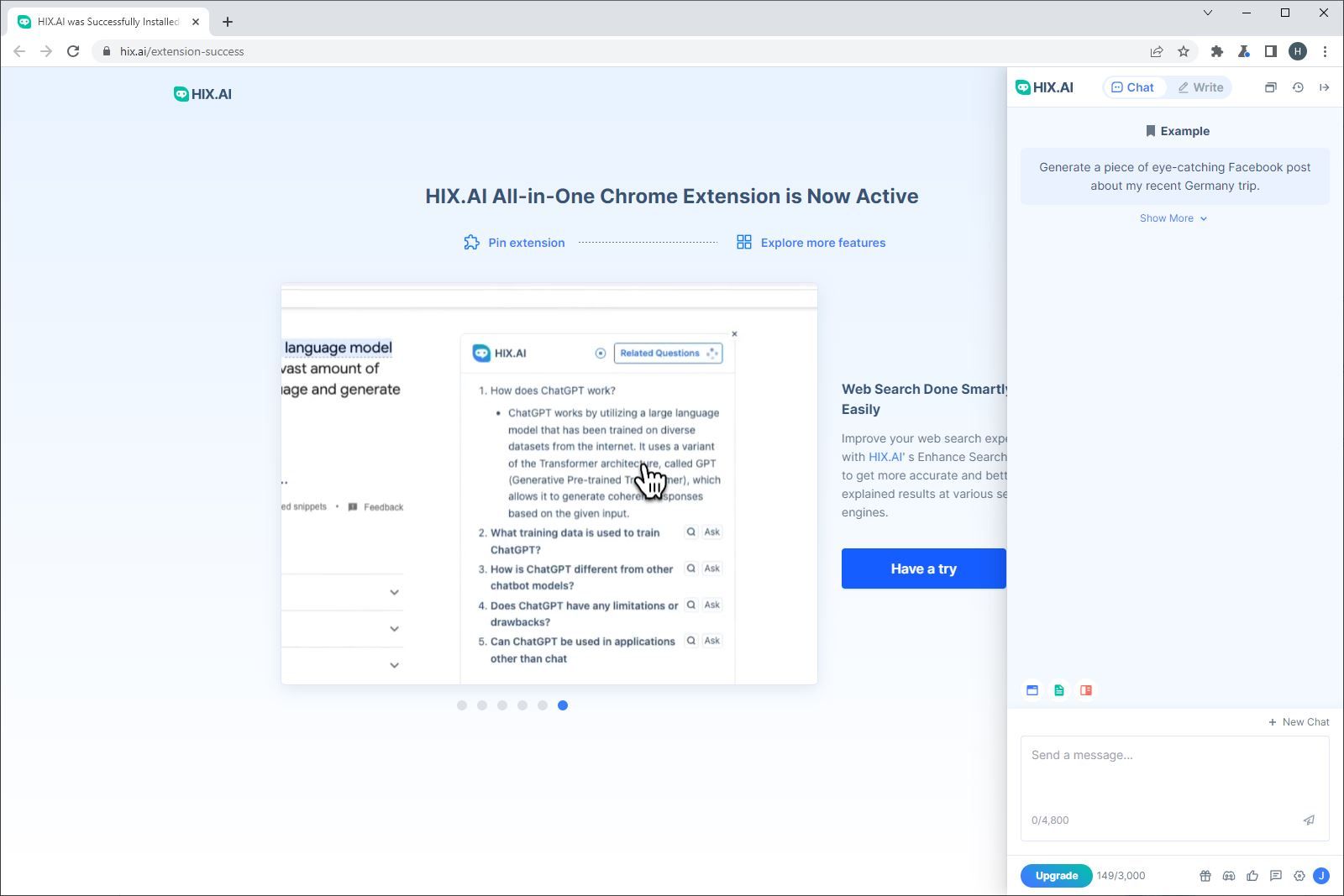 HIX.AI
HIX.AI's all-in-one Chrome extension goes beyond a regular AI chatbot. It is a solid option if you're looking for an AI assistant as you browse the web.
To get started with HIX.AI, all you have to do is install the extension and click on the button in your extension bar. Alternatively, you can use the command CTRL + P to instantly bring up the HIX.AI sidebar at any time. This is kind of like Bing's AI sidebar, with the exception that it works anywhere.
From here, you can access a huge range of different features. One is HIX Chat, a chatbot where you can get responses to your message or request directly. Alternatively, you can switch over to HIX.AI's write function in order to access any of the 120+ writing tools that HIX.AI comes with for inspiration.
If you want to make use of HIX Chat without opening the sidebar, just select a piece of text and HIX.AI's Quick Lookup tool will pop up. You can then ask AI any questions about the selected text, as well as expand, translate, summarise, and more.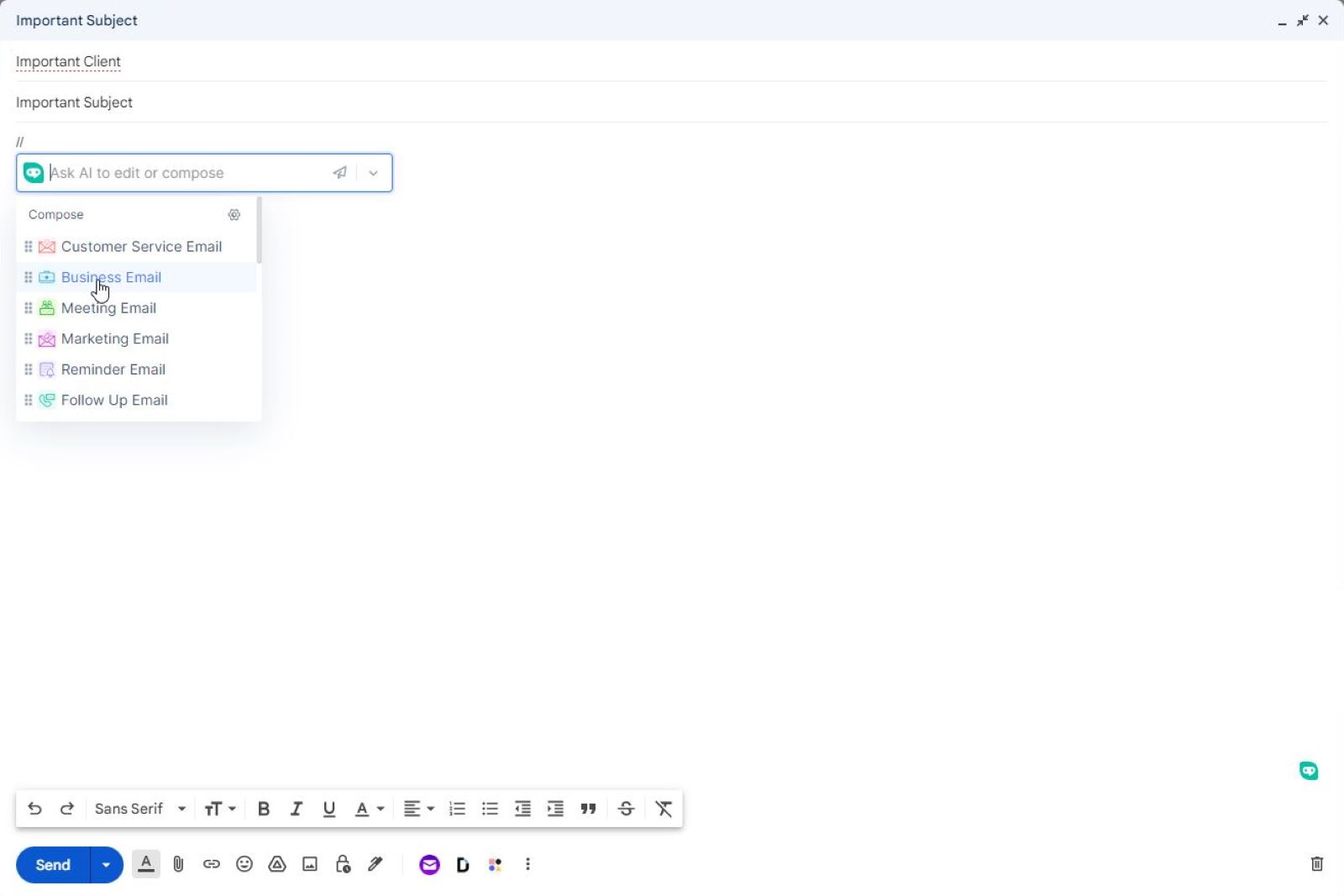 HIX.AI
You can also use this extension to inspire you to create content directly in Google Docs with ease. By typing //, you are able to draft and refine the content using AI, similar to what you can do with Notion AI.
This // command works on a wide range of different websites. You can type // on a social media website like Twitter or Facebook in order to quickly and easily generate posts and replies.
Similarly, you can type // in Gmail to compose new emails with compelling subject lines within seconds. Additionally, you can easily summarise or reply to emails by clicking the Summarize or Reply with AI button.
The extension can also be used to enhance your search experience on popular search engines, including Google, Yahoo Search, and more. When you perform a search, HIX.AI will automatically generate responses to help you find what you're looking for.
2. GPT search: search engine featuring ChatGPT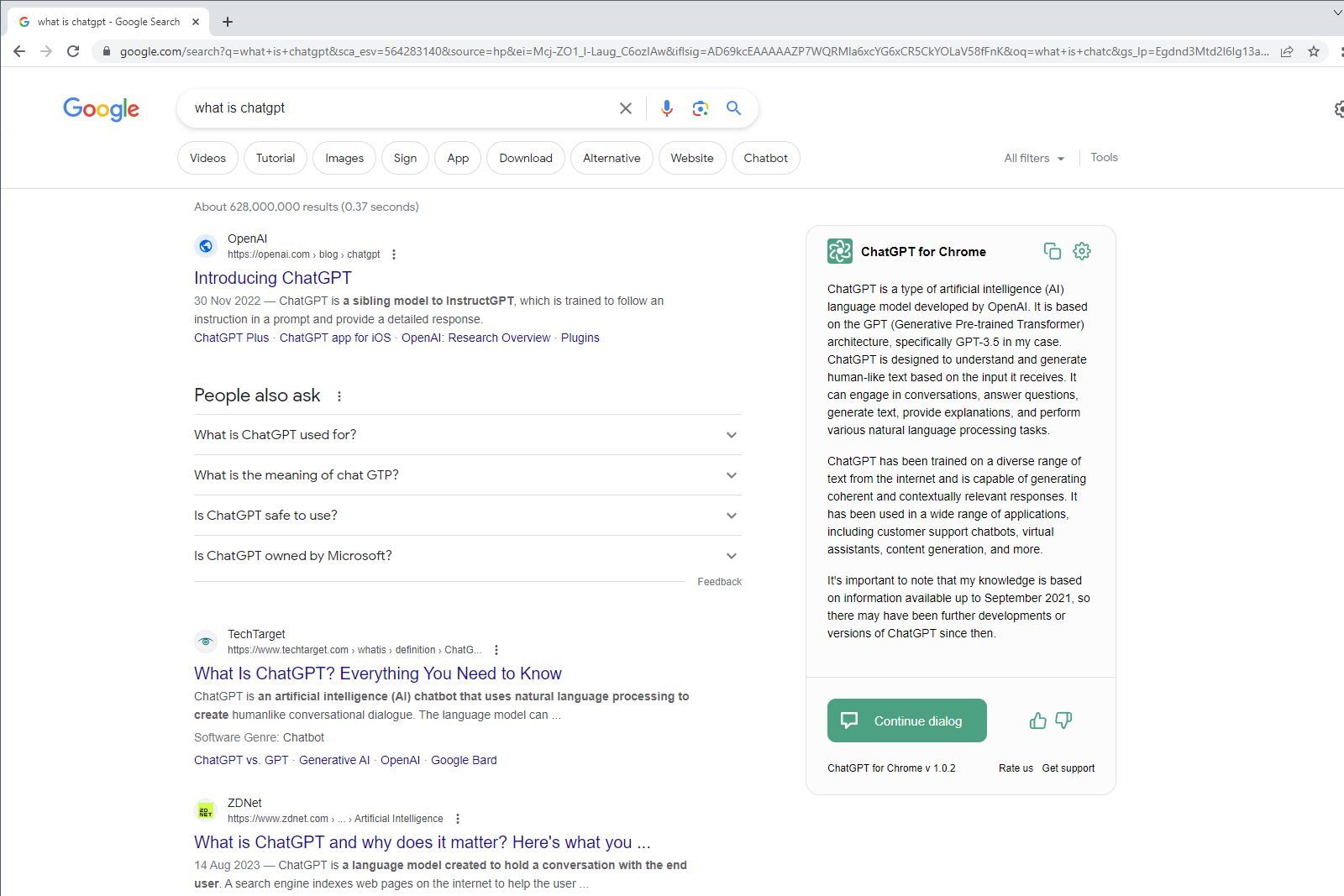 GPT Search
GPT Search is a Chrome extension that integrates ChatGPT's chatbot features directly into your searches.
For example, if you were to Google a question, this extension would automatically generate an answer from ChatGPT's chatbot as well. It would then integrate this response directly into your browser, right next to your regular search results.
This works on a range of different search engines, such as Google, Bing, and DuckDuckGo, among others. You can also click on the extension button in order to quickly access ChatGPT if you want to have quick and direct access to a chatbot in your browser.
3. Chathub: all-in-one chatbot client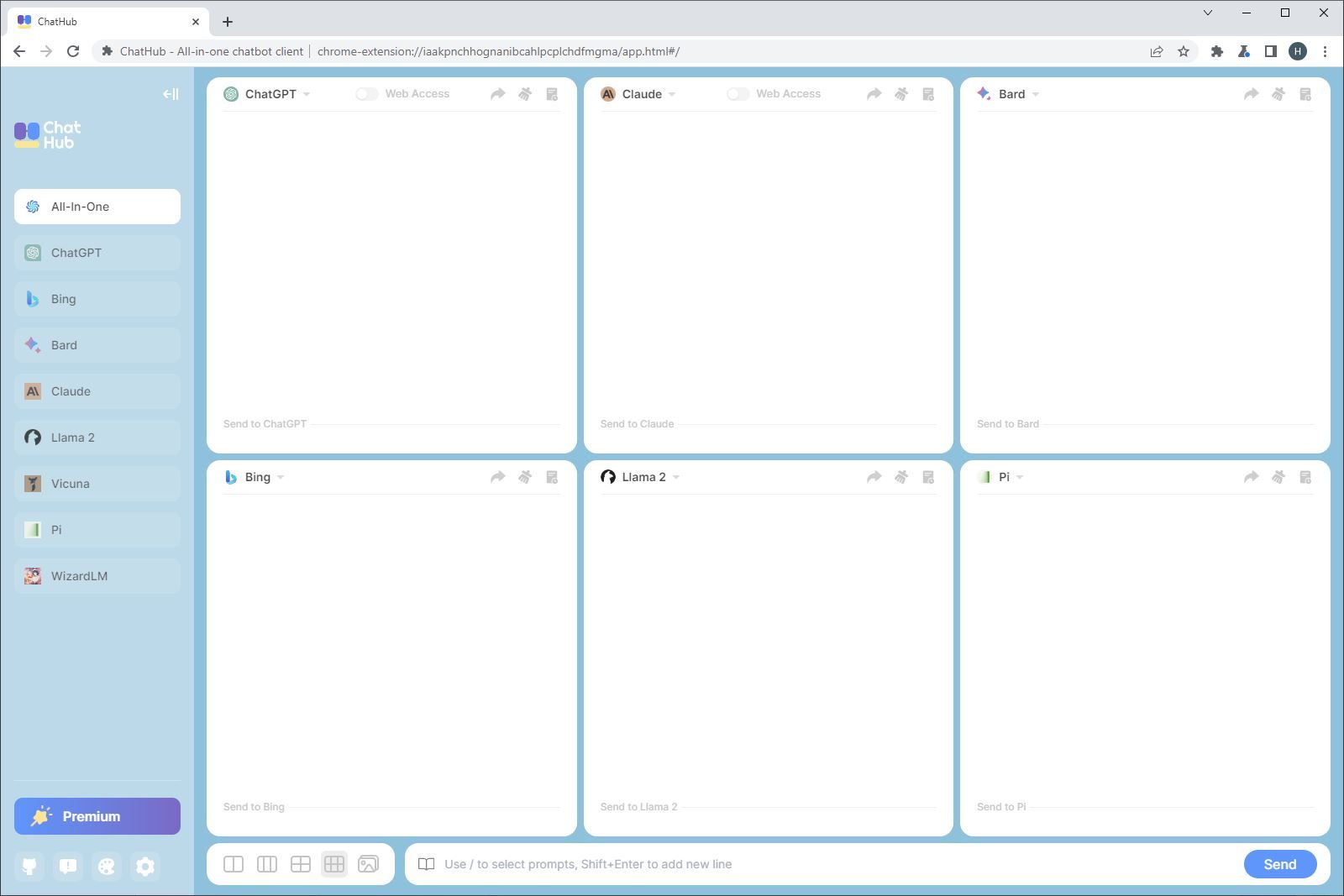 ChatHub
If you're looking for a way to quickly and easily access many different chatbots, then ChatHub is a great option for doing just that.
ChatHub supports over 10 different chatbots, which is a great way to get a range of different responses to a question or request.
You can use it to chat with multiple chatbots simultaneously. Thanks to its side-by-side layout, ChatHub allows you to talk to up to six different chatbots simultaneously.
4. Chat with Merlin AI assistant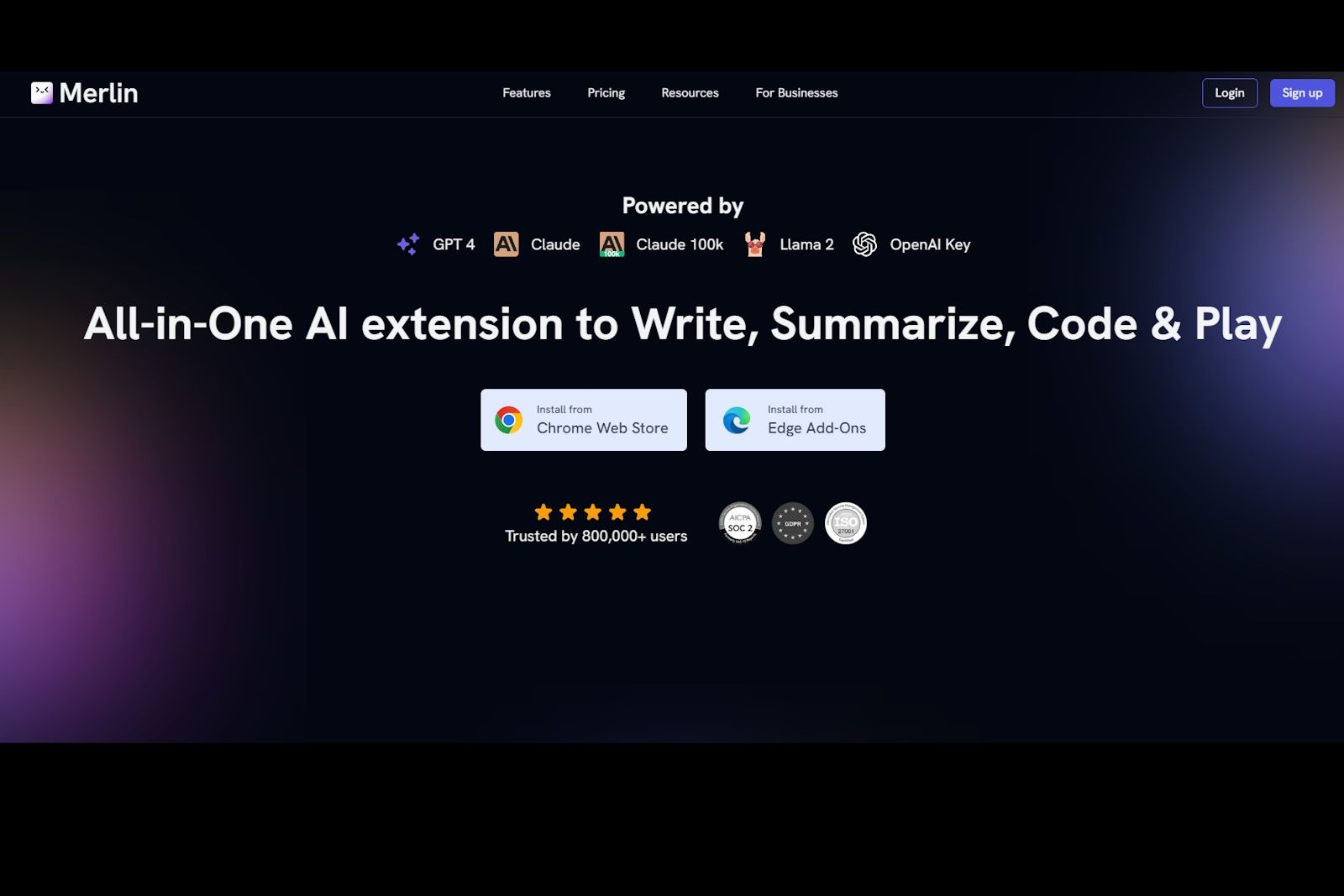 Merlin AI
For a chatbot that you can quickly and easily access from within your browser, Merlin AI is a solid option.
To access Merlin AI, all you need to do is go to the extension bar or use the command CTRL + M. This will give you access to all of Merlin AI's features such as web and doc chat, text translation, enhanced search results, and easy chatbot access, among a wide range of others.
Merlin AI is a good option for a range of different use cases, and being quick and easy to access makes it super easy to use when you need it as well.
5. ChitChat – ChatGPT Powered Search Engine Assistant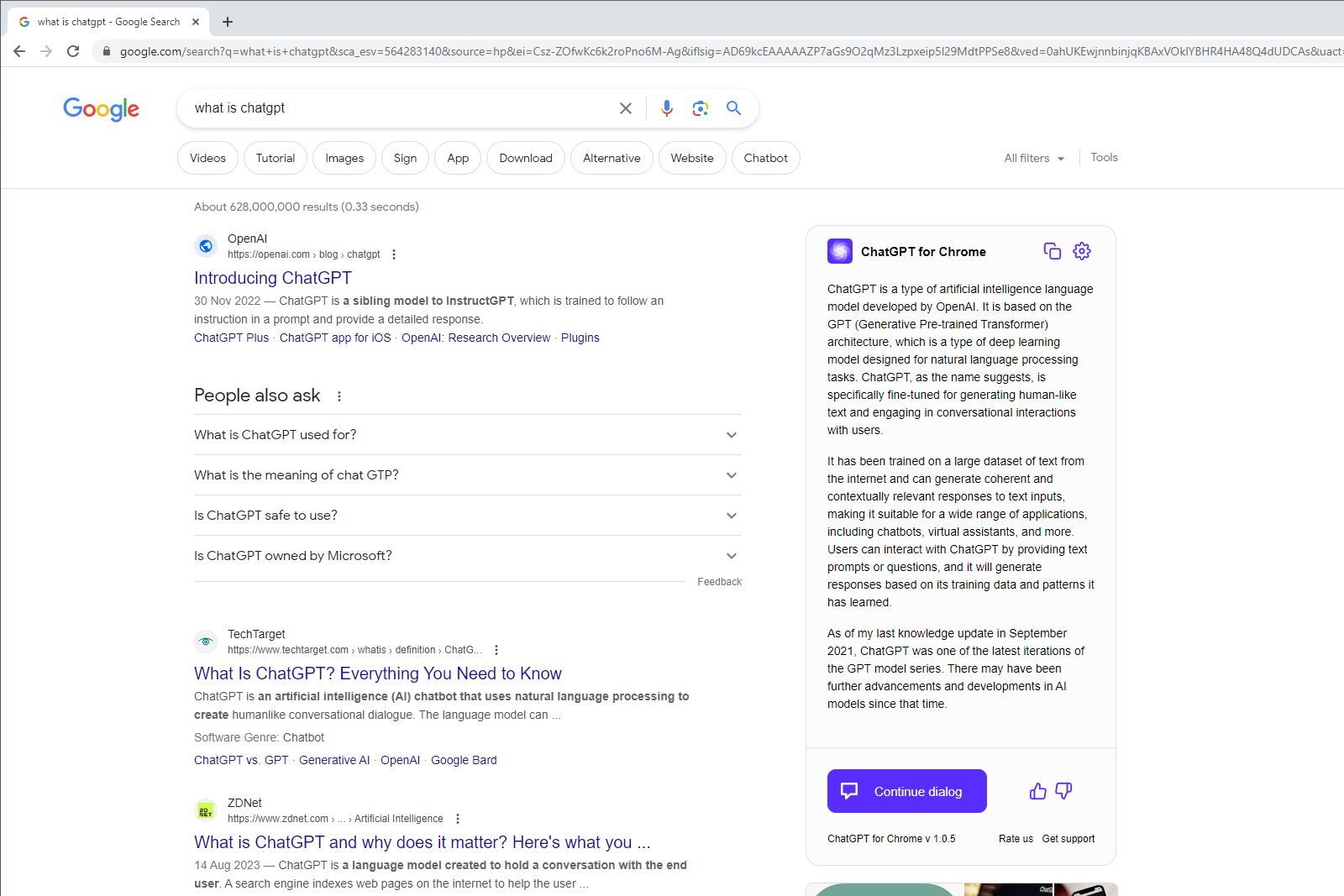 ChitChat
ChitChat brings ChatGPT chatbot responses directly to your browser. All you have to do to make the most of ChitChat is install it and then search for anything as you would normally. ChitChat will automatically take your search query and run it through ChatGPT's chatbot before returning the results to you.
The extension works on most search engines, such as Google, Bing, and Yahoo, and will integrate seamlessly into your results as you search. You can also use it to directly access the ChatGPT chatbot from within your browser at any time, which can be handy.
Get more out of your browser
As you can see, there are plenty of Chrome extensions that let you integrate chatbots directly into your browser. Whether you're looking for an extension that will give you inspiration on-the-go like the HIX.AI extension, or something that you can use to chat with multiple chatbots at once, like ChatHub, there's a Chrome extension out there for you.
This is a sponsored post. The product choices and opinions expressed in this article are from the sponsor and do not reflect the editorial direction of Pocket-lint or its staff.