All the features now available on your Apple Watch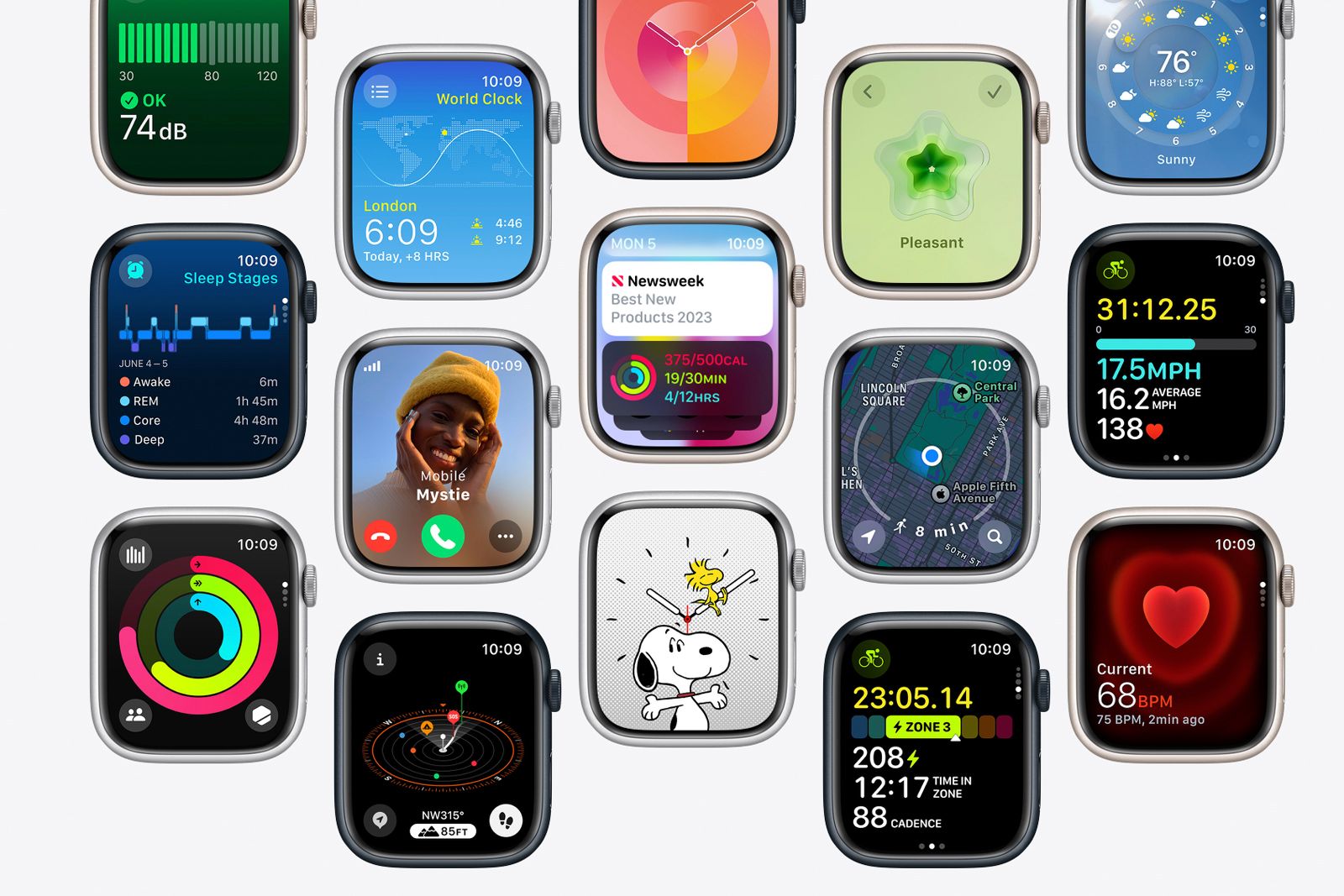 Apple releases major software updates for all its devices on a yearly basis, which deliver new features to iPhone, Apple Watch, iPad and Mac. For 2023, the new software update for the Apple Watch is watchOS 10, while for iPhone, it's iOS 17 and for iPad, it's iPadOS 17.
This is everything you need to know about watchOS 10, including what features it brings and what Apple Watch models are compatible with the new software.
watchOS 10 release date
5 June: watchOS 10 announced
July: Public betas of watchOS 10 released
18 September: Final release for watchOS 10
Apple used its Worldwide Developer Conference – otherwise known as WWDC – to reveal the upcoming software builds for iPhone, iPad, Mac, Apple Watch and Apple TV. The software builds were announced alongside a MacBook Air 15-inch, the long-rumoured Vision Pro headset and a new Mac Studio and Mac Pro power desktop. The company then released the developer betas of iOS, iPadOS, watchOS and macOS pretty much straight after WWDC, and the public betas were then released on 12 July.
The final public release of watchOS 10 was then made available on 18 September 2023, just before the availability of the Apple Watch Series 9 and Watch Ultra 2.
watchOS 10 features
The watchOS 10 update brings some big changes to Apple Watch. There are a still a couple of things we'd have loved to see but here's a run down of all the features your Apple Watch can now do if you have installed the new software. We've also got a watchOS 10 preview that gives you an idea of what some of the new features are like to use.
Interface changes
watchOS 10 brings with it some key changes to the user interface for Apple Watch. The Apple Watch interface has remained largely unchanged since the Apple Watch first arrived in 2015 so a change to the UI is certainly interesting. The new interface on watchOS 10 sees widgets introduced, along with Smart Stacks, that allows you to pile a number of widgets on top of each other so you can scroll through them quickly and easily, whilst also getting time-sensitive information when you need it. A turn of the Digital Crown will launch Widgets and Smart Stacks, while a press of the side button will open Control Centre. If you have the Watch Series 9 or the Watch Ultra 2, you can also use the Double Tap feature to launch Smart Stacks and tap through them.
Watch Faces
Each build of Apple Watch software brings a couple of new Watch Faces, and watchOS 10 brings one of the most exciting yet – Snoopy. Snoopy and Woodstock react to things like the weather and get active with you, though there is also a face called Palette that sees various colours shift throughout the day in different layers.
Apple Fitness+
watchOS 10 brings a couple of features to Fitness+, one of which is a feature offered on Peloton. The software update brings Custom Workouts to Fitness+ that allow you to select workout preferences, such as the days, workout duration and types, trainers, and music, to create a Custom Plan to keep you on track. There are also Stacks though, which is the feature offered on Peloton, allowing you to stack multiple workouts and meditations to move between activities quickly and easily.
Cycling
Apple has made some solid changes to the Cycling workout app with watchOS 10 that allow you to automatically connect to Bluetooth-enabled accessories to add cadence, speed, and power to your Workout View. If a power meter is detected, the Apple Watch can automatically estimate your Functional Threshold Power, which is the highest level of intensity you can maintain for an hour. You'll then get Power Zones with information as to how long you spend in each zone. Additionally, if you start a cycling workout, it appears as a Live Activity on your iPhone, and appears in full screen to give you a quick and easy way to see how you're doing.
Hiking
There are some changes to Hiking too, with changes to Compass that sees an Elevation View showing a three-dimensional view of where you have been, along with a marker to show where you last had cellular connectivity with Cellular Connectivity Waypoints and a marker to show where you can make an emergency call. There are also Topographic Maps to help you see mountains, valleys, lakes, and rivers in plenty of detail, including trails, contour lines, elevation, and points of interest. You'll also get elevation alerts with watchOS 10 that will let you know when you go passed a certain elevation.
Mental Health
There's a big focus on Mental Health for watchOS 10, that sees you able to reflect on your state of mind and mental wellbeing. There are a range of visuals that help you log how you're feeling and your daily mood in the Mindfulness app. You'll also get insights in the Health app that show your state of mind over time and how that may have been affected by lifestyle factors like time spent in daylight, sleep, exercise, and mindful minutes.
Vision Health
There are some features in watchOS 10 that are designed to help with Myopia, otherwise known as nearsightedness. It's said the condition develops in childhood but a way to reduce the risk is to encourage children to spend more time outdoors. The ambient light sensor in Apple Watch can measure time in daylight with watchOS 10 and Family Setup allows you to keep track.
Which Apple Watch models are compatible with watchOS 10?
The original Apple Watch, Series 1, Series 2 and Series 3 won't be compatible with watchOS 10 as they aren't compatible with watchOS 9.
For 2023, Apple hasn't dropped support for any Watch models that run watchOS 9 so the Series 4 has escaped the chopping block this time around and will continue to offer most of the new features.
The following Apple Watch models are compatible with watchOS 10:
Watch Series 4
Watch Series 5
Watch SE (2020)
Watch Series 6
Watch Series 7
Watch SE (2022)
Watch Series 8
Watch Ultra
Watch Series 9
Watch Ultra 2
watchOS 10 rumours: What happened?
This is everything we heard about watchOS 10 before it was officially announced.
12 July 2023: Apple released public beta of watchOS 10
Apple released the public beta of watchOS 10, meaning you can now download and install the software onto your device.
5 June 2023: Apple reveals big changes coming to Apple Watch with watchOS 10
Apple announced watchOS 10 during its WWDC conference, revealing all the features we can expect to come to Apple Watch later this year.
30 April 2023: More details on watchOS 10 appear
Mark Gurman detailed some more information in his latest Power On newsletter about what is coming with watchOS 10.
17 April 2023: Apple's watchOS 10 could be biggest update since debut, here's why
Mark Gurman reported in his weekly Power On newsletter that watchOS 10 "will bring bigger enhancements [compared to iOS 17 and iPadOS 17] including an updated interface."
He also said he believes it will be "the biggest update to the Apple Watch's software since the first version was introduced in 2015."
29 March 2023: Apple announces WWDC 2023 – unveiling AR/VR headset, iOS 17, more?
Apple announced WWDC 23 will take place between 5 June and 9 June 2023. It is expected that watchOS 10 will be revealed.