Computers
All the pieces I used to build my own gaming PC (and why)
It's not every day that I get to write about the decisions I make. In fact, it's been so long that the last article I wrote about myself is entirely irrelevant now. In any case, no need to bury the lede here. I started experiencing some major issues with my desktop PC in early 2023. It was throwing BSODs, randomly shutting down, freezing for two to three seconds at a time, and the USB ports on the PC case, when used, would disable every USB port on the PC. Since I both work and game on my desktop PC, it needed to be fixed. So, I set out to build a PC in June 2023.
Since I luckily live near a Micro Center, I didn't spend a long time searching for the bits and pieces, but rather went there to buy everything I needed, and it was a great experience that I think every PC enthusiast should have at some point. You essentially go in and tell an employee that you want to build a PC. From there, they grab a cart, help you shop for all the parts you'll need, and then check you out at the end. It's a real white glove service, and it's honestly one of my favorite parts of building a PC. Anyway, here are the parts I purchased and why I chose them, starting with the AMD Ryzen 9 7900X CPU.
AMD / Pocket-lint

AMD Ryzen 9 7900X

1. The CPU

ASUS / Pocket-lint

Asus ROG Strix B650E-F Gaming WiFi

2. The motherboard

G.Skill / Pocket-lint

G.Skill Flare X5 Series (AMD Expo) 6000MHz 32GB (CL36)

3. The RAM

DeepCool / Pocket-lint

DeepCool AK620 Zero Dark CPU Air Cooler

4. The CPU cooler

PowerColor / Pocket-lint

PowerColor Hellhound AMD Radeon RX 7900 XT

5. The GPU
Everything I used to build my own PC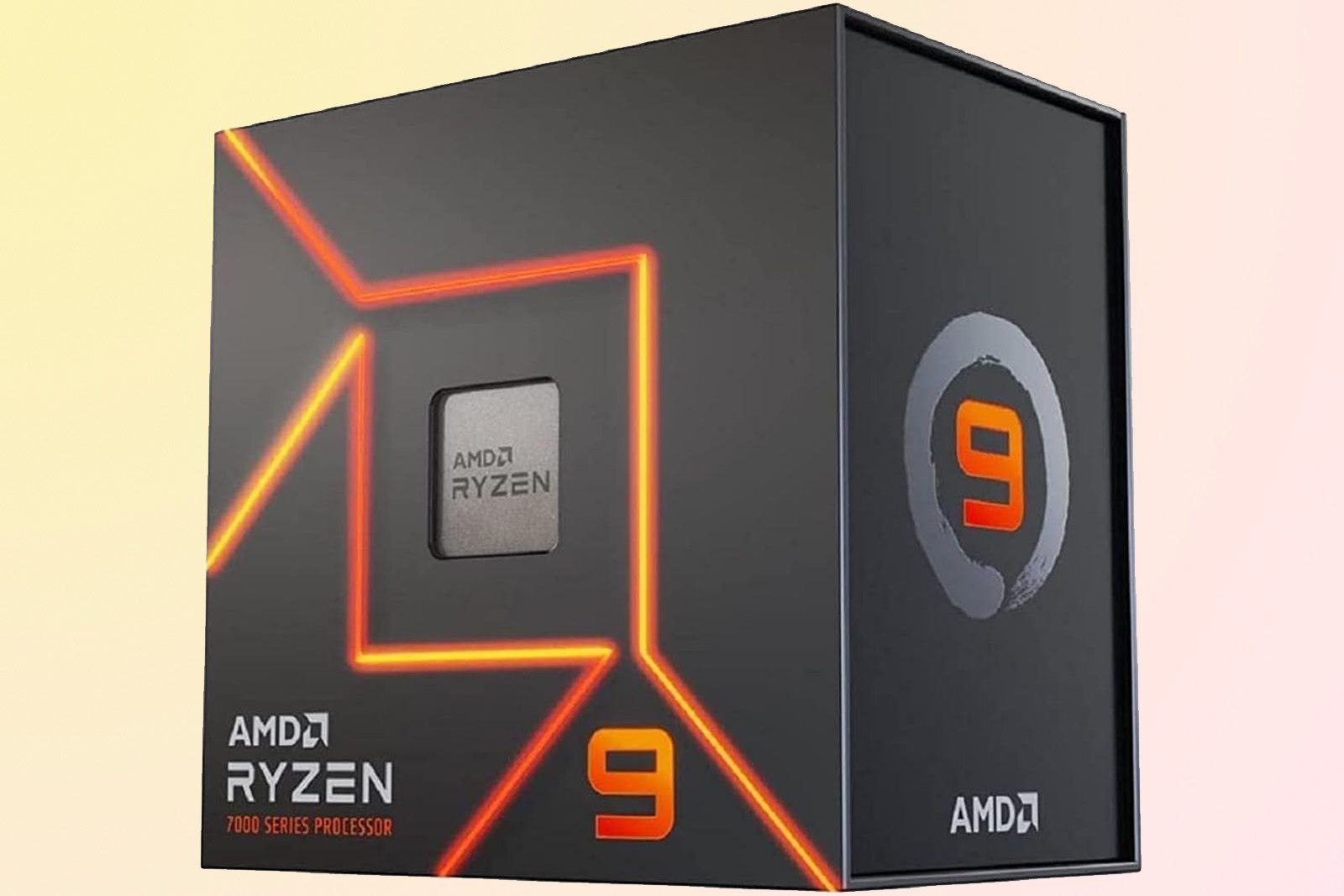 AMD / Pocket-lint
AMD Ryzen 9 7900X
1. The CPU
12-cores and 24-threads of excellent computing power
$401 $549 Save $148
The Ryzen 9 7900X is one of AMD's highest-end CPUs of 2023. It features a chiplet design with six cores per chiplet along with a third chiplet that does the I/O work.
Pros
Very fast, especially for productivity work.
Eco Mode helps control otherwise high power usage
Maximum boost clock of 5.6GHz
Cons
Requires a beefy cooler
Gaming performance is on par with the cheaper Ryzen 7 7700X
Out of Eco Mode, it has a 170W TDP, which is high
This was the first choice that I made. Micro Center was running a special for this CPU, the Asus B650E-F motherboard, and 32GB of G. Skill RAM for $550. At the time, that was a savings of $450, which was essentially giving me the motherboard and RAM for free with the purchase of the CPU. As of this writing, if I were to buy all three components on Amazon right now, it would still cost more than I paid by about $200. It was a solid deal and I don't regret it at all.
The Ryzen 9 7900X features a chiplet design. This means that there are two chiplets with six cores each. It works great for productivity tasks, but the need to swap data between the two CPU core chiplets does degrade gaming performance a little bit. Thus, despite being the more expensive processor with more cores, the 7900X does as well at gaming as the smaller, cheaper Ryzen 7 7700X. I run this CPU in Eco Mode the vast majority of the time since I don't do anything that requires boosting the clock to its insane 5.6GHz maximum. That keeps temps and power usage down, and I honestly don't notice any differences in day-to-day use.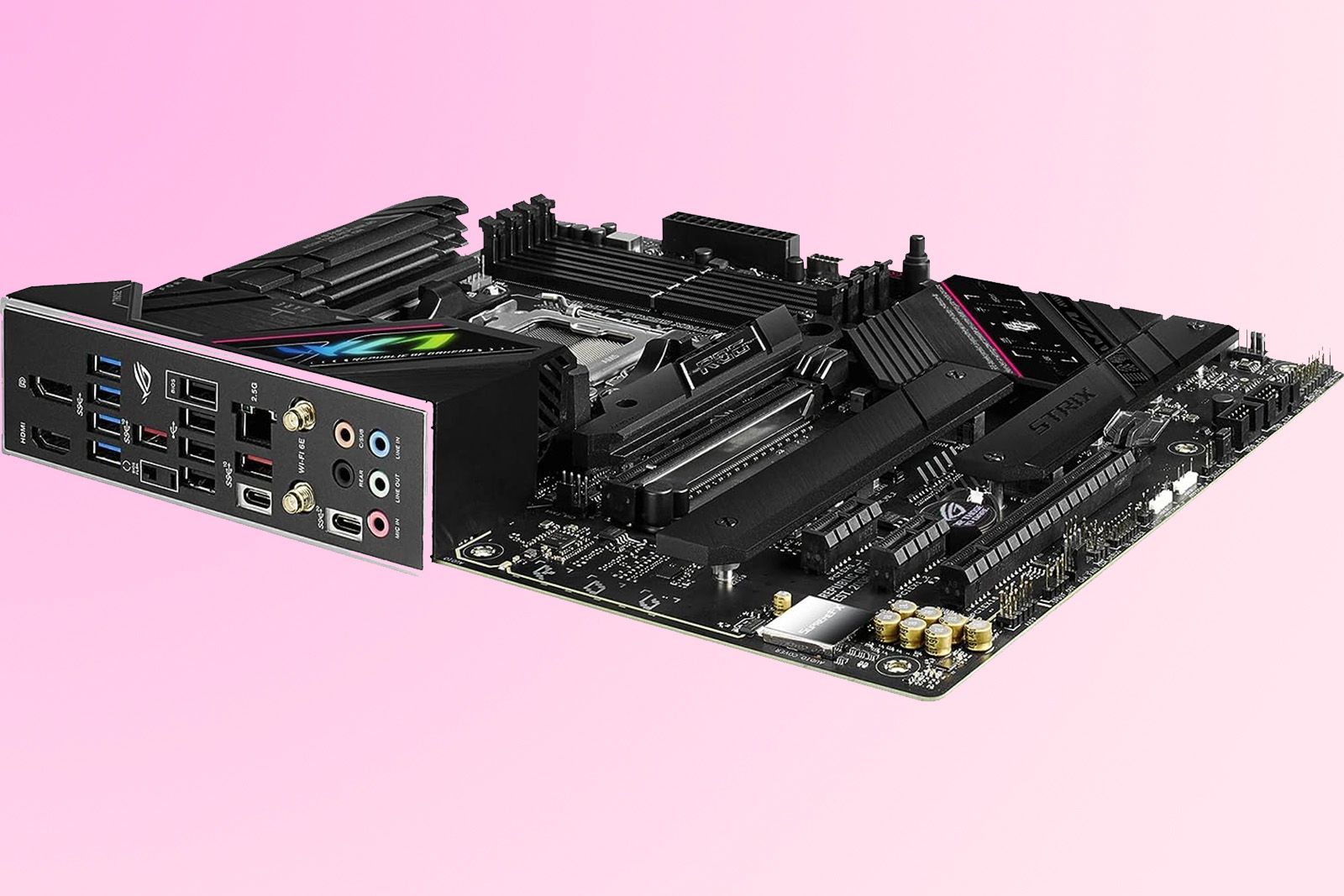 ASUS / Pocket-lint
Asus ROG Strix B650E-F Gaming WiFi
2. The motherboard
Honestly not bad once ASUS cleaned up its act
$255 $290 Save $35
The ASUS ROG Strix B650E-F is an upper-midrange motherboard with built-in Wi-Fi and other high-end features.
Pros
It does everything I could ask a motherboard to do
Modern features like PCIe 5.0, Wi-Fi 6E, and more
Tons and tons of rear panel ports
Cons
Outside of a good sale, it's probably too expensive for what it offers
ASUS customer support hasn't been great in 2023
This motherboard came in the bundle deal with the Ryzen 9 7900X, so I didn't really get a chance to switch it out or go with any other motherboard. Fortunately, it's a rock-solid board for a build like mine. I get all the Wi-Fi 6E and back panel ports I could ask for along with modern amenities like PCIe 5.0 support. Honestly, the idea of spending over $200 on a motherboard makes me uncomfortable, but this was part of a package deal, so I didn't complain about it this time around.
I made my purchase in June, so it came after the big AM5 motherboard controversy where motherboards were melting CPUs. ASUS played a pretty big role in making that whole thing as miserable as possible before eventually backpedaling and delivering the BIOS updates that would limit the SoC voltage to safe levels. I flashed that BIOS to this motherboard before my first boot using the BIOS Flashback feature that can install a BIOS without booting the PC. It's worked like a charm ever since, and it's never seen an SoC voltage above 1.3V.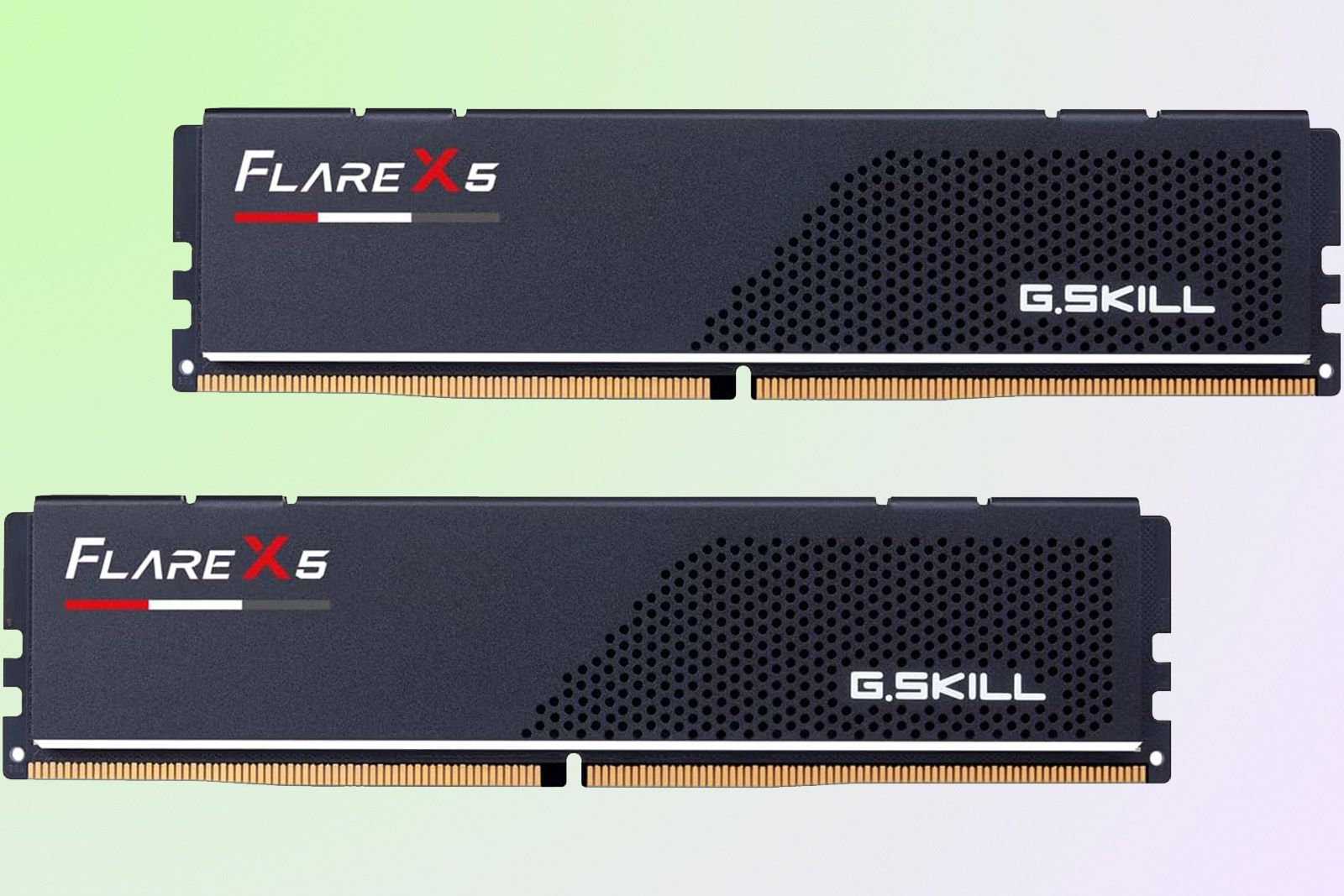 G.Skill / Pocket-lint
G.Skill Flare X5 Series (AMD Expo) 6000MHz 32GB (CL36)
3. The RAM
Not bad considering I got it essentially for free
A reasonably good set of DDR5 RAM. It doesn't have any flashy RGB lighting or anything, but 32GB of DDR5 RAM for under $100 isn't a bad deal.
Pros
It works without drama
Low-profile memory works well with chunky air coolers
Limited lifetime warranty
Cons
EXPO was funky on the ASUS B650E-F until a BIOS update fixed it
The G.Skill Flare X5 Series 32GB DDR5 RAM is what I ended up with as part of the CPU, motherboard, and RAM deal I got from Micro Center. Aside from its obnoxiously long name, it also has a long expected lifespan. G.Skill offers a limited lifetime warranty on its RAM kits, so if it does break, I can get new RAM for free within reason. I wanted to make sure my build had 32GB of RAM because 16GB doesn't cut it as well as it used to. Browsers, video editing apps, and even some games use a lot more RAM than they did when I built my last system, which had 16GB.
I don't use EXPO, mostly because I don't have a use case where I benefit from it. However, this RAM received several negative customer reviews on Micro Center's website because the motherboard it was sold with, the B650E-F listed above, didn't have the best EXPO support out of the box. ASUS fixed it with a BIOS update eventually, but G.Skill unfairly took the blame for it. RAM is not a complicated PC part, so when I stuck it in the DIMM slots, and it showed up as 32GB, I stopped thinking about it. It's good RAM.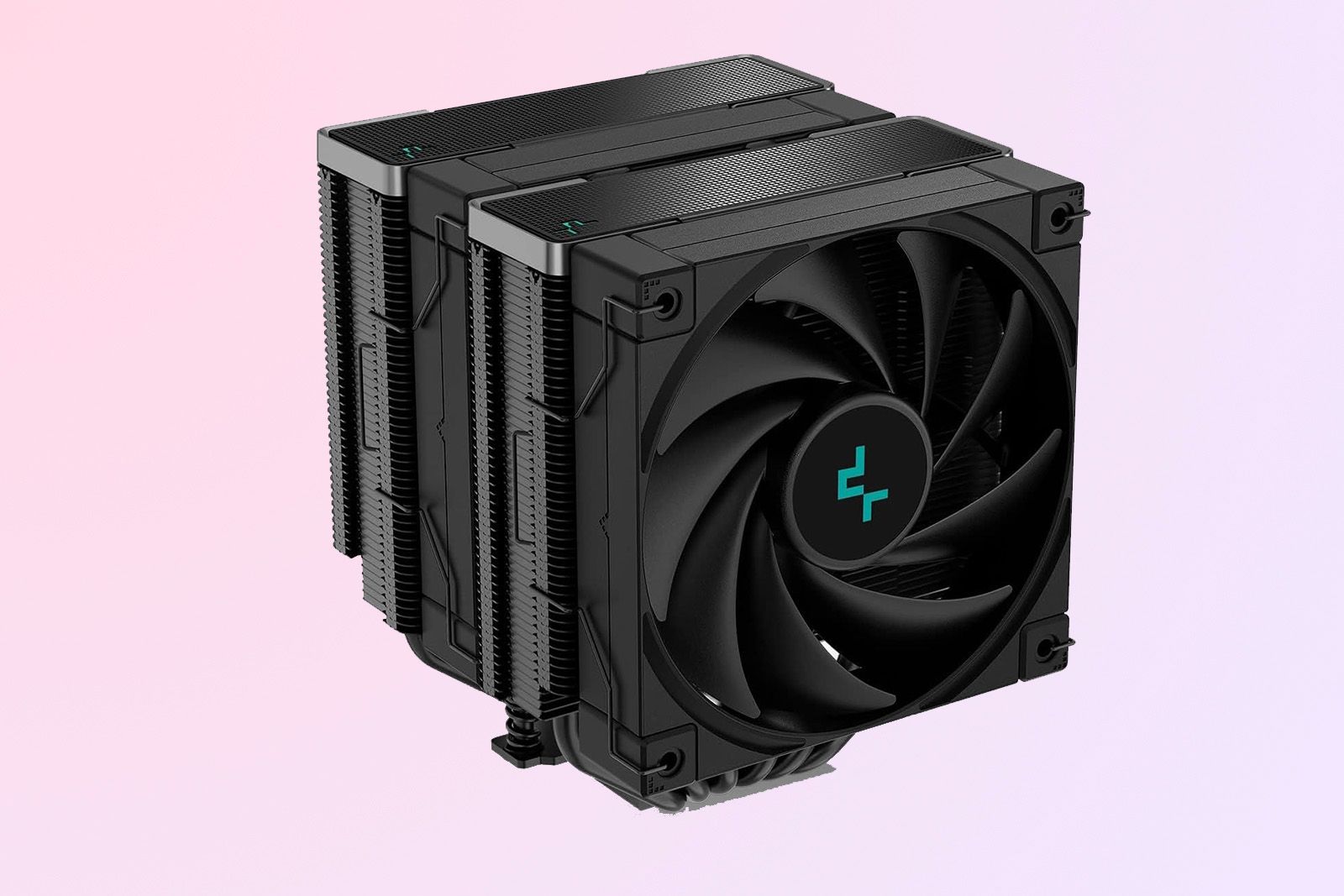 DeepCool / Pocket-lint
DeepCool AK620 Zero Dark CPU Air Cooler
4. The CPU cooler
It does the job somehow
$70 $75 Save $5
The DeepCool AK620 is an excellent air cooler. The Zero Dark variant includes black heat pipes and heat sinks that give it a sleek look despite its size.
Pros
Lets the Ryzen 9 7900X operate at max power without thermal throttling
All black design looks slick in practice
Fans are easy to replace in case one goes down
Cons
This thing is chunky, and may not fit in ever PC case
The DeepCool AK620 was an upsell from the Micro Center employee who assisted me. I was going to go with another product entirely, but he told me this was going to function better and that I needed something beefier if I was going to go with the Ryzen 9 7900X. CPU cooling wasn't my strong suit, so I did as the nice man told me and bought this one over the single-tower CPU cooler I was going to buy. I have since improved my CPU cooler knowledge, and the Micro Center employee was right. The single tower cooler I originally picked would've been a terrible idea.
While powerful, this CPU cooler is a real chonkster. With a thick build and tall measurements, I could barely fit the unit in one hand while fishing it out of the packaging. Luckily, that size is not for naught. It lets the Ryzen 9 7900X hit its maximum clock speed while just barely keeping it under its 95C thermal limit when tested with Prime95. When in Eco Mode, the cooler rarely lets my CPU see 70C, and it's usually only for a couple of seconds when launching a game. In short, this thing rocks, and I'm glad air cooling is still viable in 2023.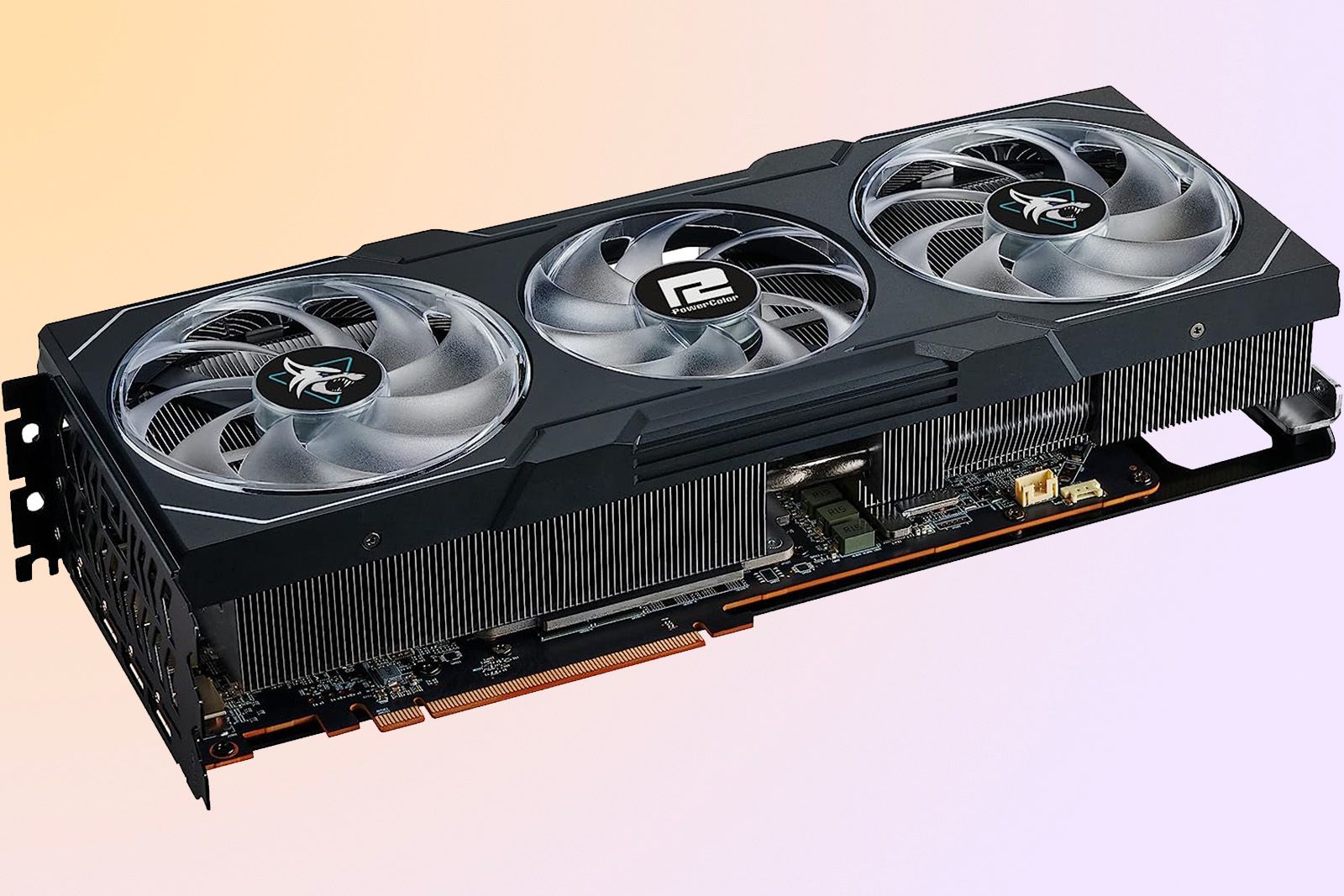 PowerColor / Pocket-lint
PowerColor Hellhound AMD Radeon RX 7900 XT
5. The GPU
I basically stole this thing, the sale on it was so good
$800 $850 Save $50
The PowerColor Hellhound RX 7900 XT may not be as good as the 7900 XTX, but at the time I bought it, it was a much better value.
The graphics card was where things got a little indecisive for me. I originally went with a Radeon RX 6950 XT because it was $50 off with the purchase of an AMD CPU. It worked fine for me for the two weeks that I owned it. However, PowerColor put its Hellhound RX 7900 XT on sale for $699.99, and I felt that the $100 extra was worth the upgrade. So, I popped the RX 6950 XT out of my build, returned it, and bought this instead.
I'm quite happy that I did for two reasons. The first is that my previous two builds used NVIDIA graphics cards and I wanted to see how good Radeon cards were these days. I know that NVIDIA does better for productivity work and ray tracing, but I don't really care much about ray tracing and both the RX 7900 XT and its NVIDIA counterpart, the RTX 4070 TI, are complete overkill for my productivity needs anyway. Plus, I think Adrenaline is better than NVIDIA's GeForce Experience, and I will die on that hill.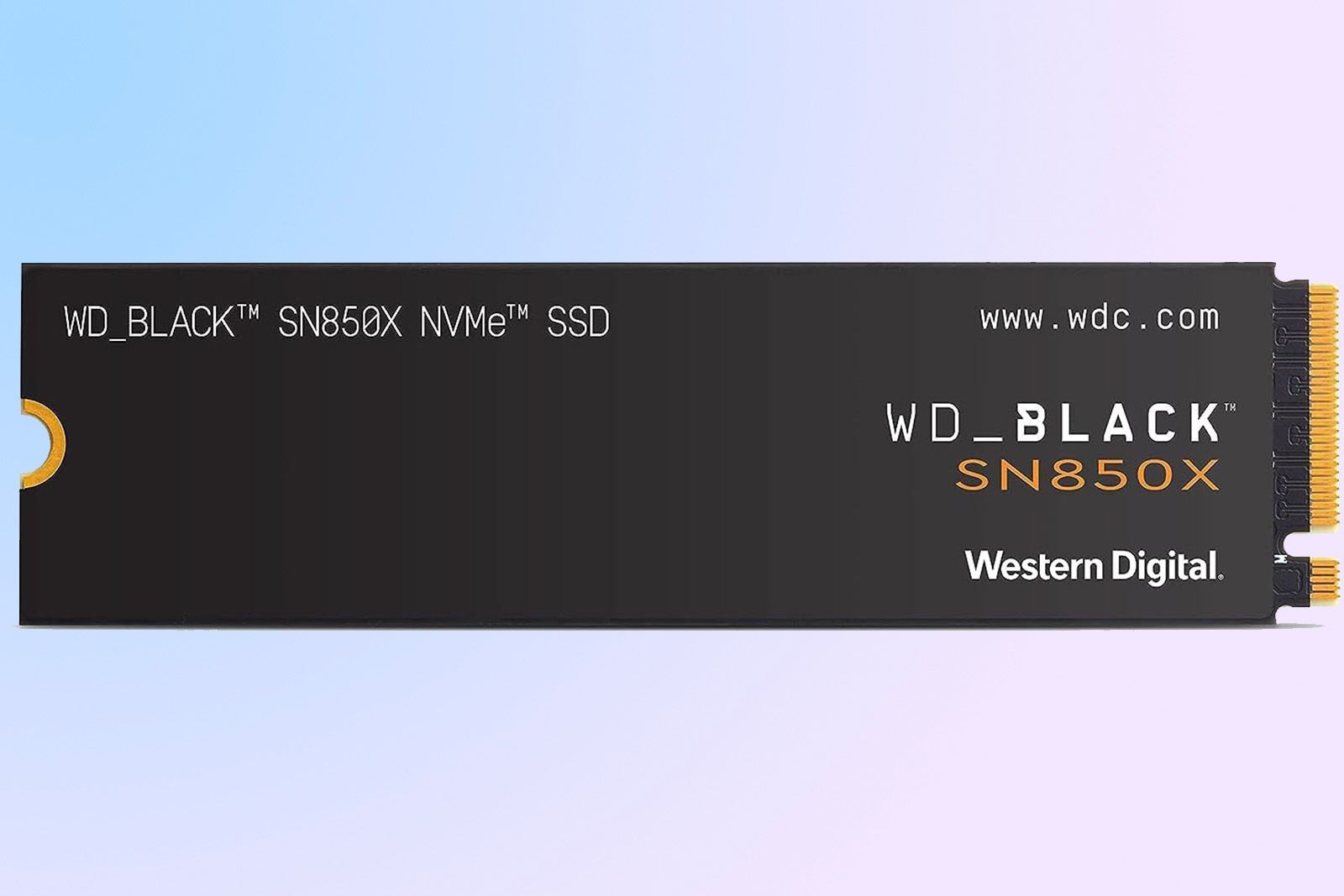 Western Digital / Pocket-lint
WD_BLACK 1TB SN850X NVMe 4.0 Internal Gaming SSD
6. The SSD
An oopsies turned into a good thing
$70 $160 Save $90
The WD Black SN850X is a highly rated NVMe SSD with a long expected lifespan, quick speeds, and support for Microsoft's DirectStorage technology.
Pros
Support for Microsoft DirectStorage
Good read and write speeds
Good rated lifespan
Cons
Very expensive when it's not on sale
The WD Black SN850X SSD was a fix for the first mistake I made during my build process. I had originally purchased a 2TB Crucial P3 Plus SSD as my boot drive. However, after I got home and did some reading, I learned that the P3 Plus isn't great for boot drive applications due to its average lifespan. So, in the middle of the night, I bought a SN850X to use as the boot drive and decided to use the P3 Plus as a storage and gaming drive. As a storage and gaming drive, the P3 Plus won't have to do a ton of writing, so the average lifespan is mitigated.
My only regret with the SN850X is that I didn't wait for Amazon Prime Day, when it was even cheaper, and that I didn't get a 2TB drive. It's not the biggest deal since my games are installed on an entirely separate drive, but like many, I tend to believe that more is better, at least when it comes to PC storage. My SN850X is only a few months old, but it's been such a smooth experience that I rarely even think about it.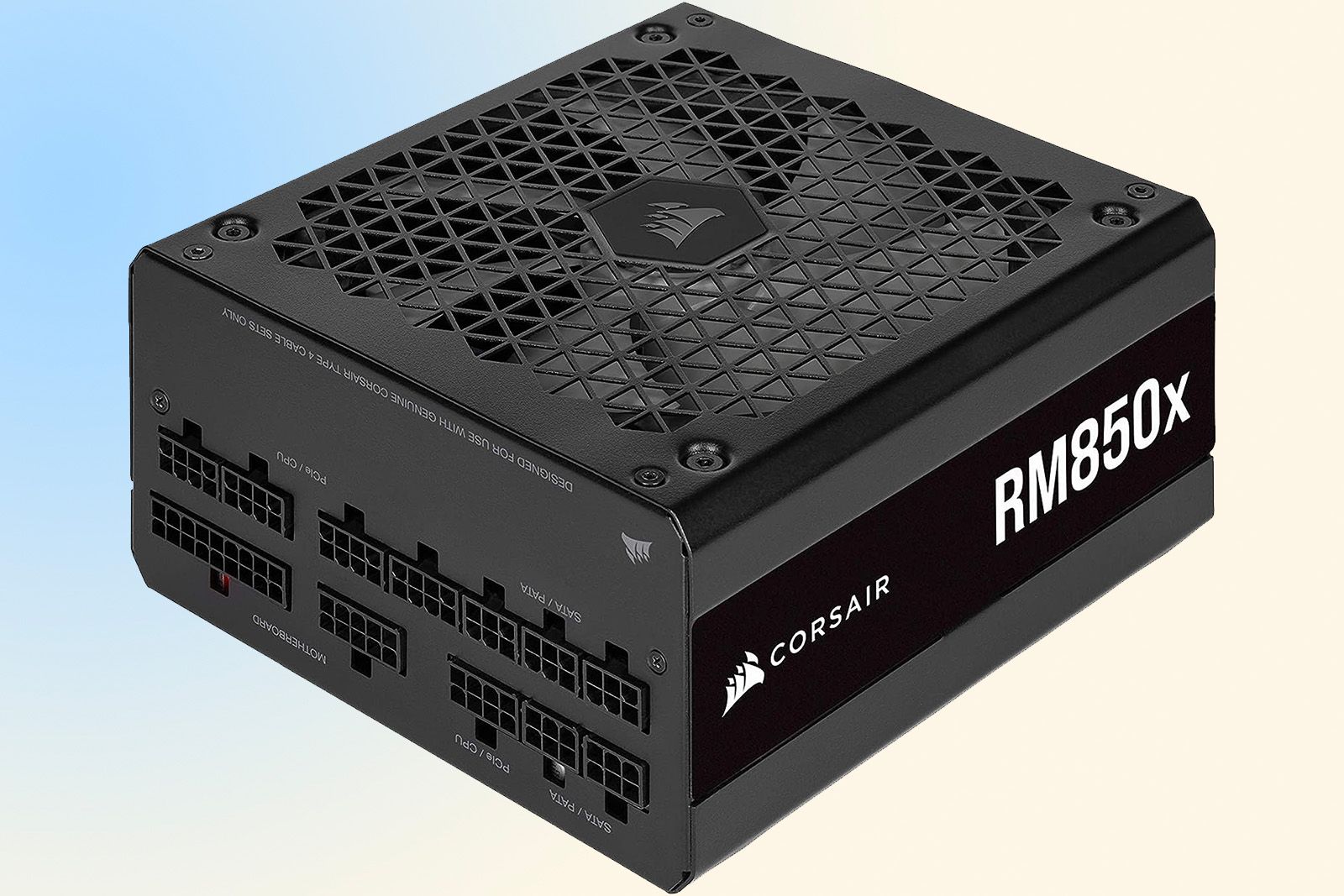 Corsair / Pocket-lint
Corsair RM850x
7. The power supply
As steady as can be, but not futureproof
$135 $150 Save $15
The Corsair RM850x is a reliable power supply from a reliable brand. However, it is from the previous generation of Corsair power supplies, so that's worth taking into consideration.
Pros
Fully modular
10-year warranty
Zero RPM mode is dead quiet unless I'm really working the PC
Cons
The newest RMx SHIFT PSUs have support for more modern tech standards
It's a bit expensive when it's not on sale
The Corsair RM850x represents my second mistake on this build for two reasons. The first is that I paid full price for it like an idiot. I really should've shopped around a little more for something on sale, and that's on me. The second mistake is that the RMx SHIFT Series PSUs are rated for ATX 3.0, and the regular RM850x is not. So, I not only overpaid, but I also didn't future-proof at all. It's not the biggest deal, but paying full price for an old product is dumb, and I was dumb for doing it.
Now, that isn't to say that the RM850x is a bad product. It's reliable, has a 10-year warranty, and it's fully modular with the usual array of protections to prevent damage if something goes wrong. That's about all you can ask for in a PSU, although some are better at delivering the goods than others. It's more than good enough to compete with the best PSUs, so I'm not sad about it. I'm just not thrilled that I wasn't paying attention.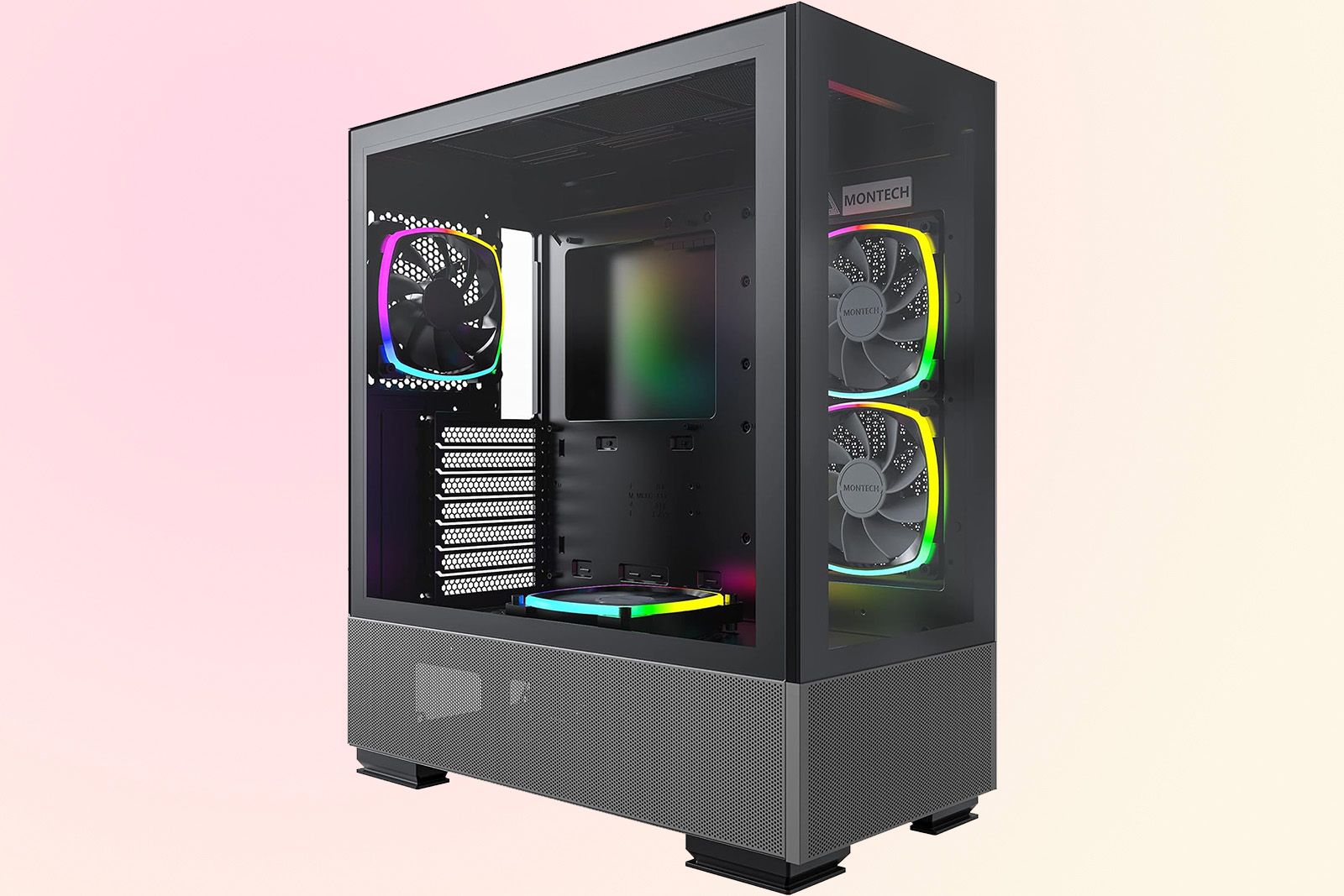 Montech / Pocket-lint
Montech Sky Two
8. The PC case
I bought this because it had four case fans out of the box
The Montech Sky Two is an excellent budget case that comes with a dedicated GPU fan, two glass panels, and decent cooling for around $100.
Pros
The two glass panel design lets me easily see into my case
Four fans out of the box and replacements aren't expensive
Big enough for modern GPUs and large air coolers
Cons
Glass could be thicker
No dust covers for the vents
The Montech Sky Two was my risk purchase when I built my PC. I always choose the case last because I need to make sure it'll fit whatever components I buy, like the aforementioned DeepCool AK620. The Sky Two fit the bill in terms of size and also features that I wanted, which included four case fans out of the box and a USB-C 3.2 Gen 2 port on the front because I was sick of plugging my phones into the back of my PC.
This case is actually pretty good for its price tag. It's a bit loud thanks to the thinner glass and vented power supply shroud, but otherwise, it fits the bill. I especially appreciate the intake fan that shoots fresh air right into the GPU. It actually works and the GPU temperatures are lower than I expected for a 300W graphics card. The dual glass panes let me see into my PC, which I often do because I like how it looks. If I had the budget, I probably would've gone with a more expensive case. However, for under $100, I got modern features, four case fans, and a PC case that keeps itself cool. That's a win for me.
What else did you buy for your build?
I did add a few accessories that weren't worth all the formal formatting above. For example, I picked up a Lian Li anti-sag bracket to help hold my very long and surprisingly heavy GPU up so that it doesn't sag. The RX 7900 XT I bought also came with a tent pole-style anti-sag device that I also use to keep that thing as straight as possible for as long as possible. You can't see the Lian Li one in the image below because it's right up under the graphics card at that angle, but you can see the tent pole that PowerColor included with its graphics card.
Joe Hindy / Pocket-lint
Other than that, I procured a copy of Windows 11 Pro and a flash drive to move things to my new PC from my old PC. It seems weird that I'd mention a flash drive purchase, but my USB ports on my prior build fried my other ones, so I had to get a new one and pray to the USB port gods that I could extract data one last time. Luckily for me, it worked.
What supplies do you need to build your own PC?
Fortunately, the list isn't very long. You need the PC components, of course, which includes:
The CPU
The motherboard
The PC case
A storage drive of some sort
A power supply
RAM
If your CPU doesn't come with its own cooler and thermal paste, you'll need to buy those as well. Graphics cards are optional, provided the CPU comes with an integrated GPU, but for anyone looking to do hardcore productivity or gaming, a graphics card is highly recommended. Everything after that, like a second storage drive and RGB lighting, is optional.
Once the parts are procured, you really only need a few basic tools: A large, clean surface to build your PC and a magnetic screwdriver are the bare minimum. An anti-static bracelet is also highly recommended to prevent any static charge from shocking your components. It rarely happens even without one, but it's better to be safe than sorry.
What are the benefits to building your own PC?
Well, for starters, you have full control of everything that goes in there. You pick the CPU and GPU combination, the motherboard, the case, the fans, and whether you want RGB lighting. You can fine tune your purchases to do exactly what you want it to do. Unlike pre-built PCs or even laptops, there are no surprises. You know what's in there and how it got there.The other major benefit is price. If you shop the sales and bide your time, you can build yourself a PC that is less expensive than prebuilt PCs with similar specs. Another benefit is the ability to upgrade. My AM5 motherboard will support the next generation or two of AMD CPUs. If I buy the next generation of Ryzen, all I have to do is pop my old one out and pop the new one in, and it'll work with my CPU cooler and my motherboard without issues. By contrast, my laptop is stuck with the same CPU and GPU until I replace the entire device. For gaming and working at home, there are few use cases where a DIY PC isn't the best option.
Do you have any advice for first time builders?
Yes, I have a bunch. First, the r/buildapc subreddit is a good place to go to ask beginner questions. It's a lot faster than Google Search most of the time, especially if you have a very specific question. You can usually find decent help there as long as it's not something so obscure that nobody knows it. Another great website to check out is PC Part Picker, where you can put builds together, and the website will let you know if there are any glaring issues, such as an incompatible motherboard and CPU combination.
The only other advice I'd give is to use your motherboard's manual when you actually sit down to build. It has diagrams of your motherboard with all of its various connections. Do you not know where that one cable goes? The manual knows, and it'll tell you for free right then and there. Even after you build your PC, keep your motherboard manual in case you need to perform any upgrades, so you can reconnect everything safely after the upgrade. It's the most important piece of documentation for any PC builder.