Apple not only recently announced the excellent iPhone 15 Pro Max but it also revealed the standard iPhone 15 models, the standard Watch model and a second generation of the Watch Ultra. Among all of that excitement was the iPhone 15 Pro.
This model doesn't carry with it quite the same excitement as the iPhone 14 Pro did when it launched in 2022, mainly because it's been a little overshadowed by the bigger and badder iPhone 15 Pro Max, but the iPhone 15 Pro is still worthy of your attention, especially if you're upgrading from an older Pro model.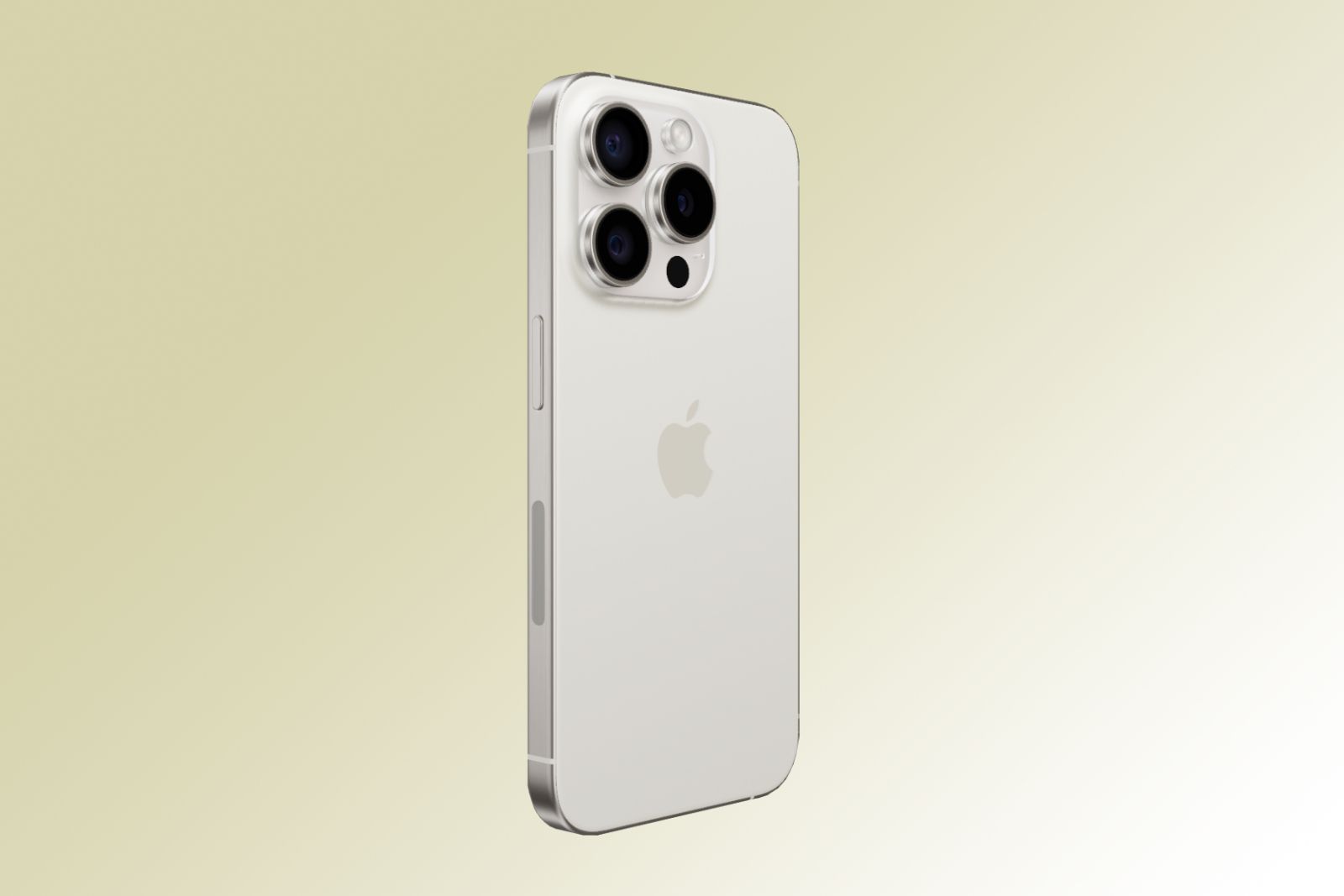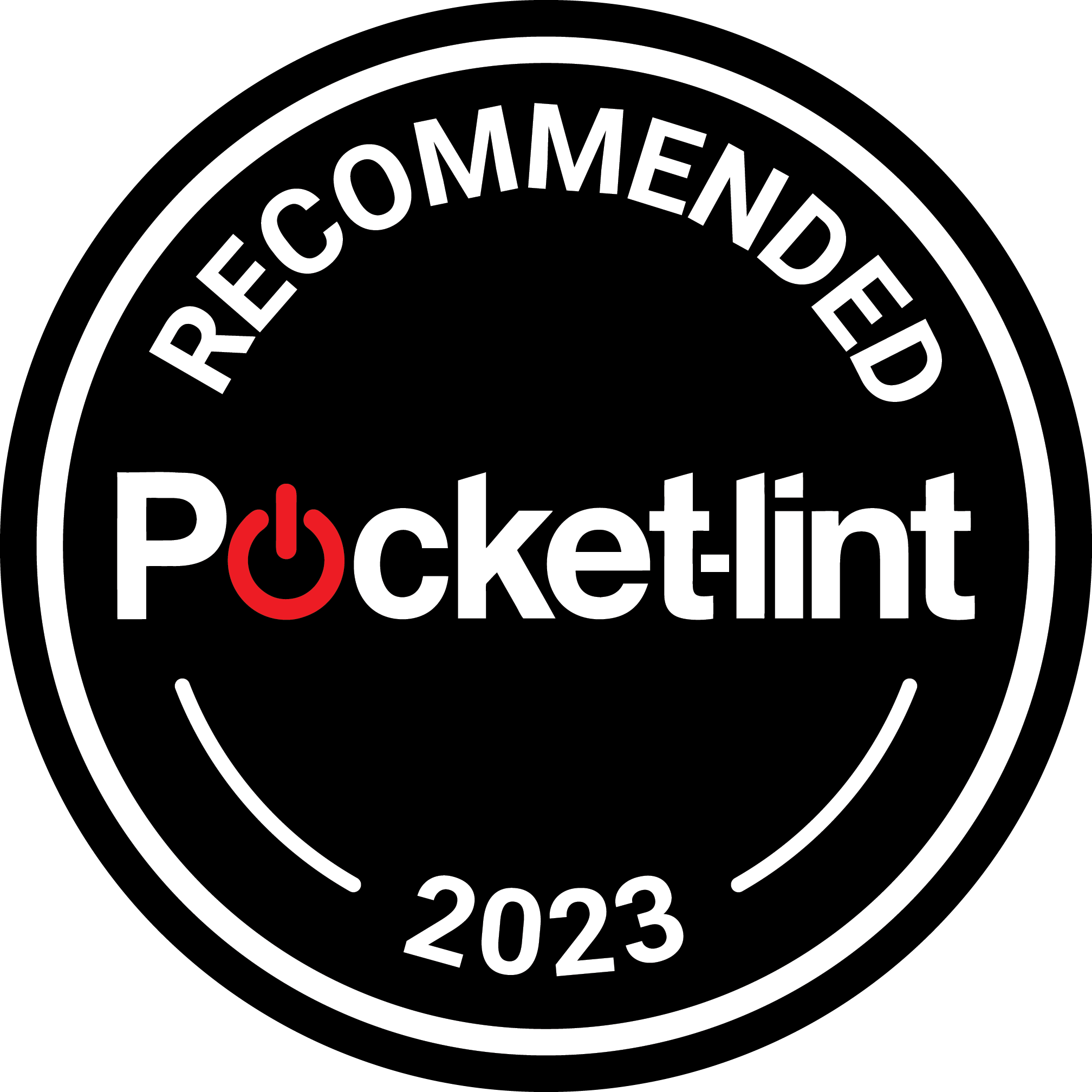 Apple iPhone 15 Pro
Recommended
The Apple iPhone 15 Pro might not be the most exciting choice from this year's line up, with big competition from within its own ranks. However, for those that don't want the large screen of the Max, but like the Pro specs not offered by the 15, the 15 Pro remains a solid choice.
Pros
Lovely, premium design
Beautiful display
Excellent performance
Great camera results
Cons
Misses out on 5x zoom
Battery could be better
Refined design
The Apple iPhone 15 Pro may not look dramatically different to its predecessor, but that's not to say there aren't differences. You just have to look a little harder than the standard iPhone 15 to notice them. Let's talk materials first as they are a key differentiator between the iPhone 15 Pro and its predecessor.
The iPhone 15 Pro retains the flat, squared-off edges that were first introduced with the iPhone 12 models. It's a design I've come to really appreciate over the years, so it's one I'm more than happy to see continue. Rather than the polished stainless steel finish that has become a custom look of the Pro models for a number of years, however, the iPhone 15 Pro moves to a titanium frame, which is significantly lighter than the stainless steel, making it lovely to hold. That's not necessarily as pertinent on the smaller Pro device as the Pro Max but it still makes a noticeable difference, and a welcome one at that. The matte finish of the titanium frame is also a nice change.
That frame is sandwiched between two pieces of glass, and like the iPhone 14 Pro models, there's a frosted glass finish on the rear with a glossy camera housing in the top left corner. For 2023, new colours join the Pro portfolio, with the striking Deep Purple from 2022 replaced by Blue Titanium, as well as Black Titanium, White Titanium and Natural Titanium. The blue is the most exciting of the four colours overall, though it's fair to say that's a muted excitement compared to previous years.
I also noticed fingerprints show up a lot more on the Blue Titanium than the Natural Titanium colour that I had for my Pro Max review unit. While many will no doubt put a case on their iPhone 15 Pro, to begin with at least, if you throw caution to the wind and go caseless, then expect to be wiping that frame on your clothes – a lot.
On the front of the iPhone 15 Pro, Dynamic Island remains a key feature of the display on the front, housing not only the front camera but also the Face ID sensors and the interactive element that adapts to whatever you are doing or whatever app you are using. It's no different to the iPhone 14 Pro, but this is still a relatively new feature in the grand scheme of iPhone and one that's still exciting.
I'm a big fan of Dynamic Island – I have been since it launched last year – but it has got much more sophisticated in that time, with more apps now compatible with it and Live Activities supported too. That makes it a better initial experience on the iPhone 15 Pro than it first was on the iPhone 14 Pro, so anyone upgrading from older phones should be suitably impressed.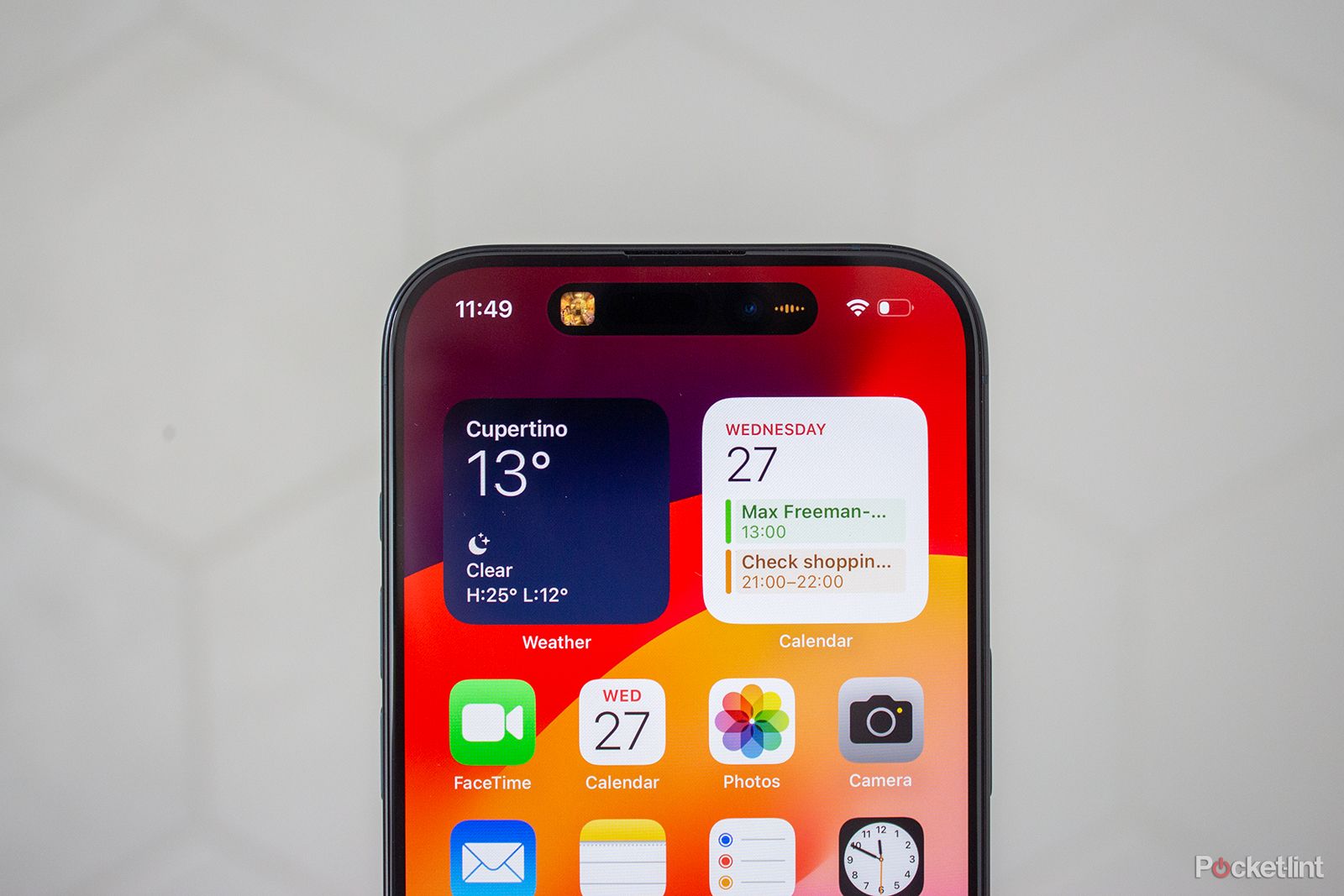 Another new and exciting change to the design is the silence toggle. The iPhone 15 Pro switches this toggle – which has been a signature feature of the iPhone since it launched in 2007 – to a customisable Action Button. This button can be set to do various tasks, whether it's launch the camera, set a Focus, launch the magnifier or start a Siri Shortcut, as well as placing your iPhone into silent mode.
Only one function can be selected, but if you're a whizz on Shortcuts (I'm most definitely not), then there's some very cool stuff you can do, and you can get it to perform multiple actions at once too, or have it do one function when you're at home and another when you're away from home, for example.
Some of the standard functions also have various choices too. For example, you can select between selfie camera, rear camera or video within the camera function, or your Focus modes in the Focus option. It's easy to switch between the actions, too, with the Action Button seeing its own dedicated menu in the Settings app. The change essentially makes an existing button more versatile and useful, similar to what Dynamic Island did with the notch.
I have my Action Button on my iPhone 15 Pro set to open WhatsApp directly, and because I always have my iPhone in silent mode, I've actually gained functionality rather than lost it. For that reason, the Action Button gets a big pat on the back from me.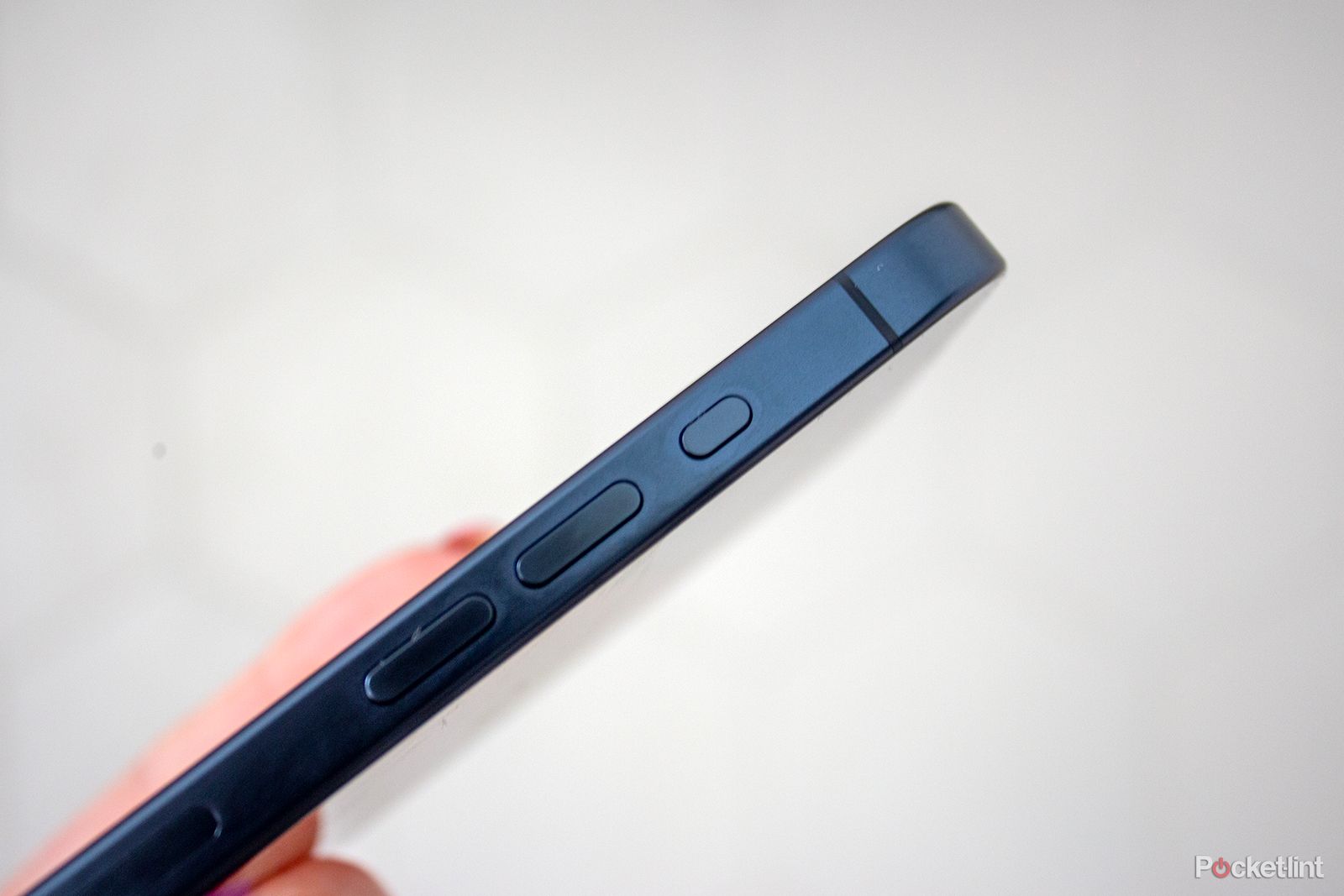 Elsewhere, there are some other design changes that are noticeable and welcome, including slimmer bezels surrounding its display, for a much more streamlined design. It's not quite edge-to-edge, but it's a noticeable improvement on the iPhone 14 Pro, and it makes the frame of the iPhone 15 Pro smaller whilst retaining the same size display. That difference in size is surprisingly noticeable in the hand, despite only being a millimetre, but the rear is also now contoured at the edges, which also does its bit here.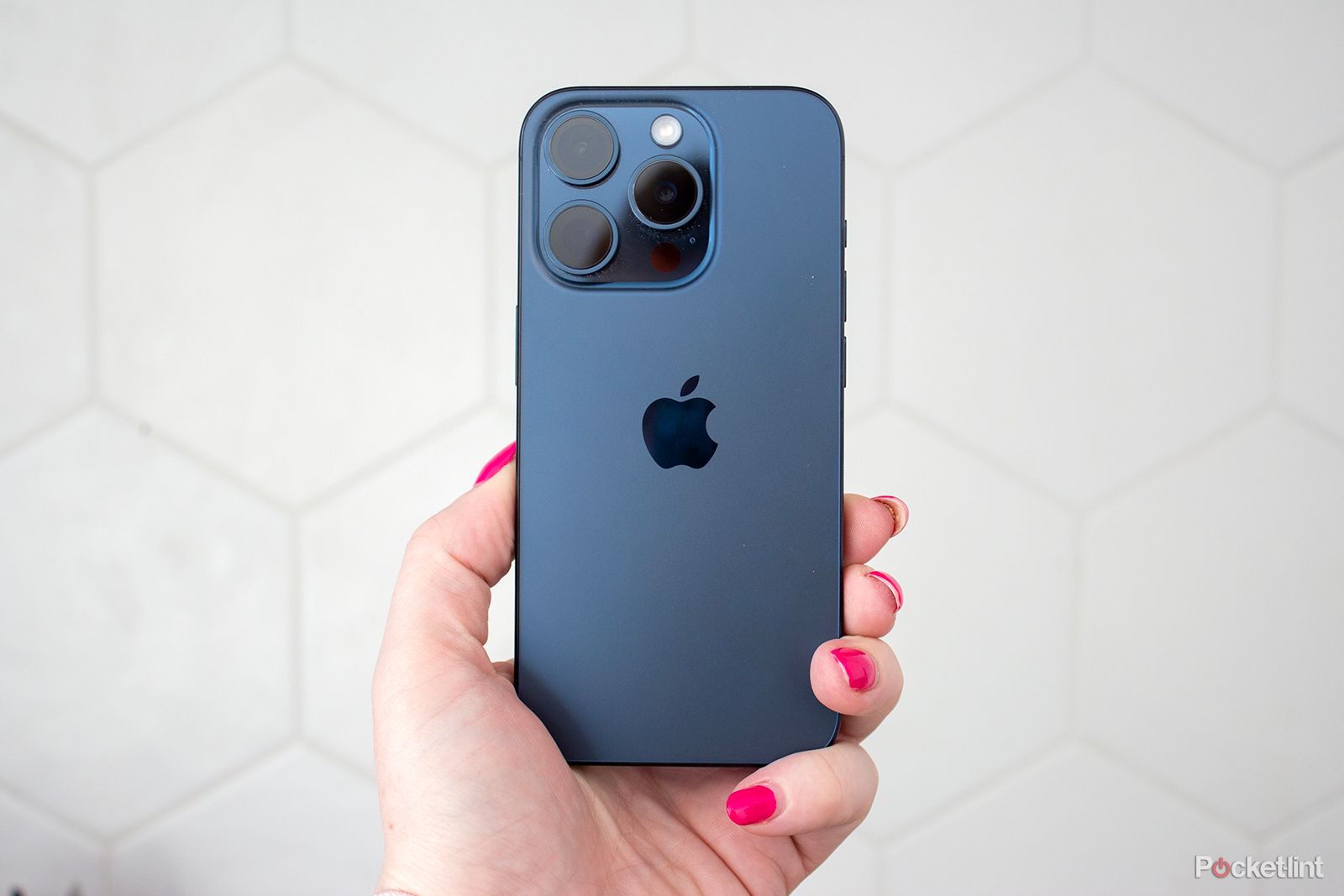 Of course, there's also the switch to USB-C to mention too. Replacing the Lightning port we've seen on the iPhone since 2012 is a USB-C port. I'm all for this. Undoubtedly, some will find it irritating, but it means you'll only need one cable to charge most of your devices (not Apple Watch yet, unfortunately), making everything a lot simpler – plus you can also charge other devices using your iPhone 15 Pro – more on that in a minute.
Stunning display
The iPhone 15 Pro has the same size display as its predecessor, as well as the same specifications, but that is by no means a bad thing. I might argue the smaller Pro model has a little bit of breathing room to increase its display size, whilst still remaining compact, but for this year though, it's sticking with what it knows.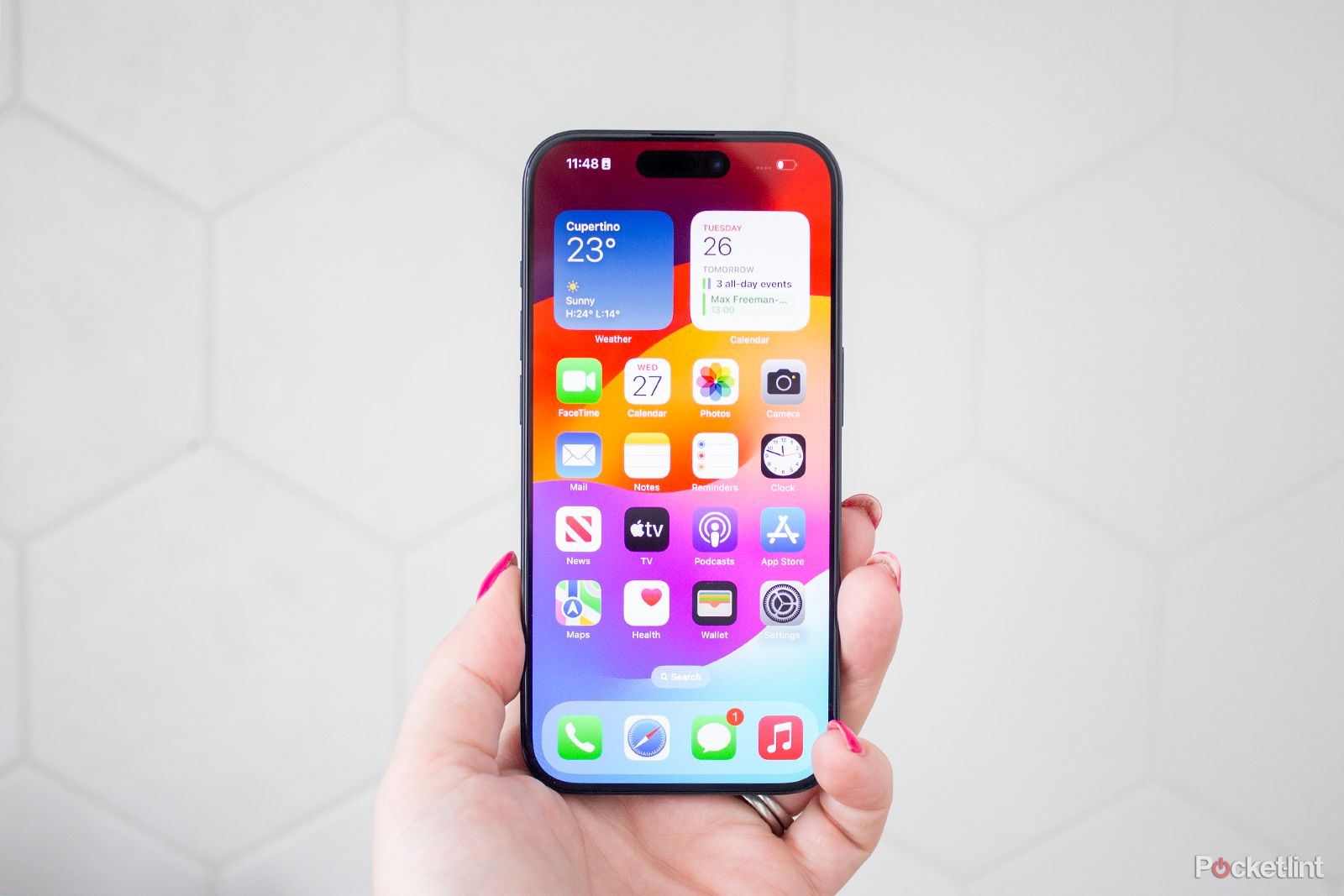 That means you get a 6.1-inch display that is the same size as the standard iPhone 15 model, with a gorgeous OLED panel, delivering vibrant and punchy colours, deep blacks and bright whites. Apple has long delivered fantastic screens and the iPhone 15 models are no different. The iPhone 15 Pro doesn't deliver the highest resolution in the flagship smartphone field but it doesn't need to. Detail is super sharp and viewing angles are great too.
The iPhone 15 Pro has a couple of tricks up its sleeve compared to the regular iPhone 15, just like the iPhone 14 Pro did compared to the iPhone 14. First up, there's ProMotion on board, offering an adaptable 120Hz refresh rate, compared to the standard iPhone 15's fixed 60Hz refresh rate, making it a better option for gamers while also conserving battery life.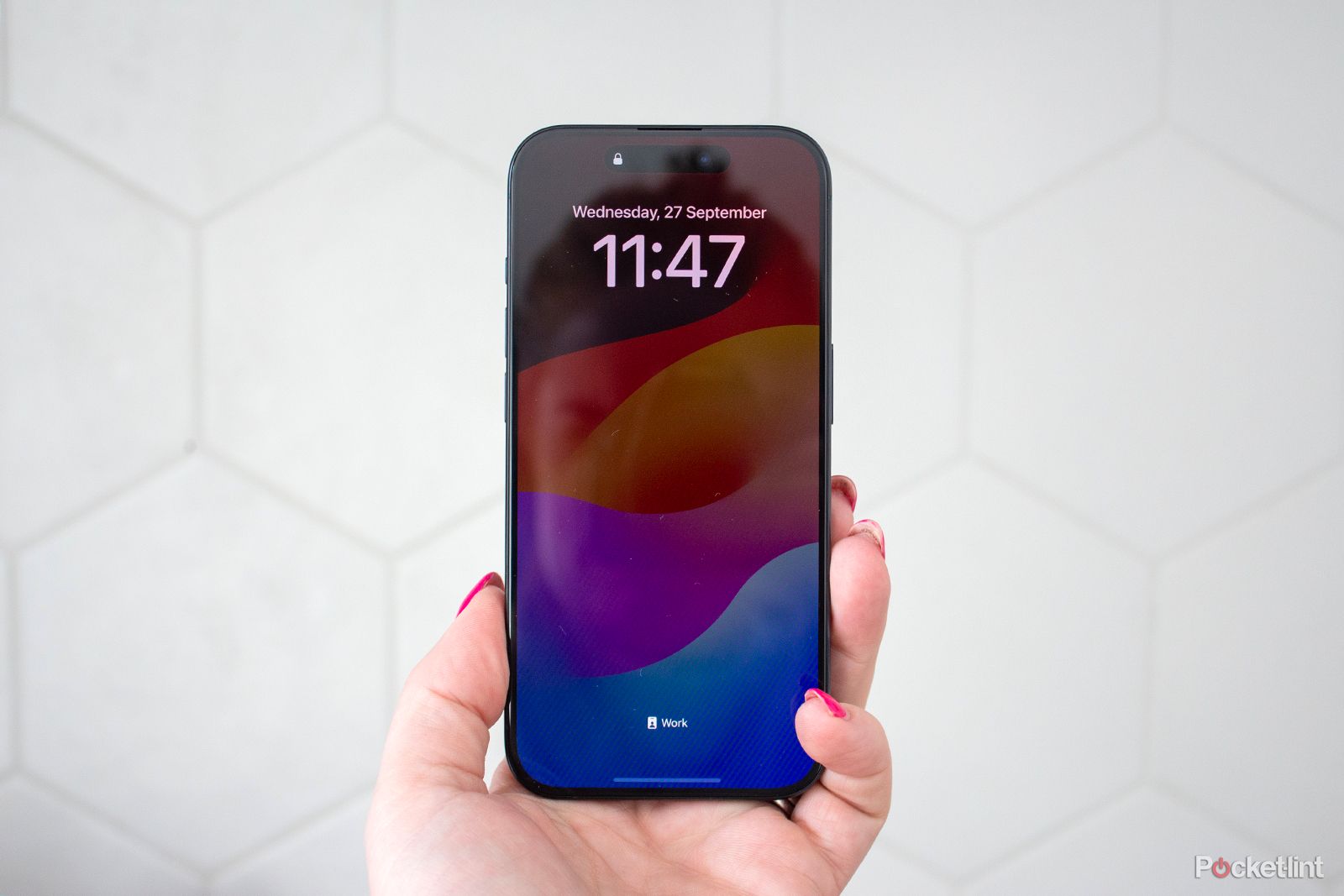 You'll also find an Always-On Display on the iPhone 15 Pro, which is one of the features I liked most about the iPhone 14 Pro. Always-On Displays aren't anything new, though they were new for Apple users last year. The novelty may have worn off a little if you have an iPhone 14 Pro, but for those who didn't invest in the 2022 Pro models, this is a feature you'll likely enjoy.
It does have a slight impact on battery life in my experience, but it's not so much that you have to turn it off, and it's helpful not to always have to tap your display to wake it up just to see the time or what notifications you have.
Elsewhere, brightness remains the same for the iPhone 15 Pro as the iPhone 14 Pro at 2000nits peak, and it's fantastic. This really comes into play when you're outside in bright and sunny conditions, but overall, the display is excellent here, with the lovely slimmer bezels making it look even better than the iPhone 14 Pro.
Performance and battery
Under the hood, the iPhone 15 Pro moves to an A17 Pro chip, which is built on 3nm technology and the specifications are impressive – I'm not going to go into them here though, as when you start talking about transistors, there's a danger of losing people. What I will say is that there's a six-core CPU and a six-core GPU on board and it's claimed to be 10 per cent faster than the iPhone 14 Pro, as well as 20 per cent faster graphically. There is also hardware-accelerated ray tracing on board, like there is with the iPhone 15 Pro Max.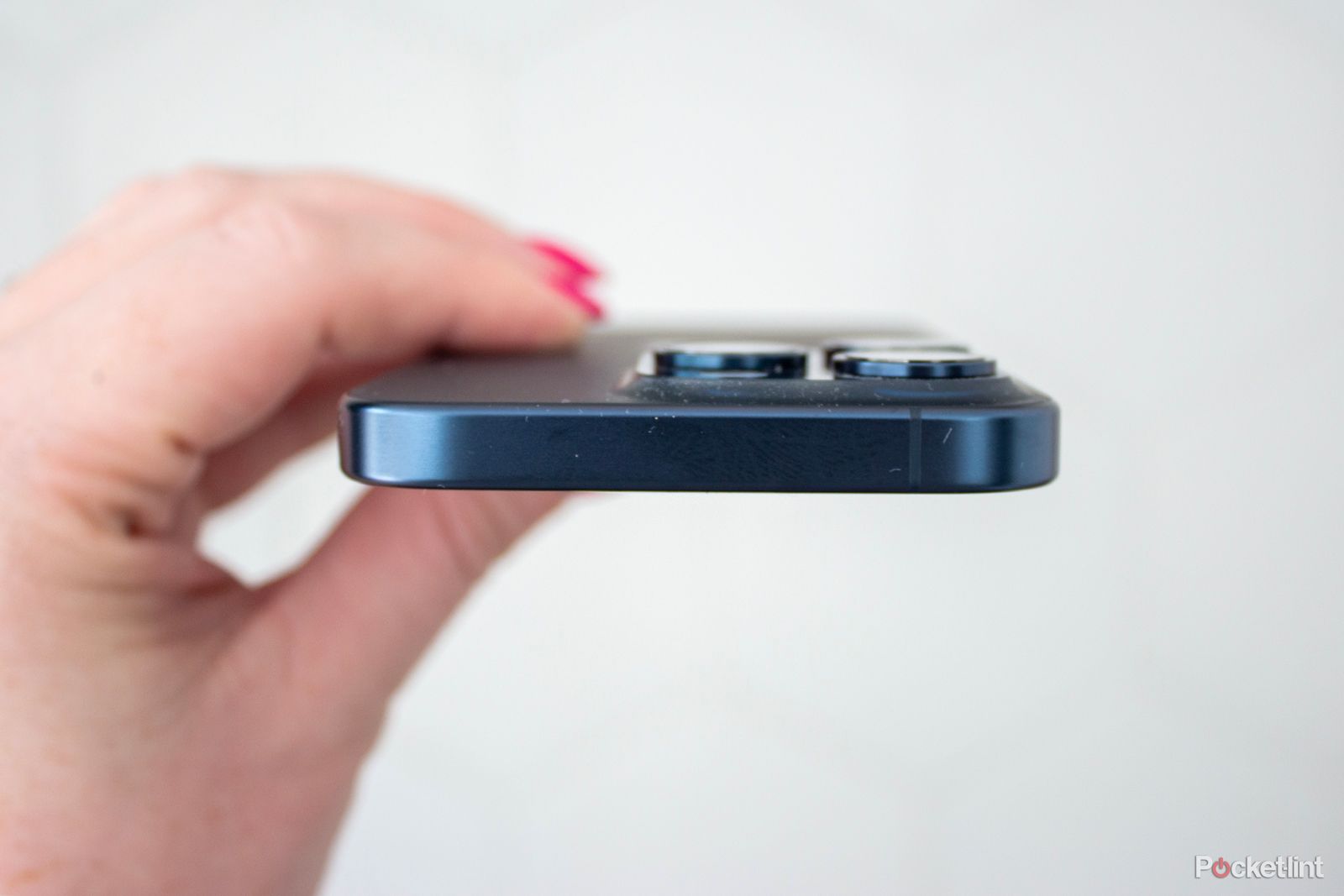 What that actually means in reality is that, like its bigger sibling, the iPhone 15 Pro is lightning fast. There have been some reports of overheating, but that's not something I've experienced in use. Naturally, the iPhone 15 Pro will heat up a little if you're gaming on it for hours on end and you can likely expect it to get a little warm during initial setup too (as with every other phone), but you won't be frying an egg on it anytime soon, based on my experience.
Overall, the iPhone 15 Pro handles day-to-day tasks brilliantly too, with no lag at all. Switching between tasks is no problem, with plenty of fluidity, while load times – whether general apps or games – are super quick, as is the camera shutter button. For those with an older iPhone model, the performance upgrades should be quite noticeable. I'm coming from an iPhone 14 Pro and while that model is also very quick, the iPhone 15 Pro did feel a little snappier. If you're moving from an iPhone 12 or 13, then I suspect the difference will be even more evident.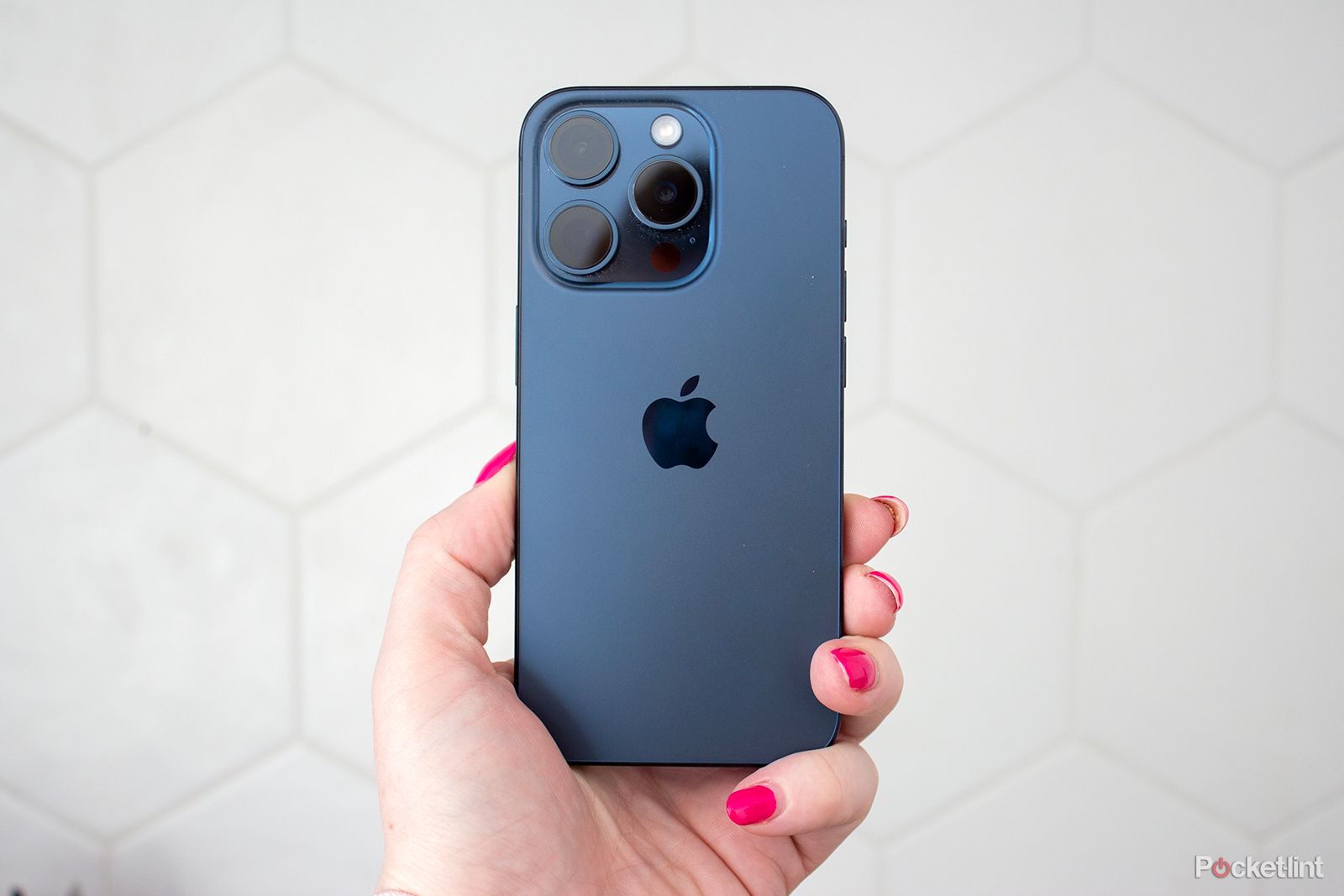 Storage options remain the same as the iPhone 14 Pro, so 128GB, 256GB, 512GB and 1TB are available. None of these offer microSD support, not that we expect that now; it's more normal not to offer expansion than to offer it these days. However, you can now record directly to an external drive, thanks to USB-C, so that could help with some storage woes for major content creators.
Battery expectations also haven't changed from the iPhone 14 Pro with the iPhone 15 Pro claiming up to 23 hours. In use, I'd say this figure is fairly optimistic. I got through a typical day from around 7AM to 11PM and finished with around 20 per cent battery. You don't get Pro Max or even iPhone 15 Plus levels on the iPhone 15 Pro, but I was on Slack and emails constantly, listening to music and podcasts throughout the day, as well as using apps like Citymapper and Google Maps when out and about too. That's all on top of apps like WhatsApp and Instagram that saw their fair share too. It's not going to give you 23 hours unless you are a very light user, in my experience, but the iPhone 15 Pro will see you through a typical day and evening without too much anxiety.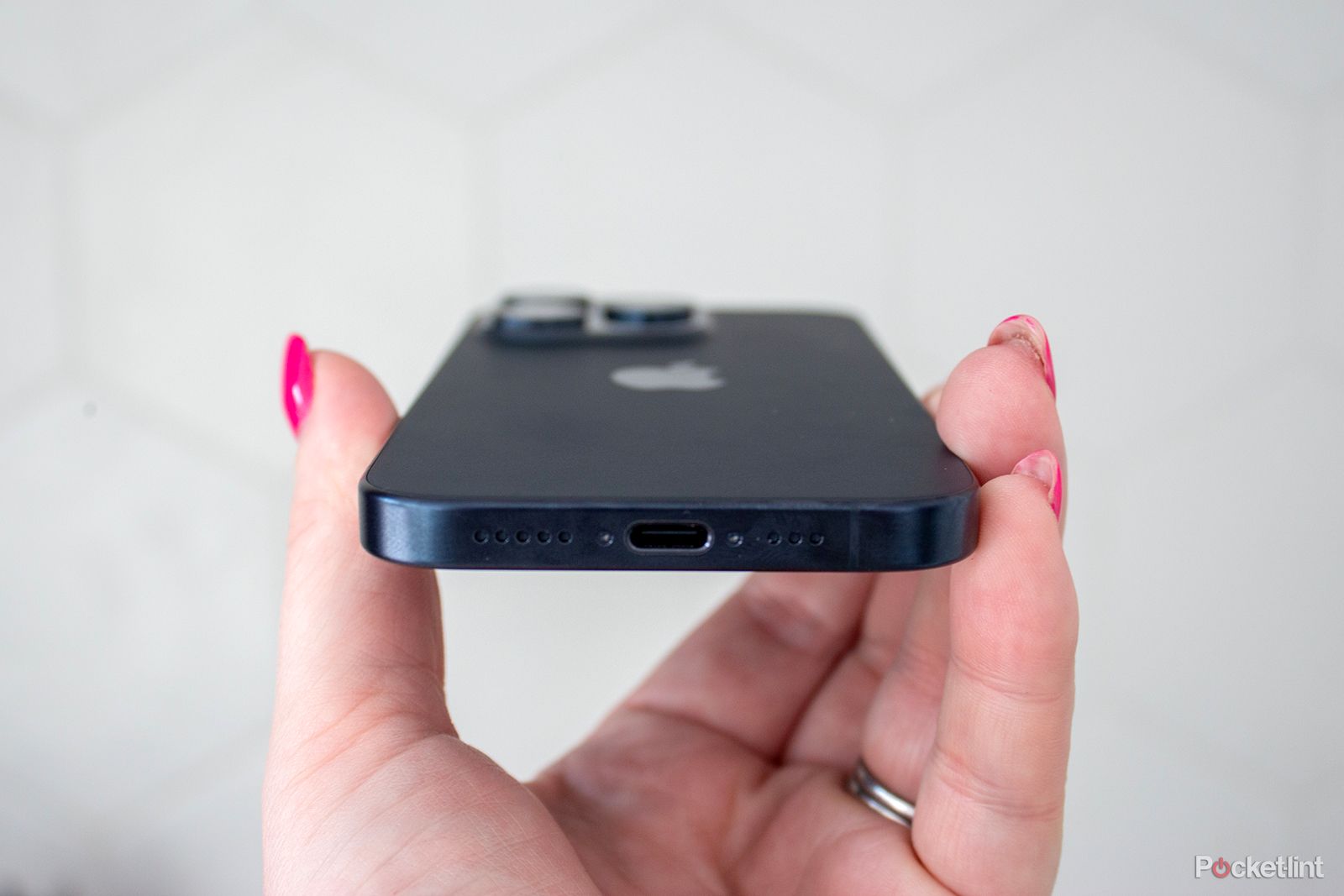 As mentioned, the iPhone 15 Pro moves to USB-C charging over Lightning – a move the rest of the iPhone 15 models also make, though the iPhone 15 Pro and 15 Pro Max offer support for USB 3 for transfer and charging. The ability to charge other devices, like the Apple Watch Series 9 and the AirPods Pro 2nd Gen (USB-C) is very helpful, but keep in mind it takes away from your iPhone rather than those devices getting something for nothing. I'd love to have seen the ability to pop the AirPods on the back of the iPhone 15 Pro and make use of MagSafe rather than having to plug it into the port with a cable, but hey, we can't have it all.
Charging speeds remain pretty standard here too, with up to 27W wired, taking a similar approach to Samsung, and there's Qi wireless charging compatibility too but again, it's not the fastest. That of course doesn't really matter if you charge your device overnight, but a bit snappier would have been on my wishlist.
iPhone 15 Pro camera performance
Normally, there's quite a bit to say in the camera department of the iPhone Pro models, though this device has had its limelight stolen a little by the iPhone 15 Pro Max this year. Still, there's a 48-megapixel main sensor with f/1.78 aperture, which delivers a 24-megapixel image by default, but you can opt for 48-megapixel shots if you so wish. In the past, the default has been a 12-megapixel image, but Apple is using the extra data, not just to eat storage (it's 50 per cent more rather than double), but to reframe the shot and deliver 1.2x, 1.5x and 2x increments with the same detail. These increments, which translate to 24mm, 28mm and 35mm focal lengths, can be accessed by tapping the 1x button on the camera interface or by the classic pinch and zoom approach.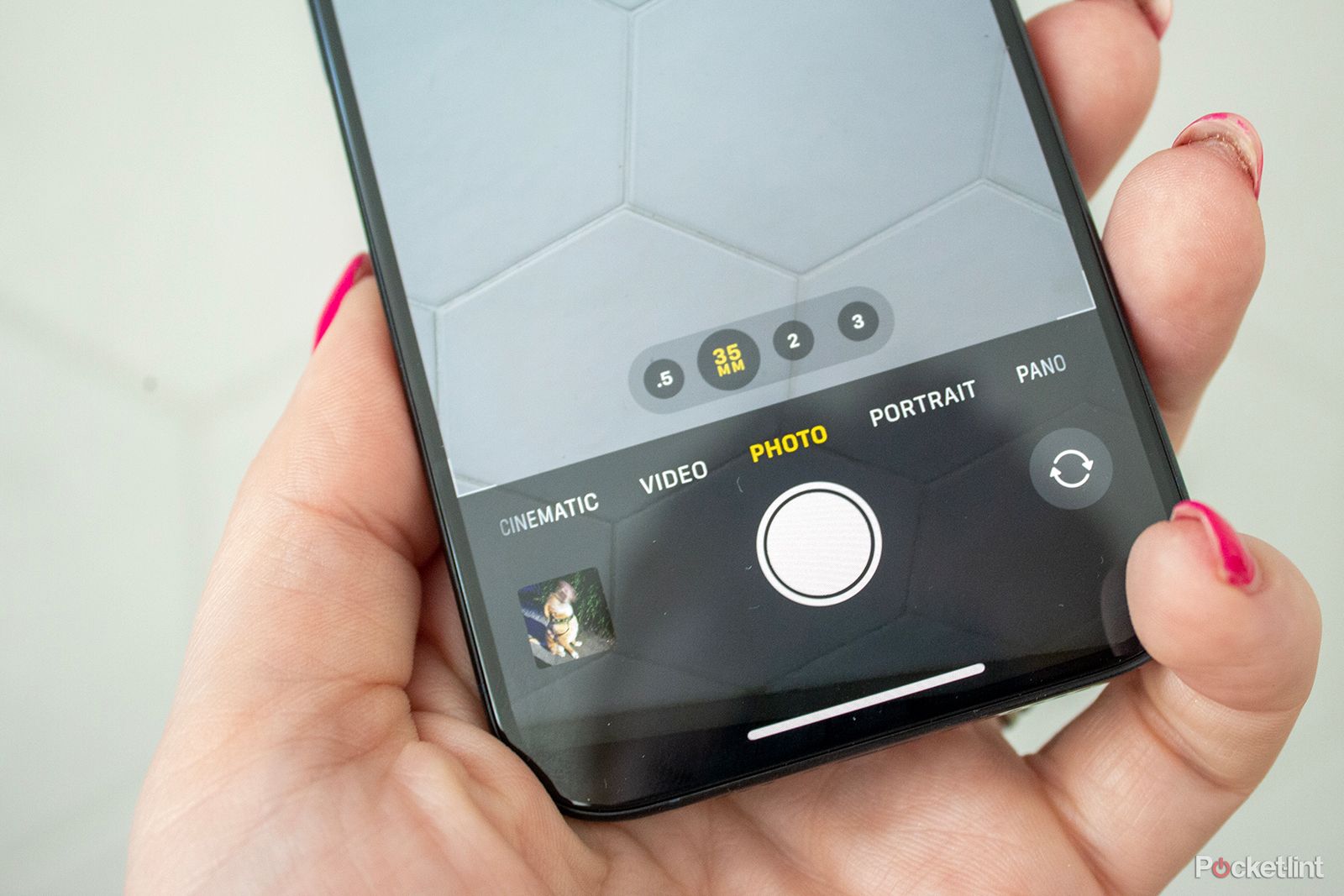 The main sensor is supported by a 12-megapixel Ultra Wide lens with an f/2.2 aperture and a 12-megapixel telephoto lens with an f/2.8 aperture and a focal length of 77mm. This is slightly different from the iPhone 15 Pro Max setup, which has 5x zoom and a focal length of 120mm, but it still offers hardware improvements and some clever computational photography smarts, too.
In my experience, the results are excellent from all lenses, with better detail on the iPhone 15 Pro than the Google Pixel 7 Pro when it came to the 2x option on the main sensor. The Pixel is better at longer zoom and while the iPhone 15 Pro can digitally zoom up to 15x (25x for the iPhone 15 Pro Max), it's not something I would recommend. You get a helpful viewfinder guide in the top corner when you hit 8x and over, but everything gets a little shaky and the stabilisation isn't as strong as the likes of Samsung and it's Galaxy S23 devices.
There's great colour accuracy from the iPhone 15 Pro though and while the end results are perhaps not as punchy and vibrant as what you'll get from the Samsung Galaxy S23 Ultra for example, you do get more true-to-life shots here. Plus, you can always add some of that extra punch in the edit settings.
The iPhone 15 Pro performs in low light too, with Night mode now powered by Apple's Photonic Engine, translating to quicker shots and better ones. You'll still need to "Hold Still" for a couple of seconds when taking very low light photos so it's not as speedy as the Huawei P60 Pro, which is rapid at night shots, but it's faster than the iPhone 14 Pro and results are good.
In terms of the computational smarts I mentioned, Portrait mode has improved and that applies to both the iPhone 15 Pro and the iPhone 15 Pro Max. It will now recognise people (or dogs and cats) within a shot, so you can apply the portrait mode to a shot after the fact rather than having to remember to select it. You can also change the shot's focus and adjust the blur's depth. This is a feature that is backwards compatible with iPhone 13 and iPhone 14 models running on iOS 17 (with any photos taken after iOS 16 was installed), but it's still one I'm mentioning as it's something I really appreciated. When you go to take a photo, you don't always remember to change the setting, or perhaps you don't have time to change it if you want to capture the moment, so being able to change it after you've taken the shot into something a bit more arty is great. Sure, Pixel has offered it for a while – and on all photos too – but it's a new feature for iPhone users, and a welcome.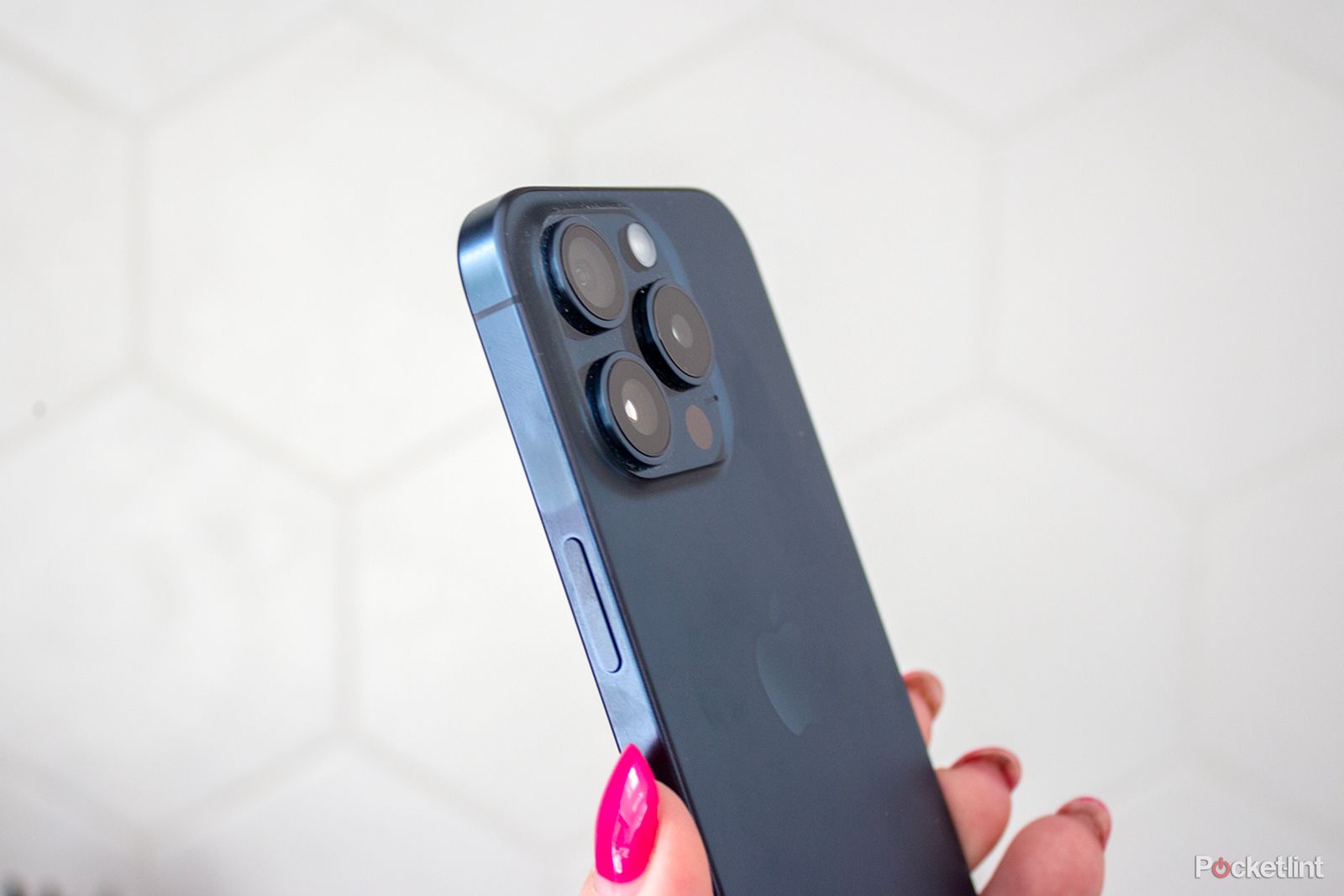 Do I wish the iPhone 15 Pro had the 5x capabilities of the larger model? Absolutely. Do I think the interface become a little overcomplicated for the 2023 Pro models? A little, yes. The performance remains though, and you can't take that away from the iPhone 15 Pro models. The beauty of iPhone photography remains true – you get great results from all lenses, no matter what your camera skills are thanks to its point-and-shoot approach, and if you want extra control, you can have that too.
Software
Like the other iPhone 15 models, the iPhone 15 Pro runs iOS 17. The software build is available to a number of older iPhones, so you don't necessarily need the latest hardware in order to experience the newest features, but the speed improvements of the new models help deliver a smooth and fluid performance overall.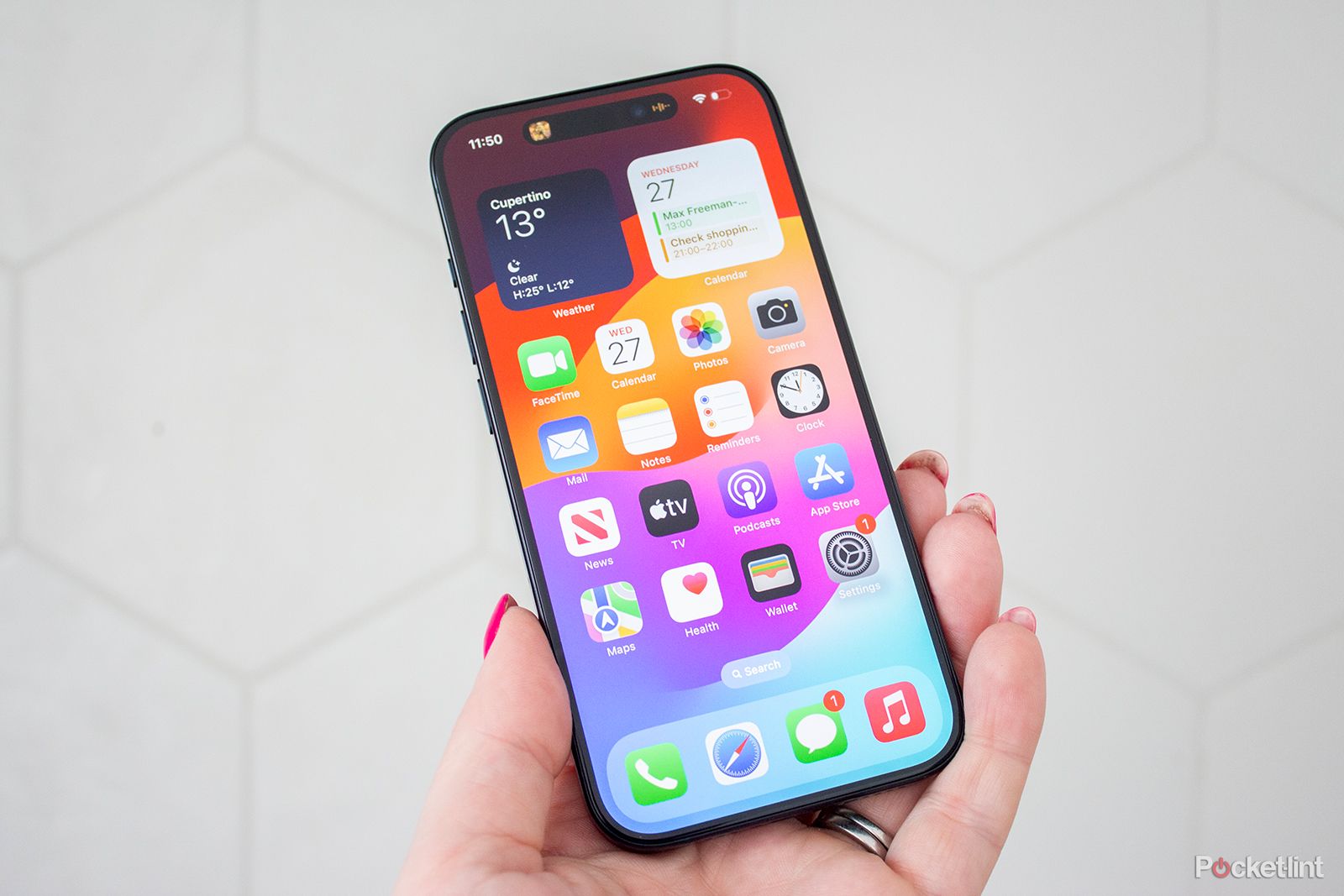 There are some great features within iOS 17, from Check In and the changes to Messages, to Contact Posters and NameDrop. There's plenty to play around with and discover and some of the new features are genuinely great. I particularly like Check In, but there are some really handy ones, NameDrop being one of them, StandBy being another, and a few hidden ones worth trying out. There's a separate iOS 17 feature worth reading if you want to know all of the latest tricks.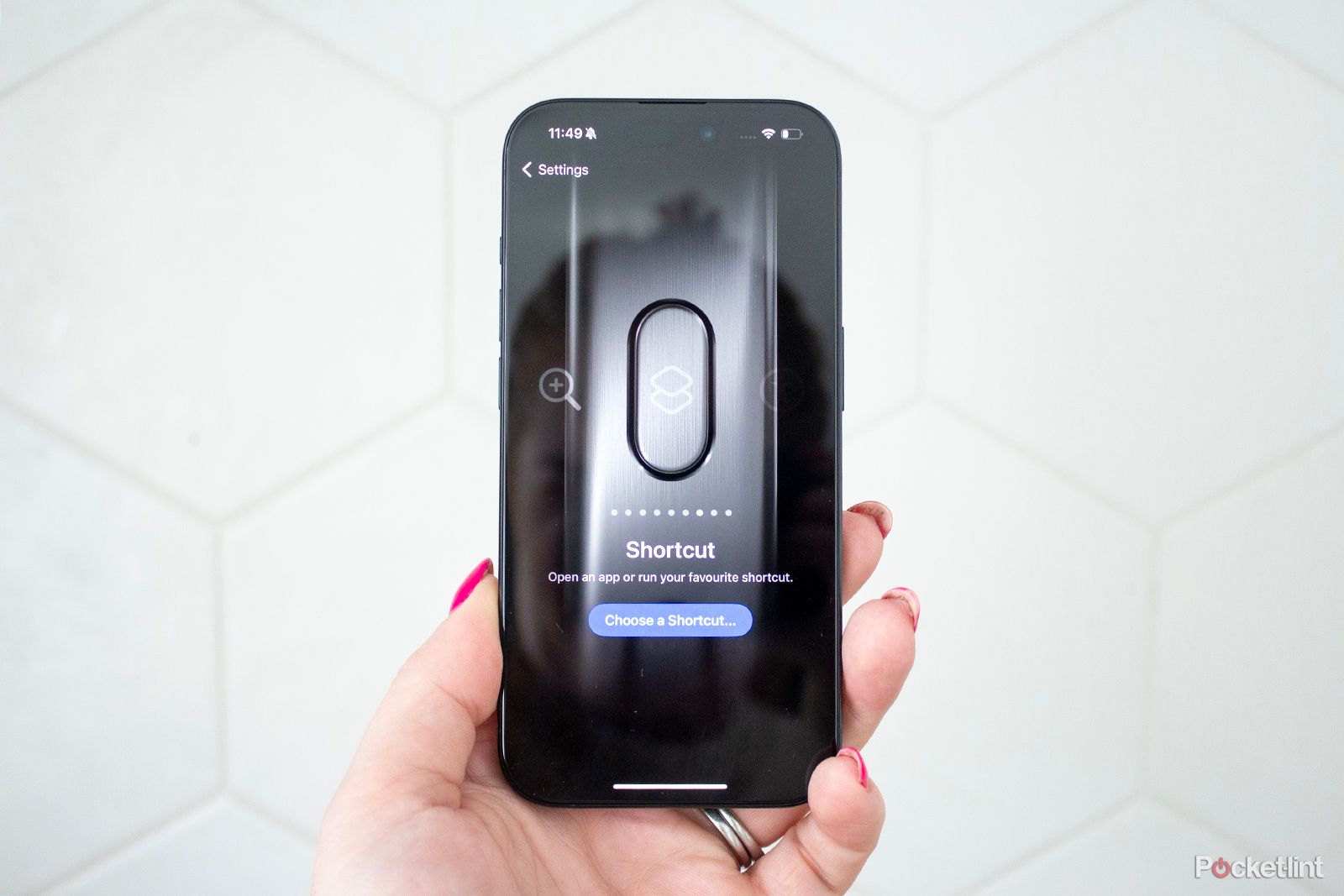 As is typically the case, a couple of features are exclusive to the iPhone 15 Pro (and Pro Max), one of which is the Action Button that I briefly mentioned. I detailed a couple of things this is good for already, but you can read the separate feature on the Action Button for a bit more depth. There's also a great feature on Shortcuts that's well worth a read if you want to master that app in order to get more functions out of the Action Button.
Verdict
The Apple iPhone 15 Pro is all about refinement. It takes the excellent iPhone 14 Pro and makes a number of tweaks here and there, making the best the company once offered, better. There's plenty to love from the slimmer bezels, the switch to titanium, subtle upgrades in camera sensors, and performance improvements.
It doesn't make the headlines quite as much as much as the iPhone 15 Pro Max, and the standard iPhone 15 is definitely creeping in on its territory a little, especially with its adoption of Dynamic Island. That said, the iPhone 15 Pro is still an excellent device and likely still the iPhone many will turn to, even if it's got some serious competition this year – and from its own team too.