Golf may look like one of the more leisurely sporting activities you could pick up, but that doesn't mean it won't take hours and hours of practice to reach the top of your game. Thankfully, there is an ever-increasing range of golfing gadgets out there to help you get better.
We've found the best kit to enhance any golfer's game, from beginners wanting to improve to seasoned players trying to hone and perfect their game. We've even thrown in a few fun gadgets.
Best golf gadgets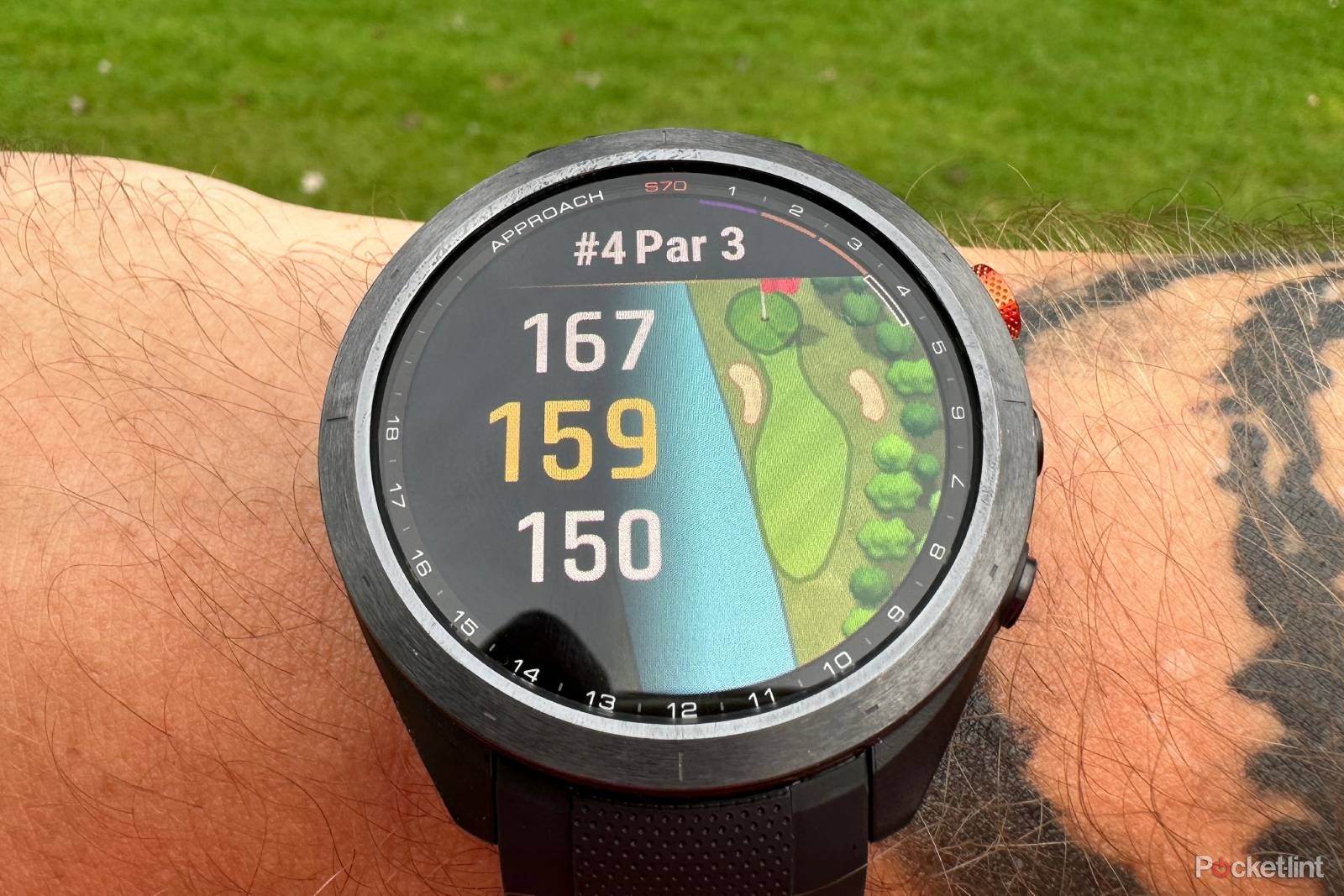 Garmin Approach S70
1. Best golf smartwatch
The Garmin Approach S70 is the current king of golf smartwatches. It has every feature a golfer could want and then some. It's not cheap but worth every penny for the serious golfer.
Pros
Detailed course maps
Color AMOLED display
Stylish
Cons
Expensive
Some features require a subscription
The very best golf smartwatch is also the most expensive. The Garmin Approach S70 is stylish enough to wear every day but really comes into its own while on the links. It offers details on more than 43,000 courses with shot distances, digital scorecards, green details, and more. All that information shows up on a 1.4-inch AMOLED touch display that's bright enough to see even in the sun.
The 56g watch is water resistant to 50 meters and manages 16 days on a charge. It can pair with your smartphone via Bluetooth to display calls, texts, and emails while golfing, allowing the phone to stay in your bag. We did a full review of the Garmin Approach S70, and all of the claims made by the company are true, as it really is the king of golf smartwatches.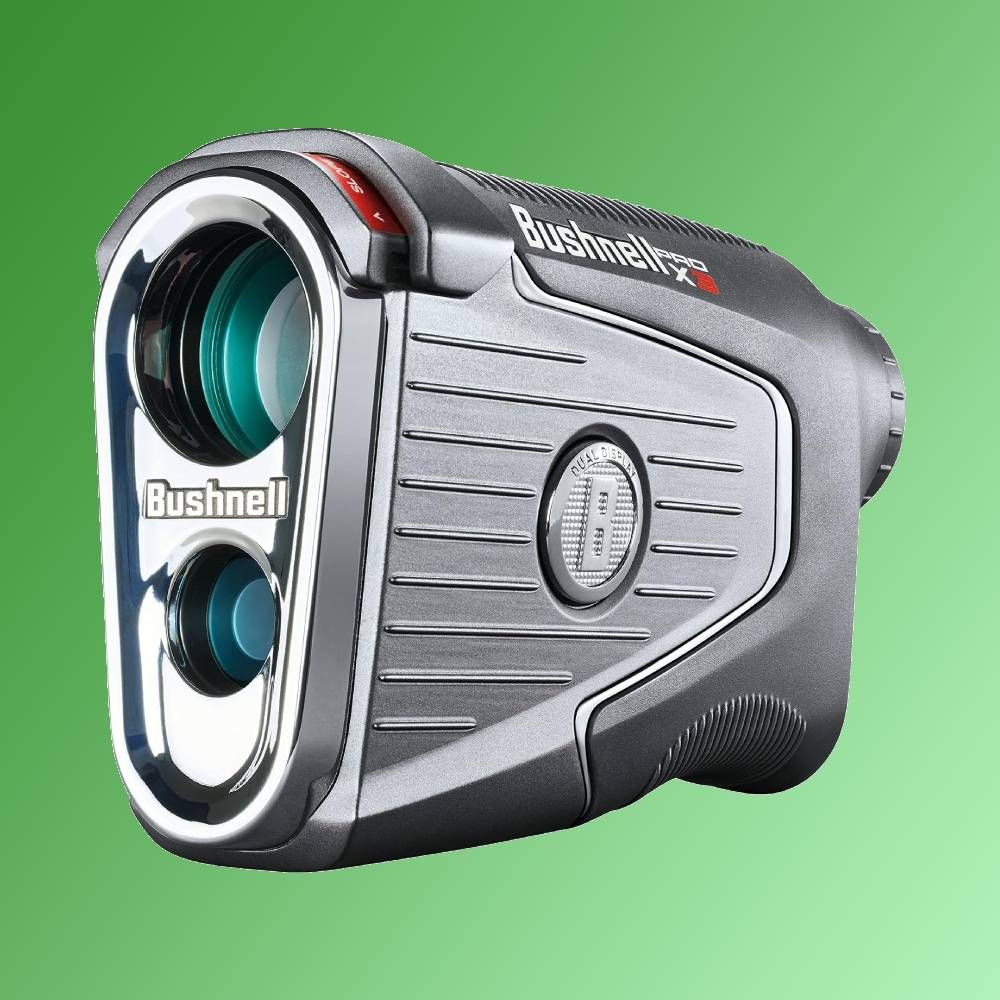 Bushnell Pro X3
2. Best golf rangefinder
The consensus among golfers is that you can't beat the Bushnell Pro X3 for rangefinders. Its accuracy is beyond reproach and has every feature a golfer could ever want.
Pros
Several factors used to determine proper distance
Can be used in tournaments
Accurate to within a yard
Every golfer sometimes needs a rangefinder, and Bushnell is an absolute specialist in that area.
The Bushnell Pro X3 is a digital rangefinder that accurately measures true distance. It factors slope, temperature, barometric pressure, and distance to tell you exactly how far you need to hit the ball. It promises accurate yardage readings within a yard to flags at 600+ yards, which is much further than you'll ever need to hit the ball on a single shot. Having this range allows you to plan second and third shots, though.
It has a magnetic mount lets you stick the rangefinder to your golf cart for quick and easy access. And if you're worried about tournament play, a quick Slope-Switch turns off the slope feature, making the rangefinder legal for competitive golf.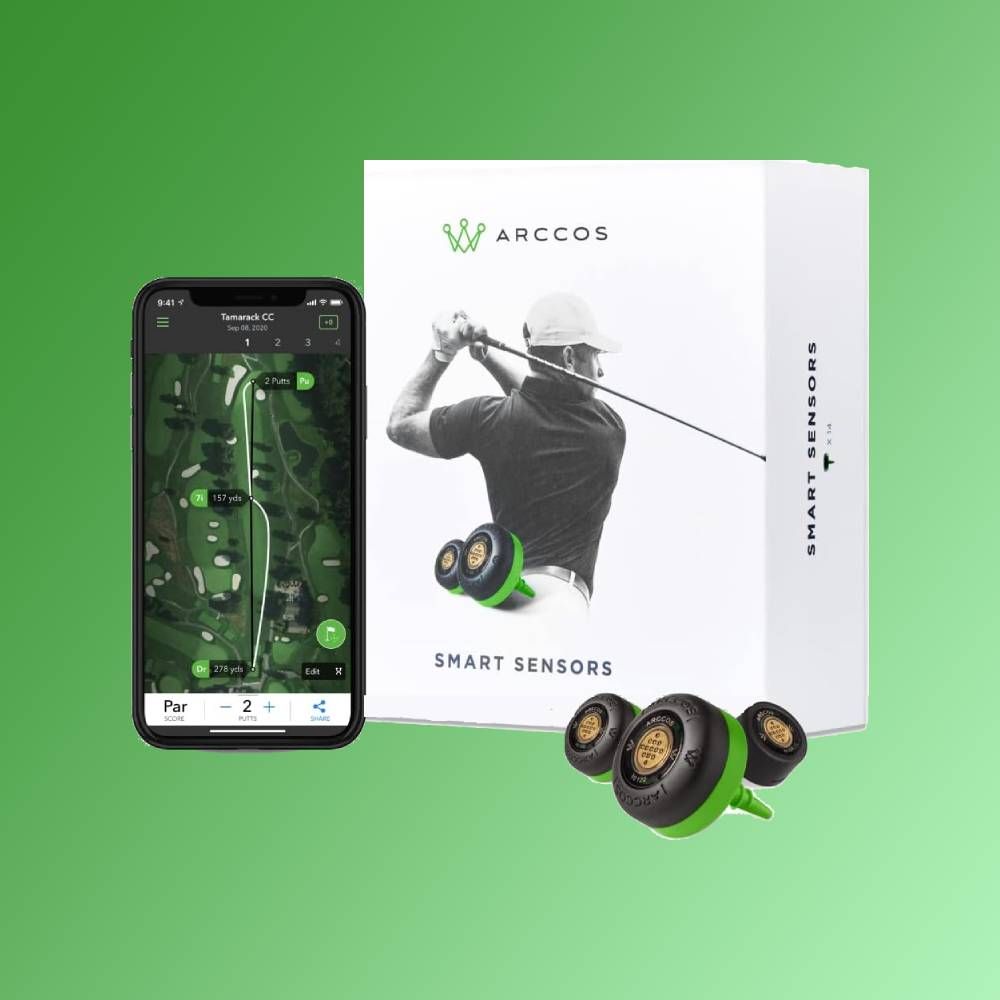 Arccos Gen3+ Smart Sensors
3. Best shot trackers
For golfers looking to improve their on-course game through statistics, there's no better system than Arccos. It tracks every shot and offers post-round metrics based on strokes gained.
Pros
Provides club distance
Tons of stats
Easy to use
If there's one golf product that'll completely change your game, it's these shot trackers. You stick one sensor in each club, pair them with your smartphone using the Arccos app, and then play golf. With your phone in your pocket, an Apple Watch, or the Arccos link, it keeps track of each shot you make during the round.
You can see how far your shots went, and after a few rounds, you'll can see the distance for each of your clubs. You can get all sorts of other stats, such as how many putts it takes you to hole out, which parts of your game need the most work, and more. The initial purchase comes with one year of access to the Arccos subscription, and from there, you'll need to pay each year to keep using it. It's absolutely worth having, though, because knowledge is power, and these trackers arm you with the knowledge you need to improve at golf.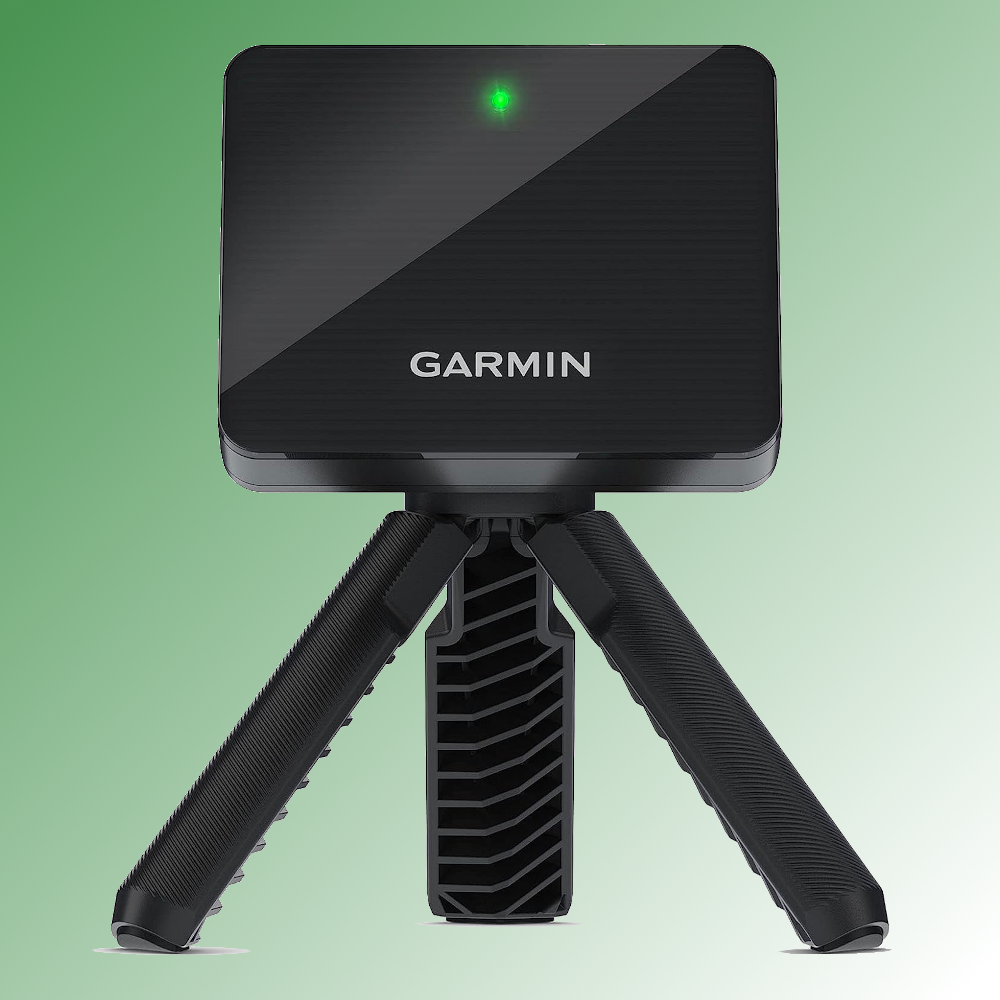 Garmin Approach R10 Launch Monitor & Simulator
4. Best launch monitor
When it comes to affordable launch monitors, you can't beat the Garmin Approach R10. It doesn't have as many features as a TrackMan (which costs thousands of dollars), but it offers plenty of data and thousands of fun and detailed courses with the simulator features.
Pros
Affordable
Works indoors and outdoors
42,000 virtual golf courses
Cons
Can miss shots occasionally
A launch monitor like the Garmin Approach R10 is useful in two ways. First, you can take it to the range and see all kinds of data about your shot, similar to the kind of information you'd get from a Trackman or other high-end system. Second, you can actually use it as a simulator to play virtual rounds of golf.
While it might not seem cheap, compared to the thousands of dollars stationary simulators like a Trackman sell for, this Garmin launch monitor is quite budget-friendly. It has 42,000 golf courses for you to jump in and play, so it's quite a deep experience for the serious golfer looking to improve their practice. It also works indoors or outdoors, so this is a good option if you want to set up a budget simulator room in your home.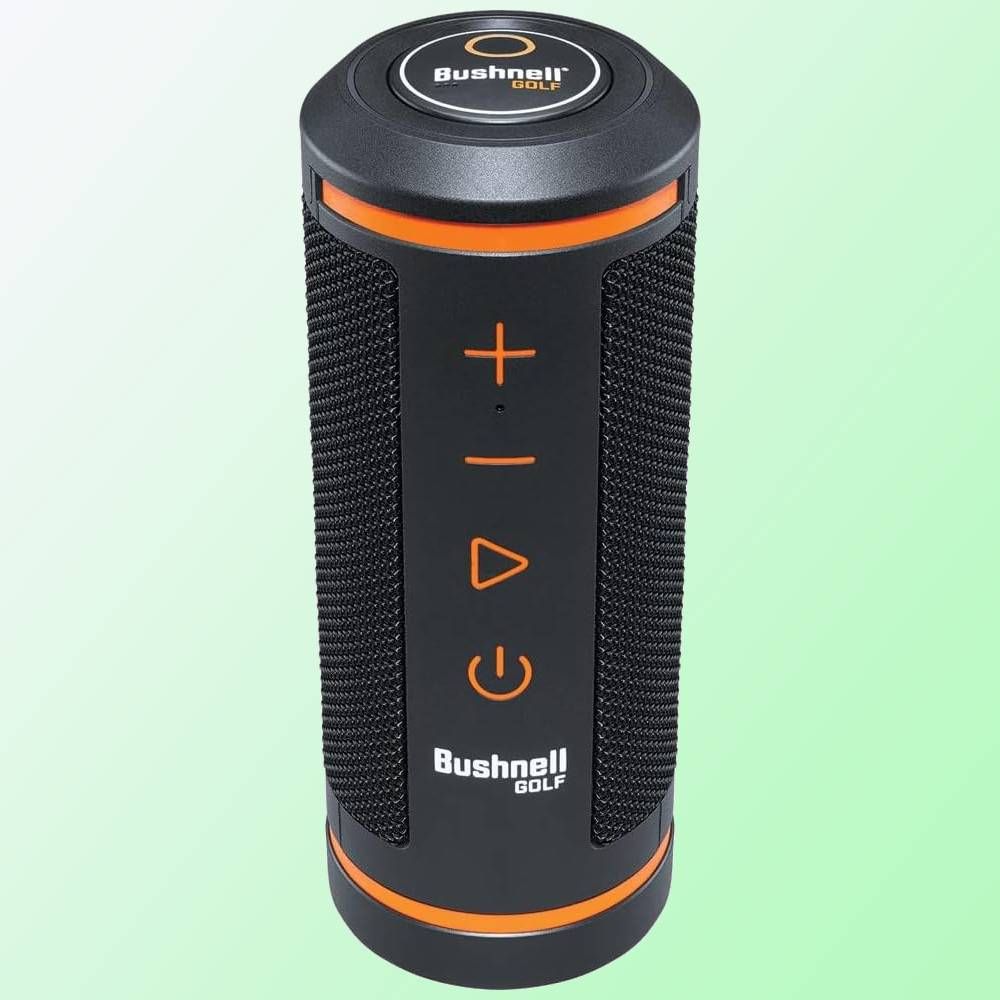 Bushnell Golf Wingman Speaker
5. Best golf Bluetooth speaker
If you like listening to music on the course, the Bushnell Wingman is the best GPS speaker you can get for golf. It has great sound quality, a magnet to stick it to the golf cart, and the ability to tell you how far you are from the green audibly.
Pros
Good sound quality
GPS rangefinder
Magnet
Cons
Might annoy other golfers
Some golfers love listening to music while they play, and some prefer to keep things quiet. You'll love the Bushnell Wingman GPS speaker if you're in the former group. It has good sound quality, so you can play your music while you golf, and it can tell you how far from the hole, something you won't find with a regular Bluetooth speaker.
Another thing that makes this speaker good for golfers is the magnet that lets you quickly stick it to your golf cart and remove it when you want to go to the green or somewhere out of range. Please be respectful of your playing partners and others on the course, and don't play the music excessively loud.
How we picked these gadgets
We researched customer and professional reviews to see what golf products have high recommendations. Additionally, we're avid golfers and use some of these products on the course every time we play. For products we haven't used, we considered whether we would use them, and we wouldn't put them on the list unless we could emphatically answer "yes" to that question.