Computers
Best 2-in-1 laptops 2023: Expert tested and reviewed
The 2-in-1 laptop market gets more crowded all the time – or should that be the 2-in-1 tablet market? Either way, unless you've got your eye on an exact product, it can be tough to know which to go for when you start looking for a new computer.
Are you hoping to bag a portable machine that's perfect for writing on? Or perhaps a lightweight one that's ideal for watching movies and TV in bed?
Tablets and laptops have often felt like they've had a divide between them – one being for practical concerns and work, and the other for more lighthearted recreation and play. The good news is that those days are increasingly looking over.
There are now loads of brilliant devices that marry the best of both worlds, giving you fully rotating or detaching touchscreens so that you can watch movies or play games however you like, while their keyboards also mean that you can get work done, whether that's emailing, writing or whatever else you need to do. That said, here are some of the best 2-in-1 hybrids we've tested on the market, including the new Samsung Galaxy Book.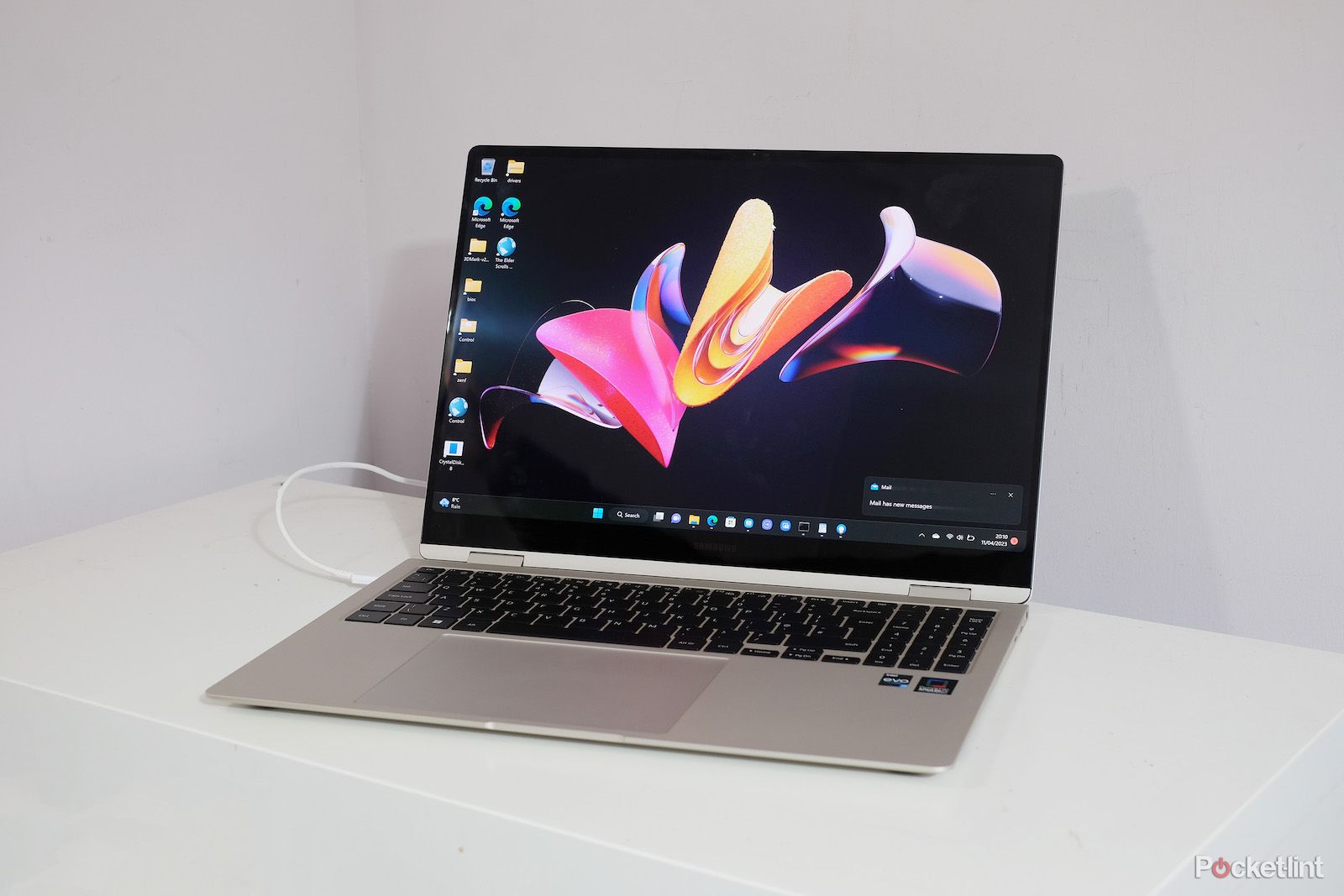 Samsung Galaxy Book 3 Pro 360
1. Best 2-in-1 laptop overall
New, sleek, and powerful
$1500 $1900 Save $400
It's on the pricey side, but if you want the best of the best 2-in-1 model with a sleek and lightweight form-factor, this new Galaxy hybrid is the one to get.
Pros
Super-slim with a premium feel
Beautiful OLED display
Great performance
Cons
Hinge could be stiffer
Giant touchpad takes some getting used to
The Samsung Galaxy Book 3 Pro 360 is ultra-premium throughout. It's portable and slim, with a sizable 16-inch display and plenty of power, owing to its 13th Gen Intel processor.
A cracking set of speakers and a 2K dynamic OLED panel make this a delight for media consumption, and it's pretty great for creation, too. The 360 hinge and S Pen support are an excellent combination for Photoshop work and the like.
It's a pricey option, but with such superb build quality, excellent performance and premium looks, it's worth the outlay for many people.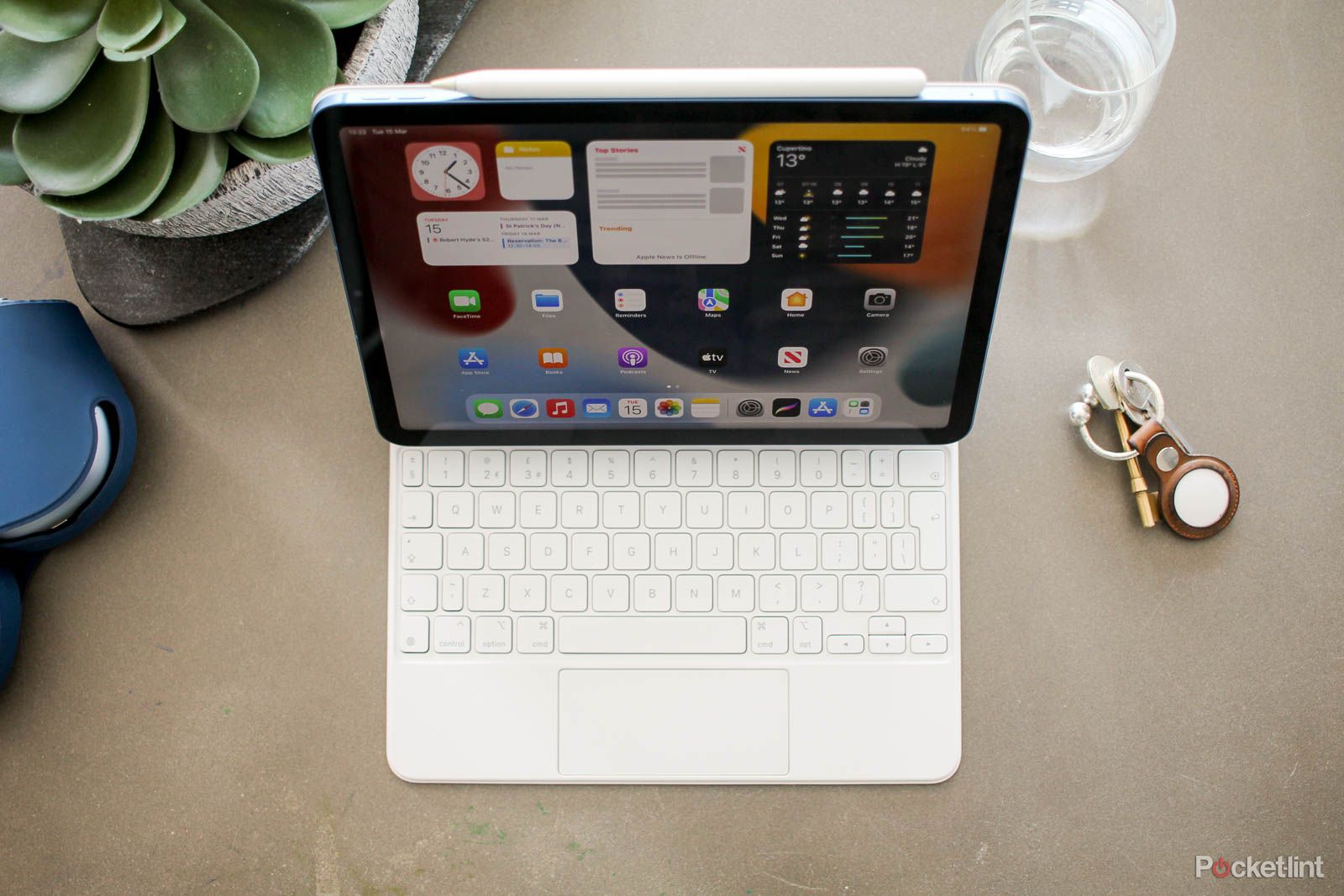 Apple iPad Air (2022)
2. Best Apple 2-in-1
$495 $600 Save $105
It's a tablet, but the iPad Air sings when paired with a trackpad and keyboard. Plus, it's the perfect portable companion.
Pros
Super powerful
Great design
Thin
Cons
Peripherals are pricey
Some OS limitations
The fifth-gen iPad Air, for all its impressive power and wonderfully slim design, is technically just a tablet, not a 2-in-1. Add Apple's Magic Keyboard to the mix, though, or a cheaper third-party option, and you'll have a superb productivity device, too.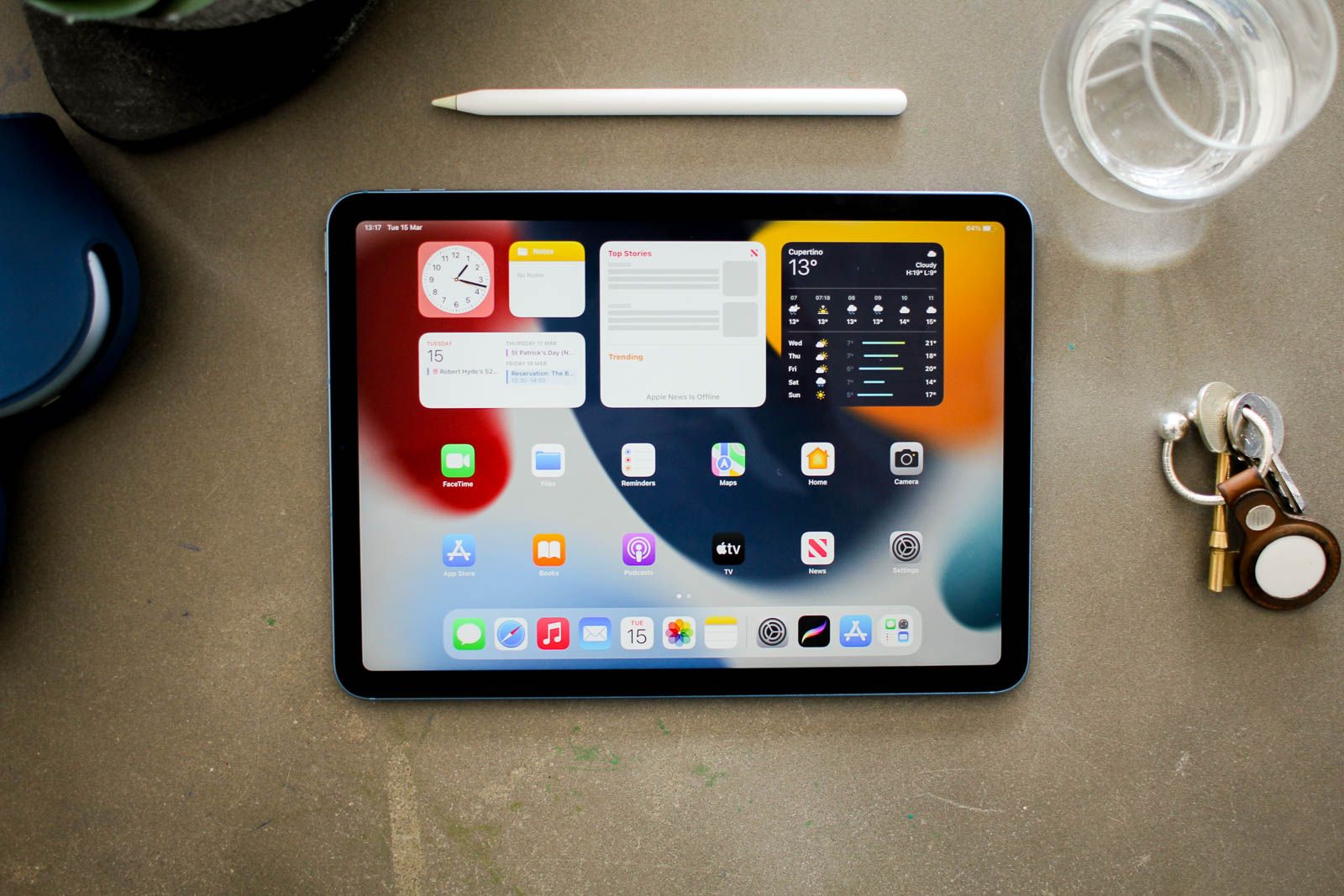 You get trackpad support and a full typing experience, making it an excellent pick for most people, especially if you're keener on the tablet end of things than the laptop side. If you want to watch movies and check the web, it doesn't get much better.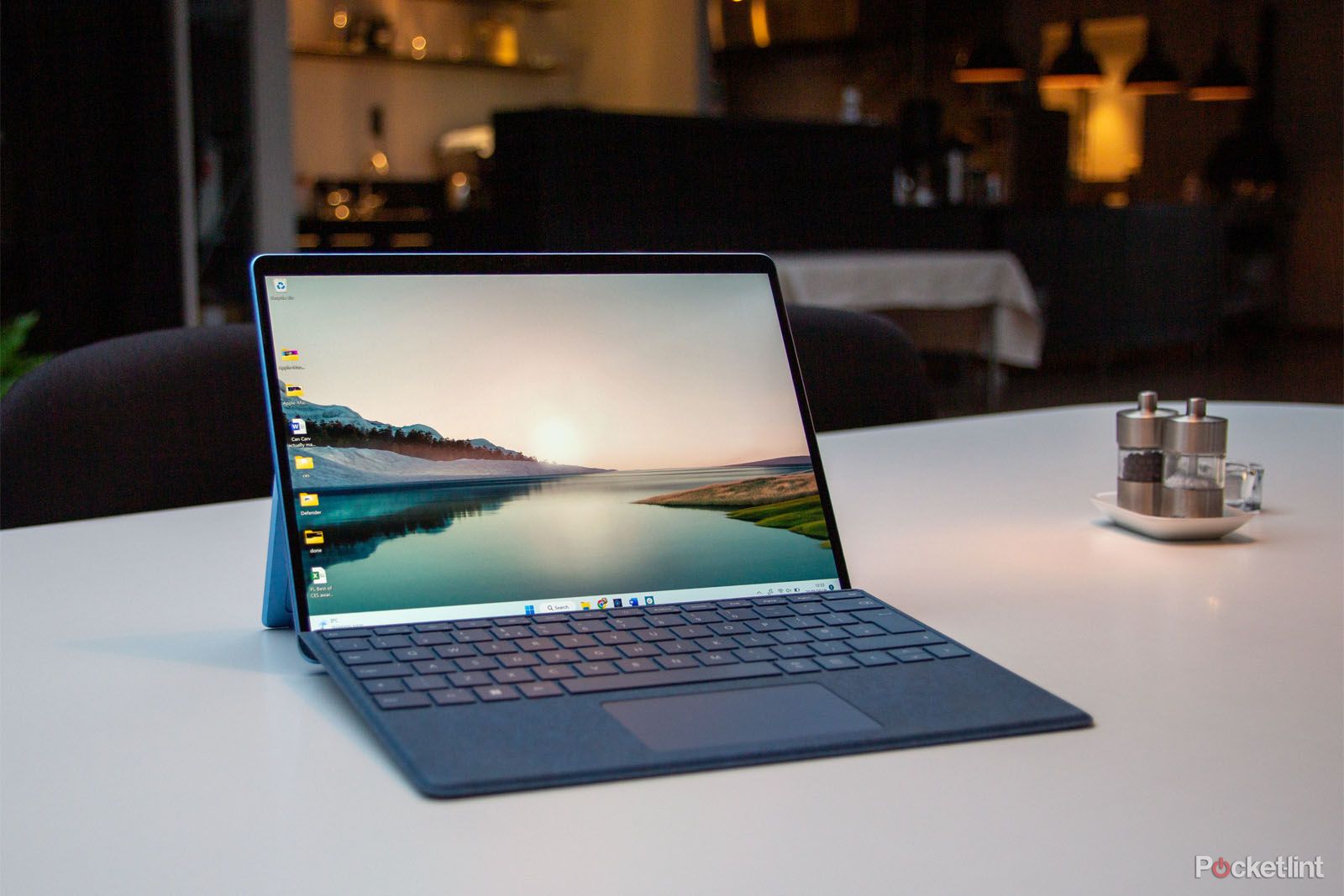 Microsoft Surface Pro 9 (Wi-Fi)
3. Best Surface 2-in-1
The Surface Pro 9 is a versatile 2-in-1, offering 12th-gen Intel performance, great accessories and long battery life in a sturdy chassis.
Pros
Powerful and portable
Excellent design
Solid battery life
Cons
Pricey add-ons
A bit heavier than the competition
Microsoft is the originator of the Windows-based detachable two-in-one, and its ninth-generation device is the best to date. It combines the power of Intel's 12th Gen processors, with the versatile design that we know and love from previous generations.
If you want all the power and flexibility that the Windows 11 operating system provides, but with the flexibility and portability of a tablet, this is a great option to take on the go without compromising power.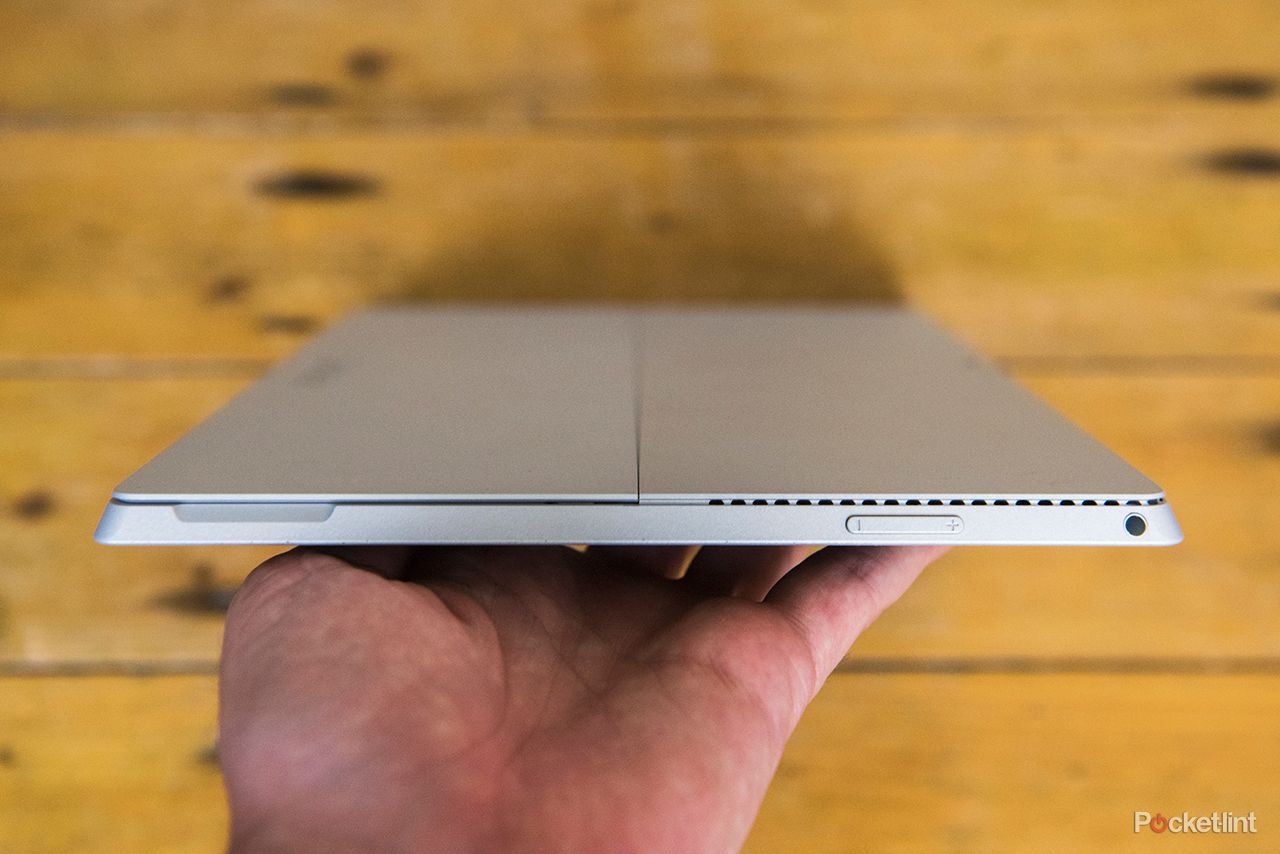 You'll just need to keep in mind that the keyboard cover and stylus are sold as optional extras, so the full package can get a little pricey. Still, if flexibility is what you need, the cost is well worth it.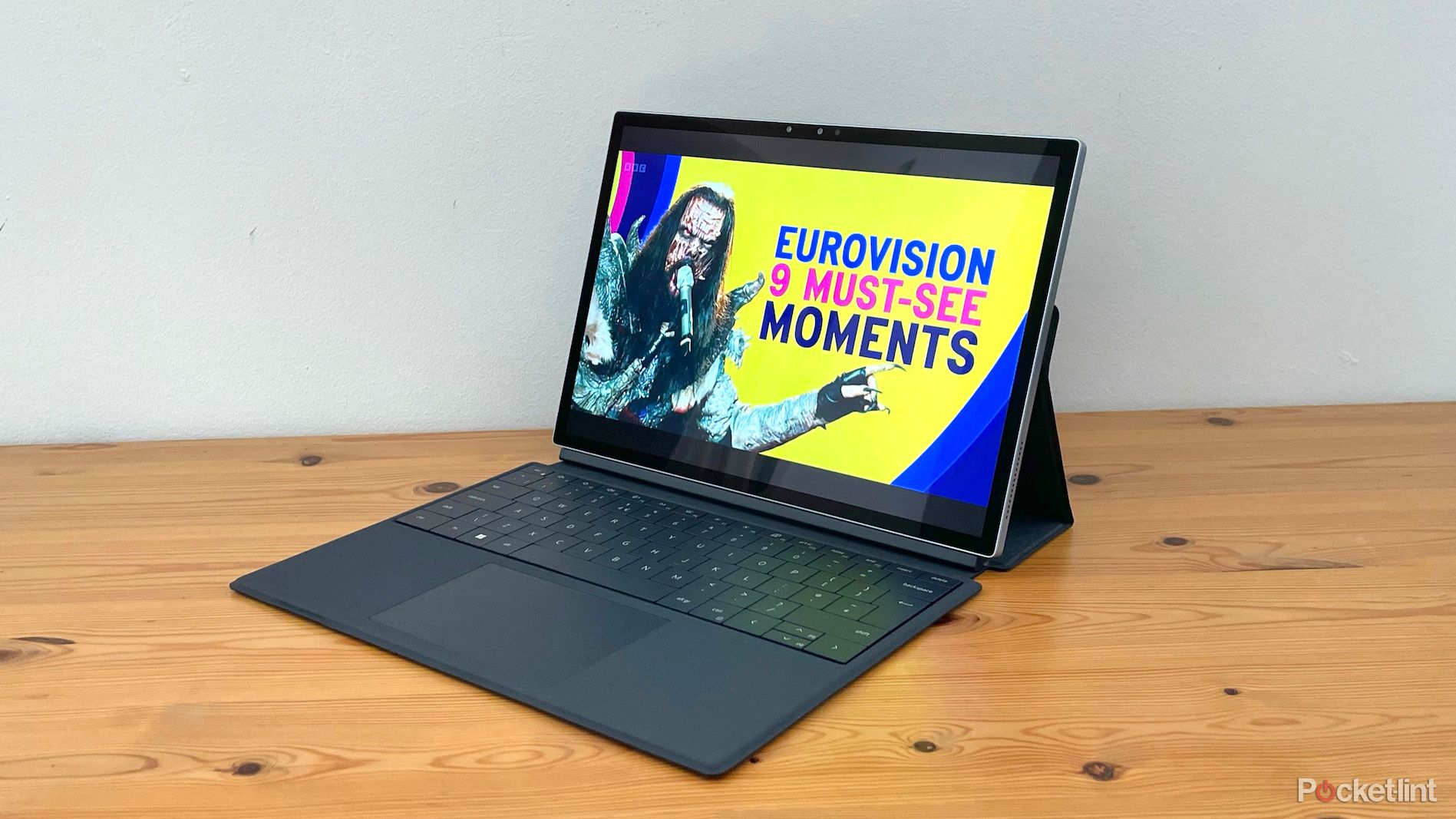 Dell XPS 13 2-in-1 (2022)
4. A great Surface Pro alternative
The latest XPS 13 2-in-1 takes a Microsoft Surface-inspired approach with a detachable tablet display, stylus and folio keyboard case.
Pros
Detachable tablet design
Superb 3K touchscreen
Reasonable pricing
Cons
No ethernet or HDMI
Battery life could be better
The latest Dell XPS 13 2-in-1 takes a lot of inspiration from Microsoft's Surface Pro models, and what it offers is very similar across the board. You do get slimmer and more symmetrical bezels on the display, and you get an excellent folio keyboard with Dell's Zero-lattice design (sold separately.)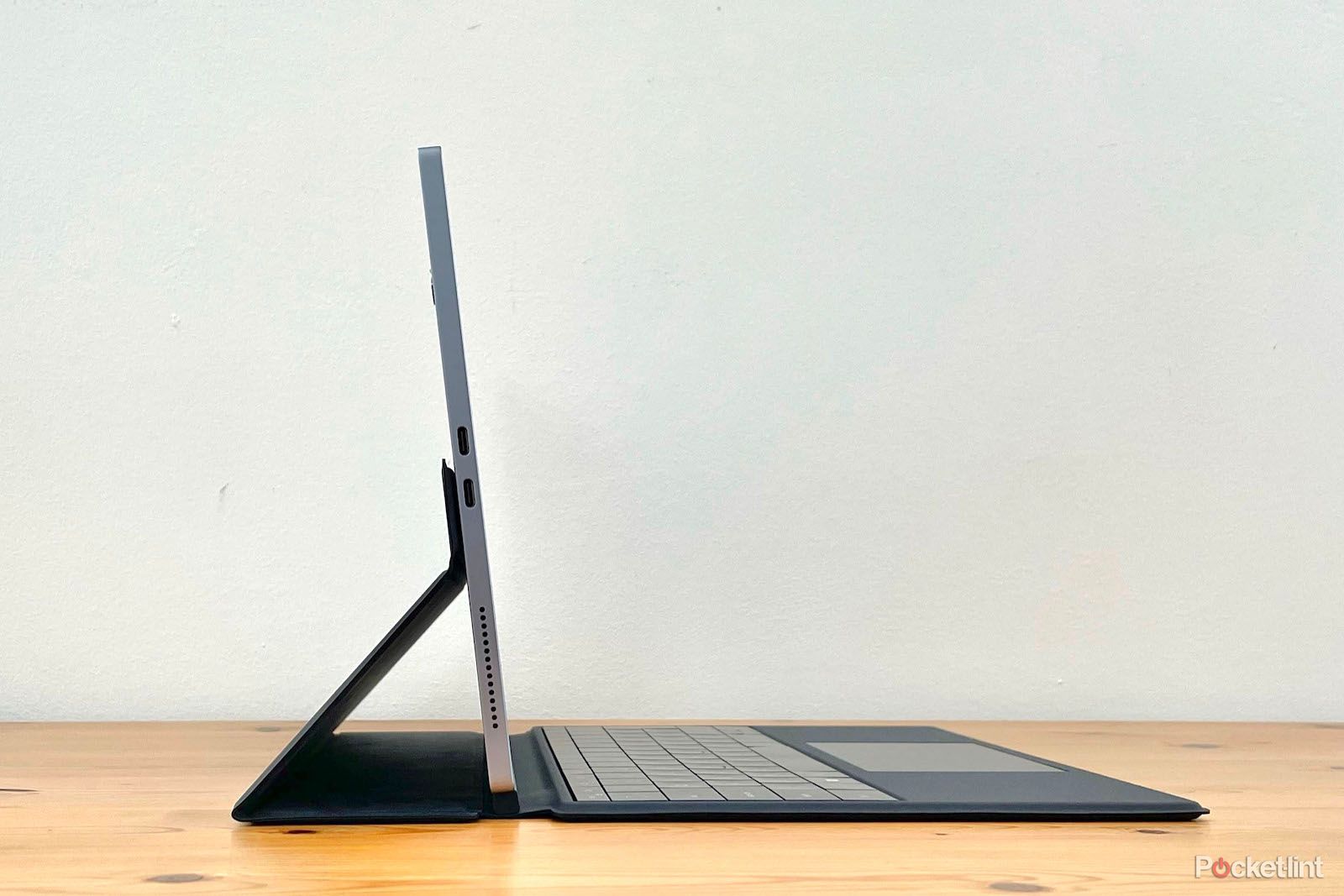 The design features more squared-off edges, which we think looks great, but it can be slightly less comfortable in the hand. It's hard to say which is better, as it's all down to personal preference.
Where the Dell XPS 13-2-in-1 really shines is in its value for money. It's considerably cheaper if you opt for comparable specs to the Surface Pro 9, and that, in itself, means that it'll be the obvious choice for a lot of people.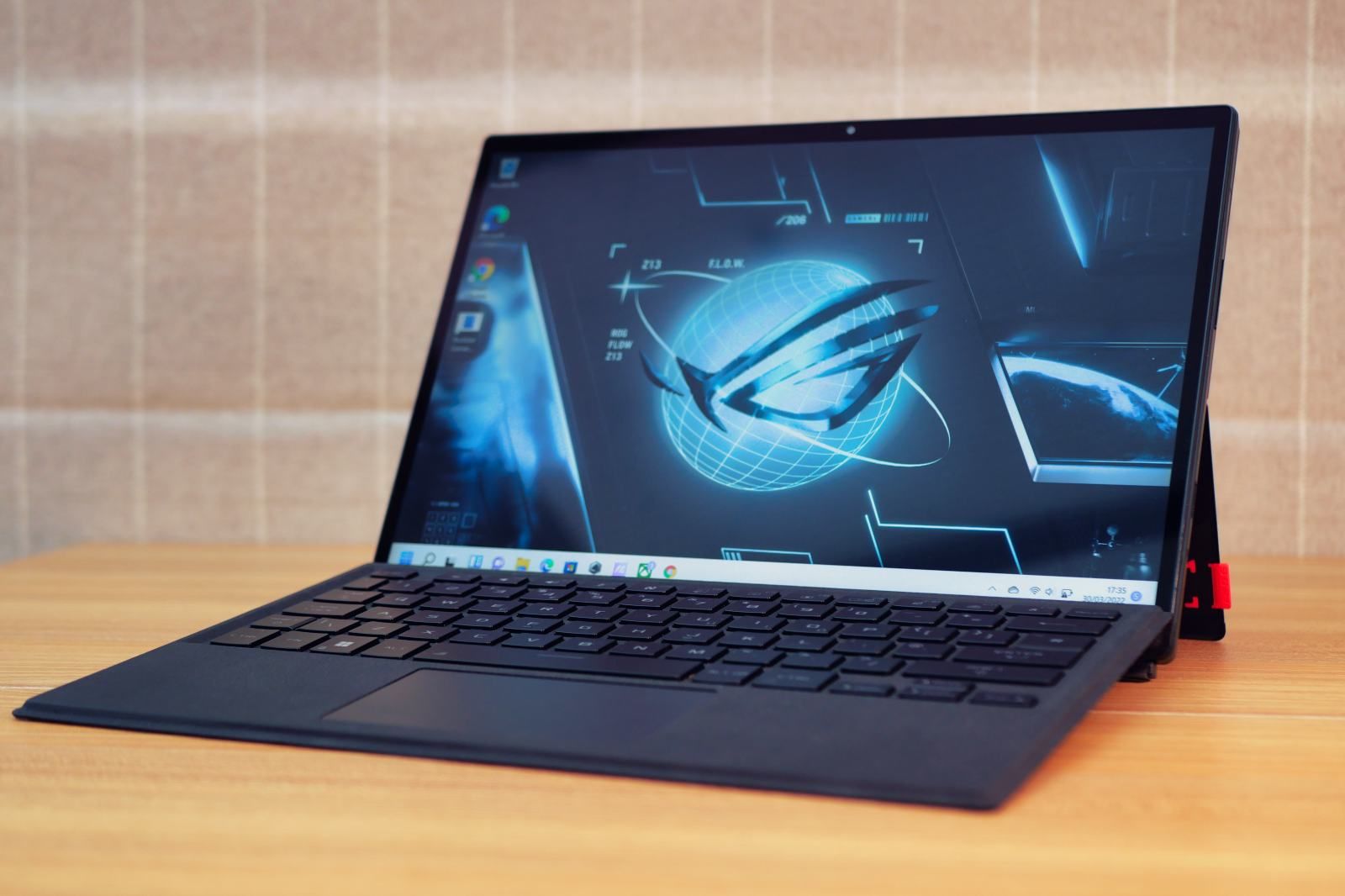 Pocket-lint
Asus ROG Flow Z13
5. Best 2-in-1 for gaming
$1599 $1799 Save $200
All the flexibility of a Microsoft Surface device, souped-up with game-ready power and cyberpunk styling.
Pros
Versatile design
Enough power to game on the go
Can be boosted with the XG Mobile Dock
Cons
The XG Dock is expensive
Traditional laptops are more affordable
If you love the idea of a 2-in-1 device, but don't want to give up the ability to run graphically intensive games, the Asus ROG Flow Z13 could be a perfect choice. The machine essentially works like a Microsoft Surface Pro device, in that it's a Windows-based tablet with a detachable keyboard cover and integrated kickstand. However, with the Asus option, you get a dedicated graphics card, an amped-up cooling solution and, of course, RGB lighting.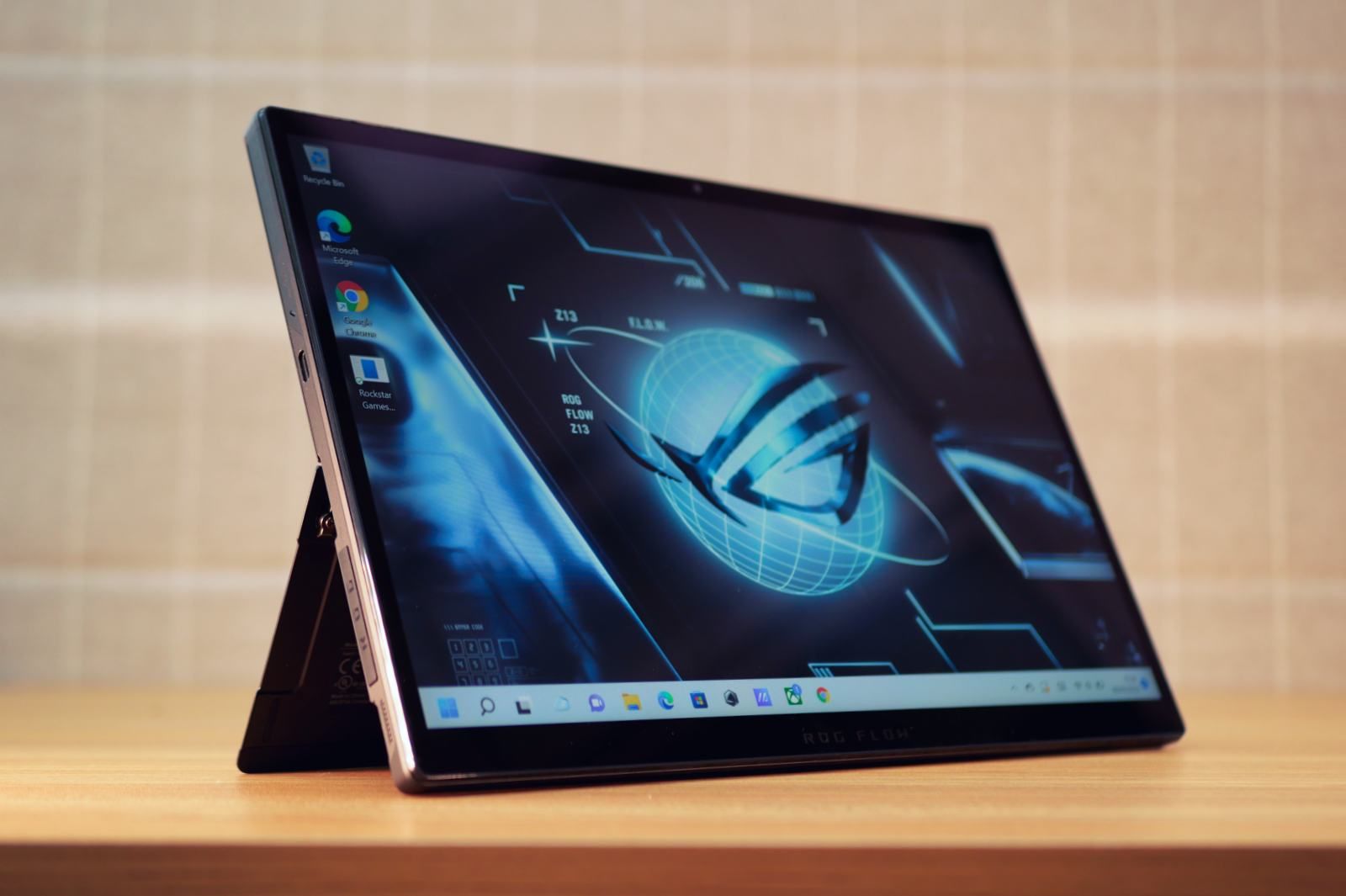 If you need more power still, you can plug it into the XG Mobile Dock, which gives you an RTX 4090 graphics card and the ability to connect to external displays and peripherals. The powerful dock is a significant investment, though.
The bottom line: What is the best 2-in-1 laptop?
Thanks to its powerful performance and beautiful display, the Samsung Galaxy Book 3 Pro 360, which debuted earlier this year, is our first choice for the best 2-in-1 laptop you can buy. To match it's luxury feel and experience, it does come with a hefty price, but that can easily be justified if you want a 2-in-1 laptop that doesn't feel like you have to sacrifice one feature over another.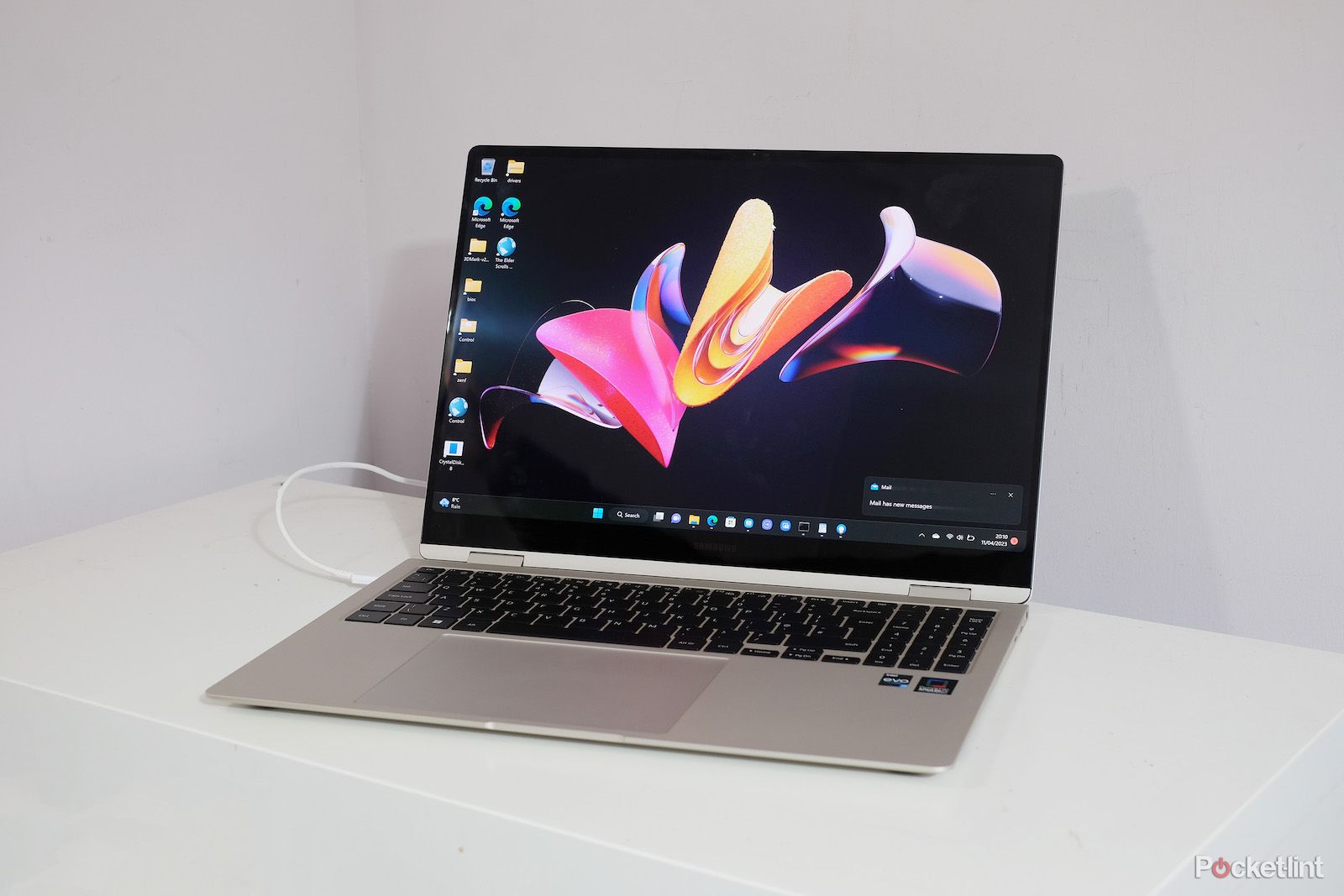 Samsung Galaxy Book 3 Pro 360
Editor's Choice
New, sleek, and powerful
$1500 $1900 Save $400
It's on the pricey side, but if you want the best of the best 2-in-1 model with a sleek and lightweight form-factor, this new Galaxy hybrid is the one to get.
How we selected these 2-in-1 laptops
We've spent lots of time testing each and every 2-in-1 laptop on this list, using them for everything from entertainment to work, both in tablet mode and as a laptop. We consider as many factors as possible before adding a recommendation to our list, with the ultimate goal of helping our readers make an informed purchase.
We look at the design and build quality, screen clarity, audio performance and computing power, as well as considering the pricing and value for money. There are so many 2-in-1 devices on the market that it's impossible to cover them all, but we try to include options at a range of budgets and with a variety of users in mind.
Is a 2-in-1 laptop a good replacement for a dedicated laptop?
That depends on preference and workflow. Here are a few questions to ask yourself before deciding to get a 2-in1 laptop over a traditional machine:
How much will you be typing?
If you write a lot of emails or copy, then something like the Surface Pro's keyboard attachment might not be quite as comfortable in the long run, compared to a fully integrated keyboard.
What programs do you use?
While there are plenty of expensive options that pack in incredible power, some hybrid devices do have more modest specs. It's worth thinking about what programs you use so that you can account for this as you shop. If you do a lot of video editing, for example, you'll want to make sure that the 2-in-1 you have in mind can cope with the more demanding processing tasks that it'll be faced with.
Is an iPad a 2-in-1 laptop?
When paired with a keyboard or keyboard case, yes, you can convert your Apple iPad into a capable laptop.