Computers
Best drones 2023: Top 4K camera drones
Today's drones are extremely capable fliers with more impressive cameras than ever before, so, it's an excellent time to consider one.
Whether you're a seasoned pilot or are just getting to grips with snapping photos and videos from lofty heights, there are tons of excellent options to choose from.
Plus, with the advancement of battery efficiency, navigation, obstacle avoidance and stabilisation, it's easier than ever to have a great experience, too.
These days we have more options than ever, whether you're looking for dynamic sweeping FPV movement or that classic Hollywood stabilised look, there's a drone out there for you. And that's why we're here. In this guide, we'll run through the best you can buy.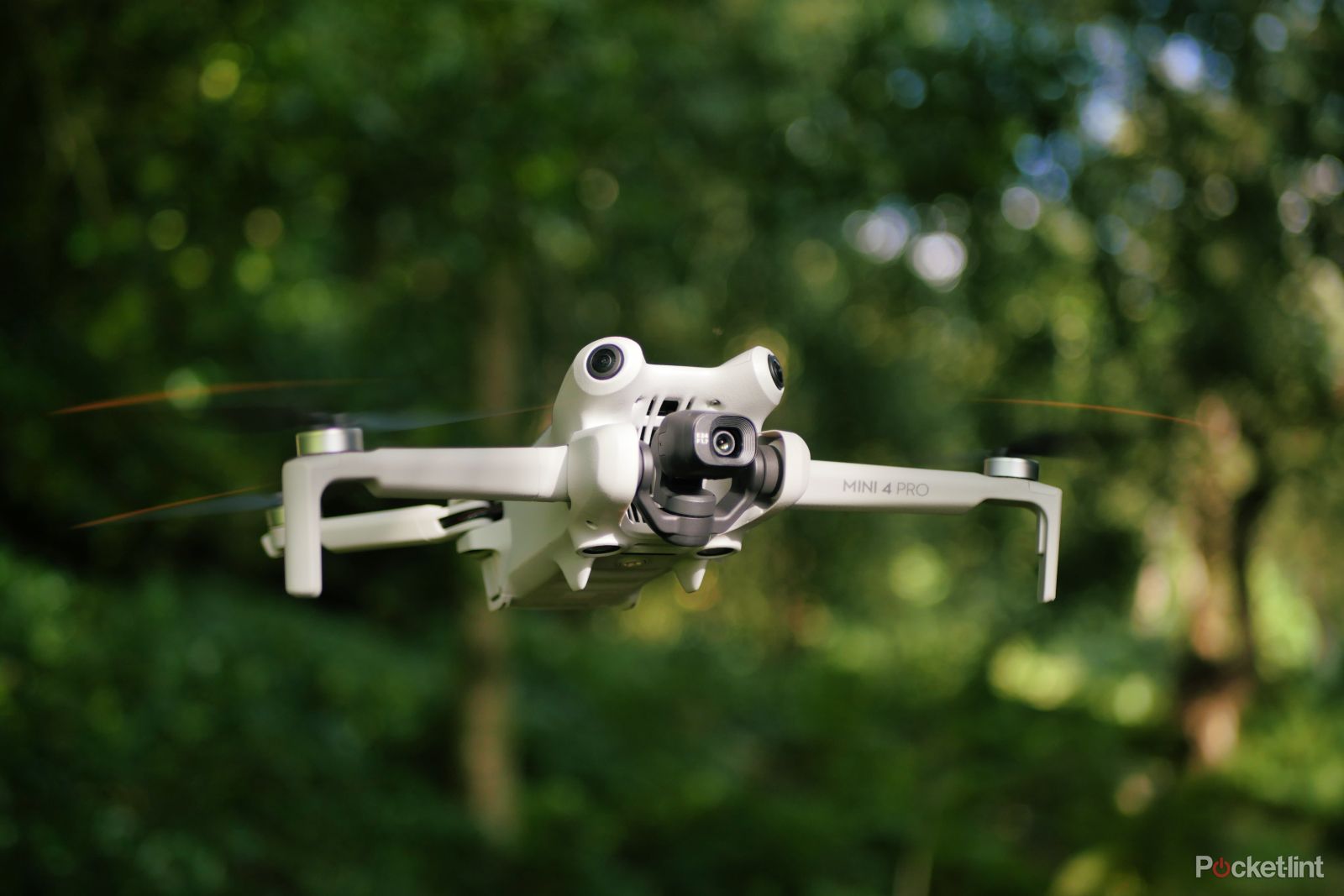 DJI Mini 4 Pro
1. Best drone overall
DJI's latest Mini drone is the most capable so far, with incredible imaging performance, flawless flying and full obstacle avoidance.
Pros
Omnidirectional obstacle avoidance
Lightweight and portable
Improved slow motion and D-Log M
Cons
It's pricey
Not a huge upgrade over the Mini 3 Pro
The DJI Mini 4 Pro takes everything that we loved about the DJI Mini 3 Pro and makes it even better. The most impactful change is the inclusion of omnidirectional obstacle detection, which means it can fly in any direction without having to worry about a collision. It also has much more robust ActiveTrack capabilities, and can now track a subject from any direction.
The Mini 4 Pro also improves HDR recording, now maxing out at 4K60 rather than 4K30, and slow motion gets a huge boost to a maximum of 4K 100fps. If you're into colour grading, you'll be pleased to hear that the Mini 4 Pro can record in D-Log M, too, which is a big upgrade over the D-Cinelike profile in the previous model.
Elsewhere, most features remain the same as the Mini 3 Pro, and that's no bad thing. It flies excellently, is super convenient to carry and skirts most of the more restrictive drone regulations by weighing under 250g. It's also still the only drone in DJI's portfolio that can film in a true vertical format, we absolutely love it.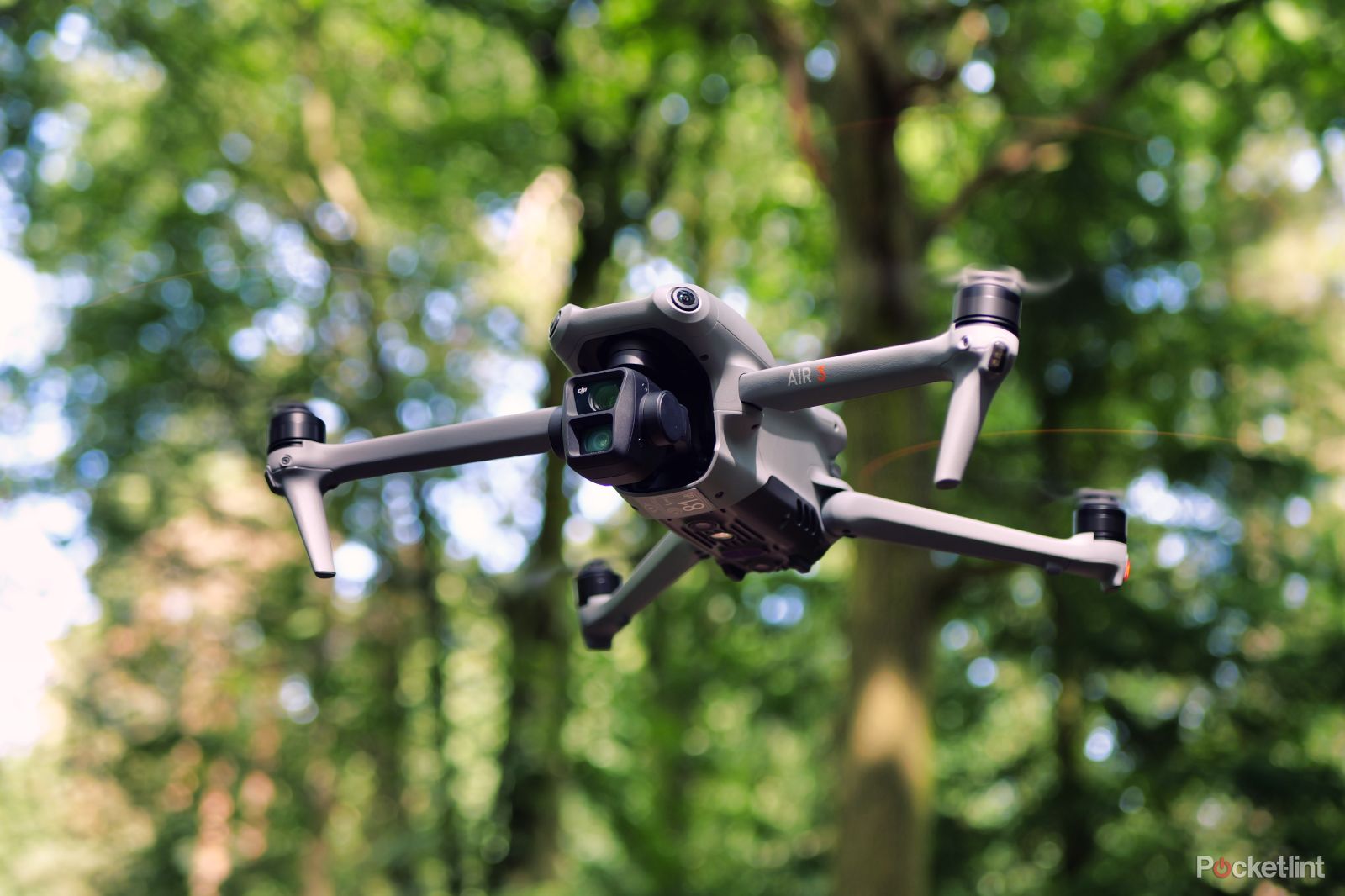 DJI Air 3
2. Best dual-camera drone
If you want something that handles the wind better than the Mini 3 Pro but doesn't cost as much as the Mavic 3, then the Air 3 is the one for you.
Pros
Brilliant dual-camera setup
Long flight times
Omnidirectional obstacle avoidance
Cons
More expensive than its predecessor
Not compatible with existing controllers
The DJI Air 3 is the perfect middle ground between the Mini 3 Pro and Mavic 3 Pro. It doubles up on the camera system, offering an additional 70mm focal length for some unique and creative angles, while also improving the video downlink and flying for longer than before.
It's larger and more powerful than the Mini 3, which means it's better equipped to handle the wind, and it also has a more advanced obstacle avoidance system, so you can fly sideways without worry.
The Mini is still our favourite, due to how small and lightweight it is, but if you want to take your aerial imagery to the next level, the Air 3 is well worth the additional cost. Shooting with the longer focal lengths allows for some outstanding perspectives that can really set your footage apart from the crowd.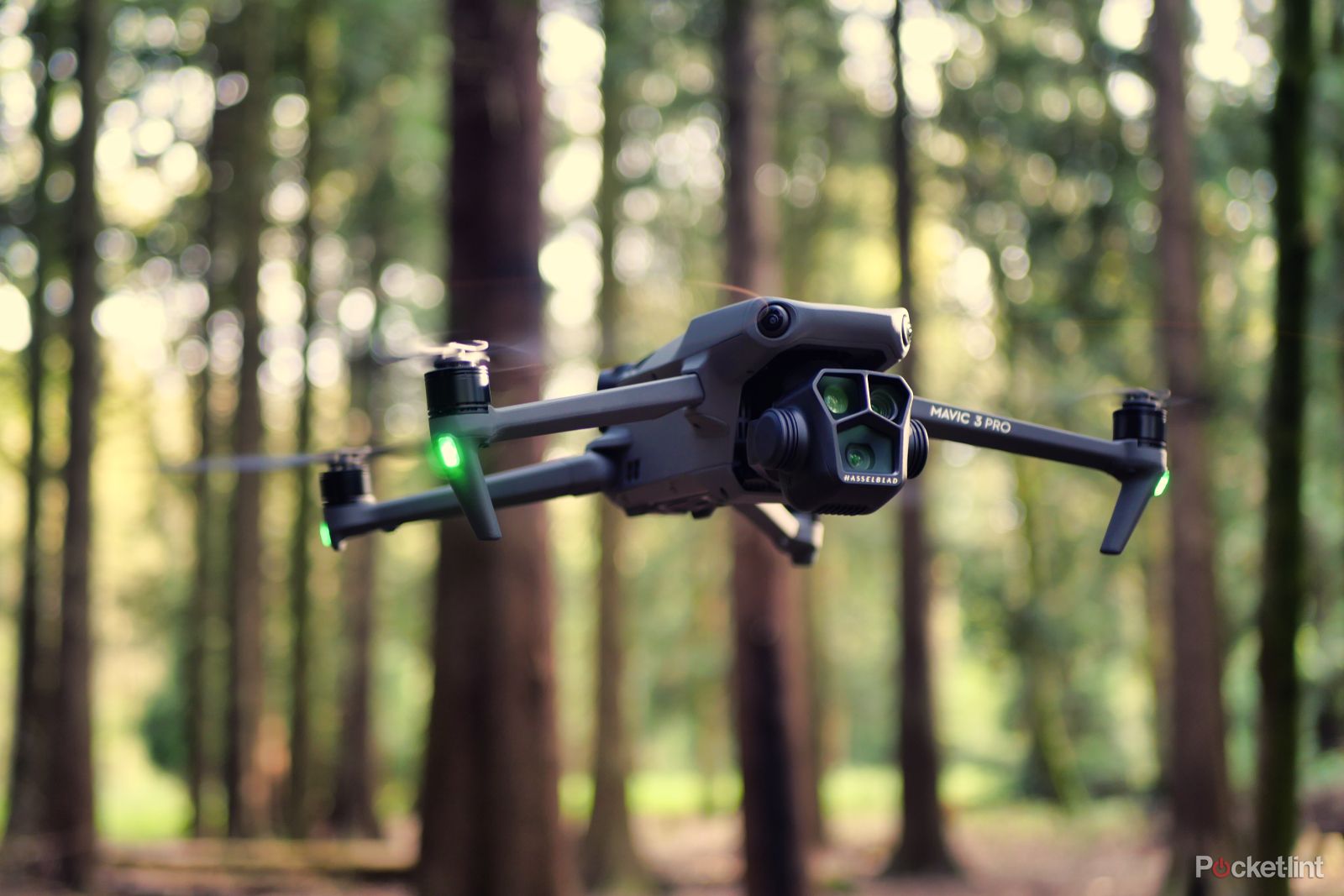 DJI Mavic 3 Pro
3. Best drone for professionals
Pros
Unparalleled image quality
Adjustable aperture and huge main sensor
Additional 70mm camera
Cons
Very expensive
Over 900 grams
The Mavic 3 was already the most impressive drone that we'd ever tested, and then DJI one-upped itself by releasing the Mavic 3 Pro. The latest version adds an additional 70mm lens to the camera setup, making it more versatile than ever before.
The only reason it's not our top pick is that it's too expensive and intimidating for the majority of consumers, but if you're looking to step into the professional world, the Mavic 3 Pro is the ideal tool for the job.
It flies wonderfully, even in harsh conditions, and it captures footage with unrivalled image quality. Add to this DJI's industry-leading tracking features and automated route planning, and you've got a serious machine on your hands.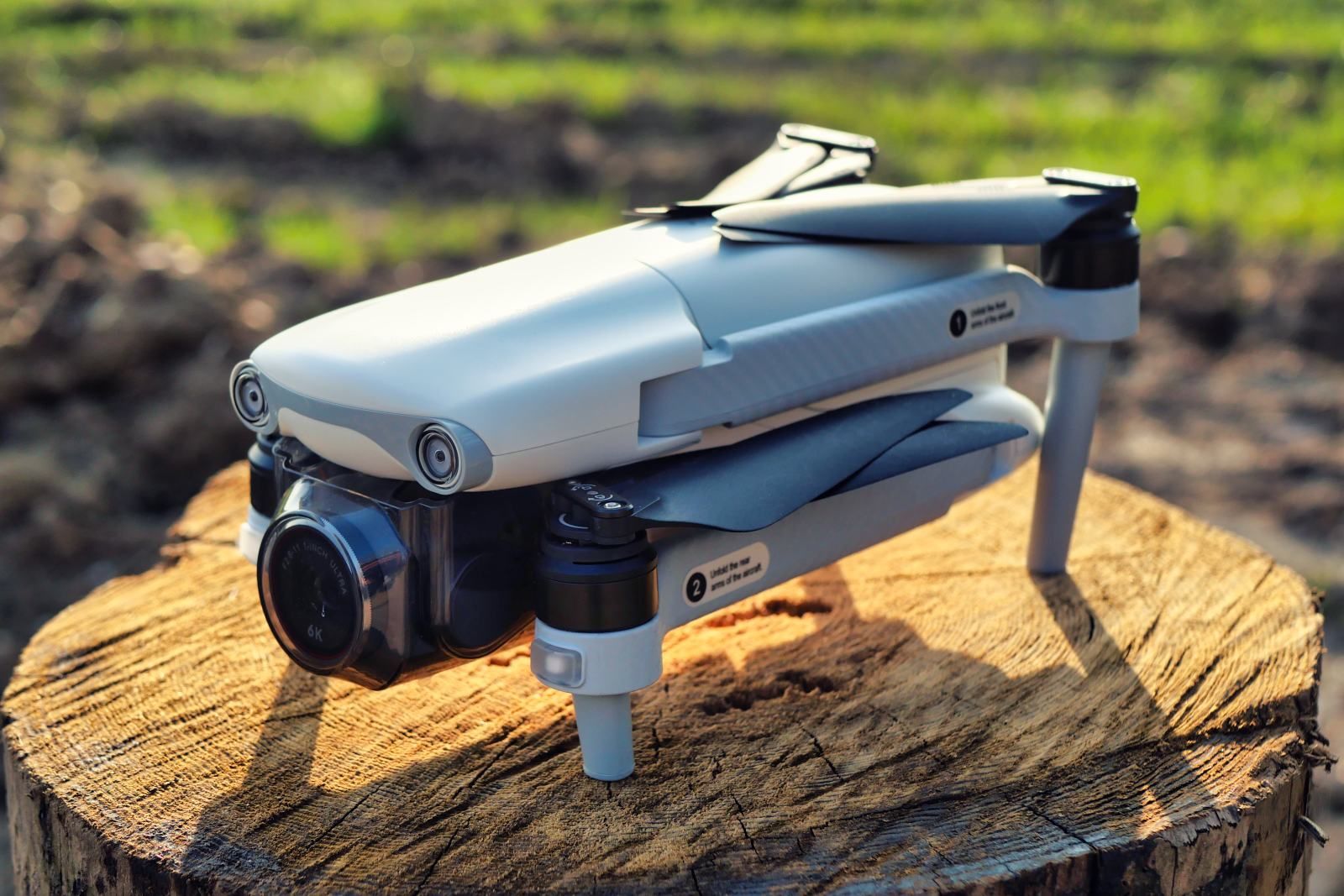 Autel Robotics EVO Lite+
4. A serious DJI alternative
A seriously impressive and well-priced drone that sits comfortably between the Mavic 3 and Air 2S.
Pros
Incredible flight times
1-inch sensor with night mode
Adjustable aperture
Cons
Tracking modes are unreliable
Less refined than DJI's models
The Autel Evo Lite+ is confusingly named, as although it sounds like it would be a smaller drone, it's actually a similar size and weight to the Mavic 3. When it comes to specs, it sits right between the Air 2S and the Mavic 3, and the same is true of the pricing.
The image quality from the Evo Lite+ is stunning, and while it can't offer the same 10-bit colour as the pricier Mavic 3, the crisp 5.4k videos from the 1-inch sensor are detailed and vibrant. We found the image straight out of the camera to be more impressive than that offered by the Air 2S.
The drone and its accessories feel reassuringly sturdy and the user experience is easy and intuitive. When it comes to software, DJI still has a slight edge but the app and feature set is improving with each update that gets released. With the Evo Lite+, Autel presents a compelling alternative to DJI and an image quality that simply can't be ignored.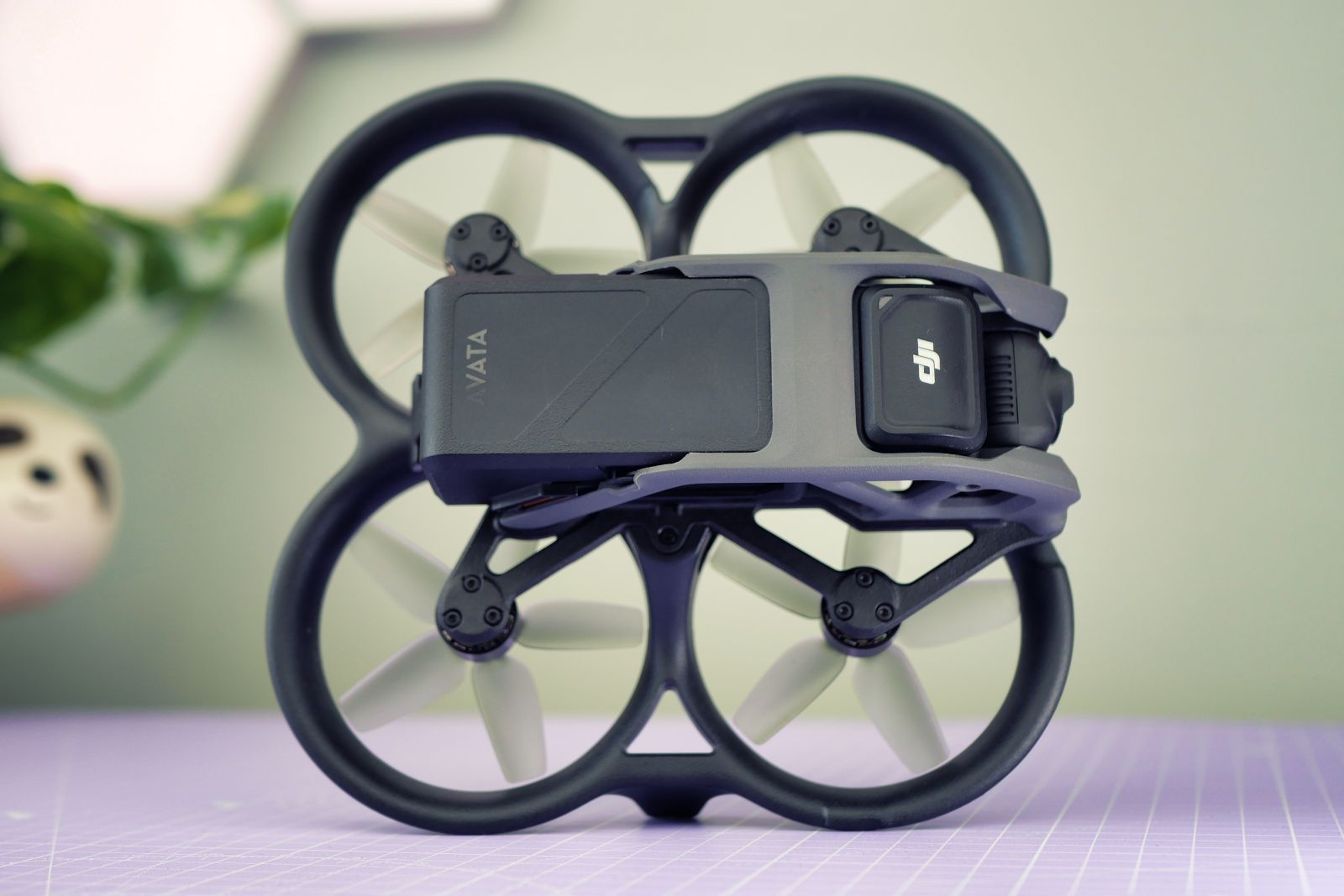 DJI Avata
5. Best FPV drone
If you want to take your flying to the next level, and to new locations, the DJI Avata could be the drone for you.
Pros
Nothing else like it on the market
Thrilling FPV flying experience
Perfect for tight spaces and indoor shots
Cons
FPV flying is risky and hard to master
Doesn't handle wind as well as other options
If you're ready to dip your toes into the immersive world of FPV flying, we think the DJI Avata is the best place to start. It's smaller, safer and less intimidating than the full-fat DJI FPV, but gives much of the same experience, as well as offering some advantages of its own.
The guarded propellers make it ideal for flying indoors and around people, with less risk of chopping things up. And, unlike a traditional FPV drone, it can hold its altitude and stop on the spot, which makes it much easier to learn to fly with.
There's still a learning curve, especially compared to DJI's non-FPV options, but the DJI Motion Controller is the simplest way that we've come across to get to grips with a more dynamic flying style.
With a lack of obstacle avoidance, though, you'll need to be careful. FPV flying takes some practice and isn't for the faint of heart.
The bottom line: Which is the best drone?
We think the vast majority of buyers will be most satisfied with the DJI Mini 4 Pro. It's more affordable than most of DJI's larger drones, easier to carry and travel with and can be flown without registration in a lot of countries due to its sub-250g weight. At the same time, it offers excellent image quality, superb flying and enough professional video features to be used for serious work.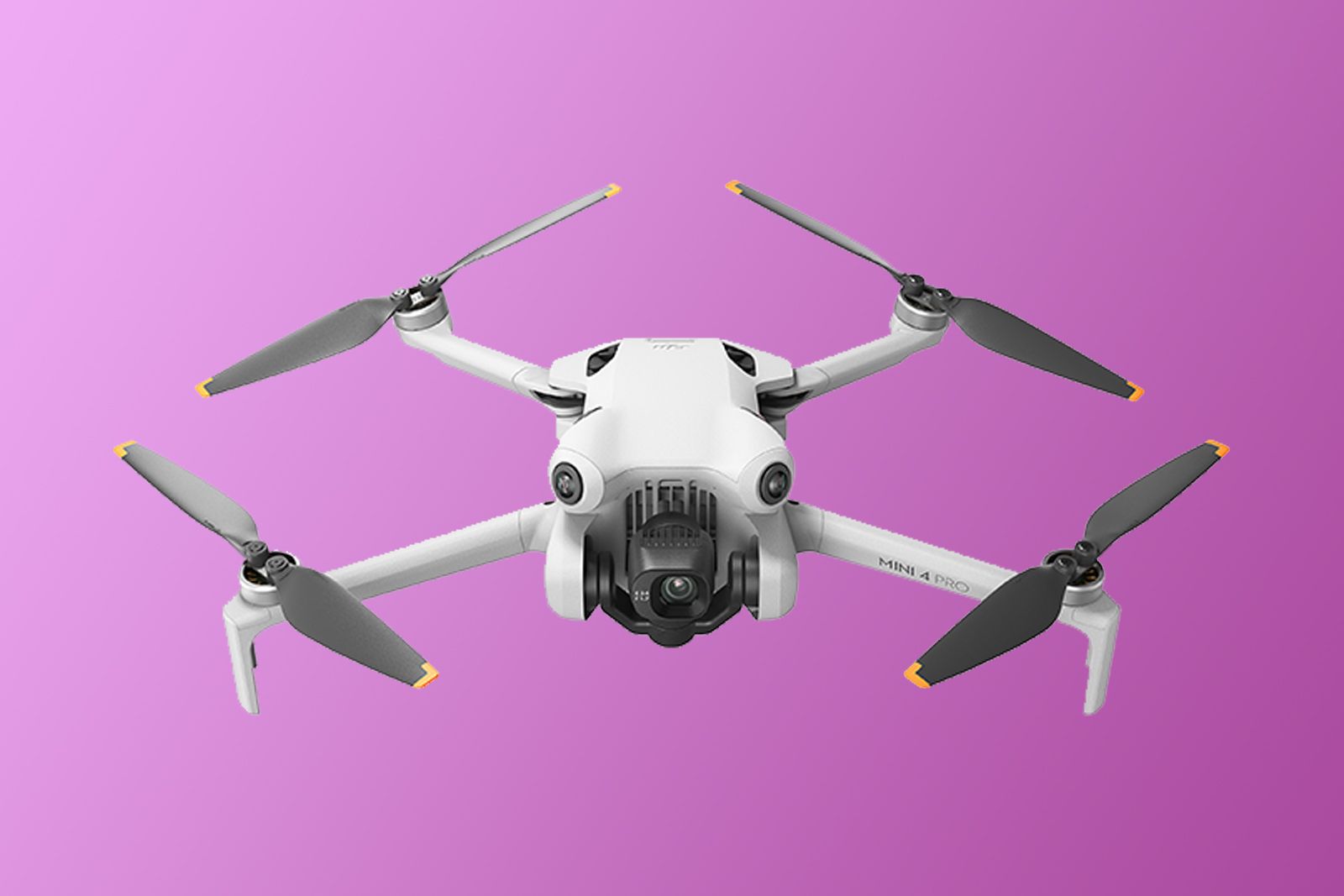 DJI
DJI Mini 4 Pro
Editor's Choice
Small and convenient but feature-packed and powerful. The DJI Mini 4 Pro can do it all, and that's why it's our number one pick.
However, that doesn't mean it's the perfect drone for all users. If you want the ultimate shooting flexibility, then the triple-lens touting Mavic 3 Pro is the way to go, it's also the most stable flier in windy conditions. On the other hand, if you just want to have a blast flying around, the DJI Avata is by far the most fun of the bunch.
How we chose the best drones
We've had hands-on experience with every drone on this page and we carefully consider a variety of factors before including a product in our list. This includes the flight performance, camera fidelity, automated flight modes, build quality and, of course, value for money.
There are plenty of great drones that we haven't included for the sake of brevity, but you can rest assured that out of everything we've tried, these are our favourite options. We've focused on consumer-friendly options, which means expensive professional solutions like the Inspire 3 weren't considered, and neither were custom hobbyist drones that require esoteric knowledge to operate.
How to choose a drone
Picking out the right drone for you could be a bit of a challenge, especially given how much you might end up spending. Here are a few important questions to ask yourself to help get things straight.
Have you flown a drone before?
There's absolutely no shame in being a beginner – everyone has to learn to fly a drone sometime. That said, some systems are easier to get on board with, while others are better for those who already have some familiarity with flight controls and mechanics.
Most of DJI's current drones, for example, should be fine for beginners to learn on, but you wouldn't want to buy an FPV drone, or a pro-quality cinematic drone, if you might just crash it within a few minutes.
What do you want to use it for?
Are you hoping to take nice holiday shots from the air, and do the odd video here and there? Or do you want a drone in order to unlock possibilities in your filmmaking for more professional ends? That should inform how much you're looking to spend, and how intense the drone you end up with will be.
Frankly, though, as drones have got better and better, the gap between those two tiers of devices has become ever smaller.
Do you want to travel with your drone?
One big variable between drone models is how small they fold down, if they do at all. DJI now offers multiple options that can fold away to fit into even small bags or big pockets, so they're great choices if you want to take your drone on holiday with you.
However, if you don't think you'll be using your drone on the go that much, you shouldn't worry about its size and weight.
How important is visual quality?
Different models of drones have plenty of big differences, but a huge one comes down to the cameras they pack. If you're looking for the crispest 4K video at good frame rates and with accurate colours, then you'll probably end up spending a decent wedge to get it.
However, if you don't mind 1080p video, since you're not a professional and just want some nice shots to remember moments by, you'll be able to cut down on the budget side of things by a respectable margin.