Computers
Best JBL Speakers 2023: Expert tested and reviewed
The world of audio speakers is a highly contested one. Bose, Sonos and Marshall are three dedicated audio brands that have recently crowded the market with fantastic Bluetooth speakers. Even humongous conglomerates like Amazon and Google have joined the competition with their Echo and Nest ranges achieving good success.
But what about JBL speakers? Well, with a history that can be traced back to the late 1920s, it's fair to say the Los Angeles-based company knows a thing or two about speakers. Today, JBL is one of the most recognised speaker brands out there. With a dense catalogue of multi-faceted speakers, JBL has a speaker for everyone no matter their listening needs.
From studio monitors ideal for music production to bass-heavy towers that liven up the party with inbuilt light displays, JBL has you covered with its extensive range. However, with so much choice comes lots of research to determine an appropriate speaker option for you, but that's where we come in.
Whether you're looking for something portable, loud, wireless, or an accumulation of all three, we've done the heavy lifting and determined the best JBL speakers currently available on the market.
JBL/Pocket-lint

JBL Charge 5

1. Best JBL speaker overall

JBL/Pocket-lint

JBL Flip 6

2. Best midrange JBL speaker

JBL/Pocket-lint

JBL Boombox 3 Wi-Fi

3. Best portable JBL party speaker

JBL / Pocket-lint

JBL Authentics 300

4. Best looking JBL speaker

JBL/Pocket-lint

JBL Go 3

5. Best budget JBL speaker
The best JBL speakers: Our top picks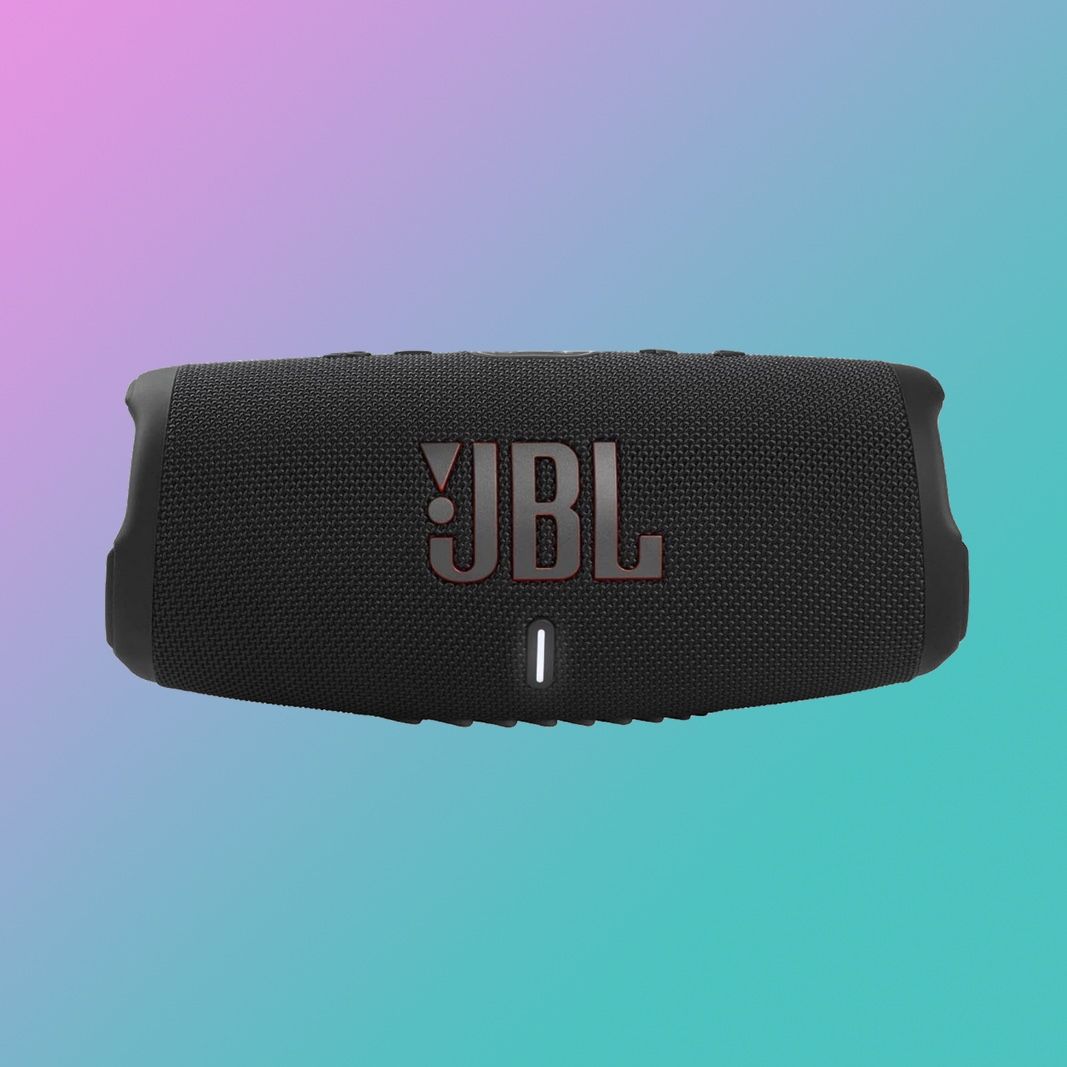 JBL/Pocket-lint
JBL Charge 5
1. Best JBL speaker overall
Durable and sounds great
Taking our top spot is the JBL Charge 5. The Charge's durable and robust design houses a powerful portable speaker with an impressive bass response. A reasonable price tag and dependable battery rightfully place this Bluetooth speaker at number one.
Pros
Impressive bass response
Durable and robust design
Decent battery duration
Cons
Fairly long recharge time
If you're looking for a dependable Bluetooth speaker for a reasonable price, it's hard to look past the JBL Charge 5. There is no lack of options for Bluetooth speakers under the $200 mark, so what makes the Charge 5 so special? Well, first and foremost it's audio playback for starters. Although relatively small in stature, the Charge 5's clever cylindrical design allows the bass radiators to freely move, allowing this plucky speaker to handle strong, low frequencies. A separate dome tweeter takes care of the high-end and the Charge 5's bass driver has been juiced up from the previous model to deliver 40 watts of power overall, offering a strong, well-balanced sound.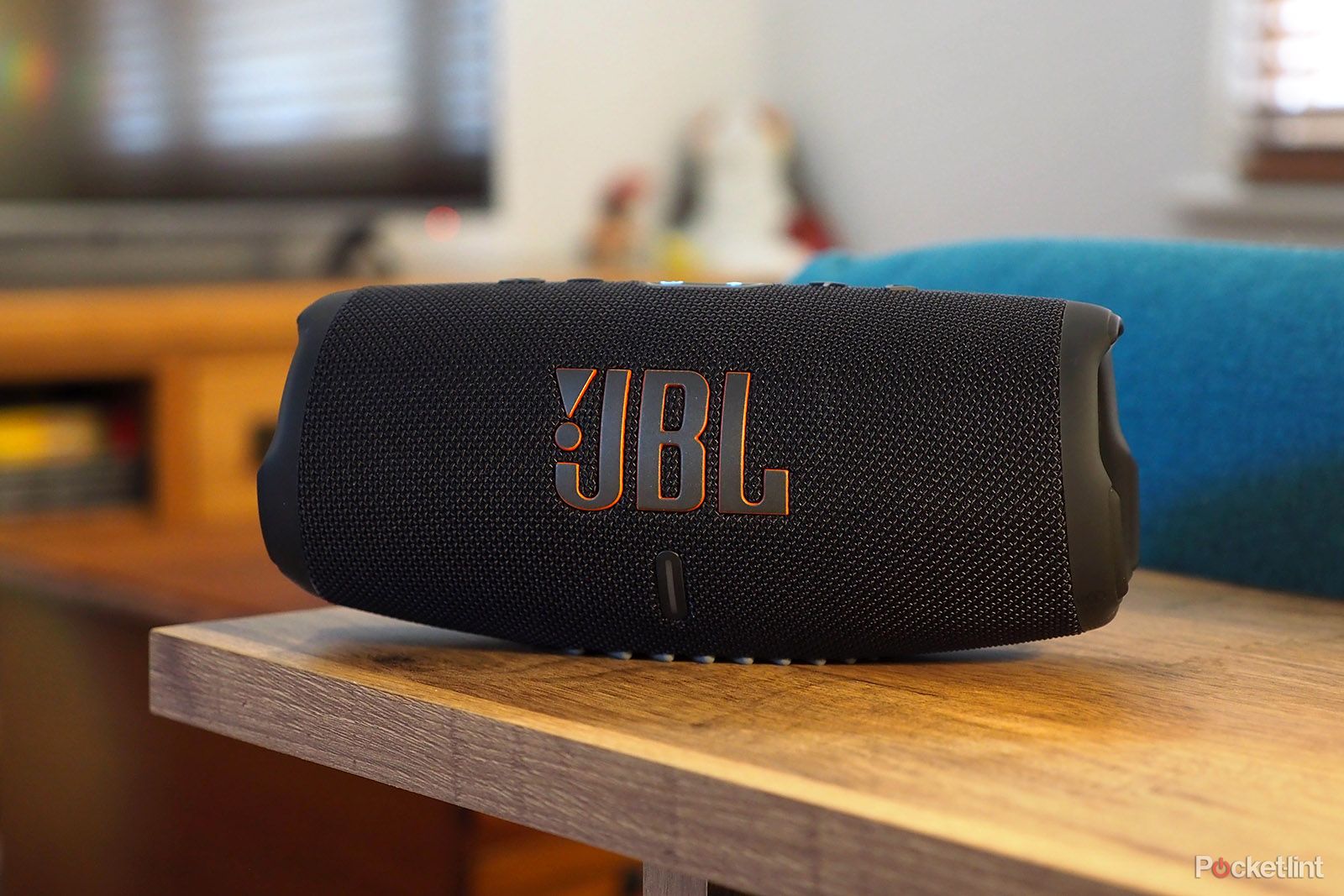 The battery duration is an important aspect of any portable speaker and the 20 hours of playback you get is a dependable amount, of which we can't grouch. Being water-resistant and dustproof is also important for a portable speaker and the Charge 5 has a rating of IP67, so this thing will survive a day at the beach. We found the rugged fabric encasing the speaker is more than durable enough to tackle the elements.
However, If we had one gripe about the Charge 5 it would be its four-hour recharge time. There are other speakers on the market that fully charge in less than half that time, so bear that in mind if you are a little impatient. This is only a minor issue and the Charge 5's features more than outweigh a little negative. If you're looking for an affordable, portable Bluetooth speaker with plenty of oomph, the JBL Charge 5 should be at the top of your list.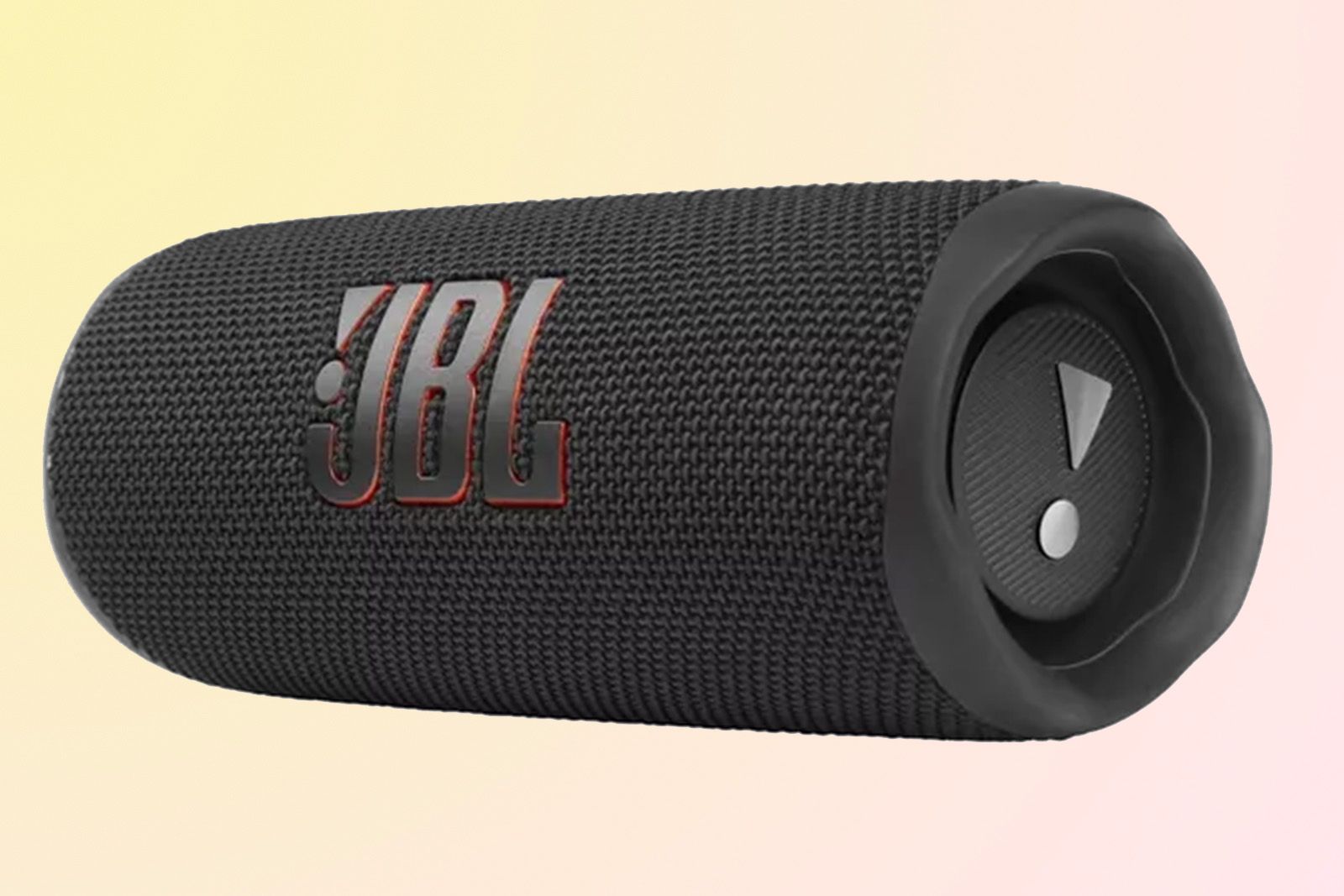 JBL/Pocket-lint
JBL Flip 6
2. Best midrange JBL speaker
A very close second best
The JBL Flip 6 is a strong contender. Offering a sturdy design with an articulate midrange clarity, this speaker is a great option for those seeking value and simplicity.
Pros
Water and dust resistant (IP67)
New design with separately powered tweeter
Articulate, clear midrange
Cons
Not the longest battery life
The JBL Flip 6 was a very close second on our list, and we believe it is a perfect option for those seeking an affordable and lightweight wireless speaker. JBL's ethos with the Flip 6 was design simplicity, believing music lovers would appreciate a great sound rather than lots of unwanted features. To achieve that JBL has implemented a racetrack driver capable of 20 watts of amplification. Coupling the driver with a separately powered 10-watt tweeter, and sonically, the Flip 6 punches well above its price tag. Keeping in line with JBL's reputation, the Flip 6's low end is remarkable. We found it to have a full-bodied bass response that is complimented by a clear and articulate mid-range and performs surprisingly well even at low volumes.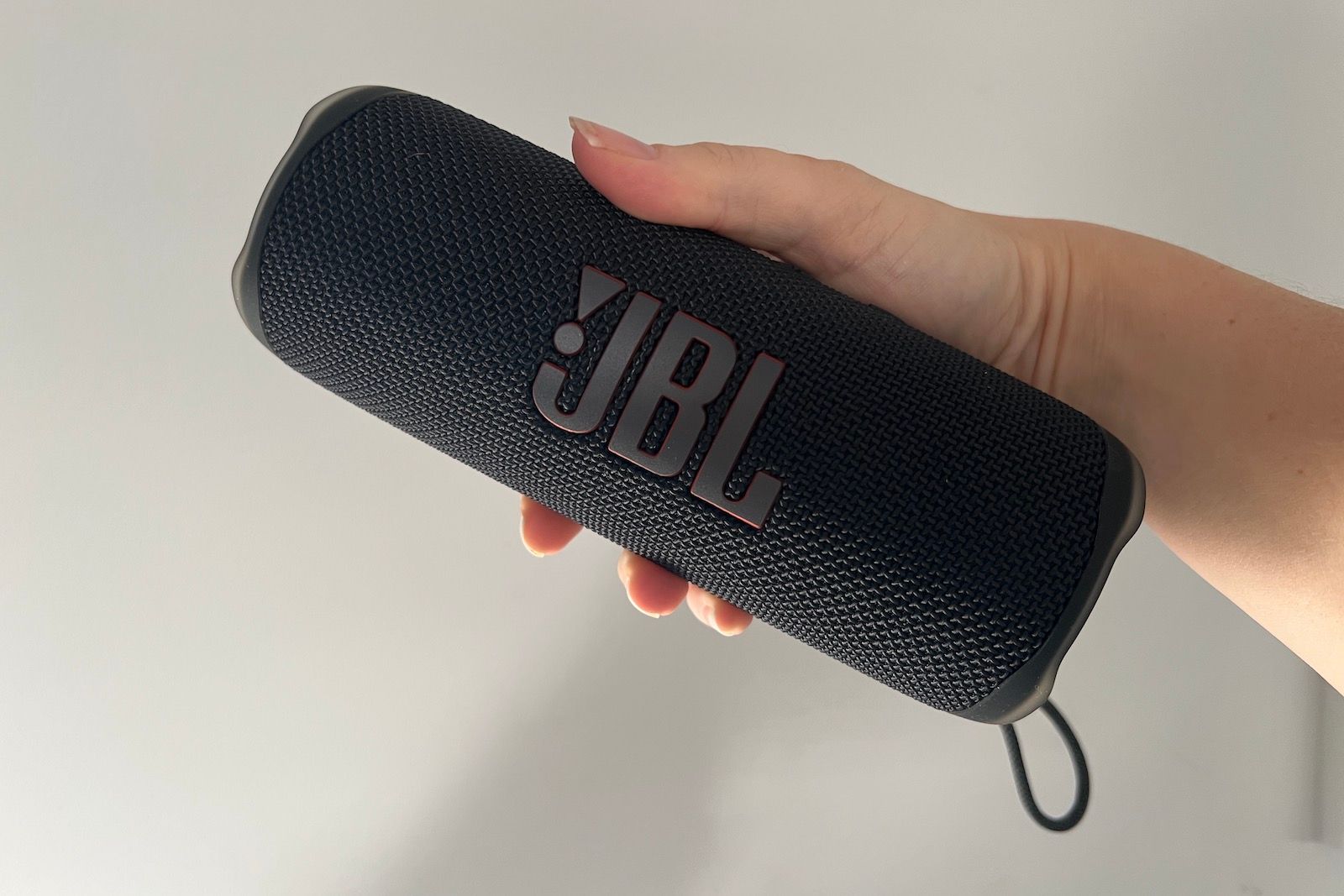 Furthermore, the Flip 6's impressive performance is compounded by a durable chassis that is protected by rubberised end caps. With an eye on making the Flip even more appropriate for use in all elements, JBL has introduced water and dust resistance for this generation, rated IP67. After realising the speaker only weighs 550g it becomes apparent that the Flip 6 is perfect for portability and life in all elements. Although this speaker packs a punch and has many commendable attributes, it only has a battery life of 12 hours. So keep the charger on hand if you're planning on using this daily.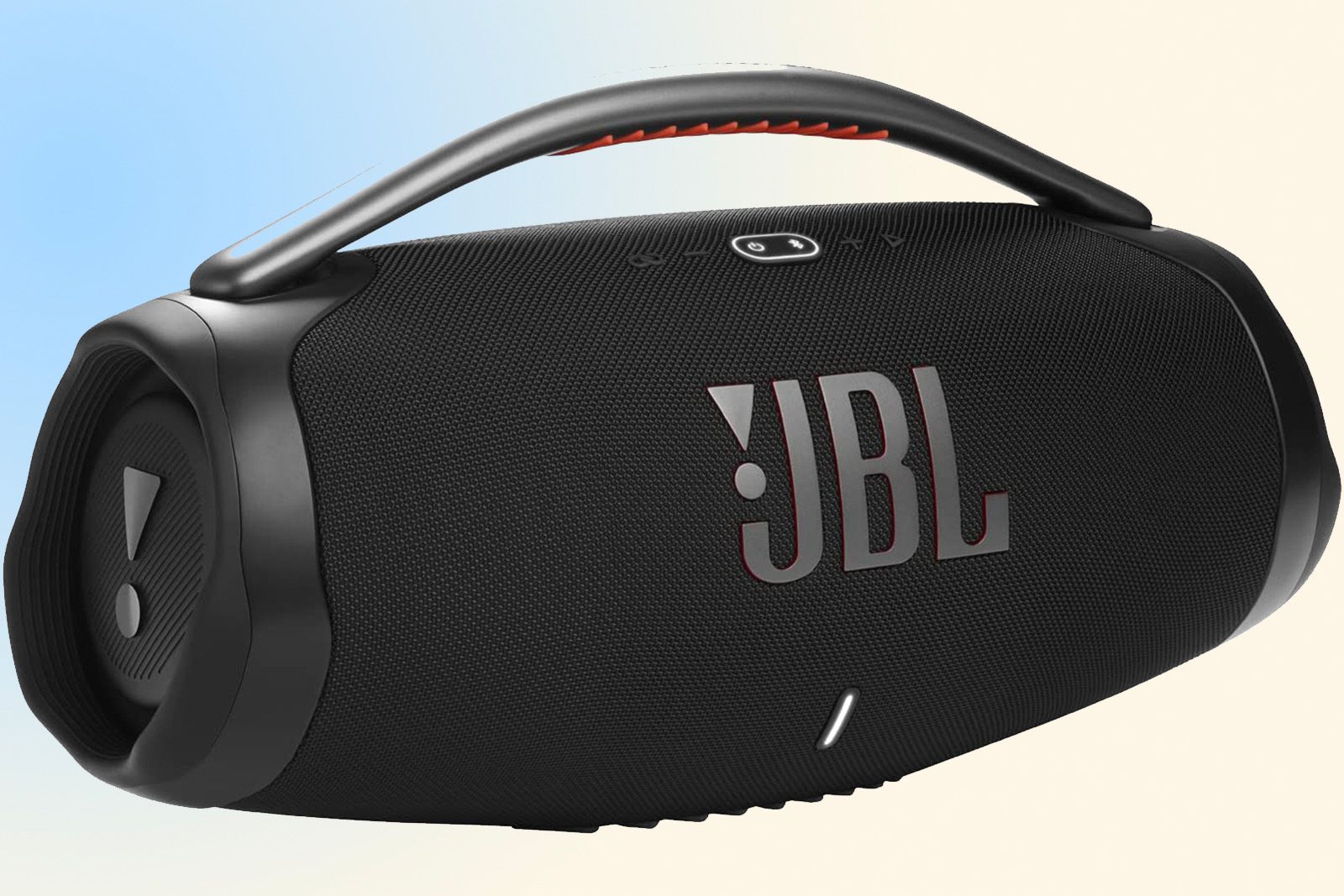 JBL/Pocket-lint
JBL Boombox 3 Wi-Fi
3. Best portable JBL party speaker
Portable and party-worthy
JBL's best option for those looking for a portable party speaker. The Boombox 3 is bass-heavy, has a high maximum volume and will last even the most crazy party thanks to a 24-hour battery life.
Pros
Humongous bass response
Wi-Fi connectivity
Ideal for dance music
Cons
Perhaps too bulky for some
Looking for a portable speaker capable of shaking the windows with its low end? Well, stop right there, and let us introduce you to the JBL Boombox 3, which features an aggressive speaker in design, aesthetics, and output. With a sub-bass capable of reaching 40Hz, this thing can go low, ideal if your niche is bass-heavy electronic music. Although very bass-heavy, we found that the Boombox 3 does a brilliant job of frequency separation, not falling into the trap of muddying the upper registers. A trap many speakers of this ilk succumb to.
Its Wi-Fi capabilities also mean that the Boombox 3 can be controlled through Spotify Connect, Chromecast streaming, and become a member of a Google Home multi-room setup. Although it offers plenty of features and a whopping output, the Boombox 3 is rather expensive compared with others in the JBL range. We also appreciate the brash design may not be to everyone's tastes. However, get over that, and we promise, your next party will be one to remember.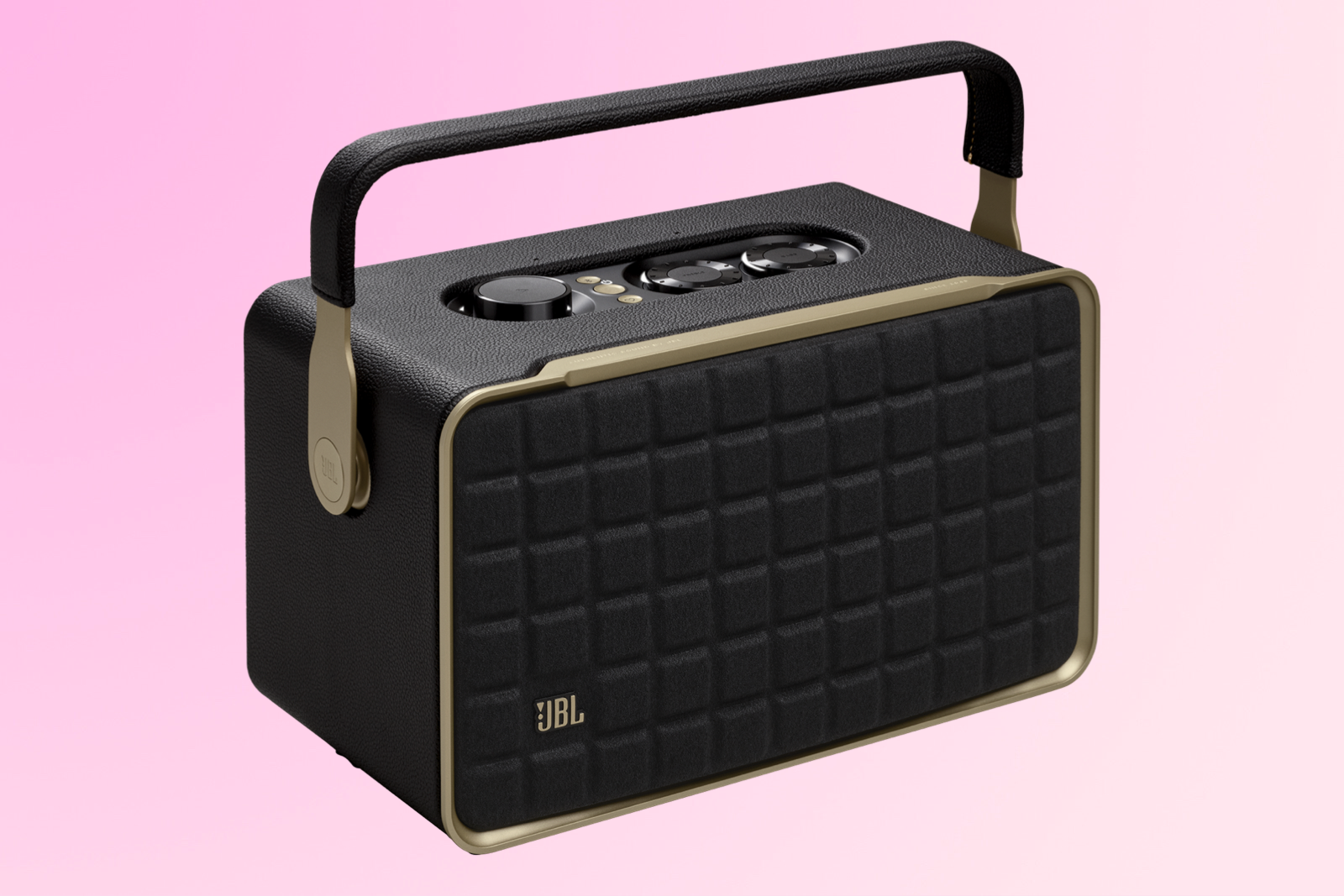 JBL / Pocket-lint
JBL Authentics 300
4. Best looking JBL speaker
Sleek and stylish
JBL shed their rugged and playful looks for something a little more retro-inspired and stylish. The JBL Authentics 300 is the stand-out speaker in this new and exciting range.
Pros
A sustainable build
Will suit a mature living room
Automatic self-tuning across the range
Cons
Not every model is battery-powered
In recent years, JBL has not been known for fostering a particularly stylish and sophisticated aesthetic, its design is usually more playful and robust. However, that is all changing with the Authentics range. Throwing it back to the '70s, JBL has taken inspiration from, well, themselves, and modelled the range from their JBL L100 speaker which was famous for its Quadrex grill. This retro design has been paired with some excellent modern features and created with a consideration for home furnishing, the Authentics range will be perfect for the more mature living spaces out there.
The Authentics 300 is perhaps the most appealing in the range. Unlike the 200 and 500, the 300 is battery-powered with a life span of 8 hours of wireless playing from a full charge. JBL has also focussed on sustainability and the speaker is made from 100 per cent recycled fabric, 85 per cent recycled plastic and 50 per cent recycled aluminium. Also, for those who are that way inclined, the leather casing around the speaker is vegan. JBL hasn't held back on the features here either. The range is capable of deep EQ editing through the JBL One app, the speakers can self-tune to adapt their audio performance to any environment and the Wi-Fi capabilities will allow you to incorporate the speaker into a Google Home multi-room set-up.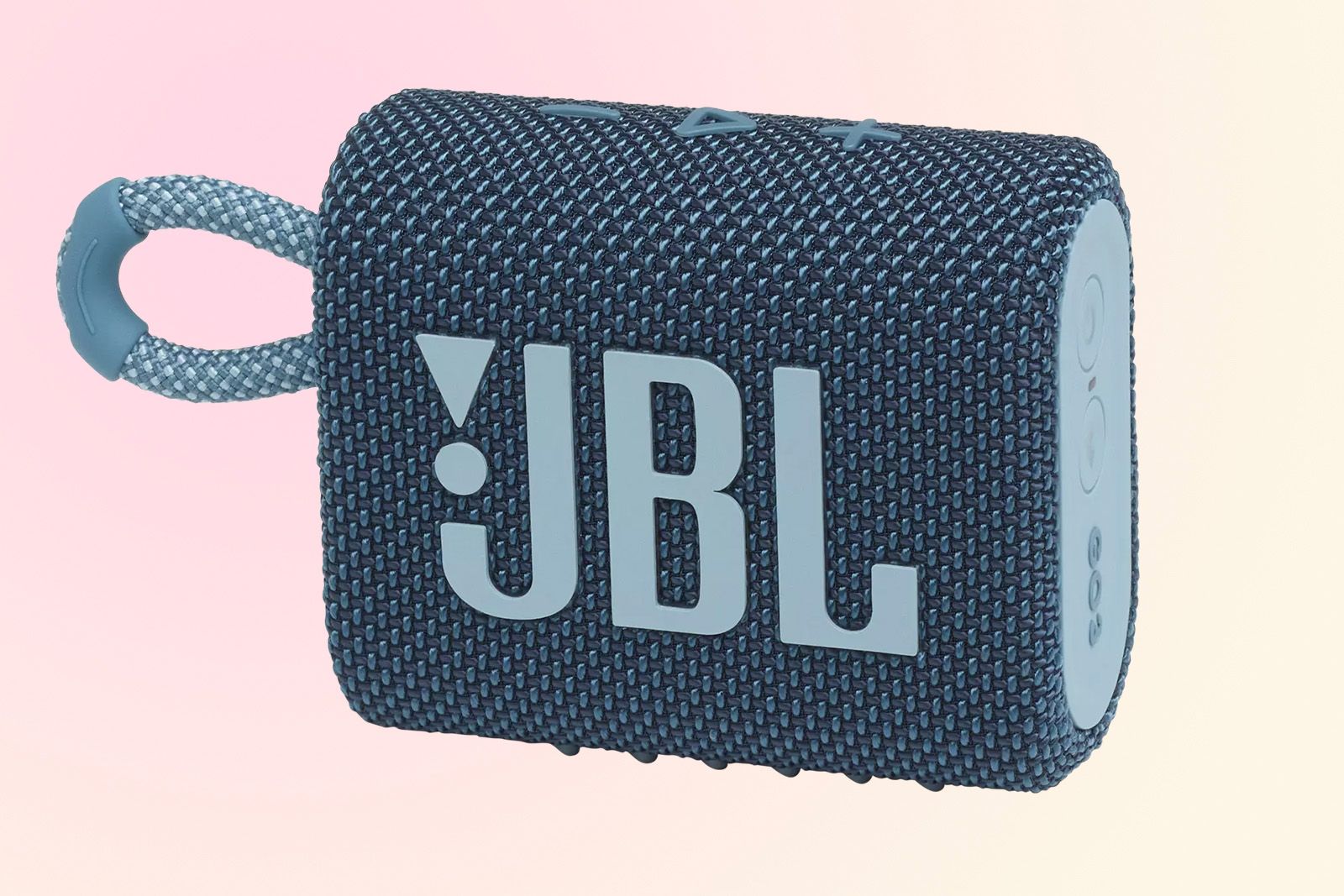 JBL/Pocket-lint
JBL Go 3
5. Best budget JBL speaker
Sound for less
The Go 3 is our pick for the best budget JBL speaker currently on the market. The diminutive size shouldn't fool you, the Go 3 is a fantastic option that has plenty of bark.
Pros
Super portable
Packs a surprising volume punch
IP67 water and dust resistant
As well as being the most affordable JBL speaker on our list, the Go 3 is also the smallest. Being such a tiny size, you can't expect the world from its speakers, but don't let the size fool you, it's charmingly loud! Although it isn't going to fill a room at a family gathering, it will be a great companion attached to your rucksack or slotted into your pocket when taking your dog out for a walk.
Like most JBL speakers worth their salt, the Go 3 is rated IP67 making it dust and water-resistant, and we believe, because of its affordability, is one of the best waterproof Bluetooth speakers on the market. Those folks over at JBL certainly want you to take this pocket companion with you through all terrains and weather! If you're planning on taking it on a trip be aware that from a full charge, the Go 3 will last you five hours, which should be enough time until you find another charging port. Rather unsurprisingly, the Go 3 isn't the most feature-heavy and there is no onboard EQ, just a play button and volume adjustment. If you go into this purchase with realistic expectations, the JBL Go 3 will do more than satisfy your needs and will likely give you a little surprise.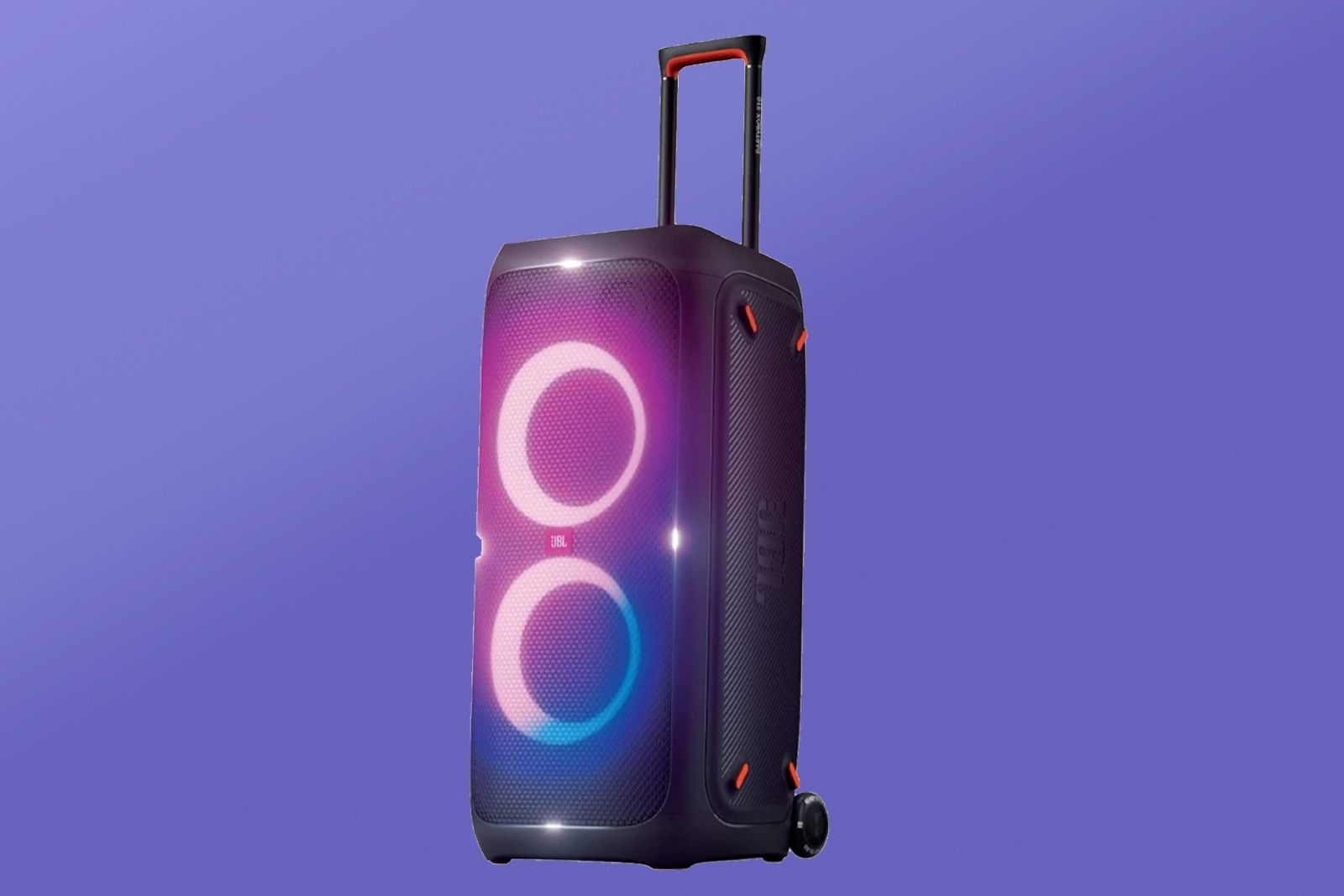 JBL/Pocket-lint
JBL PartyBox 310
6. The best JBL speaker with lights
A party on the go
Although not the most powerful PowerBox in range, the JBL PartyBox 310 offers the best balance between cost and function and will suit most people's needs.
Pros
Fantastic visual light shows
Plenty of features
Mic and guitar inputs
Expandable wireless connection
Cons
Not the most powerful in the PartyBox lineup
Although there are more powerful PartyBoxes out there, we've determined that the PartyBox 310 strikes the perfect balance between cost and function. That's not to say the 310 isn't going to get the party started, with 240 watts of output, it will satisfy most people's needs. If push comes to shove, you can always connect a compatible speaker either wirelessly via Bluetooth or with a wired connection if you need a little more juice. If that still isn't enough, you can always opt for the PartyBox 710, which has a more powerful bass response.
The light show is one of the best features of the 310, which flashes in time with the beat of the song that's playing. With a guitar and microphone input on the back, when the party dies down, you can always have an early morning sing-a-long, if that's your thing. There's also no need to worry about the PartyBox 310 shutting down the party as the 18-hour battery life is more than enough for every occasion. Lastly, the IPX4 rating awarded to the 310 makes this an ideal poolside party companion.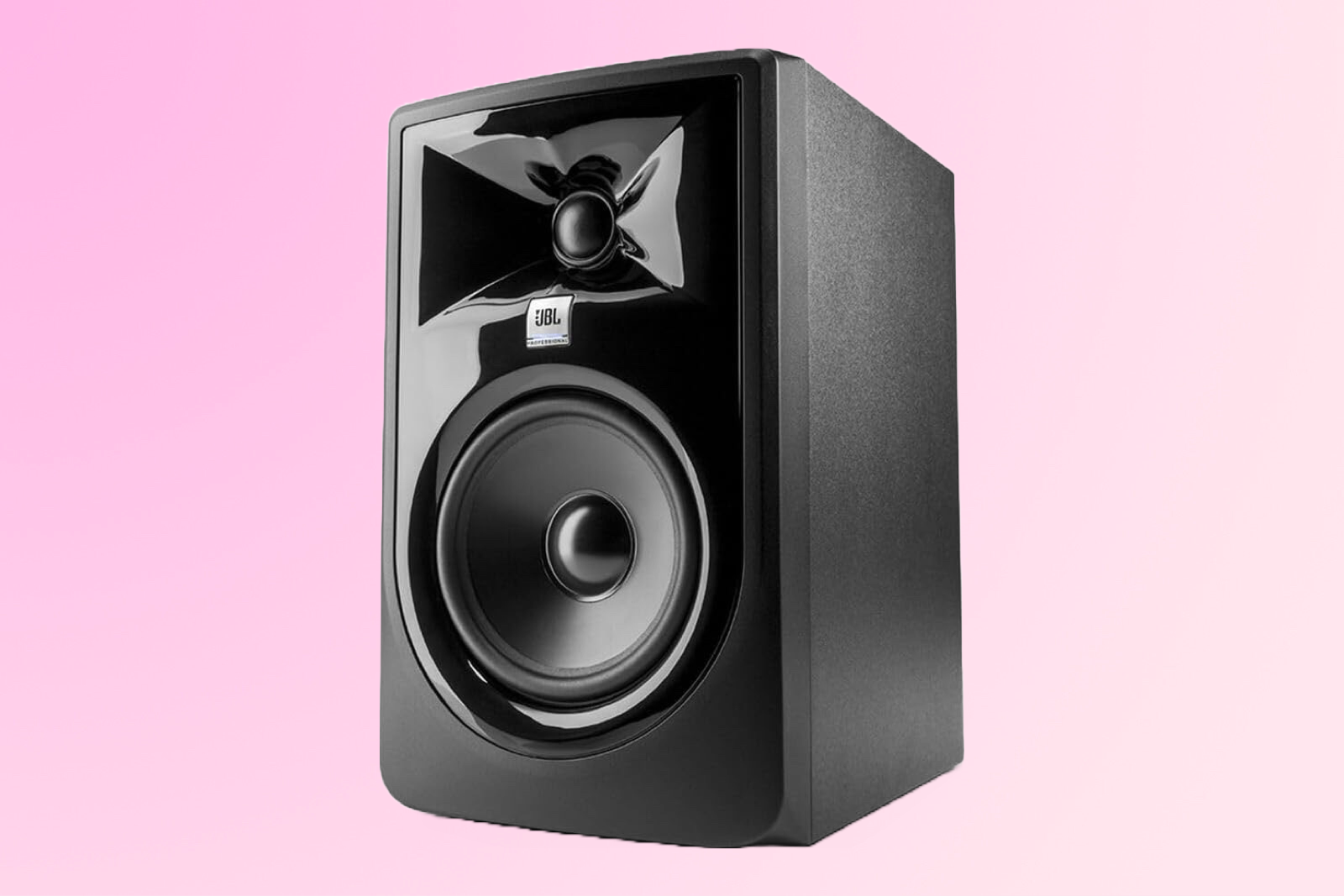 JBL / Pocket-lint
JBL Professional 305P MkII
7. Best studio JBL speaker
$130 $150 Save $20
The JBL Professional 305P MKII monitors are an attractive option for those looking for a home studio speaker. Featuring an expansive dynamic range and minimal harmonic distortion, the 305P MKII monitors will help you to turn your creative visions into studio-perfect sounds.
Pros
Improved transducers help bass linearity
Great results for the price point
Neutral frequency response
Cons
Perhaps not suitable for professionals
If music production or home recording is your thing, then check out the JBL Professional 305P MKIIs. This 5-inch monitor punches well above its price tag and will be perfectly suited to a beginner or intermediate home recording artist looking for something better than their first set of monitors. JBL has introduced several in this second series which translates into better audio. Firstly, the low-frequency transducers have been redesigned resulting in a better bass linearity. In other words, the bass response of your audio will be more accurately represented without running into pesky distortion.
We've always been fans of JBL's Patented Image Control Waveguide, which was initially created for their top-of-the-range M2 Reference Monitors, and luckily for us, that technology is present in the 305P MKII. This design makes the sound flow smoothly between the low and high frequencies, resulting in very precise audio positioning. No matter where you are sitting in the room, you will hear the audio incredibly accurately, exactly as you intended.
There is also minimal unwanted audio colouring as the monitors are capable of a natural frequency response, making them ideal for music production. Although the 305P MKII monitors are fantastic value for money, contrary to their name, more advanced studio heads may opt for something a little higher-end. However, if you're looking for a studio monitor to take you into the advanced stages of music production the JBL Professional 305P MKIIs will do so with ease.
The Best JBL Speaker: Bottom Line
Since people have many different requirements, applications and budgets, selecting the best JBL speaker would never be an easy task. However, after testing this versatile little speaker, we can confidently suggest that the JBL Charge 5 is the best overall due to its price point, portability, battery life, impressive bass response and audio playback. It will tick most people's boxes since the large majority are after a speaker that sounds decent without breaking the bank.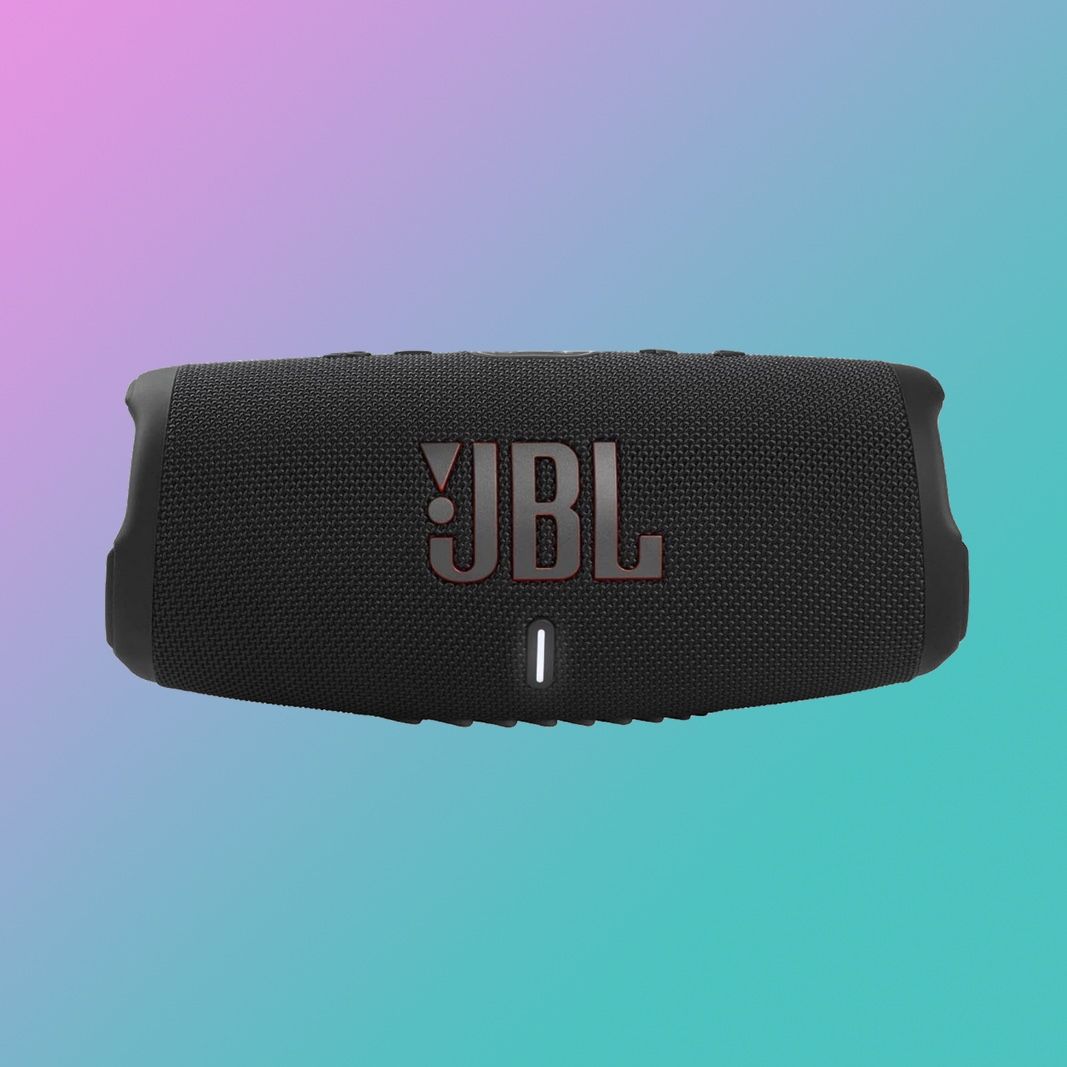 JBL/Pocket-lint
JBL Charge 5
Editor's Choice
Taking our top spot is the JBL Charge 5. The Charge's durable and robust design houses a powerful portable speaker with an impressive bass response. A reasonable price tag and dependable battery rightfully place this Bluetooth speaker at number one.
If you are on a stricter budget, then by all means check out the JBL Go 3. Its small stature doesn't hold this speaker back and is one of the best Bluetooth waterproof speakers out there. It's ideal for road trips and days by the beach whilst the waterproof and dust resistance make it ready for all elements.
How did we choose the best JBL Speakers?
First and foremost, we used the Pocket-Lint website as the primary source to determine what the best JBL speaker would be. After all, there is nothing like hands-on experience, and the majority of the included speakers on our list have been reviewed, tested, and then tested some more by our passionate team. After that, whittling down JBL's fantastic range was based on particular specifications, such as output, water/dust resistance, price point and audio playback quality. Taking into account specific uses helped us categorize the speakers into different utilities, allowing for a fairer representation of what 'the best' JBL speaker really means. Additionally, I have years of experience in the audio insudtry and testing different speakers.
How do I choose the right JBL speaker for me?
There are a few things you may want to consider when weighing up your options when purchasing a JBL speaker. Narrowing down the choice by considering these points and if they are relevant to your needs will make your life a heck of a lot easier!
Battery life: If your primary goal is to listen to music on the go and away from a power source, you'll want to check out the speaker's battery life. The JBL Go 5 has the least amount of battery life on our list clocking in at 5 hours, on the other hand, the JBL BoomBox 3 will last a whopping 24 hours on a single charge. There is no right or wrong choice here, just whatever will be most applicable to your situation.
Recharge time: The obvious follow-up consideration after battery life is the speaker's recharge time. A short battery life may not be the worst specification if the recharge time only takes 30 minutes! A quick recharge time can be a lifesaver. Imagine you're about to head out for a get-together with friends, and just 15 minutes before leaving, you realize that your speaker is completely dead! If you're a forgetful recharger, a short recharge time is certainly something to consider.
Water and dust resistance: Water and dust resistance come in handy for those days at the beaches, beside the pool, or taking a hike in the great outdoors. If you're anything like us and are slightly clumsy, a speaker with an IP rating will save the electronics from frazzling into a useless piece of junk if you happen to splash it by a pool. Luckily, all the JBL speakers included on our list either have an IP rating, meaning they are water and dust-resistant, or, like the PartyBox 310, are IX-rated, making it splash-resistant.
Speaker output: If you're going to be using your speaker in a vast room, catering to hundreds of people, the speaker's output will be very important. Usually measured in wattage, the output of a speaker is essentially how much power you have. Generally speaking, the higher the wattage, the louder the speaker. Check out the PartyBox range if you're after a powerful speaker for those larger crowds and situations.
Extra features: You may be looking for a new JBL speaker to set up a multiroom speaker system, if so, it's going to have to be Wi-Fi compatible. The BoomBox 3 has Wi-Fi connectivity, allowing it to be utilised in a Google Home multiroom set-up. If stellar home audio is your thing, keep an eye on the extra features. Also, if you appreciate fine-tuning the EQ, the JBL speaker you choose will have to be functional with the JBL One app. This proprietary app will allow you to take full control over the speaker's settings and capabilities, however, only if it has those extra features. So keep your eyes peeled for such models.
Are JBL speakers better than Bose?
Traditionally, Bose has been labeled the "premium" speaker line, but JBL has some great luxury speakers, too that produce powerful Bass and clear output.