Computers
Best Microsoft Surface PC 2023: Expert tested and reviewed
Microsoft offers six different devices within its Surface portfolio, which makes the task of picking the right laptop, 2-in-1 or all-in-one pretty daunting.
The good news is that it's not as complicated as it first seems, and, to help you figure out the differences between them all, we've provided a quick summary of all the Surface devices at the bottom, as well as a bit more detail on our experiences testing them.
It's the perfect time to pick up a Surface device for going back to school or college, and you'll find the best models right here. Just so you know, this lineup doesn't include the business-orientated Surface Hub interactive whiteboard, or the Android-based Surface Duo 2, but you'll find all the other devices below.
Which Microsoft Surface should you get?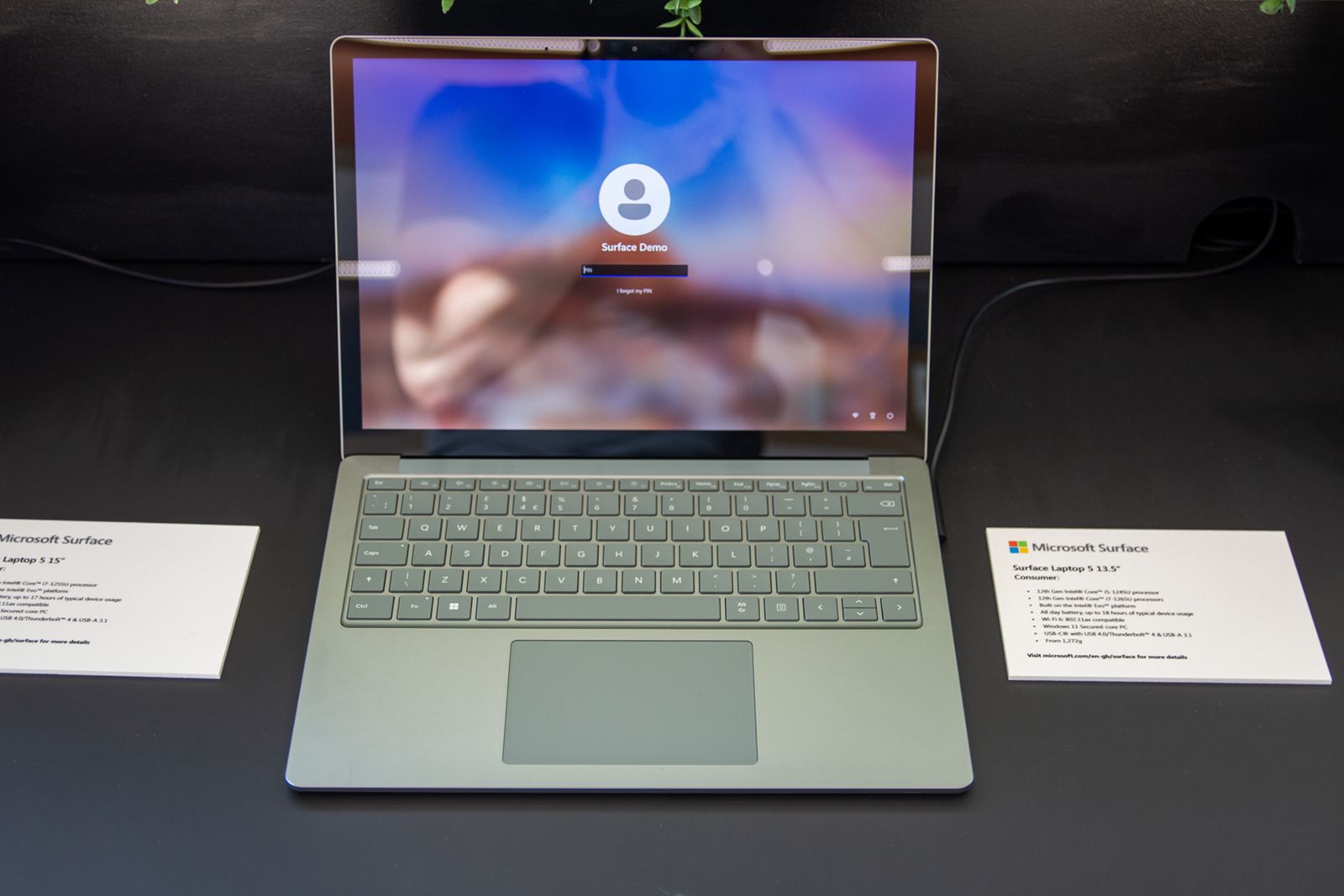 Microsoft Surface Laptop 5
1. Best Surface overall
Outstanding in every way
$870 $999 Save $129
A lovely, premium-feeling, high-performance laptop for those who don't need the convertibility of 2-in-1 devices.
Pros
Excellent keyboard and trackpad
Lovely fit and finish
Thunderbolt 4 connectivity
Cons
Keyboard flex on Alcantara models
No AMD option this year
The Surface Laptop 5 is a traditional clamshell laptop and it's plain to see that Microsoft took some style cues from Apple when designing it. That said, it does have a bit of unique flair, with the option of an Alcantara fabric keyboard on some models and four lovely colour options.
The latest version uses the same great chassis and display as its predecessor but brings things up to the cutting edge with Intels 12th Gen processors on board. It also finally has Thunderbolt 4 support, something that was bizarrely missing on previous models. It's available in both 13 and 15-inch variants depending on your preference, but there's, unfortunately, no AMD CPU option this time around.
If you need a high-performance laptop and are attracted to the Surface lineup's styling and build quality, then the Surface Laptop 5 is the one for you.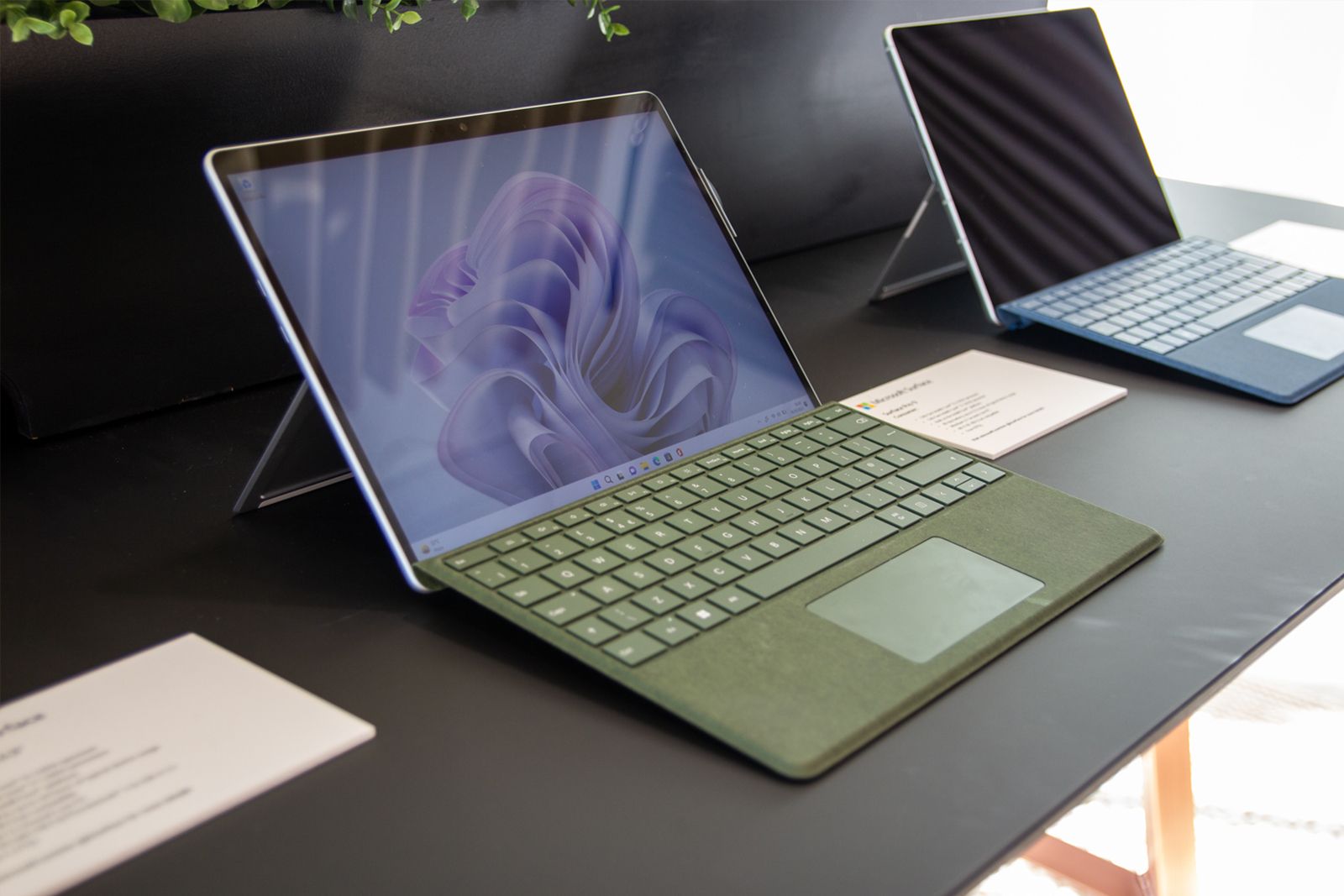 Microsoft Surface Pro 9 (Wi-Fi)
2. Best convertible Surface 2-in-1
With versatility, portability, power, and style combined, the Surface Pro 9 is an excellent computing companion, no matter what task you perform.
Pros
The fastest Surface Pro yet
Attractive new colour options
Great versatility
Cons
Most specs are the same as the previous generation
The keyboard cover is not included
This is the type of device that most people think of when they hear the word Surface. It can either be used standalone as a Windows 11 tablet, or you can pop on the magnetic keyboard and trackpad to use it like a laptop.
The latest version bumps up the power significantly, with Intel's latest and greatest processors on board. It'll handle some serious workloads, and the flexibility afforded by the Windows operating system means that you can run pretty much any software you can imagine.
The Surface Pro 9 offers Thunderbolt 4 and USB 4.0 connectivity, so there's a wealth of amazing accessories to pair it with. One of our favourites is the Surface Pen, which allows you to use the Surface Pro as a drawing tablet. Just keep in mind that the pen and keyboard cover aren't included in the base price, you'll need to purchase them as add-ons.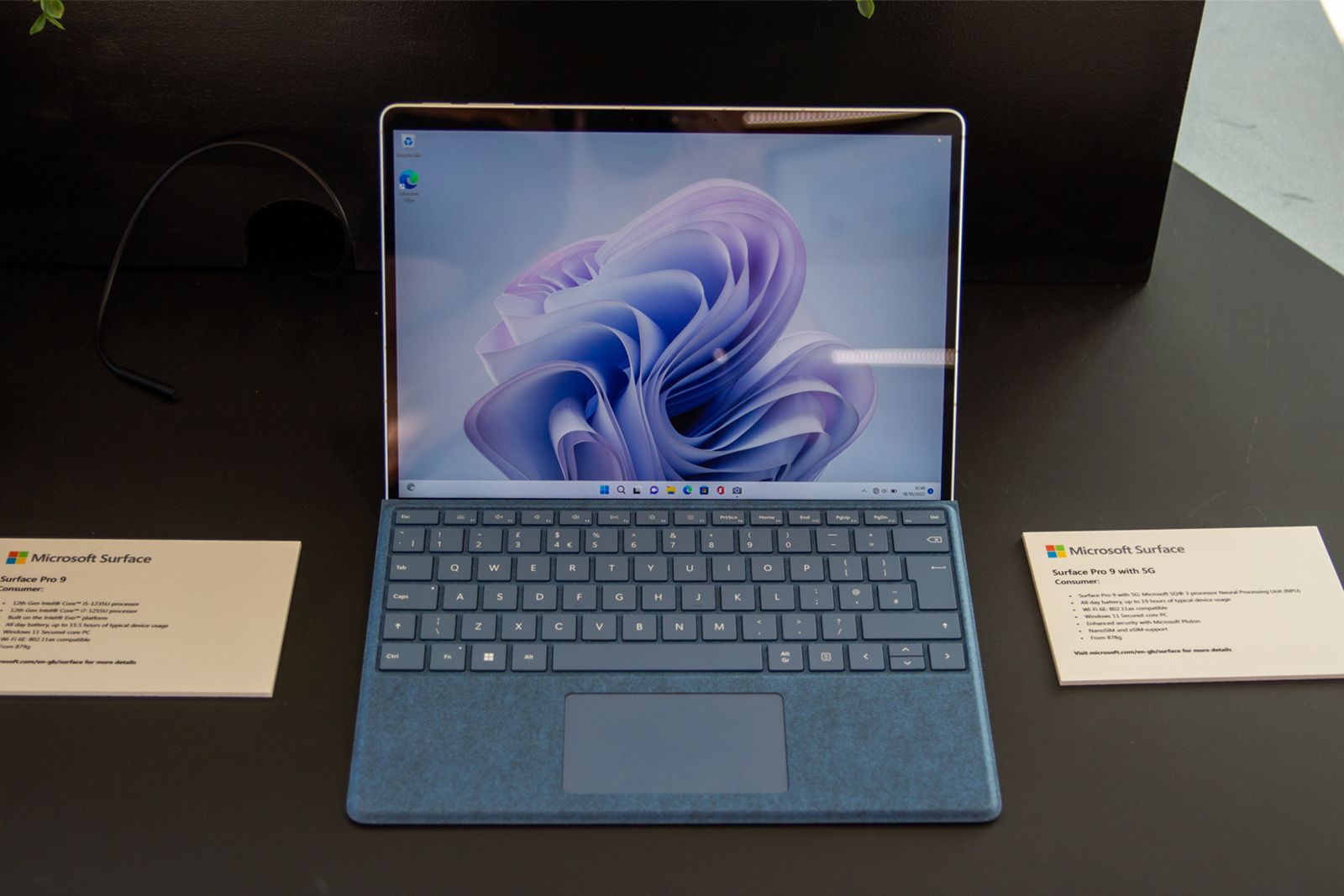 Microsoft Surface Pro 9 (5G)
3. Best 2-in-1 Surface for portability
Connectivity on the go
$1184.37 $1299.99 Save $115.62
5G connectivity and a suite of AI enhancements make the ARM-based Surface Pro 9 an appealing proposition.
Pros
5G connectivity
Exclusive AI video and audio enhancements
Great battery life
Cons
Many apps still don't support Windows on ARM
No Thunderbolt 4
At first glance, this may appear to be just a Surface Pro with a SIM card, but there's more going on under the hood. This is the first time an ARM-based device has been included in the main Surface Pro lineup and it offers a host of exclusive benefits.
Firstly, the battery on this model should last significantly longer than its Intel-based counterparts, which is always nice. But, more excitingly, the ARM-powered Surface Pro 9 has a range of exclusive AI video and audio enhancements. These will allow for things like improved background noise suppression, and even the ability to simulate eye contact during video calls.
The caveat is that a lot of Windows applications still don't work with ARM processors, so you'll be far more limited with regard to the software you can run. You'll also lose the Thunderbolt 4 ports, they're exclusive to the Intel variant.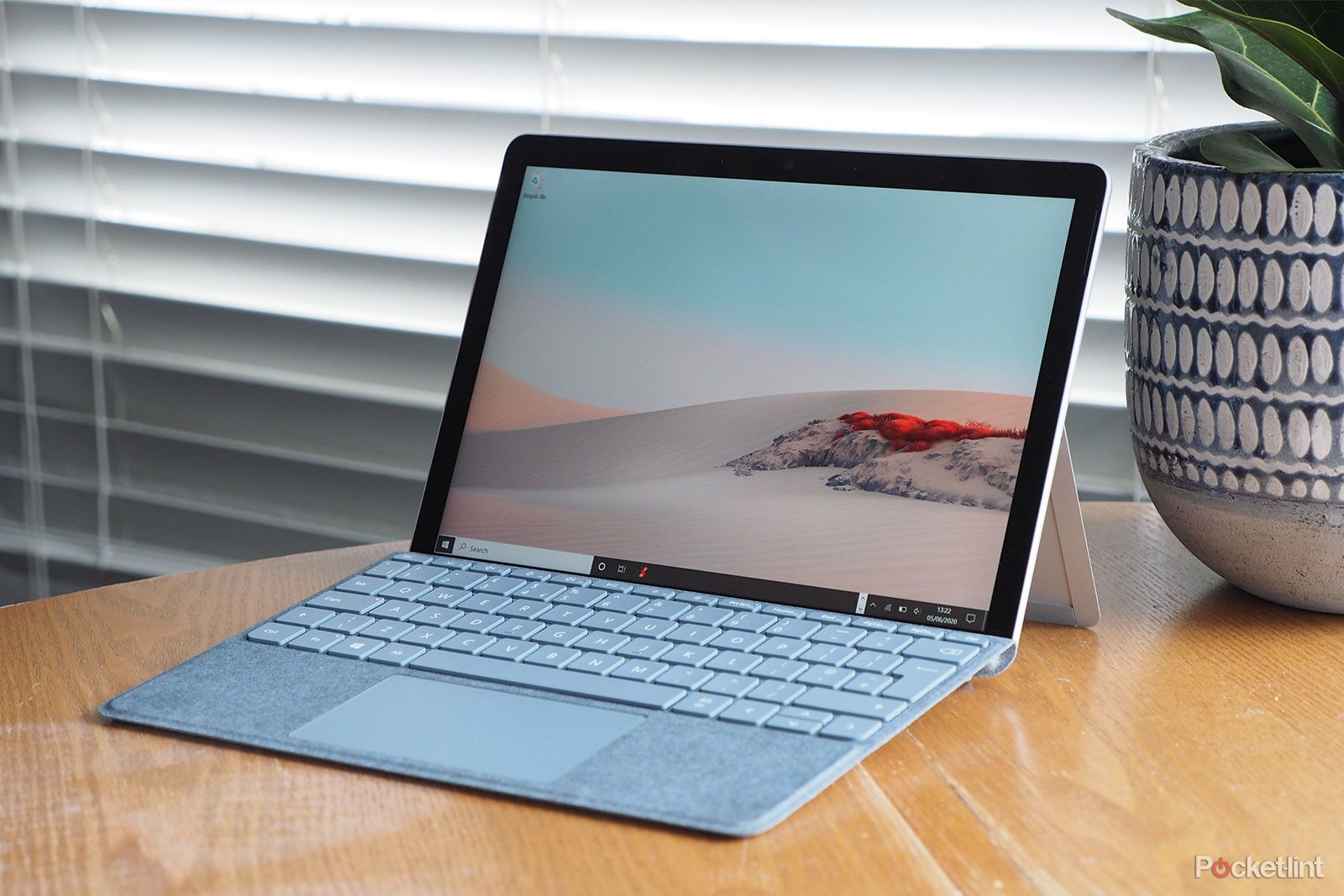 Microsoft Surface Go 3
4. Best Surface for most people
Accessible, but still clever
$304 $400 Save $96
This represents a sweet spot for a lot of people, blending all the best elements of Surface devices into an affordable package.
Pros
Affordable starting price
Fantastic vivid display
Clever design and kickstand
Cons
Keyboard cover not included
Performance could be better
The Surface Go 3 is very similar to its predecessor, the Surface Go 2, but with updated internals. It starts at a very reasonable asking price and can be configured with higher specifications as required.
If you need a Windows 11 tablet possessing solid build quality and a great display, there aren't a huge amount of options. The Surface Go 3 has a full HD 10.5-inch display with a brightness of over 400 nits; it's built like a tank too.
It's not the fastest device in the world and it'd be nice if the keyboard cover was included as standard, but it's a solid Windows tablet overall. We think most people will love the Surface Go 3 as an entry-level option.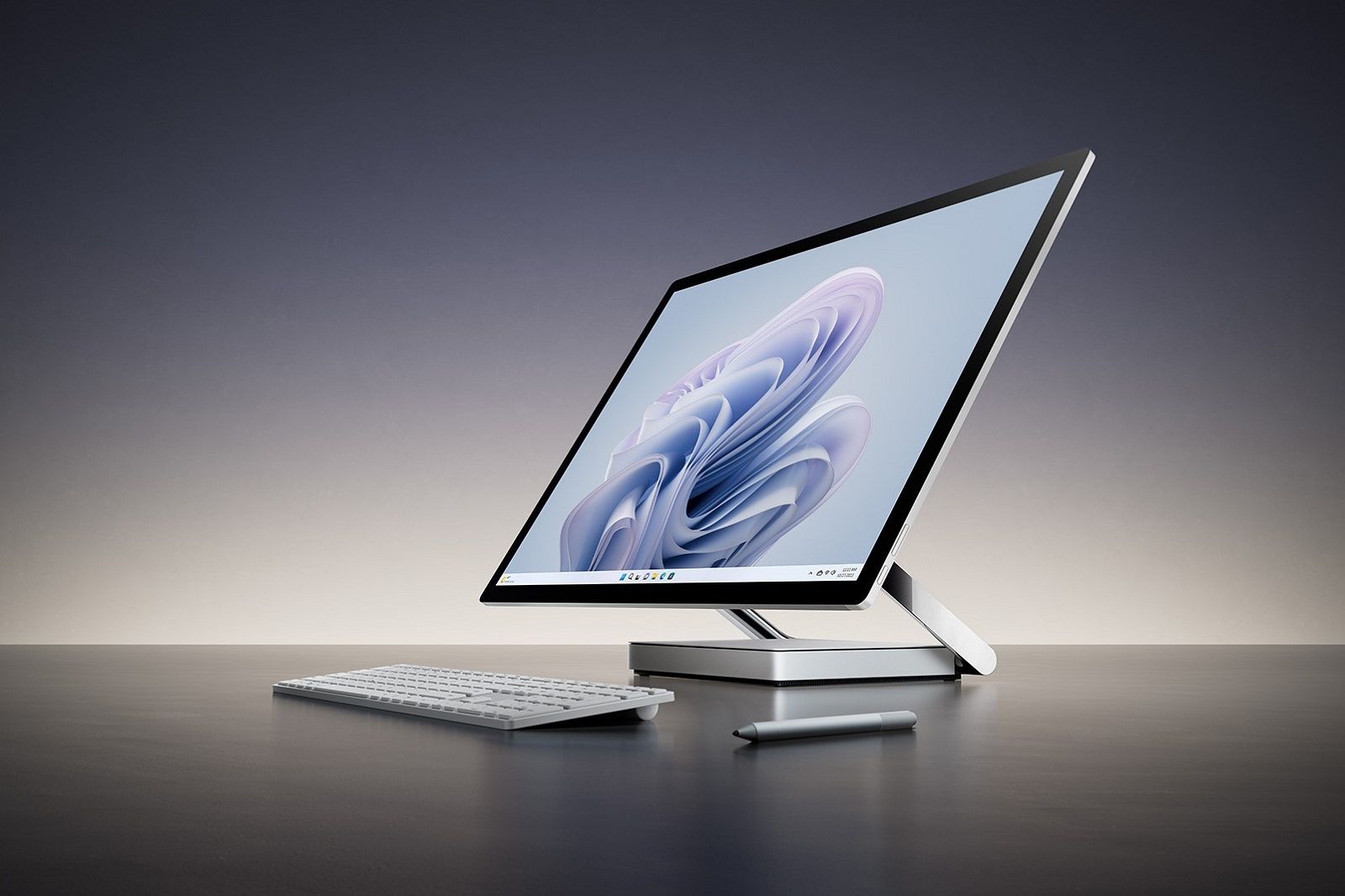 Microsoft 
Microsoft Surface Studio 2 Plus
5. Best all-in-one Surface
A powerhouse
It's a masterclass in design and fills a unique gap in the market. It's the best, and only, Surface AIO computer.
Pros
Truly unique design
Big high-resolution display
Excellent perfromance
The Surface Studio 2+ is an all-in-one desktop system. Kind of like an Apple iMac, it's not portable, but instead is designed to sit on your desk like a traditional home computer. Unlike the iMac, the Surface Studio can be used as a giant drawing tablet, thanks to its clever zero-gravity hinge design.
The Surface Studio supports some awesome accessories, like the Surface Stylus and Surface Dial, to further enhance the computing experience. Other than that, it's pretty much just a solid Windows 11 PC with some world-class design behind it.
The Plus model is an update to the longstanding Surface Studio 2, and it brings with it upgraded connectivity, in the form of Wi-Fi 6, Bluetooth 5.1 and Thunderbolt 4, as well as upgraded components. It packs an 11th Gen Core i7 processor along with an Nvidia RTX 3060 graphics card, which means you'll never be left wanting for power.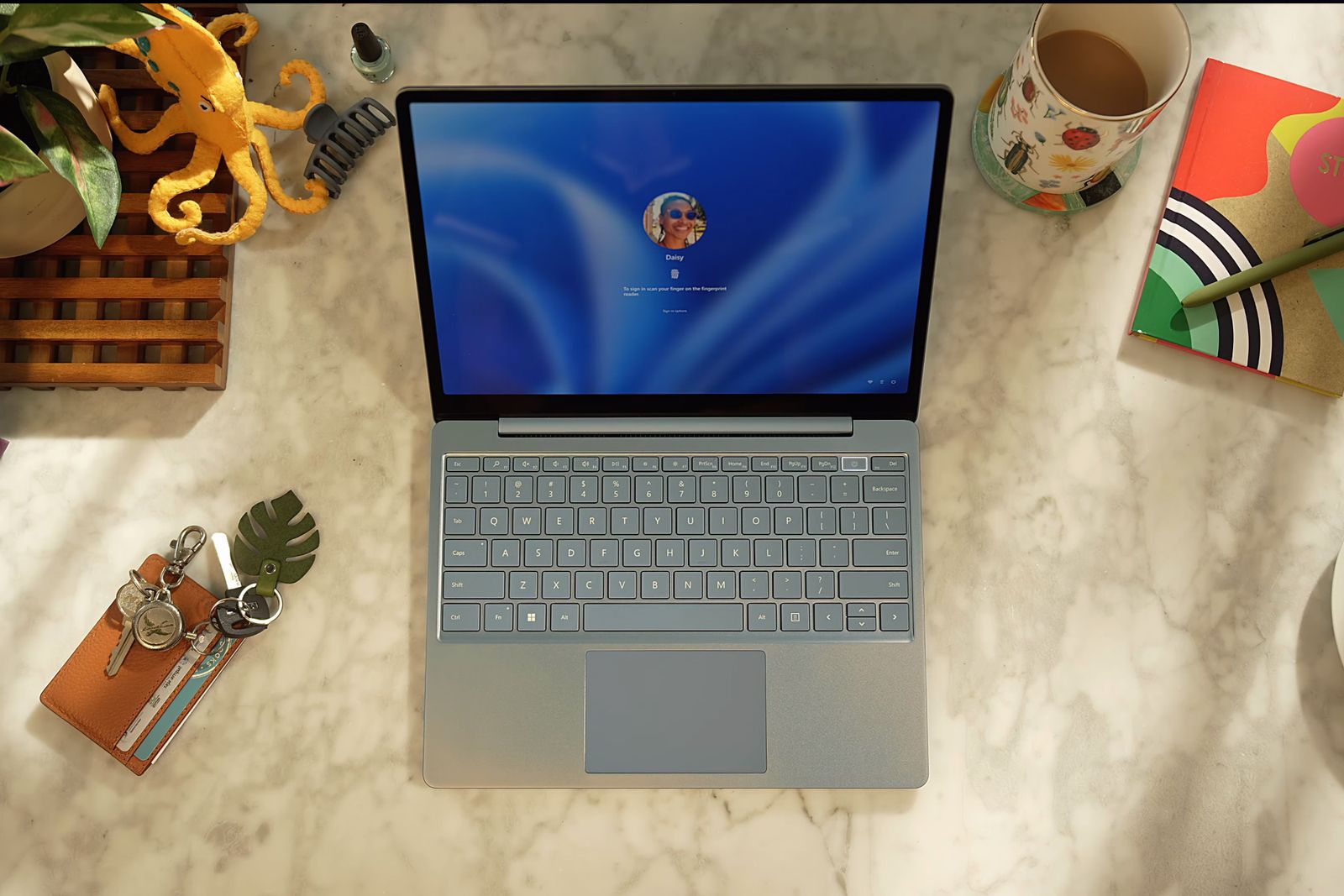 Microsoft
Surface Laptop Go 3
6. Best budget Surface
Get more for less
Weighing in under 2.5 lbs and with up to 15 hours of battery, Surface Laptop Go 3 is an ultraportable that you'll want to take everywhere.
Pros
Upgraded processor
Slick design in four colour options
Feels like a more expensive machine
Cons
Same chassis as the older models
Low-resolution display
The Surface Laptop Go 3 is essentially a budget-friendly version of the Surface Laptop 5. The best part is that it still retains the premium fit and finish, resulting in a laptop that looks like it should cost twice the asking price.
It's not perfect, there are a few quirks like a lack of keyboard backlighting, but it's got more than enough power for most people's needs and is a joy to use. The keyboard and trackpad are superb and the battery life is solid. The screen could be a higher resolution but it still does a decent job and the 3:2 aspect ratio lends itself to productivity.
Microsoft
Surface Laptop Studio 2
7. Best Surface for a large display
A creative powerhouse
An ambitious, beautiful and slightly flawed device that some creative professionals will absolutely adore.
Pros
Unique tilting display design
Powerful performance and dedicated GPU
Adds microSD reader and USB-A port
Cons
Prohibitively expensive
Hinge versatility could go further
The Surface Laptop Studio 2 is a laptop like no other, it has a unique tilting display mechanism that allows it to be used like a traditional laptop, at an angle like a drawing easel or flat like a chunky tablet. It's a really nice piece of design.
It's not just the outside that's impressive, though, the internals have been brought up to speed for 2023 with up to a Core i7 13800H processor and an Nvidia RTX 4060 GPU. So it'll handle any creative task with ease, and even be capable of some gaming on the side.
This model also adds a USB-A port and a microSD card reader, both of which were frustratingly absent in the previous version. The downside, then, is the cost, this is a serious laptop that commands a serious price tag. If it fits your needs, though, there's no denying its allure.
The bottom line: What's the most up-to-date Surface product?
Microsoft's Surface range spans a few years of releases, so some models have much more modern hardware than others. At its Fall 2023 event, Microsoft unveiled its two latest machines, the Surface Laptop Go 3 and the Surface Laptop Studio 2. Even between these two models, there's a discrepancy, the Studio 2 comes with a 13th Gen Intel processor, whereas the Laptop Go 3 houses an already outdated 12th Gen Intel chip. Therefore, if you want to be on the bleeding edge, the Surface Laptop Studio 2 is the model for you.
Microsoft
Surface Laptop Studio 2
With a 13th Gen Intel processor inside, along with Nvidia GeForce RTX 40-series graphics options, the Surface Laptop Studio 2 has the most modern hardware of the lineup.
Of course, the Surface Laptop Studio 2 is a pricey machine, and it won't be the right fit for everyone. So, if you still want to stay relatively up-to-date, but don't mind settling for a 12th Gen Intel processor, you could opt for the Surface Laptop 5, Surface Laptop Go 3 or Surface Pro 9 (Wi-Fi) instead.
Microsoft Surface lineup: Quick summary
• The Surface Pro 9 is a Windows 11 2-in-1 PC with a detachable keyboard, but it's definitely not for people who want a conventional laptop. It retains the same design as the last couple of generations but the internals have been updated including Intel's 12th-generation Core processors.
• The Surface Pro 9 lineup now includes a 5G-capable version running on a Qualcomm processor. This class of device previously fell under the Surface Pro X branding, but now both are named Surface Pro and share the same chassis.
• The Surface Go 3 is a 10.5-inch touchscreen tablet that, at first glance, looks like a smaller Surface Pro, but it's a little more portable and has less powerful processors – such as the Intel Core m3 and Pentium. Microsoft is targeting Apple iPad users and Chromebooks users with this device, as it's the smallest Surface available and the cheapest.
• The Surface Laptop 5 is a traditional clamshell laptop, still with a touchscreen. It's available in 13.5 and 15-inch versions and is an upgraded version of the Surface Laptop 4, with new internals including Intel's 12th-generation processors.
• The Surface Laptop Go 3 is a more budget-oriented version of the Surface Laptop. It has a smaller 12.4-inch display and less powerful specs but still retains the premium design of its pricier sibling.
• The Surface Laptop Studio 2 is Microsoft's 2-in-1 for creatives, offering versatility for those on the go. It can be used in three distinct positions: as a standard laptop, as a thick tablet or at a tilted angle offering just the display and trackpad. You'll need the Slim Pen 2 to make the most out of it, and perhaps some extra cash to opt for one of the higher-spec models.
• The Surface Studio 2+ is the most expensive Surface device, and it's primarily for creatives. It's a gorgeous high-end all-in-one Windows PC with a Zero Gravity Hinge. With a light push, it can be pushed down to a desk position and then used with the included Surface Pen or even the optional Surface Dial to sketch. The new model has updated hardware, making it a much more appealing option.
How to choose a Surface device
So you've decided you want to get in on the Microsoft Surface ecosystem, but with such an expansive lineup of Surface devices on offer, it can be a challenge to narrow down the right device for you. Here are a few things to think about that should help you hone in on the perfect device for you.
Do you need it to work as a tablet?
This one is simple enough, many, but not all, Surface devices can be converted between tablet and laptop-style use. If you know that you'll absolutely never use it as a tablet, then you'll probably want to go for one of the Surface Laptops. If you like the flexibility of being able to convert the device into a Windows Tablet, then you have a bunch of options.
The Surface Book 3 gives the most laptop-like experience from the convertible options, but it comes with a hefty price tag. The Surface Pro and Surface Go options are more of a tablet-first approach but can be used as a laptop with the keyboard cover accessory. Remember that with these you'll get fewer options when it comes to screen angle, as they use a kickstand rather than a hinge for the display.
Where will you be using it?
If you need to take your Surface device out and about, then obviously the Studio 2 is no good, but let's go beyond that. The main thing here is going to be size and weight, The Surface Pro 8 is lighter than a lot of laptops, coming in at around 890 grams with the keyboard cover, whereas the Surface Book 3 is a hefty device weighing over double at around 1905 grams.
Whether you expect to be at a desk or using the device on your lap matters a lot too. The convertible devices, with the exception of the Surface Book, are quite difficult to use on your lap due to the kickstand design. The Laptops and Surface Book on the other hand will be great for either scenario.
What do you need it to do?
If the main tasks you want to accomplish are relatively simple things like checking email and watching YouTube, then you can get away with any of the Surface devices on our list. If you have more intensive requirements like running Photoshop or video editing software, then you'll definitely want to stay away from the more entry-level devices like the Surface Go 3 and Surface Laptop Go – as their lower-spec processors will struggle to keep up.
You'll also want to pay attention to screen resolution, as the extra pixels can help to no end when working on these creative tasks.
How much can you spend?
As with everything in life, it all comes down to what you can afford. Luckily with the Surface lineup, there's enough variety that the most expensive option on the list isn't necessarily the best one for you. If you only need to accomplish some basic computing, then the entry-level Surface devices will serve you just fine – but if you're going to be doing some more advanced tasks we think you'll find yourself frustrated with the lack of processing power before long.
Going for the cheap option could cost you more in the long run if you end up needing to upgrade to get your work done. Similarly, if you don't need all the horsepower in the world then you might not see a huge benefit in going for a Core i7 variant over a Core i5, for example.