Computers
Best Portable Monitors 2023: Productivity on the go
Portable monitors are a practical solution for anyone on the go because the extra screen real estate increases productivity and makes it easier to work in coffee shops, planes, or anywhere else with limited space. The best portable options have features similar to regular and gaming monitors, like high-resolution displays, touchscreens, and fast refresh rates. However, they come in a portable size that easily fits into your laptop bag and include a stand to keep them upright.
Our team usually reviews full-size monitors from most brands, and trying out portable options to see what they offer is a welcome change. We've compiled a list of all our top picks to satisfy every user and budget to help you make the right choice if you want to improve your productivity by adding another display.
Lenovo /Pocket-lint

Lenovo ThinkVision M14d

1. Best overall portable monitor

Espresso Displays/Pocket-lint

Espresso Displays Portable Monitor and Stand Bundle

2. Best premium portable monitor

ViewSonic /Pocket-lint

ViewSonic VG1655

3. Best value portable monitor

Asus/Pocket-lint

ASUS ProArt Display PA148CTV

4. Best touchscreen portable monitor

ViewSonic/Pocket-lint

ViewSonic VP16-OLED

5. Best design portable monitor
The best portable monitors: Our top picks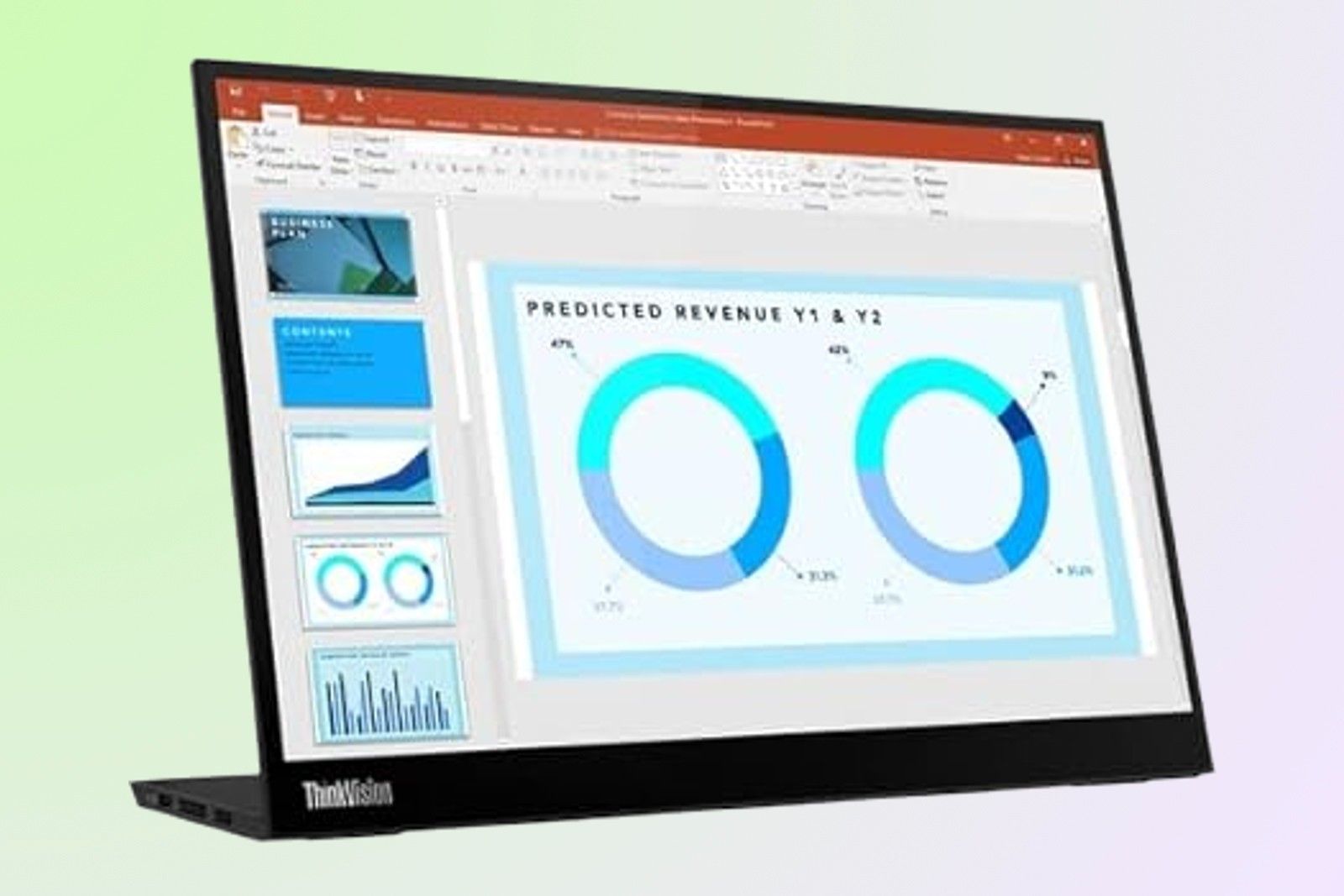 Lenovo /Pocket-lint
Lenovo ThinkVision M14d
1. Best overall portable monitor
The practical all-rounder
$372 $399 Save $27
The LenovoThinkVision M14d is a 14-inch portable monitor with 2,2K (2240 x 1400) resolution and a 16:10 aspect ratio.
Pros
High resolution
Sturdy hinged design
Convenient size
Cons
USB-C only
6:10 aspect ratio might not work with some computers
Lenovo's ThinkVision M14d tops our list because it has everything you can ask for in a portable monitor and doesn't cost an arm and a leg. Its compact 14-inch size is optimal for people who'll carry it around the whole day or travel with it. It also offers a vivid picture with its 2,2K (2240 x 1400) resolution from its stunning IPS monitor and a wide 16:10 aspect ratio perfect for photo editing and spreadsheets.
Most portable monitors include kickstands, but the ThinkVision M14d ups the game by having a sturdy hinged design with a wide -5 to 95-degree tilt angle to get the best viewing position. It also has DisplayPort-compatible USB-C ports on either side, making it easy to connect no matter where it is on your desk. The ports support up to 65 watts of power pass-through, so you can power the display while you charge your laptop.
This portable monitor is all about practicality and folds flat when you're not using it. It's the best option for most buyers, although connectivity is limited to USB-C only, and the 16:10 aspect ratio might skew the image when paired with some 16:9 computers.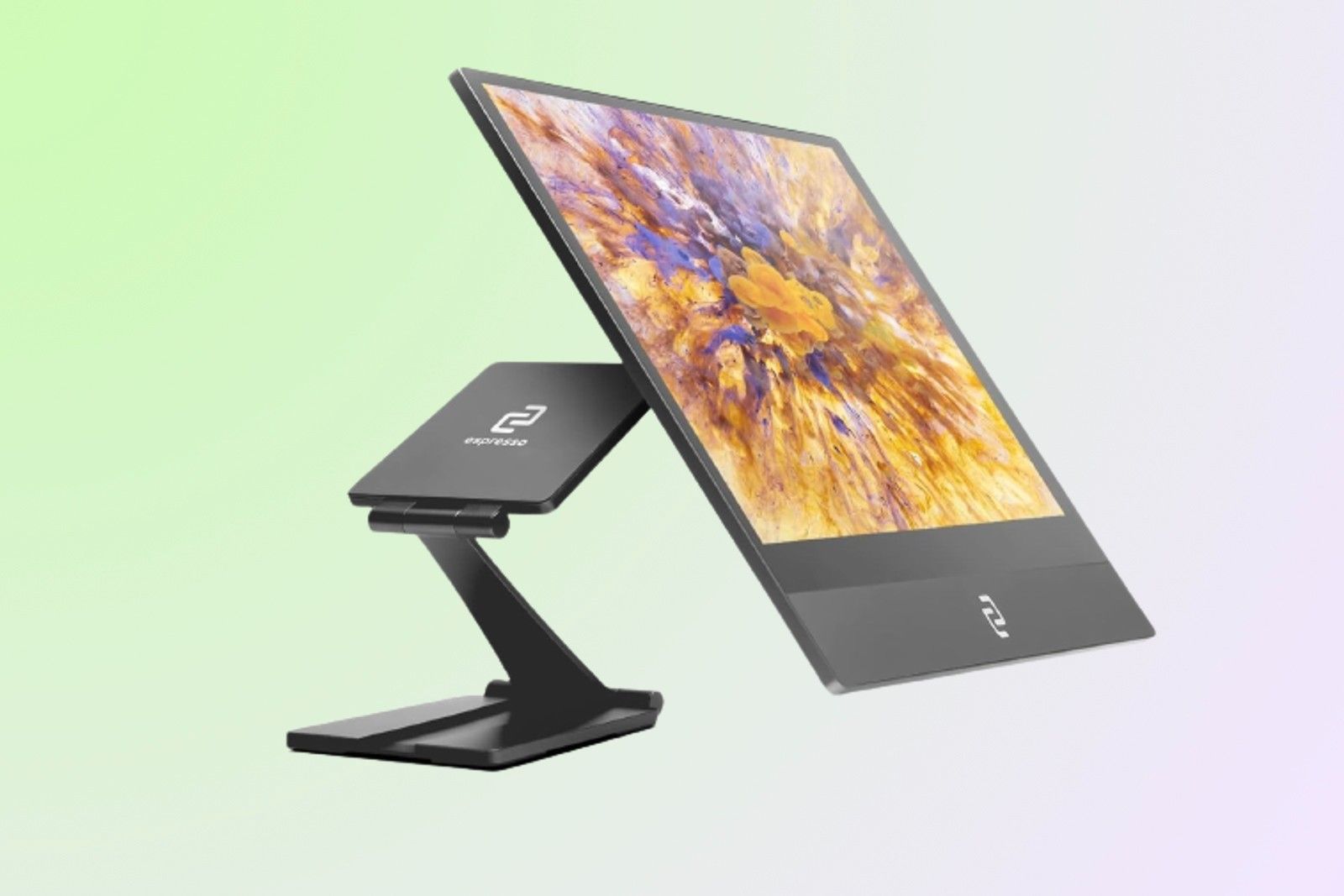 Espresso Displays/Pocket-lint
Espresso Displays Portable Monitor and Stand Bundle
2. Best premium portable monitor
Premium portability
$180 $200 Save $20
The Espresso is one of the thinnest 15.6-inch monitors with touchscreen functionality and a foldable stand.
Pros
Slimline design
Touchscreen
Includes a stand
Cons
Premium pricing
Stylus costs extra
Espresso may be a smaller brand, but it competes with the best in the business thanks to its high-quality portable display. The company spared no expense to give it a premium feel with a tough anodized aluminium body and incredible 7mm thickness, and the brand boasts it as the "the world's thinnest portable monitor." At its heart, it's a 15-6-inch FHD IPS display with responsive touchscreen capabilities.
For a slimline display, the Espresso includes built-in speakers, which get the job done and dual connectivity options with USB-C or Mini HDMI available to connect your computer or laptop. The best way to experience its full potential is with the equally high-quality stand available separately or as part of the bundle. Buyers looking for precision when jotting notes or sketching can purchase the compatible stylus pen separately or use their own from another device.
There's no getting around the Espresso's hefty price tag, especially considering that the stand and stylus come separately. However, it still justifies its premium status with outstanding build quality, durability and touchscreen functionality in the thinnest package possible.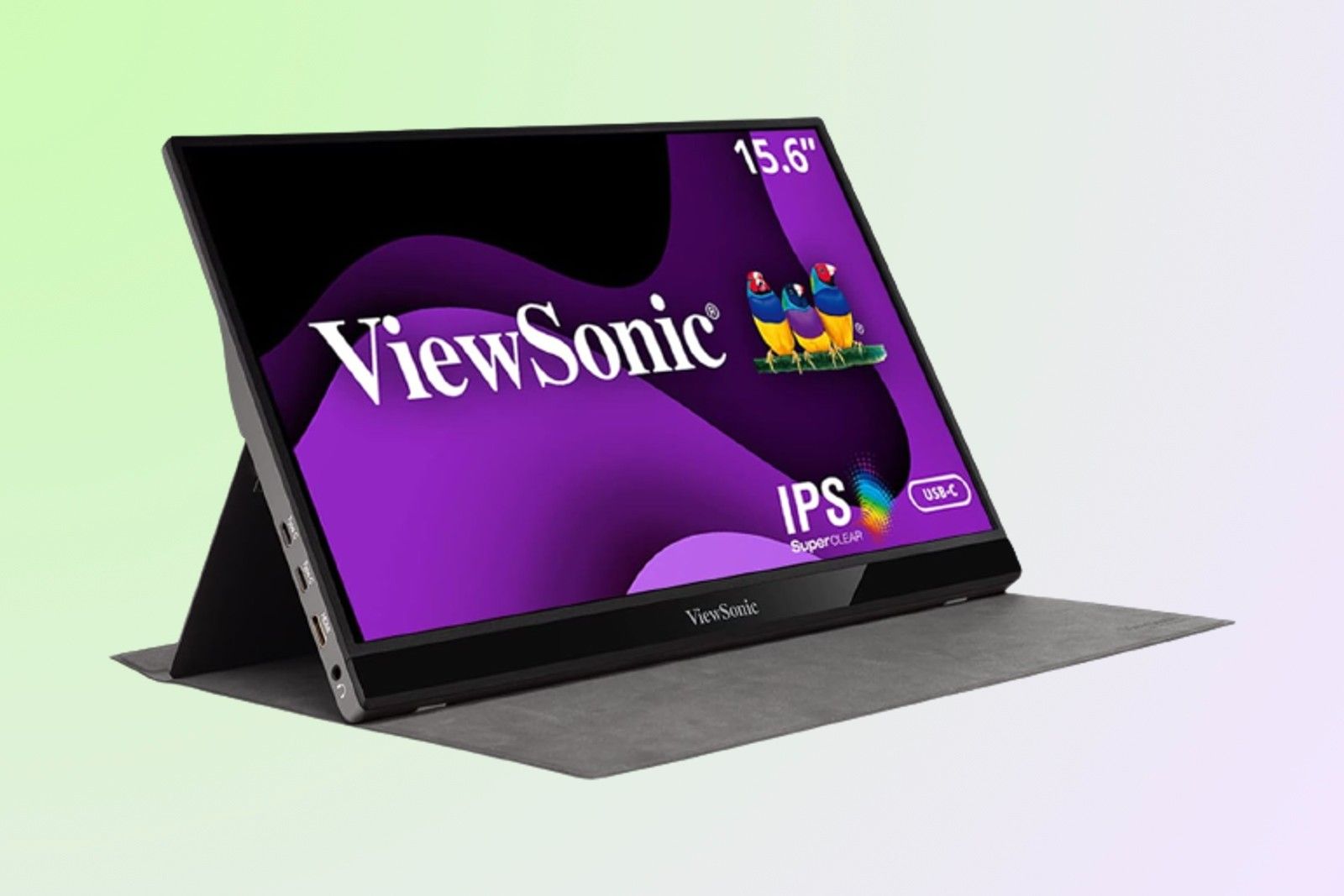 ViewSonic /Pocket-lint
ViewSonic VG1655
3. Best value portable monitor
More for less
The Viewsonic VG1655 offers impressive value with a low price and features like a 15.6-inch display and built-in speakers.
Pros
Affordable
Great build quality
Built-in stand
Cons
Average colour accuracy
Not the brightest
Viewsonic's VG1655 is the best alternative for buyers looking for a functional and practical choice, only costing around half of what our premium pick costs. Its 15.6-inch FHD display will be familiar to many laptop users and pairs well with most similarly-sized screens to double your viewing area. It punches above its budget-friendly price tag with a stylish aluminium two-tone design and a usable built-in stand offering up to 60 degrees of tilt in portrait or landscape modes.
When you're not using the VG1655, it's easy to pack away and carry, thanks to its slim 15-millimetre thick design and 0.8-kg weight. There are also USB-C ports on each side with power-delivery capability, meaning they can charge your phone or tablet with one port while they're connected to your laptop with the other. Cameras and devices without a USB-C can connect through the Mini HDMI port. Audio is courtesy of dual 0.8-watt speakers that will do for podcasts and shows and a 3.5-millimetre port for headphones and speakers when you're enjoying your music.
The VG1655 brings many practical features to the table for a reasonably-priced monitor and is worth considering if you're looking for the best value. It has its faults, like every monitor, and its average colour accuracy and brightness make it better for browsing and spreadsheets than gaming or graphics design. At the end of the day, you can't go wrong for the price, and it easily makes up for its shortcomings with premium construction, versatile ports and a usable stand.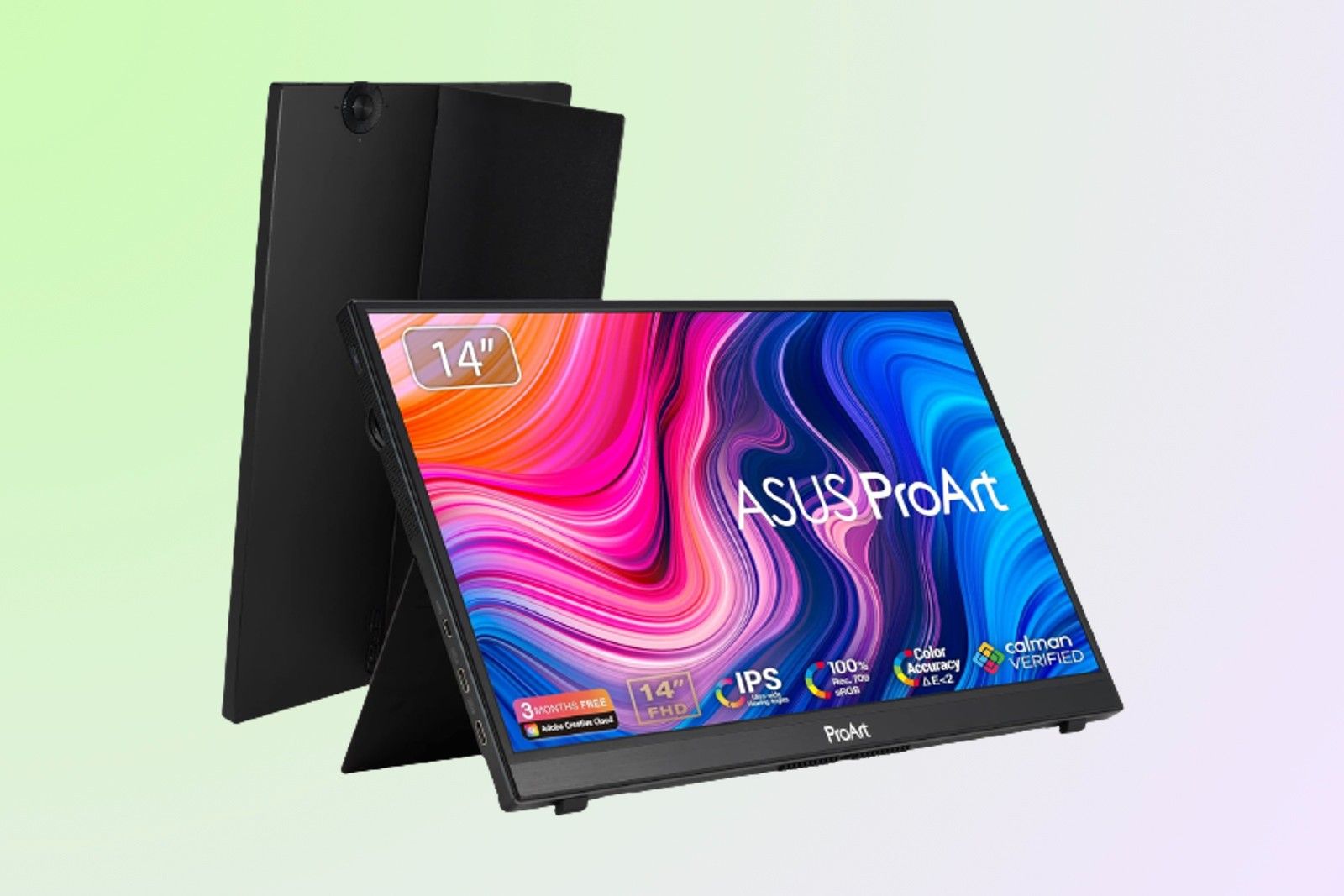 Asus/Pocket-lint
ASUS ProArt Display PA148CTV
4. Best touchscreen portable monitor
Compact for creatives
The Asus ProArt Display 14 is an excellent option for creators with professional-level brightness and colour accuracy. It includes a touchscreen for additional functionality.
Pros
Compact 14-inch size
Excellent colour accuracy
Touchscreen
Cons
No 3.5-millimetre audio port
Plastic construction
Touchscreen capability adds another dimension to a portable monitor's versatility because it's like having a tablet connected to the same system. This makes it easier to multitask because you can simultaneously navigate your laptop display with your mouse and scroll and tap the second monitor with your other hand. The Asus ProArt PA148CTV is made for graphics designers and professionals requiring a mobile touch-screen with 100 per cent colour accuracy and Calman Verified calibration. Its 14-inch FHD display offers stunning image quality for work or media and is compact enough to fit in most bags.
This portable monitor is all about function, with a dedicated "Asus Dial" on the side to access the OSD menu or change settings like lighting and contrast in graphics apps. It also connects to most devices via the Mini HDMI and dual USB-Cs, but you'll be forced to use the dual one-watt speakers because there's no 3.5-millimeter port. Getting the ProArt PA148CTV into the perfect position is easy, with the kickstand offering between 15 and 85 degrees of height adjustment, and it folds flat for easy storage when not in use.
There's no doubt about the ProArt Display's graphics abilities with bright colours and rich blacks, and it's packed with other handy features like a touchscreen, decent connectivity, and integrated speakers. On the other hand, it falls short when it comes to construction, with a bland black plastic body and no 3.5-millimetre audio port. It's still the best portable monitor for creatives and will boost on-the-go productivity.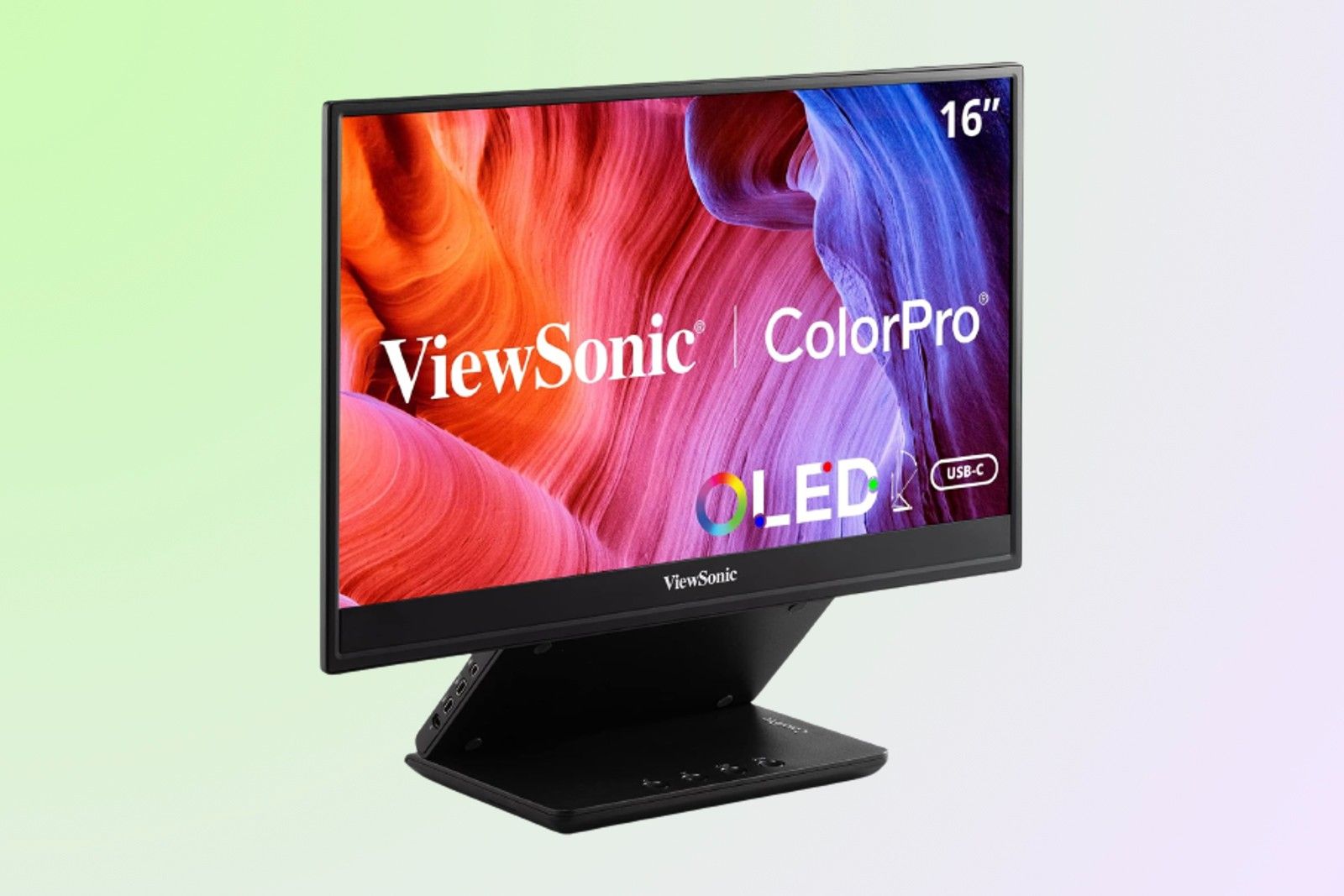 ViewSonic/Pocket-lint
ViewSonic VP16-OLED
5. Best design portable monitor
Adjustable excellence
The ViewSonic VP16-OLED has an innovative height-adjustable stand, allowing you to view it at eye level. Its OLED display also offers an excellent viewing experience.
Pros
Height-adjustable stand
OLED display
Premium design
Viewsonic's innovative VP16-OLED solves one of the biggest drawbacks of portable monitors by having a detachable and height-adjustable stand so you can look straight ahead at the display instead of downwards. It makes a world of difference to busy workers looking for a comfortable experience while they sit at their desks all day and makes it easier to work if you have a laptop stand because both displays will be at eye level. You can also affix it to a tripod with the built-in mount and block out glare with the included hood, which doubles as a screen protector when it's not in use.
This monitor isn't just about practicality and boasts stunning picture quality from its 15.5-inch FHD OLED, with wide colour coverage and amazing contrast for graphics apps or watching movies. Connectivity options are standard for its class, with two USB-C ports, one with power delivery, and a Micro HDMI for camcorders and other devices.
The VP16-OLED doesn't come cheap, but its premium design is expected, considering its top-notch stand and one of the best displays in its class. It justifies its price tag if you use the stand and appreciate the fantastic visuals, but there are better options if you need something basic for documents or browsing.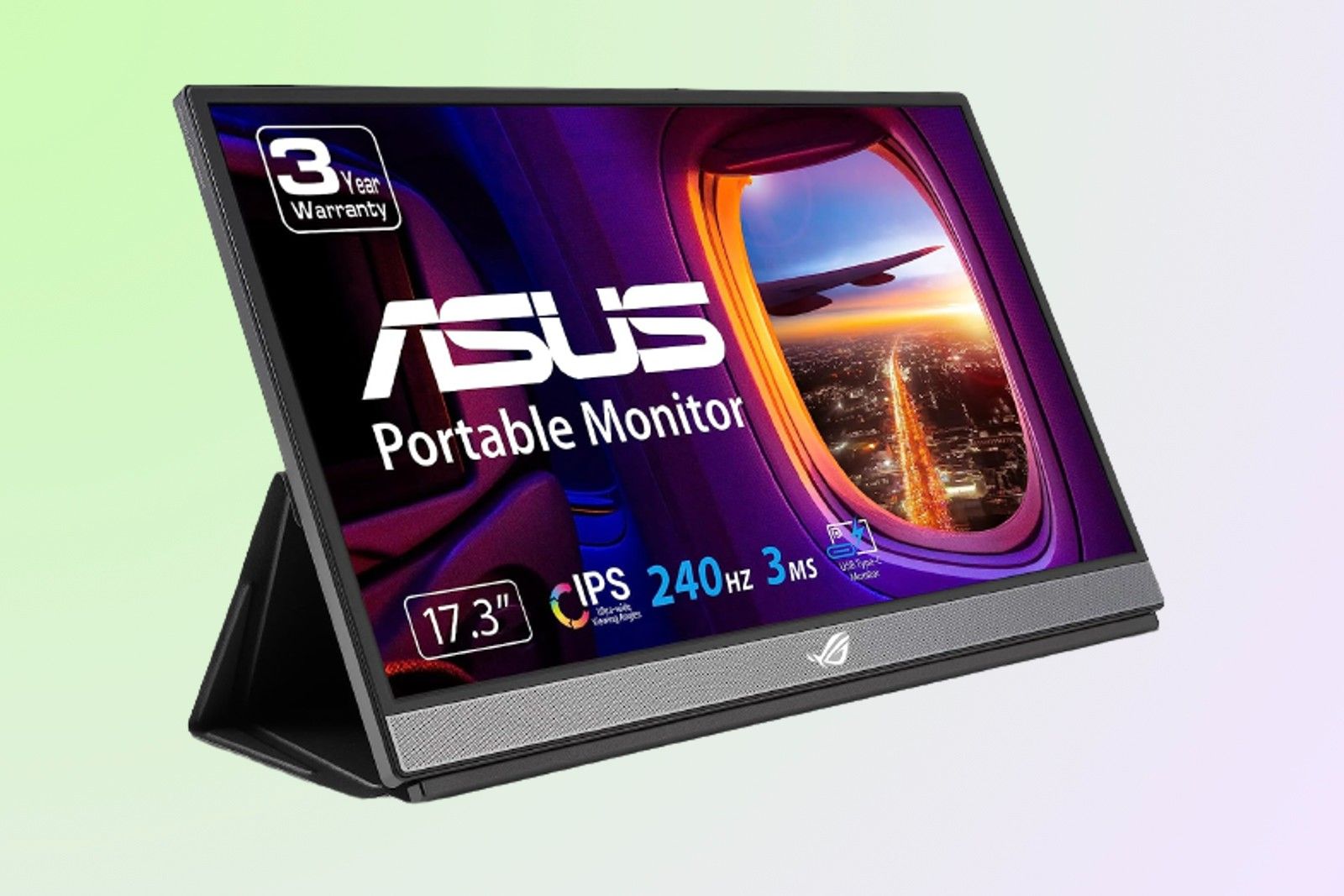 Asus/Pocket-lint
ASUS ROG Strix XG17AHPE
6. Best portable monitor for gaming
Gaming bliss
Play games anywhere with the 17.3-inch Asus ROG Strix portable monitor. Its speedy 240Hz refresh rate is perfect for online shooters, and there's a built-in battery for when you run out of juice.
Pros
Large 17.3-inch display
240Hz refresh rate
Built-in battery
Asus seems to be cornering the portable monitor market with one for every use, and the XG17AHPE is its gaming model with a massive 17.3-inch FHD display to bring out every detail when you play. Its blistering 240hz refresh rate is perfect for mobile or competitive gaming, and there's adaptive sync for a smoother picture without any screen tearing. Unlike the other monitors on this list, it has an integrated 7,000 mAh battery with a two-hour lifespan at 240Hz, so you can use it on trains or other places without a power socket.
You'd expect the XG17AHPE to be bulky with its big screen and aluminium housing, but that's not the case, and it has a fairly slimline feel at just 1cm thick and weighs around 1kg without the flimsy origami stand. Asus includes a pair of front-firing speakers on the bottom bezel to enhance the gaming experience, but most players will probably use a headset via the 3.5-millimetre port. Speaking of ports, the XG17AHPE has one Micro HDMI and two USB-C ports with DisplayPorts capability.
You'll have to pay a considerable amount for the privilege of having a 17.3-inch, 240Hz display, and it's a great investment if you have the requisite hardware to push it to its potential and need portability. The only complaint is that its high-quality construction is let down by the cheap origami stand, which is probably a weight-saving measure to make it more practical. It's still the best portable gaming monitor if you can afford it, and you won't care about the price when you can play games anywhere.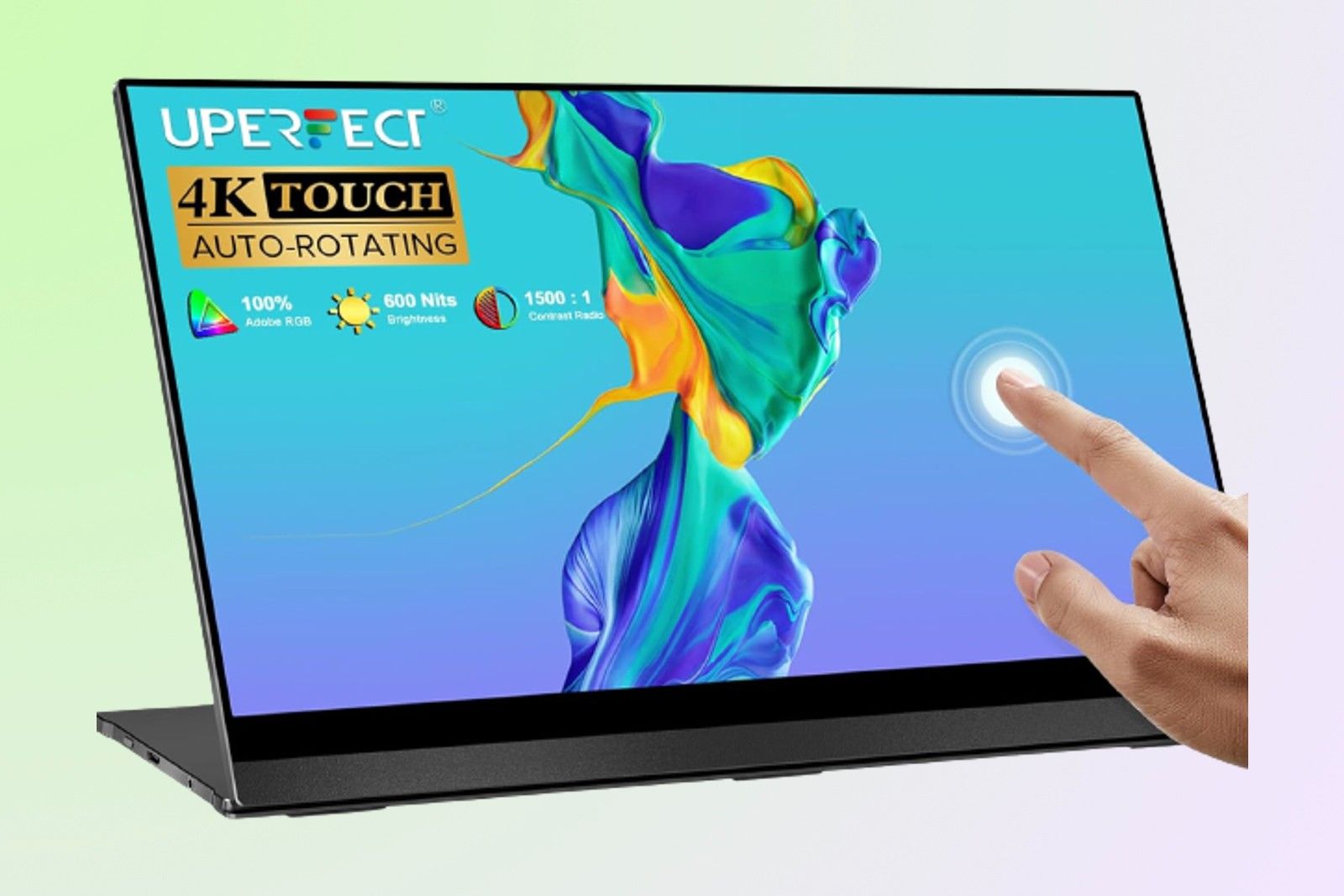 Uperfect/Pocket-lint
Uperfect Unify S Portable Monitor
7. Best display portable monitor
Media monster
$513 $570 Save $57
Urperfect's Unify S monitor is perfect for work or media with a stunning 4K touch display and durable metal construction.
Pros
Stunning 4K display
Sturdy aluminium design
Touchscreen
Uperfect might not be as well known of a brand name as the other models on this list, but it gives them a run for their money with its feature-packed Unify S portable monitor. The Unify S blows away most of the competition with its 15.6-inch 4K UHD display for the best clarity when you're working in Photoshop or playing games. It doesn't end there, and the 60Hz display includes a touchscreen for smooth scrolling or swiping, with an excellent 600 Nits brightness and 100% colour accuracy for one of the best visual experiences of any portable monitor.
There were no cutting corners with this monitor, and it has a durable aluminium body with a practical hinged design with slim bezels. When it comes to connectivity, there are the expected dual USB-C ports and Mini HDMI, and the Unify S goes one better than its competition with a Micro B OTG USB to connect sticks and dongles.
The Unify S's eye-watering price isn't surprising, considering all its features and build quality, and it easily justifies its cost by having one of the most comprehensive feature sets of any portable monitor. If we had to nitpick, its only fault is its mediocre speakers, which go with the territory and aren't worth stressing over.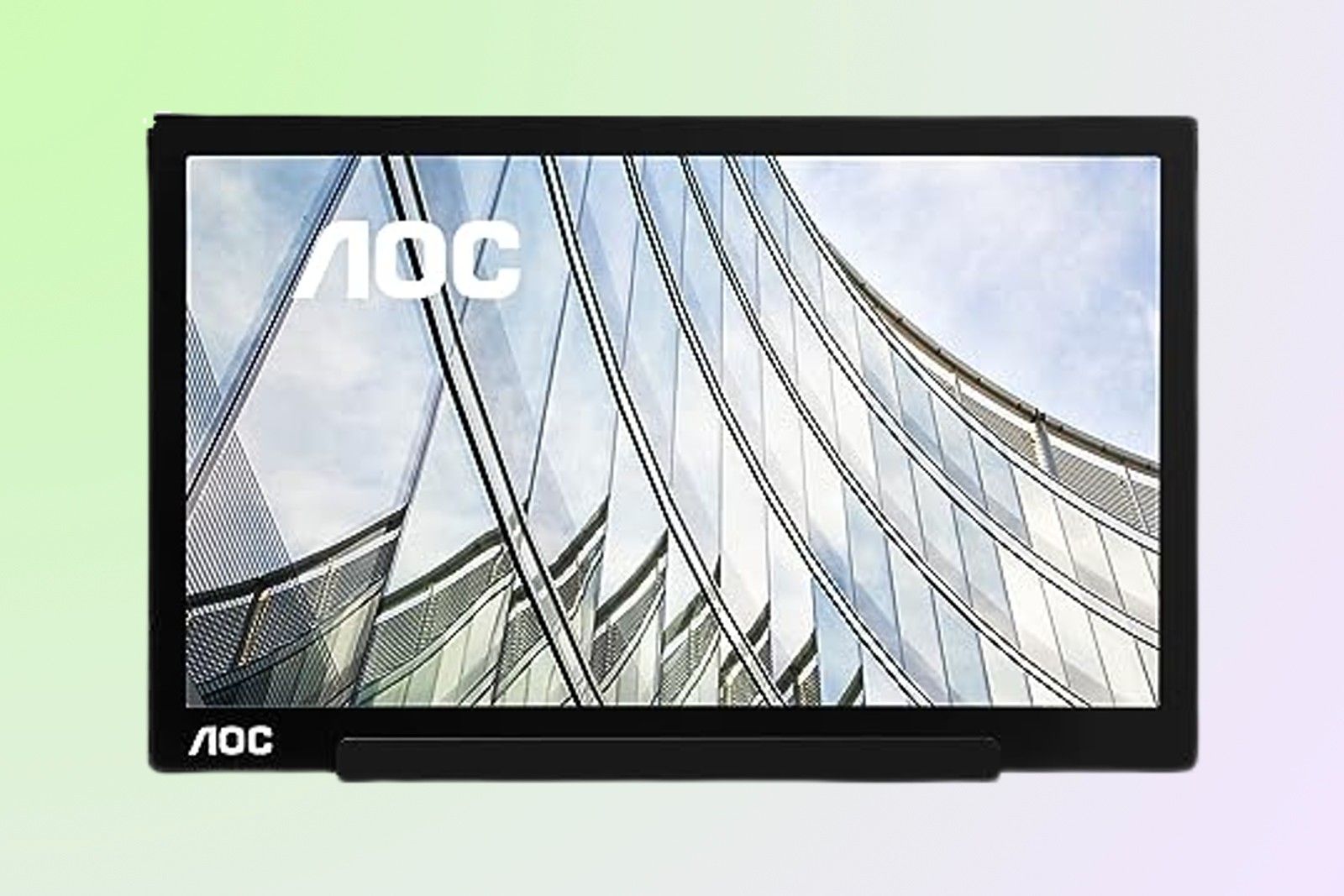 AOC/Pocket-lint
AOC I1601FWUX Portable Monitor
8. Best budget portable monitor
Budget-friendly productivity
$120 $140 Save $20
The AOC AOC I1601FWUX is slim and light, with a 15.6-inch display for most work-related apps. Its affordable price makes it accessible to everyone.
Pros
Low price
Versatile screen size
Slimline design
Cons
Single USB-C port
Not ideal for graphics-intensive tasks
Budget-conscious buyers can check out the AOC I1601FWUX if they're looking for a well-priced portable monitor capable of handling most day-to-day tasks like browsing and emails. There aren't any fancy bells and whistles at this price point, and the AOC keeps things simple with a 15.6-inch FHD display that won't set the world alight but will get the job done.
For an entry-level option, it scores points in the style department with an upmarket silver backing with little flex, and it's a pity the finish doesn't extend to the black plastic bezels around the display. At least the slim 8.5mm design and 800-gram weight make it easy to slip into your laptop bag, and the foldable kickstand is adequate for portrait or landscape mode. Connectivity is limited to a single USB-C port, which limits its appeal but is acceptable considering the price.
AOC's I1601FWUX works exactly as advertised and is a compact, no-frills portable monitor at an unbeatable price. It's perfect for anyone needing a basic display for work-related tasks, and its drawbacks, like the single USB-C port and average screen performance, are irrelevant considering its impressive value.
Bottom line: Which is the best portable monitor?
Lenovo's ThinkVision M14d is the best portable monitor because it has a compact 14-inch size with a high-resolution 2.2K display and comes at a competitive price. The Espresso Displays monitor is the best premium option with a slim yet durable design and touch functionality. Buyers looking for the best value can check out Viewsonic's VG1655 because it's inexpensive and has a tough aluminium exterior and built-in stand.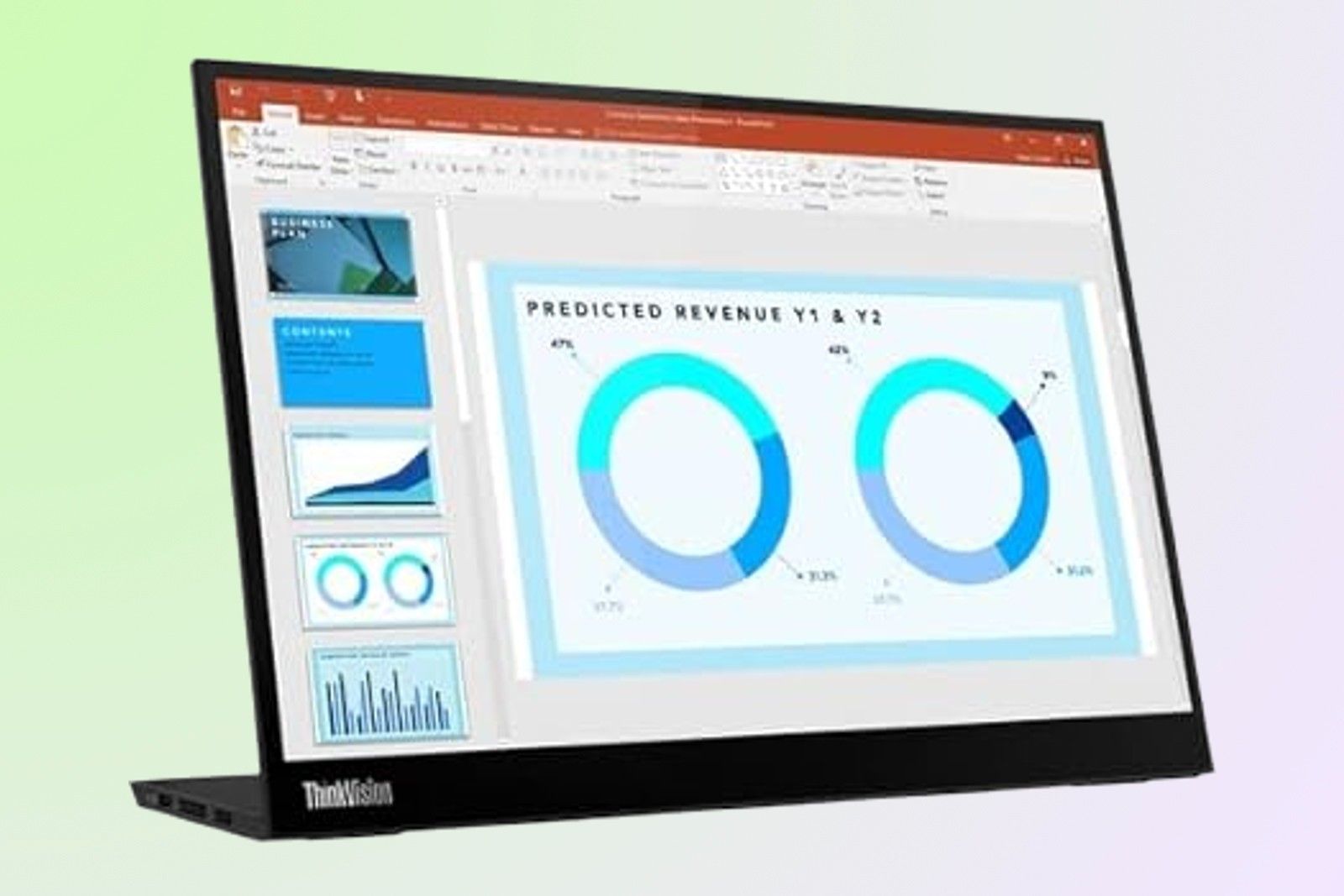 Lenovo /Pocket-lint
Lenovo ThinkVision M14d
Editor's Choice
$372 $399 Save $27
The LenovoThinkVision M14d is a 14-inch portable monitor with 2,2K (2240 x 1400) resolution and a 16:10 aspect ratio.
How did we choose these portable monitors?
Our experts review all types of monitors throughout the year and have hands-on experience with most monitors on this list. The main factors we considered when testing these monitors were their display properties, overall build quality and features, and value.
For the display properties, we looked at the screen size and its useful applications, as well as things like resolution, colour accuracy and touchscreen abilities, to see how they rank.
We also compared their overall build quality by rating the materials used for their construction and considered their connectivity, stands and other external features.
Value is always a priority when buying any product, and we ensured that every monitor listed here fulfils its designated role and offers an acceptable price-to-performance ratio to make it worth investing in.
Which is the best portable monitor?
The Lenovo ThinkVision M14d is the best portable monitor.
Are portable monitors a good idea?
Yes, portable monitors are a good idea for anyone on the go because the extra screen space increases productivity.
What to look for when buying a portable monitor?
There are many factors to consider when buying a portable monitor, but some of the most important are screen size, connectivity options, and pricing.