Computers
Best rowing machines 2023: Expert tested and reviewed
Strapping your feet into one of the best rowing machines and blasting away for 15-minutes of sweat-inducing exercise is about one of the best overall forms of general fitness you can undertake.
It burns fat, thanks to ease at which you can get into the perfect aerobic workout zone, while many experts believe it works a staggering 86 per cent of the body's muscles, including nine major muscle groups overall. Perfect the rowing technique, and you are guaranteed to get swole in no time.
Better still, the best rowing machines offer a powerful workout for your arms, back, chest and legs without the associated pains and niggles that go hand-in-hand with high impact home exercise, such as running on a treadmill, skipping or performing thousands of burpees during a punishing HIIT session.
With that in mind, we have collated the best rowing machines on sale today, harnessing hours of personal testing experience to present to you a shortlist of those genuinely worth your money.
It is worth noting that the advent of Peloton and other connected fitness devices has influenced the humble rower, meaning there are now options with whopping great screens attached, making for a fun way to row along with instructors or compete in virtual rowing challenges thanks to third party apps.
WaterRower/Pocket-lint

WaterRower Ergatta Rower

1. Best rowing machine overall

Cocnept2/ Pocket-lint

Concept2 RowErg

2. The best for serious rowers

Hydrow/Pocket-lint

Hydrow Rower

3. Best for instructor-led classes

NordicTrack/ Pcoket-lint

NordicTrack RW900

4. The best for Olympic workouts

Pro-Form/ Pocket-lint

Pro-Form Pro 750R Rower

5. Best value option
The best rowing machine: Our top picks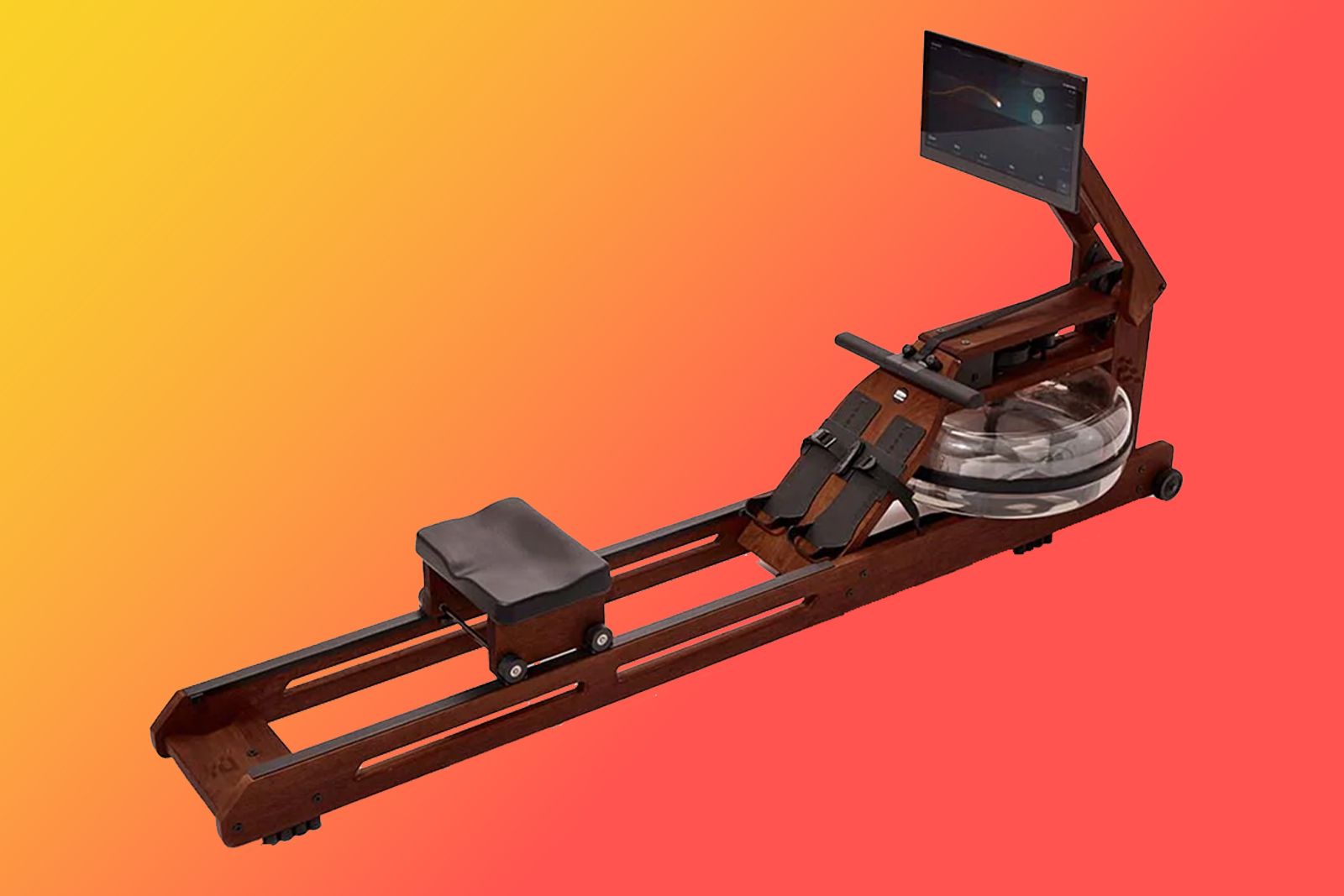 WaterRower/Pocket-lint
WaterRower Ergatta Rower
1. Best rowing machine overall
$2099 $2499 Save $400
Where style meets substance, WaterRower's interactive Ergatta machine is hands-down one of the best indoor rowing experiences we have tried. Not only do you get a gorgeous American Cherry wood frame, you also get the gamified Ergatta experience beamed to a 17.2-inch HD display.
Pros
Looks amazing
Realistic rowing experience
Ergatta is addictive
Cons
The price
Doesn?t fold for storage
No adjustable resistance
WaterRower made waves in fitness fields with its original rowing machine – a stylish wooden frame that looks more akin to a piece of high-end Scandi furniture than it does your classic piece of gym kit. What's more, its innovative WaterFlywheel uses a paddle that spins in liquid to act as the resistance generator, leading to a realistic rowing experience and the glorious sound of rushing water with every stroke.
Partnering with Ergatta – experts in gamifying the rowing experience – has only strengthened the offering and, although it's pricey, we feel it is one of the most attractive packages on offer today.
Essentially, the 17.2-inch high definition touchscreen, complete with speaker array, unlocks the world of Ergatta, where you control brightly coloured meteors with every stroke, or attempt to Hoover up as many rings in the multi-player game Vortex.
It's all online, and all connected (you have to pay a monthly subscription), so there's real accountability. Plus, the offer of a complete training programme can propel complete novices to accomplished rowers in a matter of weeks. If it is short, sharp and highly addictive workouts you are after, this is up there with the very best.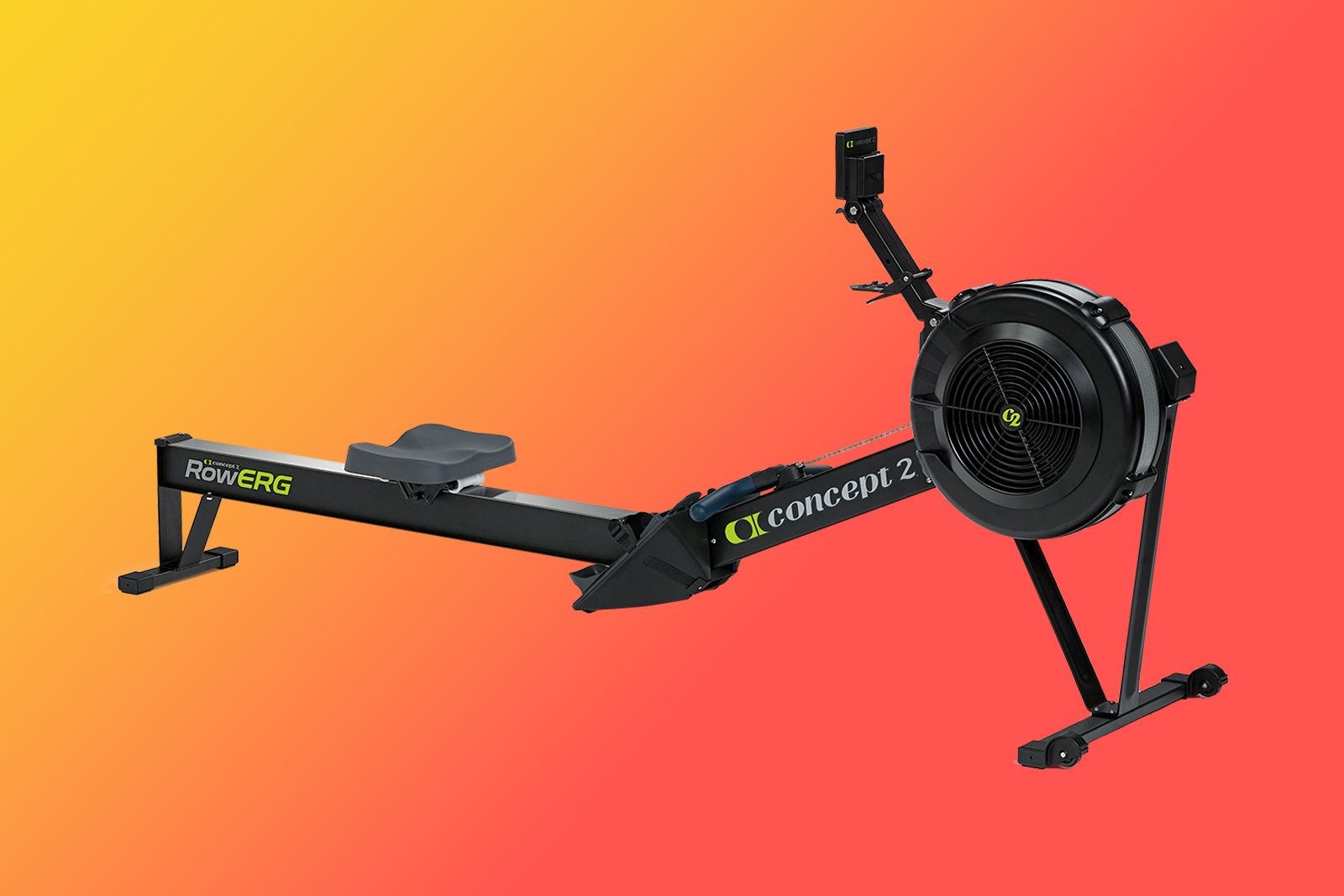 Cocnept2/ Pocket-lint
Concept2 RowErg
2. The best for serious rowers
A tough workout with solid build quality
Found in any gym worth its salt, the Concept2 RowErg is the choice of the pros thanks to its build quality and punchy rowing experience. What it lacks in built-in tech it makes up for with a svelte, foldable frame and classic adjustable air resistance to suit most fitness levels.
Pros
The go-to name for indoor rowers
Available in numerous sizes
Now compatible with online apps
Cons
PM5 monitor is basic
Rowing experience noisy
Folding isn?t easy
You name the competition, and it's highly likely you'll see a Concept2 machine being used. Formerly known as the Model D or E, the latest RowErg is a regular feature in the Crossfit games, World and National Indoor Rowing Championships, and even Olympic rowing squad selections are all held on one.
So what better machine to install in your home setting than the one used by the pros? The RowErg's PM5 has a backlit LCD that gives you all the key metrics you need during a workout, including distance, speed, calories, power curve efficiency, and watts. Its USB flash drive port lets you export all your workouts to your computer, but for even more advanced metrics and analysis, you can sync to the ErgData smartphone app, which will interface with Strava and TrainingPeaks. It'll work with both ANT+ and Bluetooth heart-rate monitors, too.
At just over 2.4m, it's a large machine, but the quick-release framelock mechanism means you can split the body and store the two halves upright. However, don't expect this to be a quick and easy process, as it can prove quite fiddly.
In terms of the experience, it uses air resistance with an adjustable baffle, effectively giving the user resistance settings from 1-10 that can be quickly adjusted on the fly. The seat is comfortable, the rollers smooth and handle ergonomic and comfortable in the hand.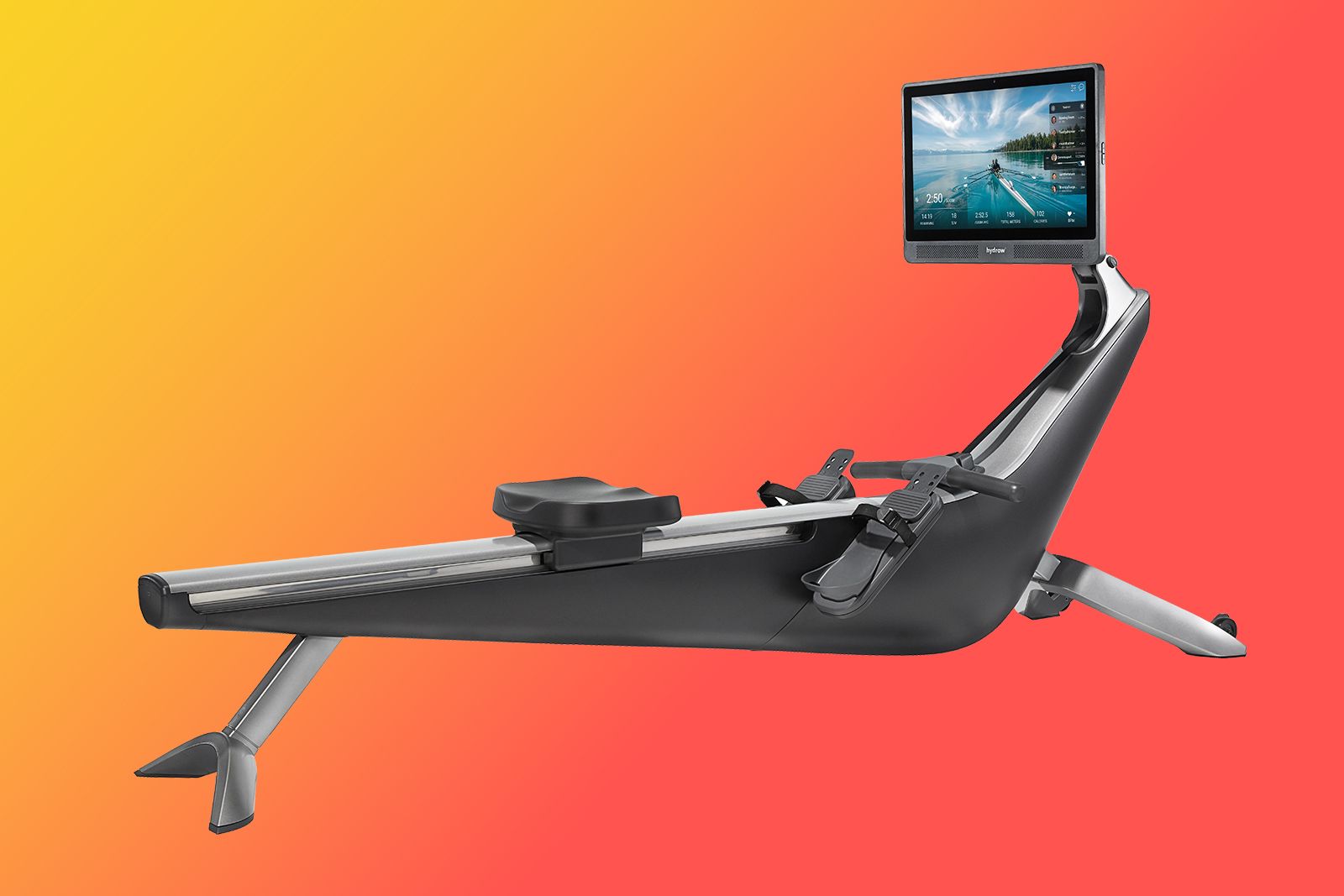 Hydrow/Pocket-lint
Hydrow Rower
3. Best for instructor-led classes
A slick machine with slick online workouts
Riding on the Peloton wave, the Hydrow Rower fuses a start of the art rowing machine with innovative online connected classes. These see real rowing instructors take to real bodies of water in order to lead you through a session. With a huge array of both on and off-machine workouts on offer, this is sure to keep you busy for years to come. However, there is a subscription cost involved.
Pros
Interactive rowing experience
Good-looking machine
Over 4,000 workouts on offer
Cons
The machine is large
Magnetic resistance isn?t the best
Not as polished as Peloton
Peloton now offers its own rowing machine, but before it existed, Hydrow stormed onto the scene and rode the buzz-based wave generated by at-home connected fitness classes. But Hydrow does things a little differently, as its roster of professional athletes take to real bodies of water to carry out their interactive classes.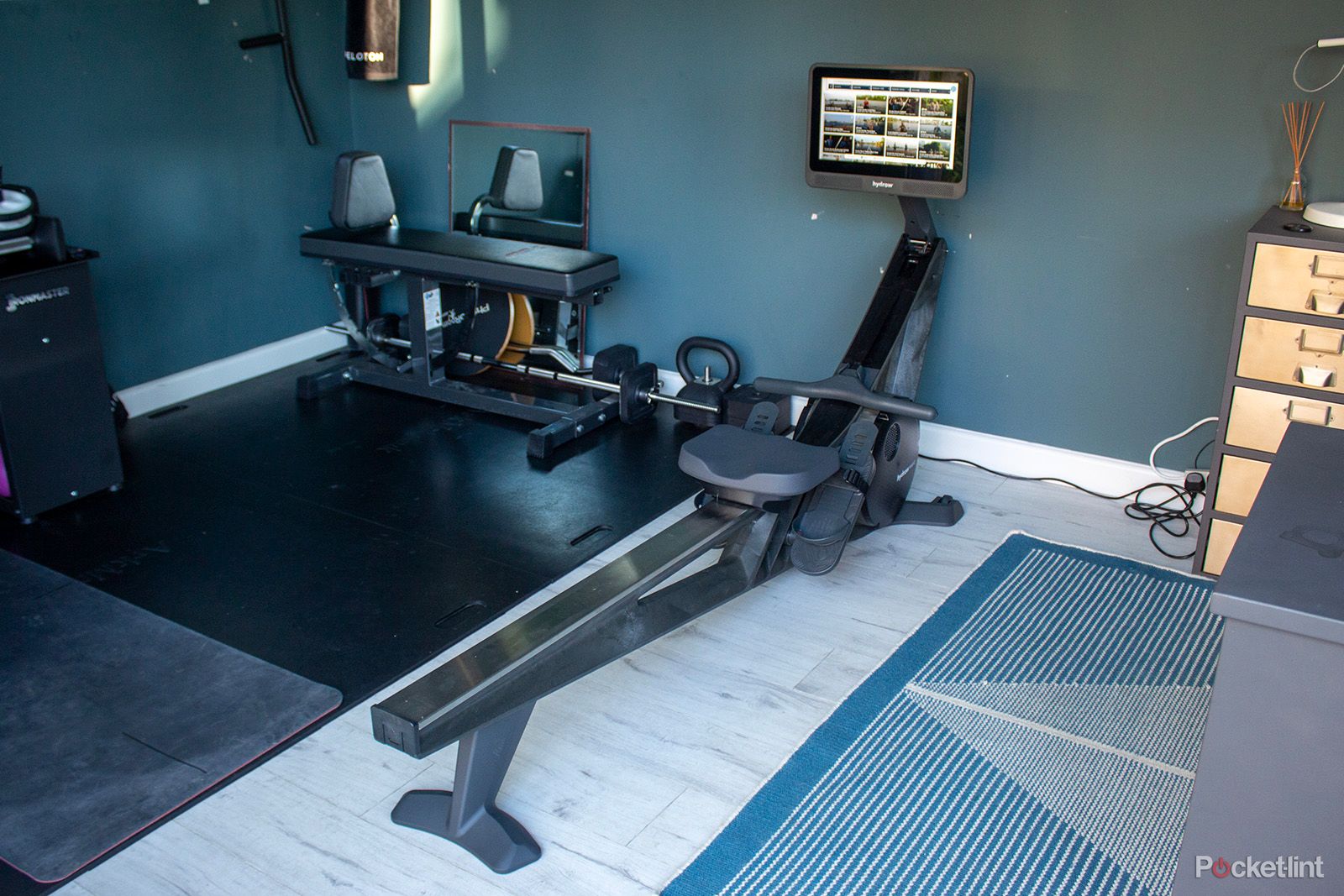 Yes, you still have live leaderboards and all of your rowing stats readily available on screen. But if you don't feel like hitting things hard, you can always cruise along Swiss lakes during a more sedate, picturesque session, while a grinning instructor babbles away at you.
The machine itself is chunky, although still handsome enough to look at, with a massive, pivoting 22-inch display taking care of the classes, which you'll have to pay $44 a month to access.
The electronically-controlled magnetic resistance used here is near silent, which is great for roommates, although we found that it didn't offer the most realistic rowing experience around.
Alas, In Hydrow's case, the workout experience hasn't ever felt as glossy or polished as the stuff coming out of Peloton's various studios, and the community spirit just isn't there. We never quite got the same pump from a Hydrow workout as we ever did with a Peloton Tread or Bike session.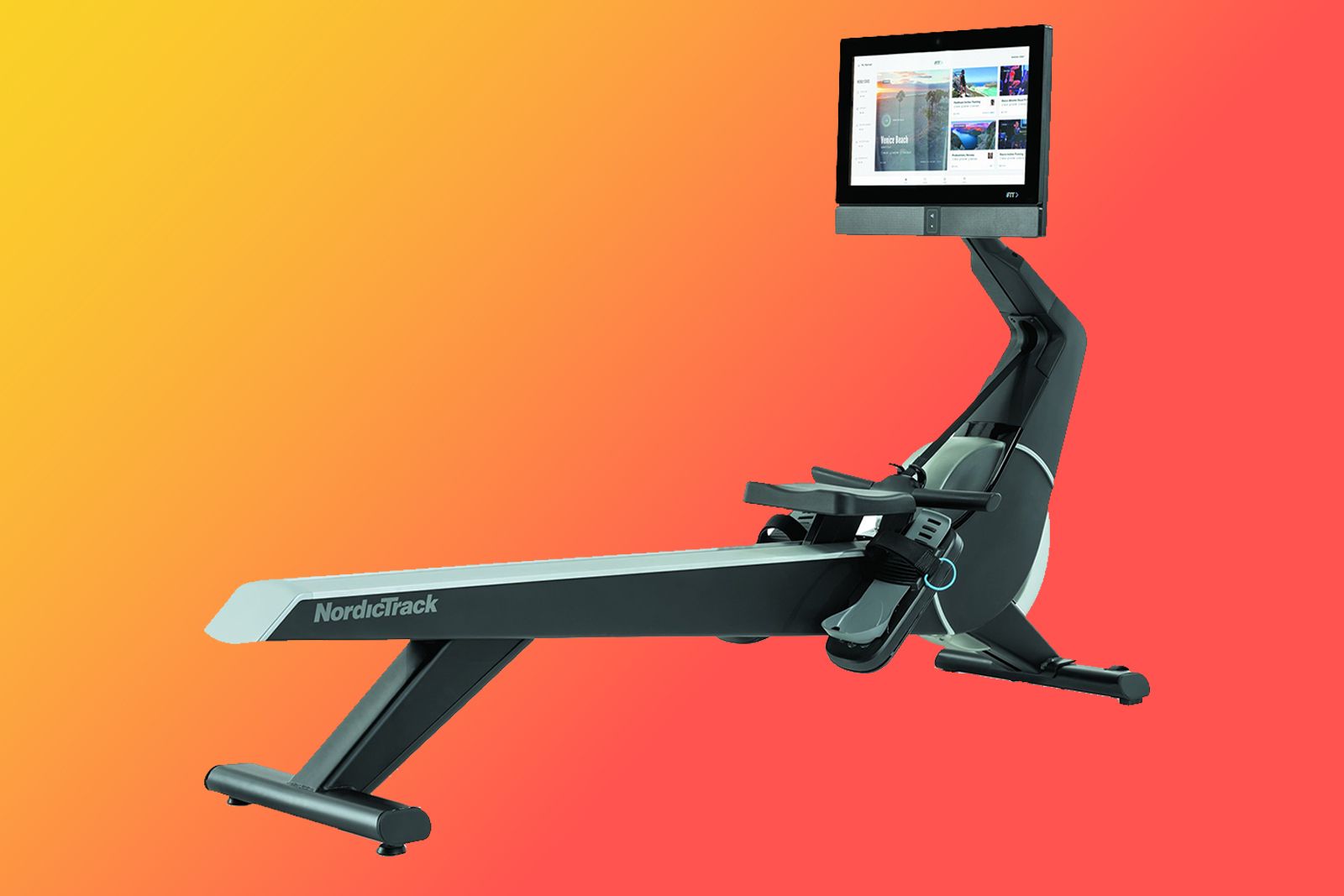 NordicTrack/ Pcoket-lint
NordicTrack RW900
4. The best for Olympic workouts
A slick machine with iFit online workout classes
Another great option for the connected workout experience, NordicTrack runs the iFit platform, which blends live classes with Peloton-style studio workouts. The result is arguably almost as polished as Peloton's, while the machine itself feels premium and proves easy to use.
Pros
Premium feel
iFit is a great platform
Lots of resistance levels on offer
Cons
iFit requires monthly subscription
Machine is bulky
Not easy to store
Blending elements of Hydrow, Peloton and Ergatta experiences mentioned above, NordicTrack's handsome RW900 machine uses the iFit platform for its connected workouts… of which there are many.
The thing that really impressed us with this machine – and the subscription platform in general – was the addition of properly decorated Olympians, all eager to share their tips of squeezing the most performance from every session. Of course, if you don't fancy training like a professional athlete, iFit also offers everything from low impact strength classes to yoga sessions.
The machine, with its 22-inch HD screen, is bulky, so you will need a fair amount of space in your home-gym set-up use this one, but it is comfortable, easy to use and near-silent thanks to its electronic resistance mechanism. What's more, the electromagnetic system offerings 26 levels of digital resistance, making it really easy to dial-in the workout, whether that's a live class or offline session.
As with Hydrow, the iFit platform also offers plenty of off-machine workouts and, thanks to the pivoting screen, it's simple to switch from rowing to, say, a strength workout in a matter of seconds.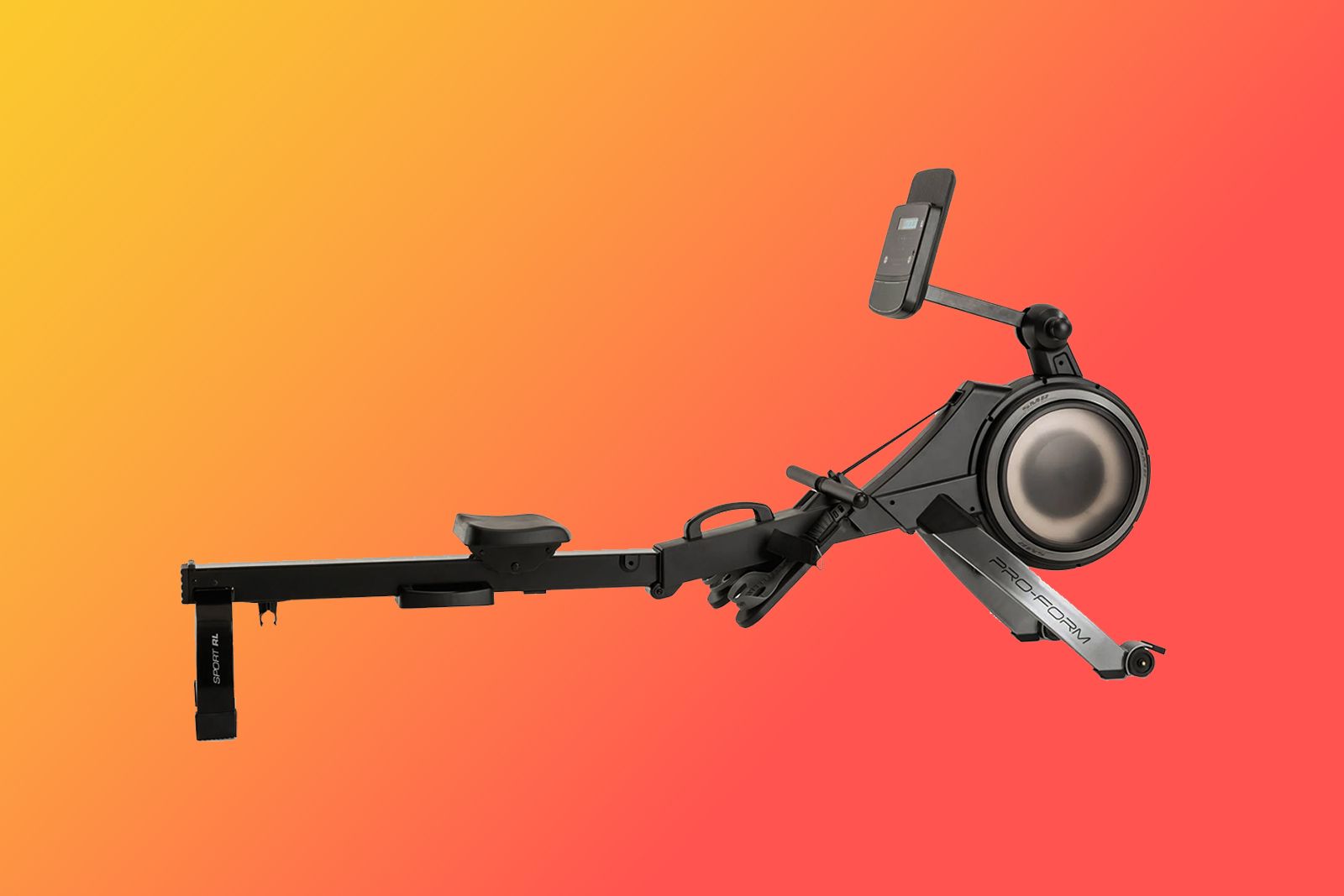 Pro-Form/ Pocket-lint
Pro-Form Pro 750R Rower
5. Best value option
Compact, light and more affordable than most
The Pro 750R Rower might lack a fancy display with epic speaker array, but it keeps the cost down because of this. What's more, it will happily play nicely with an iFit subscription, so long as you bring your own smartphone or tablet to do the screen work. The machine is lighter and slimmer than anything else on this list, making it easy to fold (assisted by a unique SpaceSaver mechanism) and store when not in use. Granted, this isn't the smallest machine on sale, but it's the perfect compromise between space-saving and a quality rowing experience.
Pros
Magnetic resistance is quiet
Machine is easy to fold and store
Resistance can adjust automatically in-line with workout
Cons
Digital display feels basic
Max weight capacity fairly low
Not the best looking machine
How we selected these rowing machines
There's no replacement for rolling up your sleeves and getting stuck in, which is exactly what we did with every rowing machine on this list. With sweatband and short shorts donned, we used every machine over a period of weeks, finding out what they are like to live with, how well they fit into a domestic setting and how long it took before the novelty wore off. Personally, I had the Ergatta, Hydrow, and Concept2 and tested them in my studio, and tested the NordicTrack and ProForm at gym test-sites.
As keen fitness enthusiasts, we partake in an activity that gets the blood flowing on a daily basis, and when it came to testing these rowing machines, that meant partaking in as many connected classes as possible. Or, if they weren't available, we made up our own High Intensity Interval Training programmes and went hell for leather, so you don't have to. Thank us later.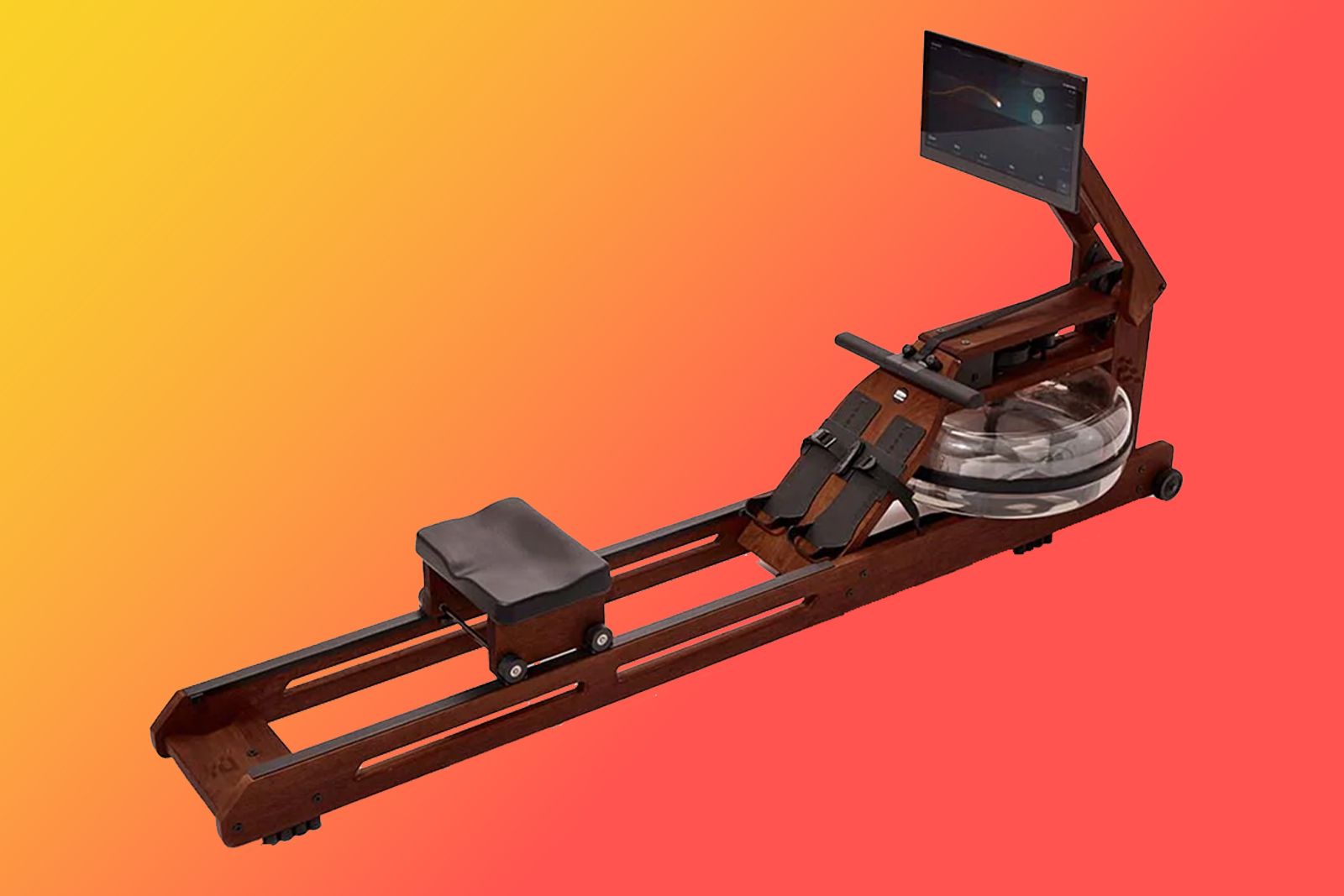 WaterRower/Pocket-lint
WaterRower Ergatta Rower
Editor's Choice
$2099 $2499 Save $400
Where style meets substance, WaterRower's interactive Ergatta machine is hands-down one of the best indoor rowing experiences we have tried. Not only do you get a gorgeous American Cherry wood frame, you also get the gamified Ergatta experience beamed to a 17.2-inch HD display.
How to choose there best rowing machine for you
Size: This really comes down to how much space you have at home, or in the domestic fitness setting you plan to use the rowing machine in. We suggest studying the dimensions online and heeding any advice about allowing additional space around the machine to move. There's nothing worse than slamming your back into a wall with every rowing stroke.
It's also beneficial to look for an easy folding mechanism, wheels and other elements that generally make maneuvering the machine that bit easier.
If you're going to buy the machine, install it and leave it, brilliant. But for those less fortunate, you might find yourself folding and storing a machine vertically after use to save space. This gets tricky when the machines are heavy and bulky.
Features: Most machines will come with some sort of display that will allow you to see basic rowing metrics, such as stroke rate, power output, time elapsed and a split time over a certain distance (typically in 500m intervals). This will allow you to partake in the most basic workout, where you perhaps beat the previous time it took you to get to the 500m mark, for example.
On top of this, looks out for the basics, such as the maximum user weight (a good indication of build quality), if it has a place to stash a tablet or smartphone and any convenience features that will help you move and store it.
Resistance system: In general, rowing machines use three methods to generate the resistance: air, magnetic or water. All of these have their benefits and drawbacks. Electronically-controlled magnetic resistance tends to be whisper quiet and users have plenty of control over the resistance levels, but the rowing stroke doesn't feel particularly natural. Air and water resistance offer the best power curve and most natural rowing sensation, in our experience, but these can be noisy (particularly air resistance) and the amount of control over resistance levels is limited.
Connectivity: Arguably one of the most important factors for many modern users is connectivity, and that isn't just whether the machine has a large touchscreen display or not. Many machines on this list will be Bluetooth and Ant+ enabled, meaning you can pair things, like your Apple Watch or chest-based heart rate monitors, to get the most out of your workout and to seamlessly integrate the machine into your existing digital health and fitness ecosystem.If the budget can't quite stretch to a machine with a large display, fret not, because in most cases you can pair a tablet or smartphone and get a very similar experience. Here, it pays to look out for USB ports to charge said device and a cradle to house it safely during a workout.