Computers
Best Sony headphones: Over-ear, in-ear, and floating
Choosing your next great pair of headphones has gotten a lot more complicated than it used to be. Few smartphones have headphone jacks and the world seems to belong to AirPods – and earbud models that look like AirPods. A few things remain consistent, though: headphones have to sound good, they have to be comfortable to wear, and they ideally should give you some amount of control over what you hear in the world around you. Few companies hit it out of the park in all three categories as frequently as Sony – and Sony headphones are experts at active noise cancelation and sounding fantastic.
There's a growing list of proprietary audio and Bluetooth features that are exclusive to each company's new offerings, and there's intense focus on small, portable earbuds over every other kind of audio device. But there's still something to be said for the function and performance of other models. So we've built this guide below around the best options Sony has to offer, whether you're looking for classic over-ear headphones, the industry standard for sound editing, or the innovative "float" option for runners.
Sony / Pocket-lint

Sony WH-1000XM4

1. Best overall Sony headphones

Sony / Pocket-lint

Sony WH-1000XM5

2. Best premium Sony headphones

Sony / Pocket-lint

Sony MDREX155AP

3. Best value Sony headphones

Sony / Pocket-lint

Sony WI-C100

4. Affordable Bluetooth headphones

Sony / Pocket-lint

Sony Float Run Open-Ear Headphones

5. Perfect for long runs
Our picks for the best Sony headphones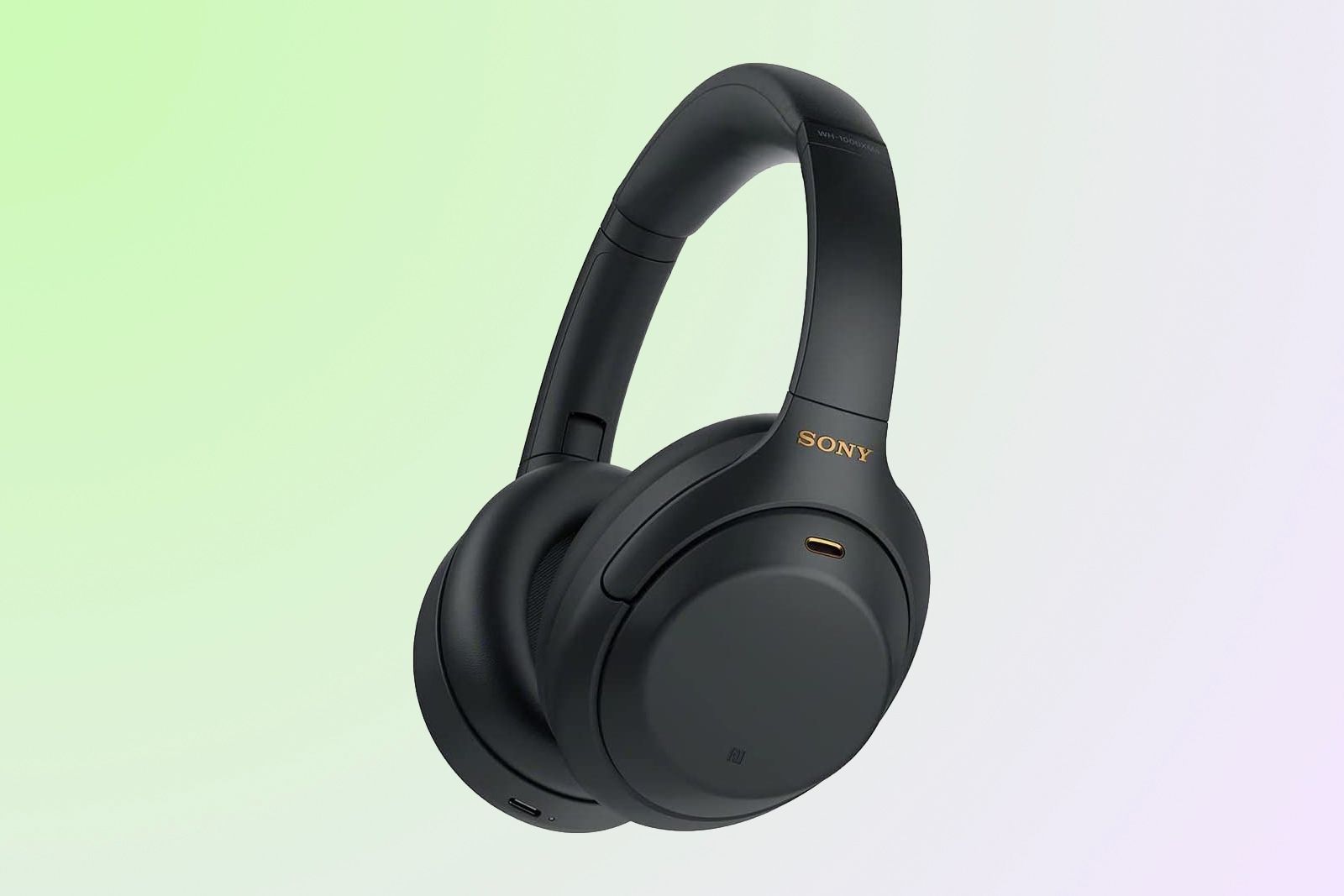 Sony / Pocket-lint
Sony WH-1000XM4
1. Best overall Sony headphones
They got it right the first time
Sony's previous generation WH-1000XM4 Wireless Noise Canceling Headphones get up to 30 hours of battery life, have great noise cancelation, and a ton of smart features that can adjust volume on the fly.
Pros
Great noise cancelling
Long 30 hour battery life
Smart volume features
Sony's WH-1000XM4 are technically last generation, but in terms of bang for your buck, you're getting "industry leading" noise cancelation, long battery life, support for 360 Spatial and Hi-Res Audio, and smart features that can automatically duck audio when someone is speaking to you. Controlling audio is handled either with Sony's companion app or the touch panels on the outside of the cups which may leave you wanting for physical controls, but the design is otherwise endlessly cozy.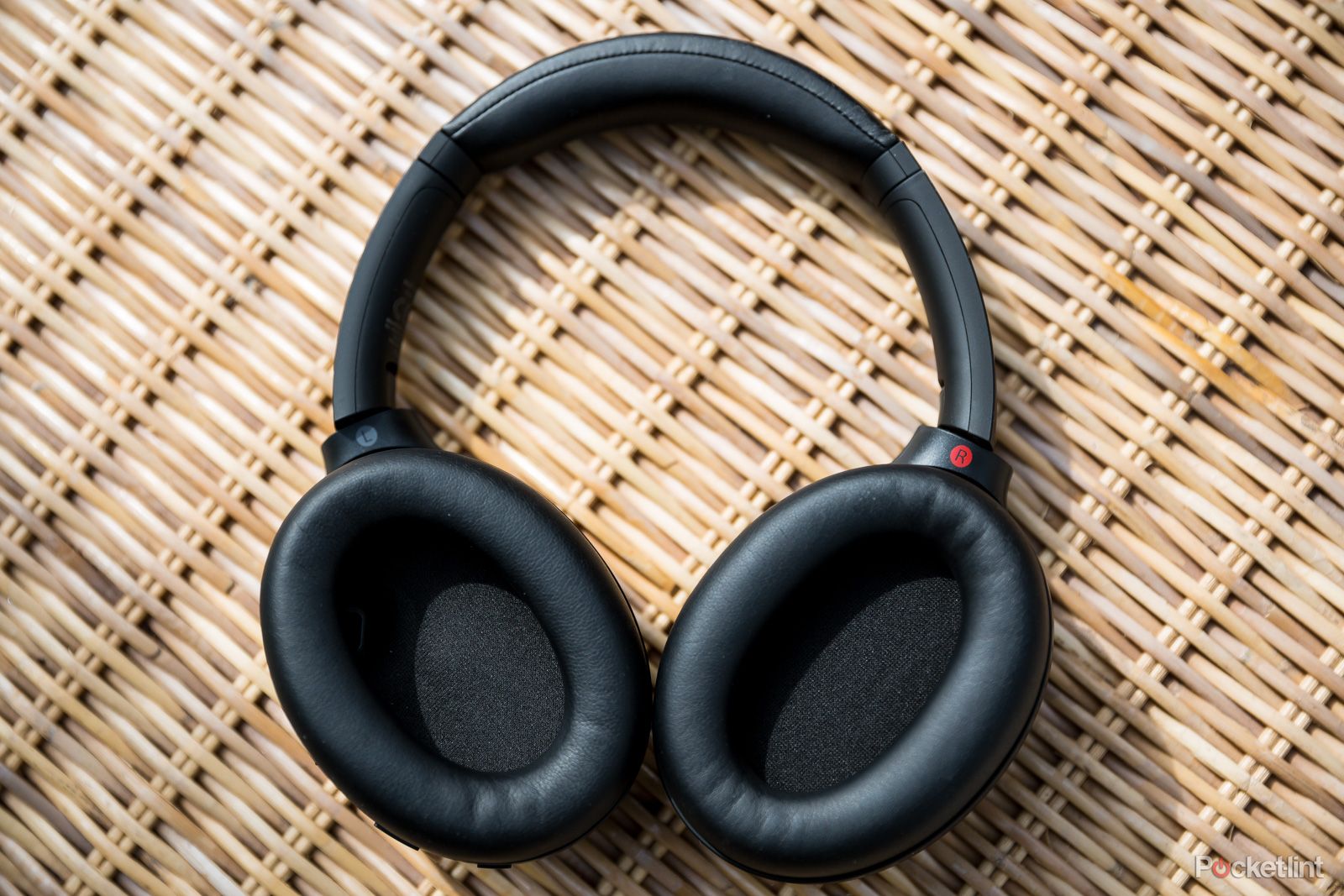 They don't exactly look modern, but they come in a variety of colours, and if you can buy great headphones for $50 less (or even more if you buy them refurbished) than what the current generation WH-1000XM5s cost, how could we not recommend them? Sony already got it right, everything else is overkill.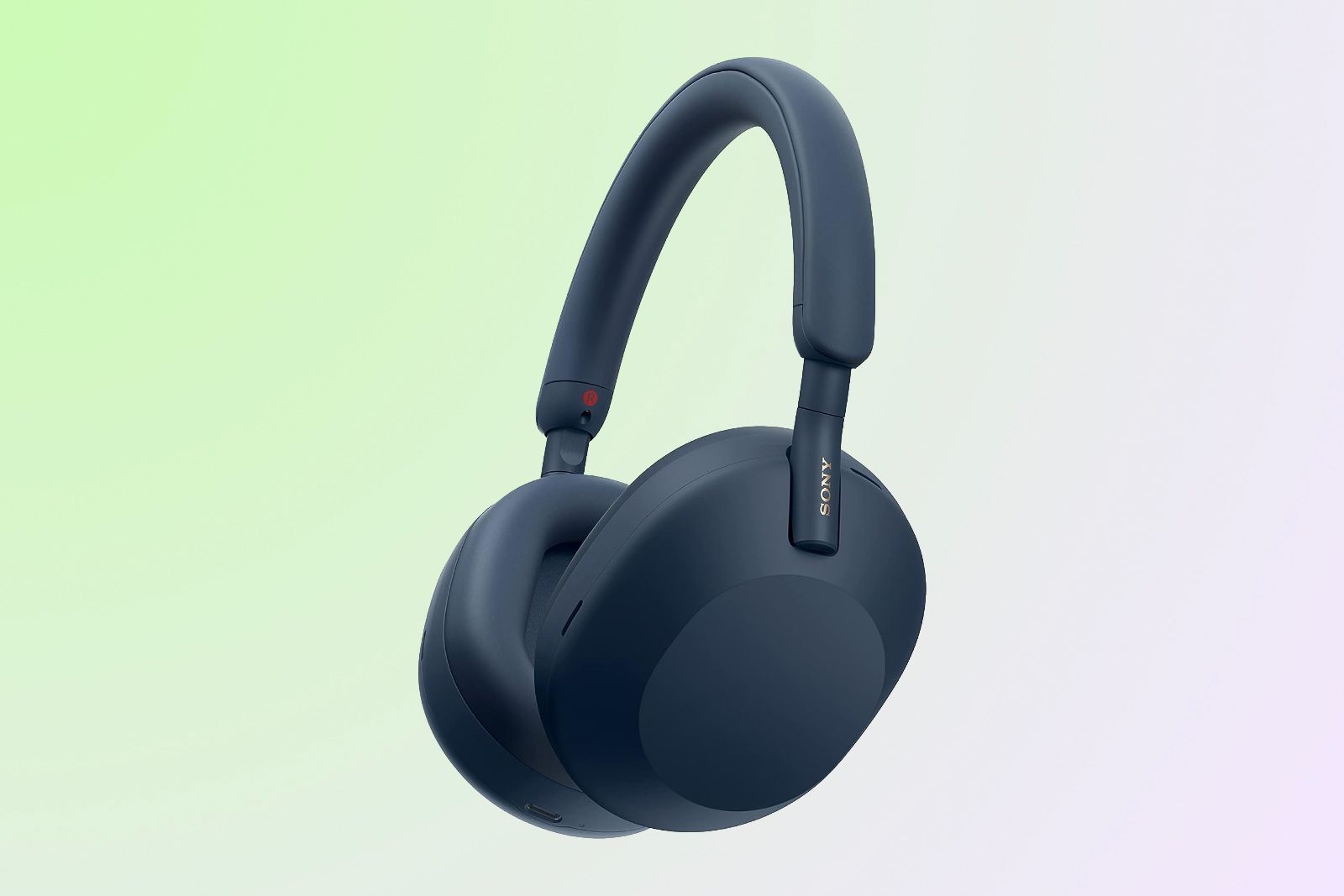 Sony / Pocket-lint
Sony WH-1000XM5
2. Best premium Sony headphones
Modern redesign
Sony's current WH-1000XM5 Wireless Noise-Cancelling Headphones sport a new design, up to 30 hours of battery life, support for High-Res Audio and Google Fast Pair for connecting to smartphones.
Pros
Even better ANC
Google Fast Pair
30 hours of battery life
Not that there's anything wrong with overkill. The Sony WH-1000XM5 takes almost everything great about the previous WH-1000XM4s and takes them to the next level. Noise canceling is even more impressive, the design is more modern and light, and battery life is…the same. The only real disadvantage is that they cost $50 more than the previous generation.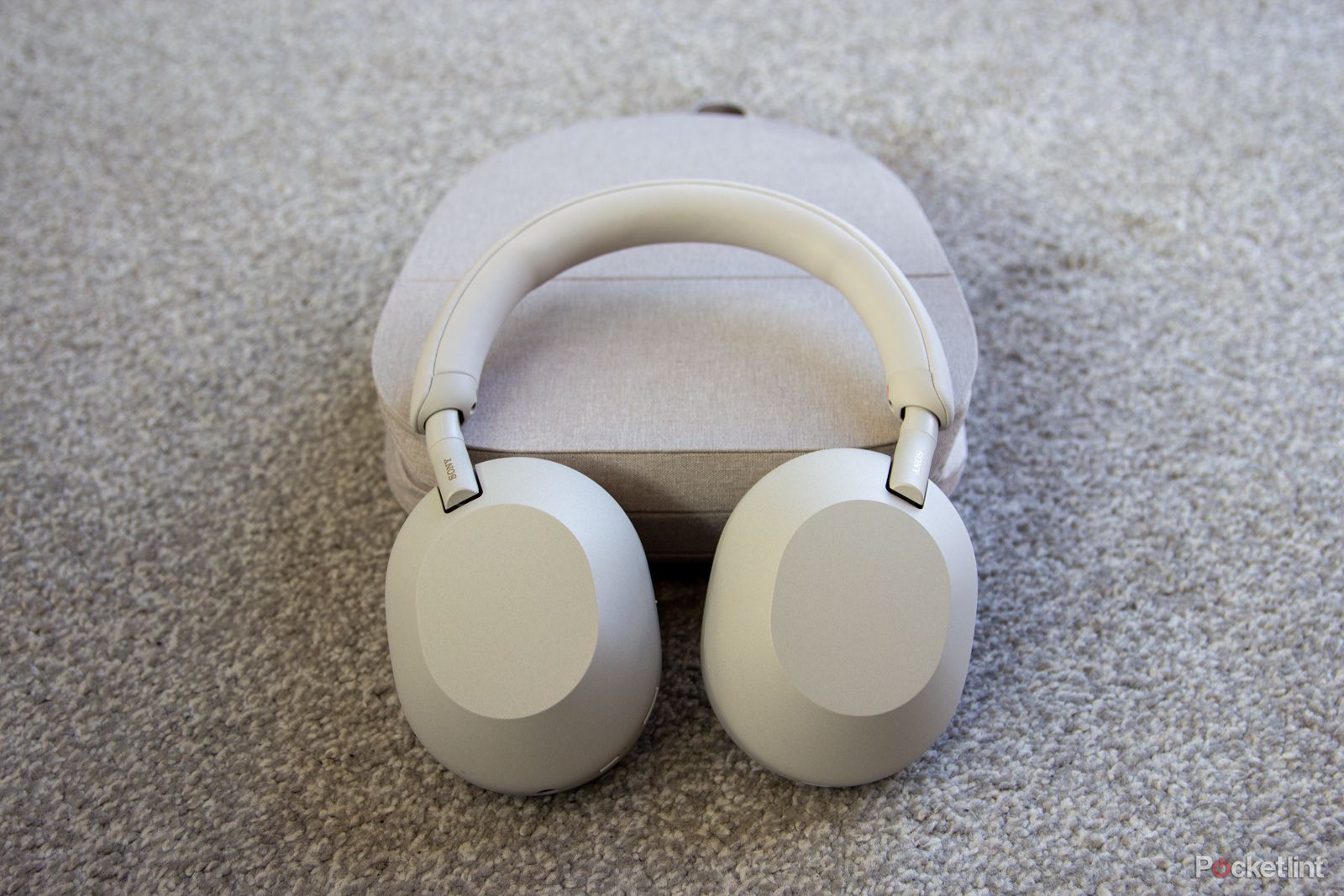 Handy new features like Google Fast Pair (Google's version of that instantaneous connection prompt you get on Apple's AirPods) might make up for that difference, but then again, the new modern design means the WH-1000XM5s don't fold down as small as the WH-1000XM4. It's by no means a deal breaker, but something to consider if space in your backpack is a concern.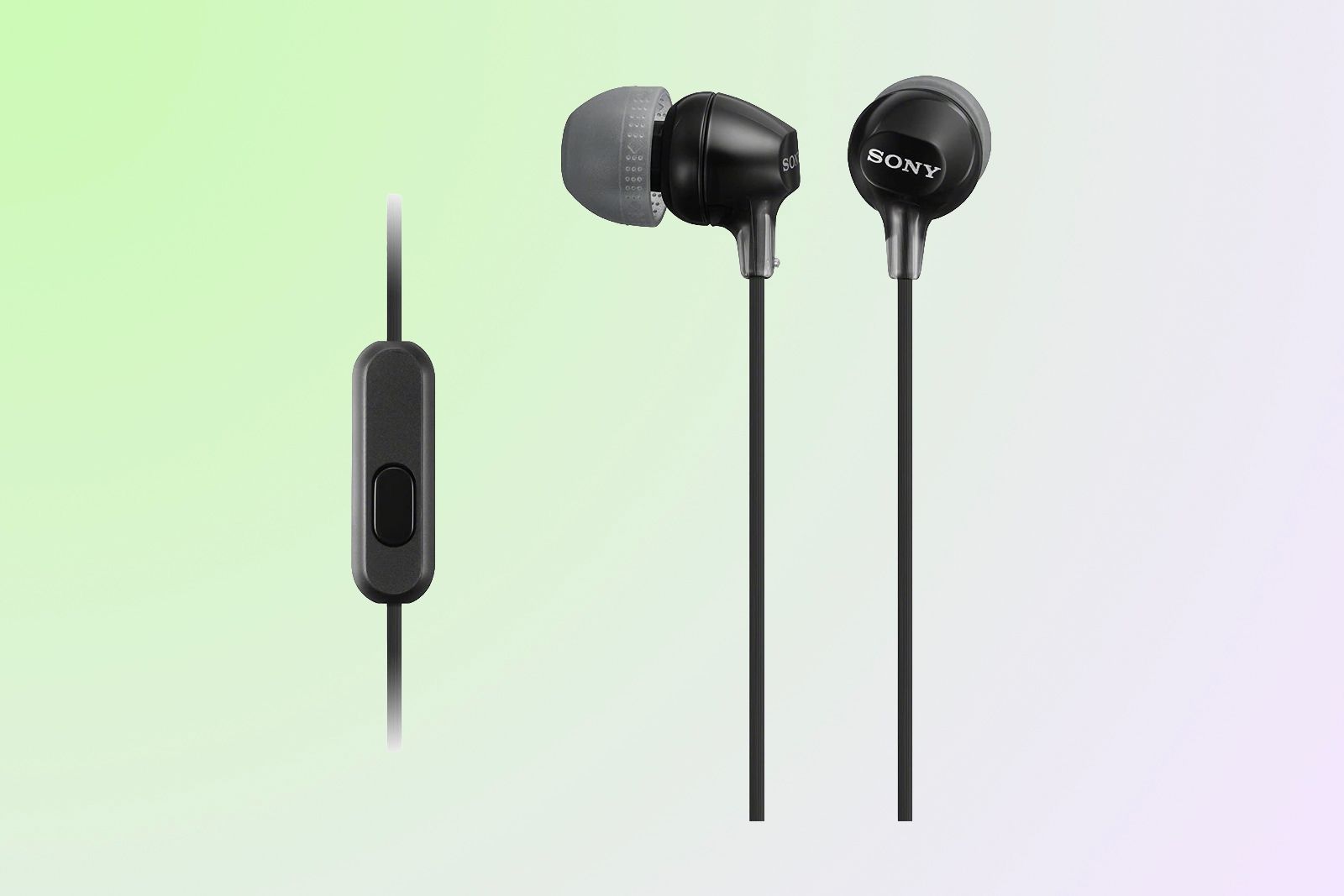 Sony / Pocket-lint
Sony MDREX155AP
3. Best value Sony headphones
You can't beat wired headphones
$10 $20 Save $10
The Sony MDR-EX15AP Wired In-ear Headphones are cheap wired headphones with 9mm drivers, multiple swappable sizes of silicone earbuds, and tangle-free cords.
Pros
Super affordable
9mm drivers
Comes with multiple silicone ear tips
Cons
Not the best sound
They will tangle
Everyone needs a cheap pair of wired headphones. Wireless earbuds batteries die, over-ear headphones don't fit in every bag, but wired headphones are always ready to use and fit just about anywhere. Sony's MDR-EX15AP Wired In-ear Headphones with Microphone are light, affordable, and should pump out respectable audio despite their size with 8 Hz to 22 kHz frequency range.
The MDR-EX15APs ship with multiple silicone earbud tips, so you can find the pair that fit your ear best and also have "tangle-free" cords, which should keep things at least somewhat neat when you shove them in a bag or pocket.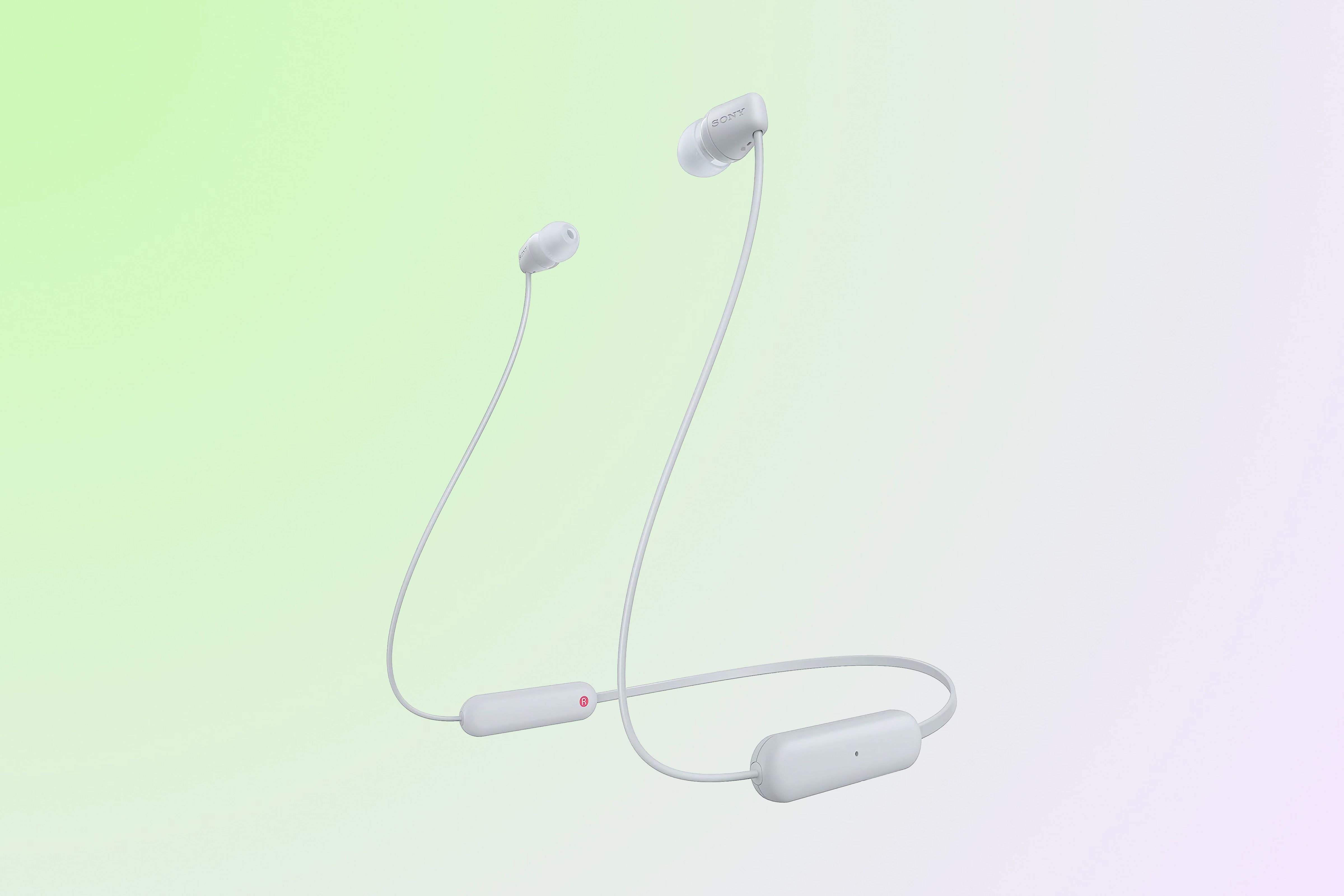 Sony / Pocket-lint
Sony WI-C100
4. Affordable Bluetooth headphones
Wireless and sweat proof
Sony's WI-C100 Wireless In-ear Headphones technically do have a wire connecting either side, but are otherwise Bluetooth all the way, with up to 25 hours of battery life, IPX4 water resistance rating, and actual physical buttons for controlling playback.
Pros
IPX4 rating
360 Reality Audio
Physical buttons
Cons
Less battery
Design is a little goofy
You could think of the Sony W1-C100s as a wireless version of the Sony's MDR-EX15AP wired headphones. The individual in-ear buds are still connected to each other and batteries on either side, but there's a wireless connection to your devices. It's not the most elegant option, but it's ridiculously affordable.
For a little bit more than the MDR-EX15APs you get up to 25 hours of battery life, headphones that are splash and sweat proof, and Sony's 350 Reality Audio for spatial audio experiences. Is it necessary? No. But is it cool? Yes!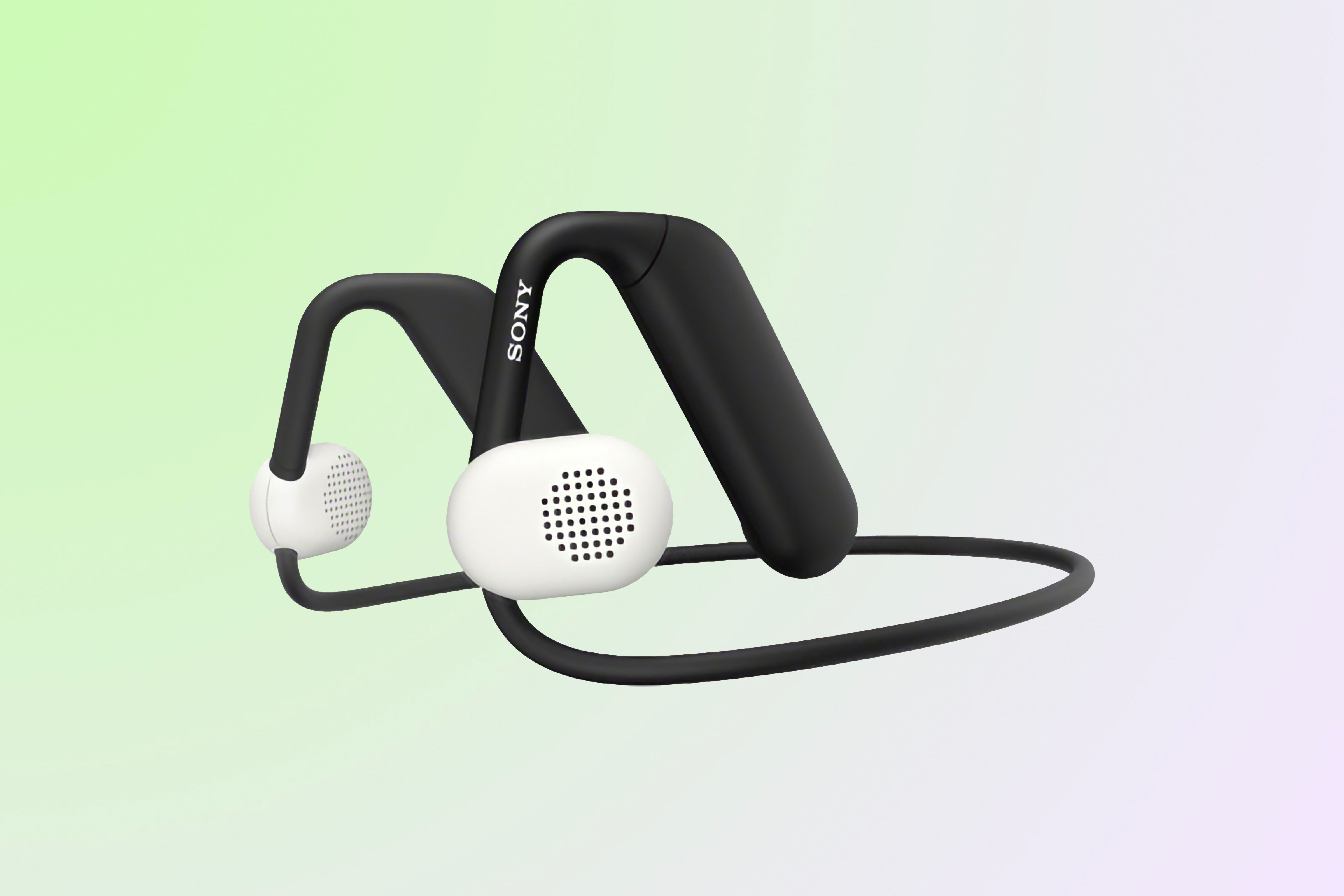 Sony / Pocket-lint
Sony Float Run Open-Ear Headphones
5. Perfect for long runs
Your ears will be free
Specifically designed for running, Sony's Float Run headphones are as light as possible so you don't actually feel them while you're wearing them.
Pros
Designed for runners
IPX4 water resistance
Open-ear keeps you aware
The Sony Float Run Open-Ear Wireless Headphones are built so that they "float" over your ears rather than cover them or go in them. This lets you hear more of the world around you (to prevent accidents while exercising outside) and gives audio from your headphones more of a natural sound.
Besides looking a bit weird to achieve that off-ear design and equally distributed weight, the Float Runs get up to 10 hours of battery life, and IPX4 water resistance which means your headphones are protected from sweat. And if you find the out of ear "float" to be your perfect style, you might want to dip your toes in bone conduction headphones in the future.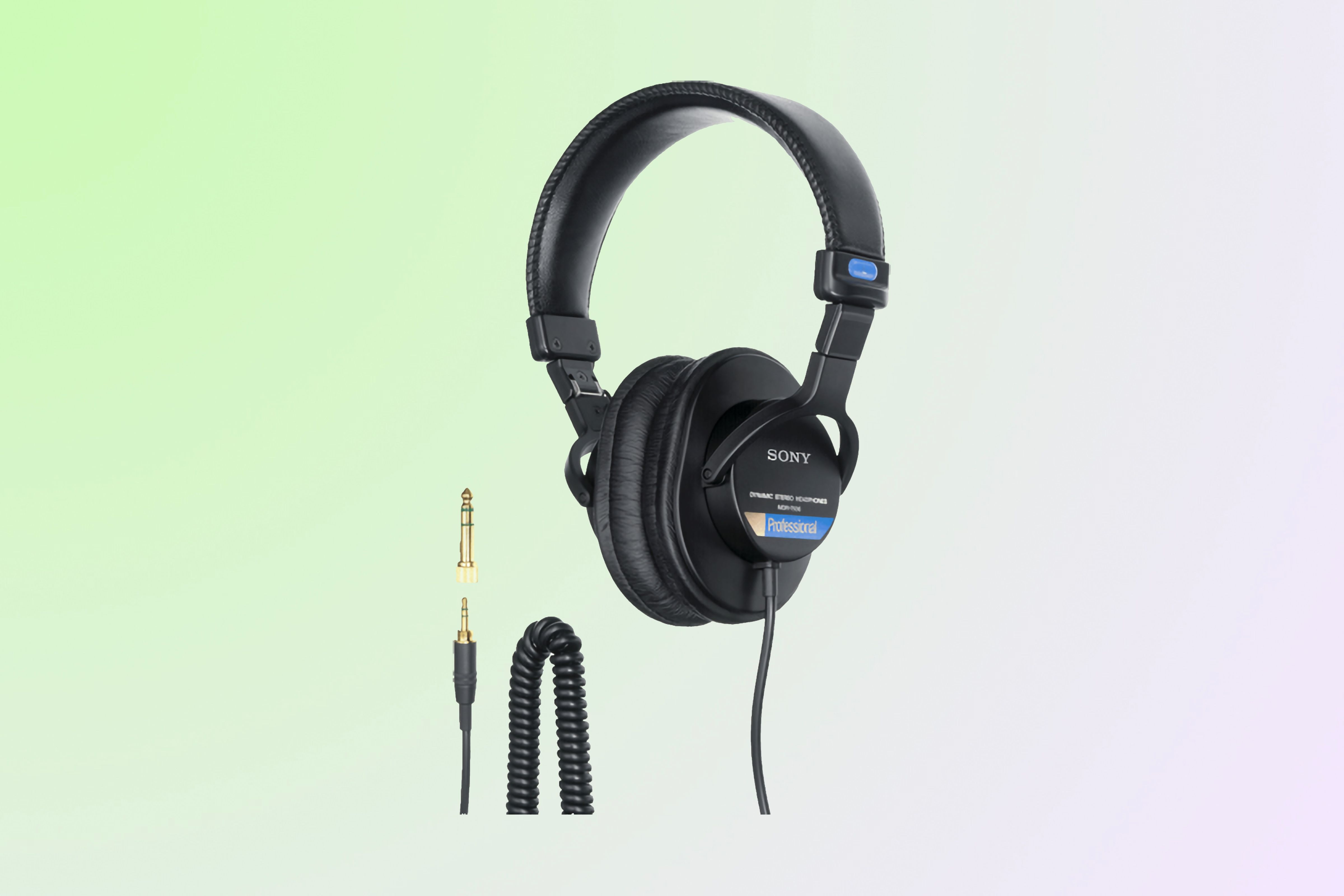 Sony / Pocket-lint
Sony MDR7506
6. The go-to for professionals
Old reliable
$100 $130 Save $30
Sony's MDR-7506s are a classic of the professional audio world, designed for monitoring audio in the studio or out in the field, with a 3.5mm adapter to boot.
Pros
40mm drivers
Designed for longevity
10 Hz to 22 kHz frequency range
The MDR-7506 Stereo Monitor Headphones are intended for professional audio use, editing video and audio, recording sound, and more. They're bare bones in terms of smart features, but in return they come with powerful 40mm drivers, 10 Hz to 22 kHz frequency range, and a rugged design that's meant to take a beating.
Step into any editing lab at a film school and you're bound to find a pair of MDR-7506s connected to a computer. They're work-horse headphones, not overly bass-y, but good enough to handle wide-ranging types and qualities of audio recordings without issue. Plus they come with their own 3.5 mm to 6.3 mm adapter.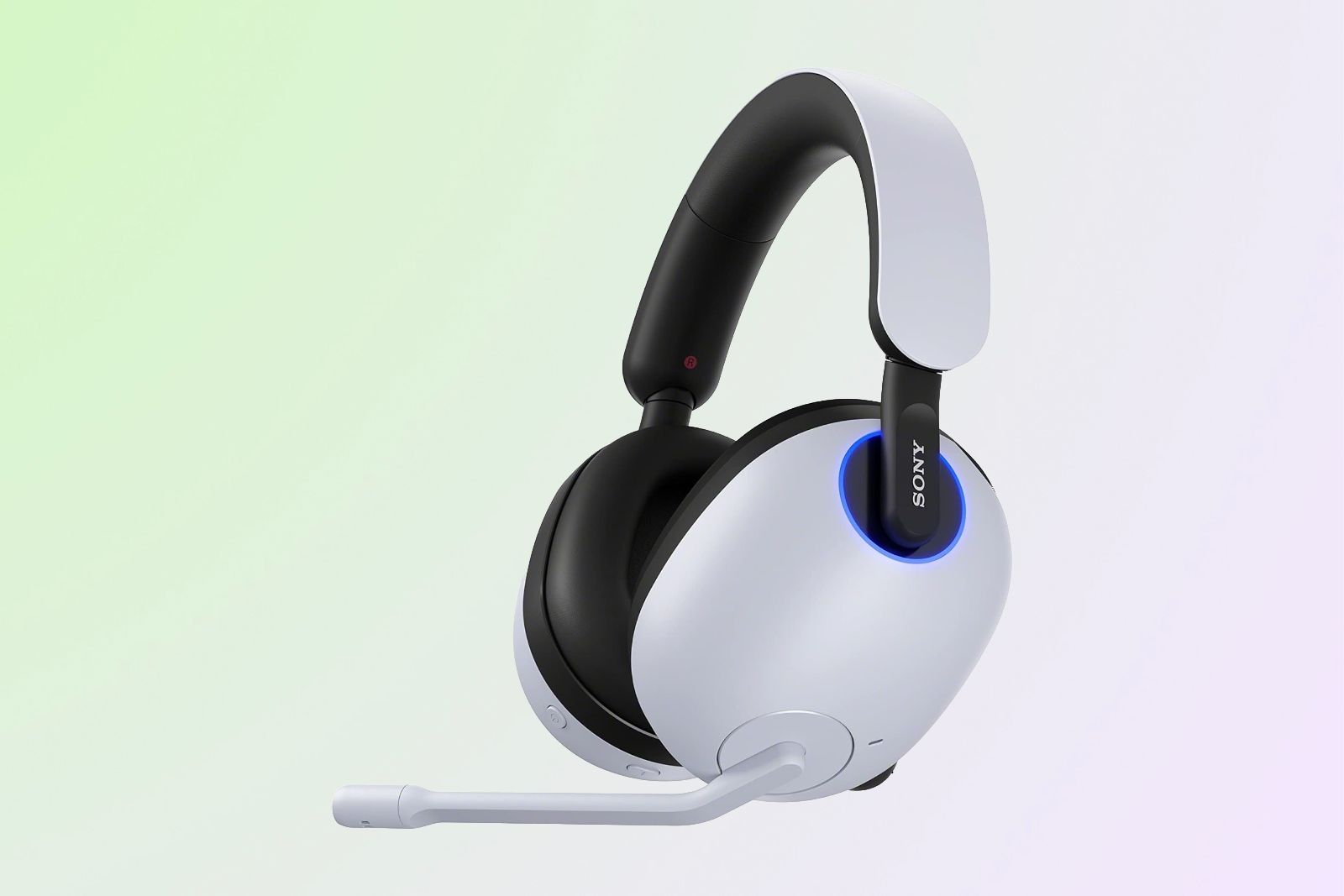 Sony / Pocket-lint
Sony INZONE H9 Gaming Headset
7. Spatial audio for gaming
For PS5 and PC
$244 $300 Save $56
The Sony Inzone H9 Wireless Noise Cancelling Gaming Headset has premium audio features like noise cancelling, a bidirectional mic, and a dongle that makes it work on PS5 without lag.
Pros
Noise cancelling
Boom mic can automatically mute your audio
40mm drivers
Cons
Plastic-y finish
Dongle required
The Inzone H9 Wireless Noise Cancelling Gaming Headset is Sony's attempt to make wireless headphones designed for gaming, that work just as well for PC games as they do playing on your PS5. The PS5 originally launched with the Pulse 3D Wireless Headphones, which similarly offer spatial audio and active noise cancelling, but the Inzone go a bit further.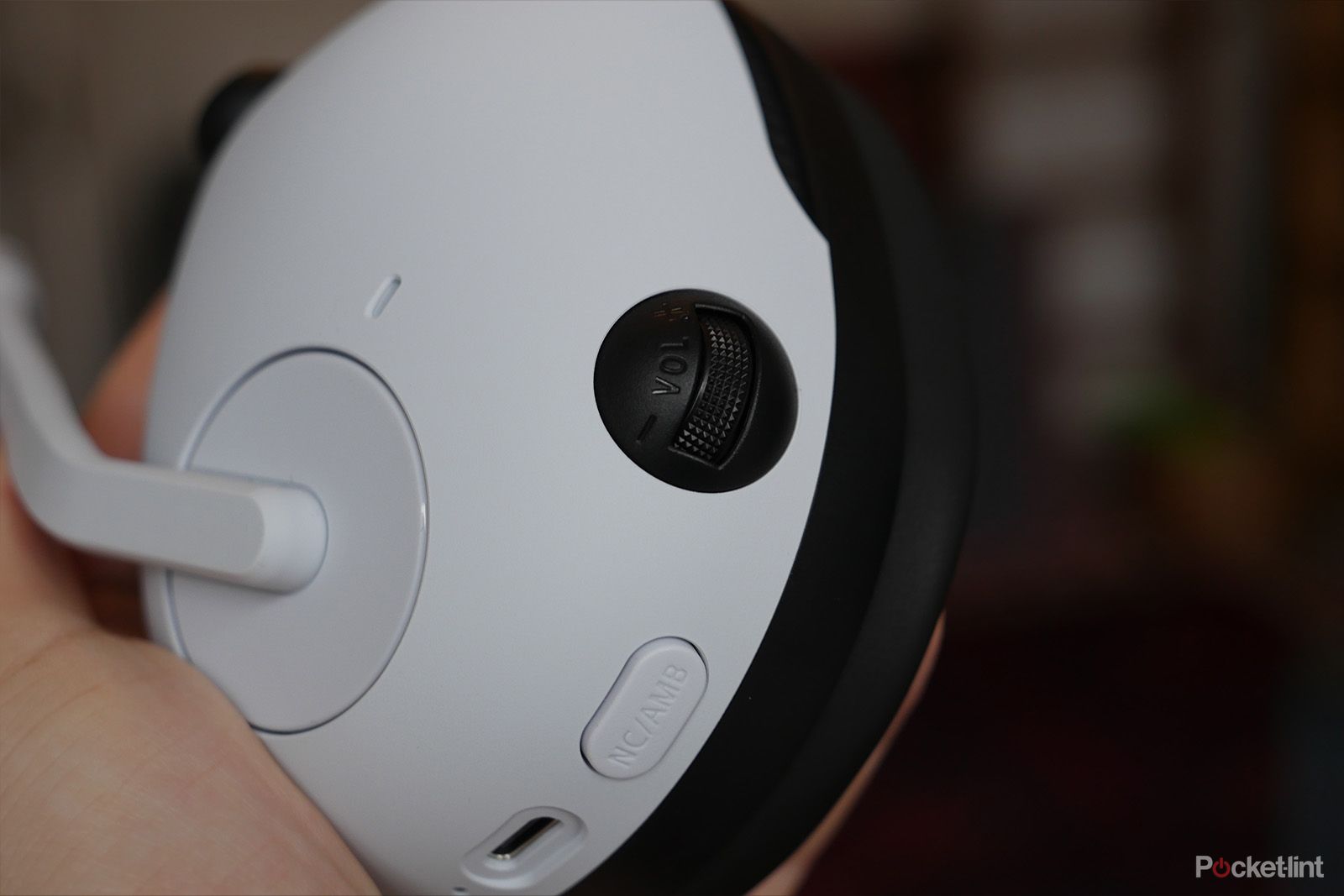 The H9 is called a headset because it has a bidirectional boom mic that can be slid up and down to mute your audio. Like Sony's more premium wireless headphones it can also intelligently adjust the volume of your audio to let you hear someone talking to you, a phone ring, or a doorbell.
Sony / Pocket-lint
Sony WH-CH720N
8. The entry-level noise cancelling experience
Get in on the ground floor
$148 $150 Save $2
The Sony WH-CH720N are cheap, noise cancelling headphones that aren't made with premium materials, but do give you the basics you'd want from Sony.
Pros
Noise cancelling is surprisingly great
35 hours of battery life
Wind noise reduction
You shouldn't have to pay over three hundred dollars to get a taste of Sony's premium active noise cancellation. Luckily, Sony agrees, the Sony WH-CH720N noise cancelling headphones are the entry-level option. They get up to 35 hours of battery life, offer high-quality call performance over Bluetooth, have automatic wind noise reduction, and physical buttons for controlling playback.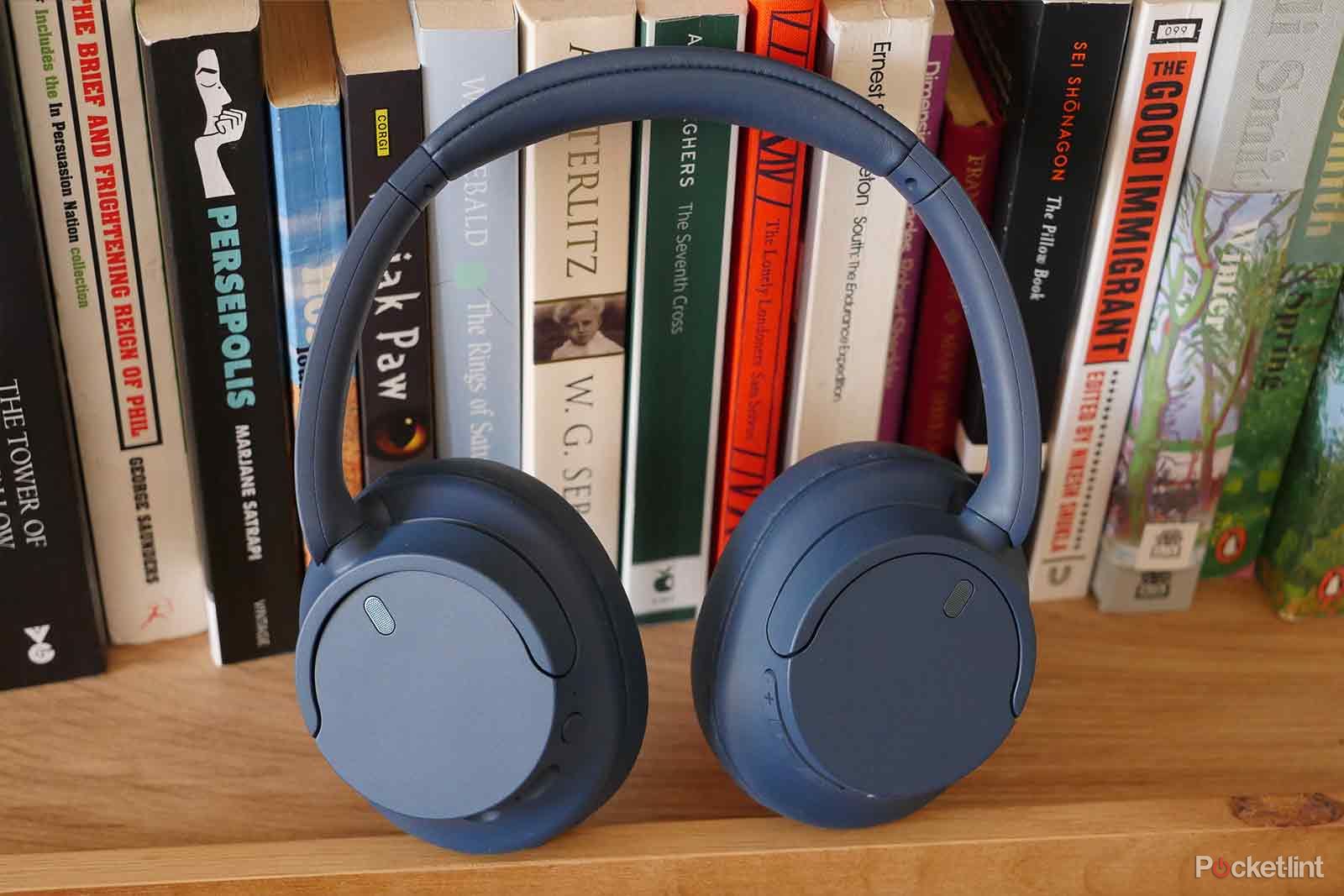 The only real downsides are, perhaps unsurprisingly, they don't feel as nice to hold or wear as Sony's more expensive options – they're definitely easier to break if you're not careful, and they offer no quick charging option for quickly adding some battery life before heading out for the day.
The best Sony headphones: Bottom line
Earbuds are great, but if you're looking for a more reliable listening experience or a more premium one, you're going to want headphones. And Sony makes some of the best headphones available. The Sony WH-1000XM4 might be the previous generation wireless noise-cancelling option, but they're just as comfortable as they've always been, have a long battery life, and smart features for automatically pausing audio when you take off your headphones or lowering the volume when someone speaks to you.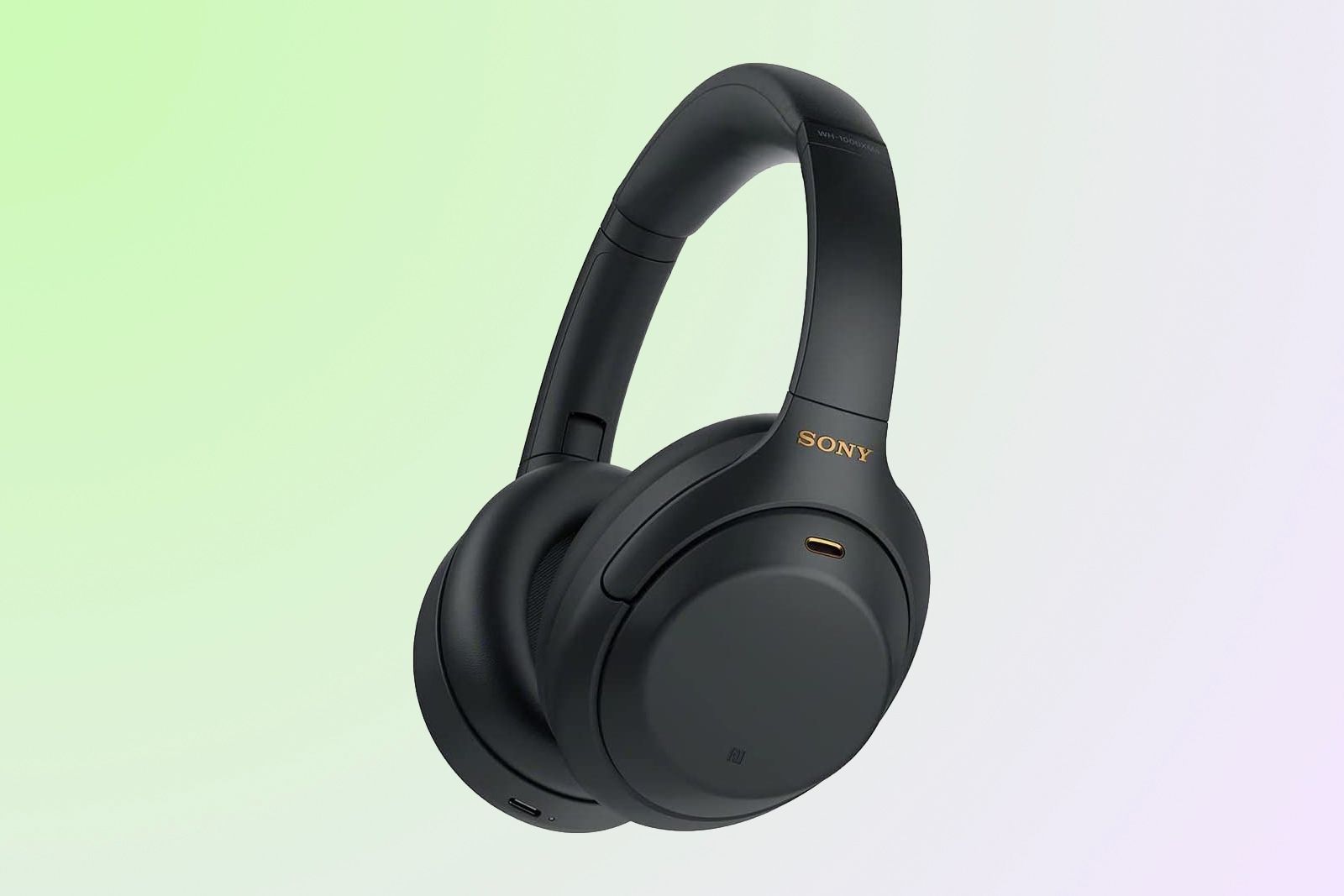 Sony / Pocket-lint
Sony WH-1000XM4
Editor's Choice
$348 $350 Save $2
Some of the most comfortable headphones ever made, with excellent noise cancelling proving to be a big bonus.
For an even more premium experience, the new Sony WH-1000XM5 is the better choice. The new design means your headphones will be even more comfortable to wear, the active noise cancellation is even more capable, and the battery life lands squarely in the same 30-hour ballpark. New to the WG-1000XM5s is Google Fast Pair, which makes it even easier to set up the headphones too.
If you're trying to save money, there's no shame in choosing wired headphones. The Sony MDR-EX15APs are cheap, sound good enough, and have a built-in mic capsule for taking calls. You can also customise the MDR-EX15AP's fit to make it as comfortable as possible with its multiple silicone ear tips.
How we picked the best Sony headphones
We've tested and reviewed several of Sony's most recent headphones on both the premium end and entry-level, and have experienced a wide spectrum of the headphone options available. We made our picks based on fit and comfort, audio quality, nice-to-have features like active noise cancellation, smart controls, and battery life. Our list should represent the best across all of those criteria.
How to choose the best Sony headphones for you?
If you're considering which headphones to buy for yourself you've got to think about what you're going to use your headphones for and for how long. If price and battery life are your biggest concerns, you might not want over-ear headphones. If noise cancelling is the only thing you care about, your best is one of Sony's premium flagship headphones like the WH-1000XM5s.
Wherever you land, Sony has a surprising amount of selections to choose from, covering everything from running wireless headphones that hover above your ears rather than covering them up for more spatial awareness while you're exercising, to professional wired headphones for mixing your next short film.