Computers
Bose goes Ultra with game-changing updates to QuietComfort headphone line-up
Key Takeaways
Bose has announced three new products in their QuietComfort headphones range: the QuietComfort Ultra Headphones, the Ultra Earbuds, and the entry-level QuietComfort Headphones.
The Ultra line features the new Bose Immersive Audio feature, which creates a wider soundstage and enhances the overall listening experience.
The Ultra headphones have a modern design, improved noise cancellation, advanced microphones, and offer 24 hours of battery life, while the Ultra Earbuds offer better call quality and a sleeker design. Prices range from £299.95 to £449.95.
If you keep your ear to the ground in the world of consumer tech, then you may well have heard the rumours about Bose's next big launch – and it is finally here, with three new products announced across the breadth of its QuietComfort headphones range.
Arguably the biggest news from the launch is a brand new pair of flagship over-ears – the Bose QuietComfort Ultra, which will replace the aging Noise Cancelling Headphones 700, released in 2019. However, there are also new QuietComfort Ultra Earbuds, replacing last year's QuietComfort Earbuds II, and the QuietComfort Headphones, which will replace the QuietComfort 45.
As you'd expect from a Bose QuietComfort line, all are promising the very best in noise cancellation, alongside high-quality audio and comfort. But the Ultra line has a little something extra to shout about, in the shape of Bose Immersive Audio.
This is a new feature for Bose, which promises to create a wider, more spacious soundstage, to bring a more layered, multi-dimensional experience to your music. This effect will ultimately spatialise your sound, no matter the audio platform, and broaden the soundstage away from your head and out in front of you.
This effect is enabled by an onboard inertial measurement unit (IMU) and Bose's newly developed proprietary DSP software, which is unique to the Ultra Headphones and Earbuds.
There will be two options for listening – Still or Motion, which sort of do what they say they will. Select Still when you're not moving to keep the audio in one place, or Motion when you are on the go and want to keep the audio out in front of you as you move around.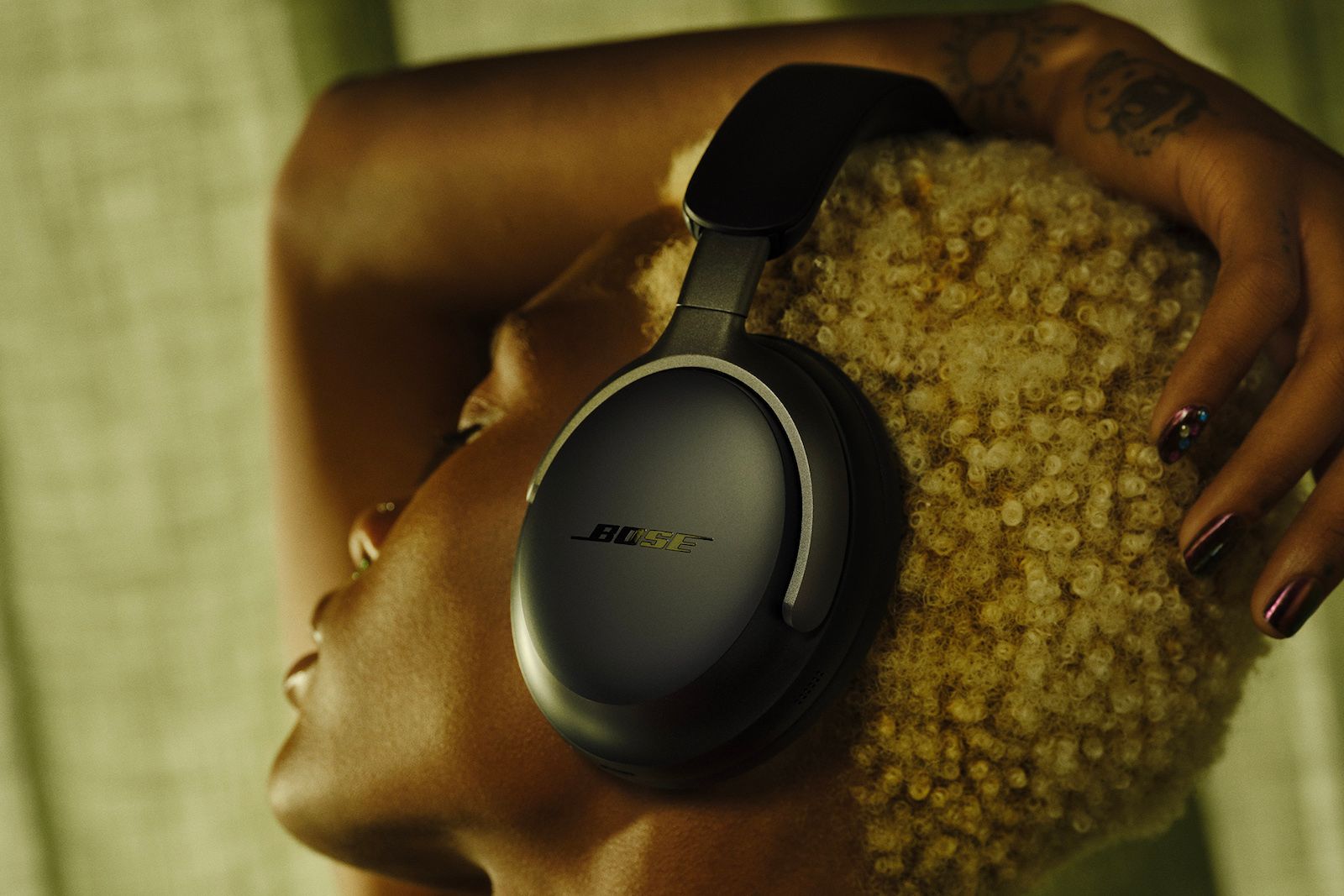 Bose
The Bose QuietComfort Ultra will arguably be capable of showing off this experience at its very best, and very right too as the range's new flagship. Replacing the Noise Cancelling Headphones 700, Bose is promising a modern, more premium design than before, while still maintaining the ability to fold flat for travel.
They've also been completely re-engineered on the inside, with proprietary signal processing, a new chipset and advanced microphones – a combo which shouldn't just improve noise cancellation, but also Bose's CustomTune audio calibration and its transparency mode, Aware – not to mention help to ensure good call clarity, with a beamform-array to differentiate your voice from 360 degrees of unwanted nearby sound.
Physical controls on the right earcup are here for playback control, with a single multifunction button, that also toggles between listening modes and handles calls, while capacitive touch strip handles volume control. You'll get 24 hours of battery life from a single charge without Immersive Audio turned off, and 18 hours with it turned on.
The QuietComfort Ultra Earbuds look to offer some more subtle tweaks on last year's QC Earbuds II, with no mention of any driver changes or sound quality improvements, outside of the addition of Bose's Immersive Audio mode here too.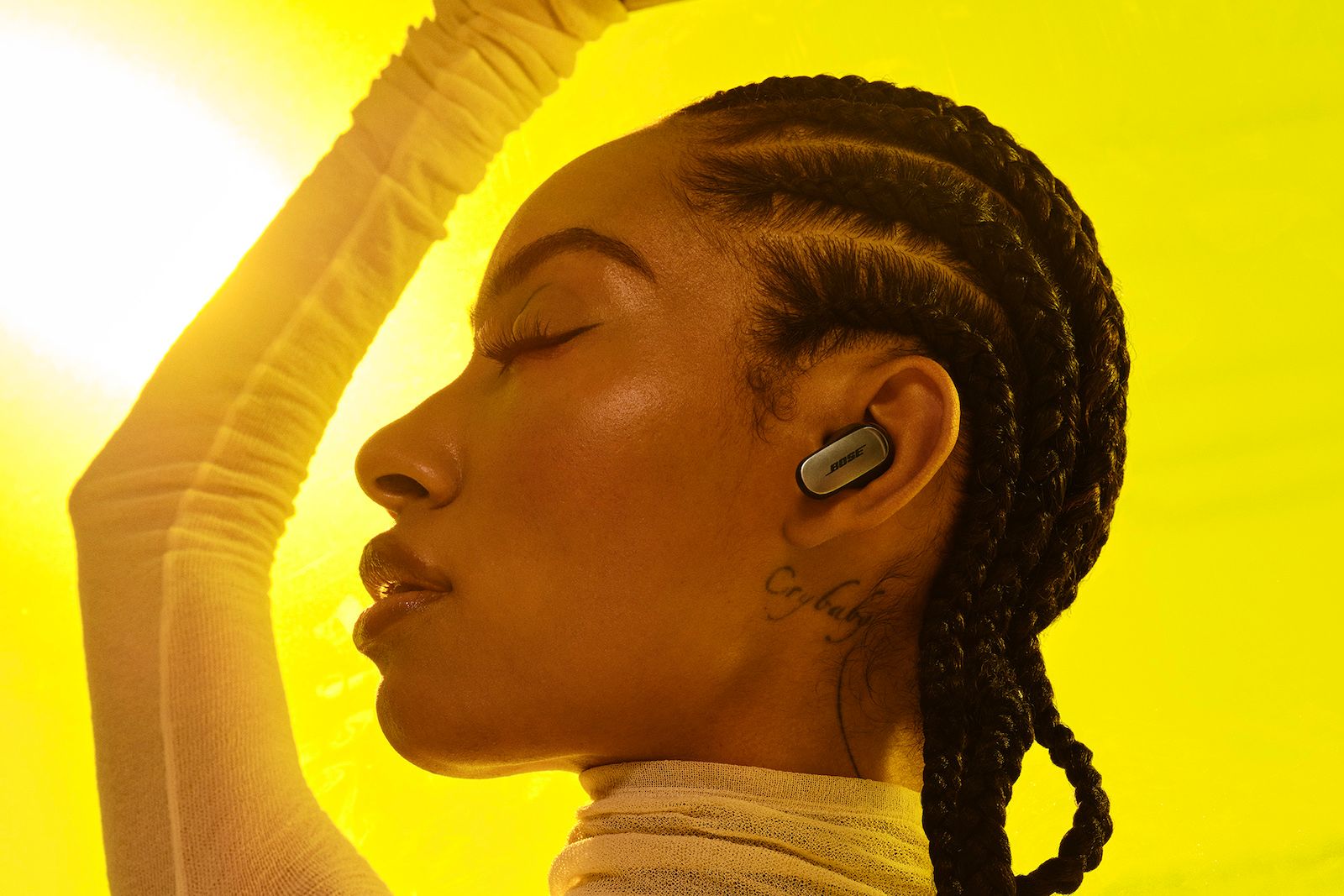 Bose
However, Bose has said the Ultra Earbuds should offer better call quality in less-than-ideal environments thanks to new dynamic microphone mixing and adaptive filters, plus they look even better now too, with a new metallic treatment for a sleeker and more luxurious look.
The earbuds' stability bands also feature an improved, interlocking fit to help ensure they are positioned correctly, delivering optimal comfort, stability, and performance.
You can expect six hours of battery life from a single charge with Immersive Audio turned off, and four hours with it switched on. There's still no wireless charging here, but an optional new charging case cover ($50) can be slipped over the case (and the older QC Earbuds II) to enable wireless charging.
Finally, the Bose QuietComfort headphones will be the new entry-level overears in the QuietComfort family, and the only headphones from the new announcement not to feature the Bose Immersive Audio.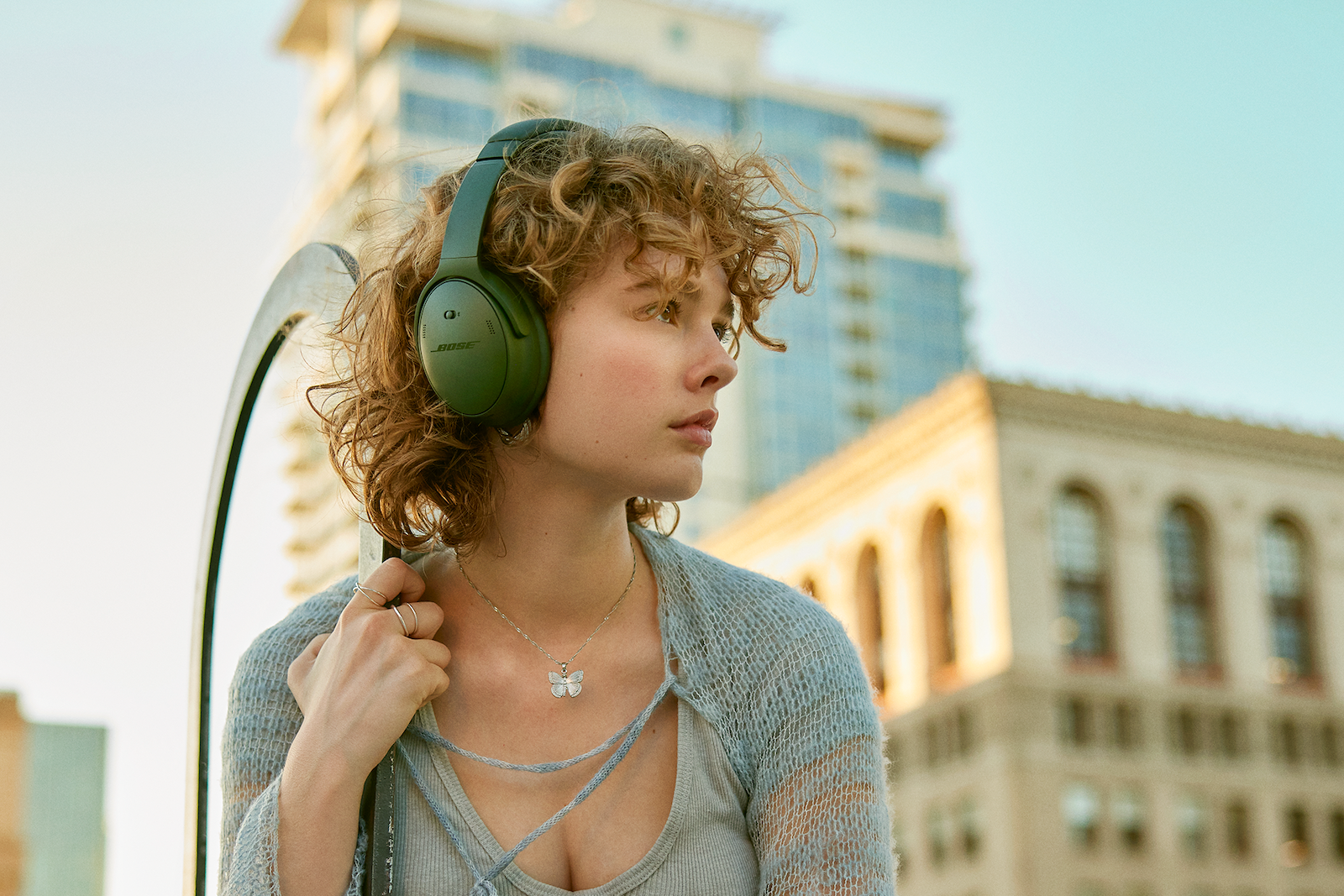 Bose
They will still come, of course, with Bose's top-notch noise cancellation, but now with the ability to adjust the level and set custom modes.
For wireless listening, there is multipoint Bluetooth 5.1 capability and up to 24 hours of battery life on a single charge via USB-C – but there's an audio cable with in-line mic included in the box for wired listening on the go.
And so how much will all of this cost. Unsurprisingly, not cheap. The QuietComfort Ultra Headphones and QuietComfort Ultra Earbuds will be available in a choice of Black or White smoke from early October, and will cost £449.95 and £299.95 respectively.
The new Bose QuietComfort Headphones are available now for £349.95 also in Black and White Smoke, plus a limited-edition Cypress Green.