Everything we know so far about the Samsung Galaxy S23 FE
Key Takeaways
The launch of the Samsung Galaxy S23 FE is expected to take place in September 2023.
The S23 FE may be powered by either an Exynos 2200 or Snapdragon 8+ Gen 1 chipset, depending on the region, and could come with 6GB or 8GB RAM and 128GB or 256GB storage.
The camera system of the S23 FE is rumored to have a 50MP primary camera and a triple camera setup consisting of a main, ultrawide, and telephoto zoom lens.
In previous years, Samsung used an 'FE' moniker to denote a phone that kept a lot of what made the Galaxy S-series great but stripped down to the essentials and launched at a cheaper price. These fan editions were typically good value for money, delivering great cameras, screens and performance.
The last one to hit the market was the S21 FE, a 'Lite' version of the Galaxy S21 and – while there were rumours that we would see it – the Galaxy S22 FE never happened. At launch, the S23 FE could be Samsung's first 'Fan Edition' S-series phone in two years.
There's been a slow build in information regarding the next FE ranging from hardware and camera specs through to launch date predictions. Here's what we've heard so far.
Galaxy S23 FE launch date?
September 2023 release date
Further markets launched in Q4 2023 and Q1 2024
Rumours surrounding the launch date of the S23 FE have been conflicting at best, and a little confusing. The most recent leak from prolific Twitter tipster, Yogesh Brar, suggests we're going to see a market release at some point in September 2023. This is despite the fact that Yogesh himself suggested the S23 FE wasn't going to happen at all earlier in the rumour cycle.
There has been a suggestion that the launch will be staggered across weeks and months, depending on region, which is typical for a lot of smartphone models.
SamMobile claimed that the launch will be staggered across different markets around the globe and that the phone could see a "limited" release in Q3 2023 to begin with – matching the September launch prediction – then seeing a wider rollout in the last three months of the year, before expanding to further territories at the beginning of 2024.
Galaxy S23 FE: Snapdragon or Exynos, region depending
Exynos 2200 or Snapdragon 8+ Gen 1 chipset – 6GB/8GB RAM – 128GB/256GB storage
4500mAh battery – 25W wired charging
One interesting rumour has suggested that the S23 FE will be powered by the Exynos 2200 processor, not the Snapdragon 8 Gen 2 that's inside the S23 series. This chipset was used by Samsung in its S22 range in Europe, delivering flagship performance (for the most part). If those rumours are accurate it would be a confusing move, delivering a new phone with a two-year-old flagship processor (by the time the phone is released).
Originally it was claimed that this chipset wouldn't just be used in Europe, but in every market where the phone is available, including the US. More recent information however suggests that we may see the old Europe/US split with the S23 FE. A leaked benchmark revealed a Galaxy S23 FE with the Snapdragon 8+ Gen 1 or Snapdragon 8 Gen 1 inside for the US/North America market, which could mean the phone will be powered by two distinct processors depending on region.
With that said, Pocket-lint has been passed information from a reliable source that the S23 FE will – indeed – launch running an Exynos processor. There's also a suggestion that the Galaxy S24 series will also include an Exynos processor in some regions.
It's also been claimed that we'll see 128GB and 256GB versions of the S23 FE, with no word on whether there will be expandable storage support. Given the S23 series features 8GB RAM, it's likely the phone will feature the same, or lower. It's been suggested it might even have as little 6GB.
As for the battery, that's claimed to be 4500mAh, just like the S23 FE, and – crucially – means more battery than the S23 regular. Although, like the S23, it's unlikely to feature superfast charging and will be limited to 25W just like most of Samsung's recent phones.
While it doesn't confirm the size or capacity of the battery, a Safety Korea certification listing – first spotted by Galaxy Club – shows an actual photograph of the internal battery from the S23 Fan Edition. The battery belongs to a phone with the model number SM-S711, which is believed to be the S23 FE.
Galaxy S23 FE: 50MP camera leading the line
50MP primary camera
Triple camera system – main, ultrawide and telephoto zoom
Not much is known about the exact makeup of the S23 FE's camera system, but it's been rumoured that we'll see a 50-megapixel primary camera, just like the S23 has. This information comes from Galaxy Club's "trusted" sources.
Design leaks have revealed a triple camera system, and it's been claimed that the primary 50-megapixel lens will be joined by an 8-megapixel ultrawide and a 12-megapixel telephoto zoom lens.
Samsung Galaxy S23 FE: Design and display
Looks just like the Galaxy A54
6.4-inch AMOLED display – FHD+ 120Hz
IP-rated for water/dust resistance
Before render leaks appeared we made an educated guess as to what it will look like, assuming – like most Samsung candybars in 2023 – that it would look something like the Galaxy S23 series. Given that the 'FE' editions typically look a lot like the S-series 'proper', it would be very unusual if the phone launched and didn't look something like the S23, with its three individual camera rings on the back arranged in a neat column.
This assumption seems to be correct if a selection of detailed render leaks is anything to go by. It's the Samsung look for 2023, and is featured across most of its phones, including the latest Galaxy A-series models. In fact, the aforementioned leaks – published by SmartPrix in collaboration with OnLeaks – show a device which, from a visual perspective, seems near identical to the Galaxy A54.
A later leak – from MSPowerUser – showed an official-looking advert which gave us a look at the expected colour range. As we'd expect, that includes black and white variants, but also includes a deep purple colour and mint green version.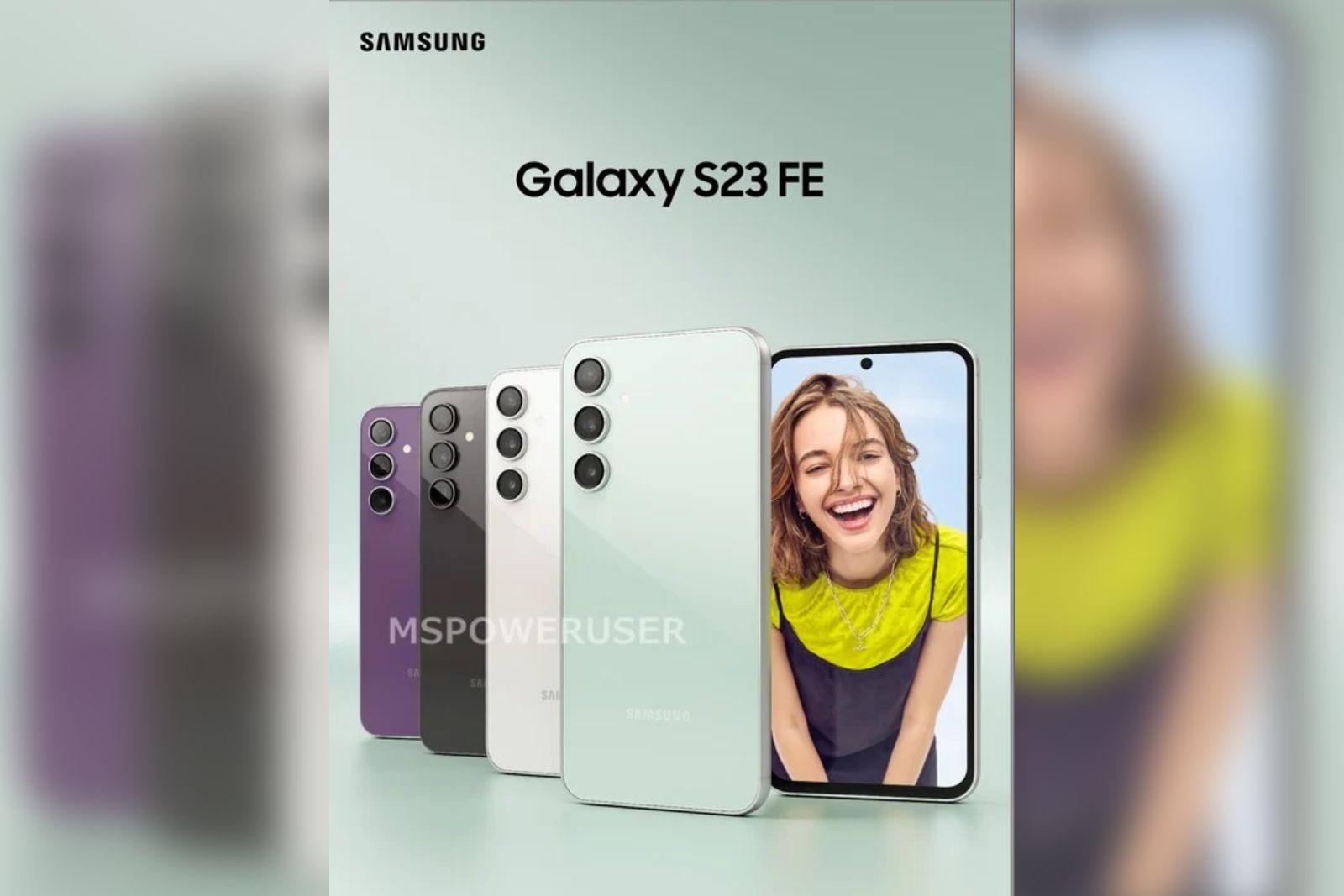 MSPOWERUSER
As for materials, we're unsure whether Samsung would opt for plastic or glass on the FE for 2023. The Galaxy A54 switched plastic for glass, and the S23 series models all feature glass backs too, so it wouldn't be too 'out there' to predict a glass, rather than plastic, back on the S23 FE. It's also claimed that it will feature some form of IP rating for water and dust-resistance too.
The display is rumoured to be a 6.4-inch Dynamic AMOLED panel, meaning it'll sit somewhere between the Galaxy S23 and S23+ in terms of size, but it's claimed that it will feature 120Hz refresh rates, just like the more expensive phones, and the usual Full HD+ resolution.
Galaxy S23 FE: The story so far
15 September 2023: Leaked poster shows four colours
We already knew what the phone would look like, but a poster/ad leak shows off four different attractive colourways.
28 August 2023: Official S23 FE support page lands, as FCC listing is also discovered
In something of a double confirmation, the S23 FE's certification page at the FCC has been found, alongside a product support page on Samsung's official site in Kazakhstan.
23 August 2023: Release expected in September
Giving us something of a more concrete launch date: a prolific leaker expects a September launch.
24 July 2023: Further confirmation of Exynos-powered units
Pocket-lint has heard from its own sources that Samsung is going to be returning to Exynos, and potentially even some Galaxy S24 models in some regions.
17 July 2023: A familiar Snapdragon/Exynos split for US and Europe?
A leaked benchmark – if accurate – suggests that the S23 FE for the US region will feature the Snapdragon 8 Gen 1, not the Exynos processor that's still expected in Europe and other markets.
30 June 2023: Galaxy S23 FE gets 3C certification
If we needed any further evidence that the Galaxy S23 FE is in the works, a certification listing was it. A 3C listing is an important puzzle piece fitting in place.
28 June 2023: Galaxy S23 FE renders leave little to the imagination
A round of leaks published by Smartprix in collaboration with OnLeaks reveal a phone that's incredibly similar to the Galaxy A54.
13 June 2023: S23 FE to launch in Q3, with further rollout in Q4 2023 and Q1 in 2024
SamMobile's sources claim the phone will see an initial launch in the third quarter of this year, with wider rollout in the following months.
9 June 2023: Battery leak appears to confirm device's existence
While it may not seem like it, this is arguably the most important leak yet, because it's not just word-of-mouth from an online leaker. It's public record from a certification listing in South Korea.
2 May 2023: S23 FE to feature 50MP primary camera
A report from Galaxy Club suggests we'll see a flagship 50-megapixel camera in the S23 FE
1 April 2023: S23 FE to feature Exynos 2200 chipset
Another rumour says it is happening, and it will feature the same processor that powered the S22 series in Europe.
15 March 2023: S23 FE might happen after all
The S23 FE is being launched in Q4 2023 according to Korean media.
11 March 2023: S23 FE confusion reigns – will it ever happen?
A new report suggests that there might be no Samsung Galaxy S23 FE this year.
23 February 2032: S23 FE won't have the Snapdragon 8 Gen 2
It's been suggested that the next FE won't feature the latest flagship chipset, going with the cheaper 8+ Gen 1 platform instead