Computers
Garmin Approach S70 review: A golfer's best friend
Golfers crave knowledge. They want to know it all, whether it's learning a new tweak for their swing or understanding the layout of a course they're getting ready to play. For the latter, the Garmin Approach S70 has every feature a golfer could ever want. It builds on the legacy of the beloved Garmin Approach S62 with a new, more vibrant AMOLED display, improved course maps, and number of other tweaks, meaning this watch could become the most powerful tool in a golfer's arsenal.
It's not just a golf course companion, either, as Garmin has also made it a fully featured smartwatch, easily capable of being a daily driver. It has all the features you'd expect, including fitness tracking, notification management, and more. Plus, it's stylish and visually appealing, so you won't feel like you're wearing a golf watch. That means Garmin wants you to ditch your Apple Watch or Wear OS watch in favor of the S70. Does it succeed? Here's my full review.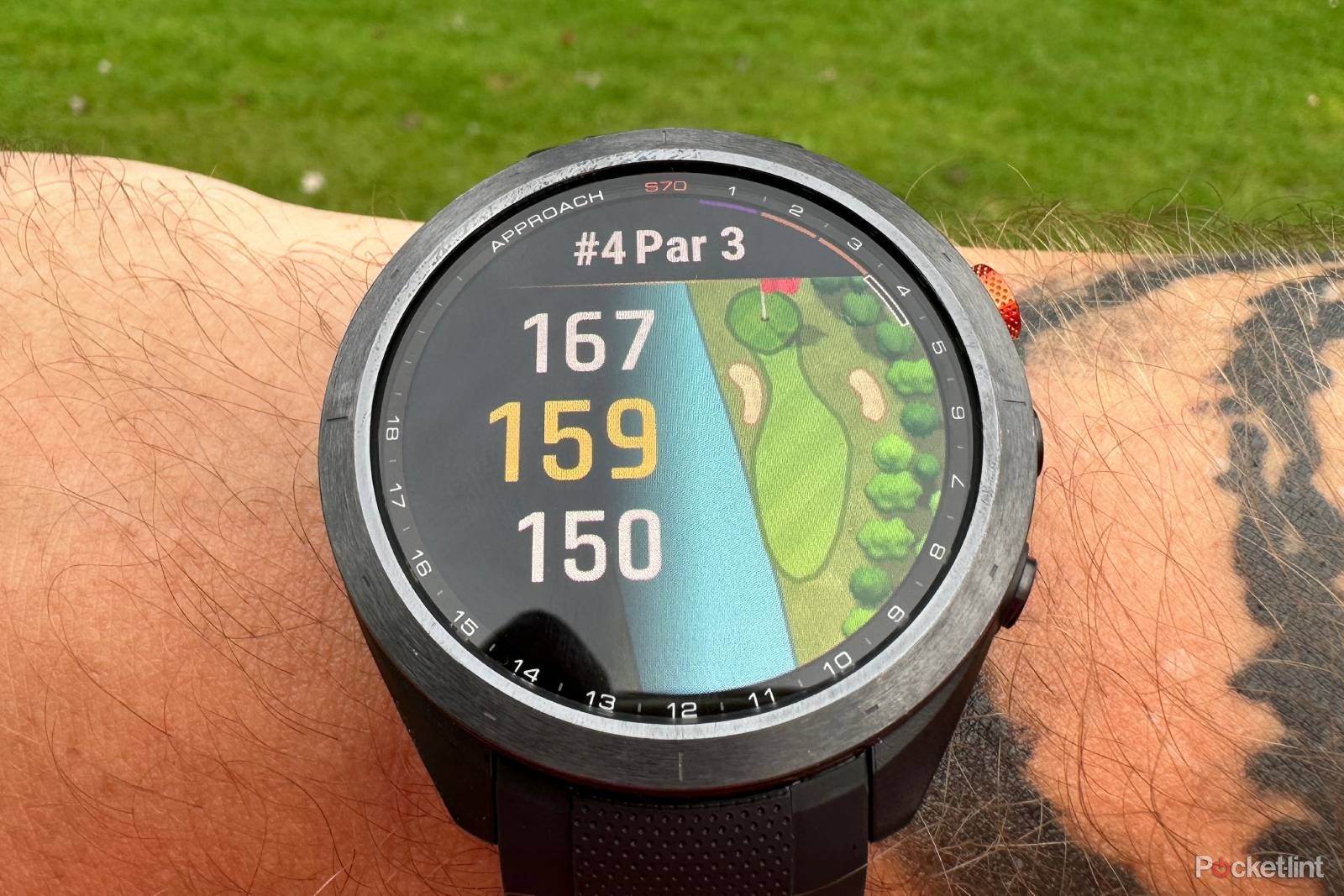 Garmin Approach S70
The Garmin Approach S70 is packed with every feature a golfer could want while also functioning as a daily-use smartwatch. It's expensive, but it more than justifies the price with its wealth of features (golf and otherwise) and sleek design.
Pros
Vibrant AMOLED display
Detailed course maps
Accurate health and fitness tracking
Stellar battery life
Cons
Expensive
Companion mobile app isn't great
Somewhat complicated interface
Some features tucked behind additional paywall
Design
47 x 47 x 13.4mm, 56g
Corning Gorilla Glass 3, 5 ATM water rating
Ceramic bezel, silicon band
One of the biggest design changes to the Garmin S70 over its predecessor is the option to purchase the watch in two different sizes, giving people with smaller wrists the option to elevate their golf game with a premium smartwatch. There are now 42mm and 47mm variants, and I tested the larger version for the purposes of this review.
Outside of the overall smaller form factor, the smaller device offers a 1.2-inch display, while the larger has a 1.4-inch screen. It sounds like a tiny difference, but when you see how much information is offered on the device during a round of golf, it does seem like the extra screen space would make a difference.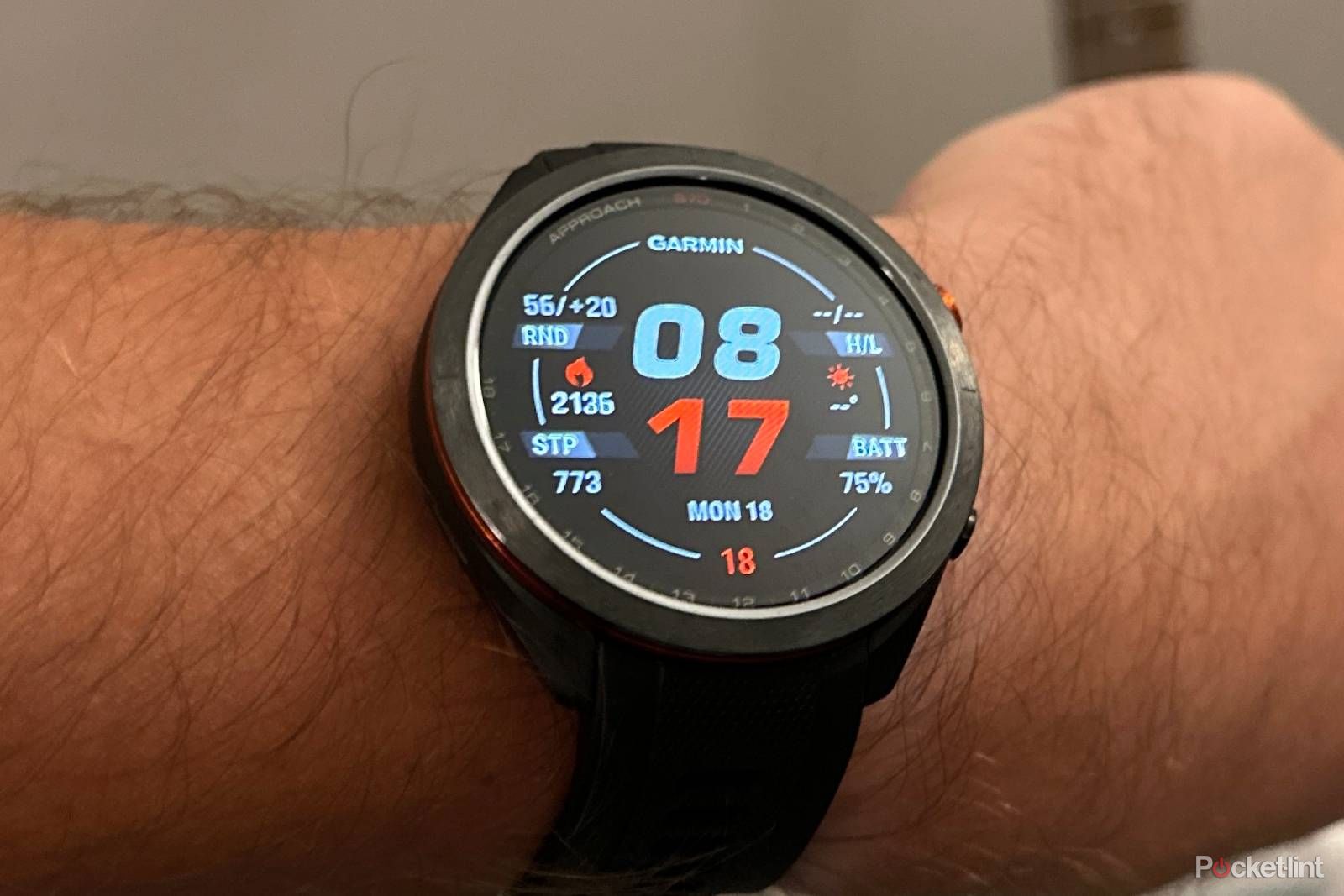 Oddly, the larger watch is only available with the black ceramic bezel and black silicone band. The smaller model is only available with the black ceramic bezel and either a white silicone band or a powder gray silicone band. It seems odd not to offer all the different band colors in both sizes, but you can always buy a replacement band later if you really don't like the one that comes with it.
Garmin chose an integrated watch band, which looks quite nice. It wraps around the wrist and sits comfortably, but it doesn't go completely flat when you take the watch off and set it down somewhere. It's a small gripe, but it might annoy some people.
Display, features, and software
1.4-inch AMOLED display, 454 x 454 resolution
GarminOS, works with iPhone and Android devices
One of the biggest upgrades from the Garmin S62 to the S70 is the screen. An AMOLED display is used across both sizes, and it looks absolutely stunning. The colors and brightness are absolutely fantastic, even in bright sunlight – critical when you're on the golf course facing all kinds of lighting conditions.
The 454 x 454 resolution creates vibrant images, which is especially important on this watch because you're looking at golf course renders and not just text and data. Even outside of golf, there are more visuals on the S70 than most other smartwatches, which lets the AMOLED pull its weight.
The screen has an always-on option, which is fantastic for the golf course because you can check any of the data and plan your shots without waiting half a second for the screen to turn on.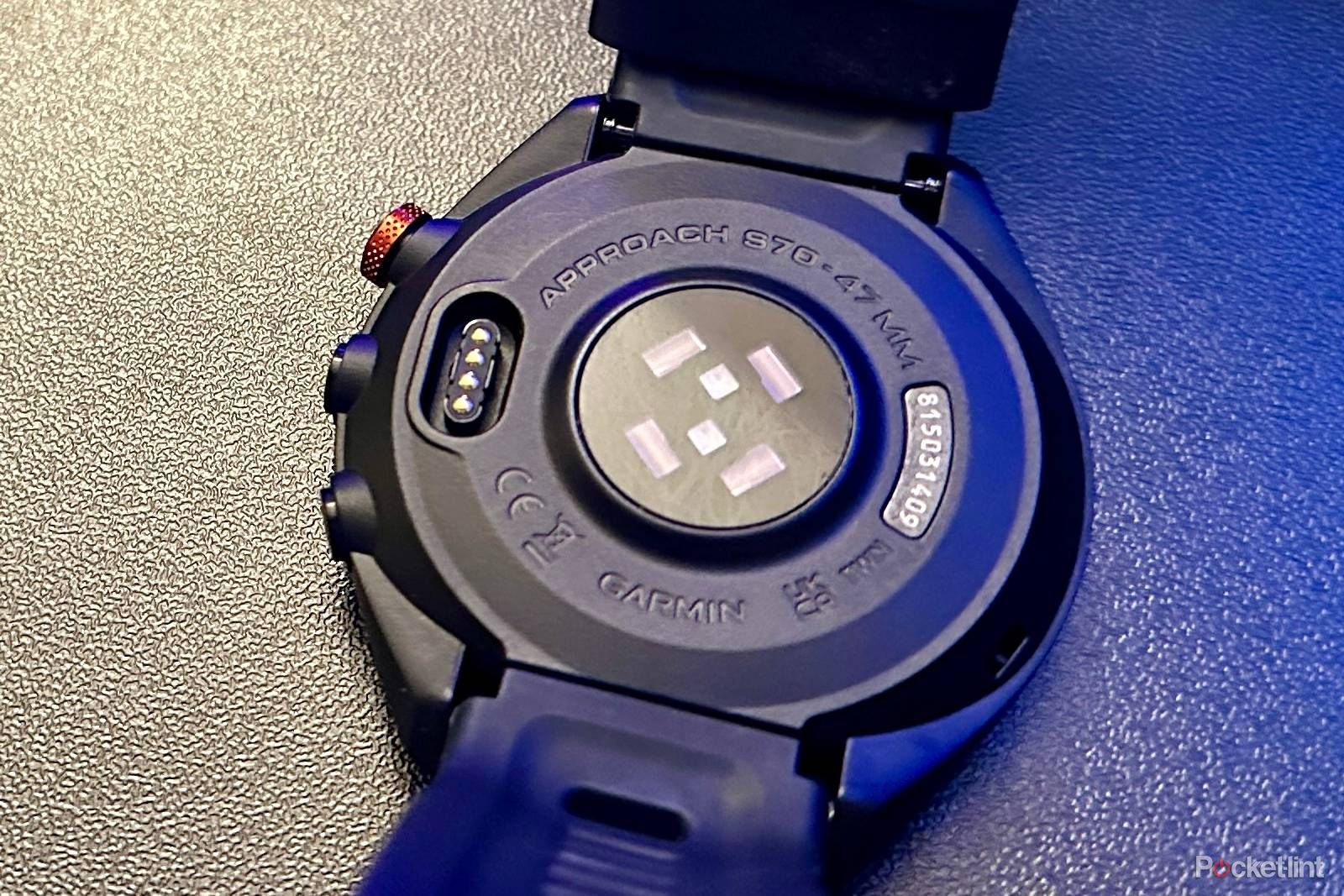 I really like the default watch face on the Garmin Approach S70, but if you want to download more options, you can use the company's Connect IQ Store to download new ones. There are simple faces and more complex ones, depending on how much data you're looking to see at a glance. You can also use the store to download apps and other functionality to your watch.
Garmin's smartwatch software is refined and tuned for fitness, daily life, and golf. I'll dive into the fitness and golf specifics shortly, but as a long-time Apple Watch user, I'm really happy with the feel of Garmin's software. There's a learning curve, but it's mostly intuitive and easy to use. I miss sending messages directly from the watch instead of just being able to read them, but this is a feature I only use occasionally on the Apple Watch, so it's not the worst thing.
Garmin Pay is on board for contactless payments, should you wish, and there is the ability to download and store music, as well as use Spotify too – just download it from the Connect IQ Store.
Golf features
43,000 golf courses preloaded to watch
Yardages to the green, bunkers, and other key elements on the course
Stat tracking, swing tempo, virtual caddie
The list of golf-specific features is massive. If there's a piece of information you could want on the golf course, the Garmin S70 will tell you it. There's the basic information that every golf app shows you, like the distance to the front and back of the green, and less common data, such as exactly how far a bunker is at a glance. There's a virtual caddie that'll learn about your golf game and recommend clubs based on true distances, and it even factors in the air pressure thanks to the S70's barometric altimeter.
The swing tempo reader is one of the coolest features, which will help you improve the game. The watch can detect movement, so it can see how fast you're swinging the club and offer tips for adjusting. This is the kind of data you can't get from just a smartphone app like 18Birdies, and it's what helps Garmin justify the high price tag. In my tests, the watch did a great job of registering each swing and offering helpful tips for improving tempo and speed.
I've been a longtime Arccos user for shot tracking. While Garmin's tracking is good, without the extra Approach CT10 sensors for the club, the watch doesn't compare. These are an extra $300/£200 purchase, which is a big ask on top of the $700/£650 watch. Still, if you're okay with manually telling the watch which club you used, it does an acceptable job of reading that you took a shot and logging the distance between your shots to give you a good idea of how well you're playing.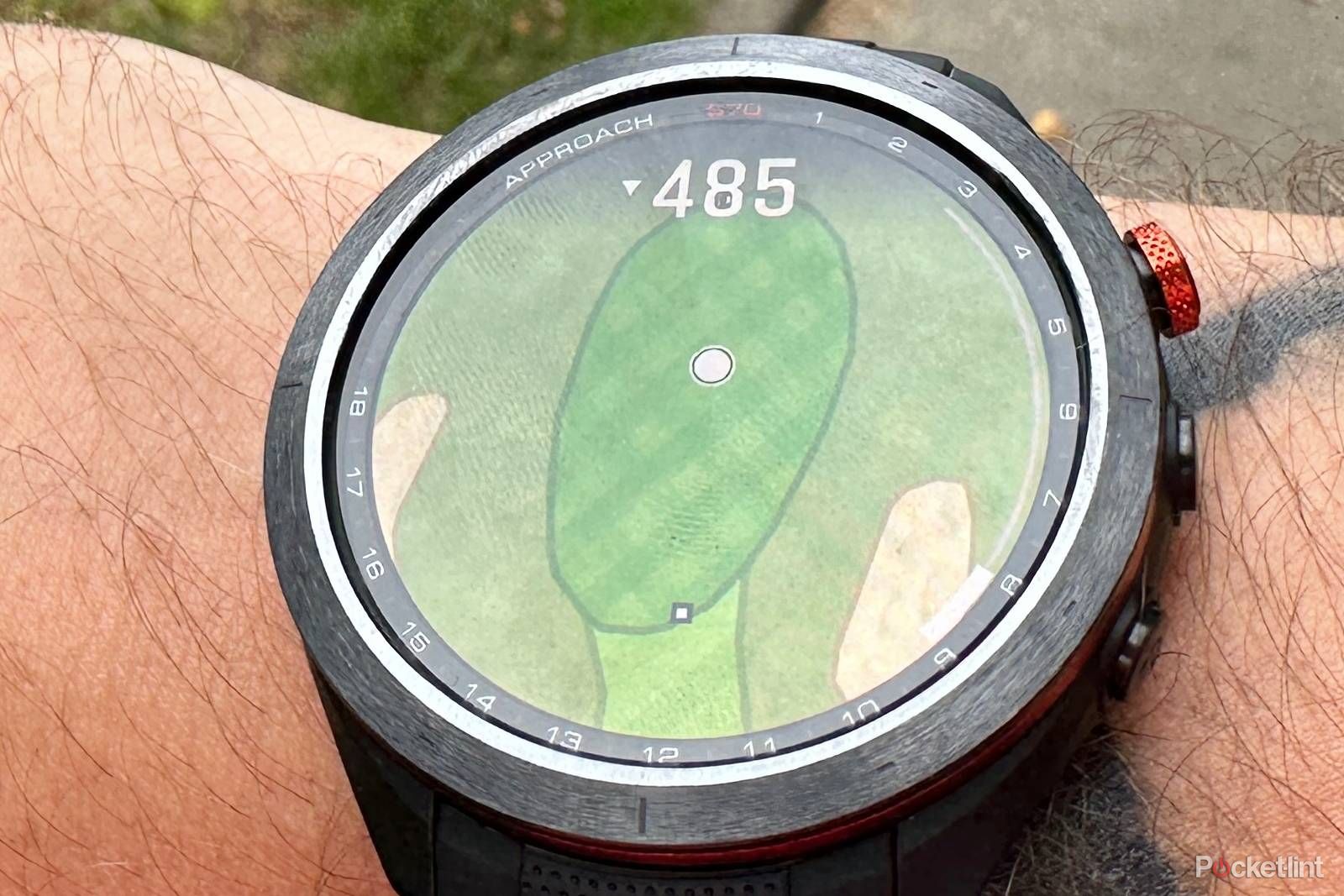 When you get close to the green, and it's time to putt, you can actually see the slope and contours, which will help with reading your shot and aiming. However, this feature is tucked behind an extra subscription to Garmin Golf ($100/£90 per year), further increasing the price if you want to take advantage of everything the S70 is capable of. For a watch to be so expensive, it'd be nice to have all of the features unlocked without spending extra.
Still, having all the information about the hole you're playing available on your wrist is valuable. The fact that it's in color with a high level of detail is a bonus that puts it ahead of cheaper smartwatches with smaller, black-and-white displays.
Fitness and health
Barometric altimeter
Stress, sleep, heart rate, pulse ox monitors
Full set of gym, outdoors, cycling, and other workout profiles
It wouldn't be a Garmin smartwatch without fitness tracking, and the S70 doesn't skimp on any of these features. Perhaps the coolest among the fitness and health tracking features is the Body Battery, which actually uses all of the data to tell you when you're likely to be the most energized and thus able to exercise at your best.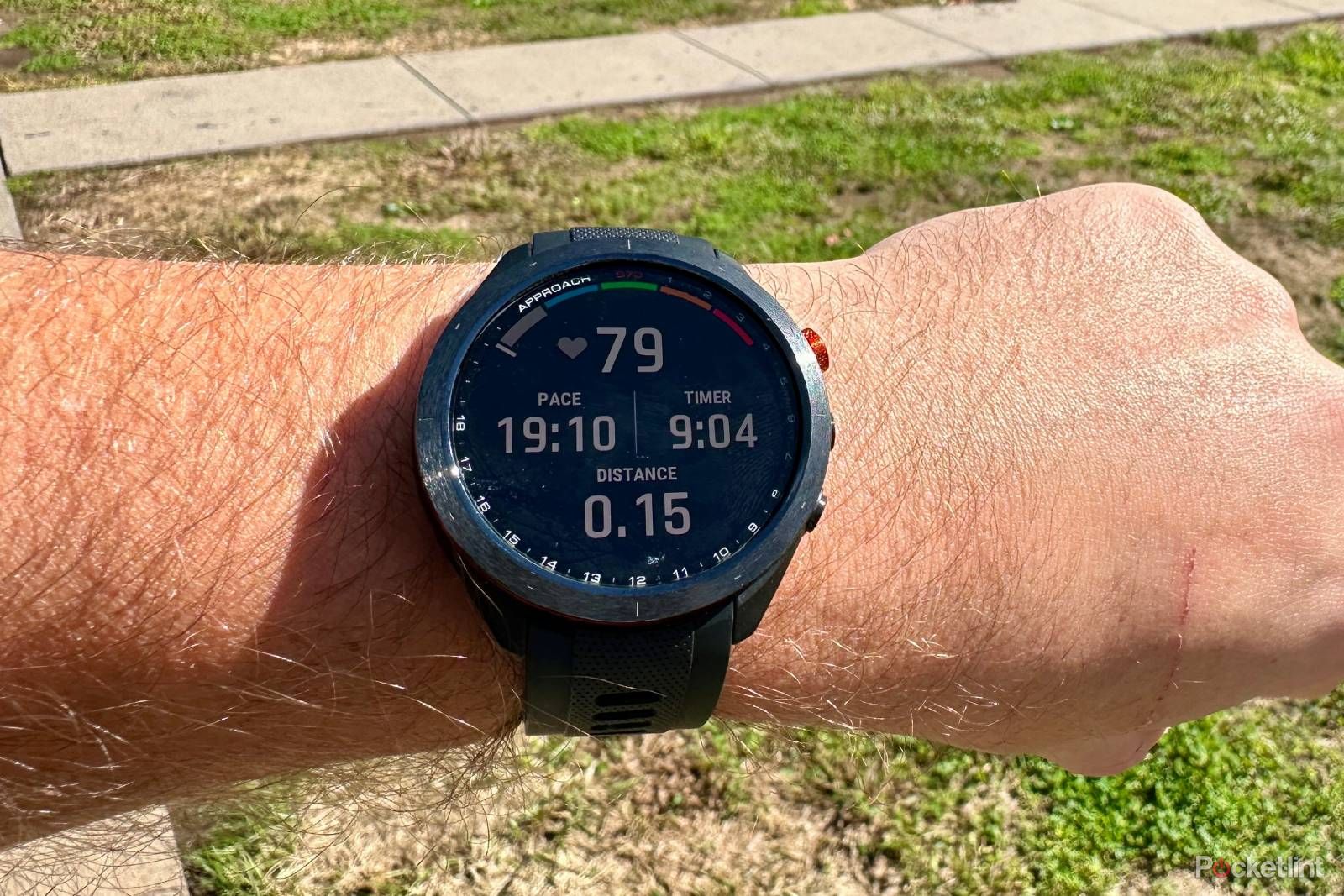 The watch has a full suite of sensors and trackers, all of which you'd expected from a high-end smartwatch – and they're as accurate as you'd expect from a Garmin watch too.
That means you can use it to track your heart rate, stress, sleep, pulse ox, fitness age, and just about any other metric you could imagine. There's even the option to do some exercises directly from the vibrant watch screen, while also keeping track of your gym workout.
Battery life
16-day battery life in smartwatch mode, 20 hours in GPS mode
Proprietary wired charging
The battery life is absolutely incredible on the Garmin Approach S70. Garmin says the watch will last for up to 16 days in smartwatch mode and up to 20 hours while playing golf (if an average 18-hole golf round is four and half hours, that's enough for more than four full rounds without needing a charge). In my testing, I played three rounds and had about 20 per cent left on the battery, so while I may have been able to get one more round in, it would have been close.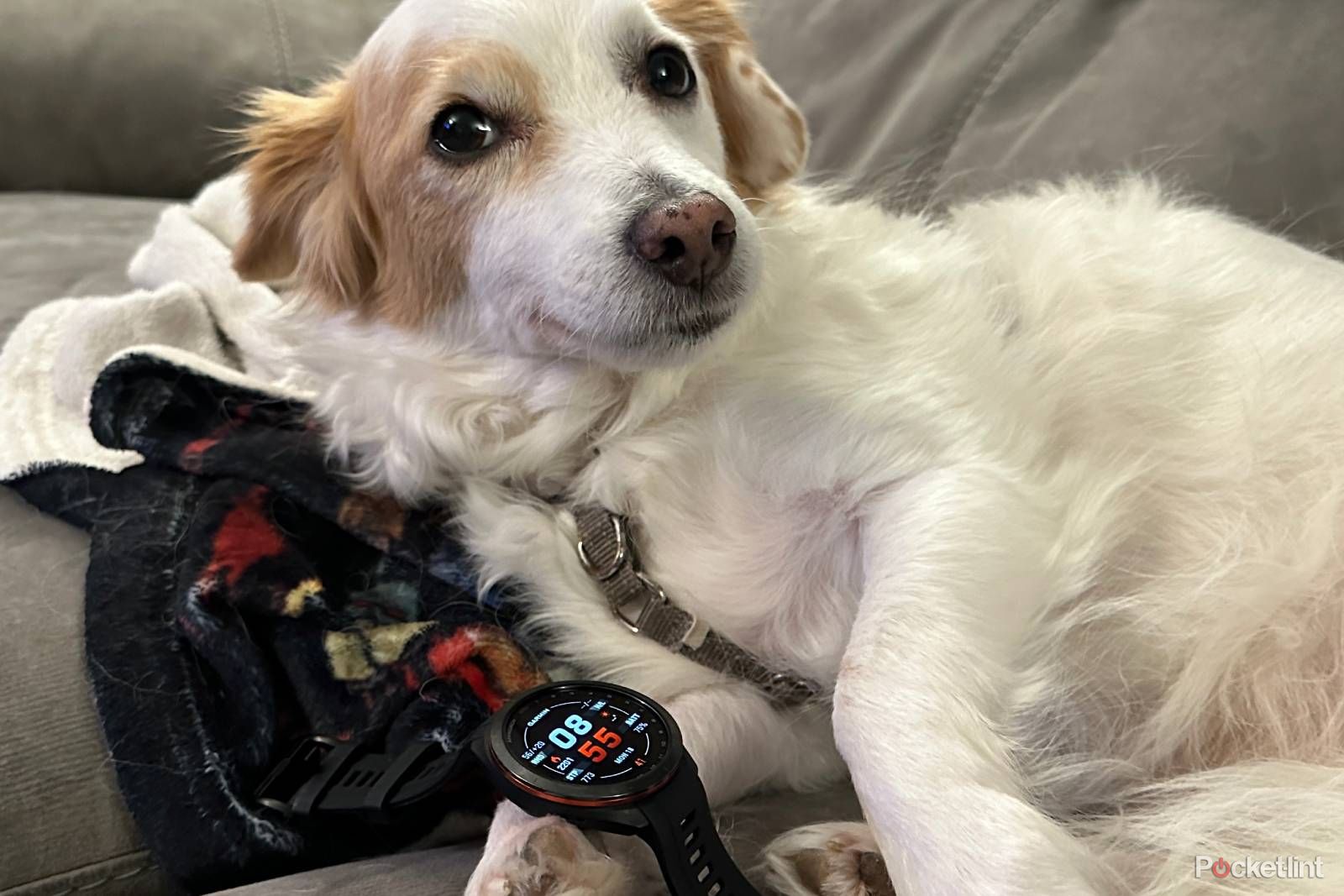 There's a huge difference from an Apple Watch using Arccos trackers to keep score. The Apple Watch Series 8 was down to 25 per cent battery after a single round, which means there's no way I would have been able to play another 18 holes without charging it. If you find yourself playing more than one round of golf without access to a charger, you'll love the lifespan offered by the Garmin Approach S70.
Verdict
This is just an incredible smartwatch for golfers. If there's a piece of data about your golf game that you want to know, the Garmin Approach S70 can almost certainly tell you it.
Everything from the bright AMOLED display to the comfortable band is well-crafted and a joy to use. The only real drawbacks come down to money. If you want to be able to see the contours of the greens, that'll cost extra. If you want improved shot tracking, that'll hit the wallet, too. That's all on top of the already high $700 price tag ($650 for the smaller model).
If money isn't an issue, I can recommend this smartwatch to anyone who wants to elevate their golf game. Between the golf features and the ability to use this as your only watch, it's a no-brainer if you can afford it.