Computers
How to plan a diving trip with the Apple Watch Ultra
Key Takeaways
The Apple Watch Ultra is a top choice for diving enthusiasts due to its water certification, easy-to-use interface, and bright display.
Without the Oceanic+ app, the Apple Watch Ultra can still be used for diving with its built-in depth gauge and water lock feature.
The Oceanic+ app, designed for scuba divers, offers advanced dive functions and a free basic plan, as well as subscription options for additional features.
When the Apple Watch Ultra launched at the back end of 2022, outdoors enthusiasts, fitness fans and water-sports devotees were positively salivating over the robust build quality and plethora of activity profiles the Cupertino company offered in its latest, must-have piece of tech. Finally, a proper smartwatch that could do the everyday stuff, such as take hands-free calls direct from the wrist, but still had the activity tracking might to take the fight to Garmin, Suunto and Polar.
But perhaps one of the biggest Trump cards the Apple Watch Ultra, and more recently, the Apple Watch Ultra 2, has played over rivals is its very own, bespoke dive app. Dubbed Oceanic+, the app was designed in collaboration with diving expert Huish Outdoors – an umbrella company that owns seven diving and outdoor brands, including Suunto.
In this article, we explain how you can use the Apple Watch Ultra as a fully-fledged dive computer and, even if you don't want to download and pay a subscription for the Oceanic+ app, how you can still make the most of the built-in underwater features.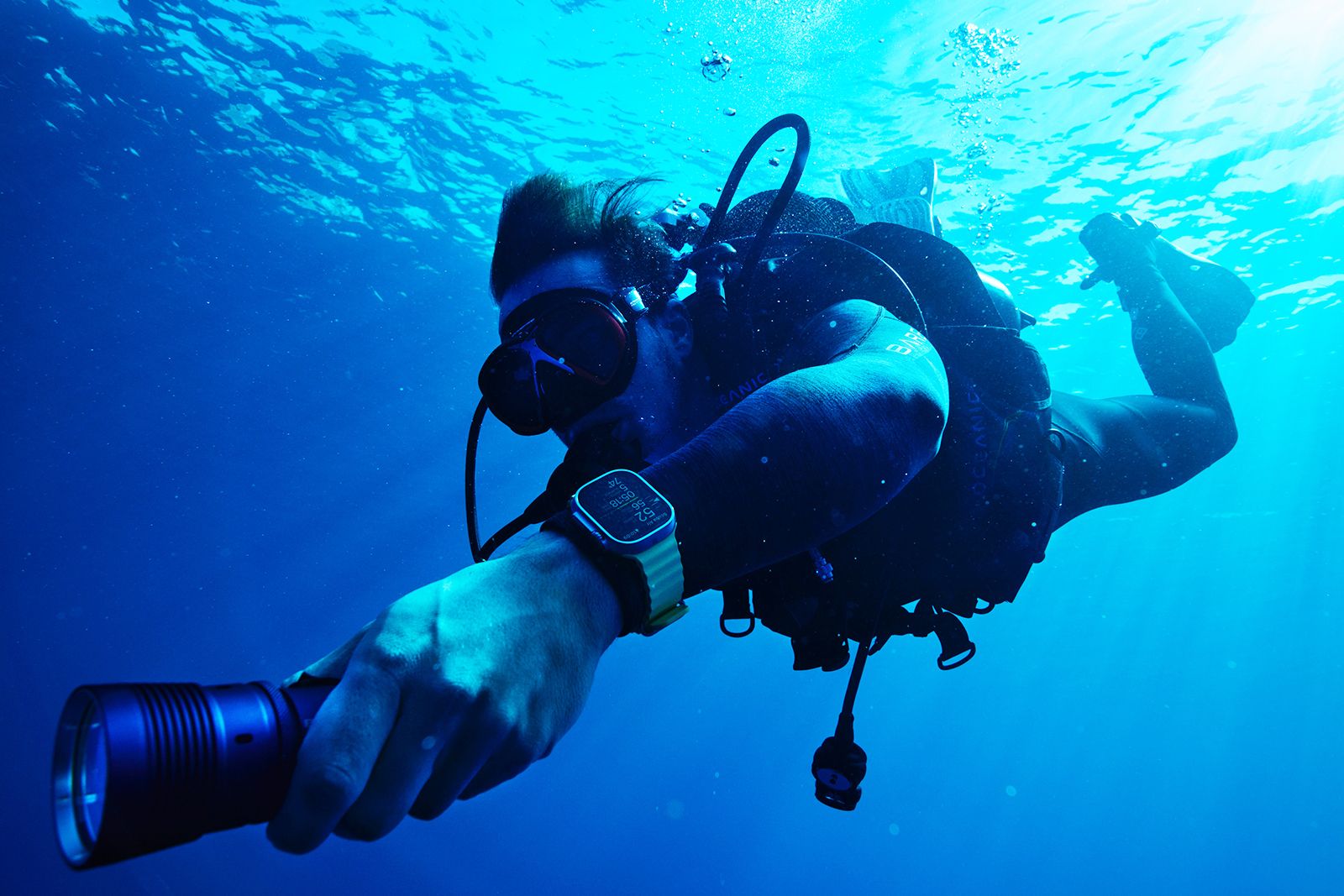 Apple
What makes the Apple Watch Ultra a good diving watch?
There are a number of reasons to take the Apple Watch Ultra into the water, chiefly because it is water-certified to WR100 and EN 13319, an internationally recognised standard for dive accessories, including depth gauges.
Secondly, the oversized Digital Crown and Action Button are easy to locate and operate, even with gloved hands, while the ultra-bright Retina display pumps out up to 2000nits, making it one of the brightest and easiest screens to read on any smartwatch we've tested in the murky depths.
What's more, the user interface is an absolute doddle to use, with Apple's deep knowledge of UX proving a boon when flicking between menus and data fields underwater. Oh, and there's even an Ocean Band that's designed to comfortably fit over wetsuits.
Can I use diving and underwater features without the Ocean+ app?
In short, yes you can. Apple has introduced a Depth Gauge to Watch Ultra, which can automatically open when the device detects that it is submerged in water. Or you can start a session manually by opening the app or pressing the Action button if you customised it to begin a dive session.
Handily, when the depth gauge opens, Apple's Water Lock feature also automatically kicks into action to prevent any accidental input on the touchscreen or with the new Digital Crown.
With the Depth Gauge activated, it is possible to see the time, depth, water temperature and the session's maximum depth while snorkelling, underwater swimming or shallow free-diving.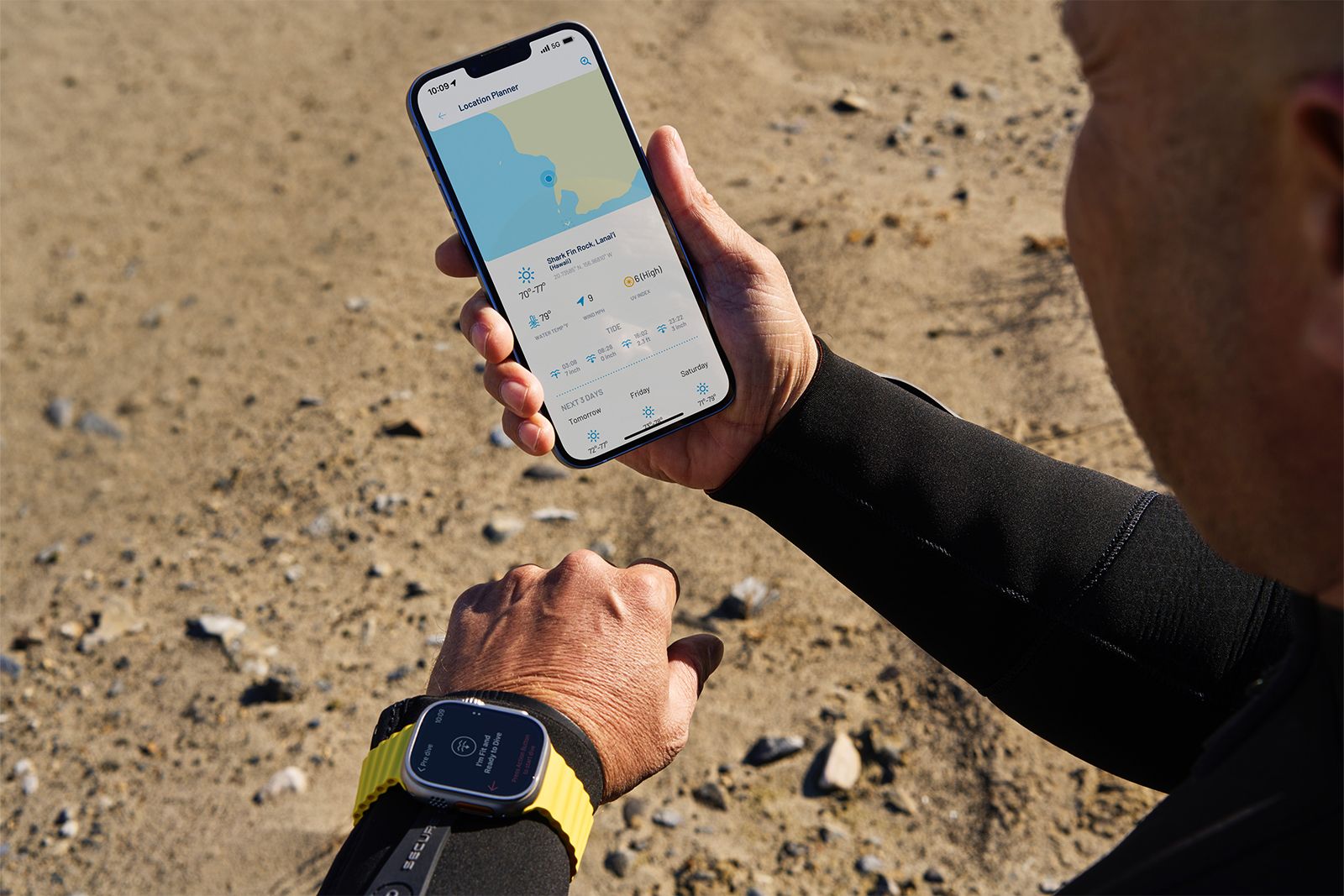 Apple
What is the Oceanic+ app and how much does it cost?
Designed in conjunction with dive specialist Huish Outdoors, Oceanic+ is a bespoke app for more serious scuba divers that has been created specially for the Apple Watch Ultra, while a companion app sits on iPhone.
It requires the latest watchOS to run and is compatible with iPhone 8 or later, and iPhone SE (2nd generation) or later running the latest iOS. The basic plan is free, which opens up access to many common dive functions, including depth and time, as well as logging most recent dives.
Alternatively, there is a subscription package that costs $9.99/£9.99 per month, or Annual Single for $79.99/£81.99 and Annual Family (five devices) for $129/£113.99, which unlocks decompression tracking, tissue loading, the location planner, and an unlimited logbook capacity.
Why is a dive computer important?
Safety is key during any diving activity that plunges to potentially dangerous depths. Divers have to keep track of overall diving time, depth of the dive and the descend/ascend rate. This is all to avoid overloading a diver's tissues with nitrogen, known as tissue loading. A dive computer uses sensors and algorithms to work out these factors and warn the diver to slow down, or if they require a decompression stop on the way back up, for example.
Above all else, sophisticated dive computers have banished old school depth gauges, stopwatches and the need to study dive tables (although old hands will continue to use these) to work out all of these factors.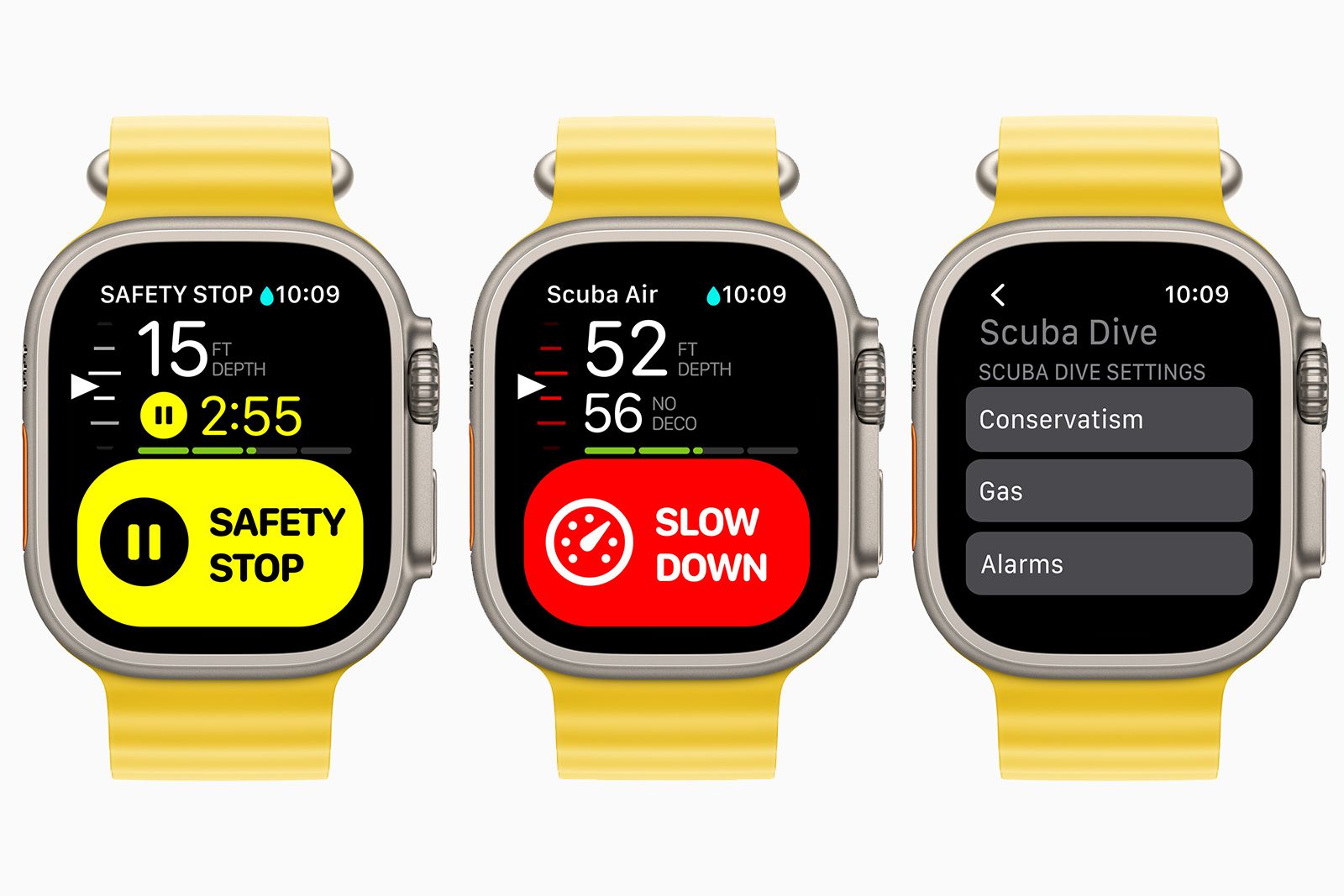 Apple
How do I plan a dive with the Oceanic+ app and Apple Watch Ultra?
The Apple Watch Ultra is essentially a tiny super computer on your wrist, so it has no trouble working out a number of factors when planning a dive. In the dive planner, users can set their surface time, their depth, and their gas, and Oceanic+ will calculate their No Deco (no-decompression) time – a metric used to determine a time limit for a diver at a certain depth.
Because the smartphone app is connected (via Wi-Fi or cellular), it also brings in real-time information, such as tides, water temperature, and even up-to-date information from the community, such as visibility and currents in your exact location.
How does the Apple Watch Ultra keep me safe while diving?
The Apple Watch Ultra has a number of tricks up its sleeve when submerged. Firstly, users can switch between screens using the rotating Digital Crown to see detailed data on everything from compass heading and navigation to depth, time and ascend speed.
Secondly, the device harnesses the power of sound and haptic feedback to send warnings from a diver's wrist. These powerful vibrations can, according to Apple, be felt through wetsuits up to 7mm thick, which will handle some of the coldest water temperatures going.
A haptic notification will be sent when a diver has to perform a safety stop when ascending – or the watch will warn a diver to slow down – as well as notify when the water becomes too cold (depending on the wetsuit and gear worn) and when a diver has reached a target depth or time.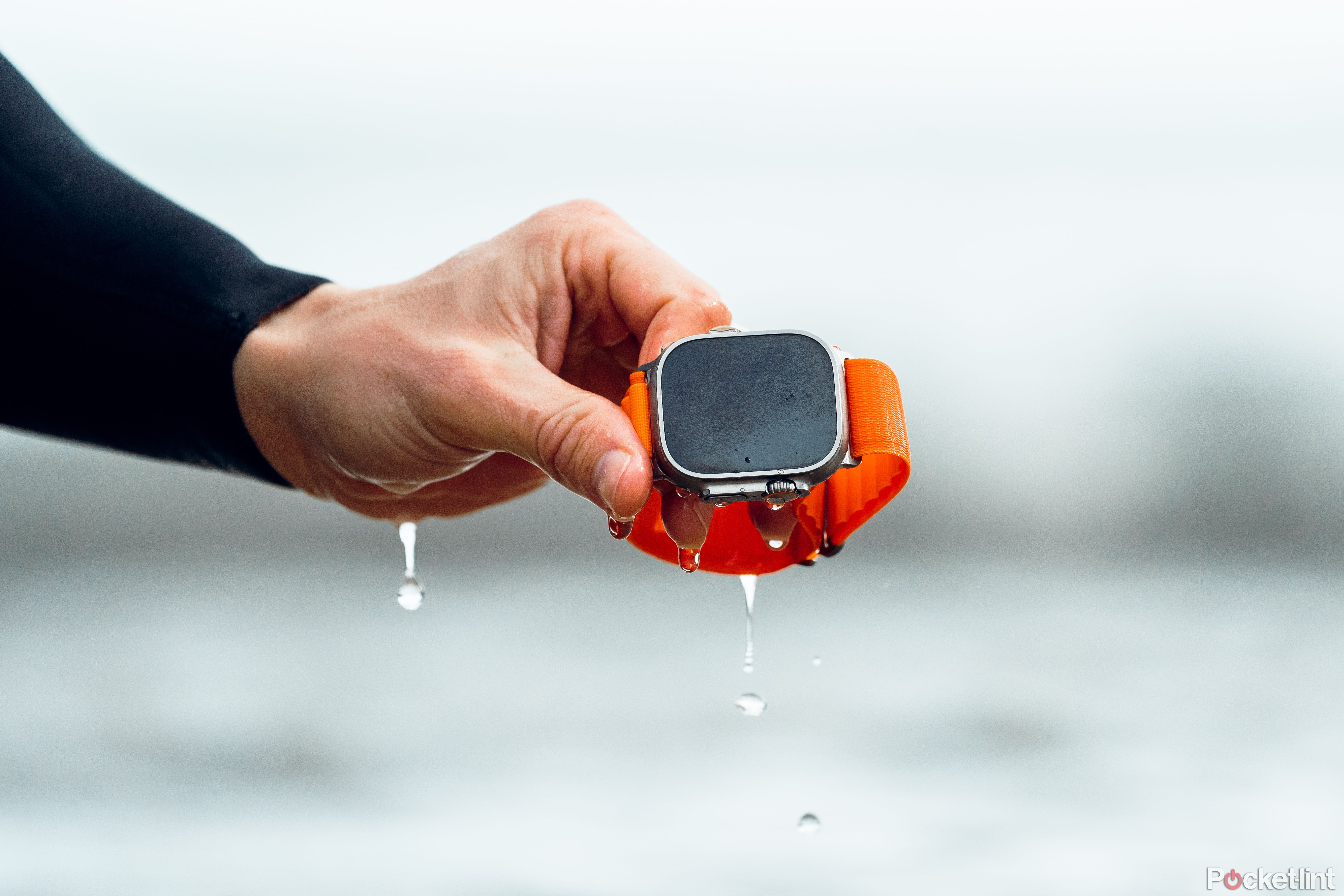 What's new on Apple Watch Ultra 2?
Apple announced a handful of new features for its Watch Ultra 2, including the fact that the built-in Depth app now saves a log of each session, so users can review the most recent sessions on Apple Watch Ultra or view the complete history of all dives with a GPS entry point in the Fitness app on iPhone. In addition to this, the increasing popularity of freediving has led to the brand including a specific freediving setting on the Oceanic+ app.
As with scuba, this now means critical data, like depth and elapsed time, and receiving target depth alerts in easy to read prompts. Controlling the heart rate is important in freediving, in order to conserve oxygen, so Apple has also included heart rate zones to help users monitor and lower their heart rate between dives.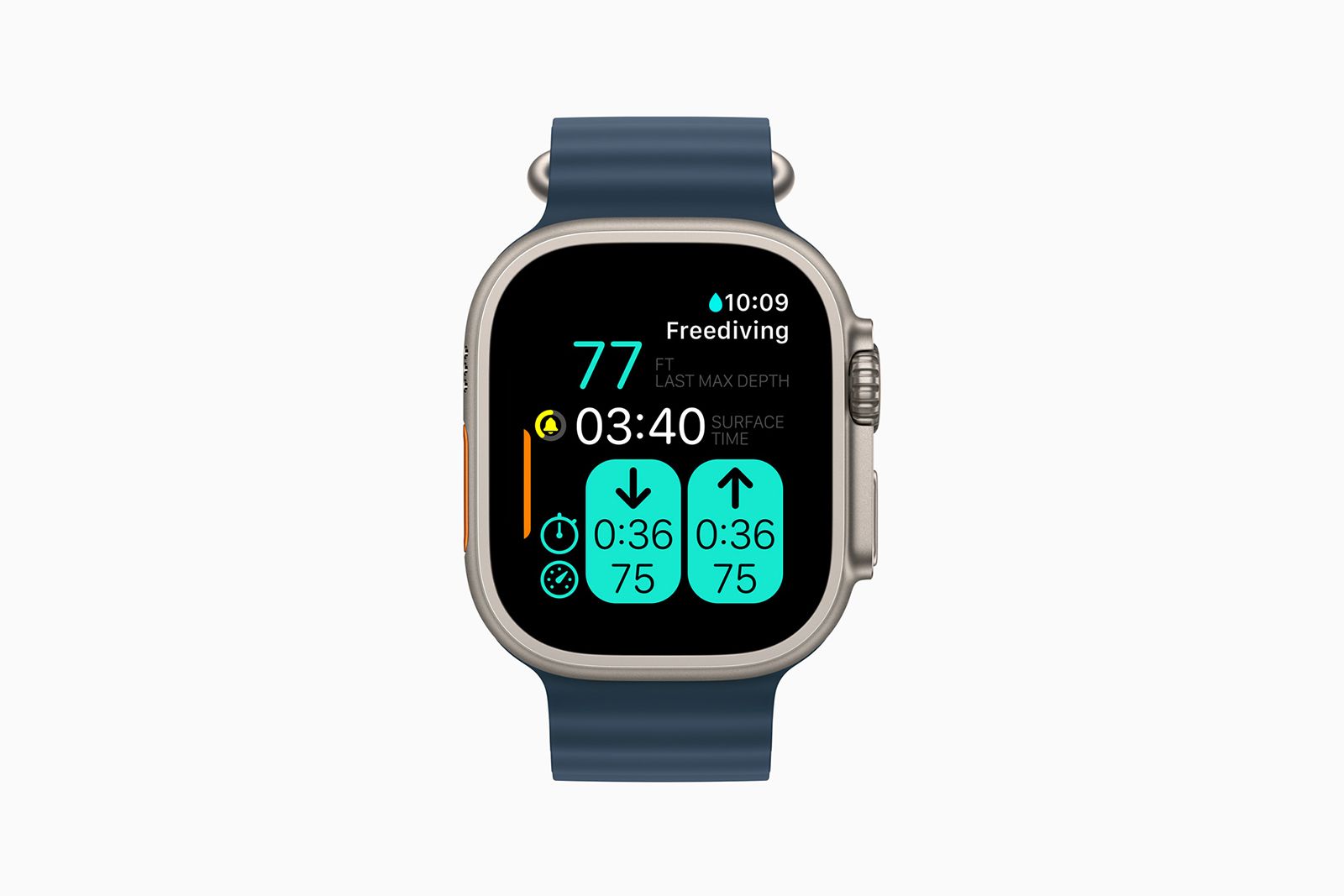 Apple
What happens when I'm back on dry land?
The Watch will harness GPS data to give a precise entry and exit location, which pops up on screen. The display will also offer a summary of the dive, calculating total dive time, maximum depth and lots more.
Fire up an iPhone, sync the devices and the Oceanic+ app offers a whole host of additional information, including a map of entry and exit locations, as well as graphs of depth, temperature ascent rate, and no-decompression limit. This can be shared with the fellow diving community and is saved as a permanent record for poring over later.