Key Takeaways
Microsoft's annual hardware event, scheduled for September 21, 2023, will be the first place to see all of Microsoft's shiny new Surface products.
The event will be broadcast live worldwide, and you can tune in on Microsoft's website or the Surface YouTube channel.
Leaks suggest that the event will unveil updated versions of the Surface Laptop Studio and Surface Laptop Go, featuring improved components such as upgraded CPUs, GPUs, RAM options, and updated I/Os. There is also the potential for updates to other Microsoft products and accessories.
Microsoft holds its annual hardware event around the same time each year, it usually falls in late September or early October, and this year is no different, with the event scheduled for September 21 2023.
Microsoft is known for producing some of the most attractive and well-made machines in the Windows ecosystem, whether it's the brand's signature hybrid tablet devices, its more traditional laptops or something completely different like the desktop Surface Studio, with its uniquely articulating display.
If you're excited to see what's next from Microsoft Surface, you're not alone. Here's everything you need to know including how to tune in live, and what we might expect to see when the big day comes.
Microsoft Surface Fall 2023 Event: How to watch
The Microsoft Surface Fall 2023 event takes place on September 21 2023 and will be broadcast live for viewers around the world. It kicks off at 1 pm EDT, and we've included converted that to some other timezones for your convenience below:
New York: 21 September 2023 at 1 pm
Los Angeles: 21 September 2023 at 10 am
London: 21 September 2023 at 6 pm
Berlin: 21 September 2023 at 7 pm
Hong Kong: 22 September 2023 at 1 am
Tokyo: 22 September 2023 at 2 am
New Delhi: 21 September 2023 at 10:30 pm
You can tune in to the stream on Microsoft's website and it's usually available on the Surface YouTube channel, too. We don't have a direct link for the stream just yet, but we'll be sure to embed it here when we do.
Microsoft Surface Fall 2023 Event: What to expect
Some fresh leaks courtesy of WinFuture have given us a good idea of some of the hardware that will be unveiled at the 2023 Surface hardware event, but as always, these are unconfirmed, so may prove to be inaccurate. It's always possible that Microsoft has more surprises in store, too.
Microsoft Surface Laptop Studio 2
The Surface Laptop Studio is an impressive piece of hardware, with a display that can tilt towards the user to provide an easel-like drawing surface. As impressive as it looks, the components inside could certainly use a bit of a refresh, and that's exactly what we're expecting to happen at the Surface Event.
The new Laptop Studio will share an almost identical chassis to its predecessor and the display will remain the same too, as far as we can tell. However, powering the laptop will be either an Intel Core i7 13700H or a Core i7 13800H, providing a meaningful performance increase over the 11th gen chips that are found in the current model.
The same goes for the GPU, which will be upgraded to a choice of either an Nvidia GeForce RTX 4050 or an RTX 4060, again a big upgrade over the 3050 Ti in the current Laptop Studio.
This model will introduce a 64GB RAM option for the first time, in addition to the 16GB and 32GB configurations offered by its predecessor. It's also said that 512GB of storage will be the smallest option, this time around.
The I/O also gets an update, and it's welcome news. The Surface Laptop Studio 2 is rumoured to feature both a USB type-A port and a micro SD card reader, both of which were frustratingly absent in the original.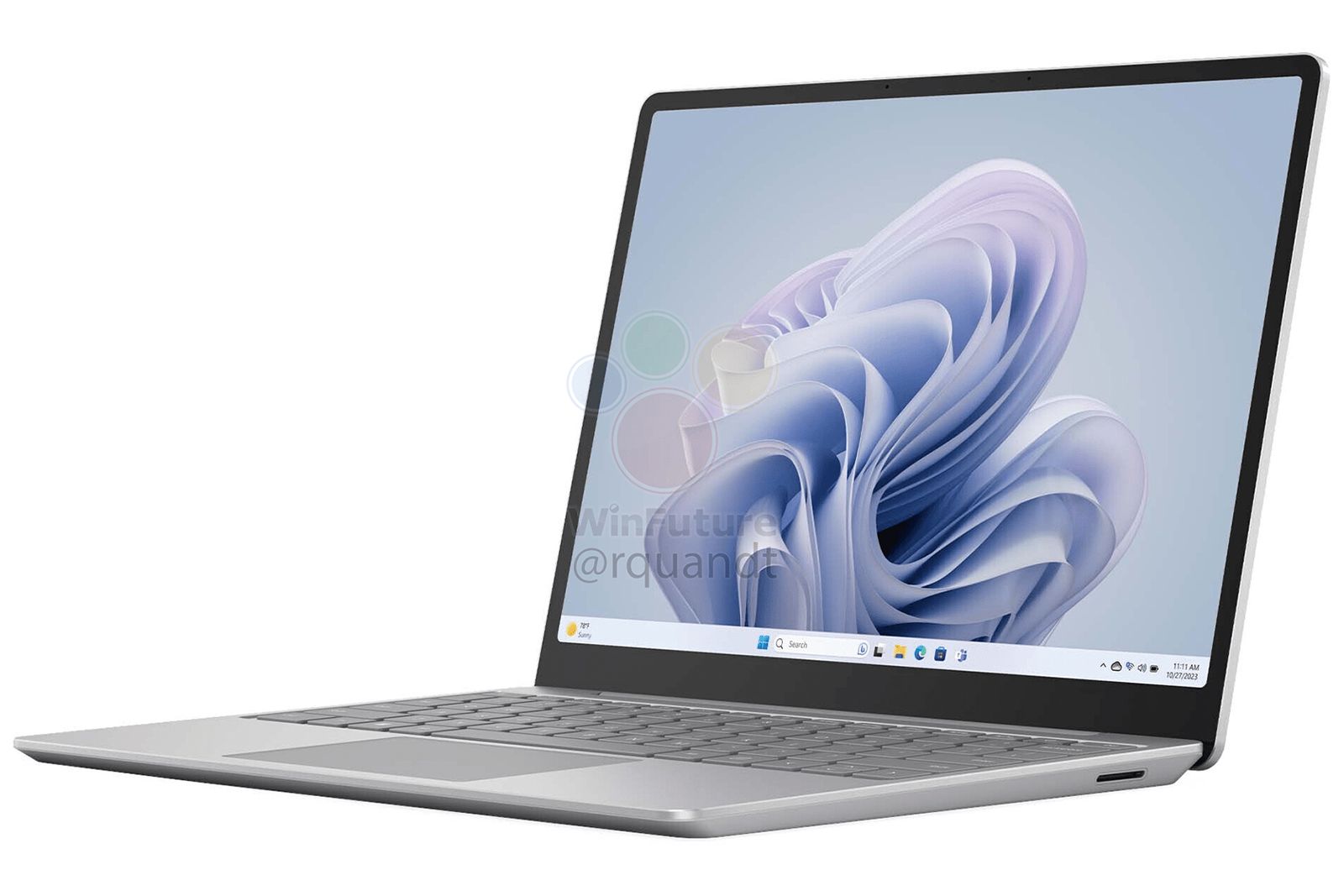 WinFuture / @rquandt
Microsoft Surface Laptop Go 3
We should also be seeing an updated Surface Laptop Go model at the event, which is not too surprising, as the current model still features an ageing Intel 11th Gen processor.
On the design front, we're not expecting any changes, but internally, the Surface Laptop Go 3 is likely to feature an Intel Core i5 1235U – a chip that features two performance cores and eight efficiency cores, running at up to 4.4GHz.
It would have been nicer to see a 13th gen chip in this model, but it's still a healthy upgrade, and we're always keen to see updates to the more budget-oriented devices.
What else could we see?
That's all we've heard in terms of leaks, but there's plenty of opportunity for Microsoft to update some of its other products, too. The Surface Pro 9 is a relatively recent model, but its 12th Gen CPU is already outdated, and the same can be said for the Surface Laptop 5, too. The desktop Surface Studio 2+ has an even older chip, still running on Intel's 11th Gen processors.
We're not expecting a new Surface Duo this year, but there are rumours swirling about a new Duo with a foldable display. It's entirely possible that Microsoft could surprise us with its next dual-screen productivity phone.
Of course, Microsoft makes great accessories, too. The Surface Headphones 2 are pretty ancient, in tech terms, having launched back in 2020 – it sure would be nice to see an updated model of these popular cans.