Meta

Meta Quest 3

The best of the best

The Quest 3 improves on its predecessor in just about every way. When you add the possibility of amazing MR experiences into the mix, it only gets more tempting.

Pros

Better graphics and displays
Great pass-through and MR
Slimmed down design

Meta

Meta Quest 2

Great value

The Meta Quest 2 is an affordable and capable standalone VR headset that's proven highly popular. It offers the widest variety of games and some of the best software available today.

Pros

Now available for less money
Same great library of games
Expansive accessory ecosystem
The Meta Quest 3 is finally here, after months of teasing, we've now had a proper in-depth look at the headset, as well as going hands-on with it ourselves.
According to Meta the Quest 3 is "the best way to experience mixed and virtual reality in a standalone device" as well as being compatible with Quest 2's entire game library.
Based on this alone the Quest 3 might seem like a logical upgrade for Quest 2 owners or a sensible purchase for those wanting to get into VR. There are other things to consider though. Like what are the upgrades and how much will it set you back? Let's get stuck in.
Price, specs and availability
One of the most appealing things about the Quest 2 when it launched was the price tag. The Quest 2 launched at just $299, making it highly appealing as a standalone VR device that was also PC tetherable for PCVR experiences.
Since then Meta actually raised the starting price of the Quest 2 to $399 in 2022, before lowering it back down to that original asking price. In any case, it's always remained reasonable, especially compared to the high-end VR headsets on the market.
With Quest 3 being Meta's most powerful headset yet, it's perhaps no surprise to learn that it costs even more. The Quest 3 starts at $499/£479.99 for the 128GB model or $649.99/£619.99 for the 512GB model. There are several things to justify the price increase though.
| | Meta Quest 3 | Meta Quest 2 |
| --- | --- | --- |
| Resolution (per eye) | 2,064 by 2,208 pixels per eye | 1,832 by 1,920 per eye |
| Display Type | Dual LCD, Pancake lenses | Single LCD, Fresnel lenses |
| Storage | 128GB / 512GB | 128GB / 256GB |
| Connectivity | Wi-Fi 6E, Bluetooth 5.2 | Wi-Fi 6, Bluetooth 5.0 |
| Battery Life | 2.4 hours gaming | 2-3 hours 3640 mAh battery |
| Audio | Improved near-field speakers | Near-field speakers |
| Weight | 515g | 503g |
| Refresh rate | 120Hz | 120Hz |
| Processor | Qualcomm Snapdragon XR2 Gen 2 | Qualcomm Snapdragon XR2 Gen 1 |
| RAM | 8GB | 6GB RAM |
Design
The most obvious outward change with the Quest 3 is that it has three pill-shaped panels on the front of the headset, these house the new pass-through cameras, as well as a depth sensor for enabling mixed reality experiences. The Quest 2 has a low-resolution monochrome pass-through camera that's designed to help you set up your guardian system but isn't designed for MR gameplay.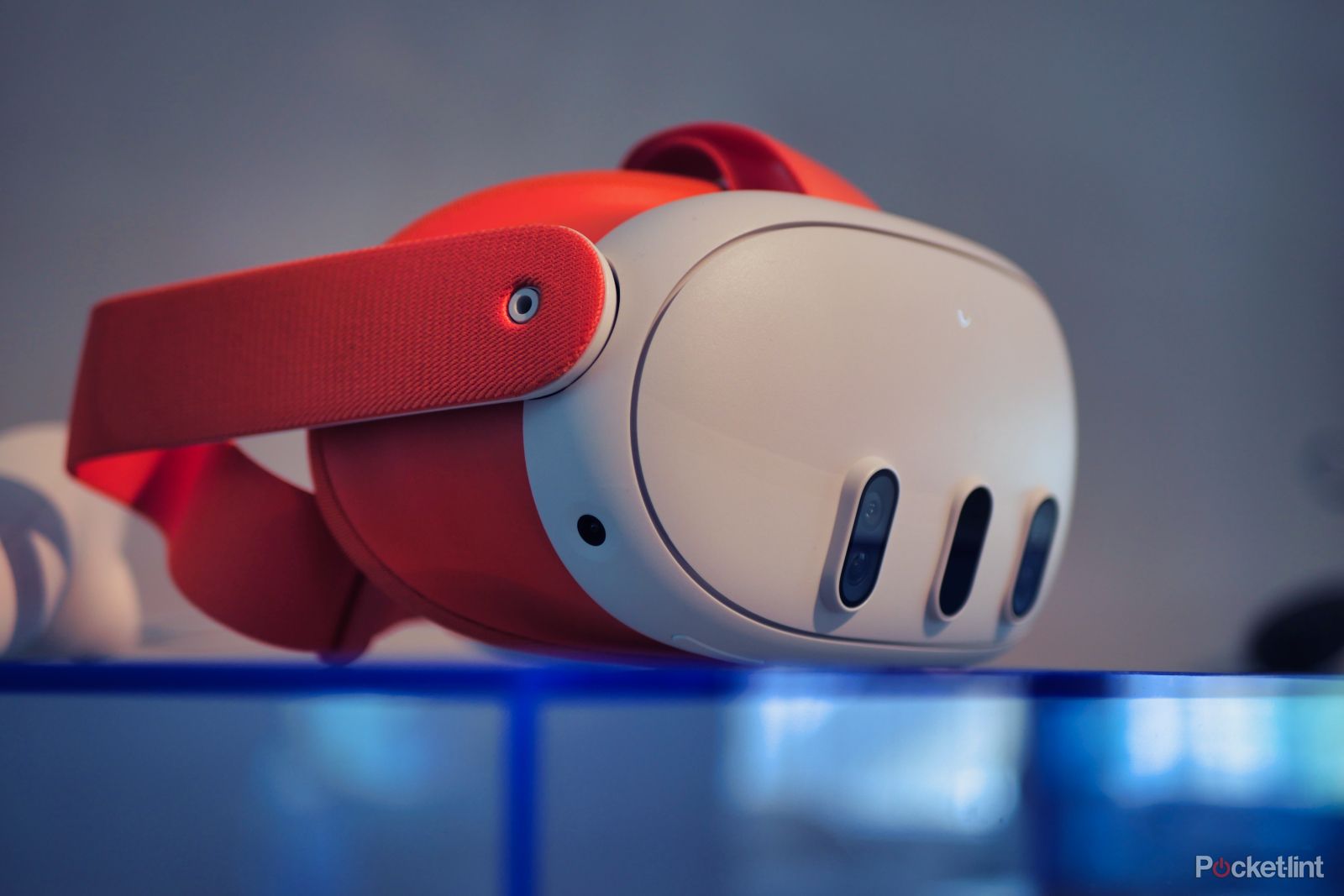 Quest 3 is much slimmer, too, about 40 per cent according to Meta. This means that the weight is kept closer to your face, which makes it feel more balanced and is less prone to wobbling about. The strap has been redesigned on the Quest 3 as well, it now has a more secure Y-shape, rather than the T-shaped strap of the Quest 2.
An Elite strap is available for both headsets as an optional upgrade, but the Quest 3 version adds an auxiliary battery pack for extended playtime, whereas the Quest 2 Elite strap is just a strap. The Quest 3 is also compatible with a charging dock, and it has pogo-pin contacts on the base to accommodate this.
The Quest 3 has an IPD adjustment wheel to dial in the lenses to match the distance between your eyes, it can also adjust its depth without the need for any accessories. So, if you wear glasses, you can simply slide the facial interface out to accommodate. Comparatively, the Quest 2 only offers three pre-set IPD options, and you need to use a spacer to wear glasses with the headset.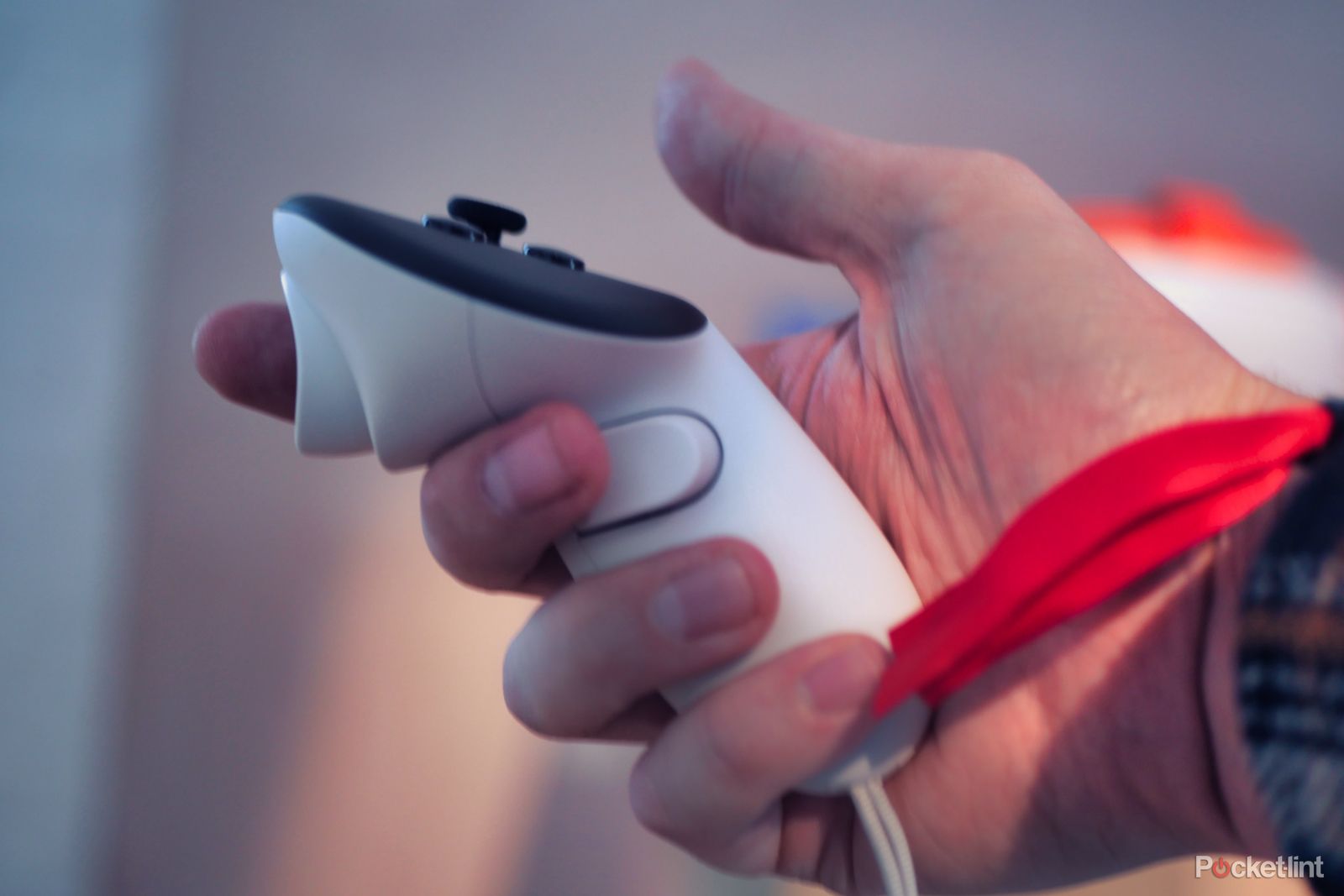 The touch controllers for the Quest 3 do away with the tracking rings, which results in a much sleeker look and a lower overall weight. the biggest advantage here is that you're less likely to accidentally knock the controllers together while playing. In use, they feel quite similar to the older controllers and the button layout remains unchanged.
Display and speakers
Quest 3 sports dual LCD panels with a resolution of 2604×2208 per eye and a maximum refresh rate of 120Hz. Quest 2 only has a resolution of 1832×1920 per eye, and both are rendered on the same panel. However, it's also capable of gaming at 120Hz.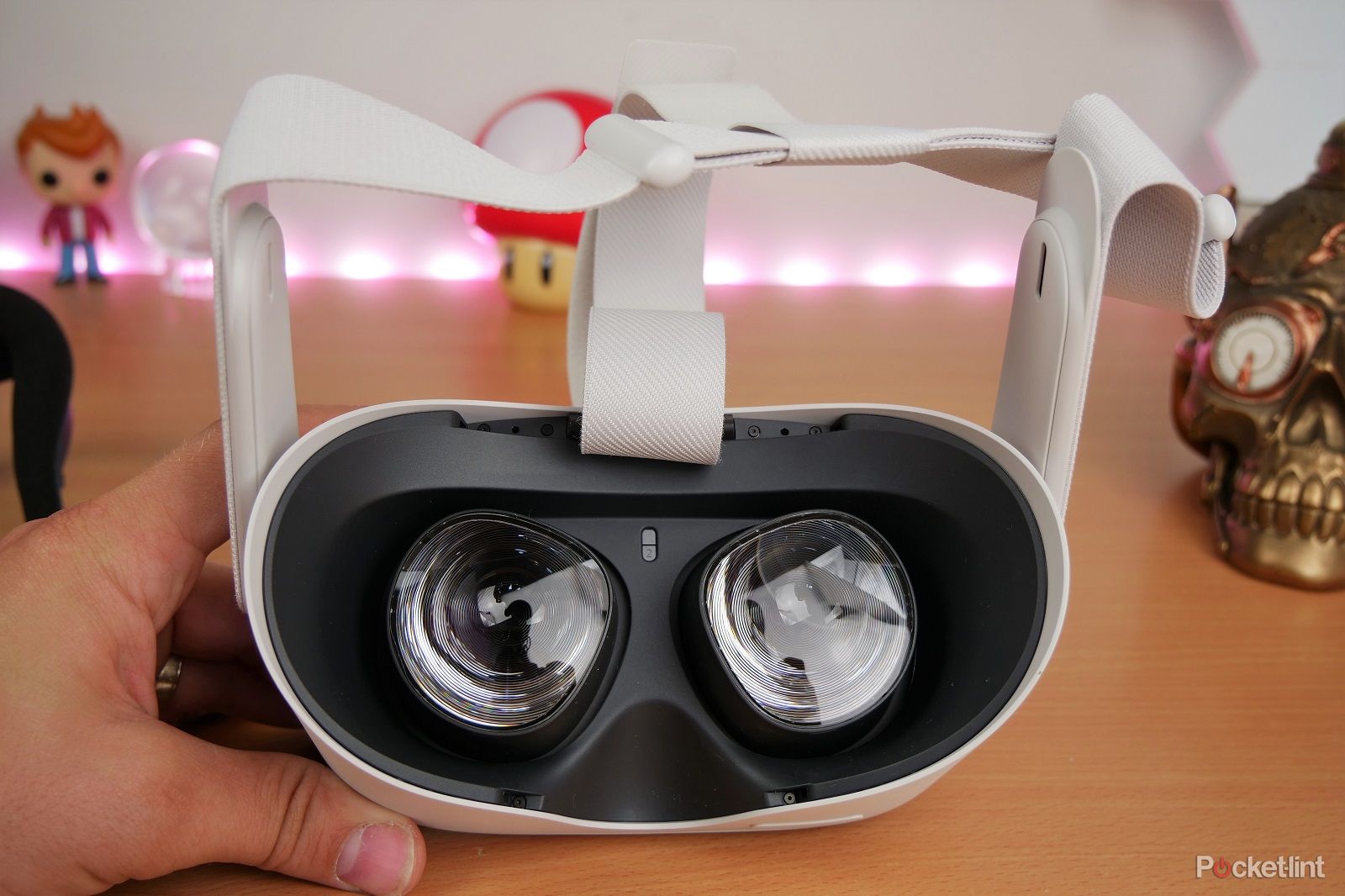 Another advantage of the Quest 3 is its use of pancake lenses, which are very similar to those that we saw on the Quest Pro. These are both 40 per cent slimmer than the fresnel lenses of the Quest 2 and increase sharpness by around 25 per cent, you'll also notice far fewer God-rays and light artefacts.
It's not just the visuals that have been upgraded, though, Meta has also put some work into the near-field speakers. These are supposedly 40 per cent louder and have increased bass response. If you're serious about sound quality, though, you might want to use a decent gaming headset, and both models have 3.5mm headphone sockets to accommodate this.
Hardware and performance
The Quest 3 is the first product to hit the market with Qualcomm's new XR2 Gen 2 processor onboard. This new chip boasts 2.5 times the GPU performance and a 50 per cent efficiency increase over the Gen 1 chip used in the Quest 2. In more practical terms, the Quest 3 can run games at a higher resolution, with better image fidelity, at higher frame rates.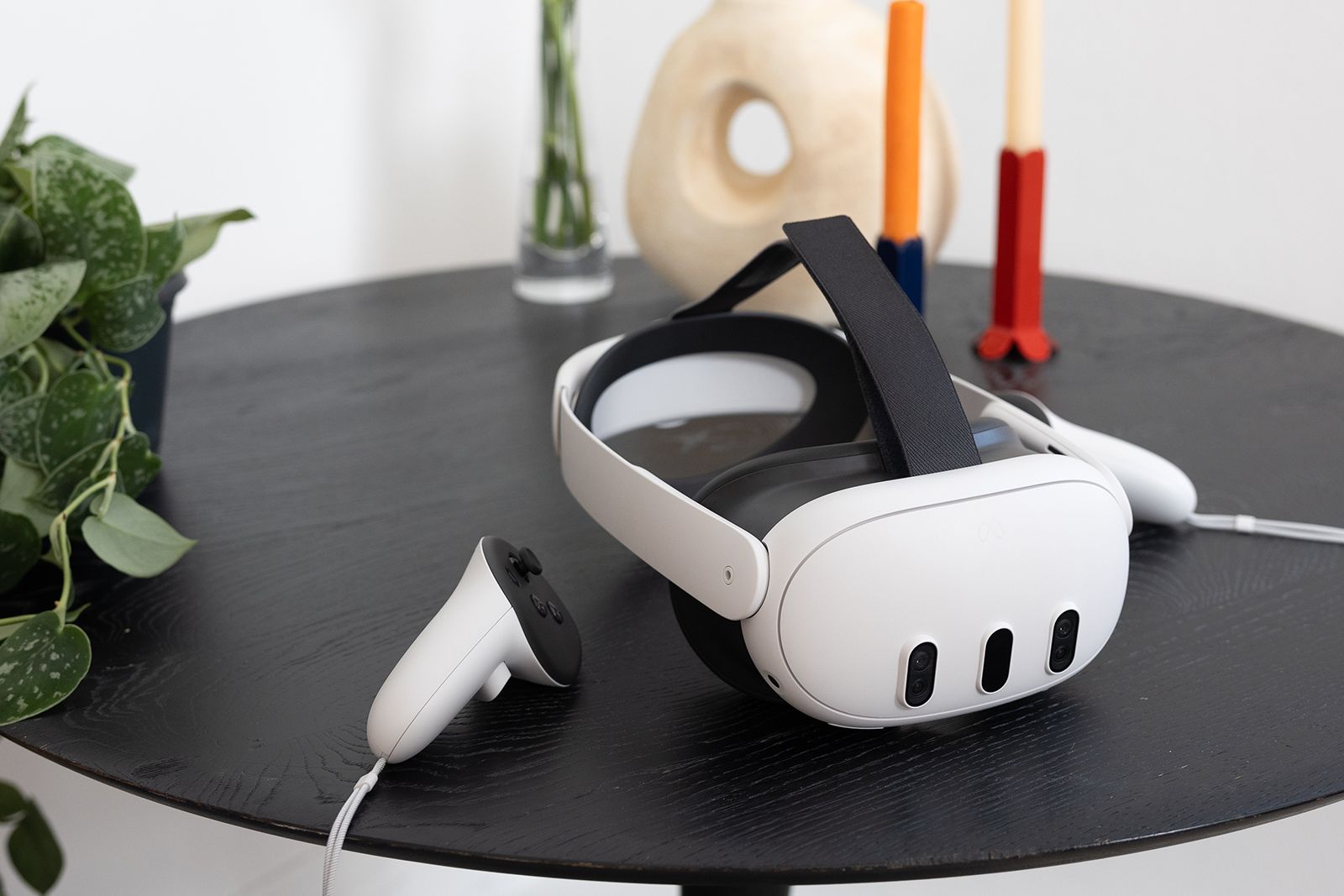 Meta
This applies to new titles, as you'd expect, but it also applies to existing games, too. Meta says that your entire library will look better and run smoother on the Quest 3.
The biggest advantage of the Quest 3 isn't in its VR gaming capabilities, though, it's the fact that it's capable of MR gaming. Meta has shown off a few upcoming titles that fully take advantage of this, and we hope that there are lots more to come, as it's an excellent experience. We assume that these titles will require the Quest 3 to run, but there's a chance that they'll work with the Quest Pro. Quest 2 support seems highly unlikely, given its rudimentary camera.
Elsewhere, you get 8GB of RAM, compared to 6GB on the Quest 2. This should also aid in performance. There's also a larger storage option available in the 512GB model, whereas the Quest 2 tops out at 256GB. The base model is 128GB with either headset.
Conclusion
The Quest 3 is clearly the superior headset, it's upgraded in just about every conceivable way and unlocks a whole new world of MR experiences. Whether you're trying out VR for the first time or you're a seasoned player looking for the next big thing, we'd say it's the way to go.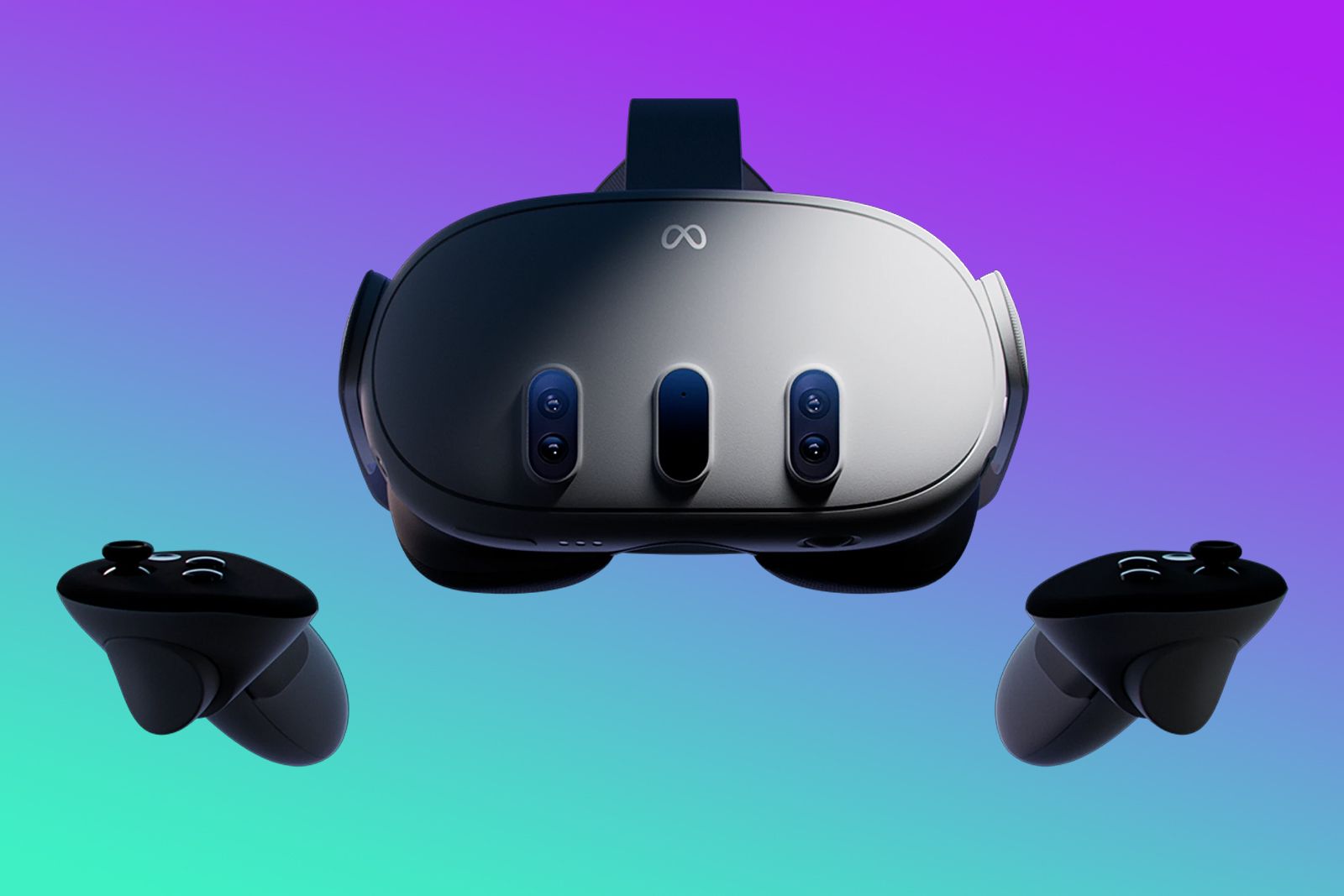 Meta
However, the Quest 3 is also significantly more expensive, we think it's worth the extra cash, but it might not be a feasible option for everyone. The Quest 2 is already a great deal, and we can only imagine it getting cheaper now that the Quest 3 has arrived. If you're seeking the best bang for your buck, the Quest 2 is still very much worth considering.