Computers
Motorola has returned to form in 2023 and the Moto Edge 40 neo looks like a star in the making
Key Takeaways
The Motorola Edge 40 and Edge 40 Pro were impressive devices with a premium design, great performance, and beautiful displays.
The Moto Edge 40 neo features a vegan leather back, which adds character, ages with the phone, and doesn't show fingerprint marks, providing a refreshing change from the usual glass backs.
Despite being a mid-range device with a MediaTek Dimensity 7030 chipset, the Moto Edge 40 neo offers attractive features such as a 6.55-inch OLED display with a high refresh rate, IP68 protection, a large battery with fast charging, and Dolby Atmos support for speakers.
I've seen a number of Motorola phones in 2023 – there was the Motorola Edge 40 and before that the Motorola Edge 40 Pro. Both phones come from the same family and both were impressive devices, with a design that really impressed, great performance and wonderful displays. The Moto Edge 40 particularly impressed me and I loved the vegan leather back – it's a premium finish and a refreshing change from the sterile uniformity of glass.
The thing I like about using a vegan leather back is that it adds character, it ages with the phone, it shows some of the scars of daily use, but it never gives you a fingerprint or smart to worry about – it just looks and feels great. Which is why I'm excited about its addition to the Moto Edge 40 neo.
The Edge 40 neo is Motorola's latest device and the neo in the name basically means it's a step-down from the other two devices I've already seen in 2023. It's making for quite the family of devices. The vegan leather on the rear of the is available in two colour options – Soothing Sea (which is kinda green) and Caneel Bay which is a beautiful blue. There's black too, but that's just a plastic back, so don't get that one.
Interestingly, the Moto Edge 40 neo comes with a case in the box, which is 100 per cent plant based, and colour matches the phones perfectly, thanks to a partnership with Pantone. This isn't a cheap clear TPU case that some manufacturers throw in the box, it's a case you might actually want to use.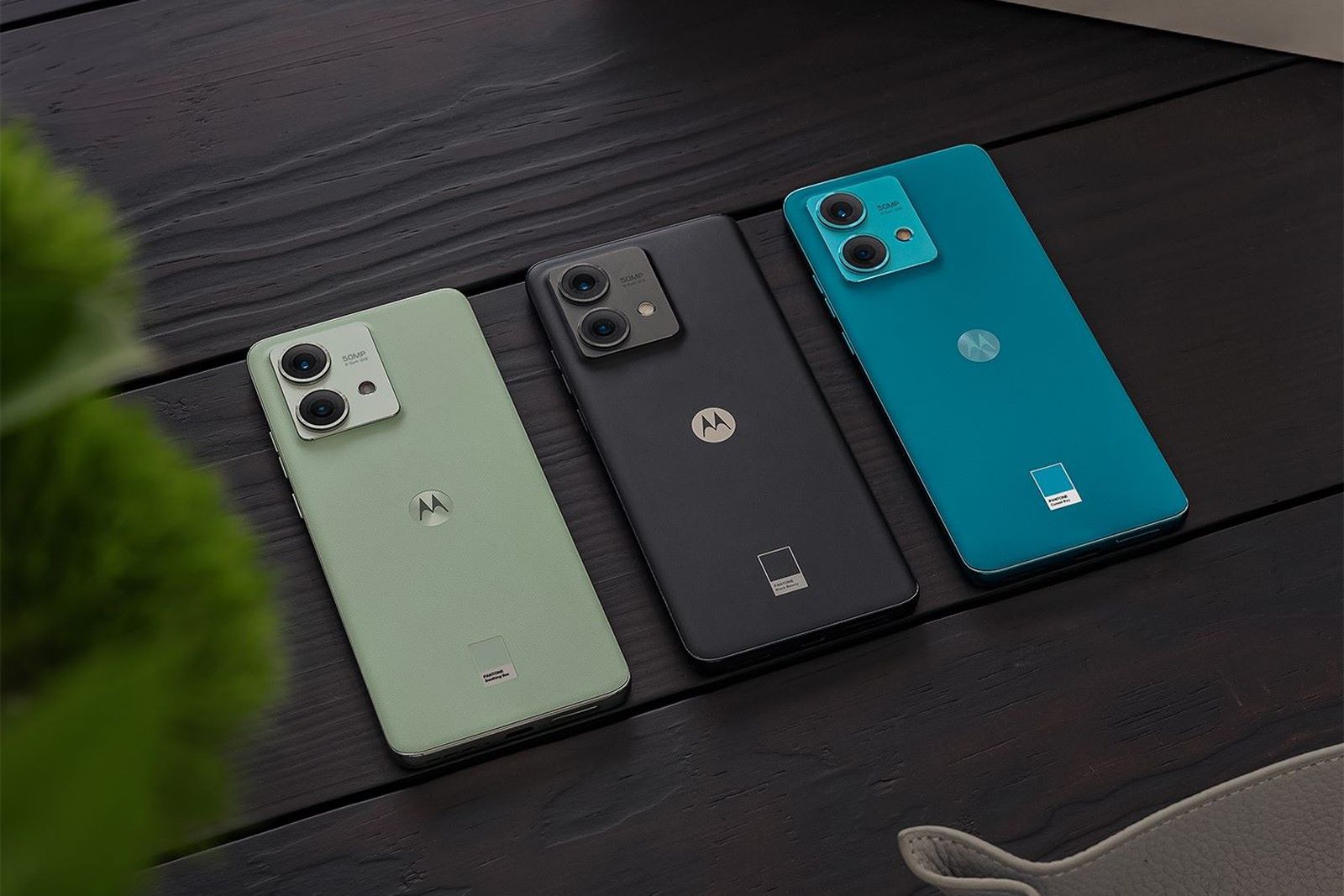 Motorola
The Moto Edge 40 neo is a mid-range device and the price reflects that – £299.99 in the UK from Motorola – and the compromises for the affordable price comes in the form of lower power hardware driving the phone. There's a MediaTek Dimensity 7030 sitting at the heart of this phone so you can't expect flagship performance. I've not tested the Edge 40 neo, but I suspect the 50-megapixel main camera paired with a 13-megapixel ultrawide might be where the real compromise is felt.
Sure, something like the older Pixel 6a will serve both those areas well, likely to be more powerful and give better camera performance for the same price – but those are just the compromise areas, the rest of the phone looks attractive. So what else does the Moto Edge 40 neo offer?
There's a 6.55-inch OLED display with minimal bezels, offering a 2400 x 1080 pixel resolution and a 144Hz refresh rate. That doesn't sound very mid-range and I suspect this will be a major highlight of this phone.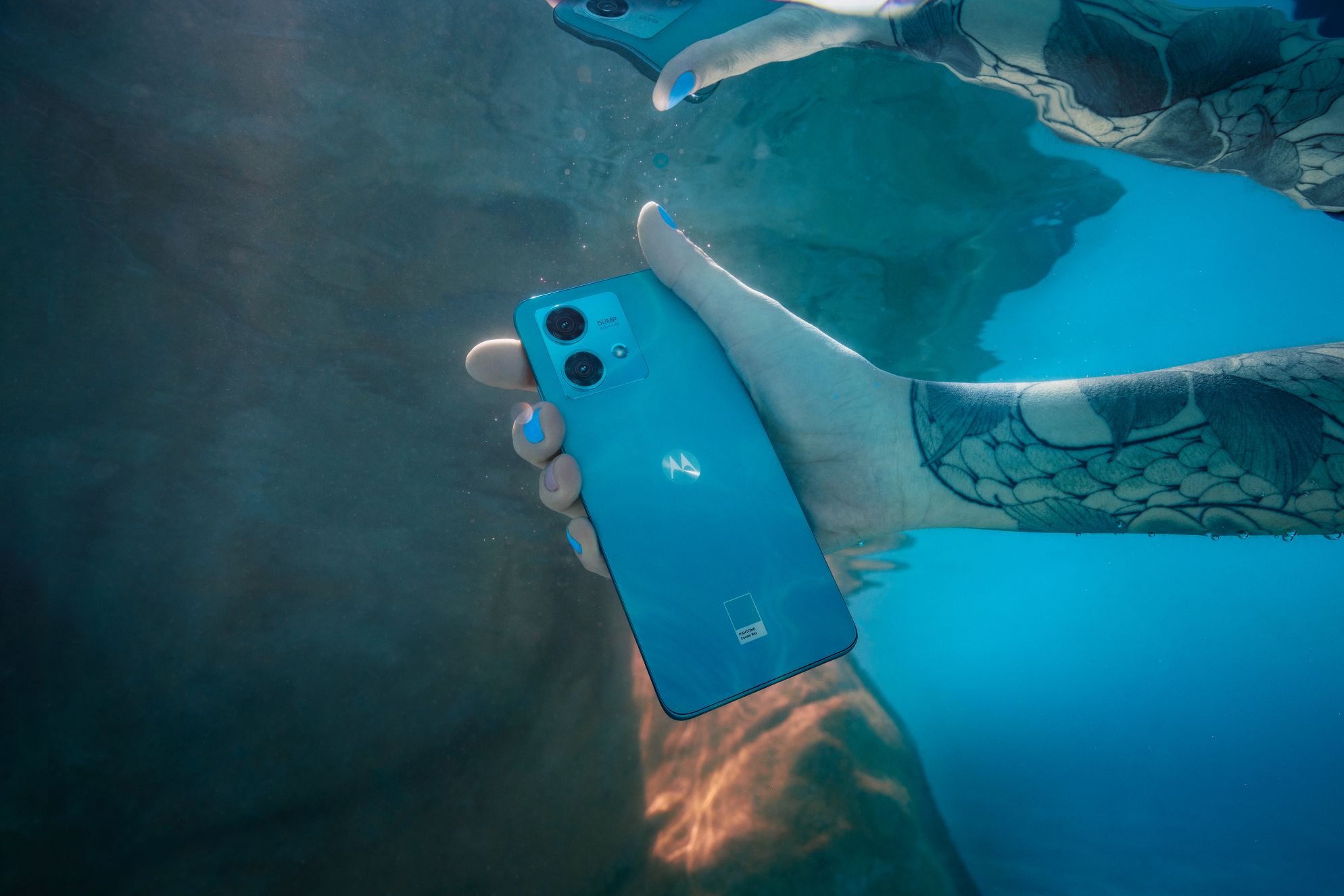 Motorola
Then there's IP68 protection, which isn't so common at this price point. Sure, the Samsung Galaxy A34 is IP67 but it's more expensive and yes, that old Pixel 6a is also IP67. Motorola highlights the waterproof nature of the phone and for some, it's a feature that lets they take more creative photos – underwater, through water, into water – while for others it's just protection against rain showers and, well, normal showers. But you might not want a vegan leather back if you're the sort of person planning to go swimming with the Moto Edge 40 neo – no one likes a soggy phone.
The premium touches continue for the Edge 40 neo with a 5000mAh battery with support for 68W charging – waaaaay faster than the iPhone 15 – and you get that charger in the box. Trust me, that's a good thing, because then you have a faster charger you can use with all your other USB-C devices (even a new iPhone, if you want).
Then you have Dolby Atmos support from the speakers and there are dual speakers, which is going to be great for gaming or movie watching without headphones. All-in-all, it makes for a great package (and speaking of packaging, that's 100 per cent plant based too).
The Motorola Edge 40 neo is available to buy now in the UK and across Europe.