Computers
Ray-Ban Meta Smart Glasses hands on: The story continues
A couple of years back, Ray-Ban teamed up with Meta, or Facebook at the time, to launch their first generation of smart glasses, the Ray-Ban Stories. Now, they're back together with a new range of smart spectacles, and the name has changed slightly.
They're now simply known as the Ray-Ban Meta Smart Glasses collection, and there are two main styles to choose from. You can either opt for the classic Wayfarer design or an all-new style called Headliner.
There have been numerous upgrades to the latest model, including a brand-new chip from Qualcomm, speaker and camera upgrades, microphone improvements and more. I tried them out at an early preview event, and here's what I thought.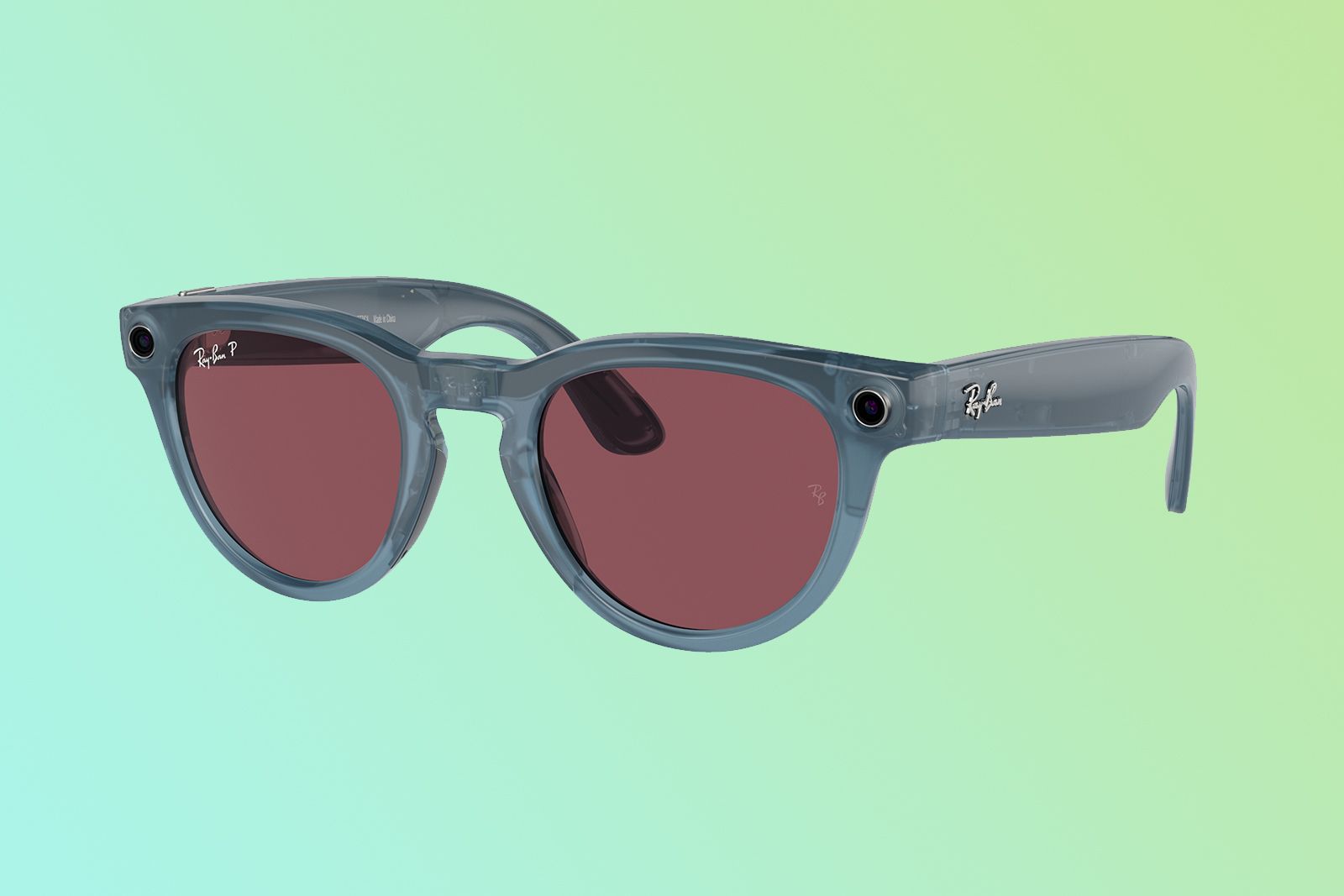 Ray-Ban / Meta
Ray-Ban Meta Smart Glasses
First impressions
The Ray-Ban Meta Smart Glasses are a huge improvement over the original Stories. The camera is better, the speakers are improved and the voice command functionality has been greatly expanded.
Price and availability
The Ray-Ban Meta Smart Glasses collection is available to pre-order today with prices starting at $299 / £299 / €329. Polarized, Transitions and prescription lenses will set you back a bit more.
They'll be available to purchase on October 17 2023 in 15 countries including the US, UK, Germany, Spain, France, Italy and Australia.
Design
The biggest change here, as mentioned in the intro, is the introduction of a new frame style called Headliner. It's kind of a blend between the Wayfarer Round and Wayfarer Meteor styles that were available with the first-generation smart glasses, and I think they look great. However, it's worth noting that the Round and Meteor styles are gone, so really there are fewer frame options this time around.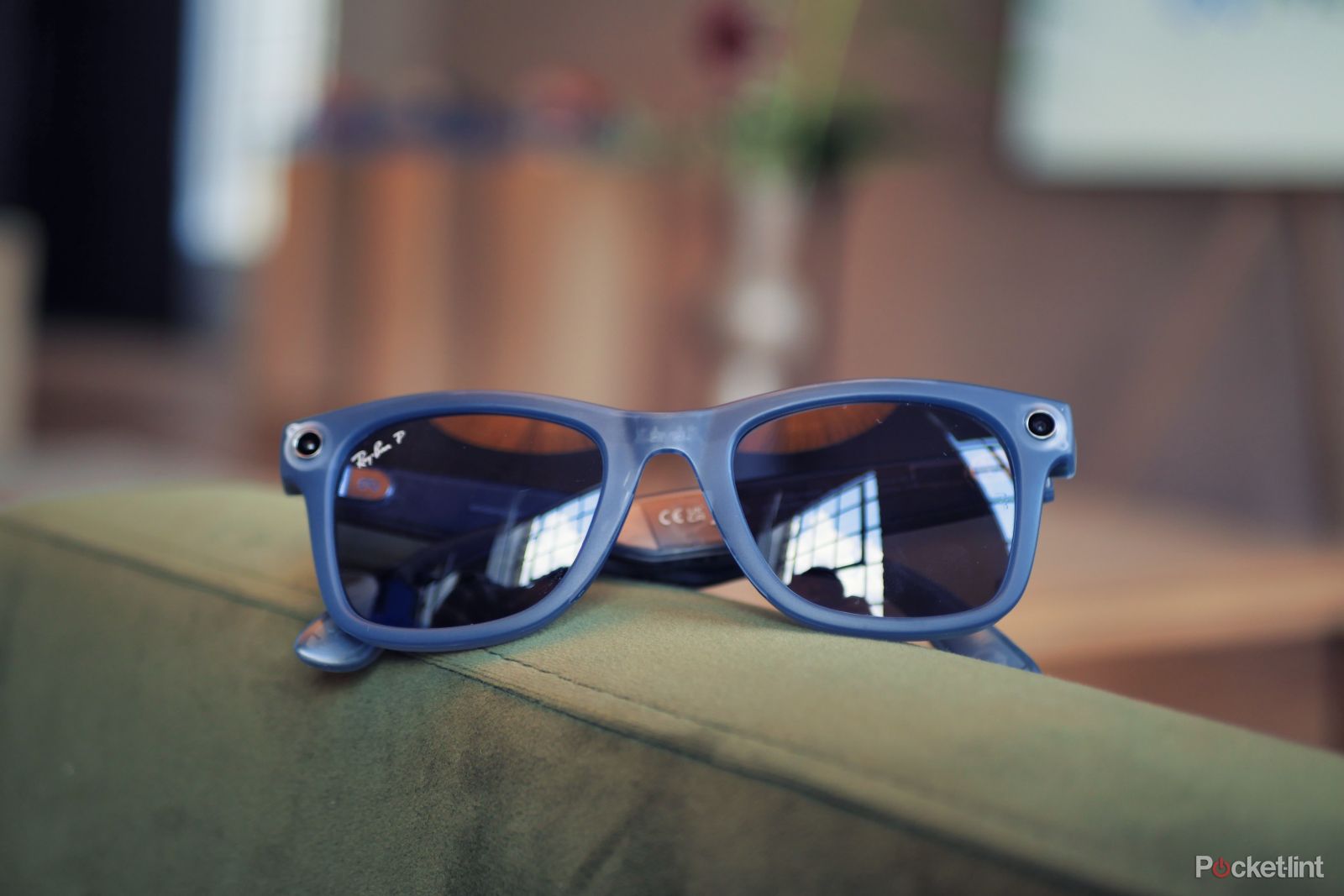 The classic Wayfarer style is available in either standard or large sizes, whereas the Headliner comes in one size only. In total, there are 21 colour and lens options, and they can be mixed and matched to create around 150 different combinations – so finding something to suit your particular tastes should be achievable. Of course, all lens options are available with a prescription applied.
I'm most jazzed about the new semi-transparent frame options, called Jeans, Caramel and Rebel Black. These models let you see the inner workings of the smart glasses through tinted plastic, it's a very early-2000s look and bang on trend.
The entire range has been slimmed down, made lighter and has a better balance on the face. The nose pad is now larger, for added comfort, and they're IPX4 water-resistant, so you can wear them in the rain without too much worry.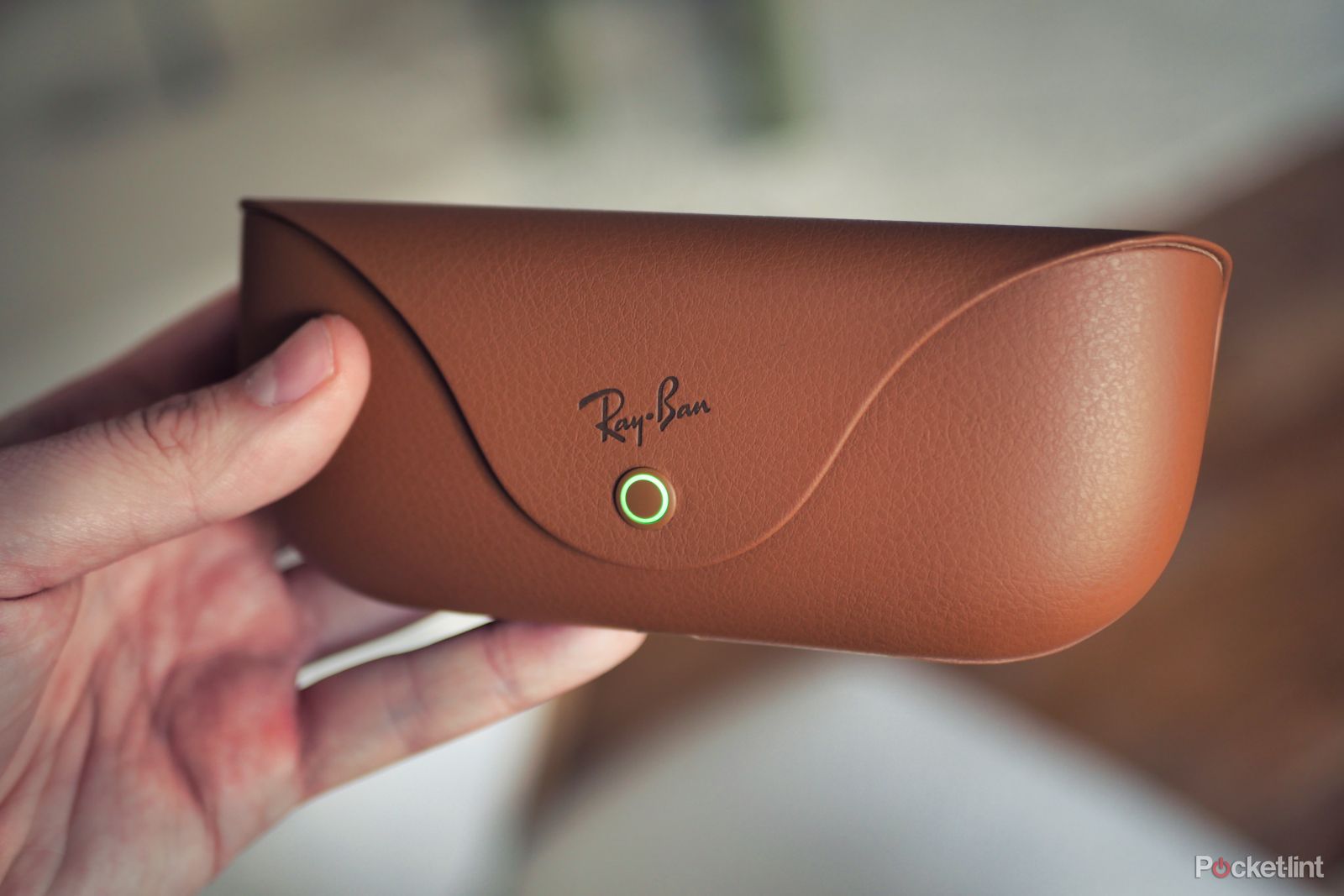 The charging case has been overhauled, too, and it's a massive improvement. It now resembles the traditional Ray-Ban glasses case and it's significantly smaller than the older model. It has a leather-effect finish, charges by USB-C, and sports a neat little LED charge indicator ring on the latch. The glasses now charge using contact pins on the nose-bridge, rather than on the hinge, and it's much easier to click them into place than it was on the first-gen models.
Camera, mics and speakers
The cameras have seen a massive upgrade on the new glasses, or camera, rather. Although it looks like there are two lenses on the new Ray-Ban Meta glasses, there's actually only a single 12MP camera this time. That's no bad thing, though, as this unit is miles better than the 5MP sensors that were found in the Stories.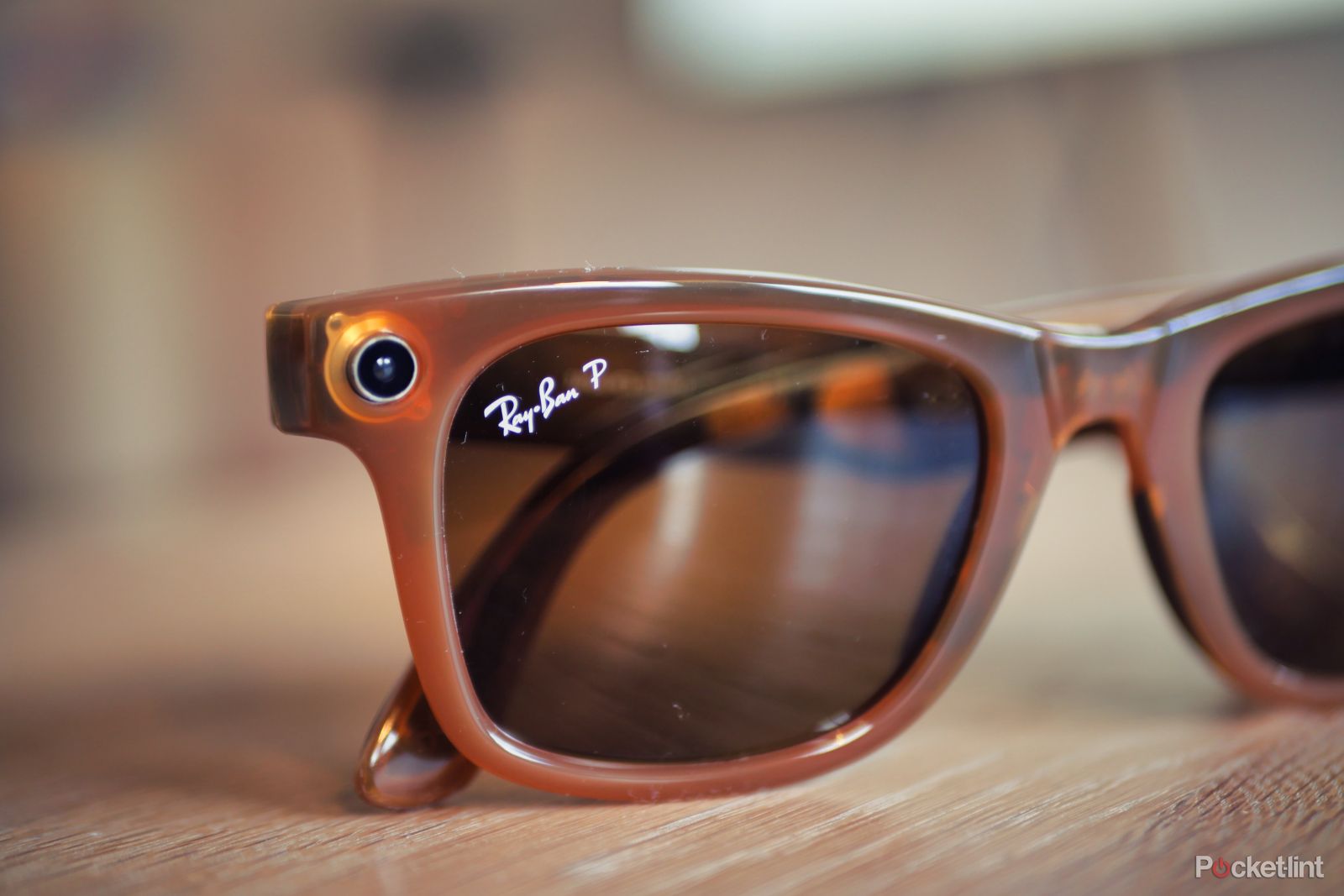 This change has also allowed Meta to move the recording indicator over into the spot where the other camera would be. It's way larger and significantly brighter, it also pulses while a video is being recorded to attract attention, which should help squash privacy concerns about wearing cameras on your face.
At this stage, I've only seen photos and videos from the camera displayed on a smartphone, but they look pretty impressive. The images that I took had a wide field of view and came out in portrait orientation, which I assume is the default mode, but you can choose to shoot horizontally using the companion app.
You can also record 1080p video, again, I've only had a quick look, but the quality seems great and the stabilisation looks impressive, too. What really made an impact, though, was the sound quality.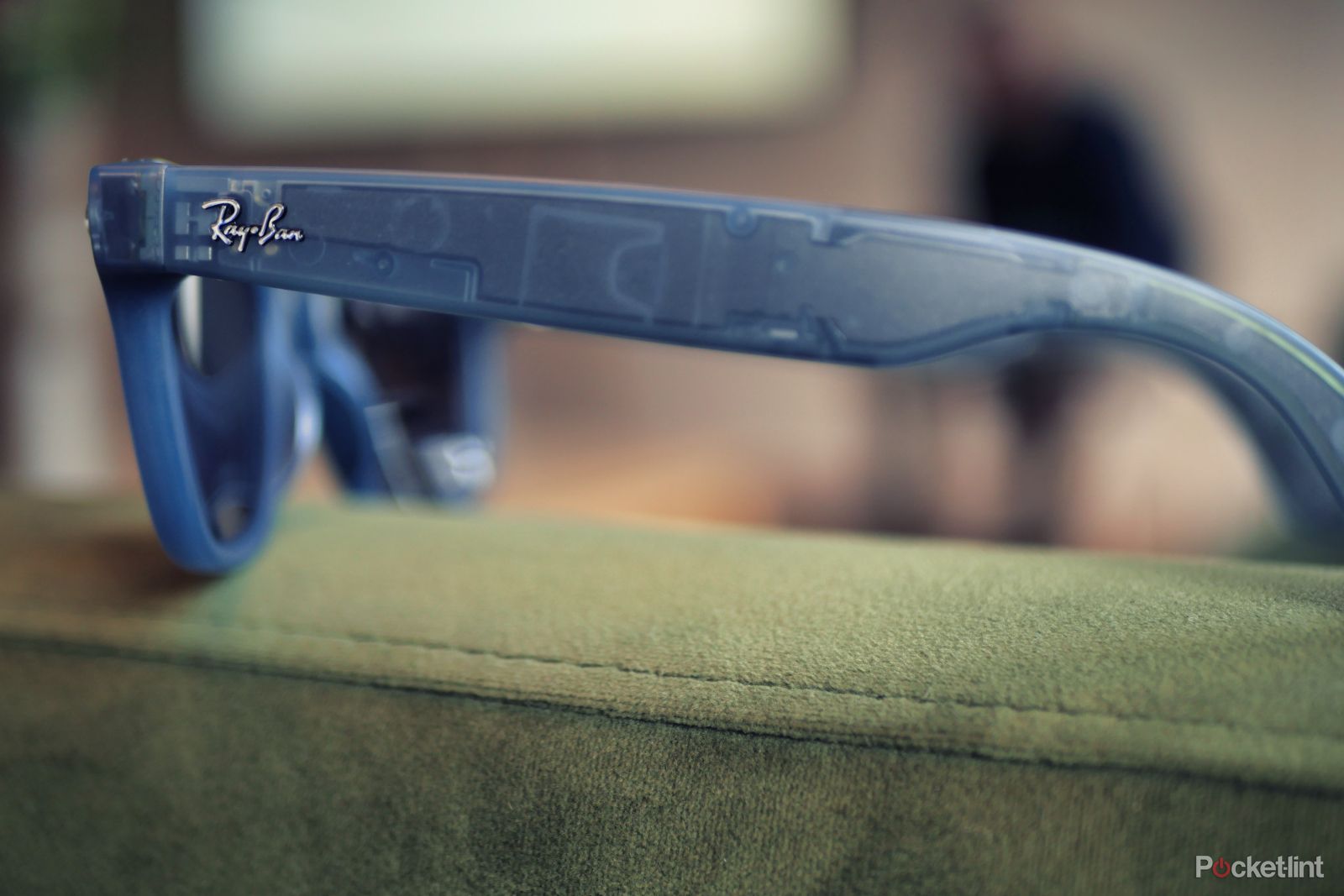 The Ray-Ban Meta smart glasses have a new 5-microphone array, which is obviously great for calls and voice commands, but it makes a big difference to your videos, too. It's almost like a binaural recording, there's a great sense of directionality, and if you listen to it back using the speakers on the glasses, it's really quite trippy, as the openness makes it feel like the sound is coming from the room around you.
Talking of the speakers, they've also seen a big upgrade. There's a new custom-designed driver that can output 50 per cent more volume and twice the bass of its predecessor. They're also said to leak less audio to the outside world. As with the older model, the glasses use near-field speakers that funnel the sound towards your ears, a bit like the speakers on the Meta Quest 2, I much prefer this over bone conduction as you get a more full-bodied sound.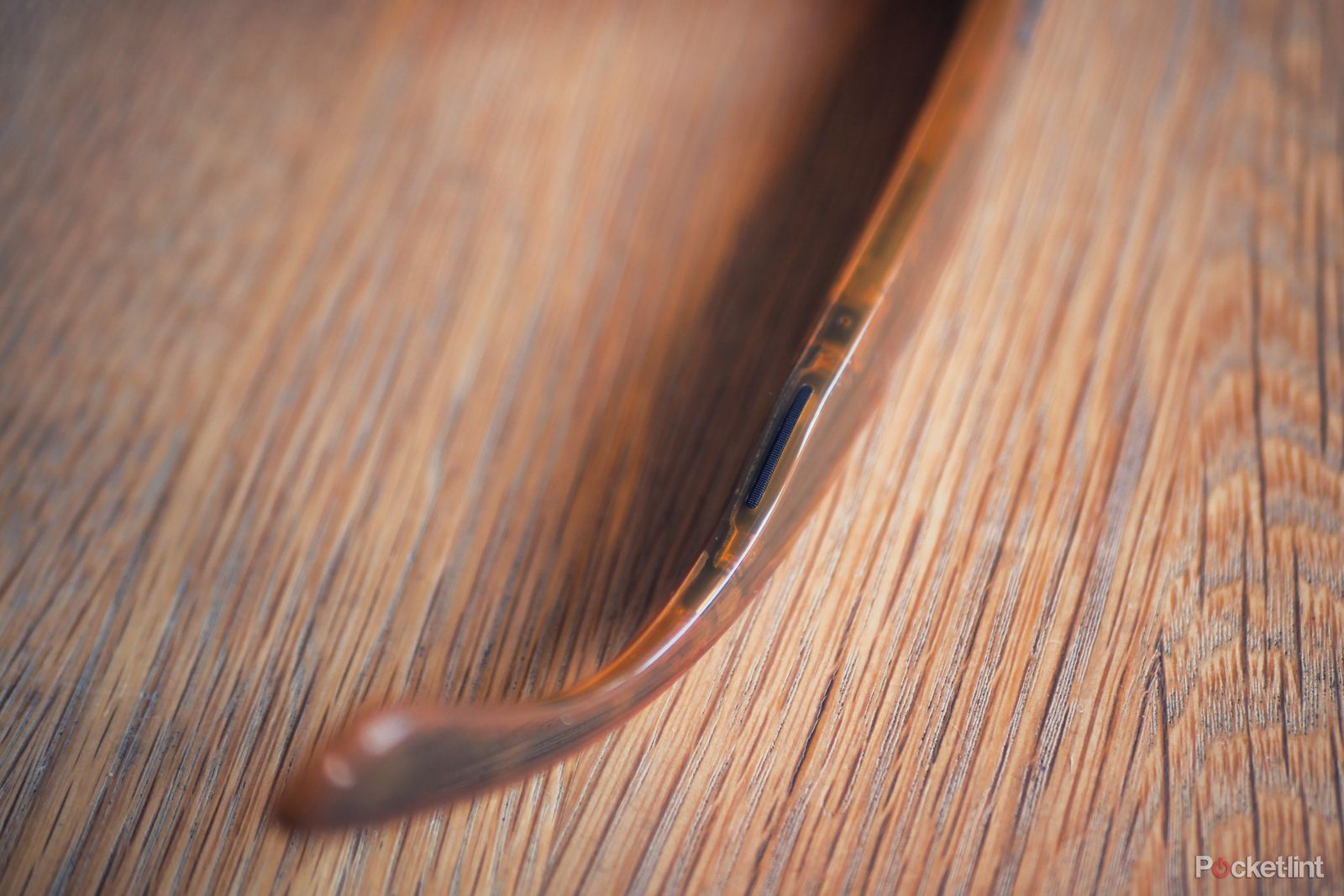 This is another area that I'll need to explore when I get my hands on a retail unit, as I've only heard them in a demo area. What I can tell you now is, they get louder than I expected and do an excellent job of preventing leakage. You really have to get up in someone's personal space before you can hear what they're listening to, so using them on public transport certainly seems feasible.
Features and performance
The Ray-Ban Meta Smart Glasses are the debut platform for Qualcomm's new smart glasses-specific SoC, the AR1 Gen 1. This brings with it support for Wi-Fi 6, Bluetooth 5.3 as well as a dedicated chip for processing voice commands on-device.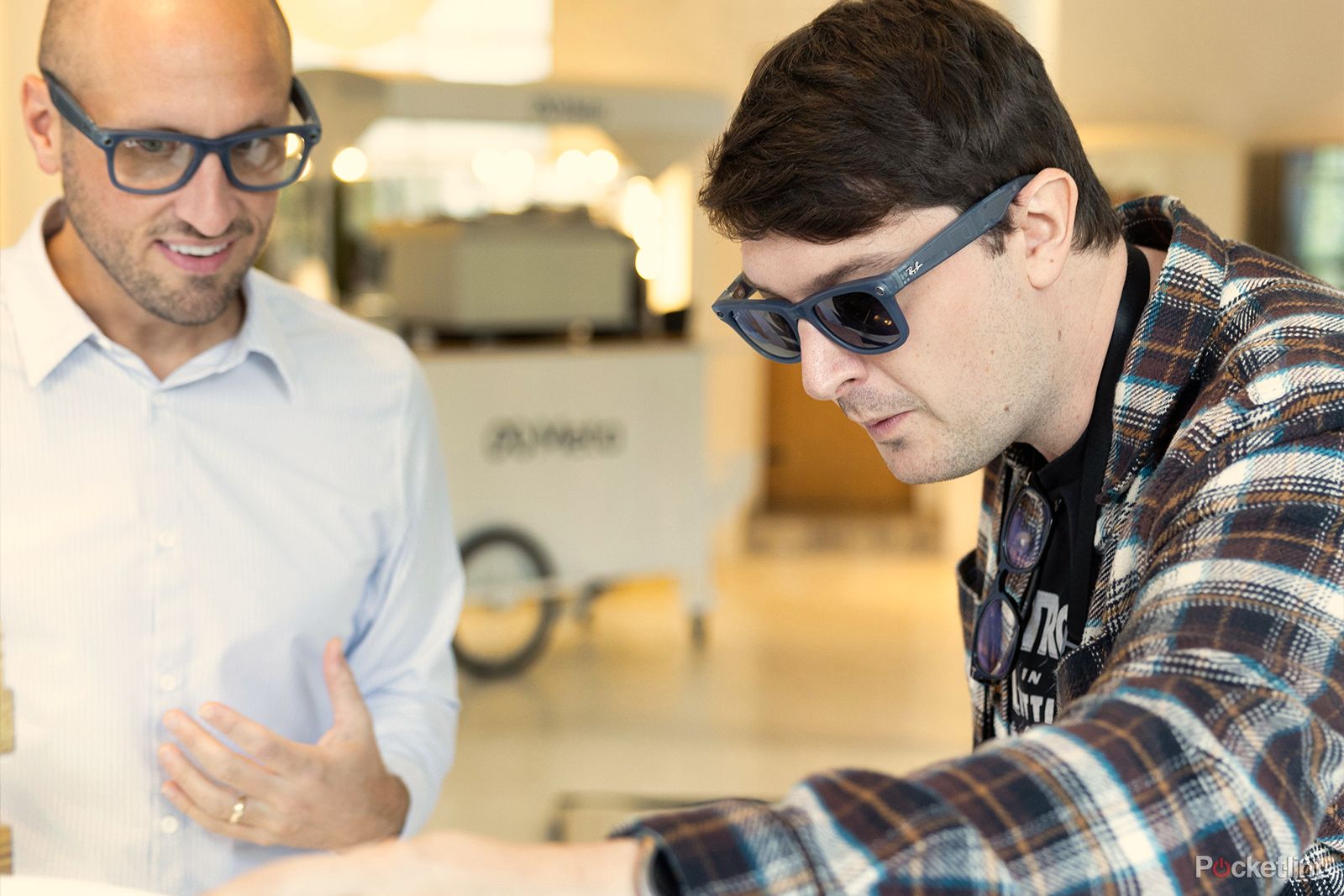 While the voice commands were quite limited on the original Ray-Ban stories, the functionality has been greatly expanded here. You can now directly share photos with a contact using just your voice, for example.
The glasses also support live streaming for the first time, and I thought this was an excellent use case. I was shown a demo of livestreaming to Instagram, which is done as normal, but alongside the ability to switch between your phone's front and rear cameras, a third option is added that allows you to stream video wirelessly from the glasses.
It seems like it would be great for action-packed live streams, like if you were cycling or playing the drums, for example. The glasses will even read out comments and let you know how many people are watching, if you want them to.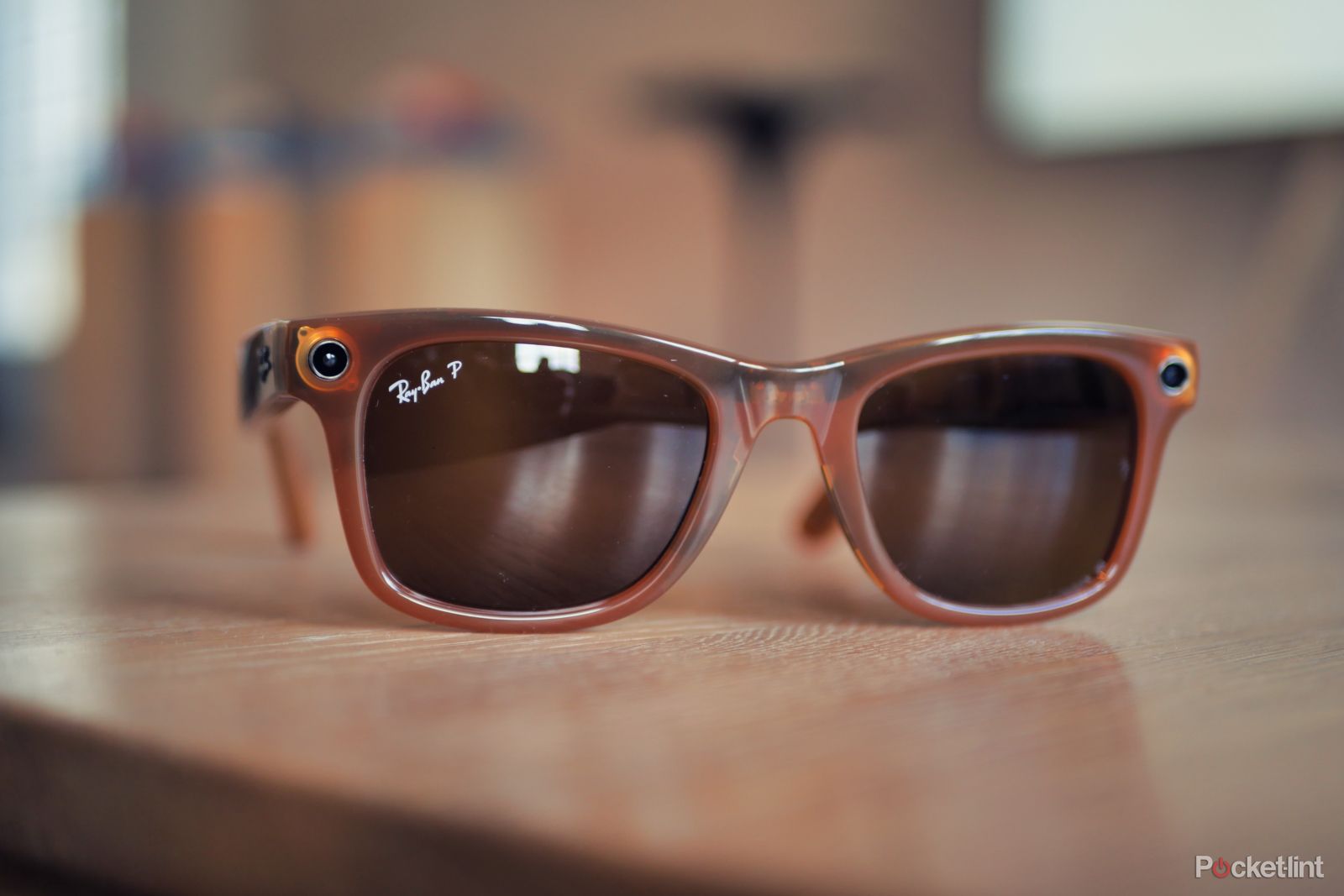 The Ray-Ban Meta Smart Glasses also benefit from a healthy storage bump. You now get 32GB built into the frames, which is an 8 times increase over the Stories. This is enough to store about 500 photos or 100 30-second videos before needing to transfer them to your phone.
The glasses are said to be good for about 4 hours of mixed-use on a single charge, but the storage case gives you 8 additional charges on the go, or 32 hours of extra use. They take 75 minutes to fully charge with the case, but you can get up to 50 per cent in just 22 minutes.
First impressions
To be completely honest, when the original Ray-Ban stories launched, I didn't really see the appeal. But now, after trying the Ray-Ban Meta Smart Glasses for myself, the idea is starting to make a lot more sense.
As someone who wears glasses anyway, and has been known to forget his earbuds from time to time, the idea of having decent speakers in my frames is quite alluring. Then, the ability to capture POV shots without needing to carry a GoPro and a mount is just the icing on the cake.
Of course, those benefits only apply if the sound and image quality is good enough. At first glance, they seem like they could be, but I'll reserve my judgment until I've had the chance to play with them more. In the meantime, though, they're definitely a big improvement over the original, and there's plenty of potential here.