Computers
What are Discord bots, and how can they help your server?
Key Takeaways
Discord servers are not just for gamers – they have become platforms for various communities.
Bots are essential for managing servers and engaging with communities.
Popular Discord bots offer entertainment, gamification, server management, moderation, security, and AI functionality.
Discord servers are virtual meeting spaces where people gather to catch up, collaborate, compete, discuss, or entertain themselves. While the service originated as a voice chat and instant messaging service for gamers inside and outside games, it has been used by more than gamers since its inception. Discord has now become a platform for communities, with servers ranging from intimate places for a few friends to millions-strong for users of AI tools and players of popular video game titles.
For the past few years, Discord has allowed community-made bots (what the company calls apps) that have become indispensable tools for owners to manage their servers and engage with their communities.
What are Discord bots?
We are here to discuss Discord bots today. They can make your server – whomever it's meant for – a better place to collaborate, catch up, or even study together. Popular services offered by bots include entertainment (gif, meme, sticker and image generation, music playback, mini-games, etc.), gamification (leaderboards, leveling, rewards, etc.), server management (permissions, roles, rules, etc.), moderation (anti-NSFW, spam control, event logging., etc.), and security (whitelisting, verification, captcha, etc.). There's also a host of AI bots on Discord now, doing anything from making images to holding conversations and teaching languages.
How to add a bot to your Discord server
So, how do you add a bot to your server? Visit the Discord App Directory. Find the bot you're looking for and then click Add to Server. Other ways to visit the App Directory are via the Server List, Server Setting Window, or Server Menu. Another popular resource for finding bots is Top.gg, which lists Discord's most popular bots and public servers.
You can also visit the bot's website and choose the invite or add to server links, though we recommend the official route for safety reasons. For some bots, though, that isn't an option, and the bot's website is your best path.
Popular Discord bots that you should try on your server
Here, we list some of the most popular Discord bots that you should try out, a great starting point for properly managing your Discord server. Most bots, even those with purposes not for moderation, offer various member management features to prevent spam and other issues, often leveraging Discord's own AutoMod system.
MEE6
MEE6 is a general-purpose bot that can be used to send welcome messages to new users, create custom commands, set reaction roles, implement a leveling and XP system, assign support tickets, setup automation, conduct polls, filter spam, perform other moderation tools, record conversations, and more.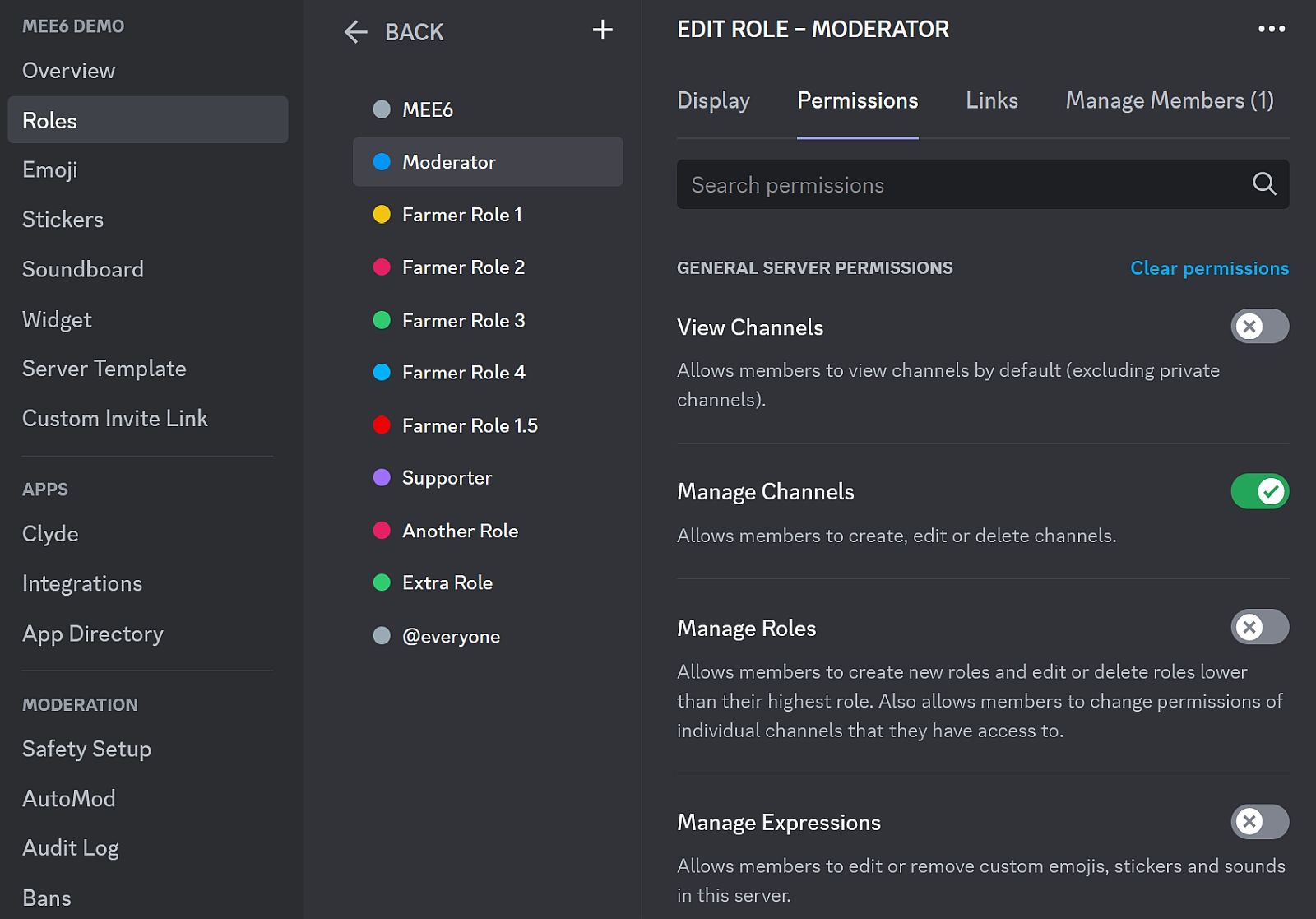 Source: MEE6
There are several premium features, for which you will need to subscribe to plans that start at $12 a month, including the ability to connect social media (including YouTube and Twitch) accounts for alerts, personalize the bot to the server's branding, give a custom prefix for commands, assign XP rewards, show welcome images, and gain access to advanced moderation tools.
YAGPDB.xyz
An acronym for Yet Another General Purpose Discord Bot, YAGPDB.xyz offers many features similar to MEE6. These include connecting social and RSS feeds, sending welcome and goodbye messages, self-assigning roles, a configurable auto moderator, creating custom commands, various moderation features, and more.
Premium features, available after a $3 Patreon pledge, include priority support, increased message cache duration, a higher number of custom commands, the ability to connect more feeds, and others.
ProBot
A popular general-purpose bot, ProBot lets you create personalized welcome images, customize embeds, add reaction roles, and use a leveling system.
ProBot premium features, available starting at $5 a month, include detailed member logs, custom emoji, priority support, security features like anti-raid protection, bot personalization, auto roles, customizable avatars, and more.
Dank Memer
A text-based gaming bot that can increase engagement on your server, Dank Memer lets you create and insert memes in conversation. It also has a gem-based currency system that lets members compete with one another for rewards (coins and items) and bragging rights on server/ global leaderboards.

Source: Dank Memer
Members can get virtual pets, participate in mini-games, buy, craft, and sell items, browse and generate images/ memes, post fake memes, and pretend to work, among other virtual shenanigans.
Arcane
Another engagement-focused bot for member leveling, Arcane creates leaderboards and lets server owners reward members. It can track text and voice chat (premium only) activity for leveling, apart from offering the regular suite of general-purpose bot features like reaction roles, moderation, custom commands, logging, and YouTube alerts.
Premium features include custom welcome backgrounds, increased custom commands, more YouTube alerts, and unlimited reaction roles.
Truth or Dare
A great way to build engagement on your server, Truth or Dare is a text-based gaming bot with multiple game modes, apart from the eponymous party game. Members can also play games like Would You Rather, Never Have I Ever, and Paranoia.
Premium features, starting at $2.99 a month, include unlimited custom questions, Question of the Day, Repeat Prevention, and disabling a question you don't like.
Emoji.gg Bot
Discord's roots as a text-based chat service still show; as you'd imagine, it's a place where emojis are used to participate and react. However, unless you're a Discord Nitro subscriber, you'd be limited to a small number of emojis on most servers.
A great way to add emojis to your server is by inviting Emoji.gg Bot, letting you add specific emojis and import entire emoji packs from the Emoji.gg database, create custom emojis, and more.
EPIC RPG
Another text-based gaming bot for increased engagement, EPIC RPG lets your members participate in role-playing games. This includes the standard RPG fare of going on adventures or hunts, killing monsters, leveling up, farming, dueling other players, and getting rewards, apart from buying, trading, or selling items.
Members can team up with others to take on dungeons, bosses, and other members. The in-game coin currency can be gambled as well.
Cappuccino
One of several conversation-style AI bots on Discord, Cappuccino has a social focus and is meant to be a conversation starter between server members. For example, bot commands do things like let you ask other members a custom or random question, and then compile a light-hearted or funny summary of the short answers.
Another command asks everyone what they've been up to lately and yet another gifts a user a surprise drink.
Memris
Another conversation-style AI bot, this one helps you learn a language either solo or with friends. It aims to teach members languages by conversing with a GPT-powered AI chatbot, instead of making them learn grammar or syntax.
Memrise will give hints, provide translations, and let members earn leaderboard points to compete with others on the server or globally.
AI Image Generator
With a name that reveals everything about the bot, AI Image Generator does what you'd expect – create images based on text inputs by server members.

Source: AI Image Generator
Unlike other such generators, including the very powerful, popular, but paid Midjourney bot, AI Image Generator provides unlimited image generation – but with queue times. It's a fun addition and another way to increase engagement on your server.
Midjourney Bot
The current premier AI-based image generator, it also happens to be the most popular server on Discord, with over 16 million members. The Midjourney Bot can be added to your server as well, but you will need to subscribe to the service.
Midjourney plans start at $10 a month. Users can have the bot describe an image, generate an image based on a prompt, and even blend multiple images together.