Computers
What is Microsoft Copilot? Microsoft's AI explained
AI is about to change everything, Google focused on AI for almost the entirety of its I/O 2023 keynote, and Microsoft did the same at Build.
Microsoft has a bit of a leg up, though, it's been working closely with OpenAI to create various artificial intelligence tools to help improve our lives. The company is now integrating AI into its search engine, Edge browser, Microsoft 365 and Windows 11 as well.
We're here to help guide you through all the features on offer and what Microsoft's AI can do for you.
In 2019 Microsoft started a multi-billion dollar investment in OpenAI. Shortly after we started seeing OpenAI producing interesting things like the incredible image generation tool DALL-E 2 and the now popular ChatGPT.
The latter of these two is an intelligent AI-driven chat tool that's able to have human-like conversations, answer questions, suggest ideas and assist you with all sorts of different tasks. It is an artificial intelligence that has been trained on a large language model and a large multimodal model. This means it's been trained on large datasets and with human interactions, but hasn't had access to search the web.
Things are moving fast though and OpenAI is constantly working to improve its toolset. Since ChatGPT 4 appeared the AI has been making waves by doing all sorts of things including composing essays, writing code, suggesting business ideas and more besides. Even passing the bar exam.
In February 2023, Microsoft revealed that it was using ChatGPT to power "the new Bing" integrating next-generation artificial intelligence into Bing search.
With the power of AI, Bing is now more than just a search engine because it's also a conversational tool and one that Microsoft is calling your "AI copilot for the web". With these new tools, Bing is set to "deliver better search, more complete answers, a new chat experience and the ability to generate content. "
Bing is no longer just about giving you a set of search results but instead useful and detailed answers to your queries.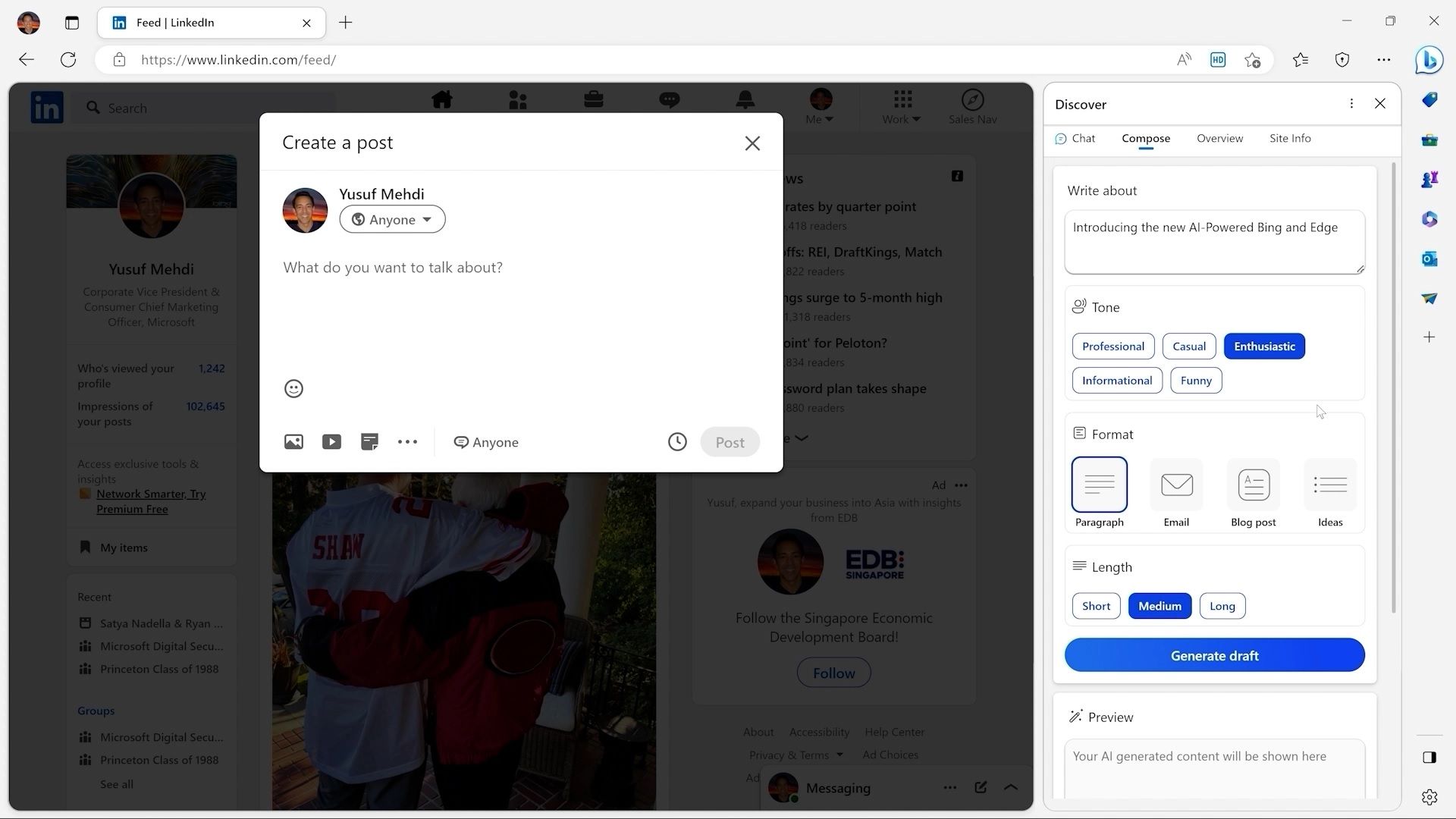 Microsoft
Bing AI in Microsoft Edge
In March 2023 Microsoft started integrating its AI-powered Bing search into Microsoft Edge. The company began rolling out stable versions of the browser with the Bing AI chatbot built right into the sidebar as standard.
Referred to as "Edge Copilot", "Bing chat" and "Discover" this tool now sees you being able to get answers directly from your browser with the power of your own AI assistant.
Microsoft says that Edge Copilot can do things like summarising web content, searching the web for answers and even creating content for you.
Microsoft notes that Bing AI isn't perfect (yet) and won't always be 100 per cent factual:
"Bing aims to base all its responses on reliable sources, but AI can make mistakes, and third-party content on the internet may not always be accurate or reliable. Bing will sometimes misrepresent the information it finds, and you may see responses that sound convincing but are incomplete, inaccurate or inappropriate. Use your own judgement and double-check the facts before making decisions or taking action based on Bing's responses."
What is Microsoft 365 Copilot?
Microsoft isn't stopping at just Bing and Edge with AI, it's also integrating the intelligence into Microsoft 365 as well.
Known as "Copilot" this is a tool to help people with creating documents, reading and summarising emails, crafting presentations and more besides.
Think of it as a much more intelligent (and actually useful) alternative to the classic Microsoft Office assistant Clippy.
Copilot can be used throughout Microsoft's Office suite. It will be there to help you in Microsoft Teams, Outlook, Powerpoint and Word. So whether you need help managing a PivotTable in Excel or keeping on top of your inbox, Copilot will be there to help you out.
Microsoft has shown off some of the powerful functions of Copilot and what it can do. This includes helpful things like quickly summarising long email threads or analysing great swathes of spreadsheet data.
What can Microsoft 365 Copilot do?
One of the most powerful demos of what Microsoft Copilot can do is demonstrated with Copilot being used in Excel.
You can use this AI tool to analyse your data and then do things like look for trends in particular data sets, create new sheets and graphs based on it and even explain its workings and how it came to those findings.
This is obviously a potentially powerful tool for assessing company data but also could be a big time saver for many.
Copilot has different uses in several of the Microsoft365 apps:
Copilot in Microsoft Outlook – using Copilot in Outlook lets you be more efficient. It will help summarise long email chains and help you respond to them too. You can also use it to quickly flag important messages or do simple things like get help with the tone of your messages and wording.
Copilot in Microsoft Teams – in Teams Copilot can help you interact with colleagues and plan things. It can help with setting agendas, organising discussion points from meetings and formulating action points as well. It can even help with things like meeting summaries for those who missed the meeting.
Copilot in Word – when writing, Copilot can help create drafts of documents as well as help with rewriting sections, improving the tone of your writing and summarising text.
Copilot in PowerPoint – here Copilot can be used to transfer your ideas into decks and can be used to add speaker notes to the presentations as well.
Microsoft 365 Copilot is still in the early stages and is currently in testing with 600 Microsoft customers. We're not quite sure when the public will be able to get their hands on it, or what it might cost to do so, but we should hear more about it soon.
What is Windows Copilot?
At its Build event in May 2023, Microsoft introduced Windows Copilot. Which is essentially the same thing, but built directly into Windows 11.
With Windows Copilot, you can open up a chat window directly from the desktop and ask Copilot to help you with tasks, or get information, just like like Bing Chat.
The difference here is that it's built directly into the operating system, so it has access to system controls and documents, as well as the ability to open and control applications.
Microsoft's demo showed Windows Copilot setting the system to dark mode, snapping windows into place and summarising a business plan document. It's even able to recommend music, open Spotify and begin playing it.
A lot of Microsoft's Build presentation focused on plugins and how third-party developers can integrate with Windows Copilot, so we'd expect the AI's capabilities to expand as the platform matures. Currently, Microsoft says that 50 plugins are available, and thousands more are on the way.
Windows Copilot launched in beta in June 2023 as part of the Windows 11 Insider preview, this video shows how to get it up and running and you can also sign up for updates here.