Computers
Which of Amazon's tablets should you buy?
Amazon's Fire tablets continue to offer a popular alternative to the iPad, and with the choices of Android tablets reducing over the past few years, the Fire family has offered affordable tablets that do just about everything you need.
There are a host of options that you could now pick from, at a range of sizes, but all things have their place – we've ranked the most recent generation of Amazon Fire tablets in each case, to let you know which we think you should go for.
Our picks for the top Amazon Fire tablets in 2023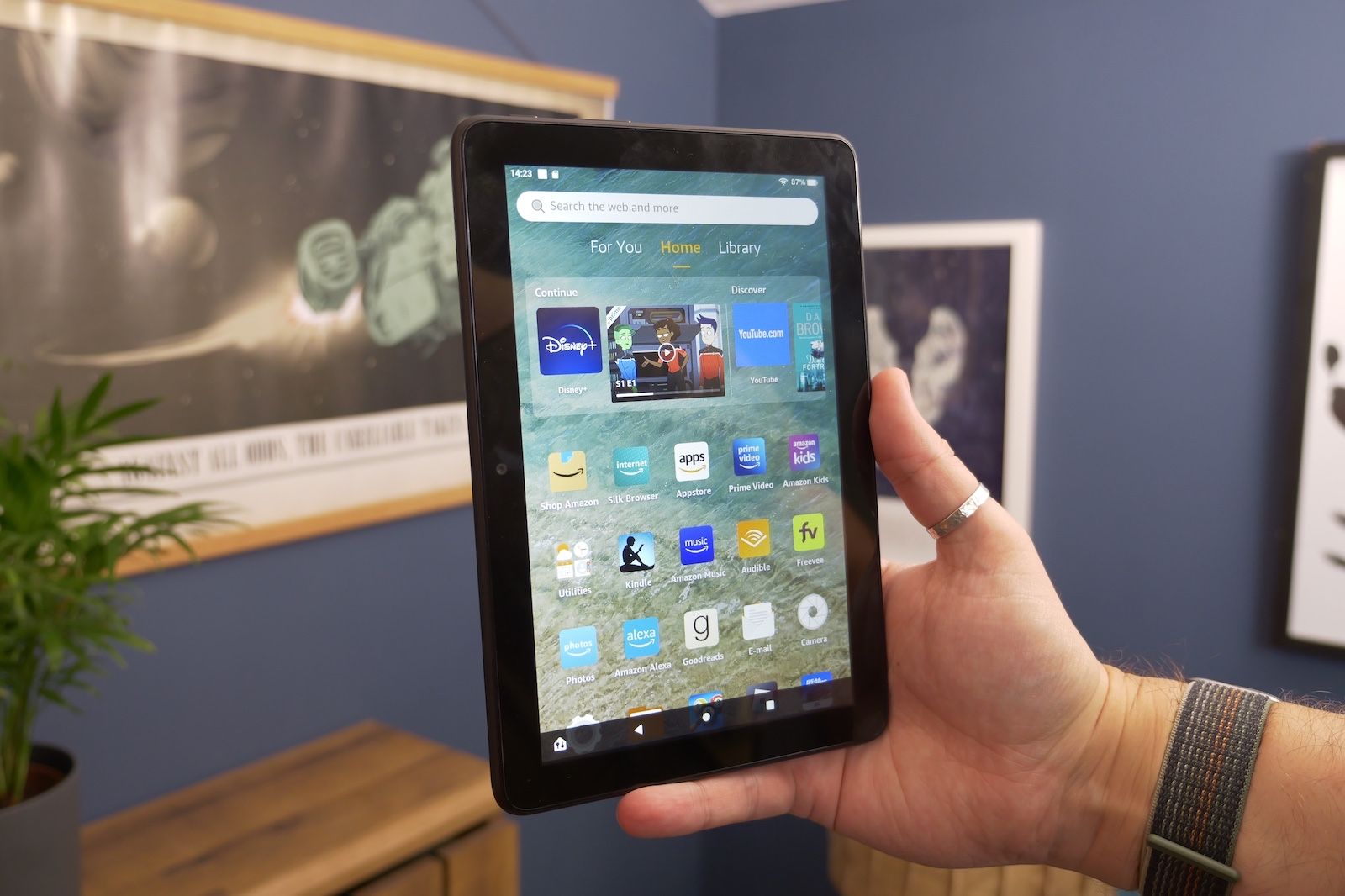 Amazon Fire HD 8
1. Best Amazon Fire tablet overall
A perfect tablet for loads of uses. 
Storage

32/64GB

CPU

2.0GHz hexa-core

Memory

2GB

Measurements

201.90 x 137.34 x 9.60mm, 337g
Pros
Handy size
Such great value
Simple to use
Cons
A little small for some media
The Amazon Fire HD 8 is great value for money, giving you more space and a better display than the Fire 7, but still at a really attractive price. It sits in an appealing position, offering portability, excellent battery life as well as great sound. This model was just updated in 2022 and is currently in pre-order, with 30 per cent more power than the previous version.
Alternatively, there's the Fire HD 8 Plus, which adds Qi wireless charging with an optional compatible dock – so you can use it as an Echo Show.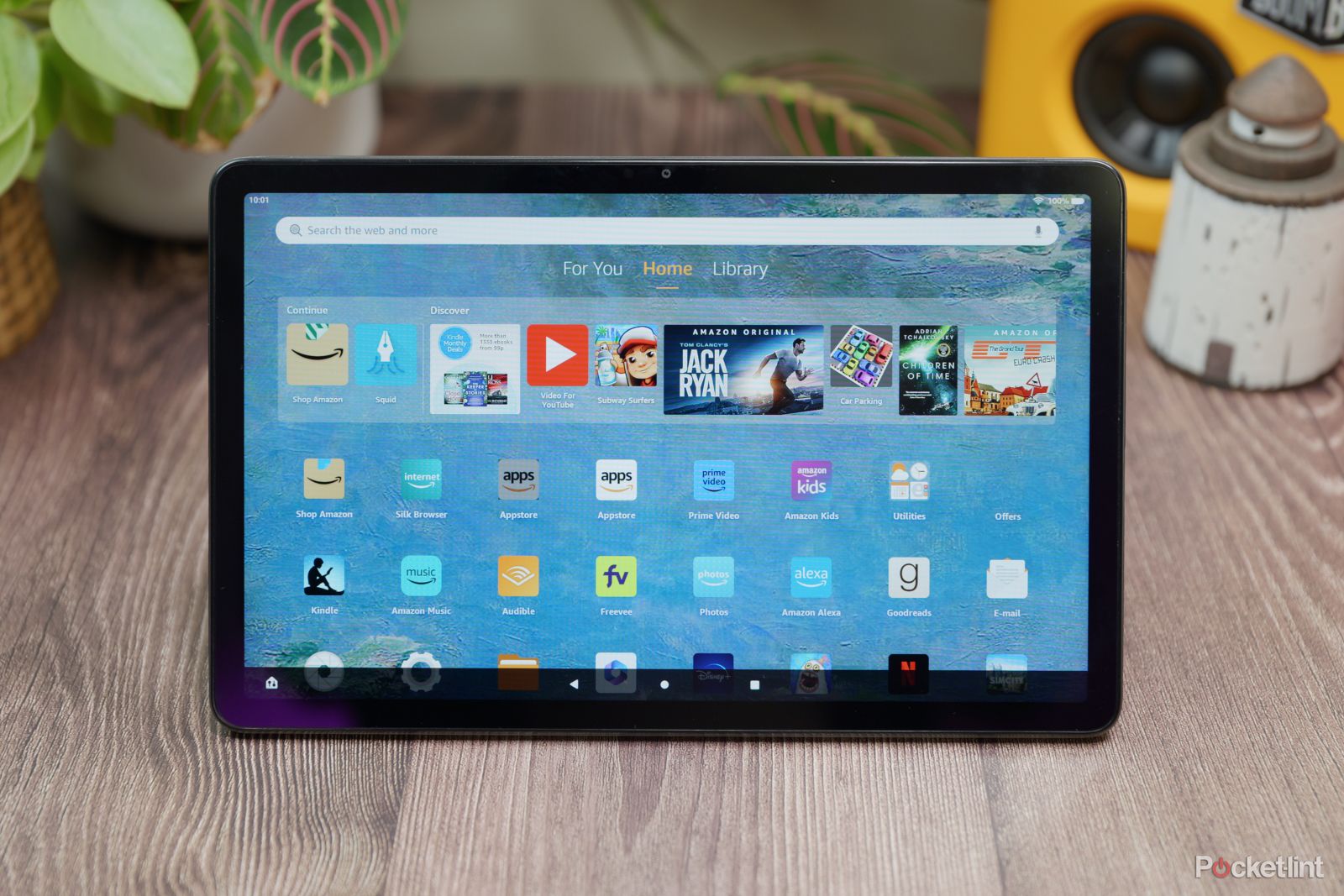 Amazon Fire Max 11
2. Best Amazon Fire tablet for quality
This brilliant tablet is probably the single best to use in Amazon's lineup, but it can't quite win out because of a higher price tag that means it might be overkill for some.
Storage

64GB or 128GB

CPU

2.2Ghz octa-core

Memory

4GB RAM

Measurements

259 x 164 x 7.5mm
Pros
Super powerful
Productivity accessories
Great design
Cons
Expensive
Accessories are extra
The Amazon Fire Max 11 is the newest addition to the Fire lineup in terms of size – it's the biggest tablet Amazon has ever made, and the most powerful too, with a keen eye on productivity.
With the option of a keyboard and trackpad support, this is the only Fire tablet that you might be able to fully work from, and it's also great for media viewing as you'd hope. A more premium design rounds things off, but this all comes at the highest price of any of Amazon's tablets, to temper things.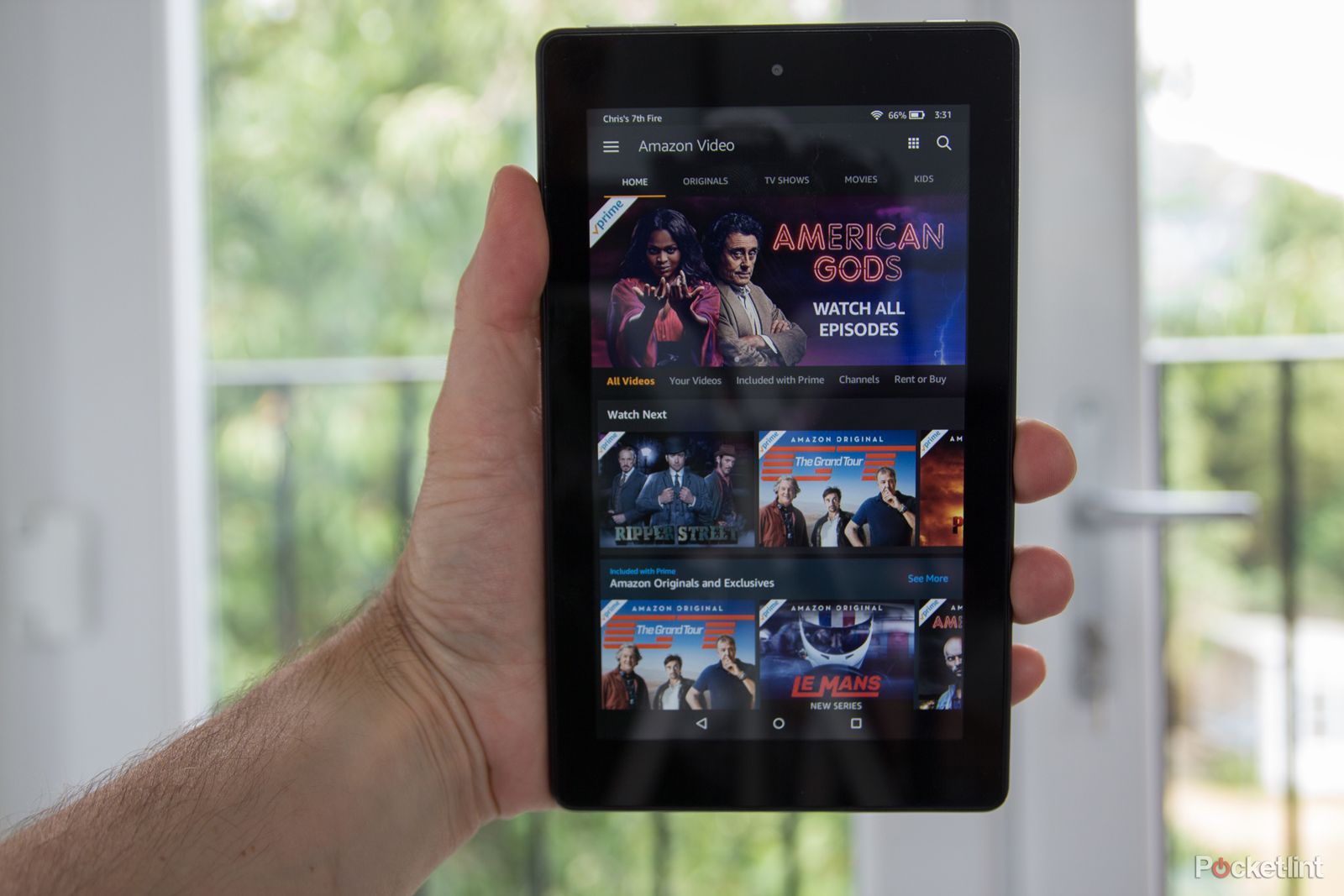 Amazon Fire 7 Tablet
3. Best Amazon Fire tablet for portability
Storage

16/32GB

CPU

2.0GHz quad-core

Memory

2GB

Measurements

180.68 x 117.59 x 9.67mm, 282g
Pros
So portable
Nice compact design
Runs pretty smoothly
Cons
Not too powerful
Big bezels
The Amazon Fire 7 (2022) is one of the most affordable tablets you'll find and it's perfect for those who might break it – like kids – although do also consider the Fire 7 Kids too. The Fire 7 was updated in 2022 to give a power boost, but it's still an entry-level device.
The Kids edition gets a case, 2-year warranty and 1-year subscription to Fire for Kids+ and there are two versions, one for ages 3-7 and one for 6-12 with a slightly different type of case. The older model is called the Fire 7 Kids Pro, but this currently uses the 2019 version of the tablet, which you don't want.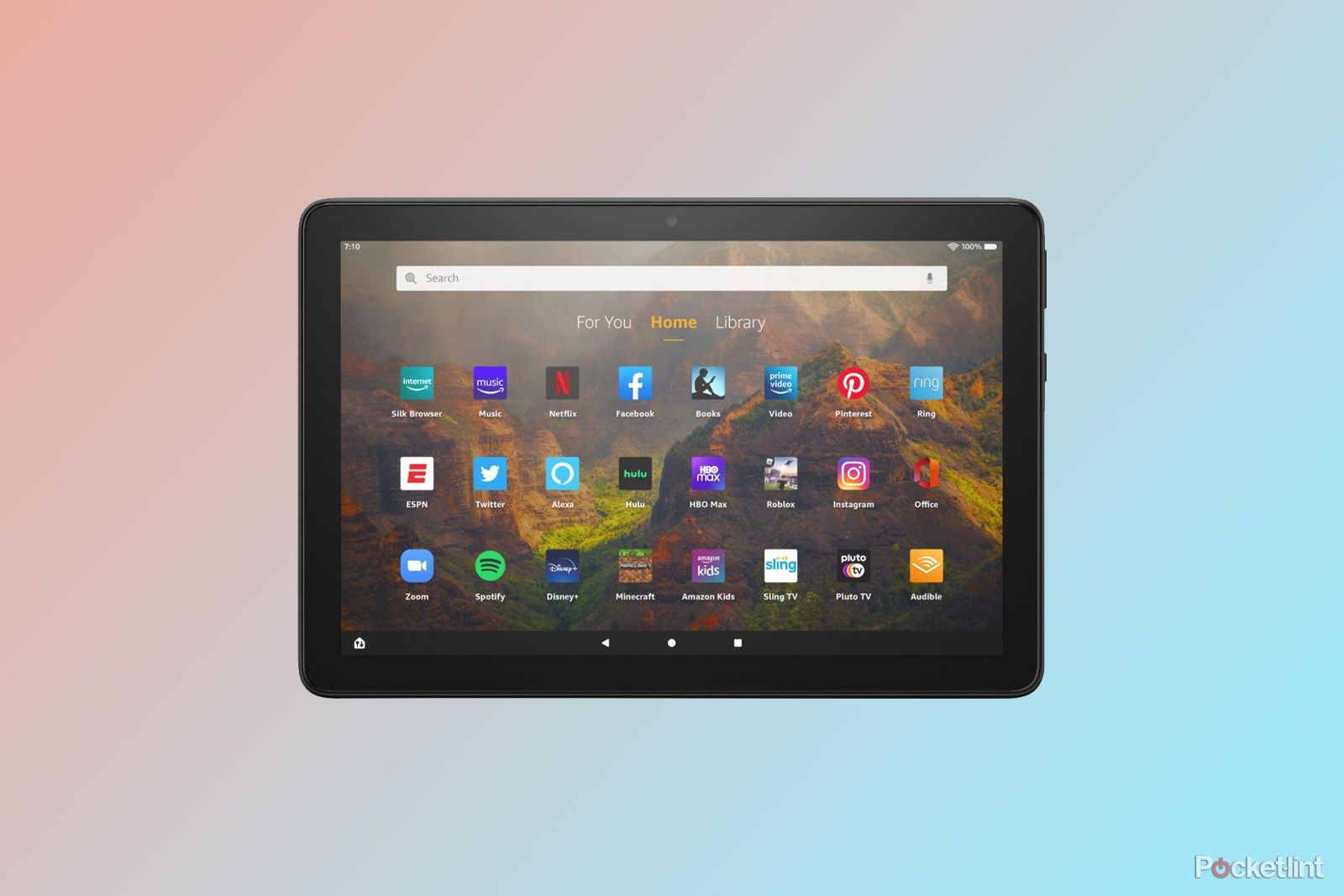 Amazon Fire HD 10 (2021)
4. Best Amazon Fire tablet for media
Amazon's 10-inch tablet is a joy to use, and a great all-rounder with a very decent display.
Storage

32/64GB

CPU

2.0GHz octa-core

Memory

3GB

Measurements

247 x 166 x 9.2mm, 465g
Pros
Superb value
Great for watching movies and TV
Solid power
The Fire HD 10 (2021) offers a slightly more compact design over the older 2019 version, a brighter display and more power, so it's likely to be popular and a worthy upgrade over the 2019 model.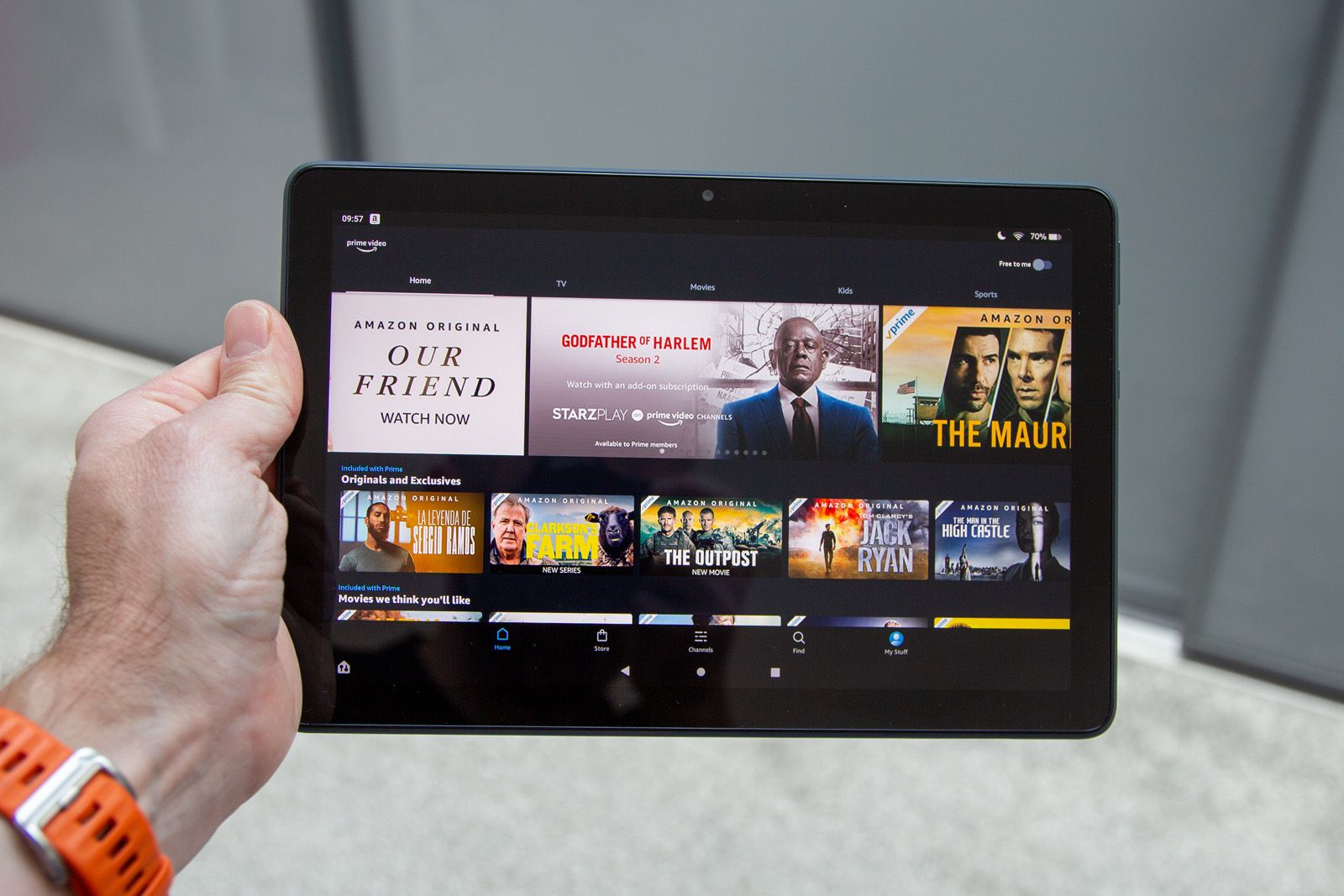 Pocket-lint
Amazon Fire HD 10 Plus
5. Best Amazon Fire tablet for power
The boosted power of the HD 10 Plus makes it a great way to get a more powerful Fire tablet without going for the pricier Max 11.
Storage

32/64GB

CPU

2.0GHz octo-core

Memory

4GB

Measurements

247 x 166 x 9.2mm, 468g
Pros
Boosted power
Some productivity chops
Nice accessories
The Fire HD 10 Plus was the most powerful of the Fire tablets until the Max 11 arrived, and it added wireless charging to the mixture too. This could double up as a smart display if you opt for the dock too, with Amazon also offering a productivity version with a Bluetooth keyboard.
How I chose the best Amazon Fire tablets
Amazon's Fire tablets are a lot easier to compare than some others, because they all run the exact same software, simply with different screen sizes and designs around them.
So, ordering them is both straightforward and complex at once. On the one hand, extensive testing has left us with our favourites and those we keep coming back to, leading to the order you see above.
However, it's also very much the case that those differences in display size can make it a bit hard to compare them in some ways – if you want a bigger tablet, a 7-inch display isn't for you, so bear that in mind while you peruse our thoughts.
Frequently asked questions
If you're shopping for a new tablet and you've decided (wisely) that Amazon makes the best-value options out there, these questions might help you narrow things down even further to pick a winner.
What size is best for you?
As I've mentioned already, one of the key differences between the various Fire tablet models I've evaluated above is their screen sizes, which go from compact to much bigger.
Knowing roughly what size you think you want will help you a lot – do you imagine holding the tablet in one hand, or are you thinking more of a comparison to the standard iPad, in which case a bigger option makes sense?
Of course, figuring this out leads to my next question.
What will you use your Fire tablet for?
This can really help you figure out the right size and model for you – what do you plan to do on your tablet? Is it primarily going to be a media machine for lounging on the sofa or in bed?
Do you plan to use a bunch of apps and games, or even try to work on the tablet every so often? If so, a bigger display will be handy.
If, instead, you imagine the tablet staying in your bag for when you're on the move, something smaller is probably a better idea, so that you can more easily bring it with you wherever you go.
There's no wrong answer here, but anything will narrow it down.
Do you care about processing power?
While the processors and power brought to bear by each Fire tablet do vary, the fact is that none of the models we've listed should feel sluggish, since they're all relatively recent launches.
If you do want the most power possible, though, whether that's to ensure that you make a more future-proof choice, or simply because you know you're planning to play some demanding games, that could be an avenue to pursue as you compare models.