One of the best parts about owning an electric vehicle is never having to visit a gas station again. While road trips may require a couple of stops, city driving and daily commuting is no issue for the range of today's EVs.
Instead of worrying about stopping to fuel up on the way work, on the way home, or while you're out running errands, you'll simply wake up with all the charge you need after plugging your car in right at home. We're taking a look at the best home EV chargers to keep you charged up and ready to go.
Tesla / Pocket-lint

Tesla Universal Wall Connector

1. Best overall home EV charger

ChargePoint / Pocket-lint

ChargePoint Home Flex

2. Best home EV charger for non-Tesla owners

Tesla / Pocket-lint

Tesla Wall Connector

3. Best home EV charger for Tesla households

Grizzl-E / Pocket-lint

Grizzl-E Level 2 Charger

4. Best budget home EV charger

Emporia / Pocket-lint

Emporia EV Charger Level 2

5. Best budget home EV charger with WiFi
Our picks for best home EV chargers: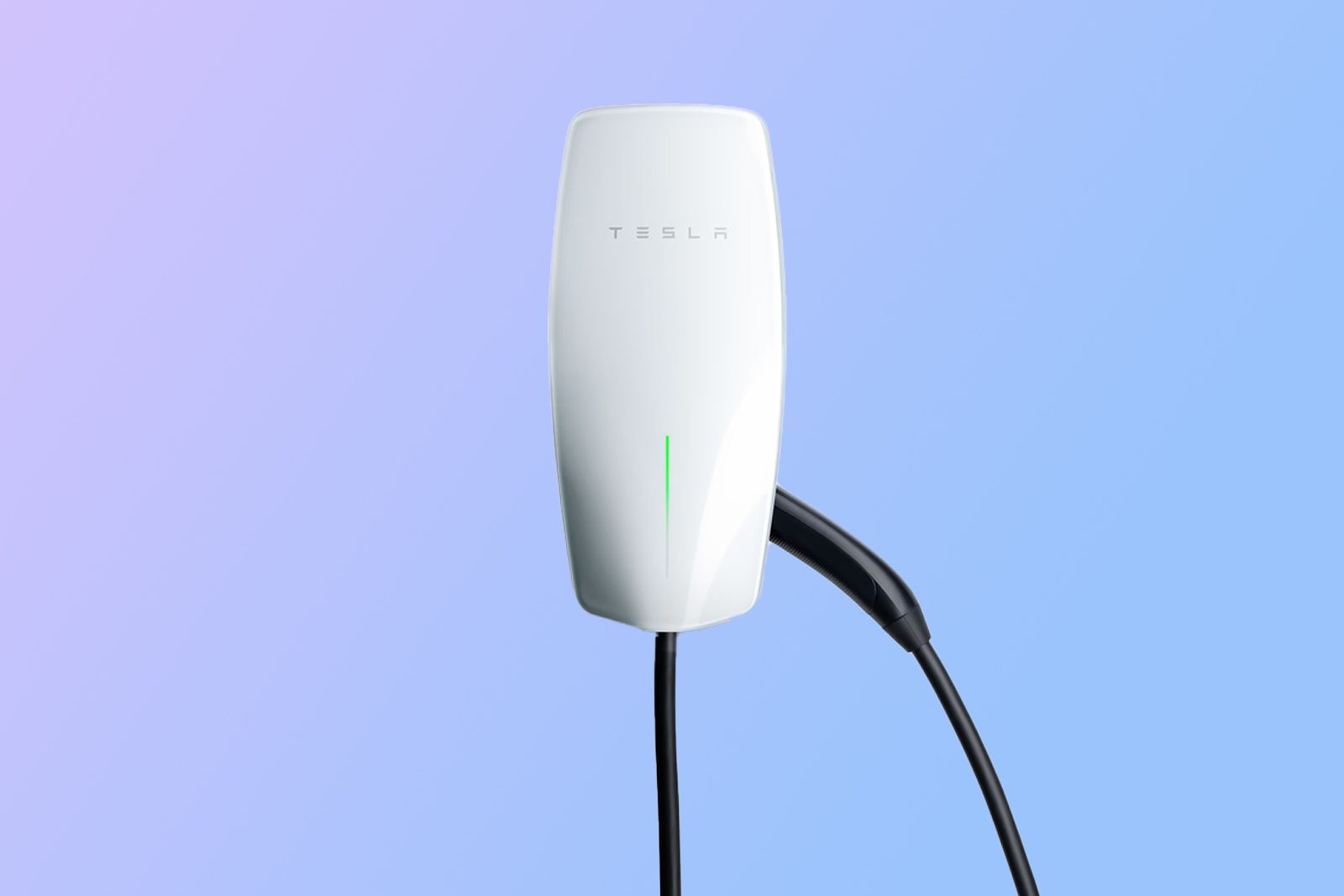 Tesla / Pocket-lint
Tesla Universal Wall Connector
1. Best overall home EV charger
Sleek design, easy to use, and built for the future
Tesla brings its ubiquitous home charger to the masses with the Universal Wall Connector, now compatible with both NACS and J1772 charging standards.
Pros
Supports both NACS and J1772
For years Teslas iconic, sleek, white box wall charger was mounted in the garages and at the homes of Tesla owners. They worked only with Teslas, and adapters from Teslas charging plug to other types were few and far between. In 2022 Tesla released a version of their wall charger made just for J1772 EVs, but it didn't receive too much attention. Other more user-friendly and adaptable wall chargers took top marks for versatility and ease of use. All of that ends now, with the launch of the Universal Wall Connector. Tesla decided it's hungry for market share in the home charger game, and it's here to eat everyone's lunch.
What's more, with the industry adopting Tesla's charging plug, now the NACS or North American Charging Standard, we'll find ourselves in the not too distant future with more cars featuring the NACS than the J1772. Currently, it's the other way around, but regardless of which of these plugs an EV has, the Universal Wall Connector can provide a charge. The charger features the NACS plug right at the end of its 24-foot cable, and comes with an NACS to J1772 adapter built right into the charger.
Whether users own a Tesla or not, they'll be able to monitor their Universal Wall Connector through the Tesla app. The app will provide charging status, charging history, and allow for scheduling of charging for consumers with time-of-use electricity rates.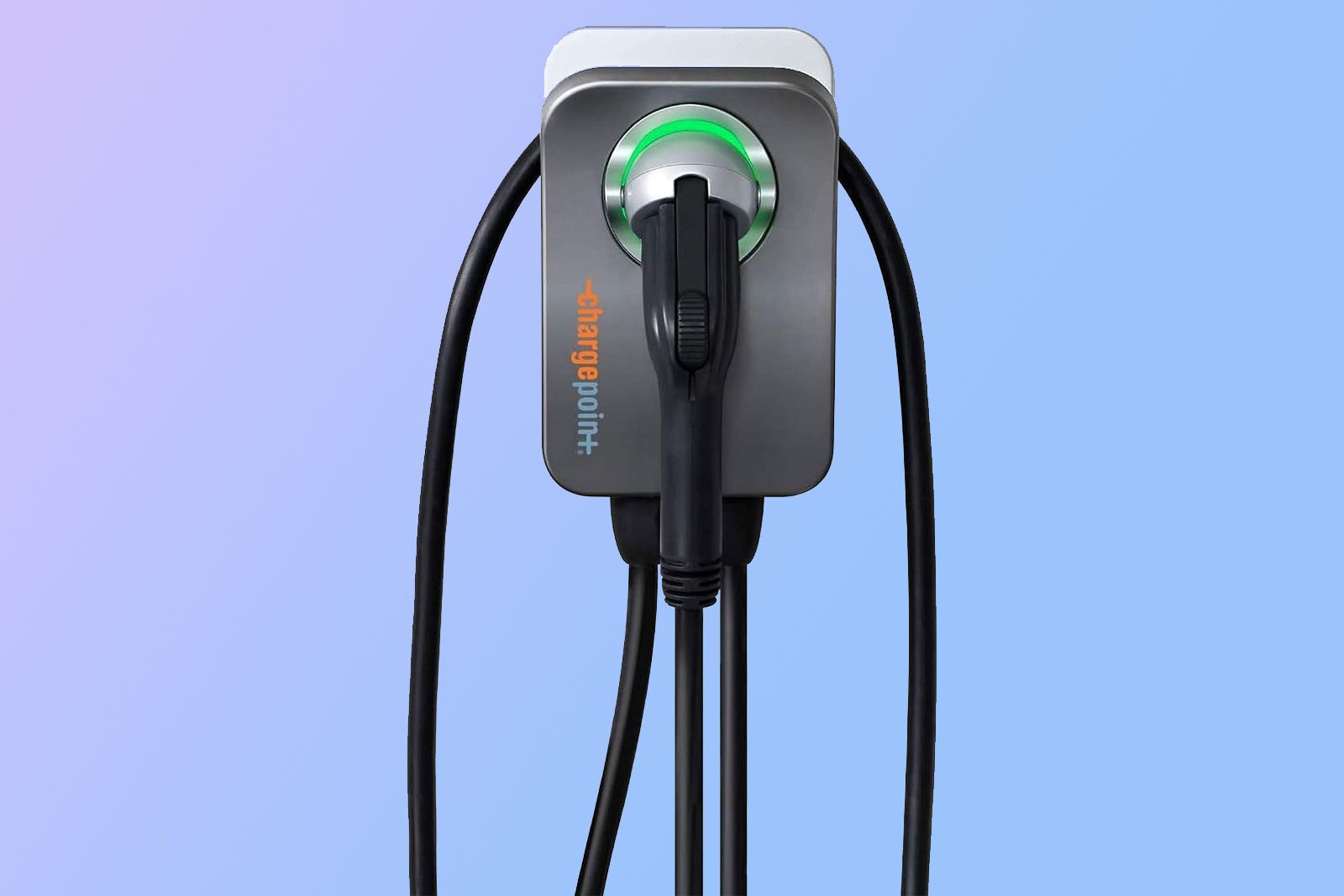 ChargePoint / Pocket-lint
ChargePoint Home Flex
2. Best home EV charger for non-Tesla owners
Easy installation, unobtrusive design, simple operation
$550 $600 Save $50
A home charging product brought to market by one of the industry leaders in EV charging. The ChargePoint Home Flex is the best value EV charger for most homes.
Pros
Comes in both hardwired and outlet version
Wi-Fi enabled feeding data and controls to ChargePoint app
Cons
Currently only available with J1772 plug
The ChargePoint Home Flex has long been among the best EV chargers that you could install in your home. The charger itself is simple to install, reliable, and easy to operate even for new EV adopters. ChargePoint has thought through the different installation options that users might need.
They sell a hardwired version if you're able and willing to have the charger installed right into your home electrical system via a dedicated breaker and electric line run through the wall. This version offers the highest rate of charge at a max of 50A delivered straight to your EV. The hardwired version is also ideal for outdoor installations on the exterior walls of your home. One could feasibly even run electrical to a dedicated post or pedestal on your property. They also sell versions of the charger that you can wall mount and plug into a dedicated outlet. This version comes in both a NEMA 14-50 and a NEMA 6-50 plug variation. These max out at 40A of charging power.
The ChargePoint Home Flex is a connected charger, meaning you can use the ChargePoint app to monitor your charging, change amperage levels, and receive the status of your charger to ensure it's in working order. Conveniently this app also lets you access one of the largest charging networks in the country.
We find ourselves currently in the midst of an electric vehicle charging transition as more manufacturers announce the adoption of the Tesla charging port for future vehicles, now dubbed the NACS (North American Charging Standard). As it stands, the ChargePoint Home Flex ships with a J1772 charger, which to be fair is still found on the vast majority of non-Tesla vehicles on the road today. Tesla users can use the J1772 adapter that is still included with every Tesla vehicle, if charging on a ChargePoint Home Flex. No doubt as the NACS makes continued headway in replacing the J1772, ChargePoint may look to start making this charger with an NACS plug instead of the J1772.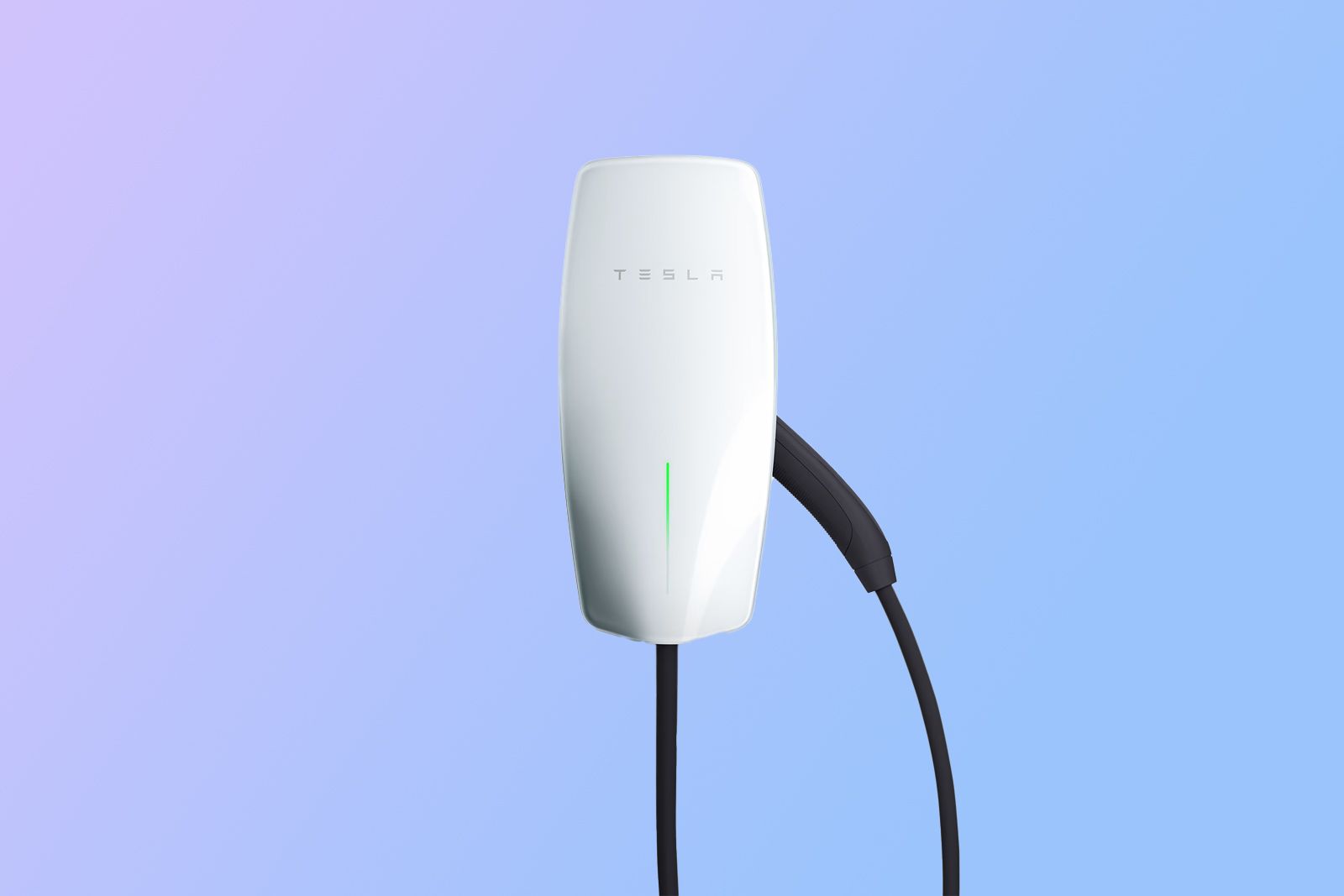 Tesla / Pocket-lint
Tesla Wall Connector
3. Best home EV charger for Tesla households
For Tesla's, by Tesla
The Tesla Wall Connector has long been the most solid choice for Tesla owners and remains at the top of the list for Tesla households.
Pros
More affordable than some other wall chargers
Cons
Only charges NACS standard vehicles
The Tesla Wall Connector has long been the no-brainer option for Tesla owners looking to install an EV charger at home. This original version of their wall connector only supports the NACS plug, but is sold at a discount to the Universal Wall Connector which supports NACS and J1772. The Tesla Wall Connector is perfect for Tesla households particularly if they don't have a need to charge non-Tesla vehicles.
Capable up delivering power up to 48A, this wall charger will ensure you always have the charge you need. It should be noted that unlike some other home chargers, the Tesla Wall Connector is hardwire only and cannot be used with a wall outlet.
The Tesla Wall Connector features a touch sensitive handle that will tell your Tesla to unlock and open its charge port whenever you pick up the handle of the charging cable. The charger is also safe to use in outdoor settings as it is sealed to be fully weatherproof.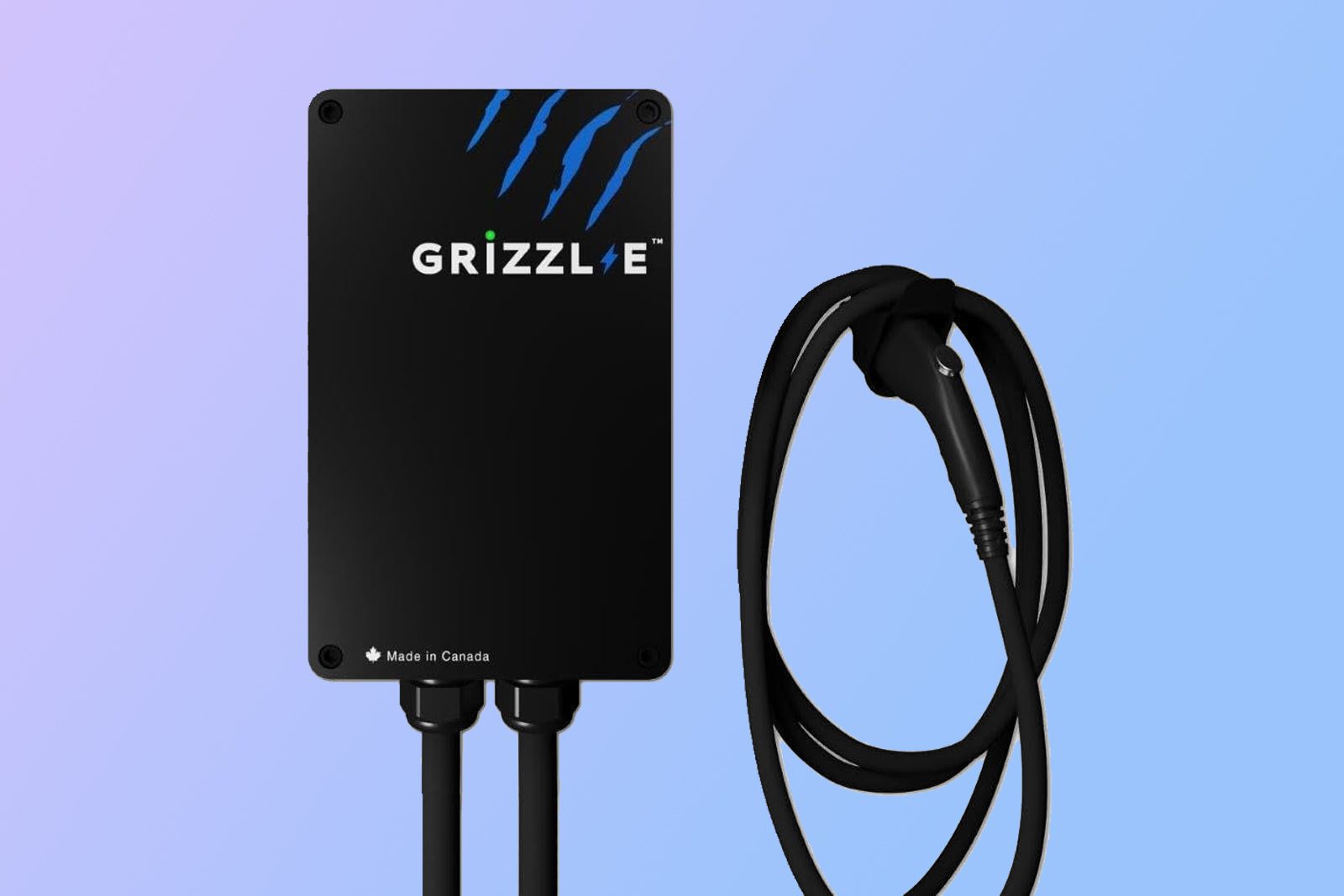 Grizzl-E / Pocket-lint
Grizzl-E Level 2 Charger
4. Best budget home EV charger
Affordable option for plug-in use
$350 $399 Save $49
The Grizzle-E Level 2 Charger is the perfect budget option for those with a covered garage and the ability to install a dedicated outlet.
Pros
Adjustable amperage
Great price
Cons
No hardwired option
No Bluetooth or wireless connectivity
The Grizzle-E Level 2 Charger is an affordable option for those looking to install an EV charger in their homes. This budget friendly charger is only offered in plug-in models compatible with either the NEMA 14-50 or NEMA 6-50 outlet. Depending on what outlet you use and what breaker you install for that outlet, the Grizzle-E can charge at up to 40A of continuous power. This charger comes with a J1772 plug on the end of the cable, which will be compatible with most non-Tesla EV's.
The Grizzle-E bills itself as easily transportable, thanks to the easy to remove wall mounting brackets used to adhere it to the wall. This would be ideal for renters or anyone looking to move soon and take it with them. Hardwired chargers can technically be removed and taken with you, but it's a lot more involved. It should be noted that this is not a smart charger and offers no Bluetooth or wireless connectivity.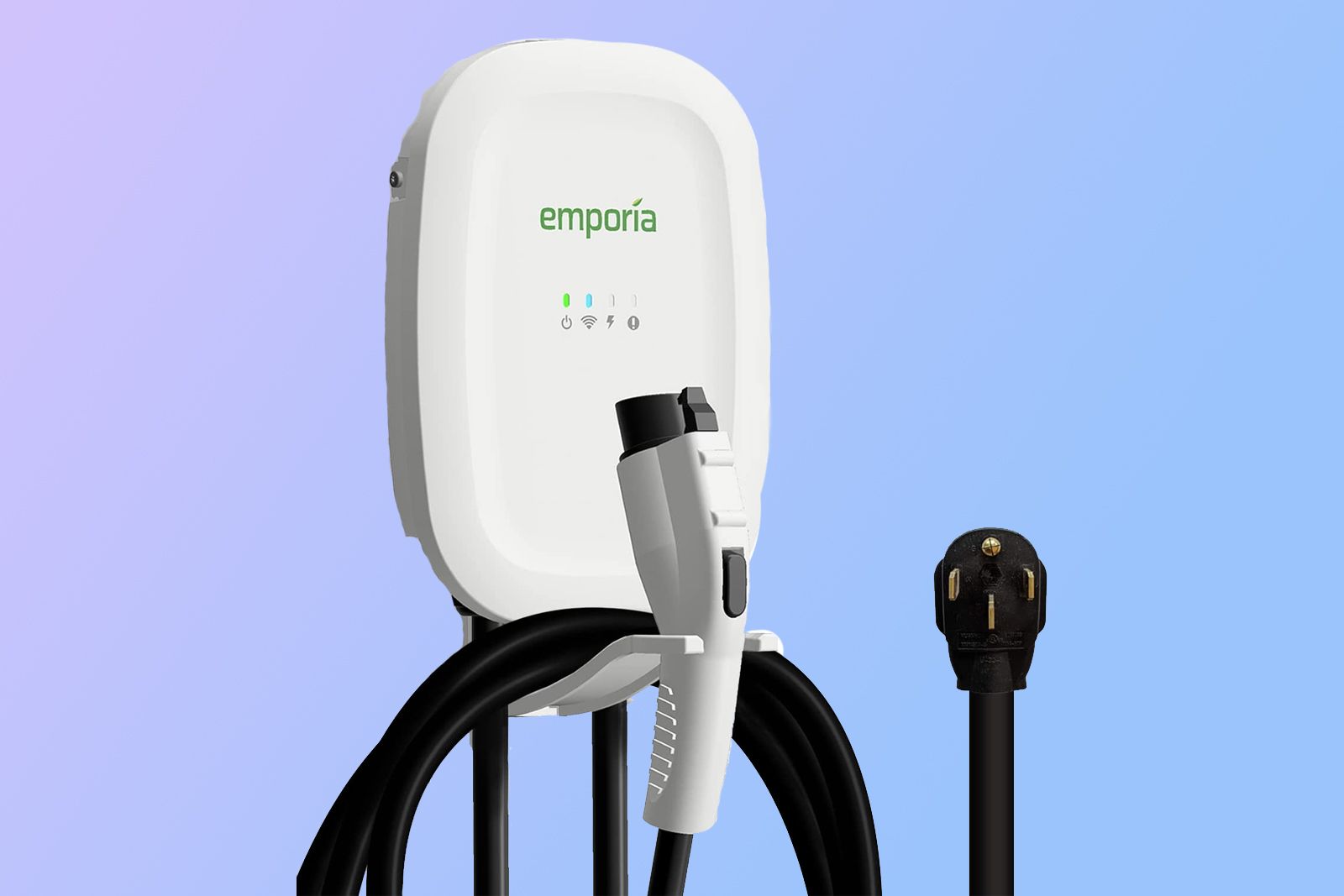 Emporia / Pocket-lint
Emporia EV Charger Level 2
5. Best budget home EV charger with WiFi
Smart connection at a smart price
The Emporia Level 2 charger is an affordable option for a connected smart charger for J1772 compatible vehicles. Offered in both hardwired and plug in versions, this charge from EMPORIA offers a stellar value proposition.
Pros
Can be plugged in or hardwired
Wireless connectivity for tracking electricity use
The Emporia EV Level 2 charger is one of the most affordable options on the market for a home EV charger with wireless connectivity. It's offered in both hardwired and plug-in variations making it a good fit for most homes. Moreover, since this charger can be hardwired it's perfectly safe to use in an outdoor setting. Though the overall design of the app is pretty bare bones, the ability to track your charging and energy use proves useful.
Thanks to the wireless features you can create a schedule for charging, a huge advantage in any home EV charger for consumers with time-of-use rates from their energy provider. The Emporia charger can reach a maximum charge speed of 48A when hardwired and a maximum of 40AM if plugged in to a NEMA 14-50 outlet. Emporia offers a suite of home electricity monitoring and management equipment, and this EV charger slots right into that space, encouraging users to buy more Emporia products and track it all from one app.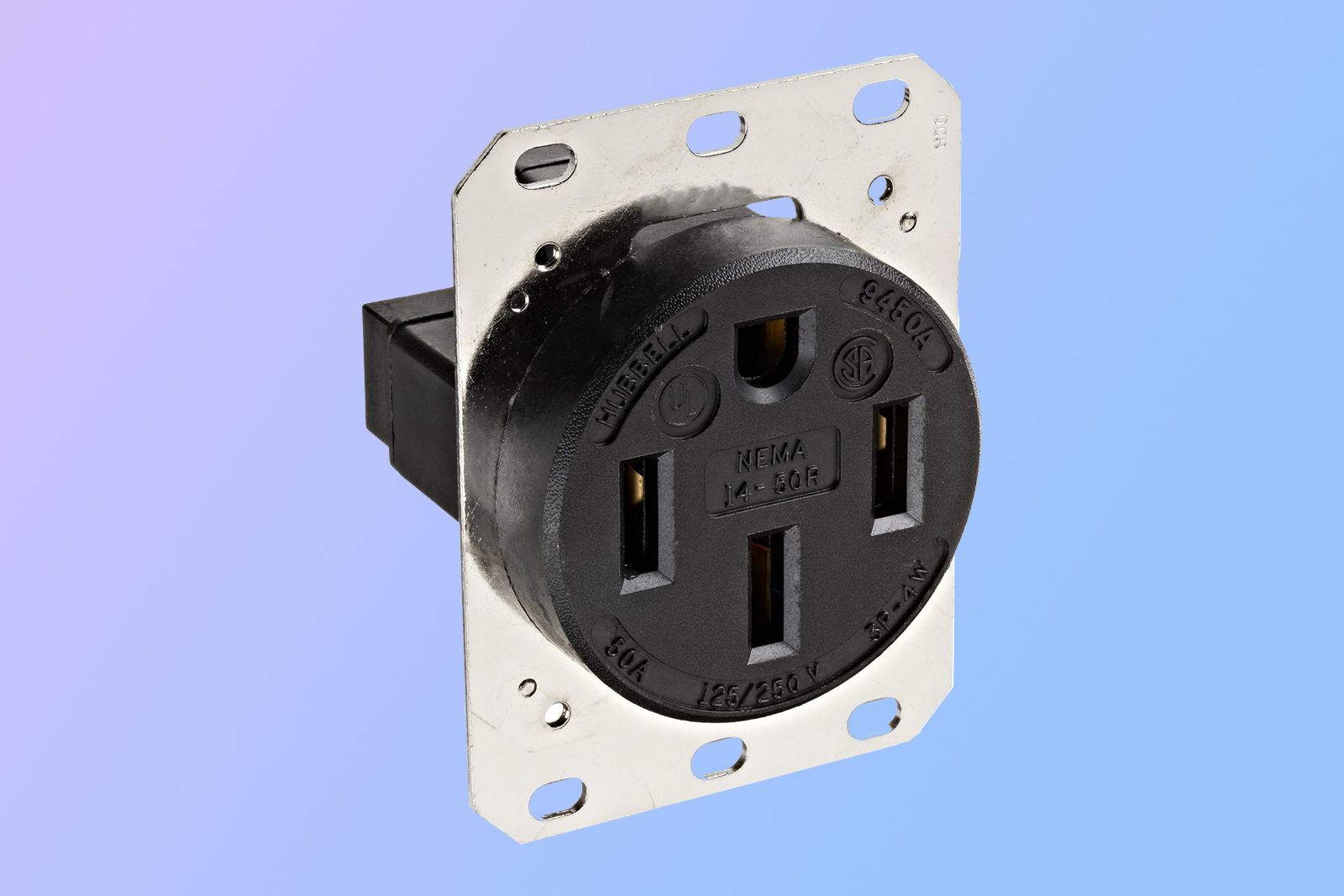 Industrial Grade NEMA 14-50 Outlet
6. Honorable mention home EV charger
The easiest and most versatile option
$80 $118 Save $38
Installing an industrial grade NEMA 14-50 outlet will work for your car, your appliances, your budget, and even future residents.
Pros
Doesn't require a dedicated charger installation
Can be used for appliances other than EV charger
Easy to install (for licensed electrician)
Cons
Over time outlet may need replacing from wear
Not as aesthetically pleasing as a mounted EV charger
We'd be remiss if we didn't mention one of the cheapest options of them all. Many EV's today come with an included mobile charger, so check your trunk. These chargers are intended for use when on the road away from home or to carry with you in case of charging emergency. Typically, they will ship with a standard 12v outlet plug as well as NEMA 14-50 plug. If a NEMA 14-50 plug is not included then your EV manufacturer undoubtedly sells one for the mobile charger. If you aren't sure how long you'll be in the home, which charger you want, or aren't able to install a dedicated wall charger, then consider having a licensed electrician simply install a dedicated NEMA 14-50 outlet near your breaker box along with a dedicated breaker for the outlet.
Be wary of any electrician service offering you an outlet install that quotes $10 or $20 for the outlet itself. Those are almost always consumer grade NEMA 14-50 outlets that may not be up to the task of the plugging and unplugging that can occur with a mobile charger, or the higher temperatures caused by the constant high amperage of charging an electric vehicle. An industrial grade outlet will be designed with higher tolerances, higher quality plastics and metals, and an overall more robust construction than the cheaper consumer grade ones. Many home EV chargers come in versions compatible with a NEMA 14-50 outlet, so you are also future proofing a bit should you ever want to upgrade to a full-blown separate charger.
The best home EV charger: The bottom line
This depends as much on your vehicle as on your budget. It also depends on whether you can hardwire the charger or not. The most future-proof option brings the greatest number of features to the table, while also being compatible with the highest amount of vehicles is our overall pick, the Tesla Universal Wall Connector. If it's in your budget, this charger will fit the bill in just about any situation.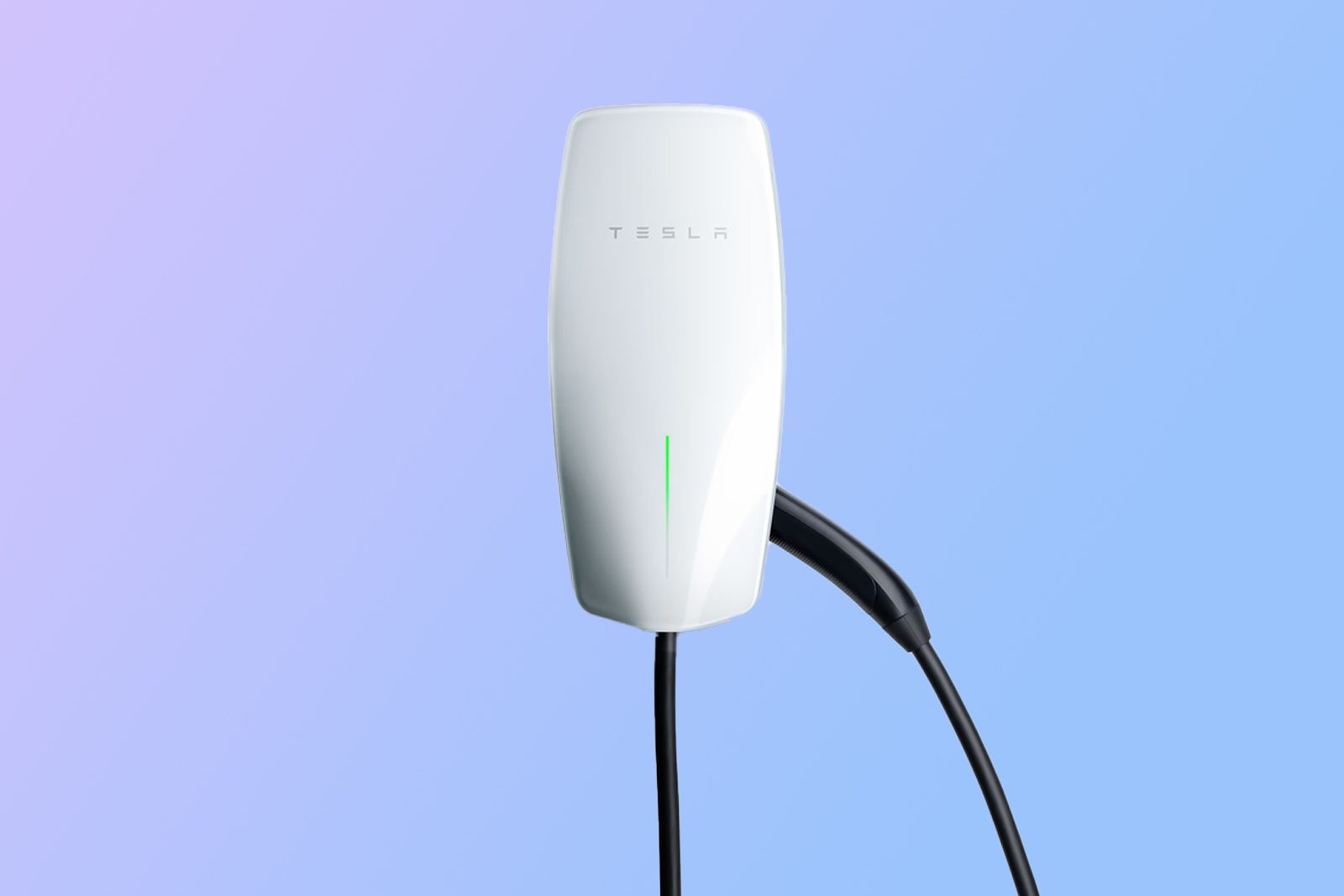 Tesla / Pocket-lint
Tesla Universal Wall Connector
Editor's Choice
Still there are some tried and true home charger alternatives especially for non-Teslas. The ChargePoint Home Flex is one such charger, offering just about anything you could need short of a native NACS plug. It's Wi-Fi and Bluetooth connected, can be hardwired or plugged in, and sports a 23-foot cable for easy charging across a two-car garage or driveway.
If you are trying to just get the job done within a tighter budget then the Grizzl-E charger will keep your car juiced without all the bells and whistles. Short of that you can choose to simply plug your mobile charger into a NEMA 14-50 outlet. As far as compatibility just remember that any J1772 charger can be easily used to charge NACS vehicles with an adapter, but currently NACS to J1772 adapters are expensive and few and far between. It's best to select a charger that features your plug type as its primary charger type.
How did we pick these chargers?
We made sure to recommend chargers that are regularly used and trusted by EV owners, including this author. All of these chargers receive high marks and are made by reputable companies in the EV or energy space. We selected chargers that could function as permanent installations in your home, as well as chargers for more short-term use that are easier to take with you when you move. All these chargers have built-in protections in case of storm surges, and all are resistant to the elements, and in some cases waterproof. These are truly the best home EV chargers on the market.
Do I need a home EV charger for my vehicle?
If you plan on living in your home for an extended period of time, and you do really any amount of daily driving in your EV, then you'd probably benefit from the convenience of an installed EV charger at your home. While it's technically possible to charge off just a standard wall outlet with your vehicles mobile charger, you'll be lucky to recover even 50 miles of range overnight charging this way. You'll need higher charging speeds to compensate for your driving habits and to be prepared with a full charge should you ever need it.market.