The wellness world has been revolutionised with fitness trackers, smartwatch accessories, and even new exciting health app innovations through AI. Your traditional weight sets and strength training equipment has not been forgotten across technology upgrades either. These equipment updates make embarking on a strength training plan at home so much easier. Making the space for cumbersome weights and then working out what to do with them can prove a sticking point. This is where the best smart weights come in to play.
We've collated a list of items that serve to save precious space in a domestic setting, whether that's a dedicated pain cave or a corner of your bedroom, while others help take the guesswork out of proper exercise form and rep range. With this in mind, we've included a mix of dumbbells and kettlebells, both of which arguably serve different fitness purposes, but all have a united ultimate goal: to make a fitter, stronger you.
JaxJox/Pocket-lint

JaxJox KettlebellConnect 2.0

1. The best for guided workouts

Magic/Pocket-lint

Magic Plus Dumbbells

2. The best for personal training at home

JaxJox/Pocket-lint

JaxJox DumbbellConnect

3. The best for functional strength training

BowFlex/Pocket-lint

BowFlex SelectTech 1090i

4. The toughest adjustable dumbbells

NordicTrack/Pocket-lint

NordicTrack iSelect

5. The best voice controlled dumbbells
The best smart weights: Our top picks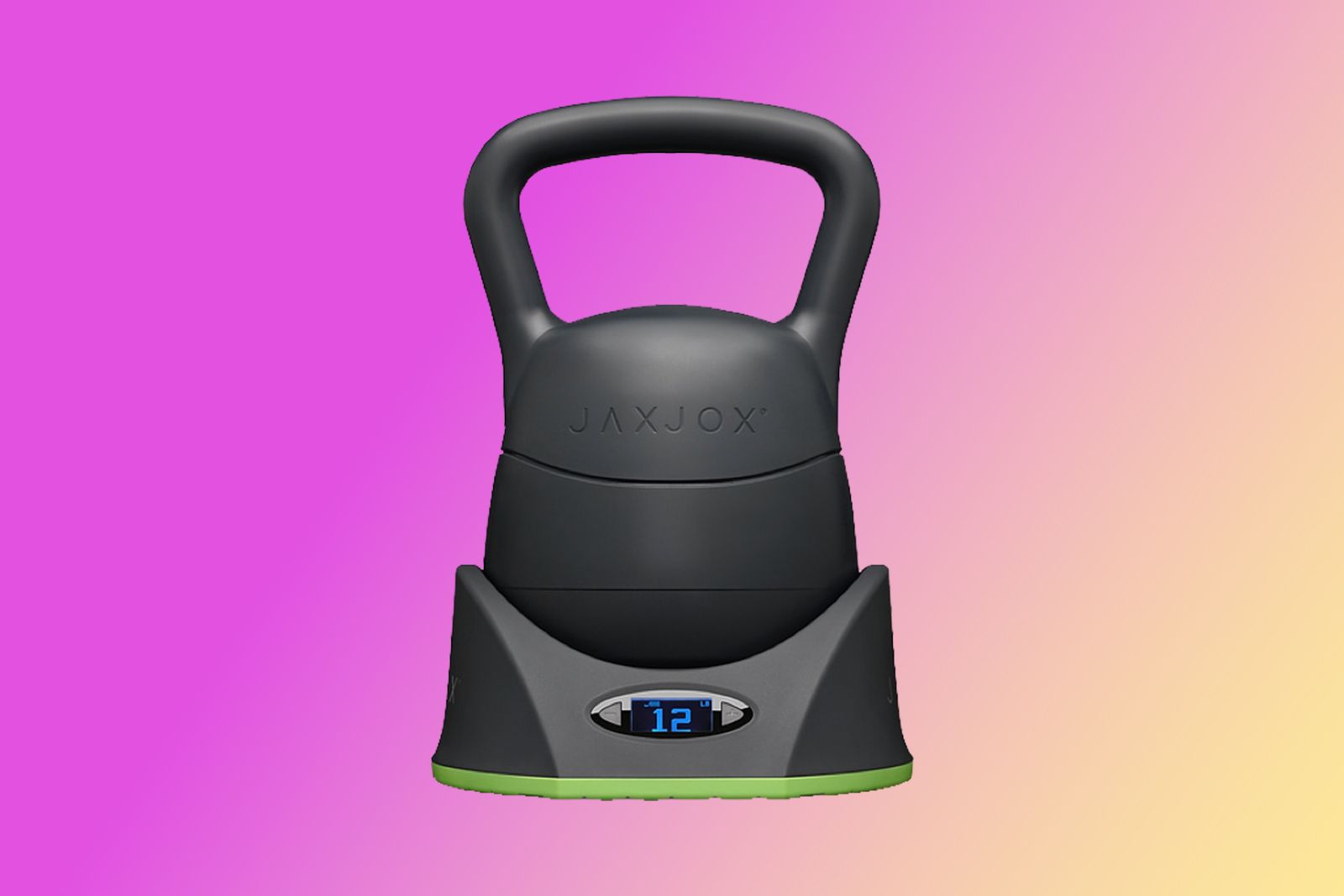 JaxJox/Pocket-lint
JaxJox KettlebellConnect 2.0
1. The best for guided workouts
A compact fitness solution
Arguably the key innovator in the connected fitness space, JaxJox claims to be the first brand to release a digital kettlebell set. The canny piece of kit not only replaces a raft of kettlebells (5.5-19kg in one device), it can also sync it to the JaxJox App to track reps, volume, sets, average power and workout duration
Pros
Easy to use
On-demand personal training
Saves space
Cons
Some features require a subscription
The kettlebell is large and cumbersome
Battery needs charging
As home gym users will find with most things fitness-equipment related, you need a fair amount of space to house the often bulky and awkwardly-shaped items. The same goes for dumbbells and kettlebells, because in the interest of progressive overload (gradually adding weight to increase strength) a time will come when you need a deeper selection of weights to perform a workout.
The JaxJox KettlebellConnect 2.0 not only covers a weight spread of 5.5kg to 19kg, it can also change said weight in a matter of seconds, making it possible to partake in punishing HIIT workouts where minimal rest periods are required.
What's more, the kettlebell packs several six-axis motion sensors to detect and track your every movement. When paired with the JaxJox app, it means you can keep track of reps, sets and the weight used.
The app is free if you want basic workout tracking, but you can pay a monthly subscription (£24.99/$39) to access on-demand classes that will track your progress on the day and over a period of time, so you can improve form and performance as the weeks roll by.
Editor's note: At the time of writing, the KettlebellConnect 2.0 are out of stock, but keep an eye out as they frequently come back in.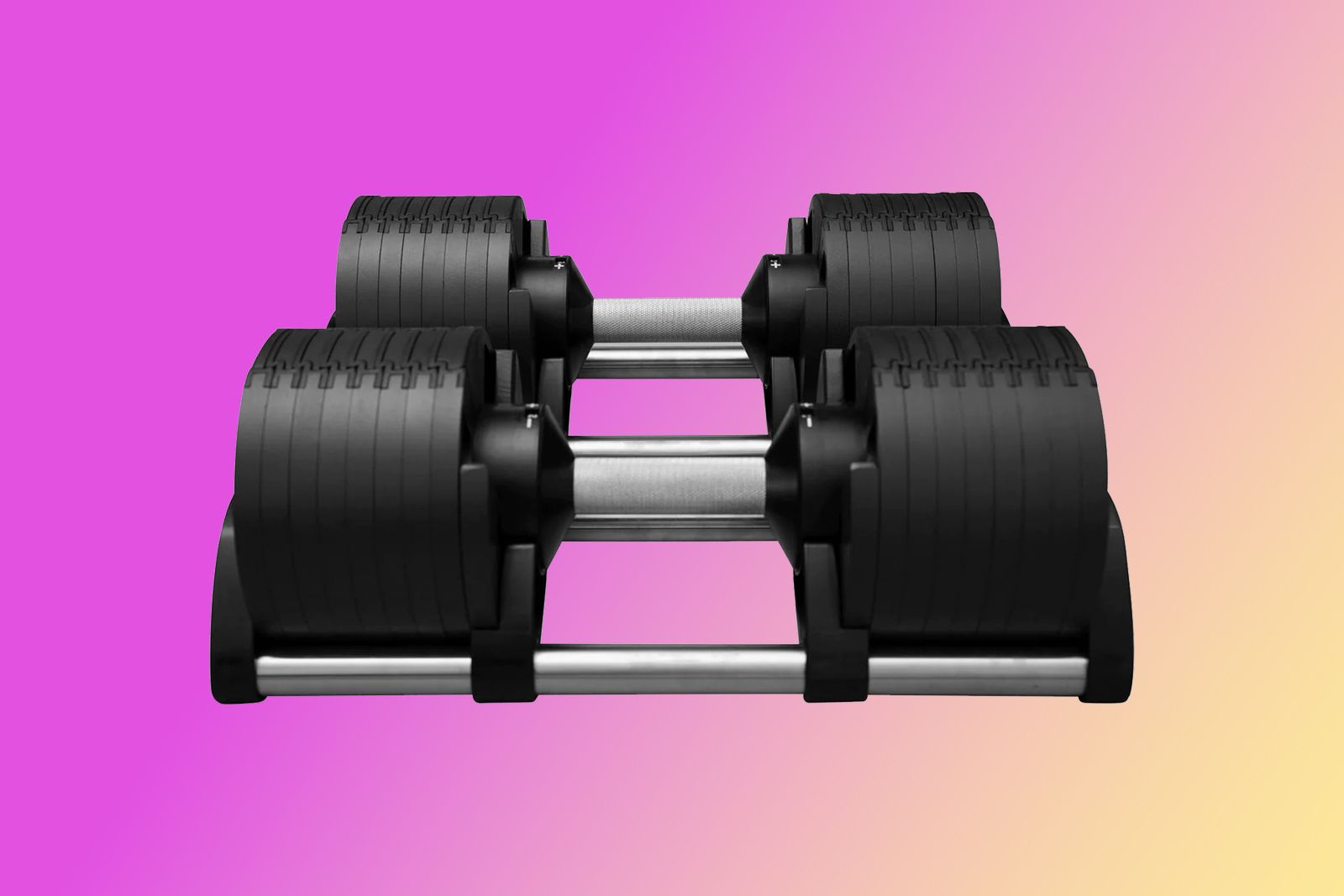 Magic/Pocket-lint
Magic Plus Dumbbells
2. The best for personal training at home
Incredible workout smarts
The fact these adjustable dumbbells cover a weight range of 2kg to a whopping 30kg in 2kg increments is enough to warrant a place on your shopping shortlist, but they also pair with the Magic Mirror to create a virtual personal training experience.The digital fitness mirror tracks your every move and gives instant feedback on form, while tracking every single rep and set, so you don't have to.
Pros
A personalised fitness experience
Excellent spread of weight
Instant form feedback
Cons
Requires expensive Magic Mirror
Cheaper adjustable dumbbells exist
Round shape not the most stable
It's perfectly possible to use the Magic Plus Dumbbells as a standalone fitness device, as they provide an excellent spread of weights in a compact and easy-to-use package. That said, they really come to life when you pair them with the Magic Mirror, which takes on-demand fitness classes to the next level.
The follow-along workouts will be familiar to anyone who has tried a Peloton product, but here, the technology tracks your every move and gives instant form feedback, squeezing the most out of every single rep.
When paired with the dumbbells (and the adjustable weights bench), it makes for an impressive interactive experience that looks at important factors – such as accurate form and correct range of motion – rather than merely making you work (and sweat) as hard as you can.
Editor's note: This is sold from a UK retailer, but can ship to the US, UK pricing £399.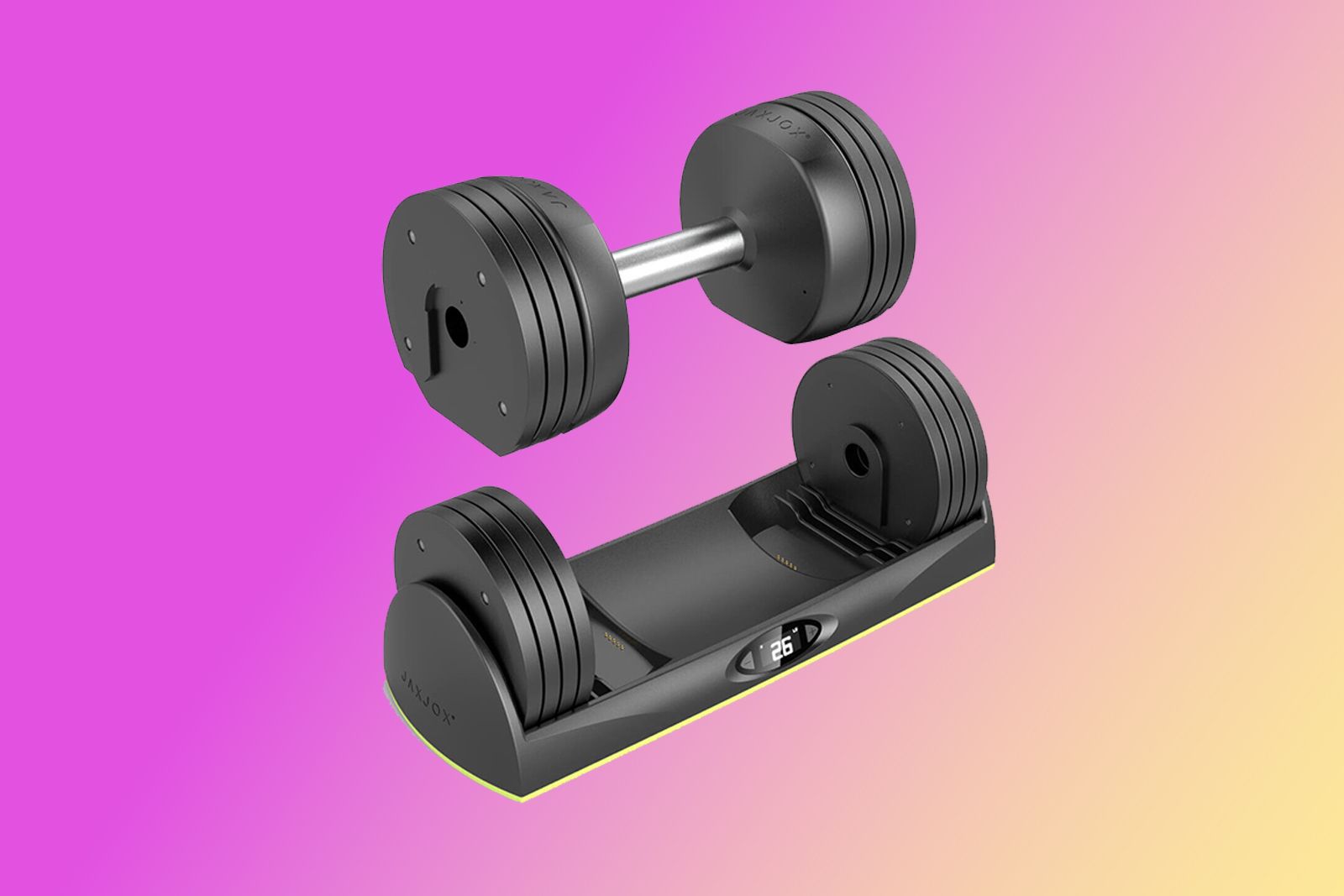 JaxJox/Pocket-lint
JaxJox DumbbellConnect
3. The best for functional strength training
A very versatile solution with guided workouts
As with the brand's KettlebellConnect, JaxJox offers a connected training experience that makes workouts easier and takes the pain out of counting reps and sets with its dumbbells. In addition to this, the company's smartphone app will give real-time feedback on form, as well as tracking volume over a set period. The dumbbells manage to cram 3.6kg-22.6kg into one neat package, saving space in the process.
Pros
Great space-saver
Rep-counting
Digital weight adjustment
Cons
Sizeable dumbbell at higher weights
Not the most robust
Weight increments are odd for Europeans
If you want something a little more than just a space-saving set of adjustable dumbbells, the JaxJox DumbbellConnect is really the final world in integrated fitness technology. Like the KettlebellConnect we mentioned before, this set of adjustable dumbbells essentially packs the same smarts, just in a slightly different package.
The pair covers a weight spread of 3.6kg-22.6kg (you can blame the metric to imperial weight conversion for those awkward numbers), which should be enough for most to progress with classic curls, presses and flies.
Connect to the JaxJox app, and it's possible to track every rep, as well as sets and volume over a set period. This is progressive overload 101, without the need to carry around a little pad of paper and a pencil. Step up to the membership package via a smartphone or tablet, and you can enjoy on-demand workout sessions that connect to the dumbbells for real-time feedback on your form, power and more.
Editor's note: At the time of writing, the DumbbellConnect are out of stock, but keep an eye out as they frequently come back in.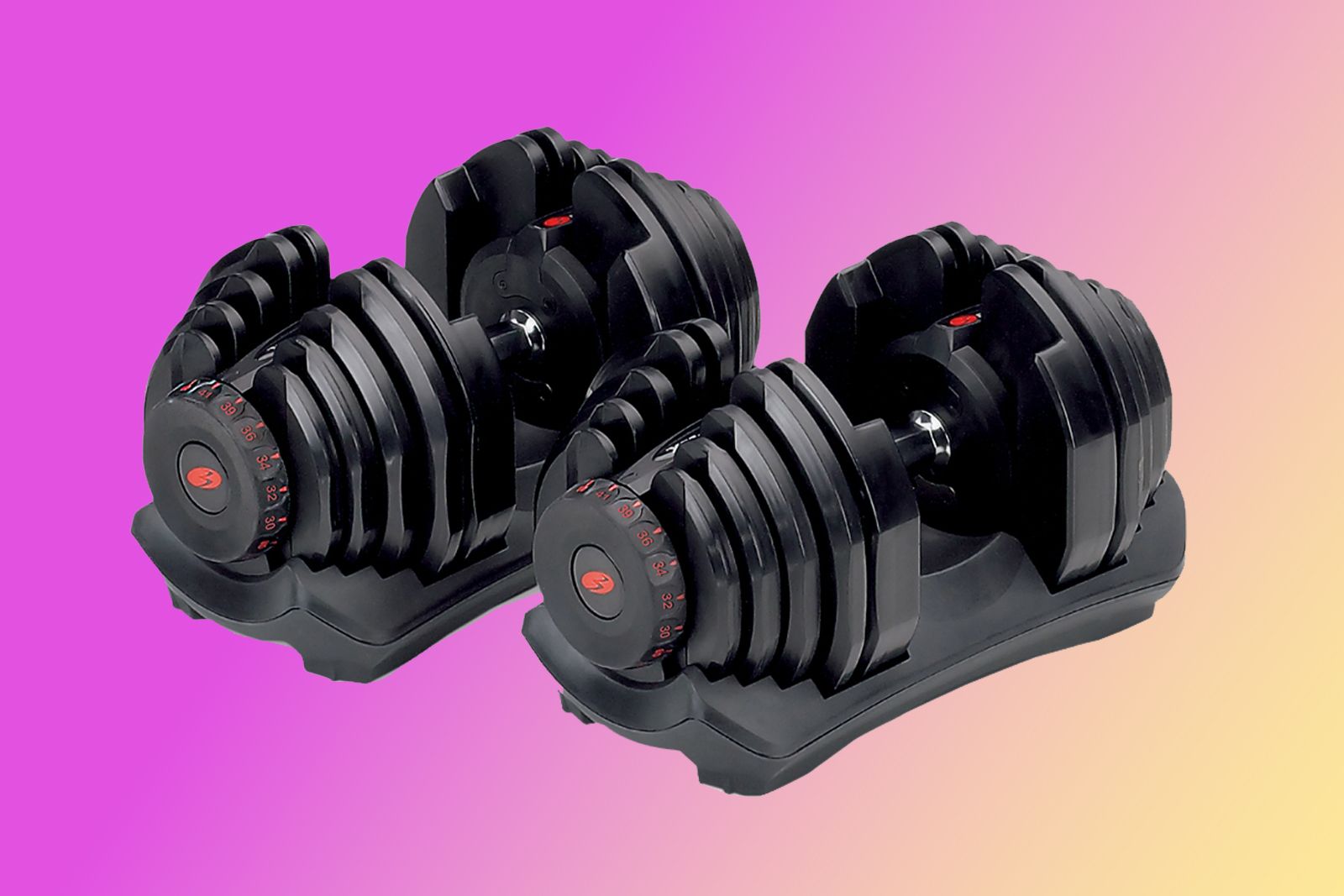 BowFlex/Pocket-lint
BowFlex SelectTech 1090i
4. The toughest adjustable dumbbells
A massive weight spread for serious body builders
They might lack the built-in smarts of a JaxJox product, but the BowFlex SelectTech 1090i are the most robust adjustable dumbbells we have had the pleasure of using. Above this, they offer a weight selection that covers 4kg all the up to a mammoth 41kg, which should be enough for even the most ardent body builders.
Pros
Robust build
Huge spread of weights
Easy weight selection
Cons
Bulky when full laden
Twin selection dials is annoying
They don't like being dropped
Real gym buffs will sometimes bemoan the meagre weight spread of some adjustable dumbbells on the market, but the same accusation can't be levelled at the monstrous SelectTech 1090i from BowFlex. These beasts will take you all the way up to 41kg, where each dumbbell becomes a rather unwieldy and slightly oddly-shaped monster to press or – clenches teeth – curl. But still, that should be enough for even very heavy workout movements.
Although the dumbbells lack any built-in smarts, BowFlex has teamed up with on-demand fitness app JRNY, which now boasts the ability to track every rep and set, as well as comment in real time about exercise form. In essence, it harnesses the power of your smartphone or tablet's built-in camera to track your moves and uses machine learning and AI to make suggestions.
The adaptive weight targets, where JRNY learns what you are capable of comfortably throwing around, is a great addition and works seamlessly with the SelectTech system, which makes it simple to add or remove weight with a few clicks.
The only downsides we found were to do with the twin dial system for weight selection, as both ends need to be on the same number, otherwise you end up with a lop-sided dumbbell.
Secondly, adjustable dumbbells don't take too well to being dropped or thrown on the floor, as it can damage the sensitive weight selection mechanism. This usually isn't a problem at the lower end of the weight spectrum, but when you start failing at 40kgs, sometimes dropping the weights is the only option (should you have a sturdy enough floor for it, of course).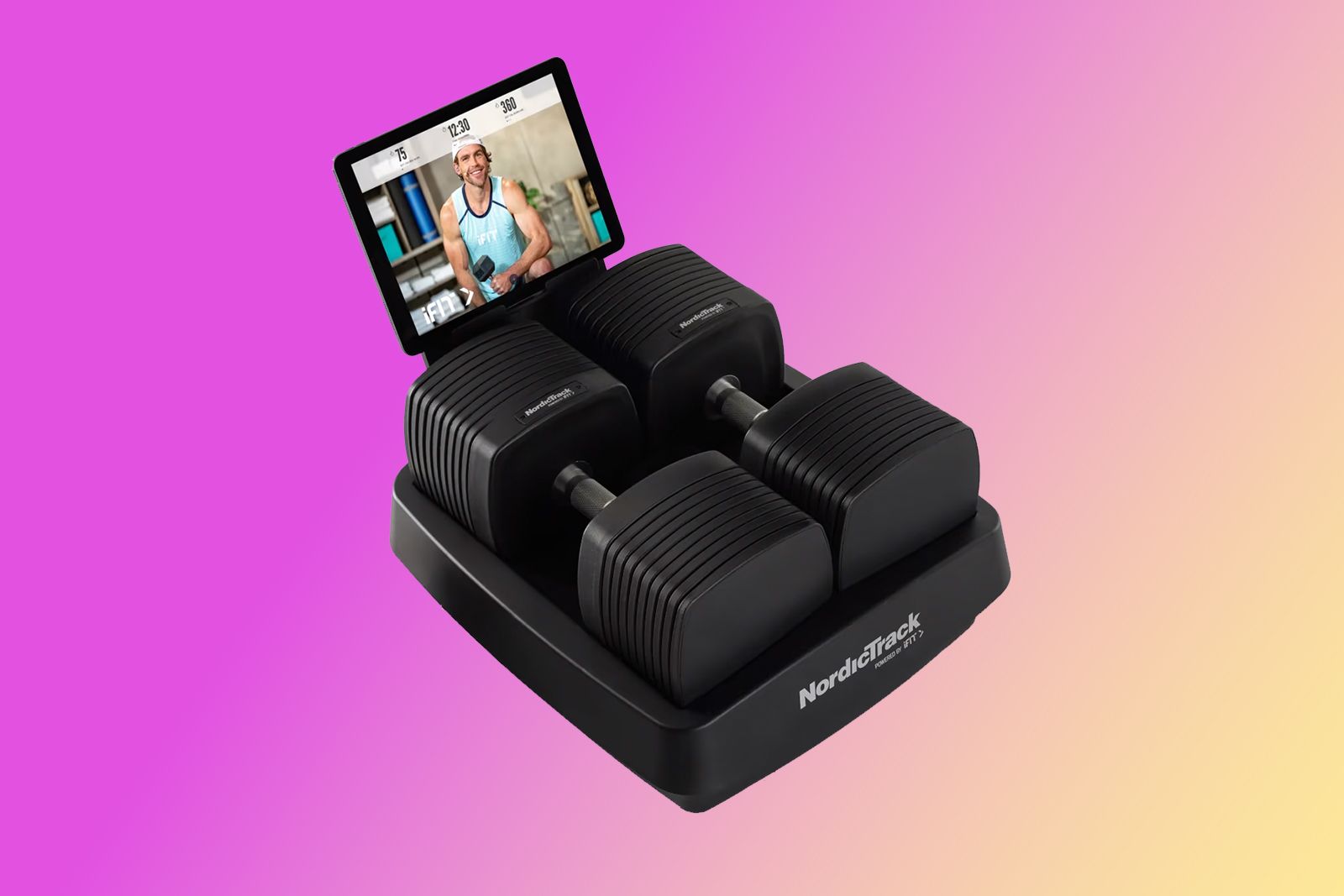 NordicTrack/Pocket-lint
NordicTrack iSelect
5. The best voice controlled dumbbells
Alexa smarts for high-tech workouts
These are the first adjustable dumbbells to feature Alexa connectivity, meaning you can utilise vocal commands to swap weights mid-workout. The hefty unit also covers 5-50lbs (2-20kg), replacing 20 traditional sets of dumbbells.NordicTrack also teams up with virtual training app iFit (requires a subscription), so users can workout alongside real personal trainers thanks to the smartphone or tablet holder attached to the base unit of the iSelect.
Pros
Voice controlled weight swapping
Solid build
Digital weight readout
Cons
These are pricey
Bulky unit considering low (ish) weight
Is voice control really necessary?
The bottom line: What are the best smart weights?
JaxJox has a stronghold over the connected dumbbell and kettlebell market, and due to this, we feel its DumbbellConnect model offers the most versatility in so much as you can carry out a whole host of exercises from the comfort of your own home.
The rep, set and volume tracking is genuinely useful, while the partner app is simple to use and really comes to life if you take the plunge with a monthly subscription.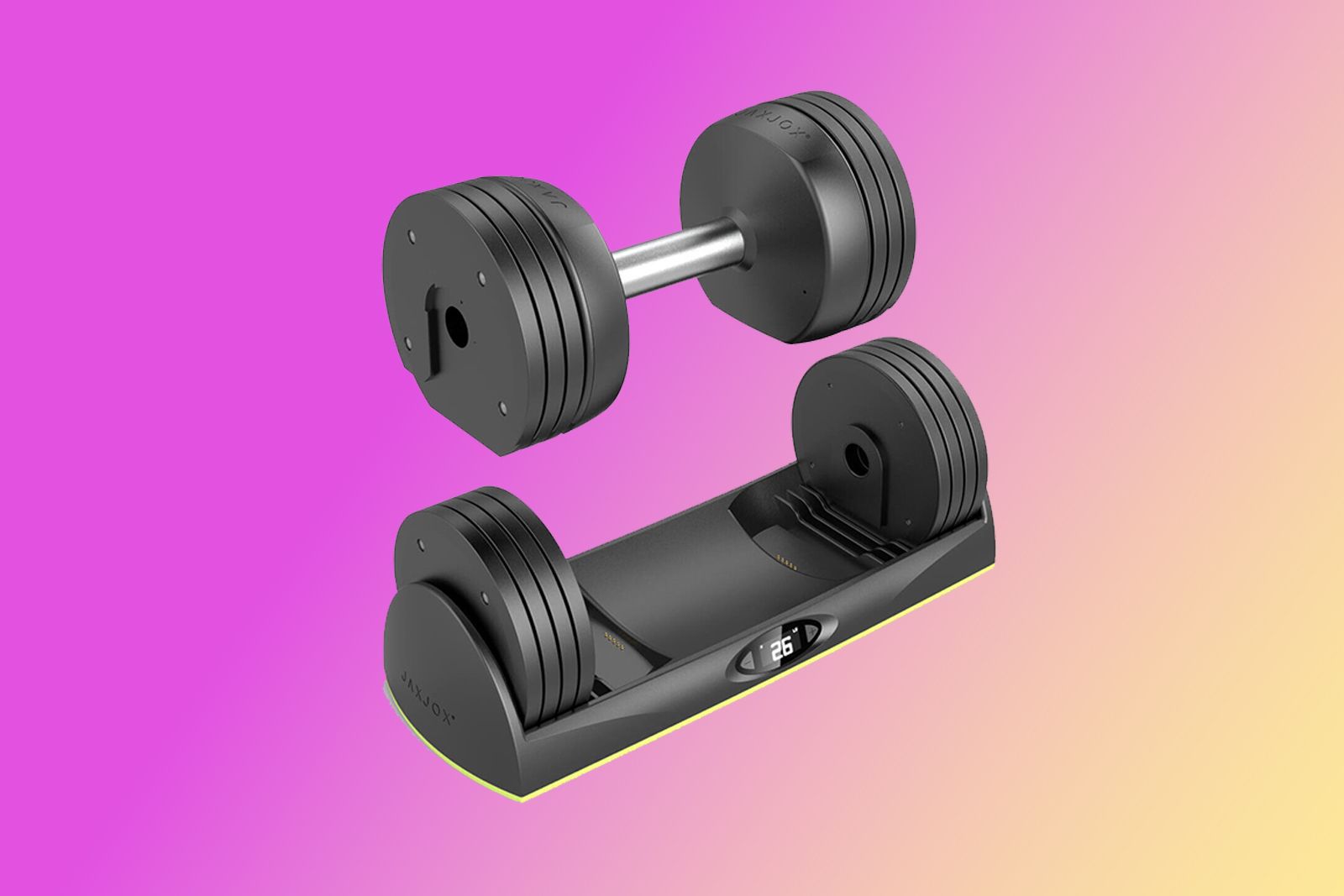 JaxJox/Pocket-lint
JaxJox DumbbellConnect
Editor's Choice
How did I choose the best smart weights?
I have personally tested the large majority of the items on this list, getting hands-on with both the JaxJox products featured, and the adjustable dumbbell model from BowFlex, which is still in my makeshift gym at home to this day.
The smart weights market is still relatively small, so where I wasn't able to get hands-on experience with a model, I used my best judgement and selected items from reputable brands that I have extensive experience with, such as NordicTrack.
Do I really need a pair of smart weights?
Many seasoned gym-goers will argue you don't need technology and AI to help you count sets and reps, as this is possible to do in your head or on a digital note in your smartphone (or a piece of paper, remember that?). That said, most of the weights we have featured also serve the purpose of saving precious space at home.
Let's face it, an entire rack of dumbbells or kettlebells is not only a sizeable financial investment, it will also require you set up a dedicated gym space in your home or office. Fantastic if you have the room and budget, but not so great for most people.
On top of this, the fact that many smart weights now help to track proper form and range of motion will help those new to strength training and weight lifting to milk the most from every workout and avoid possible injuries.
What should I look for in smart weights?
Build quality should be the first port of call, as fitness equipment needs to be robust enough to withstand the rigours of a regular workout. The issue with injecting technology into a traditional analogue piece of kit is that built-in toughness can be sacrificed.
For example, we found the charging port in our JaxJox KettlebellConnect 2.0 started to work loose, as the base unit was bashed into a wall and generally abused. This proved a problem when it came to charging, as we had to purchase another charging lead. It is little things like this that can frustrate owners. After all, a solid steel kettlebell is never going to let you down.