Computers
Best vlogging cameras 2023: Expert tested and reviewed
YouTube has grown into a cultural juggernaut – a source of general knowledge, news, entertainment, and music – but at its heart it's still one of the most reliable ways to get things you make in front of people who might actually care about them. And it's one of the few social platforms with a reliable way for you to be paid for that creative work. Vlogging was born on YouTube, and you can get pretty far just filming yourself, your life, and your interests with the high-end cameras of most modern smartphones and some vlogging accessories. But if you want to get serious about video work, you've got to invest in a dedicated camera.
A good vlogging camera should make it simple to film yourself, give you image and audio settings with easy reach, and let you see yourself or whatever you're filming while you shoot. For creators with more adventurous video ideas, the vlogging camera should also be able to survive a quick dunk in water, and be small enough you can mount it somewhere interesting. We put together this guide with that criteria in mind. If you need a camera to film a product unboxing or just want the simplest possible way to create an awesome video of your next vacation, we've got you covered below.
Sony / Pocket-lint

Sony ZV-E10

1. Best overall vlogging camera

Sony / Pocket-lint

Sony ZV-1 II

2. Best premium vlogging camera

DJI / Pocket-lint

DJI Pocket 2

3. Best value vlogging camera

Sony / Pocket-lint

Sony ZV-1F

4. Best value Sony vlogging camera

Insta360 / Pocket-lint

Insta360 X3

5. Best 360 vlogging camera
The best vlogging camera: Our top picks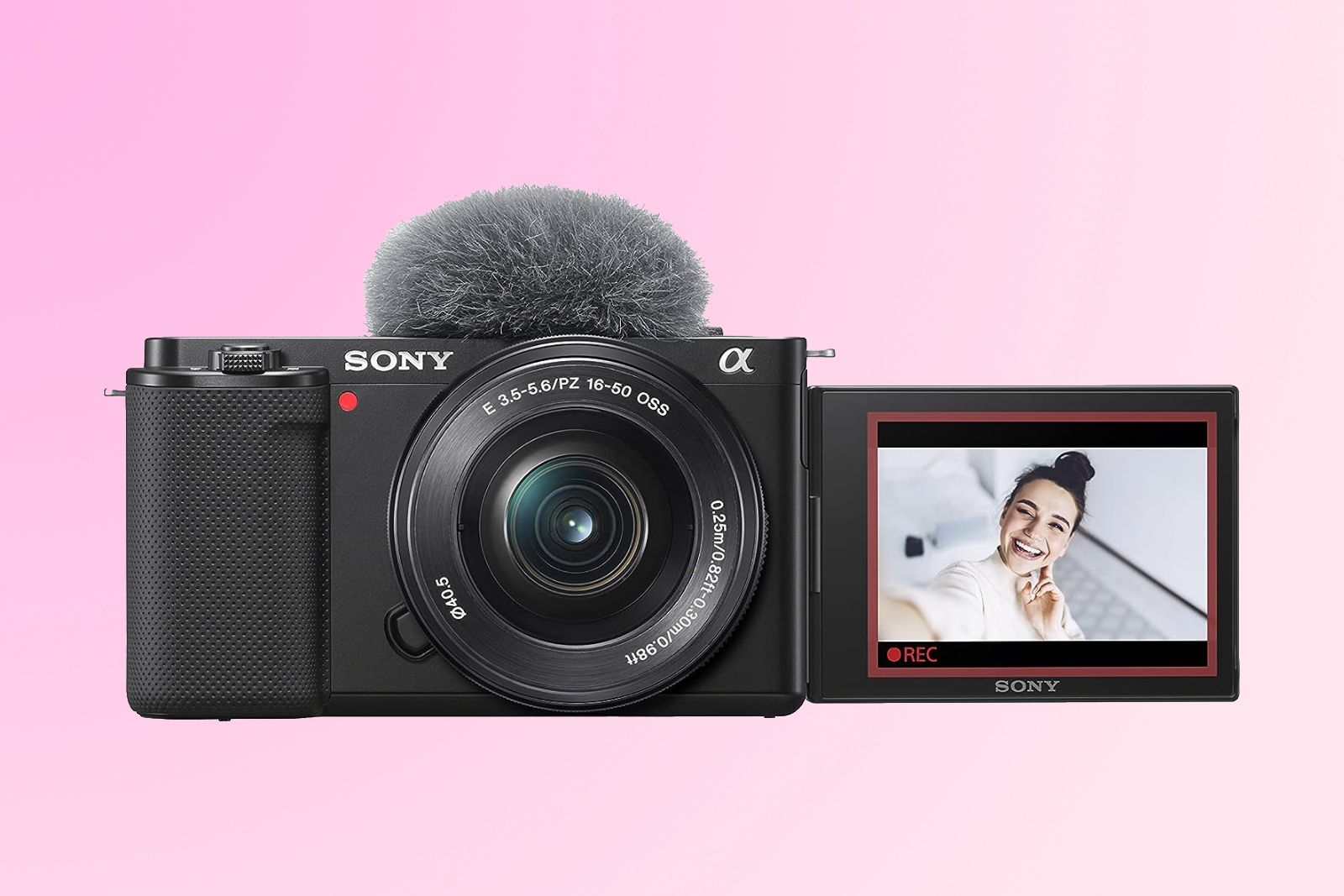 Sony / Pocket-lint
Sony ZV-E10
1. Best overall vlogging camera
Swap lenses whenever you want
The Sony ZV-E10 has an interchangeable lens mount, a 3-inch flip-out LCD touchscreen for checking your frame, and can shoot 4K video with the best of them.
Pros
Interchangeable lens mount
Bokeh switch
Great auto-focus
Cons
No in-body image stabilisation
If you're just getting started making videos, it's hard to know whether you'll even want the ability to swap out your lens. Our best overall pick, the Sony ZV-E10, keeps things simple by featuring an interchangeable lens mount, and in the case of this bundle, shipping with a great 16mm-50mm lens to start with.
The camera itself uses a 24.2 CMOS sensor and can shoot 4K video at 30FPS which should be more than enough for most beginner vloggers. Sony manages to differentiate itself with a dedicated button for blurring your background to add depth, the ability to shoot vertical video, and a 3-inch flip-out LCD touchscreen, so you can see yourself while you film and adjust autofocus with a tap.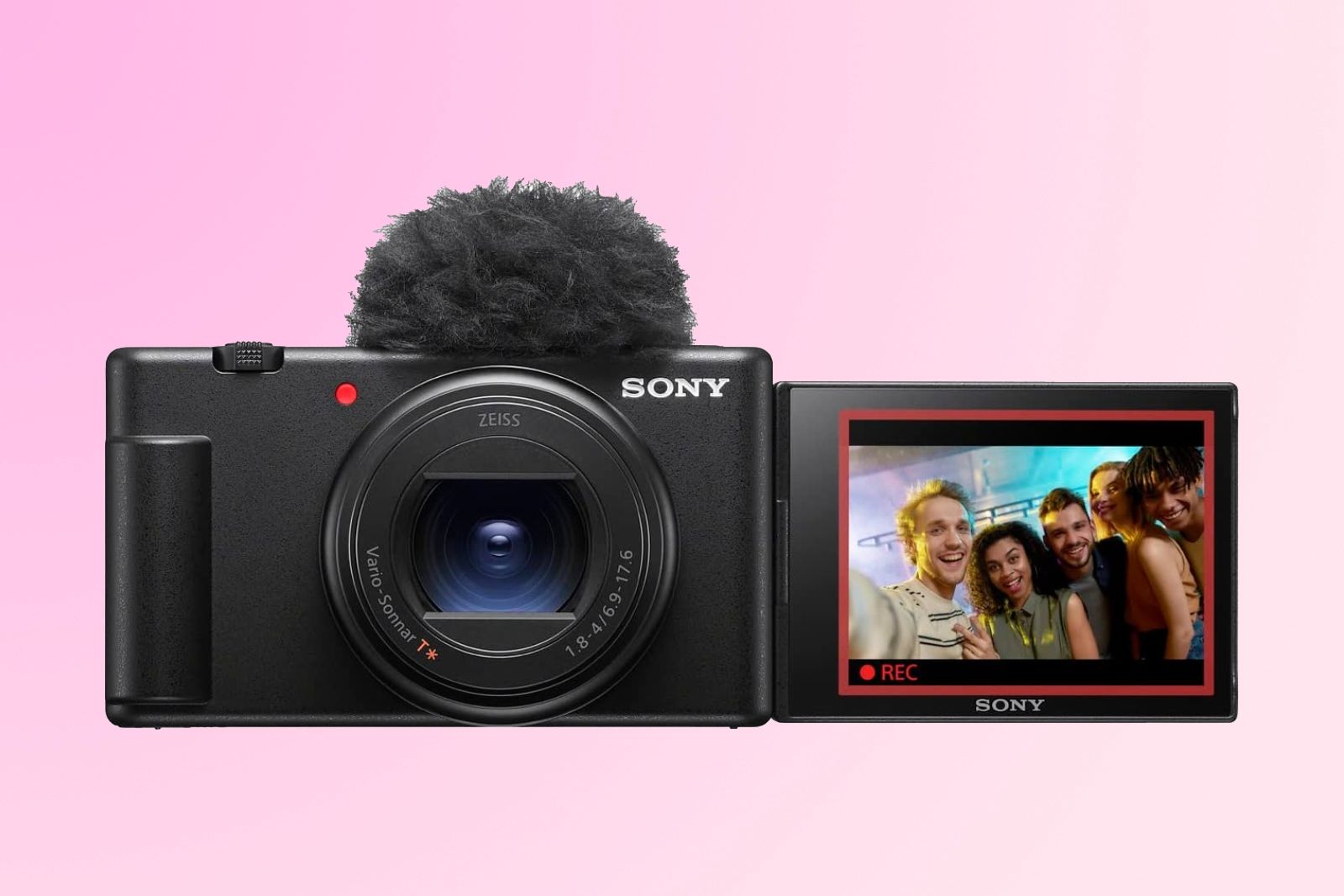 Sony / Pocket-lint
Sony ZV-1 II
2. Best premium vlogging camera
Wider than before
The Sony ZV-1 II gives you better specs than the original ZV-1 with a wider 18mm-55mm lens, great autofocus, and easier access to your memory card when a tripod is attached.
Pros
Wider lens
Touchscreen controls
Lightweight and compact
Cons
No optical image stabilisation
If you're willing to pay a bit more, the Sony ZV-1 II can give you a great video experience with even less planning beforehand. ZV-1 II has a built-in 18mm-50mm lens that's wider than Sony's previous model and has the ability to shoot 20MP stills and 4K 30FPS video. The three-inch touchscreen includes easy access to settings for adjusting your video while you shoot, and Sony redesigned the bottom of the ZV-1 II, so you can easily access your memory card or battery without having to remove the camera from a tripod.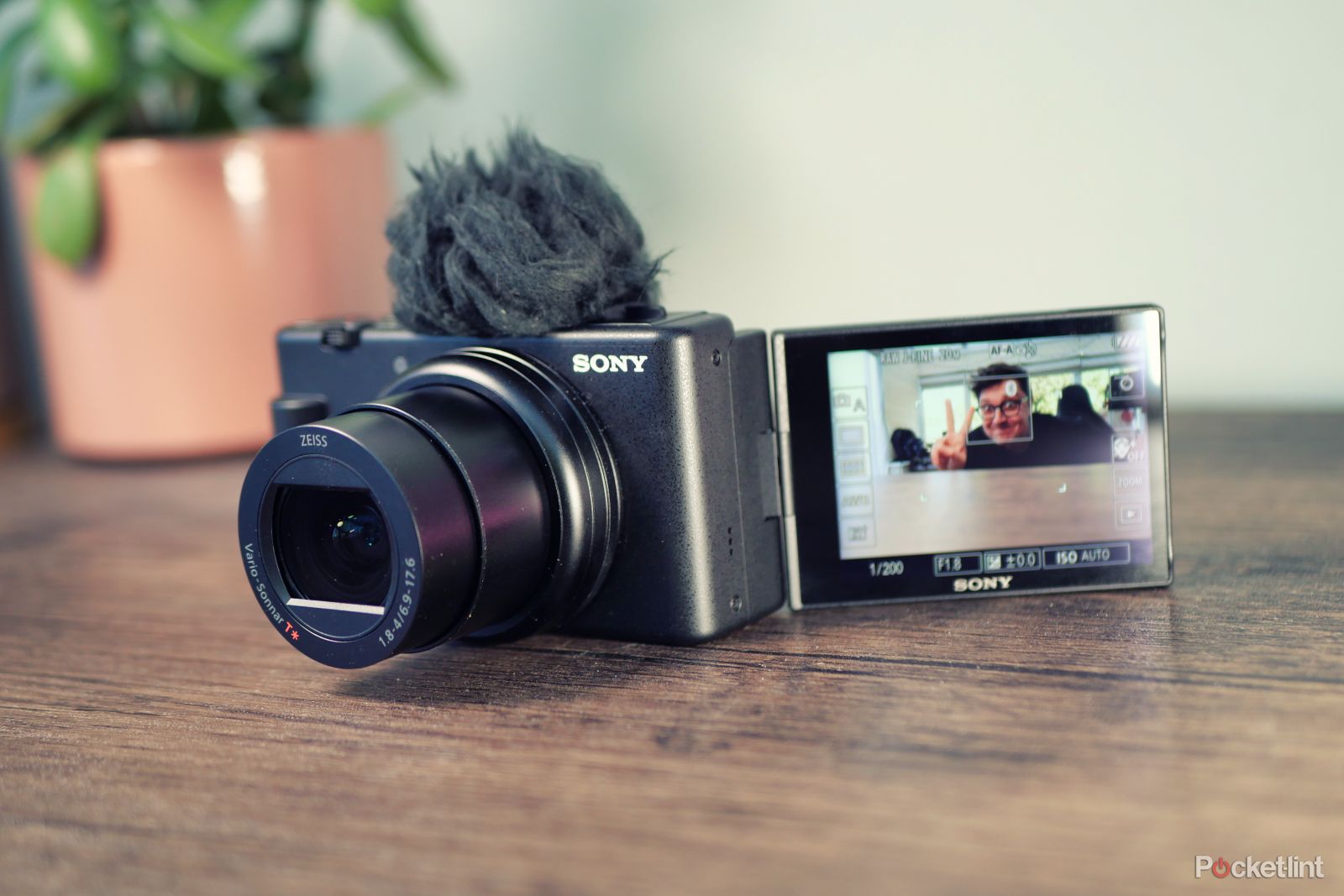 The only disadvantage is Sony only included a digital image stabilisation feature for when you're shooting video handheld. It works fine, but does crop the final image from its widest possible length. You'll still get 4K footage and Sony's best-in-class colouring and autofocus, but it's an annoying limitation.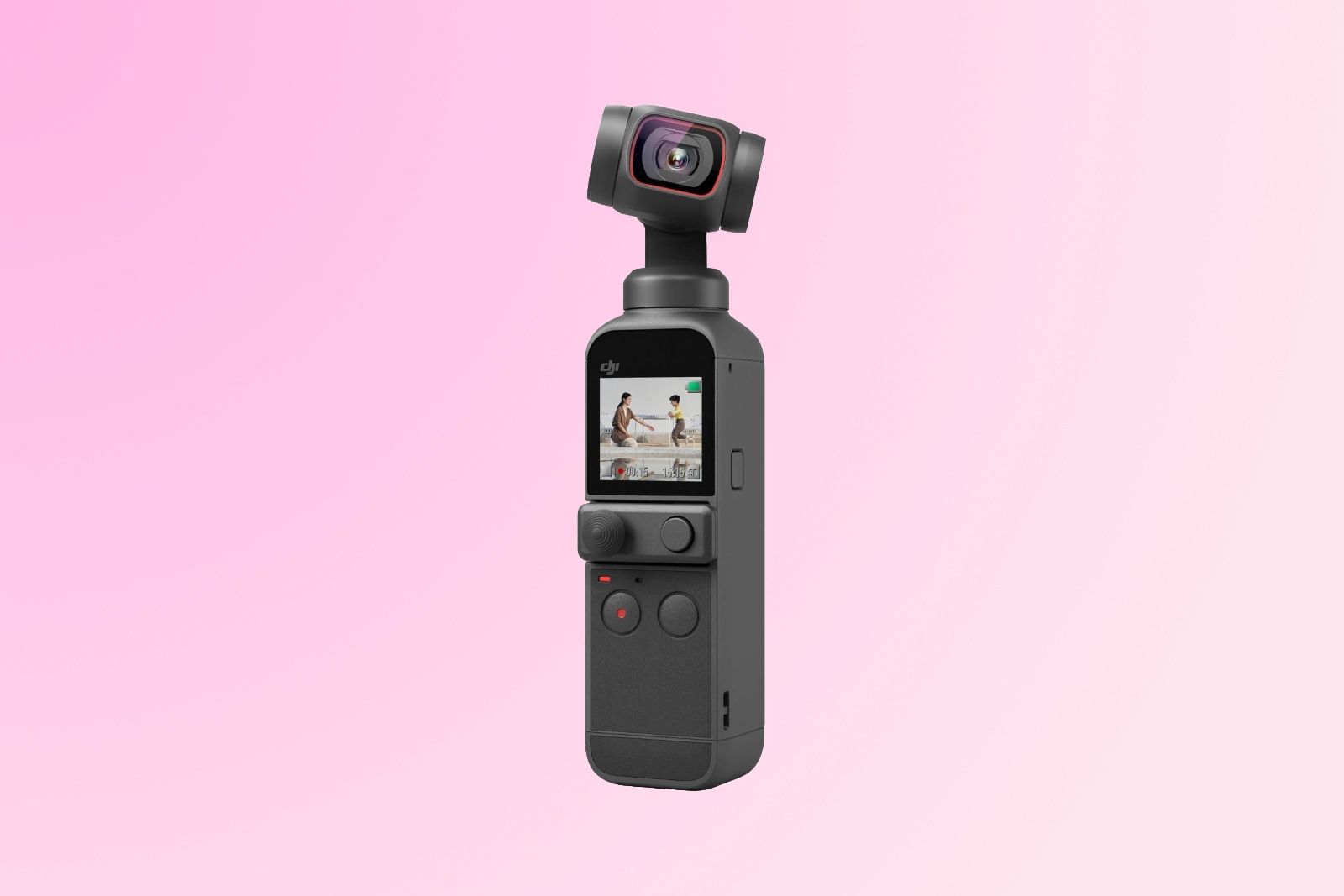 DJI / Pocket-lint
DJI Pocket 2
3. Best value vlogging camera
Ultimate stabilisation
The DJI Pocket 2 is the best of DJI's smooth drone shots in a pocket-sized 4K camera with a 1/1.7-inch sensor and the ability to shoot 64MP stills.
Pros
Smooth tracking
4K footage, 64MP photos
Great battery life
What works for a drone should work for your camcorder. The DJI Pocket 2 is a compact gimbal and camera combo that can create smooth tracking shots and handheld camera moves thanks to the marriage of DJI's stabilisation hardware and subject tracking software it's spent years perfecting for drones.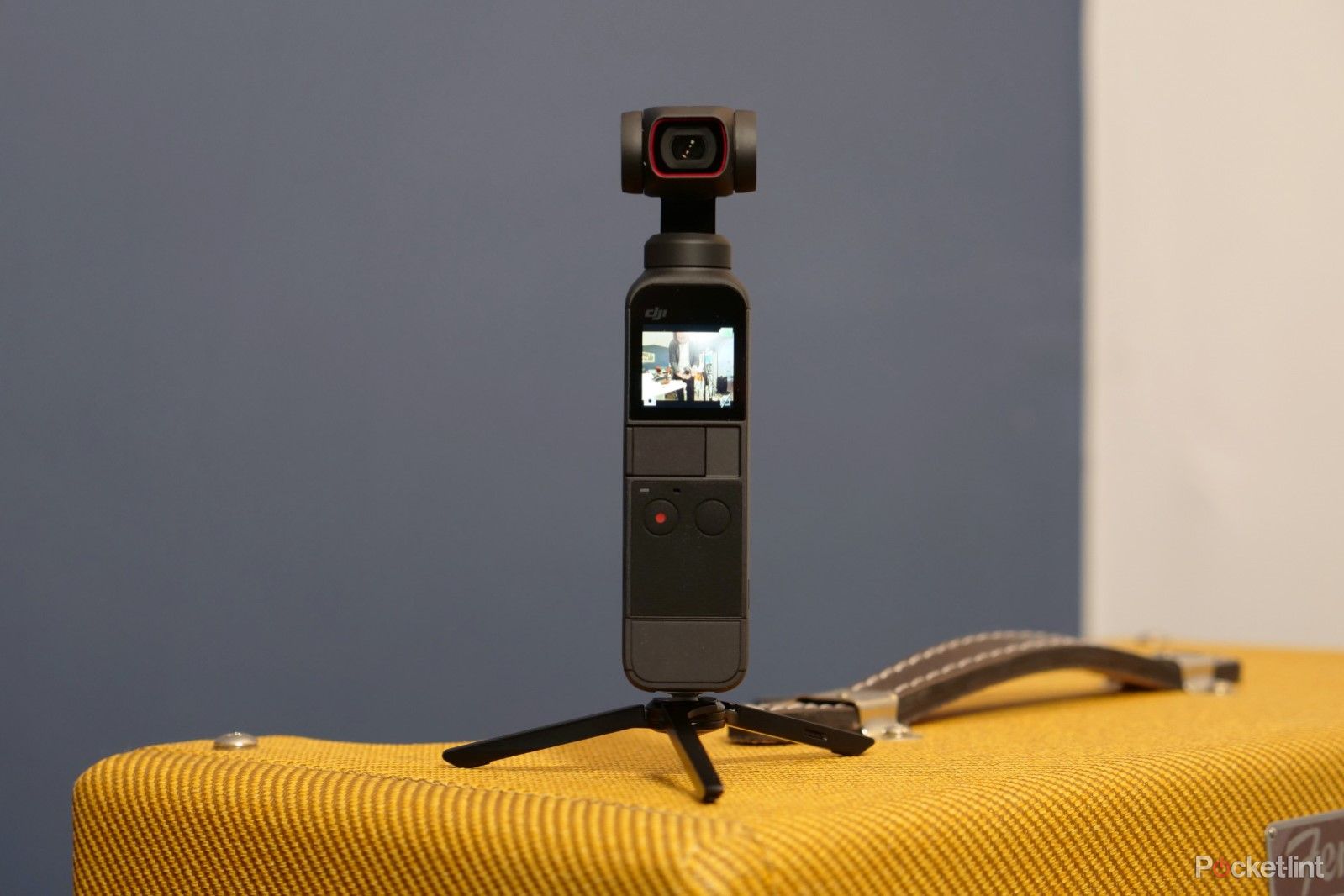 The Pocket 2 has a 875mAh battery and uses 1/1.7-inch sensor to capture 64MP photos and 4K videos. Four onboard microphones also let it capture stereo audio if you opt not to use a separate mic. Another neat trick? You can mount a DJI Pocket 2 onto your smartphone and use your phone as an extra-large live viewfinder for the camera.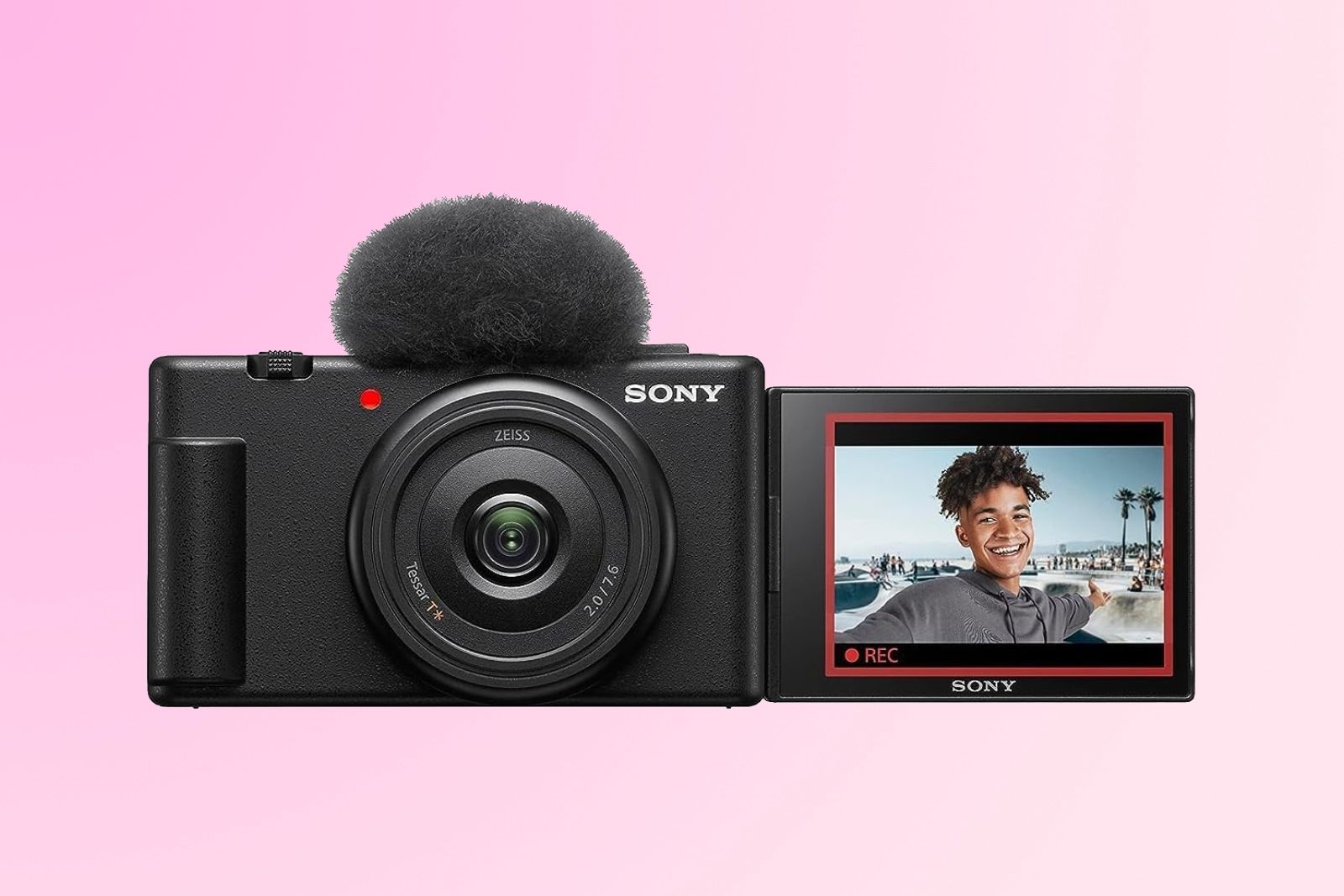 Sony / Pocket-lint
Sony ZV-1F
4. Best value Sony vlogging camera
Baby's first vlog camera
The Sony ZV-1F is the more affordable step-down of the ZV-1 II, with a fixed 20mm lens and no hot shoe for attaching additional camera accessories.
Pros
Works as a webcam
Wide lens
Object tracking and auto exposure
Cons
Fixed lens
Not much of a grip
If you want a taste of Sony's vlogging camera experience on a budget, the Sony ZV-1F is a great option. It features a fixed 20mm lens that's designed to capture you and your surroundings from a comfortable, arms-length distance – and it has a slide-out LCD touchscreen so you can make sure you frame things correctly.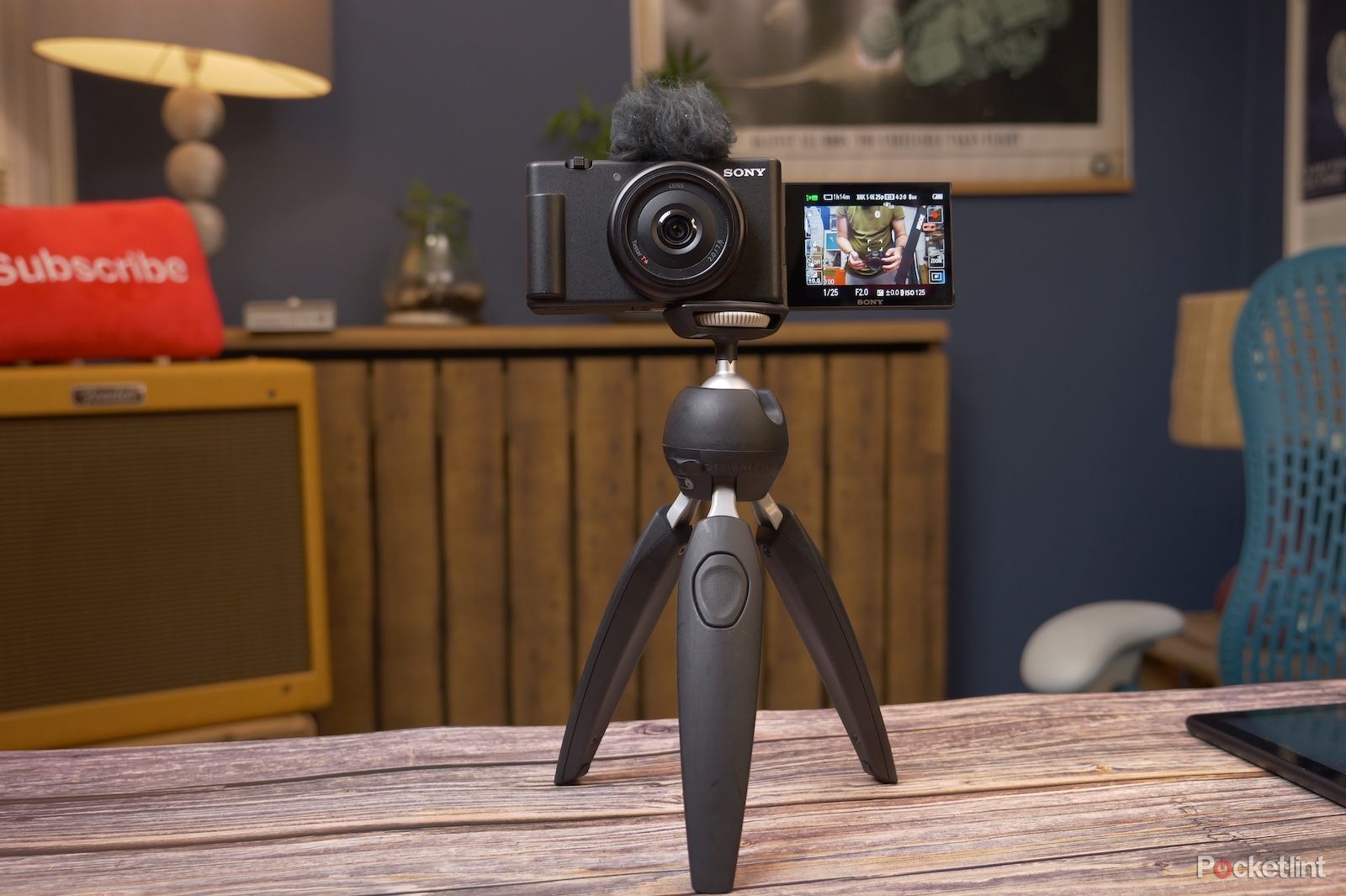 Helpful features like the Bokeh Switch for adding background blur and the Product Showcase Mode for automatically switching focus to whatever object you hold in front of the camera, make it super simple to create professional looking videos. The major disadvantages are there's no hot shoe for adding additional accessories, and autofocus is slower than what you'll get on more expensive Sony options.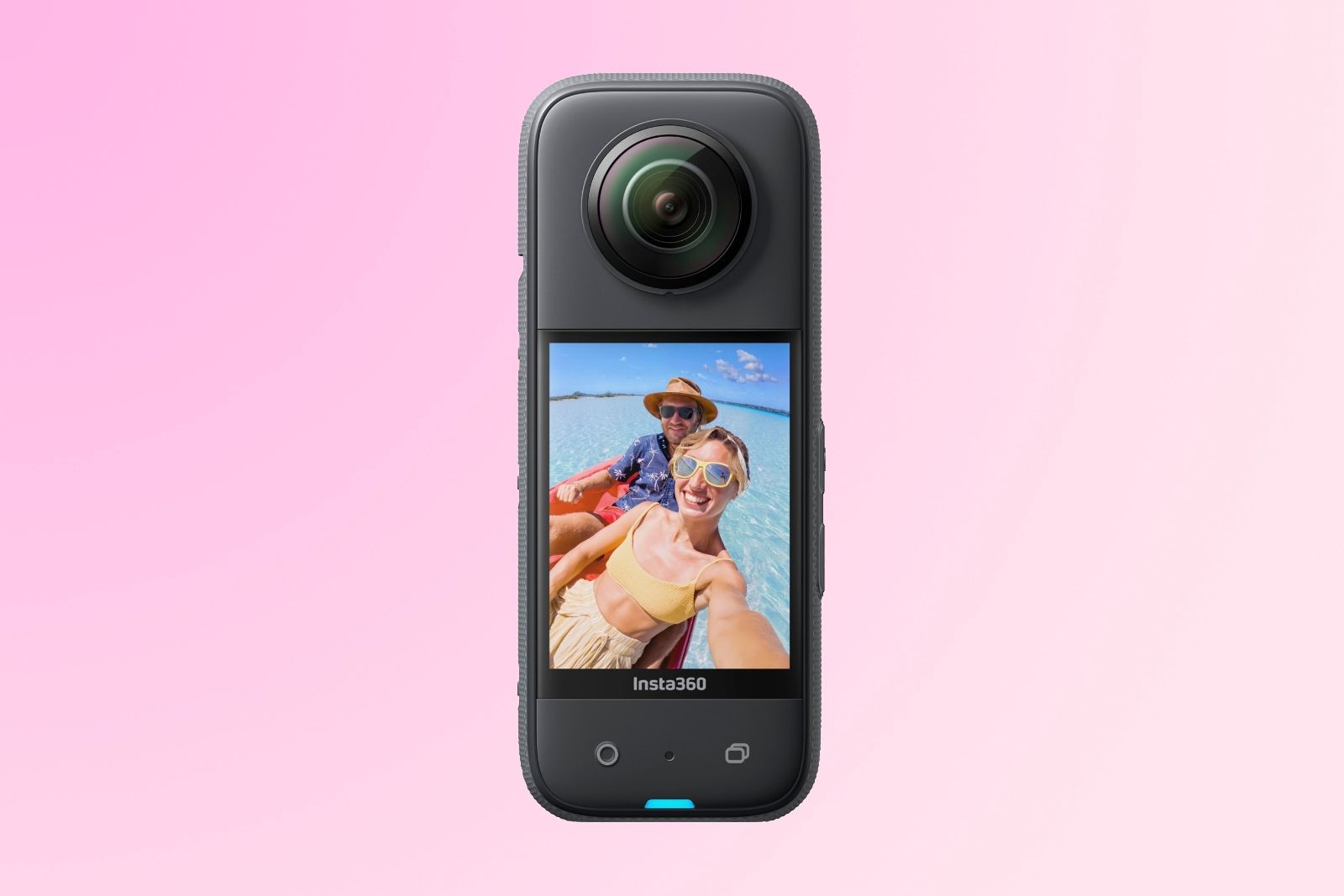 Insta360 / Pocket-lint
Insta360 X3
5. Best 360 vlogging camera
Reframe without reshooting
The Insta360 X3 is a 360 camera that captures video from two wide-angle lenses at the same time. But the ability to shoot 4K 30FPS footage from a single lens and its 1,800mAh battery make it pretty great for vlogging too.
Pros
Better low light performance
Third-person mode, reframing, other software features
72MP stills
Cons
There are simpler ways to shoot video
There are a few specific reasons you might want a 360 camera, if say you were creating videos for VR, but devices like the Insta360 X3 can be excellent vlogging tools, too. The candy-bar shaped X3 uses two wide-angle lenses and dueling ½-inch 48MP sensors for 5.7K 360 video capture. You can also use a single lens for 4K 30FPS videos.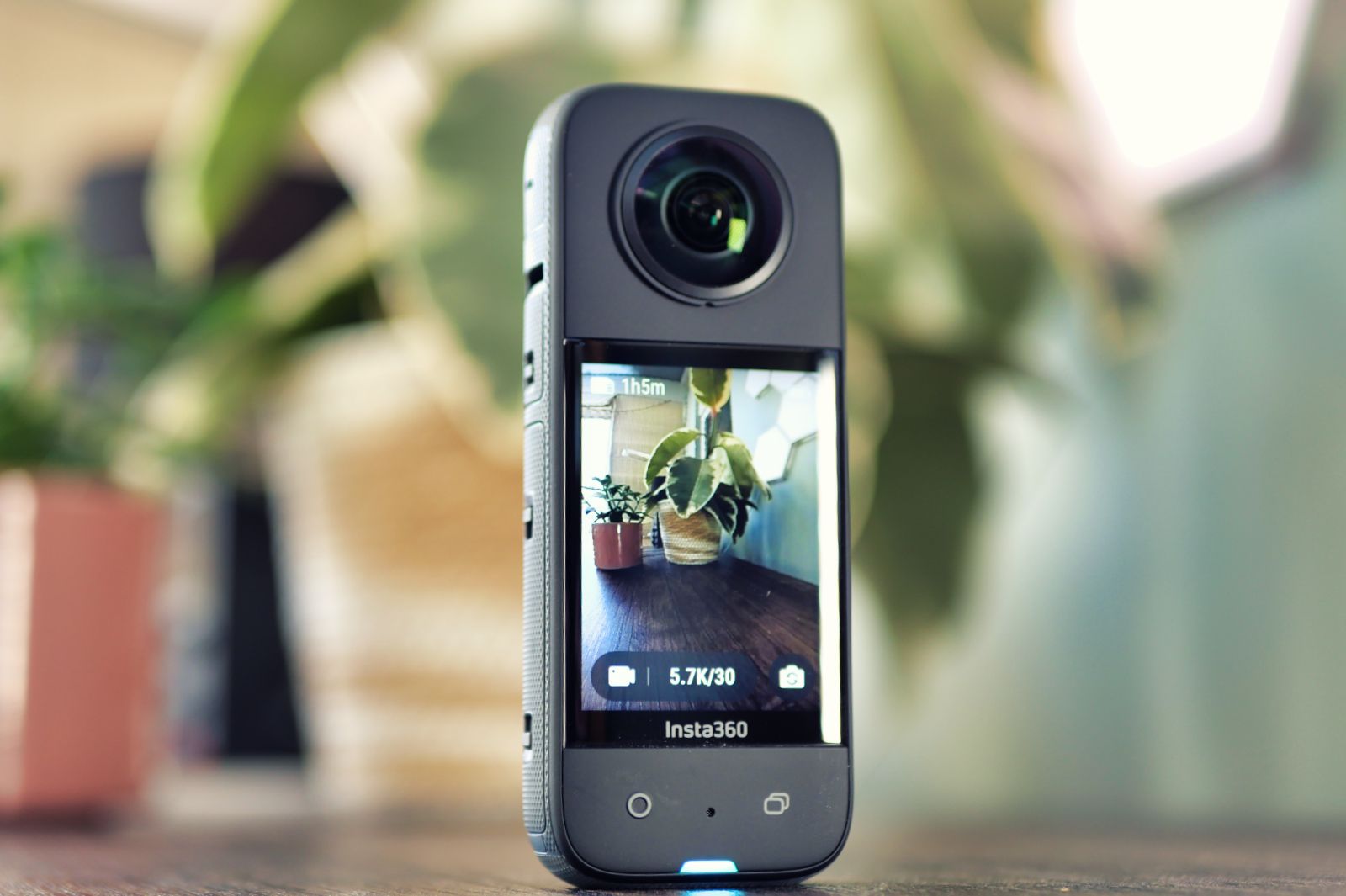 Pocket-lint
The magic happens when you pair those 360 videos with Insta360's software. You can reframe footage to focus on just the right part of the full-circle video you captured for a great vertical video, create interesting third-person shots, and even simulate using a selfie stick just by holding the camera out. Unlike some of the traditional point-and-shoot cameras in this guide, the Insta360 is also waterproof up to 10m / 33ft.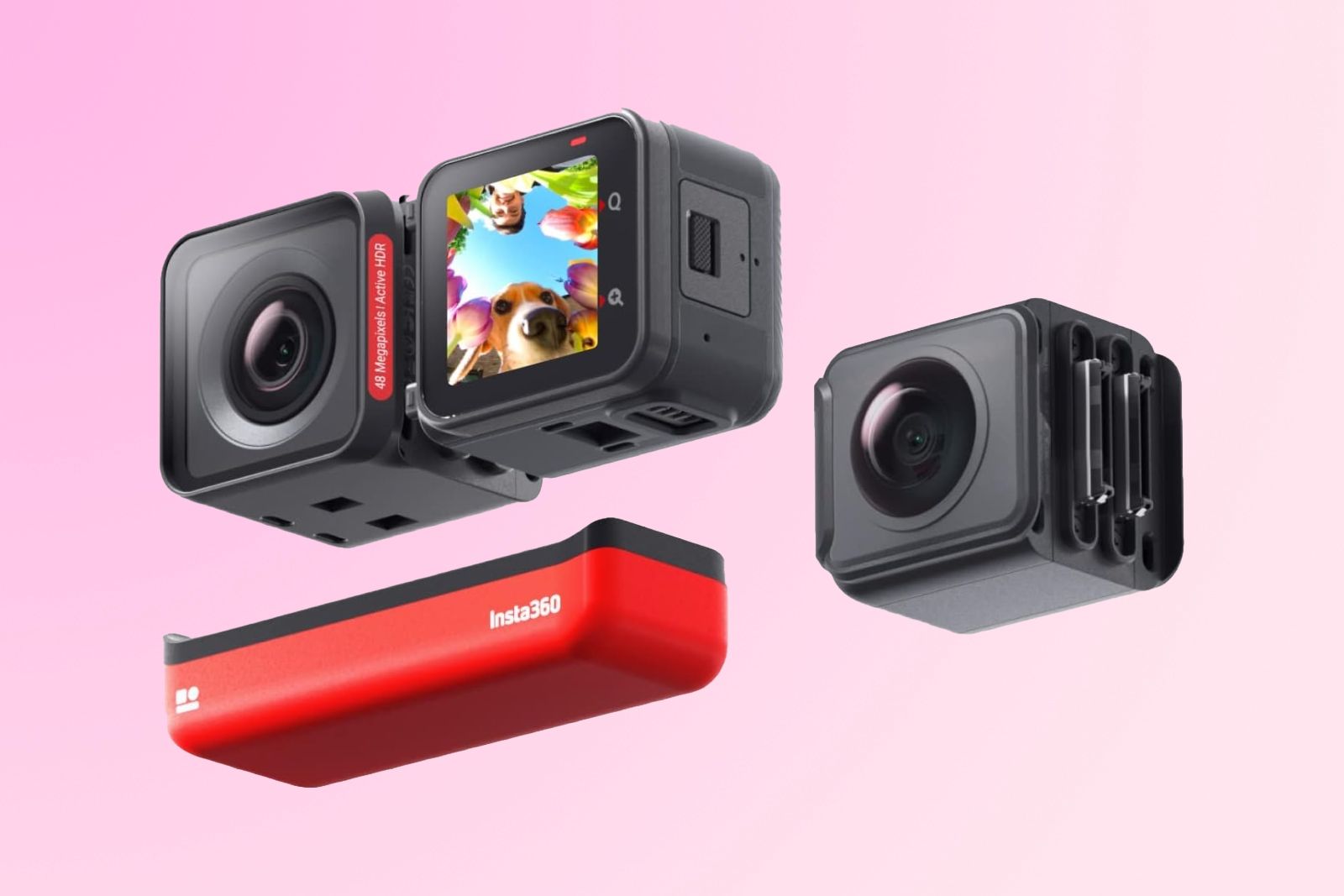 Insta360 / Pocket-lint
Insta360 One RS Twin Edition
6. Best modular vlogging camera
Optical LEGO
$350 $400 Save $50
The Insta360 One RS Twin Edition is a modular action camera that's waterproof, able to be taken apart and recombined as a 360 camera, and can shoot 6K video if you want.
Pros
Modular design is cool
Waterproof
4K 60FPS
The dream of modular electronics isn't dead, it's just small enough to strap to a hat. The Insta360 One RS takes the basic form factor of a GoPro and adds the ability to swap out lenses, batteries, and screens to customise your recording experience to your preference. The Twin Edition we've included ships with a traditional lens for capturing 4K footage at 60FPS, and a 360 camera capable of all the unique shooting techniques the Insta360 X3 can do.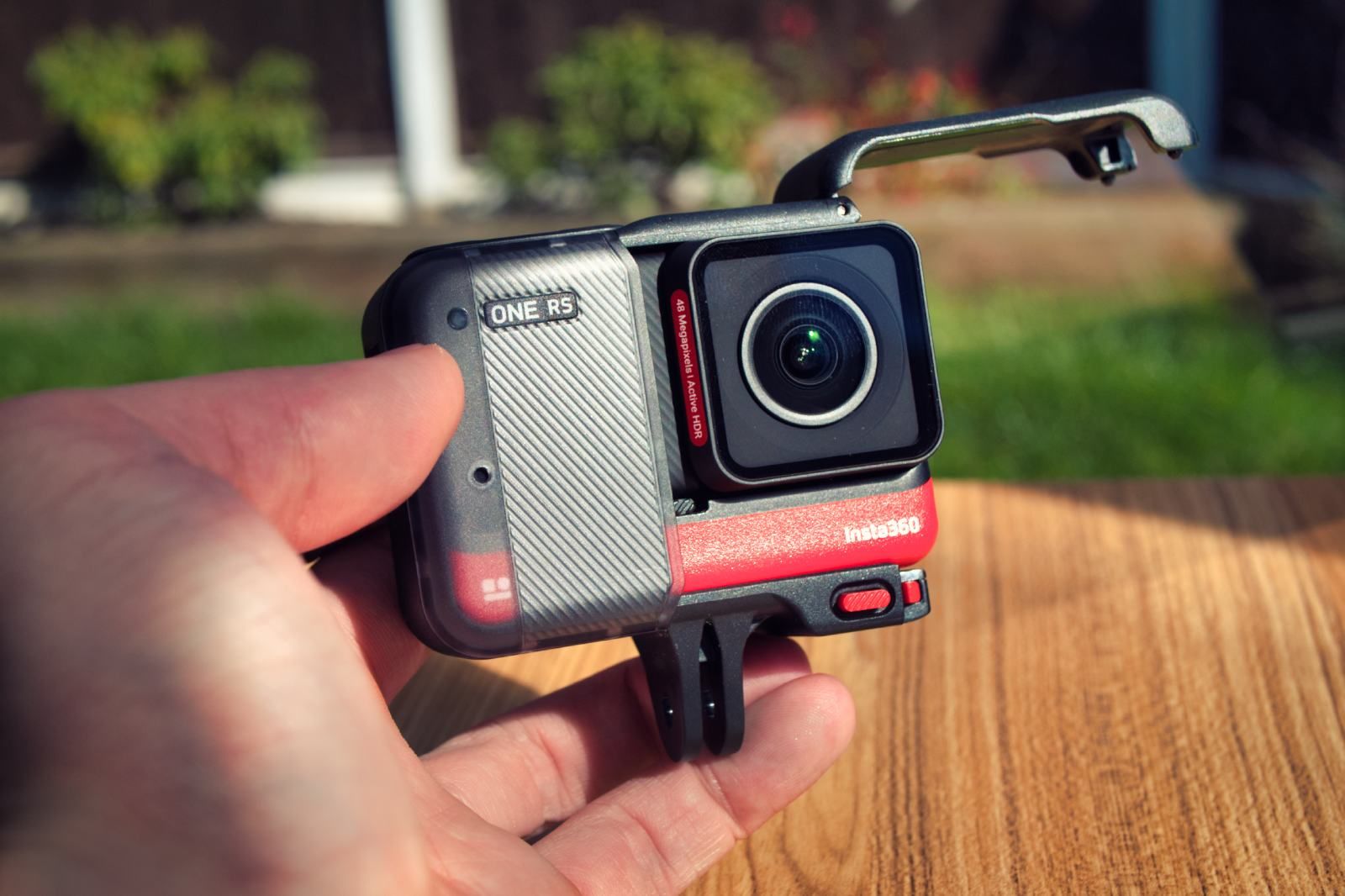 Pocket-lint
One imagines new modules could change up what the One RS can do even further, but out of the box, 48MP photos and a 1,445mAh battery make the camera a compelling pick if you plan on shooting outside.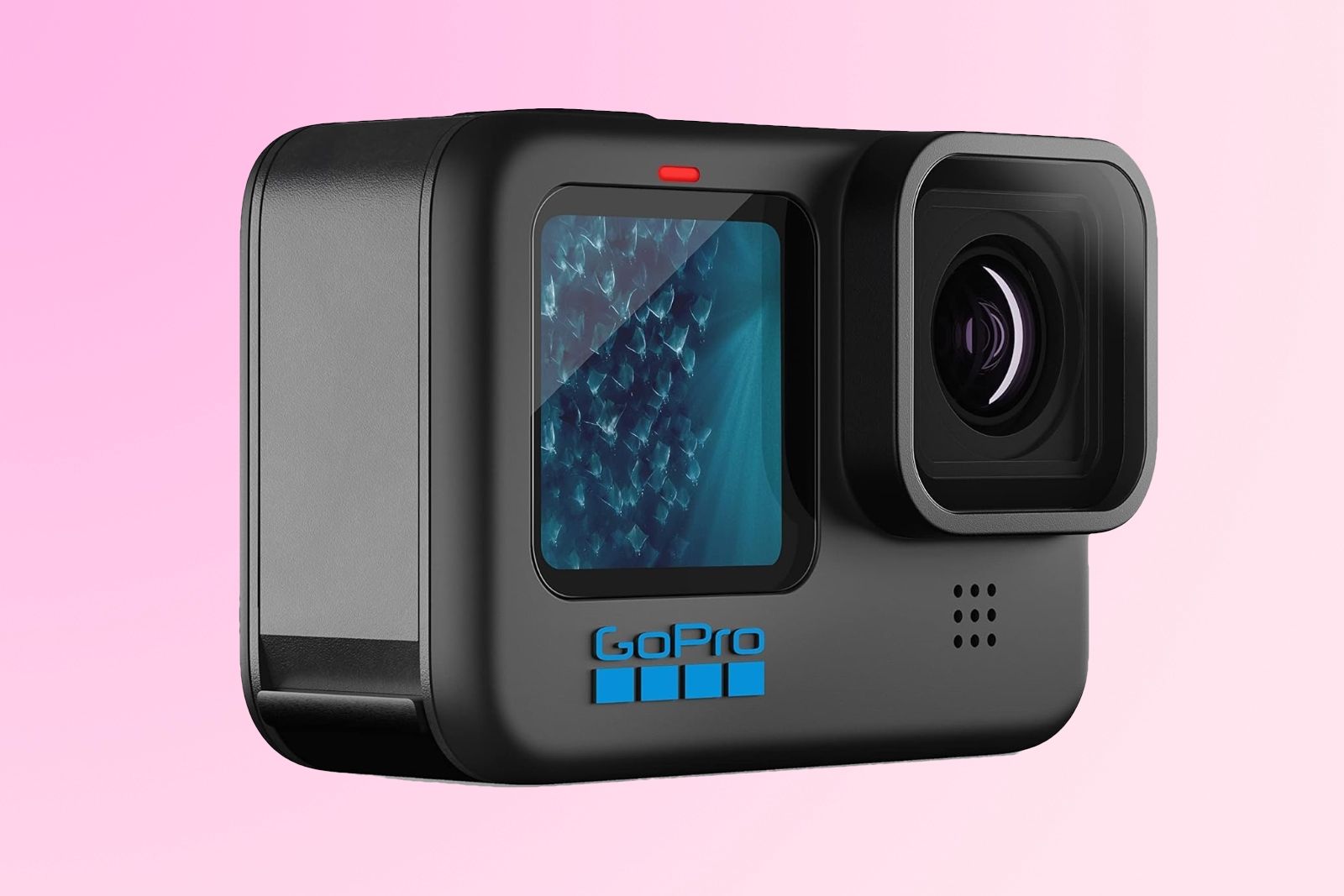 GoPro / Pocket-lint
GoPro Hero 11 Black
7. Best action vlogging camera
Older, but still reliable action camera
The GoPro Hero 11 Black can shoot 4K video at 120FPs, 27MP still photos, capture 8x slow motion footage, and has front and back screens for previewing shots and changing settings.
Pros
Long battery life
4K 120FPS
Slow motion
GoPro popularised the concept of an "action camera" in the first place, and even if it's old, the GoPro Hero 11 Black is still a worthy pick for adventurous content creators. The small, mountable camera is capable of shooting 5.3K footage at 60FPS or 4K footage at 120FPS, with the option for slow motion thrown in for good measure. An 1720mAH battery should keep the camera going for a long while, and dual screens on the front and back of the device mean you can frame shots and switch settings with a touch.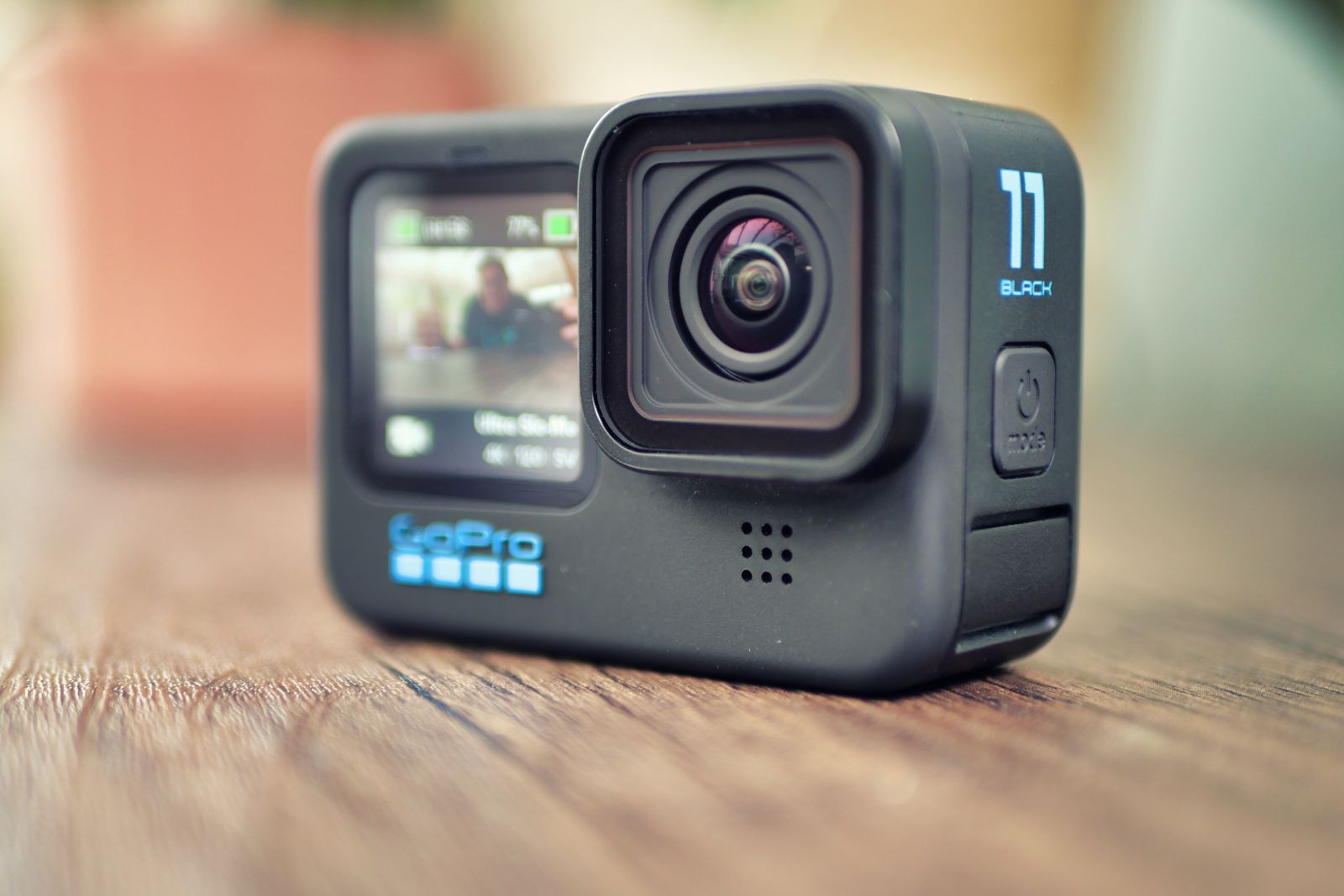 Pocket-lint
Besides the hardware, with GoPro you're also buying into history. The company has been around for a long time and has plenty of third-party accessory-makers still creating cool things for GoPros. You're bound to find the mount you want to use if you buy in.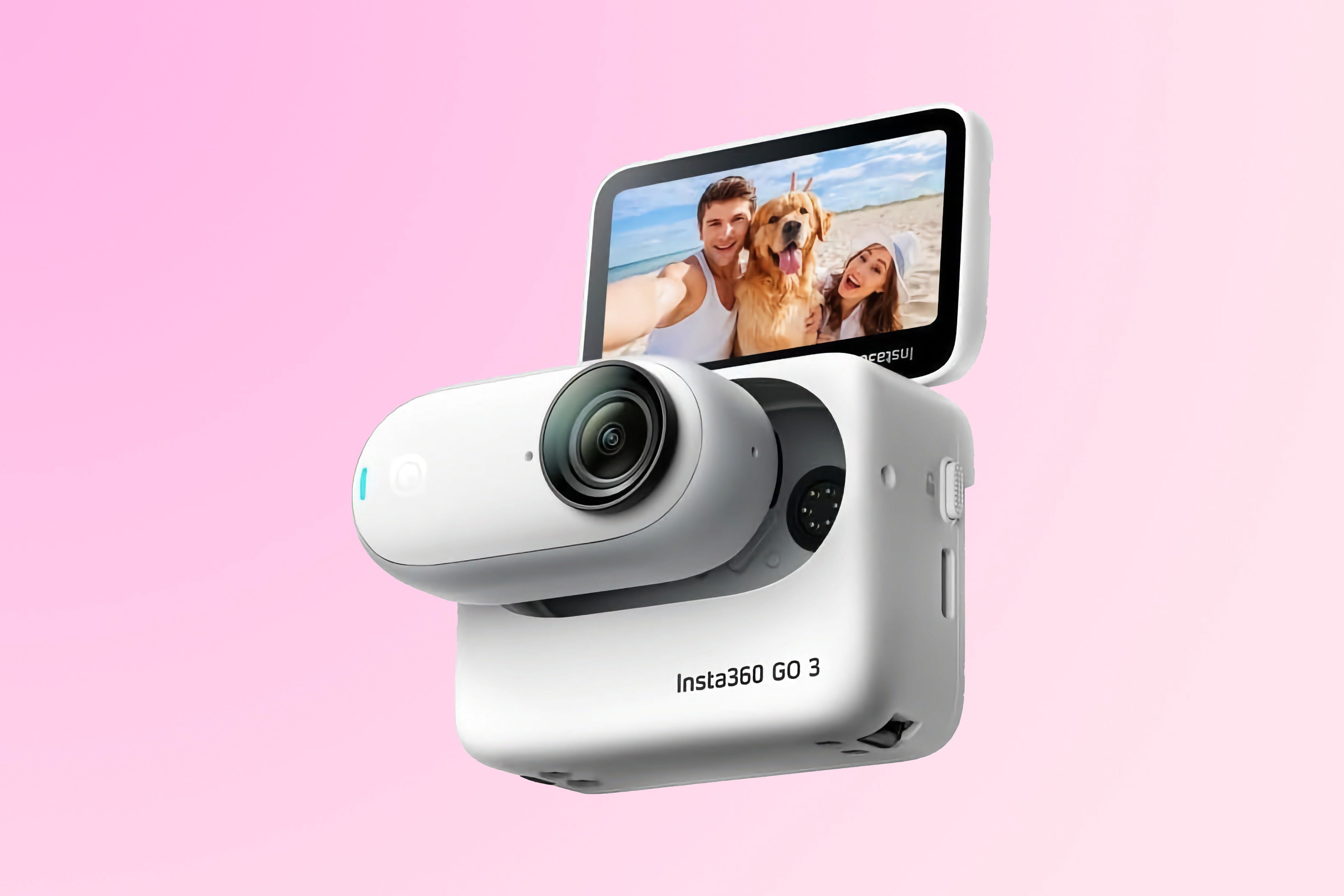 Insta360 / Pocket-lint
Insta360 Go 3
8. Best small vlogging camera
You can stick it anywhere
The Insta360 Go 3 is an action camera that's light and adaptable. You can stick it to a mount, string it around your neck, or dock it to get a viewfinder and even longer battery life.
Pros
Action Pod adds screen and battery life
Improved image quality
IPX4 rating
A relative newcomer, the Insta360 Go 3 is one of the cleverest cameras out there. As an individual, pill-shaped action camera it's light at 35 grams, and able to shoot 2.7K videos and be submerged up to 5m/16ft without breaking a sweat. Paired with its companion "Action Pod" though, and it gets a flip-out screen, and an even longer 170 minute battery life.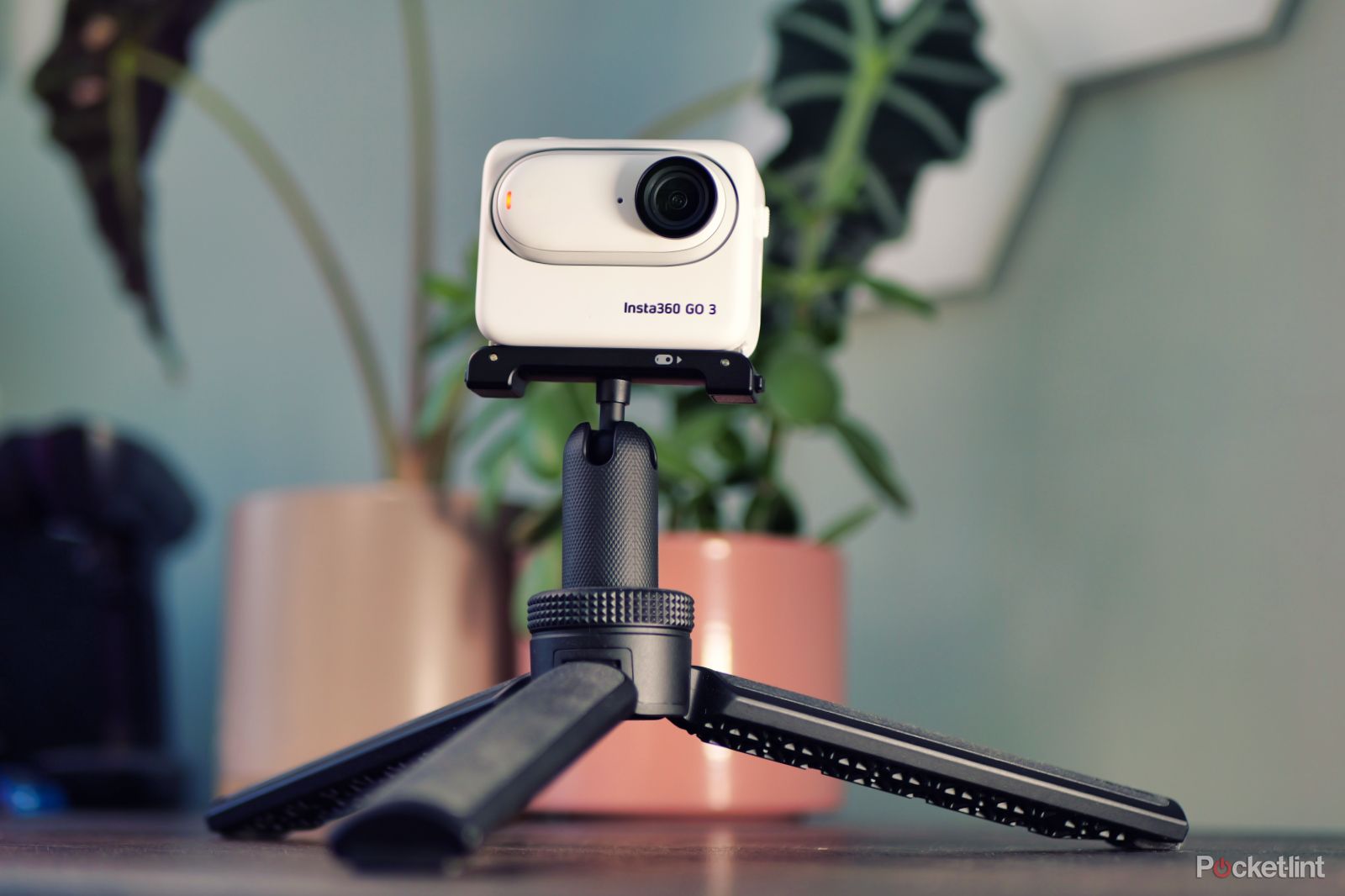 The beauty of the Go 3 is all the ways you can use it. In the Action Pod, it's a great way to vlog when you're out and about. Attached to the necklace or adjustable mount Insta360 shipped in the box, it can capture first-person POV shots or even more unique angles. The Go 3's battery life needs to be longer for it to be a total replacement for other cameras, but it's by far one of the most interesting action camera options out there.
The best vlogging cameras: The bottom line
If you're just getting into video, it's helpful to take stock in what you'll need before you take the plunge on a $300 and up purchase. For an all-around solid camera with a huge amount of adaptability thanks to its ability to swap lenses, the Sony Alpha ZV-E10 is our overall favourite. It shoots 4K videos at 30FPS, includes great video features for changing up your footage on the fly, and you can control it all from an LCD touchscreen.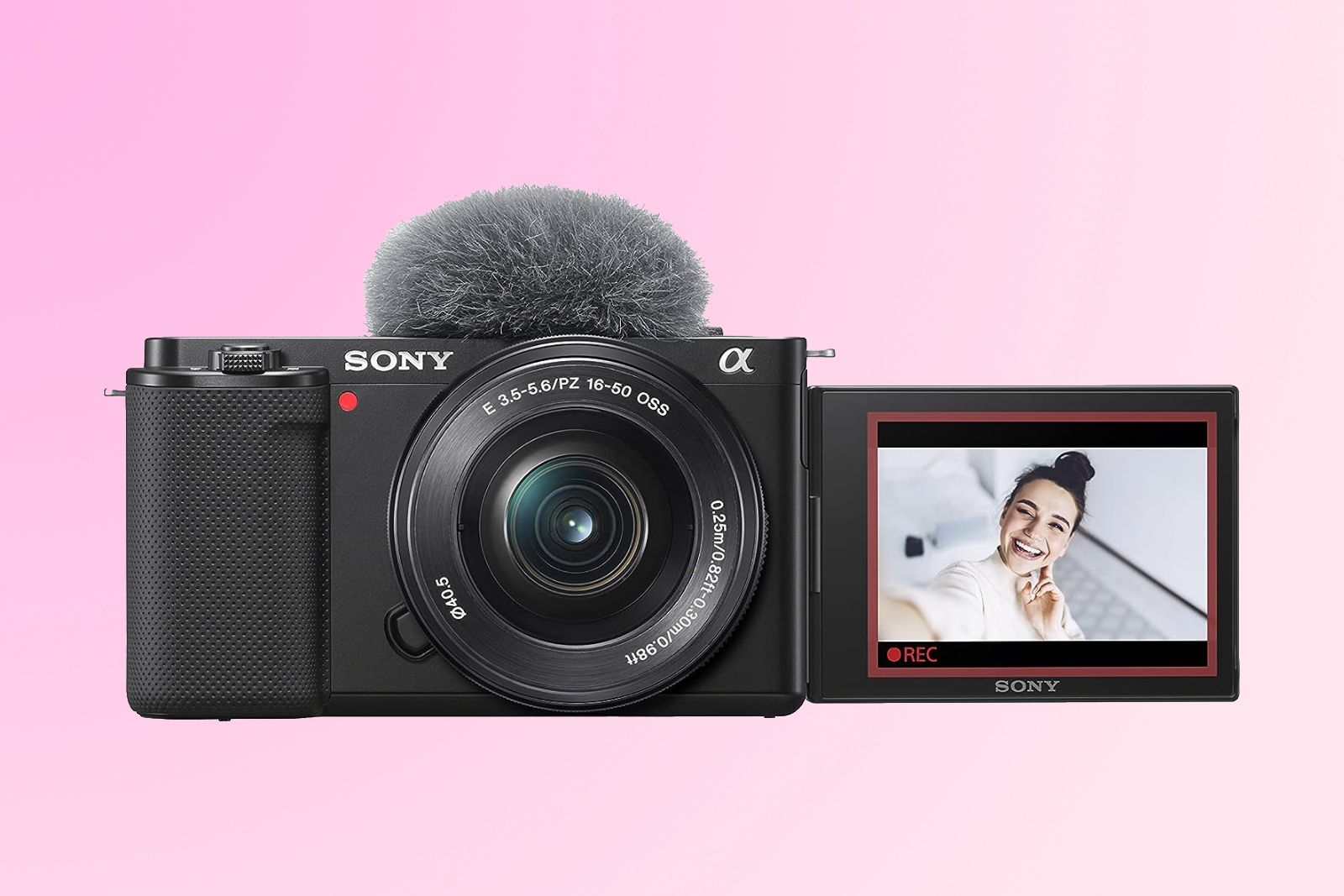 Sony / Pocket-lint
Sony ZV-E10
Editor's Choice
If you're looking for an even simpler option that costs a bit more, the Sony ZV-1 II doesn't have the ability to change lenses, but it does have a 18mm-50mm lens built-in. Sony made actually shooting footage on the ZV-1 II as simple as possible with quick access settings on the fold-out 3-inch screen and a dedicated button for applying Bokeh to your footage for some added depth.
One of the most affordable options we selected can also do most of the camera work for you. The DJI Pocket 2 can track subjects as they move to keep them in frame, and keep footage smooth as you move around shooting 4K video.
How we picked the best vlogging camera
Pocket-lint has used and reviewed a wide variety of consumer, professional, and action cameras, and almost all the selections we picked for this guide. We know the features you should look for if you're learning the video ropes or need a durable camera that will last through multiple surf, bike, or snowboarding outings.
We made our selections based on image quality, portability, flexibility, price, and nice-to-have features that make the job of creating professional-looking video simpler. This list reflects a good overview of options that fit in most if not all the criteria, with options that should appeal to everyone interested in trying their hand at vlogging.
Can't I use my phone to shoot a vlog instead of a dedicated camera?
On paper, there's no reason you shouldn't use your smartphone to get started. The cameras on an iPhone 15 Pro Max, Galaxy S23 Ultra, or Google Pixel 7 Pro are capable enough of creating beautiful footage that's ready to upload to the social platform of your choice; if you're uploading to TikTok or YouTube Shorts, you don't even need to hold your smartphone horizontally.
The problem is storage, and lens options – we've come a long way in both. Smartphones are dotted with lenses and filled with software features for simulating lenses, but they're still not quite the same thing as physically slotting in a macro or telephoto and starting to shoot. Additionally, while you can buy a smartphone with terabytes of storage, high-quality footage will fill it up very quickly. Using a dedicated camera for your video work gives you more options, and makes it easy to swap in more storage, which makes all the difference.