Computers
How to install Android Launchers, then customise and change your phone
Key Takeaways
Android is known for its customizability, allowing users to change the way their phones look and behave.
Nova Launcher offers extensive customization options, including changing the size of home screen icons, installing custom icon packs, and adjusting the number of rows and columns on the home screen.
There are other Android launchers available that cater to different needs, such as Microsoft Launcher for easy access to frequently used apps and contacts, and minimalist launchers that help reduce screen time and prioritize essential apps.
Ask an Android what they love about Android, and there's a good chance that customisation is a big part of the answer. Historically, that's always been the case, ever since the first Android phones hit the market. Rather than have quite a rigid user interface like iOS on the iPhone, Android has long been lauded for the ability to change the way it looks, and the way it behaves. You can get it looking and feeling like a completely different phone if you want to.
There's been such a demand for customisation that – over the past few years – we've seen manufacturers add far more customisation choices directly into their own software. Even Google has made it a key part of the experience of the stock Android 14 UI that's built into Pixel phones.
Launchers for Android do still have their purpose though. Choose the right one, and you can use all manner of tweaks. So whether you have a new Galaxy Z Flip 5, a Pixel 7a or a heavily skinned device like the Xiaomi 13 Pro, there's a lot you tweak if you have the right tools.
How to choose an Android launcher
Before choosing a launcher, it's worth considering what you want from your Android phone. If you have a device from a Chinese manufacturer like Oppo or Xiaomi – or a heavily skinned device like one of Samsung's – and you just want a more stock Android-like experience, the best launcher to download is probably Nova launcher.
Nova launcher brings a visual experience which is much more like the stock/standard Android look and feel. Or – at least – what Android used to look like before Androdi 12's 'Material You' changed everything. As well as offering a clean aesthetic, it lets you control every element of your phone's software experience.
It comes as both a free and premium version, the latter gives you many more options and is definitely worth the outlay if you just want your phone to look the way you want it to.
Nova Launcher lets you do things like change the size of your home screen icons manually, as well as installing custom icon packs, so you can change the way they look too. You can choose how many rows and columns of apps you want on the home screen and in your app drawer, and even fine-tune the way the Google search bar appears. And that's just the tip of the iceberg.
In fact, Nova Launcher is so in-depth, it could probably do with its own entire explainer and tutorial feature, so we'll leave that there for now. Suffice to say, if you like toying and customising, there are few that offer the granular options Nova Launcher includes.
If – however – you want a launcher to help you be more productive, or you want a launcher with a minimalist user interface designed to reduce your screen time, there are plenty of those as well. We've highlighted a number of them at the bottom of this article.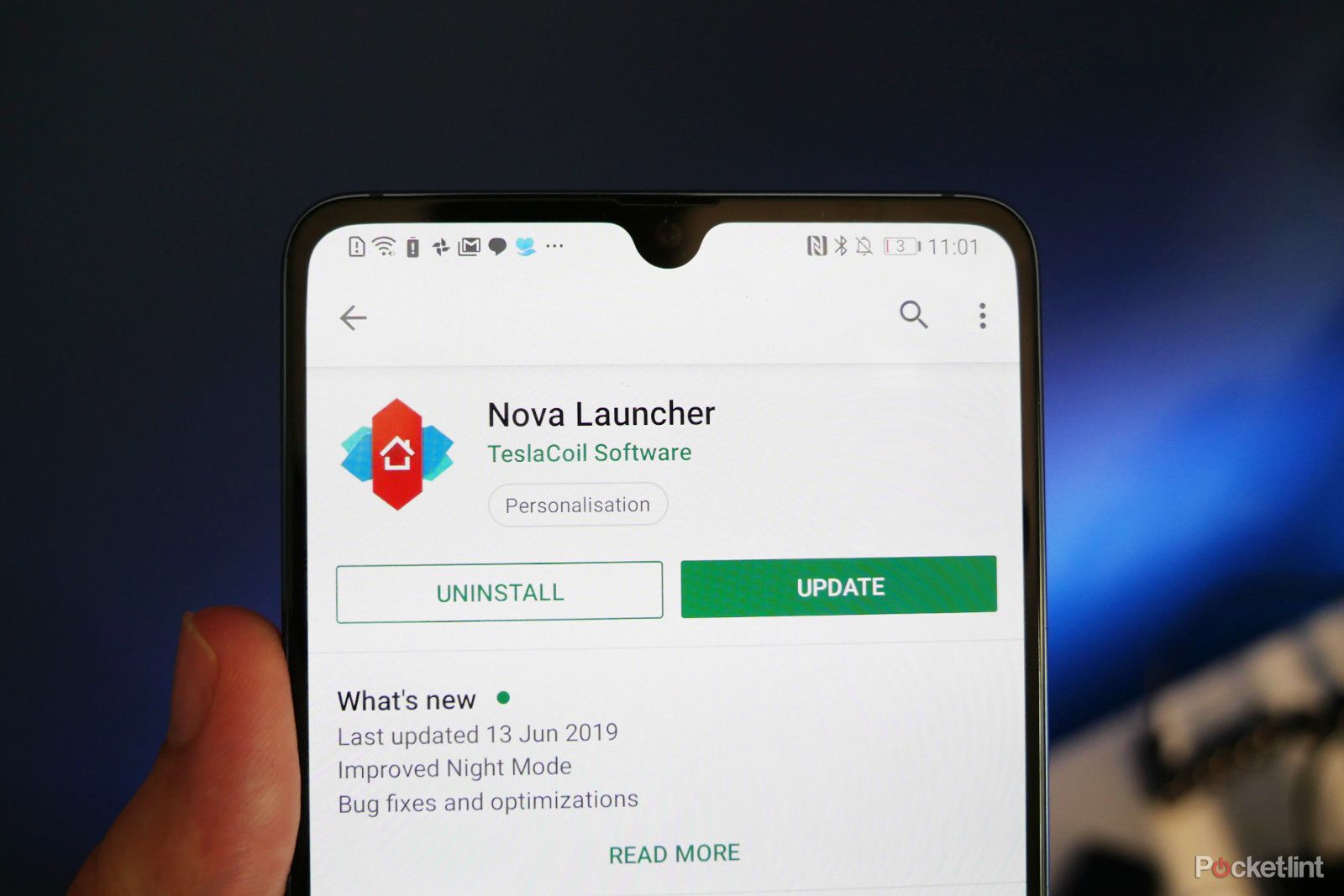 Download an Android launcher
The first step to installing a new launcher is exactly the same as downloading an app. Simply head to the Play Store and search for the launcher by name (list of suggestions at the bottom of this article) or simply type "launcher". We'll use Nova Launcher as an example in this guide, but the same process applies to all. We'd suggest searching for "minimalist launcher" if that's what you're after.
Once you've found the launcher you want to download and you've installed it, the next step is setting it up. Most Android launchers have a setup guide included to help you get started quickly, so simply tap on the launcher's app icon, which should have appeared on your home screen or in your app tray.
When you tap the app icon – depending on which phone you're using – you may see a popup message saying something like "X launcher is currently set as your default, go to settings to try [new launcher name]". Once you've confirmed you want to try it, your home screen layout should completely change.
Often when this happens, you haven't actually set the new launcher as a default, so it may be confusing when you swipe to go home, and it reverts to your old launcher. Which it may do. Your phone could either do that, or give you a handy popup asking you which launcher you'd like to use as a default.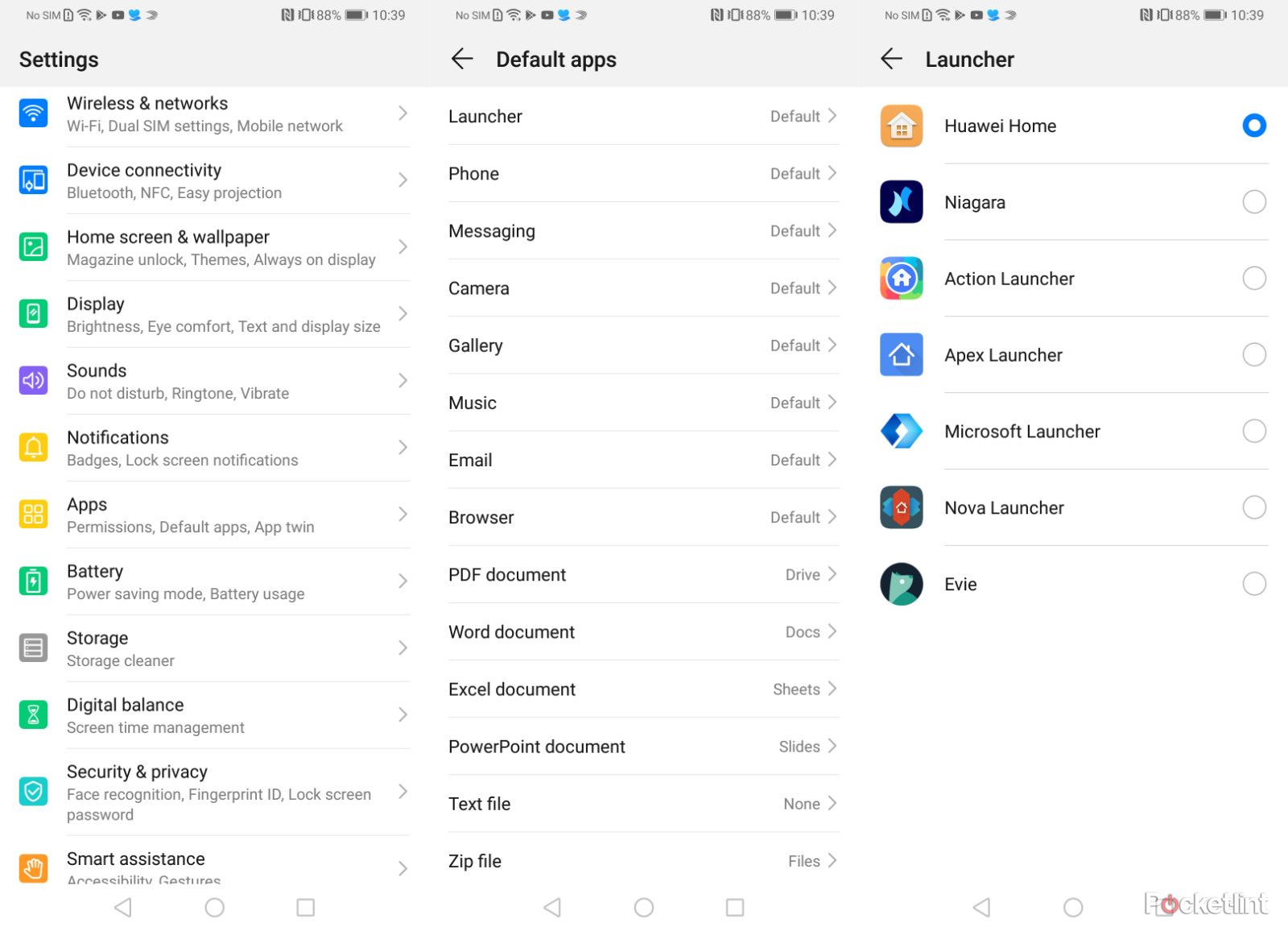 How to change default Android launcher
Actually setting the launcher as your default Android launcher is a process which varies a little depending on your device. With some Android phones, you head to Settings > Home, and then you choose the launcher you want. With others, you head to Settings > Apps and then hit the settings cog icon in the top corner where you'll then have options to change default apps.
Others like to make it a little trickier…
Samsung (Android 13) – Settings > Apps > Choose default apps > Home app
Oppo, OnePlus and Realme (Android 13) – Settings > Apps > Default App > Home app
Xiaomi/Redmi/Poco (Android 13) – Settings > Home screen > Default launcher
Honor (Android 12/13) – Settings > Apps > Default apps > Home app
Of course, if you have an older version of software, the method might be slightly different. The quickest, and easiest way, is to head to the Settings app and search for "default app" in the search field, and you should find it.
What next?
As we alluded to earlier, once you actually have the launcher active on your phone, the home screen appearance changes. Your apps will most likely no longer be organised how you had them before, so you'll need to spend a few minutes (okay, maybe more than just a few) placing your apps, creating folders, choosing a wallpaper, etc.
You can also gain access to your launcher settings, to customise various aspects of it. With many of them, you just tap and hold on the home screen and there's a settings bar right next to the usual wallpaper and widgets options, you may even see an icon pack option (depending on which launcher you're using).

What Android launchers are there?
There are a number of decent launchers for Android, each of them offering something a little different to the rest. This is by no means an extensive list, there are so many of them, but these are some of our favourites.
Nova Launcher – see on the Play Store
Customisability at its best. You can change almost any aspect of your phone software experience.
Microsoft Launcher – see on the Play Store
Very clean launcher which intelligently sorts your most used apps and frequently contacted people to make them easy to get to. It also gives you individual home screens for your reminders/tasks, widgets, documents and apps.
Action Launcher: Pixel Edition – see on the Play Store
Like Nova Launcher, Action launcher gives you the ability to customise a number of user interface elements within the software. It is Perhaps more appealing to those with little patience to set their home screens up again though, since it can import your existing app/home screen layout, rather than force you to start again.
Hyperion Launcher – see on the Play Store
Like Nova Launcher, this one's all about customisation, and really lets you get down into the nitty-gritty of the phone's UI appearance. You can change folder colours, adjust widget behaviours and appearance, adding blur and effects to make it very different to your stock launcher.
Minimalist Android launchers
If your main aim for a launcher is to reduce your time spent mindlessly scrolling through social media and video apps, you may want to give a minimalist launcher a try. Most of these are designed to give you easy access to your most-necessary apps, and hide the time-sucking social media away.
Minimalist phone: Productivity – see on the Play Store
The Minimalist Phone launcher is centered around restricting apps that distract, giving easy access to essentials with a very sparse black-and-white user interface. It also helps to manage your screen time and makes it easier to restrict notifications from specific apps. It's free to download, but has in-app purchases.
Olauncher: Minimal AF Launcher – see on the Play Store
Like the previous launcher, this is designed to give you quick access to apps that you need to use each day, listing a small selection on your home screen. It is – however – much more colourful, allowing colour-rich wallpapers so that you're not just looking at a plain black background every time you pick up your phone.
Niagara Launcher – see on the Play Store
Niagara launcher is similar in premise: speed. It wants to help you get to what you want as quickly as possible. No unnecessarily long animations or transitions. It's not overloaded with UI layers. Instead, you choose the important things and they're all that appear on your home screen. It's quick, uncluttered and easy.
Before Launcher – see on the Play Store
Similar to the above, Before Launcher helps you stay focused on essentials, and even filters out notifications to stop you from being distracted. You can prioritise your most essential apps, and it features a fast search tool for when you want to get to an app quickly,
Other launchers all offer the ability to customise the appearance of the phone's theme, icons, and some even add custom gestures for launching specific functions.
Which one is the best depends entirely on what you need it to do. If you have the patience, and want to try a few different launchers out, you have the freedom to do that. Most are free to download, some have "Prime" versions which are paid-for upgrades, but come with more features.