Computers
Motorola Edge 40 Neo review: Affordable luxury
Motorola has been a leading name in the tech-sphere since mobile phones first came to be. In recent years, it's the mid-range smartphone sector where the American manufacturer has really dominated, although it has made a name for itself on the premium end of the market too, including some pretty impressive foldables.
The Motorola Edge 40 series is the brand's flagship offering for 2023, made up of three devices including the Motorola Edge 40 Pro at the top, the Motorola Edge 40 below that, and the Motorola Edge 40 Neo, which is the cheapest of the lineup. If you like the look of Motorola smartphones inside and out, but you don't want to spend shed loads of money, the Neo will be your best bet. While it doesn't have quite the wow factor of the Pro model, it does have plenty worth talking about. Here's how I got on.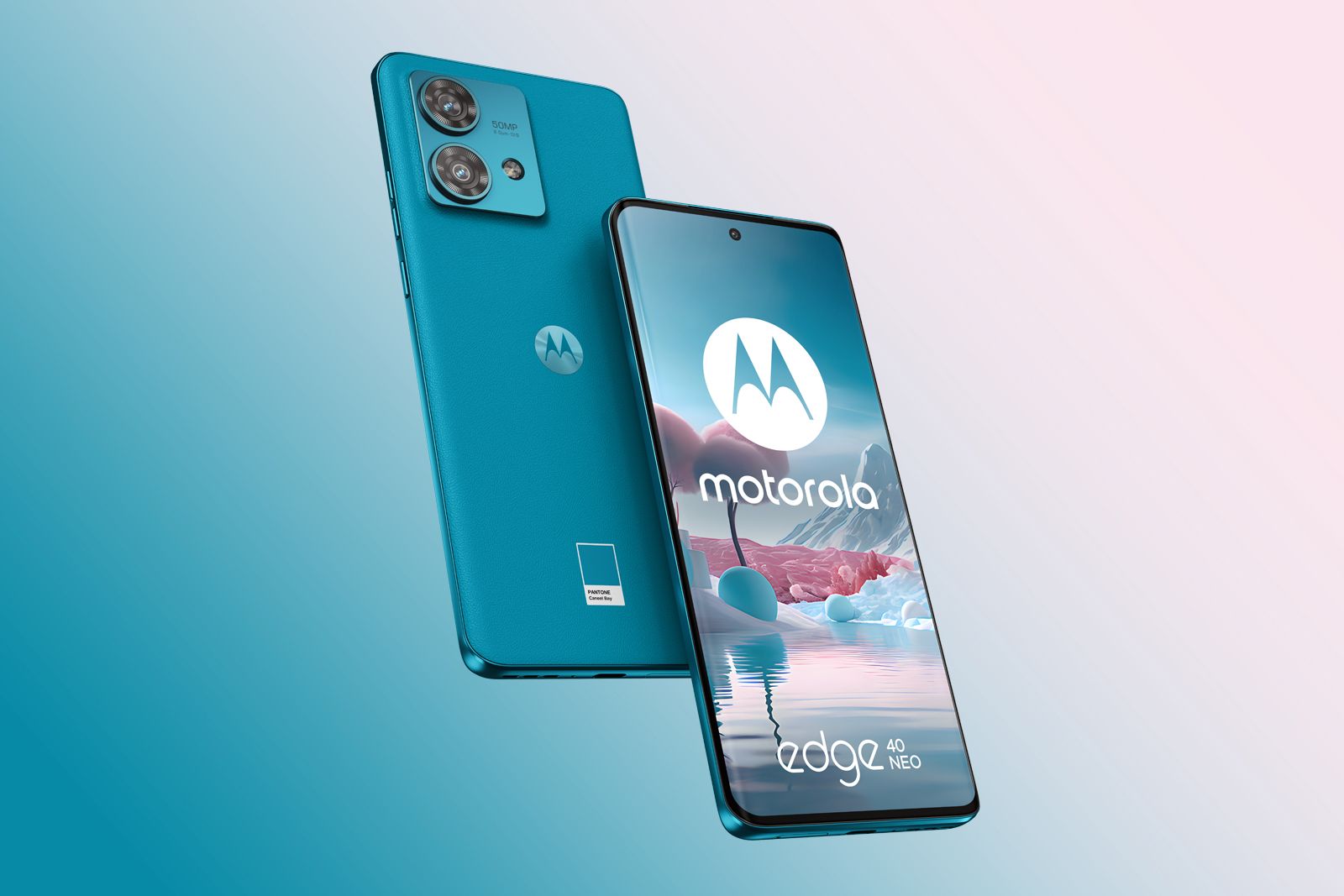 Motorola Edge 40 neo
Anyone on a budget should consider the Motorola Edge 40 Neo. While it does make a few sacrifices to keep the price so low, it's overall an impressive piece of kit that offers excellent value for money.
Pros
IP68 water and dustproof
6.55-inch OLED display, 144Hz
Fast charging, long-lasting battery
Cons
A little slow running
Grainy digital zoom
Point-and-shoot photos could be better
Specs, price, and availability
The Motorola Edge 40 Neo is an affordable alternative to the Motorola Edge 40, available to buy online now for $579/£299. Currently, there's only one configuration which has 12GB of RAM and 256GB of storage. It follows on from the Motorola Edge 30 Neo with a faster, bigger display, a larger battery and a smaller price tag. You can see the full list of specs for the Motorola Edge 40 Neo below, and keep reading to find out more about what each one means for the day-to-day experience.
Motorola Edge 40 neo
Brand

Motorola

SoC

MediaTek Dimensity 7030

Display

6.55in

RAM

12GB

Storage

256GB

Battery

5,000mAh

Front camera

32MP (f/2.4)

Rear camera

50MP (f/1.8), 13MP (f/2,2)

Dimensions

159.6 x 72 x 7.9 mm

Colors

Black, Soothing Sea, Caneel Bay

Display type

P-OLED

Weight

170g

Charge speed

68W (wired)

Micro SD card support

No

IP Rating

IP68
Knockout design
Motorola doesn't shy away from creating eye-catching designs for their smartphones and the Motorola Edge 40 Neo is no exception. It was designed in collaboration with the Pantone Institute, 'a leading source of colour expertise'. The end result is a handset that comes in a selection of rich colours including Pantone Caneel Bay (a vibrant blue), Pantone Soothing Sea (a pale blue) and Pantone Black.
Each one is covered in soft vegan leather with a curved metallic frame, on the back there's a square Pantone logo and a small glossy Motorola logo. Whether the design will appeal to you or not will depend entirely on your personal taste. If you like the idea of a leather-like phone then this one looks pretty slick and feels nice in the hand as well.
Taking it out of the box, one of the first things I noticed about the Motorola Edge 40 Neo was how light it was in comparison to other phones – it only weighs about 170g. And because it's so thin, measuring just 7.89mm, it's not a strain to use. Even if you have smaller hands you can reach both sides of the screen one-handed.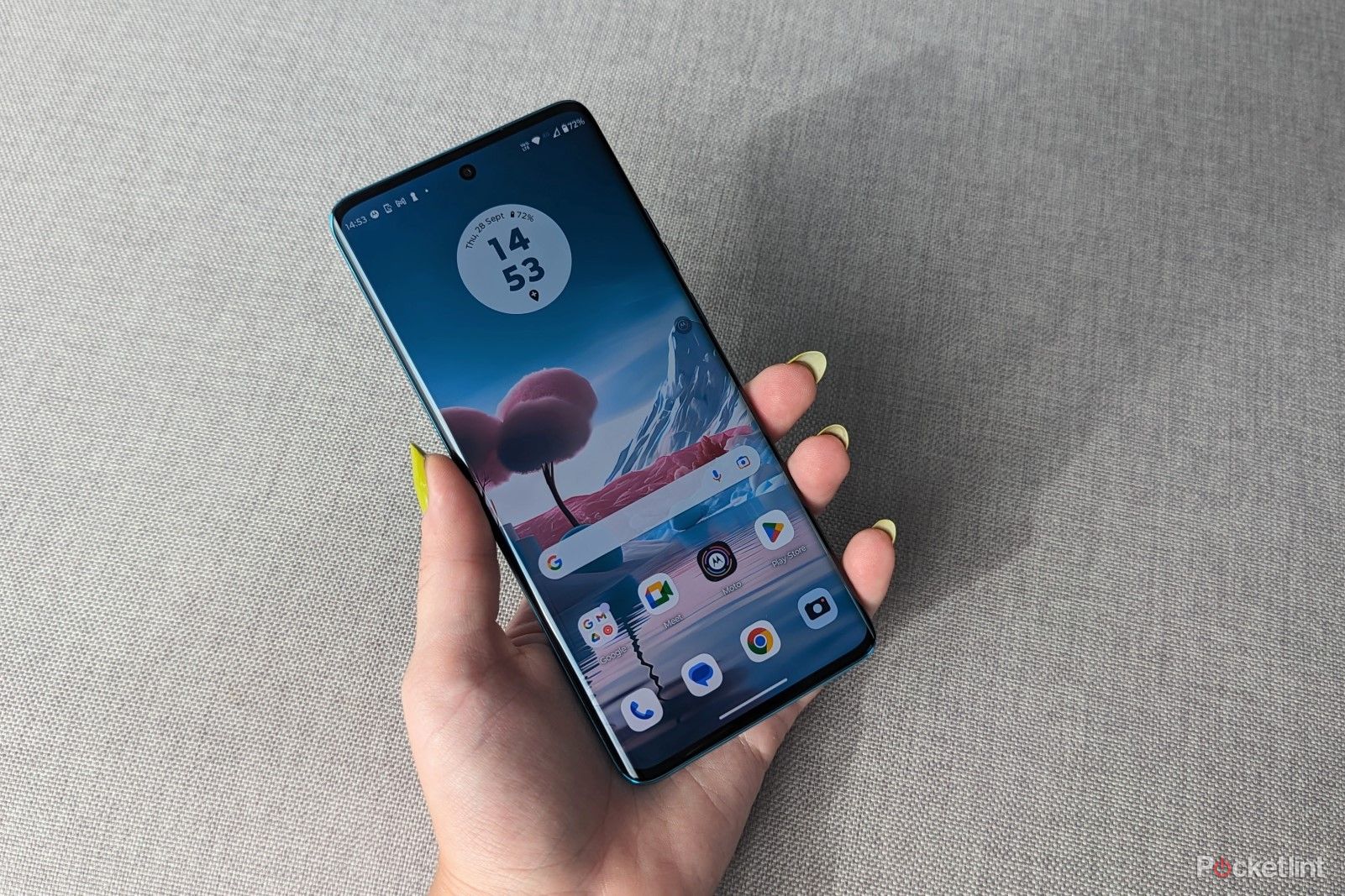 Around the frame, Motorola has kept things simple with a power button, volume rocker, and USB-C port for charging. You'll get the usual SIM card tray, there's no dual-SIM here nor is there a MicroSD card slot.
Anyone prone to accidents will be pleased to know that the Motorola Edge 40 Neo is IP68 rated which means that it's waterproof and will survive submersion in shallow water for up to 30 minutes. It'll cope with dust, dirt, and sand too. Plus, in the box, there's a protective case which is the same colour as the handset. An added bonus is that the case is both plastic and soy-free as well as recyclable.
On the front of the phone, you'll find a 6.55-inch pOLED Endless Edge Display that curves around the sides of the handset, making it look a lot more expensive than it actually is. The quality of the display is out to impress, with FHD+ resolution that delivers crystal clear details, sharp lettering and accurate colours, along with HDR10+ ,which means compatible videos pack more brightness in the highlights, with greater pop to colours and more detail in the light and shadows too.
One thing you may not expect is the 144Hz refresh rate, which is about as fast as it gets, making the system animations and gaming graphics look super smooth.
To unlock the display you get to choose between facial recognition and a fingerprint sensor, both of which work quickly each time you go to use it.
Solid shooters
Two lenses sit on the back of the phone, a 50-megapixel main camera and a 13-megapixel ultra-wide angle lens, with 4K UHD video recording at 30fps and FHD recording at up to 60fps. There's a 32-megapixel selfie camera on the front.
You can choose between two camera modes, natural or auto-enhance. With the natural settings, the results came out looking a little bland and washed out, and I felt they could have been injected with a bit more vibrancy. The photos taken with the auto-enhance settings, on the other hand, were brighter without looking unrealistic, but did lose out on some detail. Whichever option you choose, the images overall lack a degree of definition and depth, so objects didn't really 'pop' as they would have done with a better camera system.
Having said that, the end results were perfectly acceptable for an affordable smartphone. The camera coped surprisingly well with fast movement in the shot, and the level of detail was perfectly acceptable too for the most part, making the final images usable for everything from social media to printed copies.
Selfies come out well too, especially with the included beauty mode, though colours came out a little darker than they were in real life.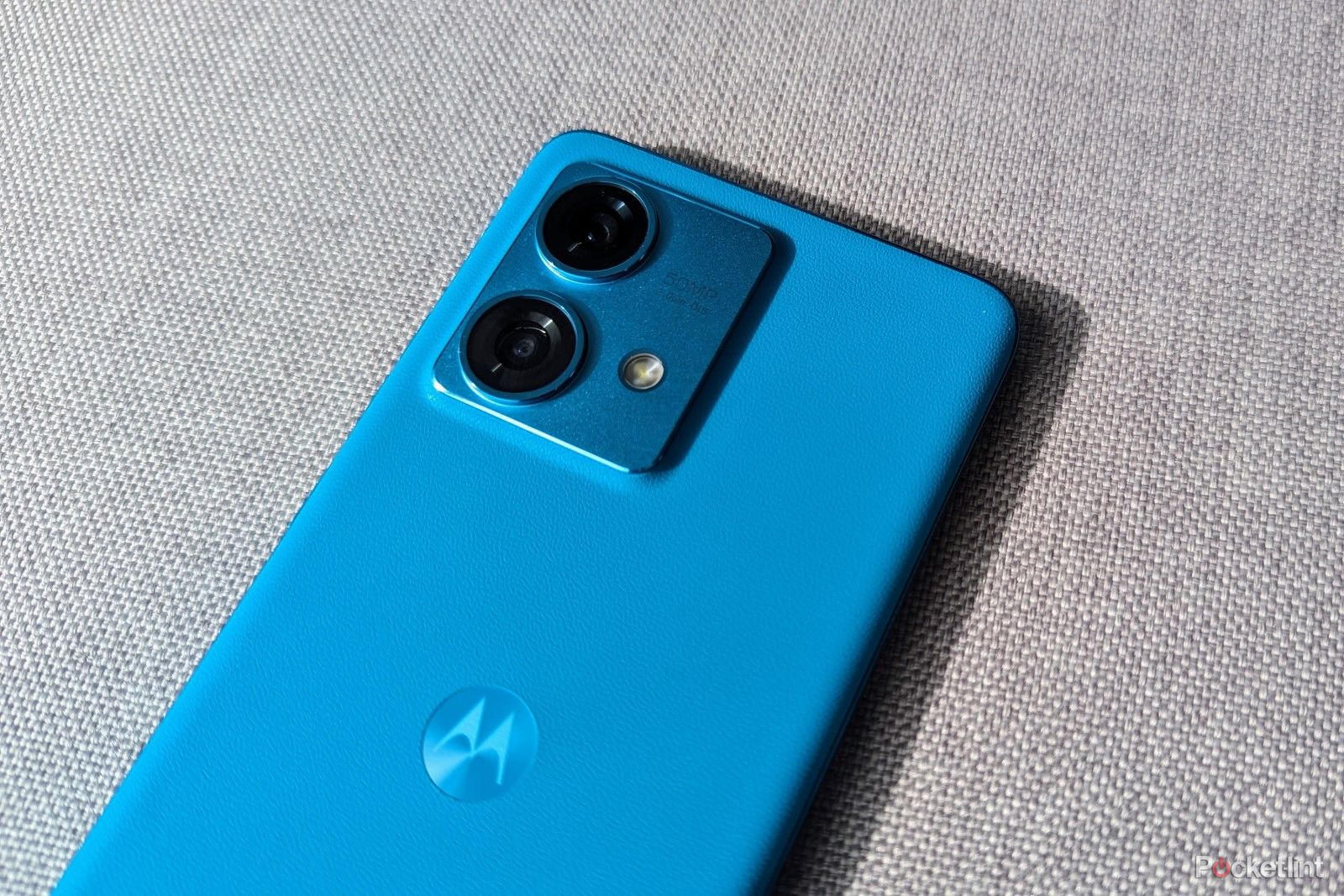 The only time you'll be totally disappointed by what the camera system produces is when you apply the zoom, as at any level the image becomes very grainy and unusable.
One point of praise is the night mode, which does a superb job of brightening up the scene in low light. Admittedly the level of detail won't match up to much more expensive devices but against a similarly priced handset it definitely holds its own.
In terms of video, the FHD video came out very well, clear, bright and sharp, as did the 4K footage. There was a small amount of camera shake although not enough to make the outcome a hard watch.
So-so performance
Powering the Motorola Edge 40 Neo is the mid-range MediaTek Dimensity 7030 processor with 12GB of RAM and 256GB of storage. This is the only configuration available and generally speaking, it did a decent job of supporting the running of the phone. In my time using the Edge 40 Neo, I did encounter moments when opening up apps took a few seconds, and the phone struggled to cope with gaming, especially with more demanding games like Call of Duty. This handset is noticeably slower than top-tier flagships, as you might expect, yet it did deliver respectable performance across everyday tasks like web browsing and messaging.
I ran the Geekbench 6 test to compare it to other handsets on the market, and the Motorola Edge 40 Neo picked up scores of 1041 in single-core and 2505 in multi-core, which places it around the same level as some other affordable smartphones like the OnePlus Nord 2T and the Xiaomi Mi 11 Lite. It's not mind-blowing, but it's enough to get by. A combination of 5G and Wi-Fi 6E will get you fast speeds online though, so no issues to note there.
You can choose to navigate the system through buttons or gestures, and because this is a Motorola device there are the usual Moto Actions built in too. You can twist your wrist to quickly open the camera, tap the screen with three fingers to take a screenshot, karate chop the phone to turn on the torch, put the phone face down to activate Do Not Disturb, and so on. There are a lot of gestures to get your head around, but you may find a few that you'll find useful in day-to-day usage.
You'll also be able to make use of Motorola Ready For which makes it easier to use the device's applications on a big screen like a monitor or TV, through a wired or wireless connection. It's similar to Samsung's DeX mode.
A battery to boast about
The 5,000mAh battery on board here was solid and lasted me most of the day before it needed charging, although rarely into the next day. During that time I would scroll social media, answer some messages, make a call or two, snap a few pictures and type in some Google searches. I also found the battery would last almost 13 hours of video playback at full brightness.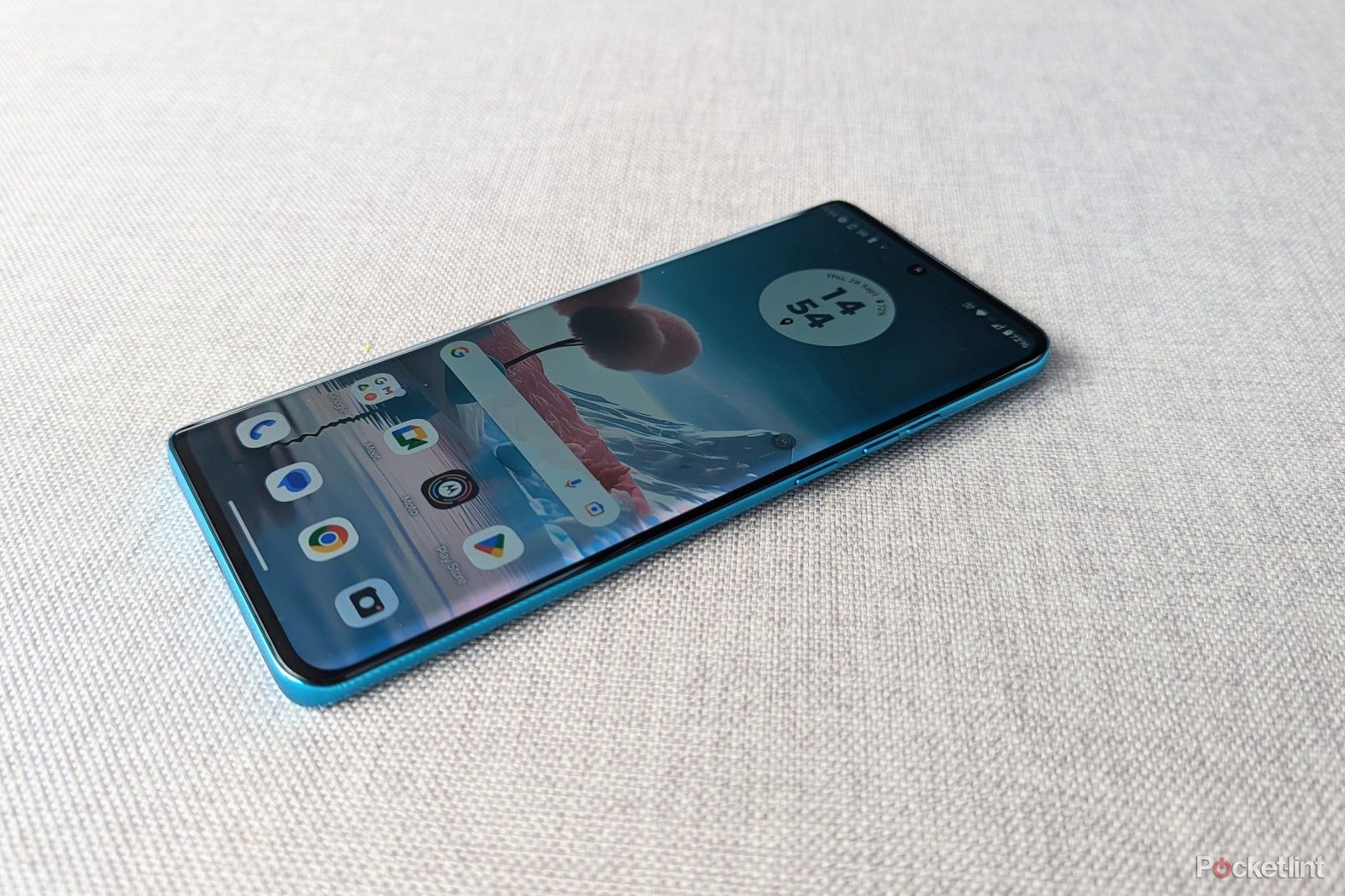 Included in the box is a 68W charger which should provide 50 per cent battery in as little as 15 minutes although in my experience it was a little slower than that.
Verdict
For an affordable smartphone, the Motorola Edge 40 Neo is a bit of an overachiever. Granted, the performance isn't going to rival that of pricier phones, and the camera system is good, rather than great. But other than that, the design could fool you into thinking that it's much pricier than it actually is, the water resistance will give you peace of mind, and the screen is a crowning glory. You'll also get solid battery life that will last you the whole day. It won't fool you into thinking you've stumbled across a pricier phone than it is, but it does still represent superb value for money if you can manage your expectations, just a little.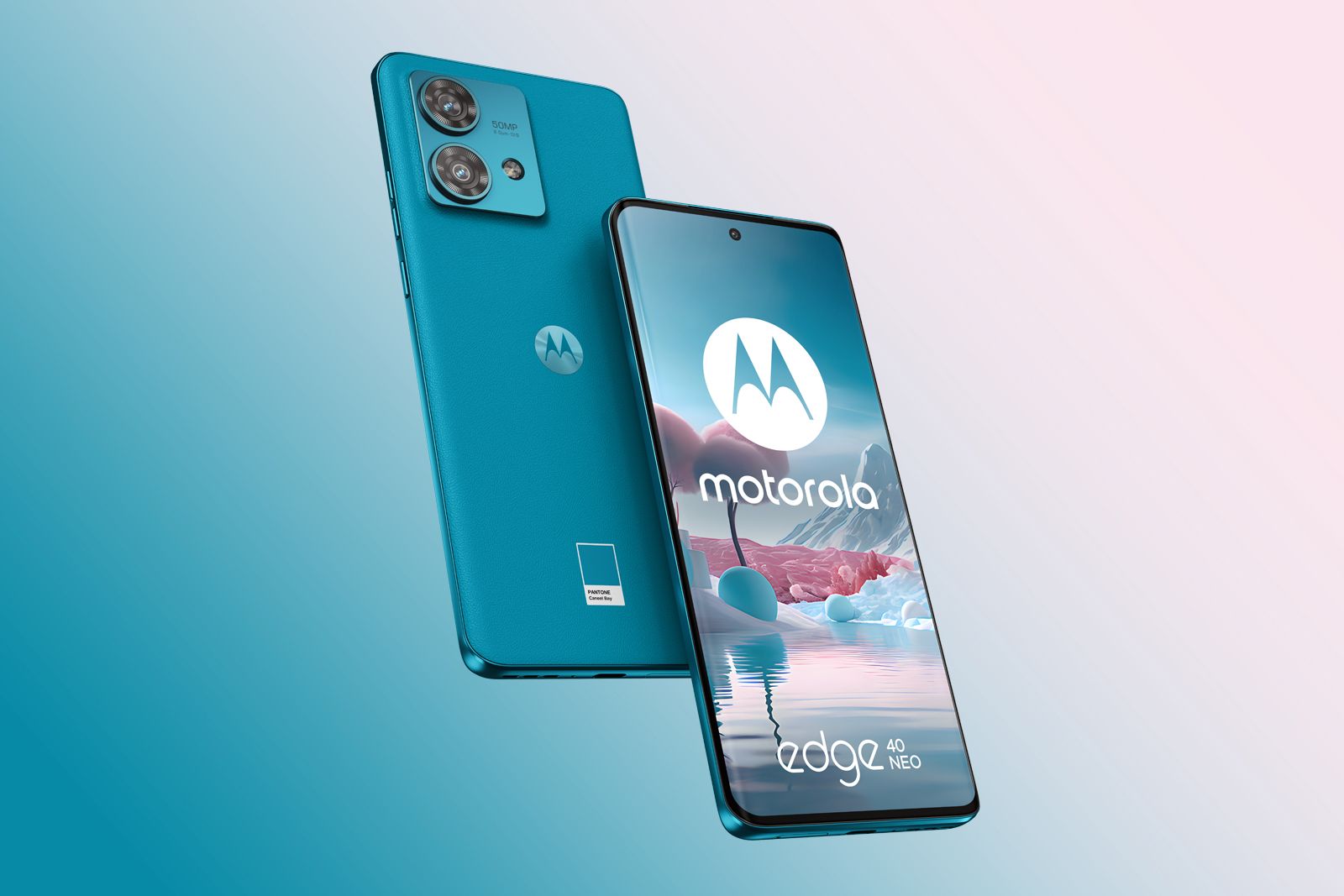 Motorola Edge 40 neo
The Motorola Edge 40 Neo might be an affordable smartphone, but that doesn't mean it needs to look like one. You get a fantastic screen, a luxurious vegan leather design, a decent battery, and a solid camera system.