Computers
What new features can your iPad do?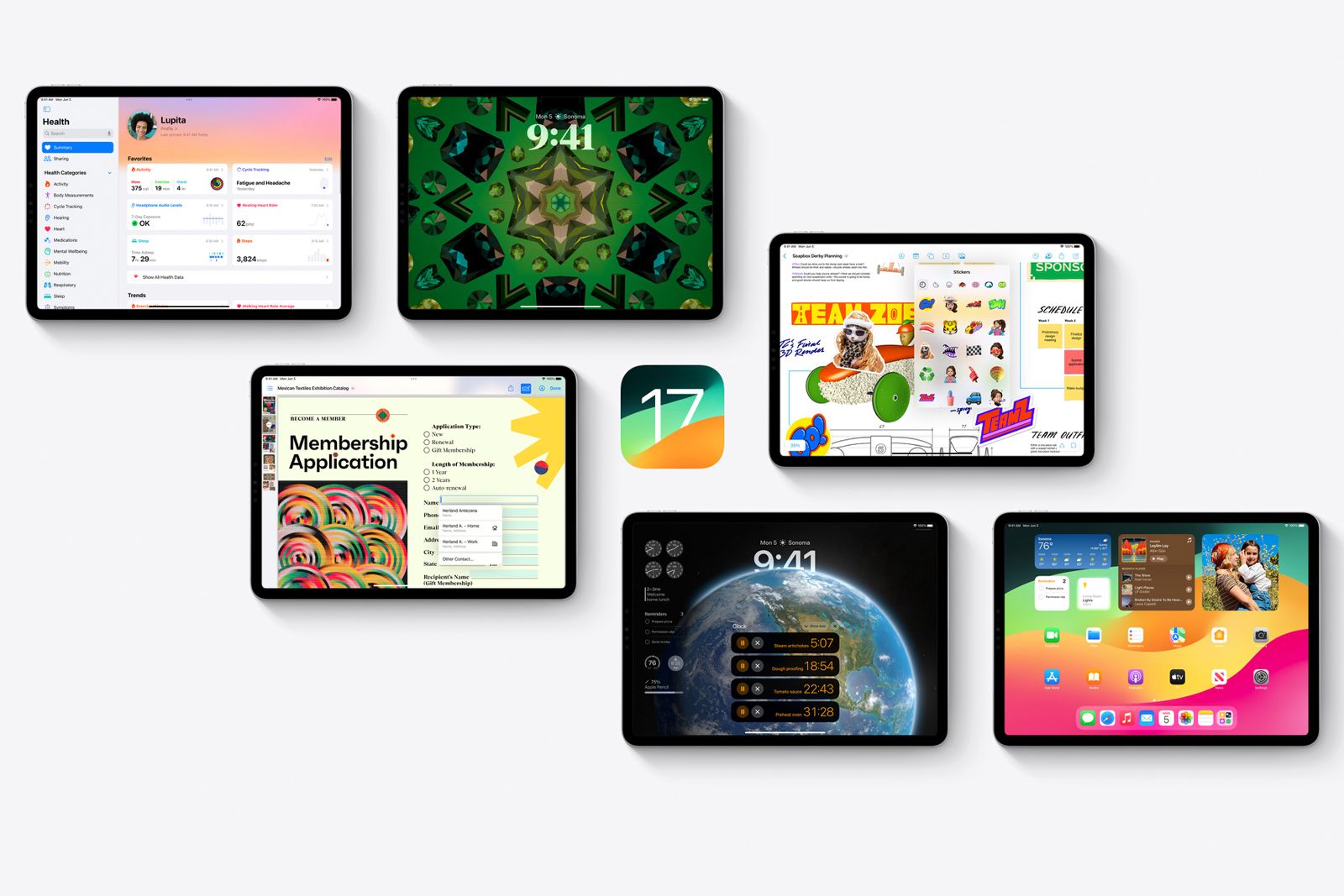 Apple treats us to a yearly major software for all its devices, from the iPhone and Apple Watch, to the iPad and Mac. For iPhone, the software update is iOS 17, while for Apple Watch, it's watchOS 10 that have been made available. When it comes to the new features on iPad though, those come in the form of iPadOS 17. This is everything you need to know about iPadOS 17, including what features are now available on iPad, what iPad models are compatible and how to download and install iPadOS 17.
iPadOS 17 release date
5 June 2023: iPadOS 17 announced at WWDC
July 2023: Public betas of iPadOS 17expected
18 September 2023: Final version of iPadOS 17 released
Apple announced iPadOS 17 alongside iOS 17, watchOS 10, macOS Sonoma and a number of hardware announcements during its Worldwide Developer Conference – also known as WWDC – on 5 June. The public beta for iPadOS 17 was made available to download in July 2023, but the final build of the software has now been released. As of 18 September 2023, you have been able to download and install iPadOS 17.
iPadOS 17 features
These are all the key features now available on iPad with iPadOS 17.
Lock Screen
The changes that arrived to Lock Screen on iOS 16 come to iPad with iPadOS 17, offering plenty of ways to customise it, including a number of different wallpapers like Astronomy and Kaleidoscope and Widgets. There's also a motion effect for Live Photo wallpaper that gives your Live Photos on your Lock Screen a bit more life, and there's Live Activities on Lock Screen too, so you'll be able to stay up to date with just a quick glance.
Interactive Widgets
Like iOS 17, iPadOS 17 brings Interactive Widgets. These allow you to do things directly from the widget on the Home Screen or Lock Screen, like play music or turn off lights, so you don't have to open each individual app.
Health
The Health app comes to iPad for the first time with iPadOS 17 and it has been optimised for the larger screen. You can see plenty of detail in the favourites view, whilst also reviewing trends and highlights using interactive charts. You can also log symptoms, set medication reminders and there's a focus on mental health too. The mental health features encourage you to reflect on your state of mind and view valuable insights into what might be contributing to it, as well as access standardised assessments used by clinics to understand risk of depression or anxiety. There are also a couple of features relating to vision health that you'll see in Health on iPad.
FaceTime
FaceTime gets an update with iPadOS 17 and while it isn't a huge update, there are a couple of things. You can record an audio or video message when someone misses your FaceTime call, and you can use FaceTime on Apple TV. You can also react with your hands – like a double thumbs up – and this will fill the camera frame with 3D augmented reality effects like hearts, confetti and fireworks, depending on the gesture.
Messages
Messages gets a range of new features with iPadOS 17 including the ability to swipe to reply and transcription for audio messages, both of which we are very pleased to see. Search is being improved too, with filters that you can combine to make it easier and faster for you to find something in your messages, and iMessage apps move to be all in one place, with quicker access via a new plus button. It's also easier to share location through messages with iPadOS 17 and the plus button. You can share your location or request a friend's location using the plus button and the location will then appear immediately in the Messages conversation with that person.
Stickers
There's a new Stickers drawer in iPadOS 17 and iOS 17 that lets you see all your stickers in one place, alongside Animoji, Memoji and emoji. Stickers sync across iCloud so they are available across all your devices and you can use them anywhere you can access emoji, including third party apps. It's also possible to create Live Stickers and react to messages with Stickers too.
PDFs and Notes
A number of features come to Notes with iPadOS 17, some of which are very useful. You can annotate a PDF directly from the Notes app with the new software, as well as use Enhanced AutoFill to use your saved information from Contacts to fill out information on a PDF or scanned document automatically. You can also collaborate on PDFs and get real-time updates of any changes that have been made. Last but not least, iPadOS 17 enables you to link related Notes together – maybe a holiday packing list and a holiday shopping list for example.
Safari
New features on Safari include the ability to create a profile that will split your history, extensions, Tab Groups, cookies, and favorites. It means you can have a profile for Work and one for Personal for example, switching between them as you wish. Search is also more responsive with iPadOS 17, and perhaps our favourite of the new features for Safari is the Autofill verification codes received in Mail. You no longer have to open Mail, copy the verification code and switch back to Safari to enter it, instead it will do this automatically.
Keyboard
Autocorrect gets some love in iPadOS 17, with more accuracy to help get the right word the first time. Autocorrected words are temporarily underlined and if they are wrong, you can go back to the initial word with just a tap. You can also tap the space bar to finish words or entire sentences.
Freeform
Freeform initially launched with iPadOS 16 – though a little later in the year – and it gets a couple of tweaks with iPadOS 17. There's a Follow Along feature that lets you see what collaborators are working on, and there are also some new features including watercolor brush, calligraphy pen, highlighter, variable-width pen, and ruler. Additionally, there's Shape Recognition that enables you to hand draw a shape like a square and watch it snap into a perfect shape with a tap.
Stage Manager
Stage Manager was another feature that launched with iPadOS 16 – you can read all about it in our separate Stage Manager feature, but it gets a little update for iPadOS 17. The software update makes Stage Manager more flexible in moving and resizing windows so you can set up your workspace exactly how you want it.
Spotlight
A new feature comes to Spotlight search called Top Hit with iPadOS 17. It means when you search for an app using Spotlight, Top Hit will offer an intelligent secondary search hit, like your Favourites album when searching for Photos.
Photos
Updates that have arrived in Photos with iPadOS 17 see the app become better at recognising your favourite people and it will also recognise your dog and cat.
Siri
Good old Siri gets an update too with iPadOS 17 with not only back-to-back requests, which means you can ask follow-up questions without having to say Hey Siri again. Speaking of Hey Siri, you no longer have to say "Hey", you can just say "Siri".
AirPlay
AirPlay also gets a couple of upgrades with iPadOS 17, including learning your AirPlay preferences over time. AirPlay will also be available in supported hotel rooms later this year, allowing you to scan a QR code to then connect to your room's TV in order to share photos, videos and music to the TV.
Find My
Find My has been updated with iPadOS 17 to offer the option to Share an AirTag with up to five people. Everyone in the group will be able to play the sound to locate the shared AirTag when they are nearby,
AirDrop
There are a few new features for AirDrop with iPadOS 17 and iOS 17, including the ability to continue with a file transfer over AirDrop, even when you step away. It's coming a little later so it's not available just yet, but a transfer you start over AirDrop will continue over the internet as you walk away when it is released.
Reminders
The Reminders app gets a couple of updates with iPadOS 17 too, including grocery lists automatically sorting items into categories to make the food shopping easier. There's also a new Column View that organises sections into columns across your screen, making it easy to see your tasks.
Music
The Music app also got updated with iPadOS 17 with the ability to add friends to a playlist and collaborate to add, reorder, and remove songs. You can also react to song choices in the Now Playing section with emojis.
AirPods
Though not always directly linked to an iPad, iPadOS 17 brings some changes to AirPods too, including the ability to tap to mute on AirPods Pro (2nd Generation). There is also a feature called Adaptive Audio that blends Transparency and Active Noise Cancellation on AirPods Pro (2nd Generation) and there's a Conversation Awareness mode too. Automatic Switching has also been updated, allowing for a more seamless experience when switching between Apple devices.
Which iPads are compatible with iPadOS 17?
For iPadOS 16, Apple dropped support for just two iPads – the iPad Air (2nd gen) from 2014 and the iPad mini (4th gen) from 2015.
There are three models on the chopping block for iPadOS 17 though, with the iPad (fifth generation), iPad Pro 9.7-inch (first generation) and iPad Pro 12.9-inch (first generation) all losing support. That does still leave 20 iPads supporting the software however, six of which are in our best iPads round up.
The following iPad models are compatible with iPadOS 17:
iPad Pro (2nd generation and later)
iPad Air (3rd generation and later)
iPad (6th generation and later)
iPad mini (5th generation and later)
iPadOS 17 rumours: What happened?
This is everything we heard about iPadOS 17 before it was officially announced.
5 June 2023: Apple reveal new features coming to iPads
Apple announced a number of new features coming to compatible iPad models when iPadOS 17 launches later this year.
25 April 2023: These iPads could be left behind by iPadOS 17
A report from iPhoneSoft claimed the fifth-gen iPad, along with the 1st-gen iPad Pro in both 9.7-inch and 12.9-inch configurations won't support iPadOS 17.
13 December 2022: Third party App Stores to be allowed
Mark Gurman of Bloomberg reported that Apple was preparing to allow alternative app stores on its iPad and iPhones in order to comply with European Union requirements that will come into effect in 2024.