Computers
What's the difference between the gaming handhelds?
ASUS ROG Ally

More power and more games

The Asus ROG Ally is a PC gaming handheld that runs on Windows 11 and a custom AMD chipset. It has a Full HD display and can play PC games from multiple platforms.

Valve

Valve Steam Deck

An easy choice for Steam fans

The Steam Deck is popular thanks to its reasonable price tag and easy access to mass of games in your Steam library. 
Key Takeaways
The ROG Ally is a more powerful gaming handheld than the Steam Deck, offering better specs and performance.
The ROG Ally runs Windows 11, providing access to a wider range of games from different sources.
The Steam Deck is more affordable, starting at $399/£349, while the ROG Ally starts at $599.99.
When Valve launched the Steam Deck it was an immediate hit with PC gamers. Finally, we got an affordable handheld console that's compatible with many of the games on Steam and has the power to run a lot of modern titles with respectable frame rates too.
Since its launch, the Steam Deck has gone from strength to strength as its catalogue of compatible games has grown and grown. The main appeal of Valve's handheld though is the price tag as it starts at $399/£349 which is remarkably affordable for what it is.
Now Asus is throwing its hat into the ring with its own gaming handheld that seemingly offers everything the Steam Deck does and more. The ROG Ally is immediately appealing because it runs Windows 11, giving even wider access to PC games from other places like the Epic Games Store, Nvidia GeForce Now, PC Game Pass, Cloud Gaming from Xbox and Steam.
Which is the right handheld for you though? We're breaking down everything we know so far to help you decide.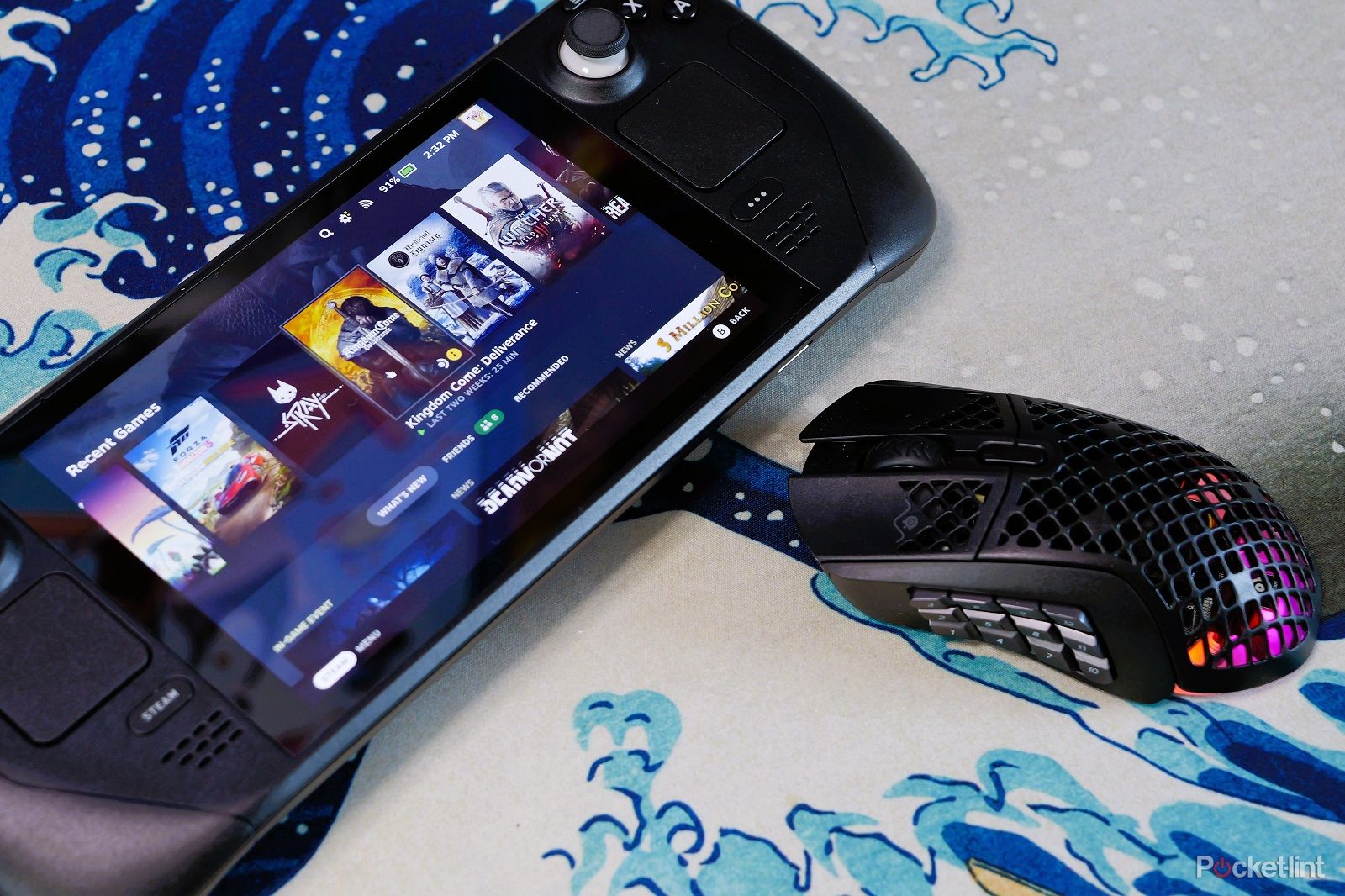 Price, specs & availability
The Asus ROG Ally is set to be a more powerful gaming machine than the Steam Deck. This is no surprise given that it's a newer device and one that comes under the Republic of Gamers banner. This is the serious gaming arm of Asus and one that's responsible for some of the best gaming laptops around. It makes perfect sense then that Asus isn't cutting corners here and is making bold claims that the ROG Ally is twice as fast as the Steam Deck.
It also ticks several other boxes that may appeal to those who want more power straight out of the box. It has a 1080p screen for a start (vs 800p on the Steam Deck) and a faster refresh rate. It also offers higher peak performance and can deliver twice the wattage of the Steam Deck too.
The addition of Windows 11 may also draw a larger crowd of gamers especially those who don't want to be tied to Steam. Though it's possible to install other launchers on the Steam Deck, it's not exactly easy. However, the Steam OS interface on the Steam Deck makes it easy to navigate and relatively problem free, while Windows 11 is no doubt going to raise other issues – like power consumption for one.
| | Valve Steam Deck | ASUS ROG Ally |
| --- | --- | --- |
| Dimensions | 298x117x49 mm | 11.0 x 4.4 x 0.5 inches (279 x 111.8 x 12.7mm) |
| Playing Time | Up to 8 hours | Up to 8 hours |
| Brand | Valve | Asus |
| Weight | 669g | 1.34 lbs (608 grams) |
| Chipset | AMD Zen 2 APU/8 RDNA 2 CUs | AMD Ryzen Z1 Extreme |
| RAM | 16GB LPDDR5 RAM | 16GB of LPDDR5 memory |
| Headset Compatibility | 3.5mm, Bluetooth | 3.5mm |
| Display | 7-inch IPS | LCD |
Putting the specs of the ROG Ally and Steam Deck side-by-side you'll see that the former should pack much more of a punch for gaming. The ROG Ally is powered by AMD's Z1 series processors – a chipset that includes an AMD Z1 Extreme CPU and AMD Radeon Navi 3 GPU. With four Zen 4 cores and four RDNA 3 cores, this gives it as much as 2.8 TFLOPS of performance.
The Steam Deck uses older technology with a Zen 2 CPU and RDNA 2 GPU that can manage around 1.6 TFLOPs of performance. So you're certainly getting more processing power for your money with the ROG Ally.
There are some similarities though. Both handhelds use 16GB of LPDDR5 memory, both have MicroSD card slots and USB-C charging along with 3.5mm jacks for headphones.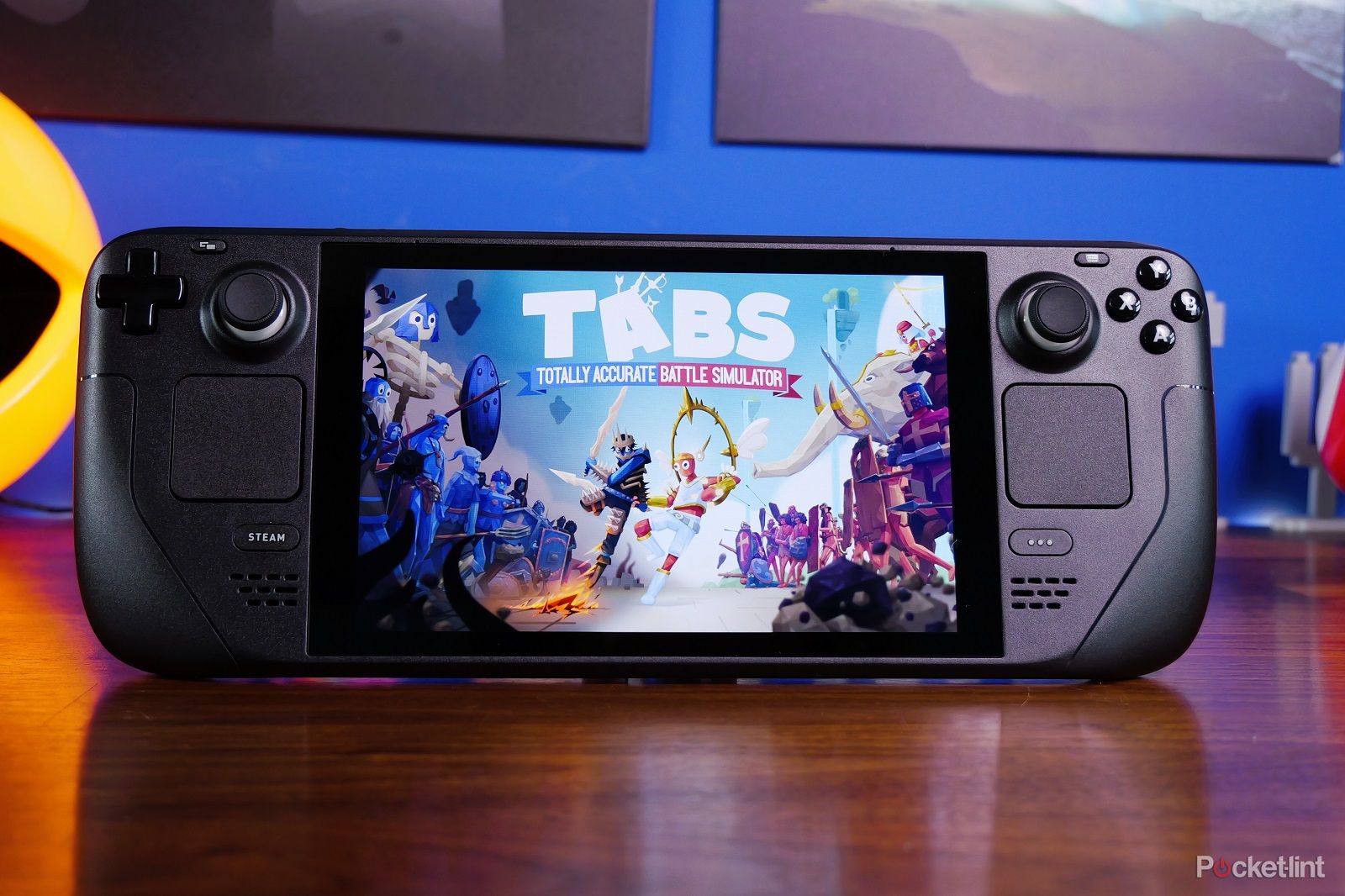 Display and design differences
Aside from the specs, there are a number of things that set the two gaming handhelds apart from one another. Take a look at the ROG Ally and you'll see a familiar Xbox-style controller layout and some large front-facing speakers and easy-access menu buttons.
It doesn't have the same mouse replacement trackpads that the Steam Deck offers though and only has two rear buttons to the Steam Deck's four, so you'll have less access to controller buttons.
The display is an interesting difference though, as it's a comparable size but an LCD panel (compared to the IPS on the Steam Deck). It also has a higher resolution (1920 x 1080p) compared to the Steam Deck's 1280 x 800p display.
The ROG Ally also has the advantage of a 120Hz refresh rate out of the gate. The high refresh rate was never really a consideration with the Steam Deck as the specs often mean that unless you're playing indie games you're not likely to get high frame rates anyway or if you do you'll be sacrificing battery life. That said, there's always the option to stream games to your Steam Deck for smoother performance.
To take advantage of a larger screen the Steam Deck can be docked and so can the ROG Ally. Asus' handheld will be compatible with the optional ROG XG Mobile external graphics dock, so you'll be able to give it a performance boost and use it with a TV or large monitor with ease. Though you'll have to pay a premium for that privilege.
Both Asus and Valve claim as much as eight hours of gaming time with the respective handhelds. Though in reality this is subject to so many different factors it's better to assume you'll get far less. Our experience with the Steam Deck is more often two to four hours before a charge is required, but if you're planning on playing less taxing games on either console then you might get more out of them.
You'll see that the specs suggest that both handhelds console are comparable in size and weight and should be pleasant enough to play on for most people. Early reports are that the fan noise is much more pleasant on the ROG Ally than it is on the Steam Deck.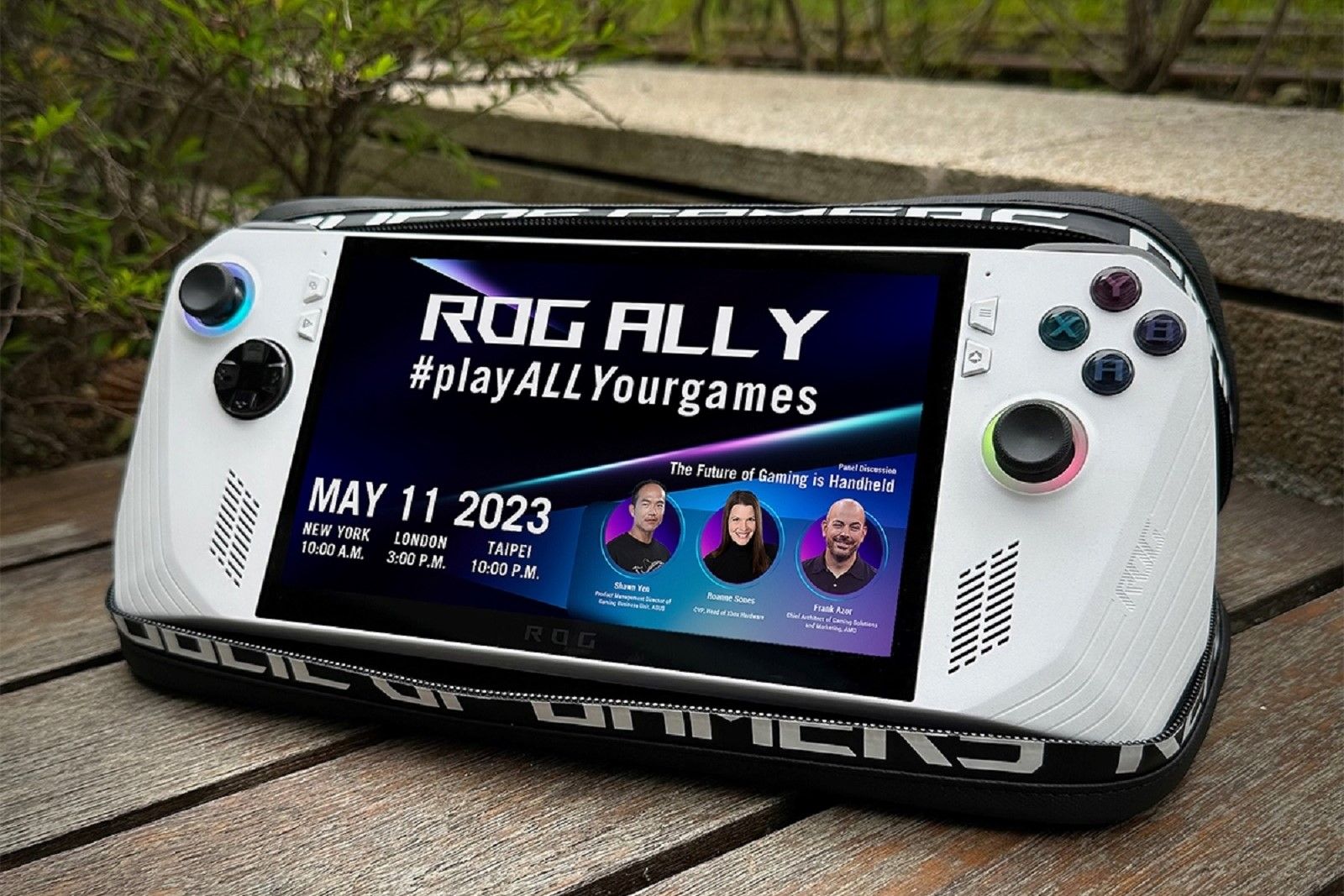 Asus
Winning Windows 11 experience?
As well as the ROG Ally winning from a performance perspective and having a superior display, we're also expecting it will appeal to many simply because it's running Windows 11.
This logic will essentially mean it's basically a portable gaming laptop and will open up much, much easier access to games from other sources. So though you can in theory run games from elsewhere with the Steam Deck, it requires a lot more fiddling to run anything other than Steam games.
The ROG Ally, on the other hand, will give you the ability to play games from EA Play, Ubisoft Connect, Epic Games and more. Running Windows will also mean it's far more compatible with a broader range of games than the Steam Deck (which runs on Linux). That said, there's a lot to be said to the convenience of the user experience of SteamOS which makes it easy to dive into your Steam library and just play your games. It also is easy to see which games will run well and which won't without much fuss.
Pricing
The Steam Deck is available in three different versions depending on size of internal storage, though the top model also gets premium anti-glare glass and some digital bonuses. It starts with the 64GB version for 349/$399, then the 256GB model for £459/$529 while the 512GB model will set you back £569/$649.
Meanwhile, the ROG Ally starts at $599.99 and has a more expensive option with a more powerful chipset at $699.99. So, it's certainly the more expensive of the two but will obviously have a richer hardware line-up for your money.
Conclusion
On the face of it, the ROG Ally is not only the first valid alternative to the Steam Deck that doesn't cost a fortune but one that may well be worth your attention.
It should give a better gaming experience and access to a wider range of games too. This will mean a heftier price tag though. If you're already a fan of Steam's game library and SteamOS then the Steam Deck is still a valid purchase and one we'd highly recommend. If you've been holding off because you've been waiting for Steam Deck 2 though, then maybe ROG Ally is a worthy consideration.